Free resources about the Peru Lima North Mission:
Aquí están algunos recursos gratuitos sobre la Misión Perú Lima Norte:
*Other Mission Pages: Peru LDS Missions.
---
---
Peru Lima North Mission Address
Here's a recent address for the Peru Lima North Mission. We try to keep this information up to date, but it's a good idea to check the address with several sources, including your mission packet or the mission office.
Mision Peru Lima Norte
Ave Carlos Izaquirre #124
Casilla de Correo 39-054
Independencia
Lima 28, Peru
Phone Number: 51-1-715-3572
Mission President: President Matthew R. Godfrey
Peru Lima North Mission Map
Here's a link to the mission map for the Peru Lima North Mission (LDS). To access the official, up-to-date LDS.org map for the Lima North Mission:
Log into your LDS account here.
Click here.
Videos with Lima North RMs
Here are in-depth YouTube video interviews with returned missionaries from the Lima North Mission.  We interview hundreds of returned missionaries each year, so check back regularly to see new RM interviews.
LDS-Friendly Videos about Peru
Here are LDS-friendly educational videos about Peru. We scoured YouTube to find the best quality videos about Peru, that are free from inappropriate music, immodesty and profanity.
Lima North Missionary Blogs
Here's a list of LDS missionary blogs for the Lima North Mission. This list includes the missionary's name, URL and when their blog was updated.
*Send your missionary a gift (mission-specific shirts, ties, Christmas stockings/ornaments, pillowcases, etc.)
Lima North Mission Groups
Here are Peru Lima North Mission Groups- for LDS missionary moms, returned missionaries, mission presidents and other alumni of the Lima North Mission.
Lima North Mission T-Shirts
Here are T-shirts for the Peru Lima North Mission!
Shirt designs include Lima North Mission logo/emblem shirts and Called to Serve shirts. The shirts make great gifts for pre-missionaries, returned missionaries and missionaries currently serving. LDS Mission shirts come in all sizes: Small, Medium, Large, Extra Large, up to 4XL.  The mission designs are printed on white shirts and are shipped to you.
*Simply click on a shirt design to view the details and submit an order. The designs on mission t-shirts may also be printed on other LDS mission gifts, including: Lima North missionary aprons, Christmas stockings, ties, pillow cases, teddy bears and Christmas ornaments.
*Click here to browse Lima North Mission gifts
---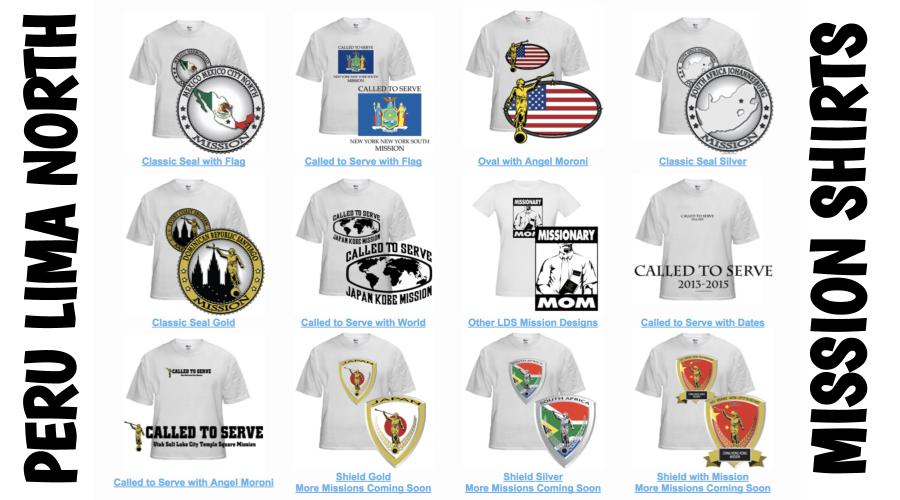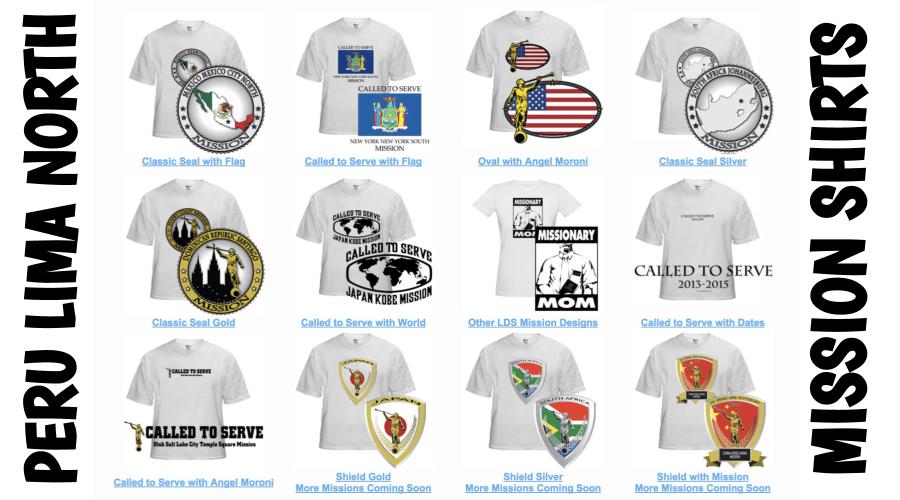 ---
Lima North Mission Presidents
Here's a list of current and past Mission Presidents of the Lima North Mission. 
2016-2019, Matthew R. Godfrey
2013-2016, John R. Erickson
2010-2013, Lawrence P. Blunck
2007-2010, Carlos A. Perez Basso
2004-2007, Dan W. Morris
2001-2004, Nicolas L. Di Giovanni
1998-2001, Belisario E. Benites
1995-1998, Jose Blanco
1992-1995, Juan A. Uceda
1991-1992, Lloyd H. Richmond
1989-1991, Enrique A. Ibarra
1986-1989, Martin H. Durrant
1983-1986, Harvard Bitter
1980-1983, Robert D. Worthen
1977-1980, Jose Sousa
Peru LDS Statistics (2015)
Church Membership: 557,328
Missions: 12
Temples: 2
Congregations: 774
Family History Centers: 125
Helpful Articles about Peru
Peru Lima North Missionary Survey
Here are survey responses from Peru Lima North RMs, to give you a snapshot into what it's like to live in the mission.
*Click here to take a survey to help pre-missionaries going to your mission.
When did you serve?
2016-2018 (Will)
July 2013-January 2015 (Caitlin)
2011-2013 (Rachel)
2008-2010 (Karl)
2007-2009 (Jessie)
2007-2009 (Tyler)
Enero 2005-Enero 2007 (Everth)
1999-2001 (Joseph)
1999-2001 (David)
1997-1998 (David)
1988-1990 (Andrew)
1985-1987 (Jorge)
1983-1984 (Rodrigo)
1982-1984 (Rodger)
1982-1983 (Bret)
1981-1983 (Phil)
1977-1978 (Dave)
1978-1980 (Dave)
1978-1980 (Carlos)
Which areas did you serve in?
Las Lomas, Vista Alegre, Retablo, Casa Blanca, Olaya, Famesa. (Will)
Moyobamba, Lima: Carabayllo and San Juan de Lurigancho, Iquitos, and Pucallpa. (Rachel)
Villa sol/proceres (Lima), Partido Alto (Tarapoto), Zapallal (puente piedra), Naranjal (Lima, near señor de los milagros), Comas, Punchana (Iquitos), Antisuyo (tahuantinsuyo, Lima), Ventanilla (Lima). (Karl)
Huara, Vegueta, Progreso, Iquitos, Covida, Ventanilla. (Tyler)
Perú Lima Norte, selva Peruana, cono Norte de Lima. (Everth)
Huacho, Huaura, Pucallpa. (David)
Lima, Haucho, Casma. (Andrew)
Lima, Chiclayo, Callao, Chimbote, Piura. (Rodger)
Lima, Barranca, Chimbote and Chiclayo. (Bret)
Lima, Office, Chiclayo, Cajamarca. (Dave)
Lima, Callao, Chimbote, Trujillo, Iquitos, San Felipe, Comas, Bellavista. (Dave)
What were some favorite foods?
Causa, pachamanca, lomo saltado. (Will)
Causa, pancha manca, arroz chow fa. (Caitlin)
I loved everything! Some favorites were aji de gallina, seco de pollo, and anticuchos. (Rachel)
Pollo a la brass, Arroz Chaufa con platano frito y cecina, Aji de gallina Arroz a lo pobre, Patacones, Fruit juice in tarapoto, and Mango injerto con manzana. (Karl)
Papa a la huan gallina Ceviche de pollo Pan Ecco (Jessie)
Escabeche de pollo, and anticuchos. (Tyler)
Pollo ala braza- parrilladas- lomo saltado, papa rellena, causa rellena, chaufa. (Everth)
Carapulcra, Lomo Saltado, Papa de la Huankiana, and Chilcano sopa. (Joseph)
Papa rellena. (David)
Inca Kola, anticuchos, chicha morada, ají de gallina, papas a la huancaína, and hamburguesas de Tip Top en Magdalena. (David)
Inca Kola, Papa Huanaco, Papa Reano, Quie Banna and eggs. (Andrew)
Ceviche and ocopa. (Jorge)
Fuanes, bisteck a lo pobre, ceviche, arroz con mariscos. (Rodrigo)
Lomo Saltado, Cebiche, Salchipapas, Arroz con Pollo, Papa a la Huancaina, Escabeche de pollo, and Anticuchos. (Bret)
Papas a la huancaina. (Phil)
Papas a la Huancaína, Ají de Gallina, Anticuchos, Chicha Morada, Maracuyá, Fruta de Moco, Durazno cruzado con guava, Inca Kola. (Dave)
Qui(?). Papa a la ? Salchi papas. (Dave)
Toda la comida peruana, además de milkshake y tostadas francesas. (Carlos)
What was a funny experience?
Accidentally drinking an alcohol-like drink! Stay away from chicha de jora!! Haha. (Will)
Fishing in Barranca on preparation day.
It was Wednesday, service day. We had a filing breakfast, studied for 2 hours and then went over around 10 to paint a friend of a member's kitchen. She was so happy for the help that she made us an early lunch. Now a quick note about customs. It is polite to eat all your food and to accept all food. If you don't eat all your food, it's a snub on the person who prepared it. It's a matter of trust and whether you'll be invited back again. As missionaries, we eat lunch with the members since that's the main meal of the day. So we each ate our offered plate of food. We finished the service project around 1 when the member who referred the service showed up with another lunch for us. We quickly shoveled it down so that we couldn't feel it when it hit our already full stomachs. We decided to call our lunch appointment to cancel. She was an elderly sister who lives cooking and loved feeding the missionaries. She was so disheartened that we weren't coming that we decided to go over for an early dinner. We quickly showered and then walked over, hoping that the food would lower and give us enough room in our stomachs. We got there around 4pm. To our horror, she had not only prepared a main dish, but also had a salad and dessert that she expected us to polish off. Our plates were covered with about 3 cups of arroz con pollo. It took us 3 hours to finish eating there. We all looked like we were 5 months pregnant. We started to laugh but quickly realized that our stomachs couldn't handle laughing. One of my companions threw up on the walk home. We had to walk so slowly that grandparents were quickly passing us on the sidewalk. A mom and her young daughter were passing us when the daughter asked her mom why the three little sisters were pregnant. We had to stop then to fight the laughter. We gave our lessons that night standing up because we couldn't sit down. It was a hilarious day of so many blessings you'll literally have no room for them:) (Rachel)
This guy came to church but didn't speak anything but Quechua. He was probably late 70s. He just showed up and kept coming but would disappear before we could track him down. We had no idea where he lived. We finally got a member to translate for us and told him we'd follow him home. With no idea where he'd take us we got on a bus with him and followed him home. Luckily it was a little brick shack on the other side of the hill and still in our area. We returned to teach him with our translator. He accepted the challenge to be baptized and this was to be my companions first baptism in the field. Our investigator was a little guy, and when he got into the font he kind of just fell into the water. It didn't look like he could swim because he just floated face down and thrashed. My companion looked at me like, "What do I do?" I said, "Go get him!" He was baptized and became the enthusiastic greeter for our ward. (Karl)
I slipped and fell walking down a muddy hill and got covered in mud from head to toe. (Tyler)
En laision un la selva Peruana. (Everth)
My companion Elder Gubler's face was shoe polished during carnival. (Andrew)
Working with the Chaparas in Iquitos. (Jorge)
Cajamarca- a 80 year old man taking a bath in the baptismal fountain right after his interview to get baptized. Or I should say before he supposed to get baptized. (Rodrigo)
Once while serving in Chimbote, my companion and I were invited on our preparation day to go fishing by the shore . The Peruvian who had invited us waded out into the water and grabbed handfuls of tiny clams out of the water and handed us the clams, called mui mui, as bait. We fished using only a short wooden stick, a line, hook, and the bait; but caught a lot of fish. Later that night the investigator invited us for Cebiche and we thought it would be made from fish but was made out of the same clams we were using all day as bait. It is very rude to turn down food so we are it, but we were both sick that night fighting each other to use the restroom. (Bret)
Ayer touching some hot pepper seeds I was going to take home with me, I touched my eye. Somehow I was able to squeeze my entire head into the itty-bitty sink in the bathroom to run water in my eye. (Dave)
Being taken in by the police one night with the sisters. When we arrived at the police station, we were told we were under arrest. When the Captain came out to see what the noise was about, it was the Stake President. He let us go and provided a police escort to our homes. (Dave)
What was a crazy experience?
A guy told my companion and I that if anyone gave us trouble, he would kill them for us! Also we were being followed by two large men at night that probably wanted to rob us and right when they were closing in on us, the cops came and arrested the two men! (Will)
Well one time we where going home from a lesson with a family of recent converts and we got chased through the streets by a schizophrenic lady. We ran for 7 or 8 blocks. (Caitlin)
It was almost 9pm, we were close to the apartment so we decided to contact some of the people wandering around on the main street. We needed one more for the day when we contacted a short, very over weight man who we quickly realized was drunk and angry. I was doing most of the talking, trying to keep up with all the random faults religion has and why he couldn't do anything. My companion and I were silently praying that he would move on our that we could somehow end his tiraid. About 10 minutes into the conversation he randomly switched to how no mother would allow their daughter to marry him. He punctuated his frustration with a lot of hand motions. For example, he said, I would not be allowed to go out with this fine lady, he said, pointing to my companion. She started to inch behind me. Now, I was annoyed. We were going to be late to the apartment, this man did nothing but complain and now he was ogling my companion. She was my first trainee. In the mission we call trainees daughters and trainers mothers. So I told the man he could not date her because she was my daughter. The angry demeanor disappeared, replaced with a pleading one. The man began asking me if he could marry my daughter. He laid out why I should pity him, how he would treat her like a queen. My companion started laughing silently, leaving me to argue that he was drunk and could not marry my daughter. I don't remember how we got away from him, but we were so glad that Heavenly Father turned him from a beastly drunk into a pitiful drunk. (Rachel)
Living in Naranjal and trying to get back to our apartment at night. No taxi would take us. Thankfully nothing ever happened. Also, not that crazy, but a guy confessed murder to me in a baptismal interview. It was unexpected and he had to write a letter to the first presidency. Eight months later he was baptized. (Karl)
There was a power outage in tarapoto and we were caught in a downpour in complete darkness. (Jessie)
Driving in some of the buses was a life and death experience. (Tyler)
Cuando nos corretearon un grupo de jóvenes rebeldes de un equipo de fútbol y yo recibi recién a mi hijo ósea capacite 2 veces. (Everth)
Drunk guy chased me with a knife. (David)
On one of my very first p-days, we meet up with another pair of elders and so we dared to go to LA Parada to buy me a Pair of Yanques (cholo stomps). My companion (Elder Steck?) told me not to buy anything because they would rob you on the next block and take it all everything else from you. I wore my Cholo stomps everywhere, even in the shower. Don't go barefoot ANYWHERE! (David)
Held up at pension robbed at gun point and tied up in women under garments. (Andrew)
Crocodiles and dogs. (Jorge)
Walking in the night on the shore of the Amazon River in the small village of Bethlehem. Super dark and difficult to find people to teach. (Rodrigo)
Robbers. (Rodger)
The Sendero Luminoso ( the Shining Path) terrorist group was active in Peru while I served my mission. One night while we were returning home, the terrorists exploded some transmission lines and set this large building on fire. All of Lima was without power. As we were walking back to our house we could see 4 masked men carrying machine guns and so my companion and I hid behind some bushes and the terrorists ran within 6 feet of us, but did not see us. When we returned to the house where we were staying the lady of the house was listening on a battery operated radio since there was no power and told us that they stated on the radio that terrorists were in our neighborhood . We said we know we saw them they ran right by us. (Bret)
Someone threw a brick through the window of a Chichaysuyo bus I was riding in as it traveled at night. I was being transferred. (Phil)
My companion in Chiclayo. Oh yeah, there was also gunfire downtown. (Dave)
Terminando mi misión debía enseñarle a mi compañero la importancia de que los investigadores asistan a la capilla un domingo que llovia incesantemente en la ciudad Iquitos Punchana asistimos a la capilla y no había ninguno de ellos, por lo que preocupado que no vinieran los que tenían que bautizarse y los demás que habíamos invitado decidí como compañero mayor y líder de Distrito salir a buscarlos sin embargo por esos días estaban poniendo tubos de agua por todas las calles en toda la ciudad y no se veía por donde ir mi compañero no quería así que decidí que me siguiera y renegando lo hizo y vociferaba en la calle día lluvioso, y por estar preocupado por el y mis investigadores sin darme cuenta y pensando que había piso caí dentro de una zanja y fui bautizado de nuevo con agua de tierra roja que tuve que ir al cuarto a cambiarme, moraleja nunca salgas hacer la obra discutiendo con tu compite y sin una ruta trazada. (Carlos)
What was a spiritual experience?
Being able to take one of my converts to the temple just weeks before he died. (Will)
There where so many it's hard to choose. There was this older couple, they were both in their 80s, they were the sweetest souls on the planet. The day they were married and baptized….you could feel the angels singing and cheering. (Caitlin)
I was emergency transferred to be in a trio. Our first lesson together was with an elderly gentleman and went on for 3 hours. I was new and didn't know how to handle the situation. The lesson had covered random information he didn't need to know and was all over the place. The next day, the lesson was the same; 3 hours long covering many different topics. I wondered why this man continued to meet with us. Transfers happened and we went back to visit this man and introduce him to our new companion. He started off by saying he had found a book that was answering a lot of the questions he had. Dread stated to fill us as we asked what book he had been reading. He went to the back and pulled out a relief society manual from the 50's. He found it at a bookstore and read about half of the manual. I was astonished. Bookstores are rare in Peru and the fact that he found an old relief society manual in one… He was baptized about 2 weeks later. His baptism was one of the most spiritual experiences I've ever had. He was a man who had been taught by the Spirit, not by us. It proved that it doesn't matter if you're incompetent or whatever, if someone is prepared, they will be taught, one way or another. (Rachel)
Having just about everything go wrong for a baptism, but still being able to get the man baptized. (Karl)
During the power outage, we were called into someone's home randomly. (Jessie)
Helped convert a man who had been receiving missionary discussions for 30+ years whose children were all return missionaries and whose wife worked in the temple. He is currently in the stake presidency. (Tyler)
Cuando habían bautismos míos perdona se animaban a ser bautizadas. (Everth)
I had 3 years of high school Spanish I left the LTM as a 1.5 in Spanish. I didn't understand anything anybody said for the first 3 months in the field. However, after about 6 weeks we were having a chat with a long-term investigator catholic priest. I couldn't follow the discussion at all. All of a sudden, I just started lecturing this guy. I spoke for several minutes until the spirit wore off. My companion thought I was sand bagging him about my Spanish ability. I still have no idea what I said. After 3 months I was very fluent, another true miracle. (David)
People had dreams testifying of The Book of Mormon. People inviting us to their home because of the Spirit we brought. (Andrew)
Giving a blessing to somebody who is supposed to be dead. (Jorge)
Baptizing 25 people in one Sunday afternoon. Three families of 7 each, and some other individuals. It was the closest I felt to heaven. (Rodrigo)
Blessing of the sick. (Rodger)
I had received a transfer from Lima to the Huacho Zone which was a couple of hours north of Lima by bus. Elder Hardman and I were traveling together and it was night. As we entered the outskirts of Huacho, one lady got off the bus on the side of the road. We were waiting for the bus to get to the bus station in Huacho to get off . More than an hour had passed and still no bus station . There was no more signs of the city and we were in the middle of a desert at night. I walked up to the bus driver and asked when we would be arriving at the bus station in Huacho and he said we passed Huacho an hour ago and would not be stopping until we reached Chimbote which was another 6 hours. We did not want to go another 6 hours so we told the bus driver we wanted off. He said here and we said yes. We were in the middle of the desert at night and not close to any houses or any businesses. After getting off the bus we had waited at least another hour and only seen about 4 cars come by but no one stopped to pick us up. Elder Hardman then told me Elder Hinckley we need divine help. We both kneeled at the side of the road and said a prayer. Within 30 seconds of finishing our prayer a dump truck stopped and asked if we needed help. We told him we were trying to get to the Mormon church building in Huacho. He said he knew where it was and told us to get in the back of the dump truck. We hopped in and he brought us to the Church building in Huacho. (Bret)
Too many to pick just one… (Phil)
I read El Libro de Mormón. Me dio gran testimonio de su veracidad. (Dave)
Oh nunca conté tenia tres meses en la misión mi voz era mal,los medicos me indicaron operación a mis cuerdas vocales luego refirieron que debía ir a casa o mi voz quedaría ronca por siempre si continuaba enseñando, ore a Dios con mucho temor que la gente no me escuchara y entendiera el mensaje escogí continuar mi misión, aunque sufriera de diafonia o perdiera mi voz, esta debilidad fisica hizo que muchas puertas se abrieran y no solo estas sino también muchos corazones durante toda mi misión, hoy tengo la misma voz que el profeta kimball y ayudo a personas y también lucho contra hombres que están fuera de la ley y mi deseo se cumplió cuando inicie mi misión con esta escritura de alma oh desearía ser un ángel con una voz de trueno para seguir predicando este evangelio a todas las personas. (Carlos)
What are some interesting facts about the Lima North Mission?
The areas are super small but you will never run out of people to teach!!! There are sooo many people who live in each area. (Will)
It's not very big. That's good and bad. Good because your zone is all right there. It's also bad because if you've ever lived in a small town, you know how people talk. (Caitlin)
You get a piece of all sorts of people. There are some areas were the people are rich, some areas were the people are super poor. (Rachel)
Our mission before it split on my last day, it had about 10 million people in its boundaries. We baptized about a stake per year which was nuts. There was a lot of variety in the levels of poverty and climate and vegetation. (Karl)
A lot of diversity among the Peruvian culture (Jessie)
When I was in MLPN (Lima Peru North Mission) there were 3 distinct regions; Lima, Norte Chico, and the jungle. Our mission had the highest baptizing rate in the entire South America region. (Tyler)
Ver ejercer el sacerdocio y ver milagros. (Everth)
There were about 150 missionaries. We were baptizing about 400 people a month, under President José Armando Sousa Quiroz. They split the north and south missions and created the Arequipa Mission while I was there. (David)
Baptized almost every month. Shining Path tried to send fear. Peru overcame this movement. (Andrew)
There were more Americans than native Peruvians on mission. I had two Mission Presidents, Worthen and Bitter. I was assigned to the coast, mountains, and jungle of the country. (Rodrigo)
The many baptisms. (Rodger)
It was the highest baptizing mission in the world at the time. When I arrived we were averaging about 650 baptisms a month as a mission, but had a goal to get 1000 baptisms in a month this goal was started by the previous mission president. The current mission president I had continued this goal and came close to getting it when he left in June of 1983. On the month my new president arrived in July of 1983, we met the goal and had 1,023 baptisms completing a goal which had started 4 years earlier in 1979. In the months that followed we had increased that to over 1100 baptisms in a month. (Bret)
We were told to bring suit coats, but nobody ever wore a suit coat. It was too hot in the summer, and we wore alpaca sweaters in the winter. (Phil)
Presidente José Armando Sousa Quiroz is a man without equal. Peruvians are the greatest people anywhere. The ancient treasures of the Inca civilization are everywhere: Cajamarca, Cuzco, and Machu Picchu are testaments to the fact that God was with the ancient inhabitants of the Americas. (Dave)
El amor a las personas se cultiva grandemente en este servicio, a tus bautismos lo ves como de tu familia y crece un amor incondicional también creo grandemente que conoces mucho a tu señorJesucristo y aprendes amarlo por todo lo que hecho por ti. Y además crece una fuerza interior de que Dios te ha preparado como un líder para continuar siempre así y ser efectivo y eficiente en tu vida y dar testimonio con el ejemplo que el evangelio es verdad. (Carlos)
What was the weather like?
Humid and it almost never rains, but in the winter it gets misty so it feels like people are just constantly spitting in your face. (Will)
Not too bad. Hot and humid in the summer and it makes it hard when you have to climb up into the hills but not too bad. Winter is cold at night. So once the sun goes down, you need your jacket. It doesn't rain so don't take an umbrella. Just saying. (Caitlin)
Summers are pretty hot, winters aren't that cold-jacket weather. It doesn't rain, only sprinkles and rarely at that. (Rachel)
In Lima it was either hot or cool and misty. It never actually rained, just misted in Lima. Lima and the jungle were both very dirty. The jungle was hot and sticky or rained at the drop of a hat like someone turned on the shower. (Karl)
Lima was definitely muggy a majority of the time, with little sun, but the jungle was beautiful nearly year around. (Jessie)
Never got too cold in Lima. It never rained, but during the winter it would get foggy and misty. In the jungle it would get hot and humid them out of nowhere it would be a down pour. (Tyler)
Tropical, frío, caliente. (Everth)
It practically never rains in Lima. Temperatures do not fluctuate from one day to the next much. Smoggy/overcast almost all year. In the jungle, Iquitos. Very hot, very humid, very rainy. (Joseph)
Hot. (David)
It never rains in Lima. The Pacific Coast gets less rainfall than the Sahara. The depend on snow melt from the Andes to irrigate farms to the west. It rained a lot in Cajamarca. (David)
Never saw rain on the coast. (Andrew)
Sunny all the time. (Jorge)
All but snow. (Rodrigo)
Cloudy a lot, but good. (Rodger)
Hot and humid in Lima during the summer. Very little rain however along the coast, which is desert. What they called rain was more like a mist, not generally much rain along the coast. In the jungle areas of Peru in the interior, it rained a lot and was a tropical rain forest. Then you have the high Andes region in the middle of Peru with peaks exceeding 22,000 feet. Huaraz was a city in my mission and it was about 14,000 feet in elevation. (Bret)
Hot and humid in Piura, cold in the winter in Barranca. (Phil)
The Pacific coat of Peru is received less rain than the Sahara Desert. Cajamarca's weather was perfect. Chiclayo and Piura were soooo hot. (Dave)
Overcast and humid in Lima and the coast. (Dave)
Any things you really like about the area/people?
Peruvian people are really humble and are ready to receive the gospel!! They also are really fun people and love laughing and being around those the like. (Will)
They were so humble. They could be barely scrape by and they would give you the clothes off their backs. They genuinely wanted to help. (Caitlin)
The people are so loving and caring. They like to get involved in the work more than anywhere I've been. It's fun to be able to talk to random people in front of their houses and while you walk. (Rachel)
They are very willing to let you in, but you have to really work at it to get them to understand the message completely. They are very giving and gracious. (Karl)
They befriended us as missionaries so quickly and had generally good hearts. (Jessie)
The people are so kind and inviting. They are all so approachable and will take the time to listen to you. Most will invite you into their homes, and give you something to eat or drink no questions asked. (Tyler)
Su sencilles. (Everth)
The people were, for the most part, very humble. Living conditions 38 years ago were miserable: dirt floors, no refrigeration, undependable water, ancient phone systems. The Lord took opportunities to try and to remind these humble Lamanite descendants who was in charge. Even in the worst of circumstances, they thrived, changed their truck routes to days other than Sunday, repented, and for the most part, they thrived. (David)
Loved the people. Strong family ties. (Andrew)
Lima and rain forest (Iquitos). (Jorge)
Open heart. Humble, ready to learn the gospel. Happier than many in spite of their temporary difficulties. (Rodrigo)
The people are incredibly humble. (Rodger)
Peruvians are very friendly people in general. I never had the door slammed in my face and most people would invite us in to talk even if they had no interest in learning about the gospel. (Bret)
The people were wonderful -very caring and warm. (Phil)
The people are so humble. They invite you in, talk, feed you. I love the artisanry,the rugs, the sweaters, baskets, leather all made by hand one at a time. What an amazing place. (Dave)
Very kind and loving. They would do anything to help. Very loving people especially my companions. (Dave)
Any packing/clothing advice?
Golf pants, I was so jealous of all of the elders who had them. (Will)
Take good walking shoes. You will need them. You will walk 8-10 miles a day. Sisters bring scarfs for winter. You will be glad you had a few. Don't go crazy on play clothes. One pair of jeans is all you will need. Take lots of ballerina socks for flats. Don't try and buy makeup in Peru. It's cheaper to bring it with you. (Caitlin)
Lots of socks are great! Colorful clothes are the best but most important, wear what you're comfortable in. Fabric that can get dirty and easily clean are wonderful. (Rachel)
Get the right shoes. Stand in them for a day and see if your feet kill. When I was there you couldn't bring an actual backpack, we had to use side bags. If still true, find the most durable and comfortable side bag you can buy without it looking nice because it might get stolen otherwise. (Karl)
Basically went through the whole mission without using my suit a whole lot. Used sweaters most of the time during winter. Shoes wear out quickly. (Jessie)
No need for heavy coats a few sweaters will do. Get heavy-duty white shirts that will last. If you're a bigger guy, getting clothes or shoes will not come easy. (Tyler)
Camisas, pantalones, zapatos. Aseo personal, cuiden sus dientes siempre. (Everth)
I was in the north. Winter means 50 F degree weather in Lima. Scorching temperatures further north. No suit coats needed. Bring lots of your favorite soap and tooth paste. (David)
Lots of dirt and dust- earth tone colored clothes. (Andrew)
Take them all, you'll need them at some point. (Rodrigo)
Good shoes. (Rodger)
Although I used some suits in the MTC. Most of Peru except for the mountains was hot most of the time so I never used the suits in the mission field and left it in the mission office, but used the slacks. At the end of my mission the slacks were worn out but the jacket was still new since I never wore it in the mission field just white shirts ties and pants. Would recommend buying a two year supply of razor blades with you to Peru. You can find razors, but is more easy to purchase in the States. (Bret)
Get a suit and nice dress pants made while you are there rather than try to bring everything with you. (Phil)
No black suits; they're for funerals. All your clothing should be designed for the hottest and brist weather imaginable. The cloth should wick away the sweat. Bring Dove soap and Scott toilet paper. (Dave)
Dress in light colored clothes. (Dave)
What blessings did you receive from serving a mission?
I think one of the biggest blessings I received was learning how to receive revelation! (Will)
I can speak Spanish. My family has grown. I appreciate my family and my upbringing more. It's harder to complain about an " outdated" iPhone when the people you come to love can't even put food on the table. (Caitlin)
Marriage, faith promoting experiences, patience, stories, and family help. (Karl)
My life I live now. I learned most of the gospel while on my mission being a convert and was blessed to be able to baptize my now wife. (Jessie)
Gaining a stronger testimony for the gospel and especially for the power of the Book of Mormon. Learning Spanish has opened so many doors for me as a professional. (Tyler)
En mi hogar mucho progreso y bueno en mi madures temporada y espiritual y la bendición de tener ahora mi propia familia eterna. (Everth)
I am still active. I have served in bishoprics as Ward Mission Leader, Gospel Doctrine Teacher, clerk, stake Sunday School president, etc. None of it would have been possible if not for the experience I gained speaking a foreign language in front of strangers about things you couldn't see. (David)
My family was well protected while I was gone. Most of my blessings were personal blessings. My faith and testimony in the simple, key principals of the gospel is now steady and unwavering. I also love being able to talk with people who don't speak much English at my work and seeing their happiness that there's someone who understands Spanish and talks with them. (Rachel)
My testimony was strengthened and my love of the Lord increased. (Andrew)
Spiritual experience. (Jorge)
Knowledge, strengthen my testimony, and still recalling pieces of mission experiences through out my life. (Rodrigo)
Incredible friends. (Rodger)
My life was forever changed. It opened possibilities and allowed me to marry a wonderful person who would not have considered a non-returned missionary. I benefited so much in other ways from my mission. (Phil)
I leaned to love another culture, people, and language that I had not known before serving my mission; I learned new customs such as the abrazo (hug) was a standard greeting among friends as opposed to just a hand shake in the US or a kiss on the cheek when meeting those of opposite sex or among two female friends. (Bret)
A testimony. I am still here after almost 40 years. (Dave)
Appreciating what I have. The Lord blesses us every day. Great health and strength. Gift of tongues has been a major blessing throughout my life. (Dave)
What are some skills you gained?
I gained a lot of communication skills. (Will)
Ability to talk with church leaders. How to plan activities, and how to get along with my companions. You will get stuck with people you may not like but you have to find a way to live with them 24/7. (Caitlin)
I'm more patient, I can tell when I need to be more humble, I can talk with anyone, personal confidence grew, problem solving skills improved exponentially and I'm not indecisive. I can train others easier and can explain things in a simple manner. (Rachel)
Spanish. Shoe shining. Navigating potentially dangerous areas. Jay-walking busy highways. Being able to talk to people about potentially awkward subjects. (Karl)
Learning Spanish, social skills, patience, and most importantly love for my brethren. (Jessie)
Learned Spanish obviously, and randomly learned to juggle. (Tyler)
Paciencia, dominio de escrituras, persuasión, madures. (Everth)
Dealing with stress and depression. (David)
It's 40 years later and I still have all my Spanish. I use it often. It is invaluable to my understanding of English. (David)
Hard work, perseverance. (Andrew)
Learning English. (Jorge)
Spirituality. Knowledge of the scriptures, obedience. (Rodrigo)
Communications. (Rodger)
Since we talked to people all day long, it took away a lot of the fear about approaching strangers and talking to them about the Gospel. Those skills can be used for salesmen in the business world and many businesses are looking for ex-missionaries to be on their sales force since they know they are skilled in approaching people and talking with them. This could be applied to a lot of different products and services. (Bret)
Learning how to work hard for an important cause. (Phil)
Como hablar el castellano. Todavía lo tengo todo. Saber hablar otro idioma es una ventaja en tantas maneras. (Dave)
Speaking in public and in church. Meeting new people and treating everyone with the same the same dignity. (Dave)
What do you wish you knew/did at the beginning of your mission?
Teach people with clarity and with boldness- they will understand better. (Will)
It does get easier. The first 6 weeks in the CCM are scary and the first 6 weeks in the field are hard. You don't speak the language, you don't understand anything and honestly you will cry. Give it 6 months and I promise you that you will be talking up a storm. Don't stress…it will come. When you get in the field, read only from your Book of Mormon in Spanish in personal and companionship study. Your Spanish will improve a lot faster if you do. Trust me it works. (Caitlin)
Take the initiative. Learn how to do daily/weekly planning early on. (Rachel)
I didn't know anything about actually finding people or using the area books and the numbers. Also, the rules are very important, but schedules and things not clearly delineated can be adjusted to fit what's best for you and the investigator. Follow the rules, but don't be so adherent to the letter that you forget their purpose. Also, it's going to require immense patience to actually get message to sink in. (Karl)
To get lost completely in the mission rather than have one part of me at home in the beginning. (Jessie)
Wish I had a better understanding of the Bible, the apostasy, and the restoration. (Tyler)
Orar mucho y olvidarme de mi mismo y enfocarme en la obra. (Everth)
I wish that I had read the Book of Mormon all the way through several times before arriving at the LTM. I read it all the way through for the first time in the LTM. I wish that I had understood that the Book of Mormon was the keystone of the restored gospel. I wish I understood that we, as missionaries, were sharing and inviting, not teaching and converting. (David)
Just be fearless. (Andrew)
More knowledge of the gospel doctrine. (Rodrigo)
More about the power of prayer. (Rodger)
Wish I had more Peruvian companions earlier in my mission. My language skills greatly improved while serving with native companions, and this would be better early rather than later in the mission. (Bret)
Keep a better journal. (Phil)
I should have read The Book of Mormon much more, much, much more. (Dave)
How much the people really do love you and care about you. (Dave)
Any advice/testimony for pre-missionaries going to Lima North?
Be fearless!!! You'll never lose anything for trying to contact someone or inviting someone to repent or be baptized! But you WILL miss out on the opportunity to help someone come unto Christ by not doing these things. (Will)
I know you're excited, scared, nervous. Just trust that the lord will send you where you're Meant to be. He has a plan. You may miss your family but you are helping someone else have their family forever. It goes by really really fast. Don't worry about your mistakes. It's part of life. Just because you're a missionary doesn't take the stupid away. I know this church is true. And I know that there is someone out there that you need to meet. I met my best friend on my mission. Who does the lord need you to meet? (Caitlin)
Go by the Spirit. Talk to everyone and just smile. (Rachel)
This is the Gospel of Jesus Christ. The Church is the vehicle and the organization through which He brings his children to the truth. It's important for people to get baptized, and while it's not solely your job to make sure they stay active, you'd better do your darndest to set them up for success. It's not just about the numbers. It's going to be exciting. Different from anything you know. Especially if you're from America. Good luck. Pick yourself up if you get discouraged. Keep yourself busy enough that discouragement is only fleeting. (Karl)
Losing yourself and immersing yourself completely in the Lords work will make you an effective tool of the Lord. Obedience may not seem that important at first, but there is a blessing with every ounce of obedience. (Jessie)
Don't go out on a mission with any unresolved worthiness issues. If you need to wait until you are ready to serve, wait!!! Do not feel pressured to leave at 18 or 19, go when you are ready and when you have a testimony. (Tyler)
Sean obedientes es la clave y tengan paciencia y amor. (Everth)
Be true to yourself and be open to other ideas. (David)
Don't drink the water. I once ate a piece of chicken from a total dump of a so-called cafe in the Andes halfway between Huánuco and Lima. I was starved. I knew I absolutely shouldn't eat anything from this place, but I did. I got so sick I couldn't drink milk for six months without getting diarrhea. Please follow the health sisters' advice. (David)
Gain the Spirit. (Andrew)
The world is going to beat you down, but you have to keep moving forward…and faith+a lot of work= blessings. (Rodrigo)
Learn the discussions in Preach my Gospel prior to entering the mission field as well as read the Book of Mormon. (Bret)You will love your mission if you forget about what you are (temporarily) leaving. Go and serve with all your strength. (Phil)
You are not going on a mission to teach, convert, peach, or lead. The only person you should convert on your mission is yourself. As a missionary, SHARE your personal experiences gaining a testimony that God lives, how the restored gospel has blessed your life, and INVITE them to do the same. (Dave)
Remember you are a guest in their country. No amount of complaining will change anything. Get on your knees and pray for help, for your companion, the people. (Dave)
What was a funny language mistake?
Cabello y caballo. Hair and horse. It took me almost all of my mission to get those two straight 😉 (Caitlin)
When teaching English to your companions, make sure they pronounce the "r" in shirt and how to pronounce the long "e" beach. (Rachel)
Not so much a language mistake, more like a manners mistake. My companion asked some lady if she was pregnant. Not a good idea. Funniest part was that he had no idea why that could be offensive. Also, people call other people and especially kids, "Gorditos", basically fatties. Which is funny. Oh, and when I first got out there, people kept putting -ito at the end of everything. And to my concrete understanding of Spanish culture, I for the life of me couldn't figure out why she was calling that door a little door (puertita) when it was big. Turns out it just another of those cultural things you won't get til you've lived there. (Karl)
I often said me gusto instead of me gusta which essentially means I pleasure myself. (Tyler)
El Ingles. (Everth)
My companion called a "vicuña" a "vacuna". Another time we had an appointment with a young lady. When we got to her house I told her father we had a date with his daughter. He slammed the door on us. My Peruvian companion explained I should probably have said reunion instead of cita. (David)
Y puso Los monos sobre su cabeza (las manos sobre). (Rodrigo)
In Spanish everything is either masculine (El, Los) or feminine (la, las). Generally words ending with a are feminine and words ending in "o" are masculine but this is not always the case. Someone asked me what I thought about the Pope (El Papa). I wanted to tell them that I thought he was a good man but that he did not have any Priesthood authority, but instead I said the Potato ( la Papa) was a good man but the potato had no authority. When I heard everyone laughing I figured out that I must have said something wrong. My senior companion told me that I just told them that the potato has no authority. (Bret)
We told a father we had a "cita" with his daughter. He said NO! and slammed the door shut. My pricked companion explained that in certain contexts, cita means a date. Oops. (Dave)
A sister missionary spoke in church and said she was pregnant (embarazada) and it was the bishop's fault. (Dave)