Free resources about the Pennsylvania Philadelphia Mission:
*Other Mission Pages: Pennsylvania Pittsburgh Mission.
---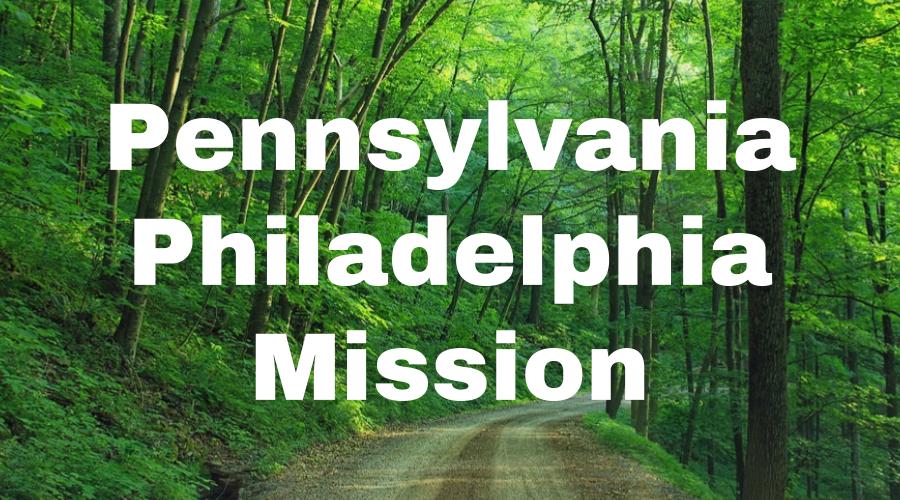 ---
Philadelphia Mission Address
Here's a recent address for the Philadelphia Mission. We try to keep this information up to date, but it's a good idea to check the address with several sources, including your mission packet or the mission office.
Pennsylvania Philadelphia Mission
721 Paxon Hollow Rd Ste B
Broomall PA 19008
Phone Number: 1-610-356-0824
Mission President: President Christopher L. Randall
Philadelphia Mission Map
Here's a link to the mission map for the Pennsylvania Philadelphia Mission (LDS). To access the official LDS.org map for the Philadelphia Mission:
Log into your LDS account here.
Click here.
Videos with Philadelphia RMs
Here are in-depth YouTube video interviews with returned missionaries from the Philadelphia Mission.  We interview hundreds of returned missionaries each year, so check back regularly to see new RM interviews.
Videos about Pennsylvania
Here are LDS-friendly educational videos about Pennsylvania. We scoured YouTube to find the best quality videos about Pennsylvania, that are free from inappropriate music, immodesty and profanity.
Philadelphia Missionary Blogs
Here's a list of LDS missionary blogs for the Philadelphia Mission. This list includes the missionary's name, URL and when their blog was updated.
*Send your missionary a gift (mission-specific shirts, ties, Christmas stockings/ornaments, pillowcases, etc.)
Philadelphia Mission Groups
Here are Philadelphia Mission Groups- for LDS missionary moms, returned missionaries, mission presidents and other alumni of the Philadelphia Mission.
Philadelphia Mission T-Shirts
Here are T-shirts for the Pennsylvania Philadelphia Mission!
Shirt designs include Pennsylvania Philadelphia Mission logo/emblem shirts and Called to Serve shirts. The shirts make great gifts for pre-missionaries, returned missionaries and missionaries currently serving. LDS Mission shirts come in all sizes: Small, Medium, Large, Extra Large, up to 4XL.  The mission designs are printed on white shirts and are shipped to you.
*Simply click on a shirt design to view the details and submit an order. The designs on mission t-shirts may also be printed on other LDS mission gifts, including: Philadelphia missionary aprons, Christmas stockings, ties, pillow cases, teddy bears and Christmas ornaments.
*Click here to browse Philadelphia Mission gifts
---
---
Philadelphia Mission Presidents
Here's a list of current and past Mission Presidents of the Philadelphia Mission.
2016-2019, Christopher L. Randall
2013-2016, Thomas G. Anderson
2010-2013, William A. Schaefermeyer
2007-2010, Michael R. Murray
2004-2007, Robert F. Fillmore
2001-2004, Joseph V. Cook
1998-2001, James R. Michie
1995-1998, Frank E. Wagstaff
1992-1995, Richard H. Morley
1989-1992, Jay A. Ferrell
1983-1986, Dennis E. Flynn
1980-1983, Robert C. Greenwall
1977-1980, Louis K. Payne
1976-1977, John W. Boud
1973-1976, Hugh W. Pinnock
1970-1973, George Baker
1967-1970, Norman Bowen
1964-1967, Wilford M. Taylor
1963-1964, Heber J. Grant
1960-1963, George B. Hill
Pennsylvania LDS Statistics (2015)
Church Membership: 51,406
Missions: 2
Temples: 0
Congregations: 111
Family History Centers: 42
Helpful Articles about Pennsylvania
Philadelphia Missionary Survey
Here are survey responses from Pennsylvania Philadelphia RMs, to give you a snapshot into what it's like to live in the mission.
When did you serve?
2012-2014 (Ricky)
2013-2015 (Bryce)
2012-2014 (Devin)
2013-2014 (Jessica)
2012-2014 (Thomas)
December 2009-December 2011 (NN)
2006-2007 (Rebecca)
1999-2001 (James)
1997-1998 (Nathan)
1985-1987 (Andrew)
1978-1979 (Dawna)
1978-1979 (Dawna)
1975-1977 (Harry)
Which areas did you serve in?
Wilkes Barre, PA; Salisbury, MD; Reading, PA; and Philadelphia, PA. (Jessica)
I served in 5 different areas: Bridgeton NJ, Norristown PA, Hazelton PA, Scranton PA, and Reading PA. (Thomas)
Dover, Reading, West Chester, Elkton. (Rebecca)
Wilmington, Philly, Reading, Telford. (James)
Philly (Cambodian North and South), West Philly (English), Smyrna DE (English), I also went to the Harrisburg Mission for 2 months (Lancaster). (Nathan)
All three Spanish Districts in North Philly, Reading PA. (Andrew)
Wilkes Barre PA & Bridgeton NJ. (Dawna)
Wilkes Barre, PA and Bridgeton, NJ. (Dawna)
Philadelphia, Tamaqua, Altoona, Millersburg, Glasborough New Jersey. (Harry)
What were some favorite foods?
Cheesesteaks, Pretzels, Chicken Parmesan Sandwiches, Hoagies, Perogies. (Ricky)
Cheesesteaks. (Bryce)
Mexican Food, Chinese Food, Breakfast Foods. (Devin)
Costa Rican rice and beans. Hands down. (Jessica)
One of my favorite's was tacos dorados, sopes, ceviche, and pazzole. Just to name a few it was all good learning about a new culture and getting accustomed to a new thing. (Thomas)
Cheese steak, pizza, cheese steak pizza. (NN)
Wheat berries, fruit. (Rebecca)
Cheesesteak, pizza (James)
Philly Cheese Steaks, Rita's Water Ice, Pho, Vietnamese Hoagies, Cambodian Curry. (Nathan)
Cheese Steaks down on South Street, Meatball Sandwiches from a street vendor downtown, Rice and Beans from the many Spanish members in the branch (now ward). (Andrew)
Soft pretzels with mustard, cabbage and bacon, stuffed mushrooms, Phili cheese steaks, pickled eggs. (Dawna)
Soft pretzels with mustard, cashews and bagels from the local Jewish Deli. (Dawna)
Pretzels with mustard. (Harry)
What was a funny experience?
My companion and I locked our keys inside our apartment and fortunately one of our windows was open so we could get in. Well, we lived on the second floor so we needed help lifting one of us up to the window. So, we found someone who could help us. Unfortunately this man only spoke Spanish so we had to act out what we wanted help with. After a few minutes of my companion and I looking stupid trying to get this guy to know what we needed help with, we were finally able to communicate what we needed help with and he consented to help. This guy and I hoisted up my companion with difficulty but we finally got him up to the window and it was hilarious seeing him halfway in the window with only his legs showing as he was trying to get in the window. Finally he got in and landed with a thud but reappeared a few minutes later outside with the keys. (Ricky)
Have drunk people want to pray with us. (Bryce)
When we came around the corner at night by our apartment and there was a bear in the road. I screamed like a little girl :). (Devin)
I was once asked by a 6-year-old girl if sister missionaries wore pants under their skirts. Then she decided to check while I wasn't paying attention. (!!!!) (Jessica)
There was one time that me and my companion were walking along and I was helping an old lady so she wouldn't fall over and hurt herself, on the ground and after I tried to do that she tried to kiss me. Awkwardly enough I said no thanks and went on my way. Pretty funny experience to say the least. (Thomas)
I had gained about 20lbs since the beginning of my mission and I ran into an investigator from my first area who told me quite bluntly (but not rudely) I'd gotten fat. (NN)
Telling someone "I have a man" instead of "I'm hungry" because my Spanish was so bad. (Rebecca)
Running to a bus and almost getting struck by lightning. (James)
I pigeon crapped on my head as I was about to enter the grocery store. Instinctively, I touched it with my hand and then wiped it on my suit. (Nathan)
Twice we had our apartment robbed. It was in the middle of the summer. It was really hot and humid, we had no air conditioning so we left our windows in the apartment open. We lived on the first floor. So, they pretty much got everything we owned that was of any value, ie. cameras, luggage, etc. We were both worried that they would come back a third time so I slept with a baseball bat and my companion slept with a screwdriver. It was too hot to sleep with the windows closed so we left them open. It was crazy. (Andrew)
We taught a lady who referred to herself as "a holy roller" and informed us that she was a Prophetess. When she would introduce us to her family and friends, she would say "these girls are actually Mormons, can you believe that?" (Dawna)
The District Leaders and kept giving us sisters a hard time about we all need to be baptizing more, trying new methods to motivate us all in the district. My companion and I met some people walking to church and we invited them to come to church with us and they accepted our offer. It was such a difficult area that this was very unusual that they would accept. Finally, at church the District Leader had to tell everyone to back off as the sisters were the only ones bringing anyone even though the four sets of Elders had been trying to convince us how much better they were doing in reaching others. There was a bit of eating crow going on. Of course, it was all in fun, none of it was unkind but it proved an excellent point in a fun way, you never know what someone else in the area is accomplishing without it being broadcast to everyone. (Dawna)
While knocking on doors, this lady answered and in a very angry manner accused us of looking for young girls to take back to Salt Lake City as wives. (Harry)
What was a crazy experience?
Being caught outside in a huge rainstorm that appeared out of no where and that flooded the area we were in and knocked down huge branches from trees. The only protection we had was going under the overpass of the freeway we were nearby but that did not provide much protection. (Ricky)
Having a shooting happen where we were an hour before. (Bryce)
Slipping and sliding in the car during blizzards. (Devin)
My companion and I were on our way home for a dinner break and we were followed. We ended up having to pull into the state prison (which was down the road from our apartment) in order to get them to go away. (Jessica)
There were many times where I got ran over either by walking or riding my bike on my mission. That and being chased by a dog I consider to be somewhat dangerous, haha. (Thomas)
We'd sometimes go to bed to the sound of "fireworks" (gun shots), but missionaries don't live in that apartment anymore. (NN)
Witnessed a drive-by shooting. (Rebecca)
My life getting threatened. (James)
My companion and I were out a little bit after hours and we were walking home and not paying attention to anything. We got mugged at gunpoint, but the mugger got scared off when some one drove past and he didn't get anything. (Nathan)
Once my companion and I were approached by a man on the street who wanted money. The man became angry when we told we had no money, he then proceeded to punch my companion in the face. I pushed the guy away and we ended up getting away from the situation. The guy was drunk. (Andrew)
Two experiences stand out for me. The Susquehanna River flooded. The ice chunks in the river were huge. My companion and I were walking near the Market Street Bridge, and it was so muddy due to the excess water, it pulled the heels right off my boots. We saw some of the bank split in the middle of the dirt as the river crested at 33 feet. Also an especially frightening time was when the Three Mile Nuclear accident happened. Water was being trucked out, stores shelves were emptied and people were very frightened at what might happen. (Dawna)
My companion and I were coming home from teaching and it was getting late, the wires were down laying across the road from a severe rain storm. We got on a bus and were travelling home when one man on the bus started asking us about our name tags. When we started explaining who we were, one man on the bus who was severely intoxicated began cussing and telling us everything that was wrong with "Mormons." My companion took quite a strong exception to what he was saying and began to debate with him. I kept trying to get her to be quiet, we had one small problem, she had never been around anyone who was drunk and had no idea how quickly things could change around someone who had been drinking heavily. I was never so happy to get off the bus between the two of them, by time we got home, we both looked like we had been baptized due to the heavy rains. It was enough that we took pictures. Even after all these years I cannot look at that picture without being reminded of heavy rains and drunks, how the two don't mix. (Dawna)
My companion and I were riding our bicycles in Philadelphia and just as I approached this car that was parked along the curb, he opened his car door and I flew over the top of it and onto the pavement. (Harry)
What was a spiritual experience?
Slowly witnessing a family come to the Gospel, one by one until they were all baptized and confirmed. The family slowly came to the Gospel after the dad was baptized. One by one the family members joined because they saw the influence the Gospel has for good on their family members' lives. They wanted that Gospel and so they all joined. (Ricky)
The first time I invited someone to be baptized. My mission language was English, but we taught a man the first few lessons by studying the lessons in Spanish. My first baptismal invite wasn't even in my native language. (Devin)
We found a less-active who was baptized while in the army overseas. She had lost complete contact with the church and her Book of Mormon had been stolen. We were trying to find a different less active and came across this woman instead. 🙂 (Jessica)
One spiritual experience that I remember a lot was seeing some of my recent converts get baptized not just one, but six of them, a whole family getting blessed by what the Gospel brought into their lives. (Thomas)
Frankly, a lot of it. (NN)
Seeing investigators come to know Christ. (Rebecca)
Knowing what to say at the right time after 9-11. It seemed like we always were in the right place at the right time. (James)
Baptizing an elderly woman who had been searching for the truth her entire life. She was a very frail woman who walked with a cane. She had been a Catholic her entire life, but felt that there was more to the Gospel of Jesus Christ. She actually dreamed a dream that we would come and teach her, and then baptize her. (Andrew)
I was there when the announcement was made that all worthy males would receive the Priesthood. I heard testimonies of how people were affected as well as witnessing what happened in the lives of those who choose not to adhere to the Prophet. I had been very sick with an ear ache for several weeks and had a touch of Pneumonia. My District Leader gave me a priesthood blessing and commanded in the blessing that I be healed "RIGHT NOW". Immediately I physically felt a pressure pulling the infection out of my body and I had my hearing restored and the pain left my body. I was never affected by it again. It turned out to be an experience that was spiritual, we could feel a strong spirit in the room, and created a closeness in our district for those that were in the room. (Dawna)
We had been teaching a woman who we tracted out. I had a dream that she and her husband would be baptized, which later came to pass. As we were challenging her to baptism, the Spirit in the room was over powering. She related to us that she had been fasting all day and had decided to turn us down on her decision to be baptized, but because of the feeling in the room and her fast, she did not have the ability to turn the opportunity down. I have followed her progress over the years and she is still involved in the church and the gospel. (Dawna)
I truly had many spiritual experiences but one that sticks out clearly in my mind even after all these years was a Zone Conference and President Pinnock was explaining John chapter 15 and the Holy Ghost came to me very forcefully and so very literally told me that what he was saying is correct. I was also told that Joseph Smith was indeed a Prophet. (Harry)
What are some interesting facts about the Philadelphia Mission?
The Aaronic Priesthood Restoration Site is located in the northern part of my mission, the Declaration of Independence was signed in my mission, and a new temple is being built in my mission. (Ricky)
Nearly the entire Book of Mormon was translated in my mission in Harmony, Pennsylvania (now called Oakland Township, Pennsylvania.) And the place where the Founding Fathers signed the Declaration of Independence was in Philadelphia. (Devin)
It's the coolest one on the planet. Plus the priesthood restoration site is there, along with a lot of historical sites. (Jessica)
One fact that I thought was interesting was that it was one of the first being called the Eastern States Mission that was organized by Joseph Smith. Also having the area of Susquehanna in my mission where the priesthood was restored by the John the Baptist is always cool too. (Thomas)
It's full of history – both national and church-related. Pennsylvania has several towns, rivers, etc. that are hard to spell/pronounce. (NN)
Best mission ever. (Rebecca)
Had four different states in the boundaries. No tax in Delaware. (James)
We lived near where the movie Rocky was filmed. Joseph Smith once delivered a sermon in Philadelphia at 412 Lombard Street in 1839. The Declaration of Independence was signed in Philly. (Andrew)
We had a total of 11 sisters in the mission. At President Payne's funeral they asked all the missionaries who served with him to stand. He was so well loved. When the missionaries all stood, the Bishop asked "Where all the buses were parked?" It took some time to adjust to a different way of life and took time for people to understand they could trust one another. Always having been a history buff, it was the perfect place for me to serve. The amazing history cannot be over estimated. Things like the Liberty Bell, The Masonic Temple in Philly, Independence Square, the art museum and the statue of Rocky. It was interesting to see this large statue of Rocky and on the steps in pools of water were local children swimming in the water. Not a lot of places for the youth, but they made do with what they had. (Dawna)
While there, we experienced the Three Mile Island Accident, saw the banks of the Susquanneh river split due to a flood, I was serving when the announcement was made regarding the priesthood and all worthy male members. When I served, most branches met in a fire station or masonic building and now a temple is being built, something we discussed a lot but never really expected to see it happen in our life time. (Dawna)
I baptized significantly more females than males. (Harry)
What's the weather like?
Cold in the winter and hot in the summer. It is humid all year so it can be wet and muggy and that influences the weather. If it is 90 degrees the humidity will make it seem like it is 100. (Ricky)
My second winter was the coldest winter in 100 years. Where I was it got to -32 degrees. And in the summers it was very, very, very humid. (Devin)
Humid. If it's hot outside, it's like stepping into the bathroom after someone took a really hot shower. If it's cold outside, it chills you to the bone no matter how many layers you have on. (Jessica)
It depended on the season winter = very cold bad weather but spring, summer and fall = very pleasant weather there. (Thomas)
In the northern areas, lots of snow in the winter. The southern areas don't know what to do with the little snow they get. Very humid in the summer. (NN)
Humid! (Rebecca)
Had all four seasons. Humid in summers and COLD in the winter. (James)
When I got there it was a blizzard. Philly doesn't know what to do with a few feet of snow so the whole city shuts down. (Nathan)
Cold and wet in the winter time. Hot and humid in the summer. The fall and spring were pleasant. (Andrew)
It was very humid, in the summer time it was very hot and muggy. At times when we came home during lunch, we would end up changing our clothes due to the humidity. The winters were brutal but beautiful. I loved the brightness of the leaves on the trees during the fall. And in the spring time I loved watching the squirrels and birds running wild in Forty-Fort. (Dawna)
Humid! The cold was bitter cold, and the heat was an exhausting heat. Seemed the colder it was, the less people would let you in. But all the humidity made the landscape very beautiful. (Dawna)
Summers were sooo hot and muggy and it was difficult to ride bikes in the snow (but we still did). (Harry)
Any things you really like about the area/people?
The diversity is huge. The people from Africa and Central America are very giving and kind. People are very welcoming and will most of the time lend you a helping hand if you need it. There is so much history of the United States and the Church in my mission and it's so interesting. (Ricky)
They are such a unique people to be around. Especially since they were in a place where not a lot of members are. (Devin)
Everyone is kind and looks after you, even if they don't wanna listen to what you say. (Jessica)
The people just were so humble so willing to listen to you, and the fact is they would literally give you the shirt off there back to help you in any way, shape or form. (Thomas)
Very down to earth. (NN)
They belong to the Lord. (Rebecca)
Always honest with you no matter what. (James)
Of course I fell in love with the Cambodian people and I still try to keep them in my life. Asian folks used to feed us, African Americans offered us water, and we were lucky if white folks even talked to us. (Nathan)
The Spanish people who migrate to the US are extremely nice, they love to hear your message. They will invite you in and make you feel at home. They will be interested in you. More than likely, they have heard your message in their own country so they are familiar with you. Philadelphia was my dream mission because I wanted a challenge, I wanted to live in the worst possible place, struggle and overcome challenges. North Philly was a nightmare 30 years ago. (Andrew)
I loved the people so much. A lot of my time was spent in coal country and I felt like I had come home. The people were easy to love and they watched out for the missionaries with kindness and consideration. Pennsylvania is a beautiful place with so much history and so much to see. The birch trees are beautiful in the winter when they are covered with snow and it appears they are bending over to touch the ground. In the summer time I loved being at members homes enjoying the cool air under the dogwood trees. I liked the fact that people spoke their minds, you did not have to wonder what they were thinking. Many people were humble and wanted to know the truth but ask the Lord to help you not be affected in a negative way by those who do not want to know. Keep in mind when people are unkind, it is not you personally they are rejecting, but the Lord. (Dawna)
I love the colors there and the way people reached out to one another. (Dawna)
Some of the best and most kind and most loving and most generous and most spiritual are in Pennsylvania. I loved Pennsylvania because this is not only the location of the beginning of our country but the beginning of the church as well. I can think of no better place to serve a mission. (Harry)
Any packing/clothing advice?
Warm, heavy coats for the winter and make sure the gloves and coats are waterproof. Depending on when you leave you can pack these things or have them sent to you at a later time so you have more room to pack other things. (Ricky)
Bring lots of white shirts, and good shoes. (Bryce)
Pack good, warm and lots of clothes and plenty of shoes too. (Thomas)
You always seem to end up with more ties at the end of your mission than when you begin. Plan on that. (NN)
Don't be too fancy. (Rebecca)
Pack for any condition and pack smart. Be prepared to send things home if you have too much. Collect as many ties as you can. (James)
Don't by Mr. Mac suits. I loved mine right up until I got to the MTC and then everyone had suits that looked exactly like mine. (Nathan)
I was a Spanish elder, therefore we had to use public transportation or walk. We did a lot of walking. So a really good quality shoe. In fact bring a few. I hated when my shoes begin to fall apart. Definitely a wool coat for the winter. (Andrew)
Buy some of your clothes there so you have clothes appropriate for the temperatures and level of humidity. (Dawna)
Be prepared for anything! (Dawna)
What blessings did you receive from serving a mission?
My testimony grew stronger. I learned that fasting and prayer work and bring miracles to my life and others' lives. Service is so important and, love is the thing that helps people to change. When they feel the love you have for them and the love God and Jesus have for them, they want to change for the better. (Ricky)
An even stronger testimony. Lifelong friendships. New purpose in life. (Devin)
Well, I met my husband, for one. And it's an experience I think about everyday. I've made lifelong friends because of it. (Jessica)
I received plenty of blessings such as seeing the benefits that the Gospel has on the people I taught. One other big blessing is I was able to get back into school, get financial aid and know ultimately my service that I rendered was acceptable to the Lord. Plus my testimony was really strengthened because of it, too. (Thomas)
I grew up. I learned a lot about life and the gospel. (NN)
Testimony of Christ. (Rebecca)
Understanding of the workings of the Spirit. (James)
The Lord watched over us and protected us. (Andrew)
I received so many blessings there. On one occasion I was healed instantly through a Priesthood blessing, I met people who ended up having an effect on the remainder of my life. I learned a great deal about fellowshipping and I also witnessed the effect following and listening to the Prophet has on people's lives. I also learned that Heavenly Father wanted me to succeed not just for my time as a missionary but for the remainder of my life. (Dawna)
I met some wonderful people, learned many things about the gospel from the scriptures and especially learned a great deal about myself that I would never have known in any other way. (Dawna)
I have learned of the divinity of God the Father, Jesus Christ, Joseph Smith and the church. My mission has provided me with a guide to live by for the rest of my life. (Harry)
What are some skills you gained?
Being a defensive driver, teaching skills, learning how the Spirit speaks to me, being patient. (Ricky)
Organization. Study habits. (Devin)
Discerning the Spirit and listen to what the Spirit is saying. (Jessica)
The ability to speak Spanish, be patient, and understand where other people are coming from. (Thomas)
Learned how to study, pray, organize, document, and talk to strangers. (Rebecca)
People skills. Being able to talk to anyone. (James)
Learned how to teach and speak Spanish. (Andrew)
I learned how to love people I had never known, I learned deeper listening skills and how to listen to the Spirit better and I think one of the most valuable things I learned was that I was not on this journey alone, but Heavenly Father was directing my way the entire time. One of the most difficult experiences was to have a companion who refused to communicate, make sure you are not the one refusing to communicate. (Dawna)
I learned a stronger ability to speak, stand up and teach on the spur of the moment and most important learned to better understand the promptings of the Spirit. (Dawna)
What do you wish you knew/did at the beginning of your mission?
Helped people to see that I care about them. When people see you care about them, they change for the better. (Ricky)
What it was like to teach people. (Bryce)
I wish I knew that I would truly change lives. And that my life would be changed. (Devin)
How to talk to people I never met before. I'm really shy so that would've been nice. (Jessica)
That how much work a mission really is or my attitude towards it, I wish I was a bit more prepared than I was. (Thomas)
What makes a mission so hard. (Rebecca)
That it wasn't going to be easy. (James)
I wish I had not been quite so shy, it would have made adjusting much quicker. I think the more you know about the gospel, the less you will hold back. Don't be afraid to say you don't know something. It's ok, it's a learning process. (Dawna)
I wish I had not been quite so shy and had been stronger physically. (Dawna)
Any advice/testimony for pre-missionaries going to Philadelphia?
In the PPM, we had a motto of "doubt not, fear not" from Doctrine and Covenants 6. Don't be fearful. God will help you overcome your doubt and fear if you let Him help you. Be obedient, but have fun. Have fun within the rules and teach to baptize and retain! (Ricky)
Go out with the missionaries. (Bryce)
READ THE BOOK OF MORMON. And READ PREACH MY GOSPEL. (Devin)
You will never regret being obedient, but you will regret being disobedient. (Jessica)
Get ready to have the best time of your life, be open, ready to learn and work. Work. work it's the work of the Lord and it's His time. It will go fast but cherish each and every minute you got in it. (Thomas)
Don't go unless you're serious, otherwise you're wasting God's time and resources. (Rebecca)
Go for the right reasons. Don't go because someone is making you or for the 'title.' You and everyone around you will be miserable. (James)
Do not fear the people, the environment, the language, or your surroundings. The Lord will protect you and keep you from harm as long as you are obeying the rules and living the Gospel. You are there to do a job. Jump right into the work. Tract the neighborhoods hard. Sometimes that will be the only thing you can do to stay busy. (Andrew)
Study as much as you can, go out with the missionaries in your area before going out. Be prepared to serve in unexpected ways and a huge thing I would say is keep a detailed journal and take pictures when it is appropriate. You will want the journal and pictures for your own personal history. Write letters weekly and ask your family to keep those letters. Letters and journals have a great effect when your faith needs a boost. Realize not all missionaries will see eye to eye, but learn to communicate so communication skills do not get in the way of the work or the companionship. And always listen to your mission president and the Spirit. And always trust your Heavenly Father. (Dawna)
Love the people, accept them for who they are but be willing to help them understand the truth. Many times people would try to bring their old religions in with them. It's important to help them understand the difference and extend yourself to help them in any way you can. Expect the unusual. Learn as much as you can about the local culture and become very familiar with scriptures and the history of Joseph Smith. (Dawna)
What was a funny language mistake?
My companion once said that we need to avoid building our testimonies on Satan's Sandy Foundation. He meant to say foundation. (Devin)
One thing that was funny my companion told me was he was teaching the Plan of Salvation with him and his companion and he just was talking about the Resurrection, and how we would be restored to all that we were promised. He just switched a couple words and mentioned about bald people (he had a receding hair line which made it a bit more embarrassing). (Thomas)
I went with a member lady to translate at the hospital but I didn't really have enough language skill to do that. I did know the word for menstruation, but I didn't know how to pronounce it properly so she couldn't understand me. I ended up having to explain the word and it was very embarrassing for me and the member lady. (Nathan)