Free resources about the Mexico Hermosillo Mission:
Aquí están algunos recursos gratuitos sobre la Misión México Hermosillo:
*Other Mission Pages: Mexico LDS Missions.
---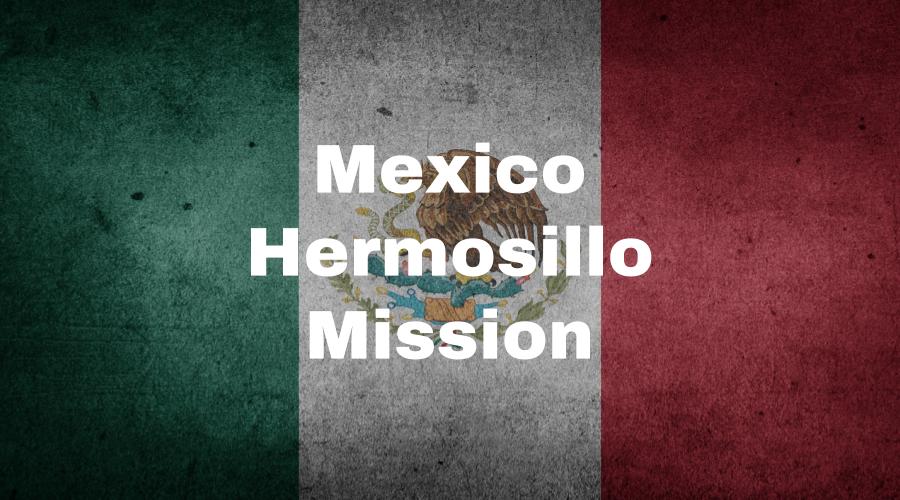 ---
Mexico Hermosillo Mission Address
Here's a recent address for the Mexico Hermosillo Mission. We try to keep this information up to date, but it's a good idea to check the address with several sources, including your mission packet or the mission office.
Mexico Hermosillo Mission
Garcia Conde #301
Col. Pitic
83150 Hermosillo,Sonora
Mexico
Phone Number: 52-662-214-1502
Mission President: President Alberto E. Hernández Martinez
Mexico Hermosillo Mission Map
Here's a link to the mission map for the Mexico Hermosillo Mission (LDS). To access the official, up-to-date LDS.org map for the Hermosillo Mission:
Log into your LDS account here.
Click here.
Videos with Hermosillo RMs
Here are in-depth YouTube video interviews with returned missionaries from the Mexico Hermosillo Mission.  We interview hundreds of returned missionaries each year, so check back regularly to see new RM interviews. Coming soon..
LDS-Friendly Videos about Mexico
Here are LDS-friendly educational videos about Mexico. We scoured YouTube to find the best quality videos about Mexico, that are free from inappropriate music, immodesty and profanity.
Mexico Hermosillo Missionary Blogs
Here's a list of LDS missionary blogs for the Mexico Hermosillo Mission. This list includes the missionary's name, URL and when their blog was updated.
*Send your missionary a gift (mission-specific shirts, ties, Christmas stockings/ornaments, pillowcases, etc.)
Mexico Hermosillo Mission Groups
Here are Mexico Hermosillo Mission Groups- for LDS missionary moms, returned missionaries, mission presidents and other alumni of the Hermosillo Mission.
Mexico Hermosillo Mission T-Shirts
Here are T-shirts for the Mexico Hermosillo Mission!
Shirt designs include Mexico Hermosillo Mission logo/emblem shirts and Called to Serve shirts. The shirts make great gifts for pre-missionaries, returned missionaries and missionaries currently serving. LDS Mission shirts come in all sizes: Small, Medium, Large, Extra Large, up to 4XL.  The mission designs are printed on white shirts and are shipped to you.
*Simply click on a shirt design to view the details and submit an order.The designs on mission t-shirts may also be printed on other LDS mission gifts, including: Mexico Hermosillo missionary aprons, Christmas stockings, ties, pillow cases, teddy bears and Christmas ornaments.
*Click here to browse Hermosillo Mission gifts
---
---
Mexico Hermosillo Mission Presidents
Here's a list of current and past Mission Presidents of the Hermosillo LDS Mission.
2015-2018, Terence L. Robinson
2012-2015, Alberto E. Hernandez
2009-2012, Sergio Velez Chavez
2006-2009, Omar Villalobos
2003-2006, Steven N. Holdaway
2000-2003, Farrell Young
1997-2000, Rosendo, Tiempos Leyte
1994-1997, Francisco Barron
1991-1994, Nefi Trevino
1988-1991, Tomas Valdes Ortiz
1985-1988, Armando Gaona
1983-1985, Richard E. Turley
1980-1983, M. Alvin Romney
1977-1980, Verle M. Allred
1974-1977, Guillermo Gonzalez Garza
1971-1974, Victor Samuel Miera
1967-1971, Eugene Olsen
1964-1967, George L. Turley
1962-1964, Harold Turley
Mexico LDS Statistics (2015)
Church Membership: 1,368,475
Missions: 34
Temples: 12
Congregations: 1,998
Family History Centers: 268
Helpful Articles about Mexico
Mexico Hermosillo Missionary Survey
Here are survey responses from Mexico Hermosillo RMs, to give you a snapshot into what it's like to live in the mission.
When did you serve?
2001-2003 (Edwin)
1995-1996 (Roy)
2013-2015 (Mike)
November 2013-May 2015 (Katie)
1981-1983 (Levy)
What areas did you serve in?
Nogales 2B, Agua Prieta 3C, Caborca 1A, Caborca 3B, Hermosillo – Sahuaro B, Hermosillo Pueblitos C, Cananea B. (Mike)
Peñasco, barrio Villa de Seris (Hermosillo), Caborca, barrio Rio Sonora (Hermosillo). (Katie)
What were some favorite foods?
Carne asada, tacos de caguamanta, bacon hot dogs. (Edwin)
Street tacos, los dogos. (Roy)
Tacos de carne asada, hotdogs from street stands (make sure they put lots of stuff in it especially bacon), tamales. (Mike)
Tacos de carne asada. Tortillas de harina. Sopes. Sopita. Dogos. Burros pecherones (Peñasco). Coyotas. Mole. (Katie)
What was a funny experience?
I went to buy a candy in one of the stores nearby where we used to live and the owner asked me why we were never alone and he said "are you guys married?" and my companion (he was new), an English speaker said "yes". I was laughing so hard the owner just said "I'm sorry" and when I explained the whole thing to my companion, he couldn't stop laughing. (Edwin)
One time I was riding my bike and ran into a dog. Dogs chase you on bikes and this one was running backwards in front of me and didn't get out of the way…whoops. We both survived. (Katie)
What was a crazy/dangerous experience?
Just staying outside when the heat was really high. (Edwin)
During Semana Santa (the week of Easter) some people broke into our house and stole a lot of our stuff, luckily they didn't come into our room but still. (Mike)
My first week in the mission, there were shootings in my area and we had to stay inside for two days. It was a great welcome to Sonora for me. But everything was fine. Missionaries are always watched over and protected. (Katie)
What was a spiritual experience?
There were many, but the most wonderful of all was when we changed the life of a family that was going to break. The parents were going to divorce and thanks to the Gospel they understood the importance of the Plan of Heavenly Father and they got baptized and now are a strong family in The Church. (Edwin)
We were teaching a less active member of the church and we felt inspired to share the First Vision with him and he had tears streaming down his face because he remembered a lot of the things he learned on his mission, and understood many things he didn't before. (Mike)
I always loved going to the temple. We were allowed to go at the halfway point and at the end of our mission and my last trip to the temple was incredible because I sat in the celestial room thinking about all of the people I had met and could envision our reunion and hoping it will be in the celestial kingdom. The people of Sonora are incredible. (Katie)
What are some interesting facts about the Hermosillo Mission?
It is so hot. But winter is really cold too. Beware of dengue. You will be listening to Banda all of the time. Sonorans kind of sound like they are mad all of the time but it's just the way they talk. (Katie)
What was the weather like?
Really hot in the summer. It was a little warm in the winter in the south but in the north it gets really cold, because it's a desert area. (Edwin)
Hot. (Roy)
It gets super hot in the summer and also really humid if you're on the coast. Winter can also really get cold especially if in the north part of the mission, so when your call packet tells you to bring a good jacket, do it. (Mike)
Hot. So hot. Make sure you plan really well in the summer months so that there is always somewhere you can go. (Katie)
Any things you really like about the area/people?
They are people that never doubt God. Even the people on the streets were really warm with us and listened to the message really well. (Edwin)
Very giving. (Roy)
The people there are always so kind and loving to you, they almost don't care what religion you're from, they still treat you with kindness and respect. (Mike)
They are willing to do so much for the missionaries. They love, love, love the missionaries. Also everyone recognizes you as an outsider and will ask you where you are from. (Katie)
Any packing/clothing advice?
Good jacket for winter months (doesn't hurt to be prepared). Choose lighter clothing both in fabric and color to help with the extreme heat of the summer.. (Mike)
Umbrella (for the heat) but beware because then you get confused with Jehovah's Witnesses. Bring a good jacket. It really does get cold. (Katie)
What blessings did you receive from serving a mission?
Principles of hard work, diligence, service and love among many others to name few. (Mike)
So many! I am a much better student. I had so many great experiences that have helped me now and the experiences that I have had have helped me to help others. It's great. Also I now appreciate snow more because the heat of Sonora is killer. (Katie)
What are some skills you gained?
My mission was a test of my patience with people and understanding that when it's the right time, God gives the blessings and the help we need or the knowledge we seek. (Edwin)
See blessings section. (Mike)
Talking to people. I also learned how to get out of potentially awkward situations. (Katie)
What do you wish you knew/did at the beginning of your mission?
Always make sure to express your love to the people and God's love, especially when inviting them to do something. Don't tell them to read the Book of Mormon just to read it, tell them to read it because you love them and God loves them. (Mike)
I wish I respected my trainer more. She would correct my Spanish all of the time and that would frustrate me but I am so grateful that she did that because my Spanish improved so much! (Katie)
Any advice/testimony for pre-missionaries going to Hermosillo?
If you don't have your own testimony of the Book of Mormon, get one now because you're gonna need it, not only for a more powerful testimony, but also to help carry you through the hard times and help you remember why you're there. Also don't try to Bible bash with anyone especially with the Jehovah's Witnesses because nothing good will ever come out of it. (Mike)
Love the people. Love your companion. Love and respect your Mission President. Talk to your Heavenly Father on a regular basis and you will do great. (Katie)
What was a funny language mistake?