Free resources about the Mexico Culiacan Mission:
Aquí están algunos recursos gratuitos sobre la Misión México Culiacan:
*Other Mission Pages: Mexico LDS Missions.
---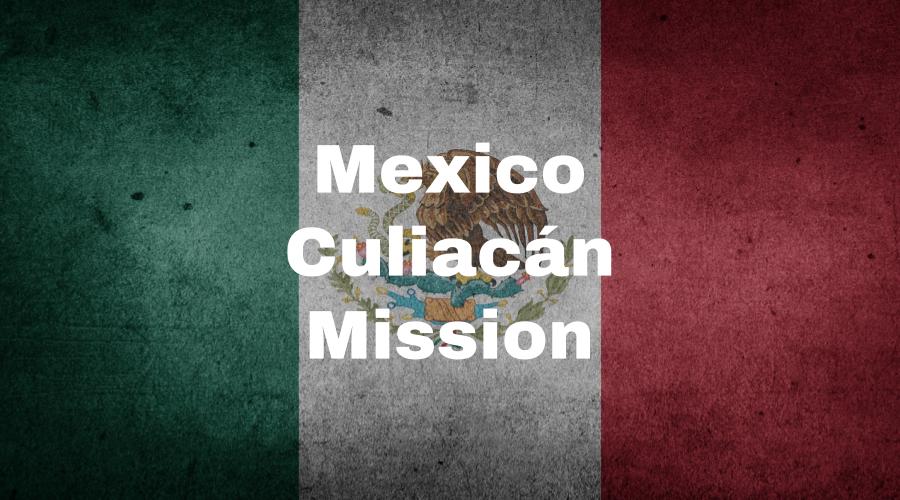 ---
Mexico Culiacan Mission Address
Here's a recent address for the Mexico Culiacan Mission. We try to keep this information up to date, but it's a good idea to check the address with several sources, including your mission packet or the mission office.
Mexico Culiacan Mission
Rio Choix 888
80230 Culiacan, Sinaloa
Mexico
Phone Number: 52-667-716-5560
Mission President: President Carlos A. Gabaldón Royval
Mexico Culiacan Mission Map
Here's a link to the mission map for the Mexico Culiacan Mission (LDS). To access the official, up-to-date LDS.org map for the Culiacan Mission:
Log into your LDS account here.
Click here.
Videos with Mexico Culiacan RMs
Here are in-depth YouTube video interviews with returned missionaries from the Mexico Culiacan Mission.  We interview hundreds of returned missionaries each year, so check back regularly to see new RM interviews.
LDS-Friendly Videos about Mexico
Here are LDS-friendly educational videos about Mexico. We scoured YouTube to find the best quality videos about Mexico, that are free from inappropriate music, immodesty and profanity.
Mexico Culiacan Missionary Blogs
Here's a list of LDS missionary blogs for the Mexico Culiacan Mission. This list includes the missionary's name, URL and when their blog was updated.
*Send your missionary a gift (mission-specific shirts, ties, Christmas stockings/ornaments, pillowcases, etc.)
Mexico Culiacan Mission Groups
Here are Mexico Culiacan Mission Groups- for LDS missionary moms, returned missionaries, mission presidents and other alumni of the Culiacan Mission.
Mexico Culiacan Mission T-Shirts
Here are T-shirts for the Mexico Culiacan Mission!
Shirt designs include Mexico Culiacan Mission logo/emblem shirts and Called to Serve shirts. The shirts make great gifts for pre-missionaries, returned missionaries and missionaries currently serving. LDS Mission shirts come in all sizes: Small, Medium, Large, Extra Large, up to 4XL.  The mission designs are printed on white shirts and are shipped to you.
*Simply click on a shirt design to view the details and submit an order. The designs on mission t-shirts may also be printed on other LDS mission gifts, including: Mexico Culiacan missionary aprons, Christmas stockings, ties, pillow cases, teddy bears and Christmas ornaments.
*Click here to browse Culiacan Mission gifts
---
---
Mexico Culiacan Mission Presidents
Here's a list of current and past Mission Presidents of the Culiacan LDS Mission.
2016-2019, Carlos A. Gabaldón Royval
2013-2016, Jesús Velez
2010-2013, Rolando Cantu Lopez
2001-2004, Eduardo Serrano
1998-2001, Amado Rojas
1995-1998, Alberto I. Martineau
1993-1995, Merrill V. Willis
1990-1993, Fernando R. Dorantes
1987-1990, Samuel Lara
Mexico LDS Statistics (2015)
Church Membership: 1,368,475
Missions: 34
Temples: 12
Congregations: 1,998
Family History Centers: 268
Helpful Articles about Mexico
Mexico Culiacan Missionary Survey
Here are survey responses from Mexico Culiacan RMs, to give you a snapshot into what it's like to live in the mission.
*Click here to take a survey to help pre-missionaries going to your mission.
When did you serve?
June 2013-June 2015 (Jeff)
2013-2015 (Brian)
2013-2015 (Taylor)
2014 (Joel)
2013-2015 (Andrew)
2013-2015 (Jeff)
December 2013-June 2015 (Rebecca)
2013-2015 (Alexa)
2013-2015 (Hyrum)
What areas did you serve in?
Culiacan, Teacapan, Villa Union, Tanques. (Brian)
4 Milpas (now part of the mission Ciudad Obregon), El Dorado A, Rosario B, Escuinapa A, Pioneros A, Las Garzas A. (Taylor)
Insurgentes, El Dorado. (Joel)
Navolato cañadas, El Dorado, Chapultepec, Insurgentes Constitución. (Andrew)
Culiacan, Cabo San Lucas. (Jeff)
San Jose de Los Cabos, Los Pinos y Libertad de Culiacán, y Albatros de Mazatlan. (Rebecca)
La Paz, BCS in Calafia Ward (B), San Jose, BCS Barrio 1B, Culiacan, Sinaloa in Barrio 7 Gotas and Barrio Guadalupe. (Alexa)
What were some favorite foods?
Tacos, Gorditas, Sopes, Burgers. (Jeff)
Frijoles puercos, enchiladas, carne asada. (Brian)
Carne Asada Quesadillas Street tacos Machaca Eggs with chorizo. (Taylor)
Tacos, capirotadas, tortas, mole, posole, litchis, cochitos, pikin chile, huevo de paloma chile, habanero chile, cereza china, mango. (Joel)
Frijoles puercos tamales, pozole, quesadillas, anything with carne asada, tacos de camarón (shrimp tacos). (Andrew)
Tacos. Sopes. Pozole. (Jeff)
Pan Vasos, Tortas Ahogados, Caldo de pollo, Frijoles Fritos, Queso fresco, Psole, Chiles Rellenas. (Rebecca)
All of the food is great! I honestly loved the simple beans with fresh tortillas. Or mole is really good. Their flautas (or what Americans usually consider as taquitos) are excellent. Pretty much everything except for chicharrones (pig skin). (Alexa)
Tacos, sushi sinaloense, ceviche, camarón capeado, tostadas, quesadillas, enchiladas. (Hyrum)
What was a funny experience?
Getting robbed. (Jeff)
My companion and I were racing on our bikes when my companion's bike just turned and he fell in front of a couple dozen people. We decided that would be the last time we did that. (Taylor)
Mango rain at night going home early because of a strong dry wind. (Joel)
A drunk man tried to steal my companion's bike so I told him that he wanted to steal my bike not my companion's because mine was faster then we planned to ride a way to make our break. (Andrew)
Mini apostasies. (Jeff)
Pushing my companion in a wheelchair and having a dog chase us and then pushing my companion into a hole in the street from running away from the dog. (Rebecca)
What was a crazy experience?
In my first área, my companion and I had to travel a several kilometers that first month every day to our area. There were a couple of times when it was dark and one time my companion and I saw a truck coming and we felt like we needed to start heading towards the cornfield. The car slowed down but eventually kept going. We got home okay. On another occasion in the same area, I got hit in the head by a rock. (Taylor)
When I crossed a street in la Paz with two other elders and got almost hit by a car that stopped just in front of us. After we ran to the other side, the driver, she accelerated so fast I was amazed and thankful that God stopped her at the right time for us to get to a safe ground. (Joel)
We were sitting on the outskirts of our area when all the sudden several big white trucks with tinted windows drove past when the cops had driven past around that same time and it was pretty obvious that the people that drove past were drug cartel members. (Andrew)
Getting robbed 4 times. (Jeff)
We were teaching an investigator and her husband and friend showed up completely drunk and were yelling and cursing. We left promptly. (Rebecca)
What was a spiritual experience?
Trying hard to help people come to Christ and then seeing the light of Christ enter their lives. (Brian)
I was extended a transfer and was assigned to open a new zone. I was a little upset because I knew that area pretty well and they hadn't had an investigator go to church in over a transfer. I made a commitment to work my hardest and to do all I could, even though I knew I would not baptize. I worked hard with my companion and we made sacrifices. That transfer, 12 new people attended sacrament meeting. Within a month after leaving, two families were baptized and the area continues to grow. The ward is now planning on splitting soon. (Taylor)
When I testified that after my family had been destroyed, God fixed it with a sealed family. The whole family got baptized. (Joel)
There is a girl that always yelled Hey white kids, so one day we were on our way to a lesson to someone who already had accepted a baptismal invitation. Then we stopped after thinking, hey, we're missionaries, we talk to everyone. That girl accepted a baptismal invitation quickly and when I was in my next area, the Mission President counselor informed me that she was baptized and it was an awesome experience to realize that just because we opened our mouth in a simple conversation, someone was able to come to Christ. (Andrew)
Too many. (Jeff)
In the Baja, in San Jose, I was on a transfer with another sister. We were teaching a family and they had problems with the law of chastity and word of wisdom. We had been seeing them for quite some time and were teaching with a member and the spirit was so strong while singing the hymn (cual rocio que distila) the husband started crying and the wife did as well. She pointed to me and my companion saying that there was a light coming from us and we looked different, and they just sat and cried. We expressed how much the Lord loved them and how he wants them to just come back to church and feel of his Spirit. (Rebecca)
What are some interesting facts about the Culiacan Mission?
It's super hot! There are a lot of less actives. All but one of my converts was a member of a less active part member family. There are several áreas in the mission that are working to split the ward or branch. Culiacán is working to receive a temple. Also you have to fly if you serve in the Baja. (Taylor)
Is the most expensive in the world, and its 44 degrees Celsius (more than 110 Fahrenheit). (Joel)
It has the youngest pregnancy rates out of any of the states in Mexico, it is often associated for the drug cartels there, they are well known for having the most beautiful women in Mexico whether that is true or not, they have the infamous northern accent, which people say they sound like they're yelling when they're talking normal. (Andrew)
No temple. The church was fairly new there. (Jeff)
Don't believe the color of the houses because the culture is that you paint the house every year, so if you have an investigator that lives in a blue house in your records, its probably wrong. (Rebecca)
What was the weather like?
HOT AND HUMID. (Jeff)
Very warm. Summer's got up to 115 degrees, and winters dropped down to a chilly 70. (Brian)
Super hot and humid. It could get up to 120 degrees and humid. It gets more humid the further south you go. In the Baja, it isn't as humid but still gets really hot. (Taylor)
Dry, strong winds, more than 9 hours of sun, dust winds, hard rain, sudden rain, muddy, thunder storms. (Joel)
Hot and humid!!! (Andrew)
Very hot and humid. (Jeff)
Hot, sweaty, and tons and tons of mosquitoes, take repellent all the time!!! (Rebecca)
The weather is hot, hot, HOT!!! It was a mission rule to use an umbrella every day to shade us from the sun. I've never sweat more in my whole life. You just get used to being sweaty and hot pretty much 24/7. It doesn't usually rain from December to May. But from June to November, you have the rainy season with hurricane warnings and lots of sporadic storms. They kind of turn down the heat, it usually goes from hot baking desert to a steamy sauna post-rainstorm. (Alexa)
Any things you really like about the area/people?
Very humble, caring and charitable. (Brian)
The people were really nice. They were always willing to give you a glass of water or something to eat. I dream of being able to visit the people I came to know on my mission. (Taylor)
Food, but more the desire to become a better person. Their humbleness. (Joel)
Despite a lot of the things the Sinthe people are some of the nicest people I have ever met and the people are some of the nicest people I have ever met and I miss my mission more than anything in the entire world and I mean that absolutely sincerely. (Andrew)
Super friendly. Even people who weren't interested were extremely friendly. (Jeff)
The members wanted to feed you and help out in any way. (Rebecca)
Any packing/clothing advice?
Good shoes are a must. (Jeff)
Bring clothes that let out heat, not keep it in. (Brian)
Only pack 2 or 3 long sleeve shirts. The rest, 7-8, should be short sleeved. Pack shoes that could get wet. I only brought one suit because we only used them once a week. Don't bring what you won't need or what you can buy there. Sometimes travel in the mission can be hard (I had to ride with my suit case on my bike a couple of times) and you can't rely on members to give you a ride because they may not have transportation. (Taylor)
Rain coat-a long one, bike tire pump, big strong umbrella, 10 face towels, 14 same design and size socks and 16 pairs of garments of top and bottom. And 50+ sps sunscreen. (Joel)
Buy your clothing at Missionary Mall. They have a free, 2 year guarantee and all of their stuff is high quality. I took all of my stuff from there and it all lasted. I didn't have to replace anything, specifically the Dansko shoes and the missionary walk sock. I took them on my mission and I have every single pair that I took out and none of them even have a single tear or hole. (Andrew)
Good socks are a must. (Jeff)
Light fabrics, no heavy clothes, easier to wash by hand. Lots of garments, you sweat a lot, it's nice to have a change of clean garments to sleep in and then to change into the next morning. (Rebecca)
So this mission is in the Baja and on the west coast of Mexico. So you´ll most likely serve in both, and will fly to the Baja. This means you can only take one suitcase and one carry on. You leave the rest in the mission office. As far as medicine goes, they pretty much have everything we have in the United States. I spent a ton of money preparing for the mission in medicine and things like that. I wish I would have waited, because I ended up giving away or throwing out most of it. Sisters, they don't really do certain personal hygiene products. Enough said. Clothes: Sisters, I would recommend flowy skirts. Try to find blouses that don't need an undershirt. My most comfortable, fresh shirts were cotton button ups. Bring some sturdy shoes that keep your feet aerated, but also try to find some shoes more for walking in rain. Like crocs material or bigger-soled shoes. Once in the field, in some areas there are P- days where you can go to street markets and I found very cheap, clothes, that were modest and fairly easy to find. (Alexa)
Camisas manga corta, muchas. (Hyrum)
What blessings did you receive from serving a mission?
Greater humility and gratitude for what I have. (Brian)
After getting home, I met a beautiful young lady who is, honestly, the most incredible person I have met. She means everything to me. Her family is from Chile and they all speak Spanish at home. If it hadn't been for my mission, she never would have considered me as a potential husband. Also because I worked hard to learn the language, I have the ability to communicate easily with her parents and family in Spanish. My mission also gave me the ability to be successful at work and financially I am not stuggling. Most of all I came to know the Jesús is the Christ and that through Him, all is possible. (Taylor)
Though so far I've done only 6 months because I got sick, my testimony grew so much that now people shed tears when I testify of truth. (Joel)
This is the most broad question I've ever been asked. Like Elder Jeffrey R. Holland said every good thing that's happened to me in my adult years is directly from my mission but even more than that my love for life and my love for the gospel and the Savior has increased more than I imagined. Not to mention, I've been able to use Spanish in the two jobs I've had being back from my mission. Another huge blessing is once you come back, if you were diligent and talking to people, you naturally are a lot better talking with others which is a huge blessing whether it's with girls or at work or wherever. But the biggest blessing has definitely been my love for the Gospel increasing. (Andrew)
Learned key life lessons. (Jeff)
More than I can list. (Rebecca)
Wow. There's no way to list them, especially all of them. Even though I was away from my family, we grew very close, my relationship with my siblings grew a ton. Financially, my dad was blessed with plenty of work and such to keep the finances going. I've been very blessed financially since I've been back home. I haven't had to depend on my parents money-wise and I was able to find a decent job. I am more educated culturally, spiritually, and temporally. I learned how to wash my clothes by hand, what to do when there is no running water, and I learned just how much heat I can stand. (Alexa)
What are some skills you gained?
Language. Planning. (Jeff)
Spanish, cooking, speaking, patience. (Brian)
The ability to speak fluent Spanish. The ability to speak with complete strangers with confidence. I learned patience and the skills to get along with people who are very different than I am. (Taylor)
Walking without getting tired, organization, house cleaning and cooking abilities, opportunity to handle and adjust myself to a budget, and unification with my companions applying the attributes of Christ (especially charity). (Joel)
Better leadership qualities, Spanish, cooking abilities, better people skills, better teaching skills, there is so much you gain on a mission. (Andrew)
Patience. (Jeff)
Spanish speaking. (Rebecca)
So I've always been terrified of calling/answering the phone, but I totally had to squash and master that fear on the mission, especially in a different language. I learned how to ask favors and ask for help. I learned how to accept whatever the people gave me. They give you everything they have, and it's rude to not accept it. I learned to think outside the box, I became pretty good with directions. I can meet new people without freaking out. I became a better journal-writer. I have better studying strategies. I'm not totally scared to teach a lesson or give a talk. I'm better able to listen to the Spirit, as well as make my own decisions. I was never able to set and actually make my goals until the mission. I could go on forever, but you get the idea. (Alexa)
What do you wish you knew/did at the beginning of your mission?
Less stressed. (Jeff)
I wish I knew that it was going to be hard and that I was never going to be perfect. I wish I would have worked on one specific thing at a time so that I wouldn't feel overwhelmed. I should have set more specific personal goals and I should have worked on them one by one. I should have done the same in my personal studies of the scriptures. (Taylor)
Have a sleeping and waking up on time habit, more organization, easy to find information about the words you can use, what people believe in the mission, how can I preach to those specific children of God and love people forgetting myself. (Joel)
Man that is a huge question because everything you learn on the mission, you could have used beforehand. But one of the biggest things I wish I knew was that despite your talent or ability, the Lord will make you effective in his hands if you are moldable, willing, diligent and if you have faith in Christ and at that point, you will be able to see miracles in other's lives and it will be the most beautiful thing to you! Another thing I wish I knew before was when to leave investigator's. Oftentimes, missionaries stay way too long teaching someone who doesn't progress. When we linger with those who aren't ready, we are lacking in faith to show the Lord we trust that there are people out there that He has prepared for us! (Andrew)
Not to stress as much and just have fun. (Jeff)
That I could talk with my President about anything and let him know if I was struggling. (Rebecca)
This is more like throughout my whole mission. I wish I had tried to take more pictures with the people I taught, not only with the members, but the investigators as well. I wish I had written in my journal more diligently. I thought I would be able to remember all the names, stories, and places my whole life, but ´´even the worst notes are better than the best memory¨. I wish I would have spent more time with the members learning how to cook Mexican food on P-days. I wish I would have made sure to get good contact information for each member, convert, and investigator. (Alexa)
Any advice/testimony for pre-missionaries going to Culiacan?
Be humble. Do not think you will always be right. Love and serve your companion. If you can't love them, you won't fully love the people. Be obedient…it will help you love and appreciate the commandments. Expect it to be hard. Be patient with yourself. If you accomplish one thing, accomplish a personal conversión with a deep love for the Savior and our Heavenly Father. (Taylor)
Prepare to testify and preach every principle with scripture reference, and love thy companion trying to comprehend their way of doing things, don't force people or companions to change, love them from the bottom of your heart. (Joel)
Start learning Spanish! And study Preach My Gospel and if you don't know how to study it, ask a return missionary and they will give you excellent tips and scripture mastery so I guess sort of things that you need for every mission. (Andrew)
Have fun.Be obedient Work hard. (Jeff)
Patience, Love yourCompanion, Think positive, Have Fun. (Rebecca)
You are so lucky to be going to this mission! It was an amazing experience for me. The culture is varied. Since we serve in 2 states, it´s almost as if there are two missions, two cultures. They eat their food differently, their accent is a little different, they have different slang words, and different poverty levels. It is so humbling to see their circumstances. There are many expectations and advice, but if you follow Preach my Gospel, your Mission President, and most importantly the Spirit, you´ll know you´re doing the right thing. The people there will love you and accept you. Accept them as well, and help them to take the next step towards their Savior. Most people have heard very little about many concepts in the gospel. It doesn't have to be degrading, but be prepared to teach as if you are the primary teacher. I know that serving a mission provides more blessings than sacrifices. I know that the gospel is true and the the Savior lives! I was able to grow so much in the mission, and you will also have many opportunities. (Alexa)
What was a funny language mistake?
One time, we went to visit a member's home. I was 6 months out and training. We knocked and I noticed through a hole in the door that he was home but wasn't wearing any clothes. I told my companion that he was "bichi". My companion was from a different part of México and didn't know what that word (the word was only used in this region) meant and I couldn't remember the proper word for naked. My companion then looked and realized immediately what the word meant. Sometimes different words are used in different regions of Mexico. (Taylor)
Saying velde instead of verde ( green ) and tu instead of usted ( you and thou ). (Joel)
So we were talking about the resurrection and instead of telling a man that every hair of his head would return to its place, I switched in a for an E so I ended up telling him that all of the horses of his head would be returned at the resurrection and he looked at me with a super weird face like what are you talking about?! and Branch President just started busting up laughing. (Andrew)
I wanted to say that I was hungry instead I said that I wanted man. "Tengo hombre" instead of "tengo hambre" "Sobre el baca de los profetas arrepintos de sus pescados." From the cow of the prophets repent of your fish, instead of from the mouth of the prophets, repent of your sins.(Rebecca)
There are way too many to name!! If your companion makes fun of your accent, DO NOT let it get to you. Just laugh with them, be patient with yourself, and understand that the language is never learned without at least 100,000 mistakes. (Alexa)