Missão Brasil Salvador Sul
Here are free resources about the Brazil Salvador South Mission:
Aqui estão alguns recursos gratuitos sobre a Missão Brasil Salvador Sul:
*Other Mission Pages: Brazil LDS Missions.
---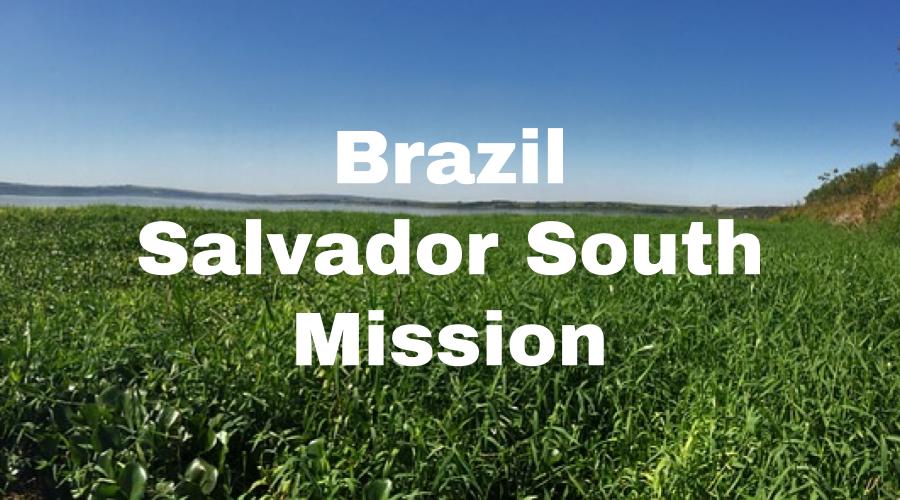 ---
Salvador South Mission Address
Here's a recent address for the Brazil Salvador South Mission. We try to keep this info up to date, but it's a good idea to check the address with several sources, including your mission packet or the mission office.
Brazil Salvador South Mission
Rua Lucaia, 295, Sala 202/203
Ed. Empresarial Lucaia, Horto Florestal
40295-130 Salvador-BA
BRAZIL
Phone Number: 55-71-3334-0140
Mission President: President Marcelo Andrezzo
Brazil Salvador South Mission Map
Here's a link to the mission map for the Brazil Salvador South Mission (LDS). To access the official, up-to-date LDS.org map for the Salvador South Mission:
Log into your LDS account here.
Click here.
Salvador South Missionary Blogs
Here's a list of LDS missionary blogs for the Salvador South Mission. This list includes the missionary's name, URL and when their blog was updated.
*Send your missionary a gift (mission-specific shirts, ties, Christmas stockings/ornaments, pillowcases, etc.)
*Download free app for LDS missionaries learning Brazilian Portuguese
Brazil Salvador South Mission Groups
Here are Brazil Salvador South Mission Groups- for LDS missionary moms, returned missionaries, mission presidents and other alumni of the Salvador South Mission.
Brazil Salvador South Mission T-Shirts
Here are T-shirts for the Brazil Salvador South Mission!
Shirt designs include Brazil Salvador South Mission logo/emblem shirts and Called to Serve shirts. The shirts make great gifts for pre-missionaries, returned missionaries and missionaries currently serving. LDS Mission shirts come in all sizes: Small, Medium, Large, Extra Large, up to 4XL.  The mission designs are printed on white shirts and are shipped to you.
*Simply click on a shirt design to view the details and submit an order. The designs on mission t-shirts may also be printed on other LDS mission gifts, including: Brazil Salvador South missionary aprons, Christmas stockings, ties, pillow cases, teddy bears and Christmas ornaments.
*Click here to browse Salvador South Mission gifts
---
---
*Click here to see our new shirt design for the Brazil Salvador South Mission:
---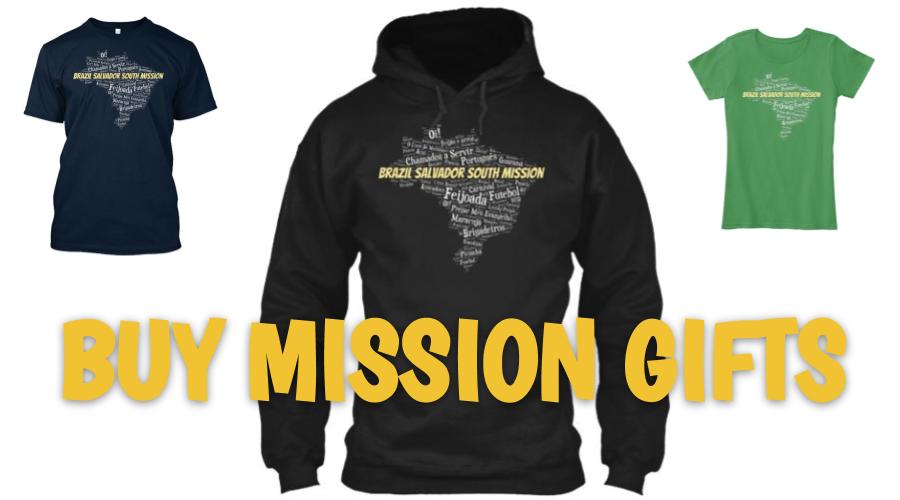 ---
Salvador South Mission Presidents
Here's a list of current and past Mission Presidents of the Salvador South LDS Mission.
2012-2015, Marcelo Andrezzo
2009-2012, Helton Vecchi
2006-2009, Getulio Silva
2003-2006, Nelson Carlos Aidukaitis
2000-2003, Sergio Luis Carboni
1997-2000, Mauro Junot De Maria
1994-1997, Marcos A. C. Prieto
Brazil LDS Statistics (2016)
Church Membership: 1,326,738
Missions: 34
Temples: 6
Congregations: 2,038
Family History Centers: 341
Helpful Articles about Brazil
Salvador South Missionary Survey
Here are survey responses from Brazil Salvador South RMs, to give you a snapshot into what it's like to live in the mission.
When did you serve?
December 2013-June 2015 (Lauren)
June 2012-December 2013 (Olivia)
2003-2005 (Anonymous)
1997-1999 (Colby)
Which areas did you serve in?
Salvador, Itapetinga, Ilheus, Itabuna. (Anonymous)
What were some favorite foods?
Acarajé, Feijoada. (Lauren)
Feijoada, escandidinha, milanesa, fresh juices. (Olivia)
Acaraje, beans and rice, fresh produce from the market. (Anonymous)
Beans and rice! Suco de laranja com abacaxi. Acarajé. (Colby)
What was a funny experience?
Got caught out in the rain once during a downpour and we looked like homeless puppies. (Colby)
What was a crazy experience?
One time I was approached by a man on the street who started yelling at us and demanding that we give him money. I felt calm and inspired by the spirit and I offered him crackers instead of money. He got angry and said he just wanted money and so I told him I wasn't offering money, but was offering crackers. He took the crackers, pushed me to the ground, and ran away. (Lauren)
People would tell us not to go home a certain way because it was dangerous, so we went the long way, and then another person stopped us and told us to go another way because that way was dangerous. We were wondering how they expected us to get home. We were always protected by angels and nothing happened to us. (Olivia)
Having a gun pulled on me and put in my face just for being an American. (Anonymous)
Walking home at night listening to the candomblé drums in the distance. (Colby)
What was a spiritual experience?
There were so many. Any time somebody made the decision to be baptized was always a very spiritual experience. (Lauren)
Every single confirmation experience. (Colby)
What are some interesting facts about the Salvador South Mission?
A lot of areas are by the coast. There are people who do black magic and macumba. (Olivia)
Mostly black people. (Colby)
What was the weather like?
Most cities are always quite hot and humid. However Vitória da Conquista can get chilly during the winter and always cools down at night. It also rains frequently. (Lauren)
Hot and humid. (Olivia)
Nice, but rains every day for an hour. (Colby)
Any things you really like about the area/people?
The people were all very open and willing to talk to us. Everybody is very friendly. (Lauren)
Open, inviting. Always gave you something to eat or drink. (Olivia)
Very humble, friendly, accepting people. (Colby)
Any packing/clothing advice?
Lightweight clothes are the best. Have a couple of sweaters for air conditioned chapels or for Vitória da Conquista which gets cold. (Lauren)
If you're a girl, bring enough feminine products to last you. Wear chacos. The sandals that will last you your whole mission. (Olivia)
Plan on being wet all the time. Either from rain, being unable to get dry after a shower, or from sweating through your clothes. (Anonymous)
Short sleeves, pack light. (Colby)
What blessings did you receive from serving a mission?
The whole thing was a huge blessing and helped strengthen my testimony so much. A weird blessing is that before my mission I was allergic to cilantro, but they put a ton of cilantro in the food there. I'd never reacted severely so I decided to eat it anyways and now my allergy is gone! (Lauren)
Confidence, a beautiful language, and solidified testimony. (Colby)
What are some skills you gained?
I learned how to be much more assertive. I also gained better teaching skills and time management skills.(Lauren)
Social skills, Portuguese skills, teaching. (Olivia)
Confidence in speaking to strangers. (Colby)
What do you wish you knew/did at the beginning of your mission?
Don't be afraid to tell people that you're there to teach them and help them prepare for baptism. Be very straightforward with people and don't be afraid to use the power and authority you have. (Lauren)
To not be so worried about what people will think… just act like you know what you're doing. Try and speak the language, the people will love you for it and you'll learn faster. (Olivia)
Spirit, spirit, spirit, and more spirit. (Colby)
Any advice/testimony for pre-missionaries going to Salvador South?
This mission is amazing! I saw God's love for me and for all the people I encountered. Always make yourself useful wherever you are. There is no such thing as a "dead area" but it will be if you put that in your mind. Look for at least one miracle every day. They happen all around you all the time. (Lauren)
Girls, bring chacos, and shorter skirts, and nicer t shirts, it's too hot to wear anything else. (Olivia)
Jump in with both feet. No reservations. Become as Brazilian as you can, part of your heart becomes Brazilian. (Colby)
What was a funny language mistake?
Said "eu me llamo" which was my Spanish getting mixed up, means "I love myself" instead of "my name is". (Colby)