Missão Brasil Ribeirão Preto

Here are free resources about the Brazil Ribeirao Preto Mission:
Aqui estão alguns recursos gratuitos sobre a Missão Ribeirão Preto:
*Other Mission Pages: Brazil LDS Missions.
---
---
Brazil Ribeirao Preto Mission Address
Here's a recent address for the Brazil Ribeirao Preto Mission. We try to keep this info up to date, but it's a good idea to check the address with several sources, including your mission packet or the mission office.
Brazil Ribeirao Preto Mission
Rua Sao Sebastiao, 1003
Centro
14015-040 Ribeirao Preto SP
Brazil
Phone Number: 55-16-3610-0992
Mission President: President Peter S. Scholz
Brazil Ribeirao Preto Mission Map
Here's a link to the mission map for the Ribeirao Preto Mission (LDS). To access the official, up-to-date LDS.org map for the Ribeirao Preto Mission:
Log into your LDS account here.
Click here.
Brazil Ribeirao Preto Missionary Blogs
Here's a list of LDS missionary blogs for the Brazil Ribeirao Preto Mission. This list includes the missionary's name, URL and when their blog was updated.
*Send your missionary a gift (mission-specific shirts, ties, Christmas stockings/ornaments, pillowcases, etc.)
*Download free app for LDS missionaries learning Brazilian Portuguese
Brazil Ribeirao Preto Mission Groups
Here are Brazil Ribeirao Preto Mission Groups- for LDS missionary moms, returned missionaries, mission presidents and other alumni of the Ribeirao Preto Mission.
Brazil Ribeirao Preto Mission T-Shirts
Here are T-shirts for the Brazil Ribeirao Preto Mission!
Shirt designs include Brazil Ribeirao Preto Mission logo/emblem shirts and Called to Serve shirts. The shirts make great gifts for pre-missionaries, returned missionaries and missionaries currently serving. LDS Mission shirts come in all sizes: Small, Medium, Large, Extra Large, up to 4XL.  The mission designs are printed on white shirts and are shipped to you.
*Simply click on a shirt design to view the details and submit an order. The designs on mission t-shirts may also be printed on other LDS mission gifts, including: Brazil Ribeirao Preto missionary aprons, Christmas stockings, ties, pillow cases, teddy bears and Christmas ornaments.
*Click here to browse Ribeirao Preto Mission gifts
---
---
*Click here to see our new shirt design for the Brazil Ribeirao Preto Mission:
---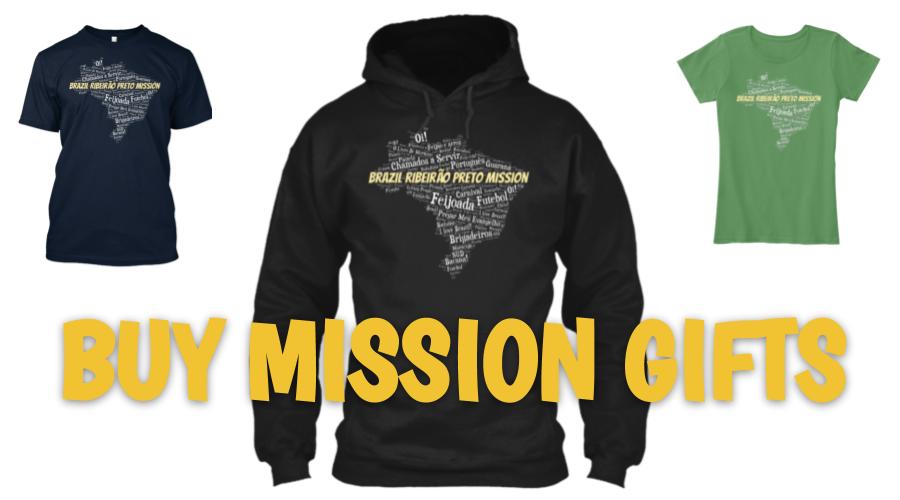 ---
Ribeirao Preto Mission Presidents
Here's a list of current and past Mission Presidents of the Ribeirao Preto LDS Mission.
2016-2019, Peter S. Scholz
2013-2016, Mauro T. Brum
2010-2013, Gilson Roberto Catherini Prieto
2008-2010, Ricardo Vieira
2005-2008, R. Blair Condie
2002-2005, Henrique Sergio alves Simplicio
1999-2002, Lewis P. Zollinger
1996-1999, Jose Olimpio Fabricio
1993-1996, Cesar A. Seiquer Milder
Brazil LDS Statistics (2016)
Church Membership: 1,326,738
Missions: 34
Temples: 6
Congregations: 2,038
Family History Centers: 341
Helpful Articles about Brazil
Ribeirao Preto Missionary Survey
Here are survey responses from Brazil Ribeirao Preto RMs, to give you a snapshot into what it's like to live in the mission.
When did you serve?
2013-2014 (Amy)
2012-2014 (Mauro)
2004-2006 (Amanda)
1998-1999 (Nathan)
Which areas did you serve in?
Araraquara, Três Lagoas, Ribeirão Preto, São Carlos, Mococa, Piracicaba, Americana, Araras and Hortolandia. Served in both Ribeirao Preto and Piracicaba areas. (Mauro)
Ribeirao Preto, Sao Carlos, and Sao Jose do Rio Preto. (Amanda)
What were some favorite foods?
Stroganoffe, pastel, arroz e feijao. (Amy)
Stroganoff -Chocolate Pizza -Steak -Rice and Beans -Acerola. (Mauro)
Pacoquinho, Fanta laranja, pasteis, mandioca, pao de queijo. (Amanda)
Feijoada, churrasco, pudím, açerola. (Nathan)
What was a funny experience?
My companion and I had just gotten off the bus entering a new city, Sao Jose do Rio Preto, and right outside the bus station there are a ton of little shops and lots of people roaming around. We were walking uphill past the shops into the center of the city and as we were walking, a cool wind came up. I let my long, curly blond hair down out of it's bun because it was actually cool for once, and the wind was blowing against us, making my hair fly back and be very noticeable. An old man, with no front teeth and probably homeless, spotted me from farther up the street. As we walked towards him, his stone-like, mean expression slowly changed (almost like in a cartoon), to a toothless smile as wide as his face and he put his fist up in a "thumbs-up" straight in front of him, right into my face! I quickly ducked away and my companion and I kept walking, away from him and the catcalls of his friends. It was probably the most hillarious thing that happened to me on my mission. It was super surreal and like something you'd see in a movie. (Amy)
My companion and I were in the middle of helping in English school and a young girl asked my companion and I with a very seductive look on her face if missionaries were allowed to touch. Not between each other but with other people. My companion and I looked at each other and laughed because we were puzzled by the question. (Mauro)
Singing battle hymn of the Republic in Portuguese on preparation day but no one had their hymnals, so it was just muttering until the chorus and we all burst into song. (Amanda)
My companion showed the painting of Christ to an investigator. She said she wanted to marry a man who looked exactly like that. (Nathan)
What was a crazy experience?
My brasileira companion and I were in the favela (ghetto), tracting and looking for some of our current investigators. We walked past a man in a little trailer selling goods and food and things, and he called out to us "Hey, when are you going to teach me?!" I, being a greenie and super excited, returned and started talking to the man. He was in his trailer and had his hands behind his back. My companion, much wiser than I, spotted that he had a metal bar behind his back and was probably malicious or crazy in some way, and luckily she pulled me out of there as quick as she could. Nothing actually happened, but not long after, we both started feeling really bad in that neighborhood and felt like we shouldn't come back for at least 2 weeks. So we left as fast as we could. (Amy)
My companion and I were once walking through an alley in the night time where we noticed a group of guys at the end of the alley kinda staring us down. At this point, they already saw us and my companion and I felt like we should just continue to walk ahead in faith. We both felt a bit scared but as we got close to the guys, we just walked right by them and nothing happened. My companion and I felt like they wanted to harm us but we just moved forward and nothing happened. (Mauro)
Every time we got on a bus was a dangerous experience. (Nathan)
What was a spiritual experience?
The first time I bore my testimony to an investigator as the senior companion. I had finally mastered the language enough that I felt confident, and it was an amazing experience where the Spirit bore powerful testimony to this woman that she needed to be baptized, and not worry about what others might think, or her family, but that she needed to do it for her own salvation. (Amy)
My first ever baptized investigator didn't have a dress to wear to church. So she prayed that night after her baptism and the next few days, one of her friends gave her a couple of nice dresses that she wasn't using anymore. (Mauro)
Being able to attend the baptisms of people I had taught. (Amanda)
Almost every time we testified of Joseph Smith's First Vision, the Spirit was unmistakable. (Nathan)
What are some interesting facts about the Ribeirao Preto Mission?
It is super hot. 120 degrees hot in certain parts, like Aracatuba or Tres Lagoas. Sao Jose do Rio Preto, a city in the mission, is one of the major medical cities in Brazil; people come from all over Brazil to get medical attention at the clinics and hospitals there. You can find cows walking in the streets of the same city that has million dollar homes. It's a crazy thing to see- extreme poverty and extreme riches right next to each other. (Amy)
Eight out of ten times people will be open to hear what you have to say about the church. (Mauro)
Most of it was interesting. (Nathan)
What was the weather like?
Again, super hot…all the time. Except in the southern parts of the mission but I was never blessed enough to go there. During "summer/spring" it is monsoon season and there is a ton of rain, like, 6-8 inches of water in the streets, or more. And during the dry season, it's just hot, hot, hot. (Amy)
Hot and muggy. (Mauro)
Hot during the summer, cold during winter. The summer and winter are opposite from the states. I was not prepared for how cold it was and caught a really bad cold/flu my first winter there. Definitely prepare for cold/humid weather! (Amanda)
Hot and humid most days. When it rained, it poured; umbrellas were useless. (Nathan)
Any things you really like about the area/people?
They are super humble, kind, and they looooove the missionaries and Americans!!! (Amy)
I liked that people are very friendly and welcoming. Most people will be receptive to your message. (Mauro)
They're so welcoming! I still keep in contact with many of my ward families and people I helped baptize into the church. I consider many of them extended family. (Amanda)
I love that sarcasm didn't exist in Brazil when I was there. The people were very open and teachable. (Nathan)
Any packing/clothing advice?
Sisters; bring tevas or chacos. They saved my life. They are cool, durable and you can totally wear them with your church clothes, it's fine. But also bring some nicer shoes for Sunday and special meetings. Bring spare garments; yours will get gross really fast from all the sweating you do. You'll want to switch them out about halfway through the mission. Same thing goes with t-shirts; bring clothes you only need one layer for (no cami's or undershirts- just stick with one layer shirts) you will not want to have multiple layers; you wanna be cool!! (Amy)
Just keep everything organized and make a list of what you have in each suitcase. (Mauro)
Definitely bring warm clothes and things that dry fast as well. Your laundry will be done in a glorified bucket (their version of a washing machine) IF you are lucky enough to have one. All drying is done on a line. If you wear contacts, try to pack enough solution for while you are there. It is very expensive to buy there. You'll need a good brand of shoes, because you'll be walking a lot. (Amanda)
Long-sleeve sweaters. (Nathan)
What blessings did you receive from serving a mission?
I learned how to sacrifice, and put others before myself. I was able to share and develop many of my own talents. I learned a new language that has allowed me to meet many interesting people after my mission. My family was also richly blessed while I served. (Amy)
Self Reliance – Courage to share what I believe – Knowledge of the gospel and of the world – Know Portuguese – Stronger testimony. (Mauro)
I learned how to live on my own, how to budget money, a new language, how to talk to people. I was blessed to meet my husband 3 months after returning home. I gained a greater knowledge and understanding of the gospel. I became more empathetic to people who are less fortunate than I am. (Amanda)
Far too many to list here. (Nathan)
What are some skills you gained?
The finger-snap trick. It's awesome. (Amy)
The skill of having a more determined mind set. When I want to do something I get it done. (Mauro)
A second language, how to make Brazilian food (it's so good)! People skills, etc. (Amanda)
Humility, love for the scriptures, self-reliance, financial discipline, eating/exercise regimen and basic cooking. (Nathan)
What do you wish you knew/did at the beginning of your mission?
That it was going to take me 4 transfers to really learn the language. (Amy)
Recorded my first testimony in Portuguese. Word for word. (Mauro)
I would tell new missionaries that it's not going to go like you imagined it. It will be difficult in ways you would never imagine. But it will help build you into a better person. (Nathan)
Any advice/testimony for pre-missionaries going to Ribeirao Preto?
You can do it! The Lord will help you to accomplish everything He wants you to do out there! It will be hard, but it will be worth it. Not just for the people you serve, but for you, your family and your future family! (Amy)
Don't sweat it (mentally because physically you will be sweating a lot), don't worry and don't stress! Try your absolute best and have fun doing it! If your not happy and not having fun, you're doing something wrong. Always smile, no matter the situation. (Mauro)
Be teachable. Have the courage to speak what comes to your heart. Repentance is a gift. (Nathan)
What was a funny language mistake?
Haha, One time I was teaching and bearing testimony about Christ and how he had "other sheep," etc.. Well the word for sheep is "orvelha" and the word for peas (like the small, round green veggie), is "ervilha." Yeah, so I basically bore testimony that Christ had other "peas" which were not of this fold, and those peas also needed to be taught, etc…hahaha. It was pretty hilarious. (Amy)
I know that the word for coconut and the word for poo are one accent away from each other. (Amanda)
Dain (Brazil Ribeirao Preto Mission)
–Paraphrased from  Dain's mission interview–
Mission Boundaries
Our mission was in the state of Sao Paolo and a little spilled over into the state above. From the mission headquarters to the edge it was about 10 hours by bus. When I was in the MTC I told some of the professors where I was going and they told me it was gonna be hot. It's known for being at least 88 degrees year round. One time it got close to 120. A lot of missionaries would want to just go get an ice cream. Forcing yourself out onto the street when no one else was was a big challenge.
Make Up of the Mission
My first area was a ward with the attendance of maybe 35 people. Another ward I was in had about 60 or 70 people. I think there were nine stake in the mission. I served in four areas in Brazil. I got to serve in the actual metropolitan city and then I served in a small city too.
The center of our mission Ribeirao Preto used to have six stakes but it was down to 2 or 3 when I was there. They say it's like very rural. The worlds largest rodeo grounds are located there. There is quite a variety of people there and you can see people from Japan and also several other Latino countries.