Here are free resources about the Arkansas Bentonville Mission:
*Other Mission Pages: Arkansas Little Rock Mission.
---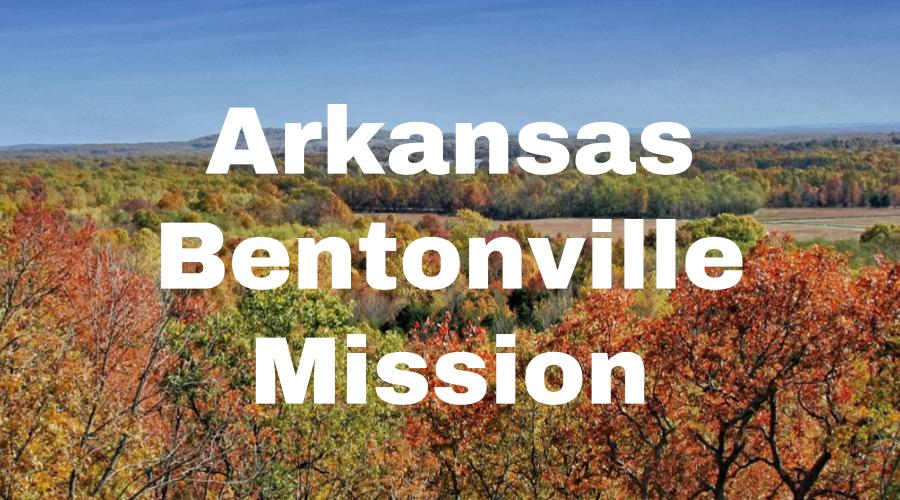 ---
Arkansas Bentonville Mission Address
Here's a recent address for the Arkansas Bentonville Mission. We try to keep this information up to date, but it's a good idea to check the mission address with several sources, including your mission packet or the mission office.
Arkansas Bentonville Mission
1004 Beau Terre Dr Ste E502
Bentonville, AR
72712
Phone Number: 1-479-250-9276
Mission President: President Kevin H. Loveland
Arkansas Bentonville Mission Map
Here's a link to the mission map for the Bentonville Mission (LDS). Coming soon..
Bentonville Missionary Blogs
Here's a list of LDS missionary blogs for the Bentonville Mission. This blog list includes the missionary's name, URL and when their mission blog was updated.
*Send your missionary a gift (mission-specific shirts, ties, Christmas stockings/ornaments, pillowcases, etc.)
Arkansas Bentonville Mission Groups
Here are Bentonville Mission Groups- for LDS missionary moms, returned missionaries, mission presidents and other alumni of the Bentonville Mission.
Arkansas Bentonville Mission Parent Group (165 members)
Bentonville Mission T-Shirts
Here are T-shirts for the Arkansas Bentonville Mission!
Shirt designs include Arkansas Bentonville Mission logo/emblem shirts and Called to Serve shirts. The shirts make great gifts for pre-missionaries, returned missionaries and missionaries currently serving. LDS Mission shirts come in all sizes: Small, Medium, Large, Extra Large, up to 4XL.  The mission designs are printed on white shirts and are shipped to you.
*Simply click on a shirt design to view the details and submit an order. The designs on mission t-shirts may also be printed on other LDS mission gifts, including: Arkansas Bentonville missionary aprons, Christmas stockings, ties, pillow cases, teddy bears and Christmas ornaments.
*Click here to browse Arkansas Bentonville Mission gifts
---
---
Bentonville Mission Presidents
Here's a list of current and past Mission Presidents of the Bentonville LDS Mission.
2015-2018, Kevin H. Loveland
2015, Oklahoma Tulsa Mission renamed the Arkansas Bentonville Mission
Arkansas LDS Statistics (2015)
Church Membership: 29,898
Missions: 1
Temples: 0
Congregations: 67
Family History Centers: 21
Helpful Articles about Arkansas
Coming soon..
Bentonville Missionary Survey
Here are survey responses from Arkansas Bentonville RMs, to give you a snapshot into what it's like to live in the mission.
*Click here to take a survey to help pre-missionaries going to your mission.
When did you serve?
2015-2017 (Hannah)
2014-2016 (Tevan)
2014-2015 (Lizzie)
2014-2015 (Olivia)
2014-2015 (Jessica)
2014-2015 (Mariah)
What areas did you serve in?
Berryville, AR- Bolivar/Buffalo, MO- Joplin, MO- Tulsa, OK- Ozark, MO- Nixa, MO- Huntsville, AR- Bella Vista, AR. (Hannah)
Bartlesville, OK – Rolla, MO – Stockton, MO – Springfield, MO – Bentonville, AR – Springfield, Mo. (Tevan)
Broken Arrow, Oklahoma; Pawhuska, Oklahoma; Ozark, Missouri; Nevada, Missouri; Henryetta, Oklahoma; Bartlesville, Oklahoma; Ash Flat, Arkansas; Alma, Arkansas. (Lizzie)
Henryetta, OK, Berryville, AR, Mountian Grove, MO, Rolla, MO, Mena, AR, Gore , OK, Talihina, OK, Miami, OK. (Olivia)
Muskogee OK, Southern Hills MO., Bentonville AR YSA and Sugar Creek wards, Pittsberg KA, Skiatook and Pawhuska branches in OK. (Jessica)
8 different ones! (Mariah)
What were some favorite foods?
You learn not to be picky, but you can't go wrong with barbecue- and the South knows how to do it! (Hannah)
Brisket, meat and potatoes, the usual fresh backwoods foods. (Tevan)
Beans and Cornbread/Ham and Bean Soup, Catfish, Braum's (Burger and Ice Cream Restaurant). (Lizzie)
Fry bread, beans, anything the members fed us. (Olivia)
Bean soup, barbecue, fish. (Jessica)
Food is food. But chicken and waffles. (Mariah)
What was a funny experience?
There are some super random things that you find. For example, a six-foot tall rabbit statue in someone's front yard. Or a giant set of Harry Potter glasses. It's always fun to stop, and take a picture. (Hannah)
My trainer, Elder Morris, for the first time meeting. (Tevan)
When I got my call a lot of friends and family told me I was going to eat squirrel, I put it on my mission bucket list to eat squirrel, I mentioned this to a couple of members in different areas, and finally, when I had been out for just over a year, someone helped me cross this off my bucket list! (Lizzie)
A member one time fed us deer heart, but he didn't tell us what it was until after we ate it. (Olivia)
We got to teach a 89 year old man with one leg who couldn't hear very well and fell asleep in the middle of our lessons. But he knew the gospel was true! We asked him if he was ready to be baptized and in a very thick Oklahoma accent he said, "Well I hope so." After the baptism he laughed a little and said something along the lines of, "I don't know what I was thinkin'. An old man like me doin' that." But he was happy to be a member of the true church. He often referred to the Sister missionaries as his angels. (Jessica)
When my companion and I caught our stove on fire. (Mariah)
What was a crazy experience?
We had a snake in our apartment. Someone's pet had escaped, and woke us up at midnight. We called our ward mission leader in hysterics, and he and his wife came to our rescue! They were able to get rid of the snake. Thank goodness for them. I'm terrified of snakes, and I certainly wouldn't have been able to take care of it myself. (Hannah)
Running run through a tornado. (Tevan)
In one of my areas my companion and I ran over a 3 inch bolt that had been bent at a 90 degree angle! It put a huge hole in our truck tire, our investigator tried to help us, he pulled the bolt out, so within a couple of seconds our tire was completely flat! None of us could figure out how to lower the spare tire, fortunately there was a member who lived nearby and was able to help us. (Lizzie)
I saw a dog once that was as tall as me. I'm 5′ 4″. (Olivia)
We helped an investigator move her mom. The situation wasn't what we thought. It turned out it was behind the mom's abusive husband's back and he could have come home at any moment. We learned that day to ALWAYS trust a promoting, even when it seems counter intuitive. We thought we were there to help so we ignored the thought not to go. In the end, we were all safe. The Lord protected us and we promised never to ignore a prompting like that again. (Jessica)
Dogs. They are everywhere and want to eat you alive. (Mariah)
What was a spiritual experience?
I was able to see an entire family enter the waters of baptism. That's rare! But it was so beautiful. It was a great way to finish my mission. (Hannah)
Best and quickest lesson on the Restoration leading to a baptismal commitment. (Tevan)
One of the people I taught who got baptized was a little girl. Her grandma was a member, who asked us to teach her. After she was baptized, while we were waiting for the Brother who baptized her to come out, she just got up out of her seat and started giving people hugs. She was just so happy, and full of Heavenly Father's love, that she couldn't contain it. (Lizzie)
There were a lot, but one that stands out was in my first area. We taught a part member family who had taken the lessons many times over many years. I knew one reason I was there was for them. I learned so much from them. The ward fellowshipped, home taught, loved and served that family always, even though they didn't know if they'd ever come to church. It was because they had faith and really cared. Through the months we taught, visited and served this family, they became like a family to me. I watched as the Lord softened their hearts, answered their questions, and calmed the fears they'd had for years. I learned that the Lord really does work in His own timing and that it can take time to prepare hearts and that, just because it doesn't happen right away, doesn't mean you ever give up loving and serving someone. I stayed in that area almost 6 months and during my last transfer there they became active, stopped smoking and drinking tea, got married and the non-member husband was baptized. I knew then that I would be transferred to a new area. I was. A week later I heard that they visited the temple for the first time. A year later, I hear they are still active. (Jessica)
Asking inspired questions that allow the investigator or less active members to testify for themselves, which invited the spirit! (Mariah)
What are some interesting facts about the Bentonville Mission?
Bentonville is the headquarters of Walmart! Literally, that's the only reason why Bentonville exists. There are a couple other bigger cities, but for the most part, the mission is pretty backwoods. But it's so much fun!!!! It's very unique and there's always something to see. (Hannah)
We went from the Oklahoma Tulsa (Only True) Mission to the Arkansas Bentonville (Almighty's Best) Mission!! (Tevan)
Up until July 2015 it was the Oklahoma Tulsa Mission. The Arkansas Bentonville Mission covers parts of four states! Arkansas, Oklahoma, Missouri and Kansas. It is in Tornado Alley AND the Bible Belt! Bartlesville, Oklahoma is the headquarters of Phillips 66 and Bentonville, Arkansas is the headquarters of Walmart. Parley P. Pratt is buried in Alma, Arkansas. There are areas with Marshallese branches, and missionaries, who are called to English speaking, will serve in these areas and will have to learn a little bit of Marshallese! (Lizzie)
We have some of the most amazing people you will ever meet in your life! Many of them have experienced a lot of hardships, many that I can't even comprehend going through. So many of them have found strength through Jesus Christ. Many of them love talking about Him. Even if they won't let you share your message, those people sure do love to talk about Jesus! (Olivia)
The acronyms are the best in the world. Everyone knows about Christ. Frozen custard is the best. Stray dogs are everywhere. Tons of good people being prepared for the gospel. (Jessica)
Route 66 goes through it! Bentonville is the headquarters of Walmart. Parley P. Pratt's grave is close to Alma, Arkansas. The world's first and largest Bass Pro is in Springfield, MO. (Mariah)
What was the weather like?
Hot and humid summers. I almost died. Mesh garments are the way to go. The fall and spring is lovely though. The winters do get cold, so bring a coat. (Hannah)
Spring – Green and beautiful summer – Green and humid fall – Green, beautiful and humid winter – Cold, humid but beautiful. (Tevan)
Summers can be pretty hot and humid, the humidity causes the winters to be different cold than I was used to. (Lizzie)
Hot and humid! The best! (Olivia)
Sunny, windy, hot, cold, it had a mind of it's own but mostly it was semi-humid. (Jessica)
Windy, hot, humid and cold! (Mariah)
Any things you really like about the area/people?
It's the Bible Belt, so everyone knows about Christ! And most of the time, they don't mind talking about Him. They are such wonderful, faith-filled people. (Hannah)
The people are very down to Earth. They tell ya how it is which makes it nice. The land is BEAUTIFUL!! (Tevan)
The people are so genuine, down to earth, and loving. So many people have a deep love for Heavenly Father and Jesus Christ. (Lizzie)
They are really genuine. Many of them don't have a whole lot but still give to you. They really are some of the most humble people I've met. (Olivia)
Many people are open and kind. They help strangers and there's a sense of everyone is your neighbor. People wave and smile when you pass them on the road. The sky is beautiful, always. It's easy to drive. Wildlife is everywhere. The Church is strong as a community and is inviting. (Jessica)
The people are so nice!!! I love them. They were usually nice because almost everyone already loves Jesus. (Mariah)
Any packing/clothing advice?
Light clothes for the summer, but definitely warm clothes for the winter. (Hannah)
Winter – bring a nice thick coat, scarf and gloves. Don't be surprised if you still feel the cold. That's the humidity piercing through to you. Summer – short sleeved shirts. The wind, when it blows, makes the humidity bearable. Space bags work miracles when packing!! (Tevan)
Don't pack all of your clothes in space bags, it seems like it will give you more room, but the actually end up taking up more room! (Lizzie)
Get a water bottle that is insulated and cotton garments or ones that can breathe really well. The winters are also cold, so get a down coat or something. (Olivia)
Bring a good coat. Bring breathable, light clothing for the summer. Always take water with you. Travel light but bring enough. Wear the most comfortable shoes possible. (Jessica)
Layers so that you can have more clothes in the winter and less clothes in the summer. (Mariah)
What blessings did you receive from serving a mission?
I think the biggest one for me was coming to know the Savior in a way I never would have. I had to rely on him so much during my time as a missionary. I just came to know who he was in a much more intimate way than I had before. (Hannah)
Maturing in ways I didn't see coming. I also received more love and empathy for those I served with. Definitely didn't see an increase of love coming but is a pleasant surprise. (Tevan)
My testimony is so much deeper. Before my mission the gospel was just one of the side aspects of my life, where as now it's one of the main features. I also learned a lot! A lot about the scriptures, I gained a better understanding of the scriptures. I learned a lot about the how The Church is organized. (Lizzie)
Everything! There are too many too count! And I'm not just saying that. (Olivia)
Financial blessings. Family blessings. Personal development, spiritual growth, gained eternal friends, learned the gospel and strengthened my testimony even more, gained good habits, new perspectives, saw others potential, saw my own potential, became close to God, had questions answered, learned good study habits, watched the power of the atonement change lives every single day. (Jessica)
My husband! I wouldn't have met him if I hadn't served a mission. (Mariah)
What are some skills you gained?
I learned charity. I learned how to see others as the children of God that they are. (Hannah)
OTMing (Open Thy Mouth)… just being able to start a conversation based on circumstances and the Spirit. (Tevan)
I learned how to listen to what people are saying and how to interpret what they mean, potentially need, and how I can help. (Lizzie)
I learned charity, service and humility. (Olivia)
Social skills! I had to come out if my bubble and talk to people more. Health. I learned the importance and the difference it makes to have good exercise and eating habits. Effective goal setting and achieving. How to study the gospel effectively. Teaching and learning skills come when you use Preach My Gospel every day. Budgeting. (Jessica)
Communicating with other people. Sharing the gospel, bearing my testimony, and studying. Knowing better how to budget. Understanding and feeling the spirit. (Mariah)
What do you wish you knew/did at the beginning of your mission?
Be patient with yourself. You're not going to be perfect. Learning takes time. Don't compare yourself to other people. It'll make you miserable. (Hannah)
More of the stories and doctrine in the scriptures. (Tevan)
I wish I had finished reading Preach My Gospel! I didn't know what all was in it going into my mission, it would have made things so much easier!! (Lizzie)
That people are all different, but they are all God's children. No matter what anyone's circumstances are, no one deserves to be treated any less than anyone else. (Olivia)
Pack light. Go to the temple as often as you can before hand. My companions might have different opinions and perspectives than me. I need to listen to them. Serve. Just find simple ways to serve every day. Family history is the best! I wish I'd known more about it and done more of it before my mission. Never be afraid to share your testimony. It's the most powerful tool you have. Read the Book of Mormon. Along with your testimony, The Book of Mormon will be your most powerful teaching tool. (Jessica)
Nothing. I think going out fresh helped me learn everything I was supposed to learn. (Mariah)
Any advice/testimony for pre-missionaries going to Bentonville?
Make sure you read the Book of Mormon. Knowing about the Bible doesn't hurt either, since it is the Bible Belt. You're going to the Absolute Best Mission. You will love it. Trust your mission president. Trust Heavenly Father. He knows what He's doing! (Hannah)
Read Preach My Gospel and the standard works of the Church. Then pray for a testimony. (Tevan)
I wouldn't trade my mission for any other mission. When I got my call I was hoping to go to somewhere in Europe, or somewhere that I could use Sign Language (I learned it in High School), but I know if had gone anywhere else I wouldn't have had the same mission. I met lifelong friends, and people who have changed my life forever. (Lizzie)
Read D&C 31. (Olivia)
#1. It is the best mission in the world because it is your mission. Never forget the Lord sent you there. Even if you're a visa waiter or have other circumstances that got you there, the Lord knew it would be so. There are countless opportunities in your mission. Learn to love the people, all of them. If you let it, your mission, the mission God Himself has called you to, will change your life in great ways you can't yet imagine. It will be hard. You'll feel like giving up sometimes. Don't. Sometimes there are circumstances where missionaries, for one reason or another, who are still worthy have to go home early. That is a rare exception but those who do, the Lord has a plan for them too. Another piece or chapter to their mission they just weren't expecting. Support and love and encourage all your fellow missionaries. Count your blessings every day. Remember to rely on the Spirit and trust in the Lord's timing. The Church is true! It's said all the time. But I testify that my mission has helped me know it on a deeper level than I ever did before. (Jessica)
Trust your mission president. He knows what's he's doing and is following the spirit. (Mariah)
What was a funny language mistake?
Y'all…haha ain't. (Mariah)
Joshua (Arkansas Bentonville Mission)
–Paraphrased from Joshua's mission interview–
Mission Geography
The mission extended from an hour southwest of Tulsa itself. Tulsa was in the very southwest corner of the mission and it's about 6 hours on the freeway to the other side of the mission. You have Oklahoma and it goes up into just a little part of Kansas. Then it shoots over into Missouri about an hour southwest of St. Louis. Then its the northwest Arkansas region. They switched the mission home to a more central location. They decided to stick it in the middle so it's just 3 to 4 hours to get to the further locations. The church is really strong there too. In Arkansas they just split a new stake in there. They call the Bentonville area little Provo. There's a ton of members out there because of the Walmart headquarters and they just love BYU.
The Age Change
My mission president began talking with us about moving the mission home to Arkansas while I was there. With the age change, we had to put the relocation to the side. We went from 180 to 250 missionaries. With transfers, you can't just drive to the different locations. You have a caravan of cars and a big 15 passenger van and they would drive us out.
Interesting Facts
There is a place in Arkansas where they say Parley P Pratt was buried. There was also a town called Flippin.
Popular Religions
It's a really big mission, but it used to be bigger. Tulsa was the headquarters when it was the U.S. Southeast Mission. It's a pretty old mission. The members there are incredible. There are a lot of Evangelical Christians. There is also the world headquarters for the Methodists. There is also a Baptist bible college which is basically the Baptist version of the MTC. The people are so nice. If we went tracting when it was hot and humid, they would ask us if we wanted a glass of water. They didn't always want to listen, but they would always be nice. It was really cool to have that aspect. We knew that everyone we met loved Jesus Christ.
Utilize the Members
I wish I would have utilized the relationships I had with the members to better share the gospel. You know those areas that have the member that's like a missionary mom or missionary grandma. I wish I would have been bold enough to try and teach their friends and ask them to invite their friends. I feel like that would have strengthened our relationship even more. The members there have lots of nonmember friends.
Small Towns
Usually the areas always had these little tiny places that were interesting. You would pull up to a town with just one active business and the rest of the businesses are shut down, but the rest of the people in the town still lived there because that's what they've always done.