Free resources about the West Virginia Charleston Mission:
*Other Mission Pages: Ohio-West Virginia Mission.
---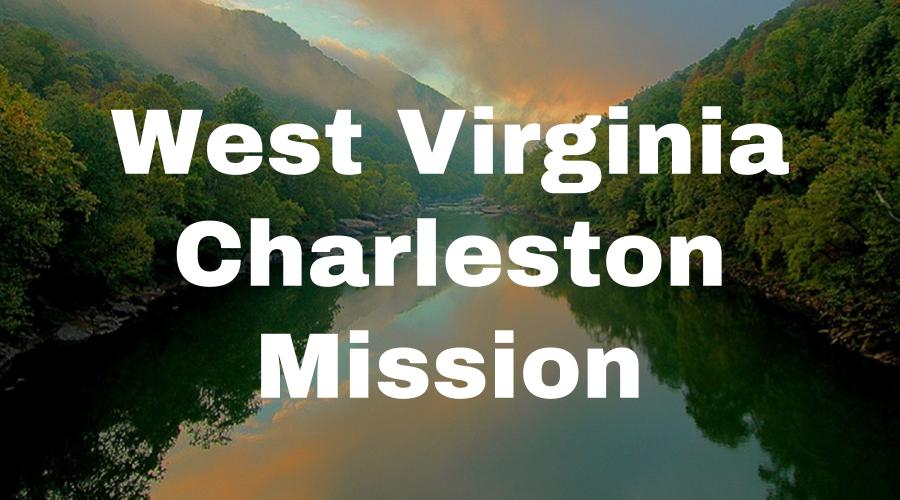 ---
Charleston Mission Address
Here's a recent address for the Charleston Mission. We try to keep this information up to date, but it's a good idea to check the address with several sources, including your mission packet or the mission office.
West Virginia Charleston Mission
839 Chestnut Street
South Charleston, WV 25309
Mission President: President David Lindahl
Charleston Mission Map
Here's a link to the mission map for the West Virginia Charleston Mission (LDS). To access the official LDS.org map for the Charleston Mission:
Log into your LDS account here.
Click here.
Videos with Charleston RMs
Here are in-depth YouTube video interviews with returned missionaries from the Charleston Mission.  We interview hundreds of returned missionaries each year, so check back regularly to see new RM interviews.
Videos about West Virginia
Here are LDS-friendly educational videos about West Virginia. We scoured YouTube to find the best quality videos about West Virginia, that are free from inappropriate music, immodesty and profanity.
Charleston Missionary Blogs
Here's a list of LDS missionary blogs for the Charleston Mission. This list includes the missionary's name, URL and when their blog was updated.
*Send your missionary a gift (mission-specific shirts, ties, Christmas stockings/ornaments, pillowcases, etc.)
Charleston Mission Groups
Here are Charleston Mission Groups- for LDS missionary moms, returned missionaries, mission presidents and other alumni of the mission.
Charleston Mission T-Shirts
Here are T-shirts for the West Virginia Charleston Mission!
Shirt designs include Charleston Mission logo/emblem shirts and Called to Serve shirts. The shirts make great gifts for pre-missionaries, returned missionaries and missionaries currently serving. LDS Mission shirts come in all sizes: Small, Medium, Large, Extra Large, up to 4XL.  The mission designs are printed on white shirts and are shipped to you.
*Simply click on a shirt design to view the details and submit an order. The designs on mission t-shirts may also be printed on other LDS mission gifts, including: Charleston missionary aprons, Christmas stockings, ties, pillow cases, teddy bears and Christmas ornaments.
*Click here to browse Charleston Mission gifts
---
---
Charleston Mission Presidents
Here's a list of current and past Mission Presidents of the Charleston Mission.
2017-2020, Michael J. Lindhardt
2014-2017, Paul Wilford Salisbury
2011-2014, Bruce G. Pitt
2008-2011, Michael W. Thornock
2005-2008, Joseph F. Cowley
2003-2005, Ronald A. Millett
1999-2002, John R. Wible
1996-1999, Robert C. Sloan
1993-1996, Parley C. Hamblin
1990-1993, Lawrence E. Welling
1987-1990, Dean A. Barnes
1984-1987, Sidney Henderson
1983-1984, Garth Eames
1980-1983, O. Rex Warner
West Virginia Mission LDS Statistics (2015)
Church Membership: 17,040 (West Virginia), 94,273 (Virginia), 34,210 (Kentucky)
Missions: 1 (West Virginia), 3 (Virginia), 1 (Kentucky)
Temples: 1 (Kentucky)
Congregations: 36 (West Virginia), 197 (Virginia), 78 (Kentucky)
Family History Centers: 14 (West Virginia), 36 (Virginia), 23 (Kentucky)
Helpful Articles about West Virginia
Charleston Missionary Survey
Here are survey responses from West Virginia Charleston RMs, to give you a snapshot into what it's like to live in the mission.
*Click here to take a survey to help pre-missionaries going to your mission.
When did you serve?
2013-2015 (Scott)
2010-2012 (Andrew)
2010-2012 (Kayla)
2001-2003 (Kevin)
2001-2003 (Jay)
2008-2010 (Connor)
2003-2005 (Henry)
2002-2004 (Josh)
2002-2004 (Ryan)
2000-2002 (Benjamin)
What areas did you serve in?
Elkins, Morgantown, Welch, Charleston. (Scott)
Sissonville, WV/Covington, VA/Marietta, OH, Clarksburg, WV/Paintsville, KY. (Andrew)
Buckhannon, Phillipi, Beckley, Bluefield, Teays Valley. (Kayla)
Wytheville, Blacksburg, Roanoke, Lexington, and Elkins. (Connor)
Clarksburg & Kingwood, WV, Dublin, Bedford, & Pembroke, VA. (Henry)
St Albans, Blacksburg, Marietta, Morgantown, Lynchburg. (Josh)
Fairmont WV, Roanoke VA, Concord VA, Bluefield VA/WV. (Ryan)
Beckley, Pocatalico, Huntington, Morgantown, Appomattox. (Benjamin)
What were some favorite foods?
Biscuits and gravy, pepperoni rolls, stromboli, stews and chili. Sheetz (the convenience store) has really good food and hot chocolate, try it. (Scott)
Slaw Dawgs, Biscuits and Gravy, any type of BBQ. (Andrew)
Homemade biscuits and jam. (Kayla)
Lasagna, Pepperoni Sticks in Bread, Italian food, and everything (Kevin)
Biscuits and Gravy. Fried chicken. Black beans and cornbread. (Jay)
Pepperoni rolls. Ramps (wild onions). Venison and venison jerky. Never tried squirrel, heard it's not bad. (Connor)
Pepperoni Rolls, Biscuits & Gravy, Chili & Cornbread. (Henry)
Slaw dogs and pepperoni rolls. (Josh)
Pepperoni Rolls. Hot dogs with hot dog sauce. Cheesy western in Roanoke. (Ryan)
Venison, All the different home made treats and pretty much the amazing home made country fried-cooking! (Benjamin)
What was a funny experience?
I was on splits with my district leader and we came across a group of guys that were admiring a barn they were in front of. When we looked at it, we realized what they were admiring. The entire surface of the barn wall was covered by animal pelts ranging from raccoons to beavers to fox. It was their entire trap collection from that year. It was quite a sight to see. (Andrew)
Shoving unwanted food into a plastic bag while the host wasn't looking. (Kayla)
Going frisbee golfing in Huntington WV. Since most of the course was on a hill surrounded by trees. Found a lot of lost frisbees. Also watching my companion get drenched by a wave of water while riding our bikes. (Kevin)
Tracting in a threesome. I'm 6'5″ and my other two companions were 6'4″ and 6'2″. Needless to say we NEVER got into people's houses so we would play a game that one of us would say a random word at the door and then the other two would have to use that word in a conversation. Many tears of laughter were shed. (Jay)
We once prayed with a guy who thought he was "speaking in tongues" which turned out to be just yelling, "Wubububububuuu!" Over and over again. Then he started dancing. Then my companion started dancing with him. I had to pretend my shakes of laughter were me crying so I didn't offend the dude. (Connor)
We were tracting and a lady yelled at us to stay away, but then she felt bad and insisted that she didn't want to be seen as a bad person and insisted that we have some pepperoni rolls and some lemonade, but we couldn't preach to her. We spent 20 minutes enjoying the treats and making friends with her. (Henry)
Taking the moonshine from someone's house after she committed to living the Word of Wisdom. (Josh)
Tracting hollers and meeting interesting people. Praying with people who are very vocal during prayers. Greatest mission in the world. (Ryan)
I had bad diarrhea and you could hear me through the half bathroom door since it was right next to the dinner table! (Benjamin)
What was a crazy experience?
There was a deer that literally ran into our car as we were going 60+ mph. My companion was driving and I looked out his window to see a deer running across to the road and hit us on the side of the vehicle. There was a big dent in the car as well as an imprint of the deer's jaw line embedded in the window. (Andrew)
Getting the car stuck in a ditch on a snowy hill. (Kayla)
Never had one actually. (Kevin)
A 1/2 pit bull and half mastif came after us. The head looked me directly in the chest and I'm 6'5″. My senior companion put out his hand and yelled, STOP. The dog did just that and we backed away slowly. I was sure we were dead men. (Jay)
A lot of the areas I tracted in, I would never go back to now. They were pretty rough neighborhoods. But no one usually messes with you as a missionary. You can go pretty much anywhere you want. But use common sense and caution though. Oh and also one time a guy sicced his dog on is and I had to threaten it with a pen to get it to stand down. I was this close to stabbing that thing with my Zebra F301 if it came any closer. (Connor)
Not really dangerous, but crazy. We were out tracting on a rural road and were about a mile from our car. It was a nice sunny day. Suddenly a rain storm came out of nowhere. We started back to our car just as scattered drops were falling, but by the time we made it back to the car we were soaked. We couldn't have gotten wetter if we had stood in the shower. Plus our windows had been left down in the car so our seats were soaked as well. We went home and got dry. (Henry)
Less active answered the door with a shotgun. (Josh)
Driving in the winter time gets a little scary on the mountain roads, also hitting deer. (Ryan)
I got hit by a car on my bike and I was shot at by a young gang banger! (Both incidents were in Beckley, WV) (Benjamin)
What was a spiritual experience?
I remember feeling quite alone when I was in my first area. I saw missionaries who were being disobedient and I wanted to be there for the right reasons. I remember praying for a confirmation about who I was and if God was there. Shortly after saying the prayer, I felt an overwhelming sense of love from God and knew that He was there for me and was there to support me, especially in times that would be a struggle for me. (Andrew)
Teaching a lady in my last area we had walked into. I was not able to see her get baptized, but after visiting my mission a couple years later found out that she had joined the church. (Kevin)
Asking a woman to be baptized. I can still remember asking her how she felt and receiving the answer, if this is how I can feel in your church then I'm in. (Jay)
Bearing testimony about the Restoration was a really good way to bring the Spirit into a lesson. I felt it was true when I bore testimony of it. (Connor)
One Sunday, it was snowing really hard but we had received no word about church. We picked up the bike elders and went to the church. The drive was crazy, both to the bike elders and to the church, but we managed to make it. At the church, we found out church was canceled because of the snow. The only people there was the Bishop, one of his councilors, the Elders Quorum President, one other member and us four missionaries. We decided to have a simple sacrament meeting. The Bishop had bread and water prepared. We had a prayer, sang a hymn (a capella), the sacrament was blessed and passed, we each took turns bearing our testimonies, we sang a last hymn had a final prayer and left. It was very simple, but was one of the most spiritual sacrament meetings I've ever attended. (Henry)
Testifying of Joseph Smith and the Savior to a Wicca. (Josh)
Seeing less actives come back to church after being away for a long time. (Ryan)
When we challenged an individual to immediately kneel down with us and pray now to see if what we are sharing is true. He did so and agreed to be baptized after that. On a different note, going back to the bike accident and being shot at. I was able to walk up immediately after getting hit with no major injuries and my garments protected me from scratching etc. The only visible marks were on places the garments were not. When I was shot at, I could hear the bullet whiz by before the triggered was pulled so when it actually was pulled, I was already dodging it out of fear. Lastly, my companion and I were tracking in a major rain storm and so no one would let us in and we were on bikes. So I asked if my companion had the faith to stop the rain through prayer…he just looked at me weird so we went into a gazebo and kneeled down and asked for the rain to stop and it did so we could get back to work! (Benjamin)
What are some interesting facts about the Charleston Mission?
West Virginia was NOT part of the Confederacy. Virginia was. Know that. (Scott)
There is no temple within the mission boundaries. The members had to go to various other places in the surrounding states for temple worship. (Andrew)
Really difficult to find addresses. People's directions can be quite difficult to follow. I.e. "Go left after the place where the old barn burned down, up a hill, down a hill, past the fire hydrant.." (Kayla)
It is very pretty with all the trees and hills. Especially in the fall. I enjoyed watching the leaves change colors. Plus being able to walk into the hollars made it nice since you were able to see a lot of beautiful country. (Kevin)
I had an area that we could drive and hour in all directions and still be in our area. You could serve in Pennsylvania, West Virginia, Ohio and Virginia as they were all part of the mission. Hillbillies are the craziest most resourceful humans alive. (Jay)
The capitol dome is covered in gold. People joke that West Virginia is poor because they spent all their money on that dome. It's the only place stateside you can go too and still feel like you are serving in a foreign land. A "far see" was a unit of measurement we heard used sometimes. It literally meant as far as you could see. Someone would say, "Oh yeah, that road is three far sees away". Sure enough, it was. (Connor)
Everyone has at least two dogs. (Josh)
Home of the new River Gorge, Pipe Stem National Park and the famous Greenbriar Resort. (Ryan)
Most illiterate state in the nation. The state capitol pinnacle is covered in real gold every few years. You can literally tract in some areas for 6 hours and only find 2-3 homes. (Benjamin)
What was the weather like?
Winters are COLD and windy. It didn't snow a ton, but when it did a lot of the rural roads weren't plowed so it was hard to get around. Summers were hot and very humid, but not too bad. There was a lot of rain during every season. (Scott)
Quite hot and humid during the summer months and quite cold during the winter months because of the humidity. (Andrew)
Cold and snowy winters, hot and sweaty summers. (Kayla)
Summer was hot because of the humidity, and the winters while I was there were cold and snowy. Plenty of ice storms as well that made it fun to ride bikes and drive. (Kevin)
Sweaty! Humid. (Jay)
Pretty humid. In the summer, it can flash rain and then be hot and sticky afterwards. On the plus side, I never ironed my shirts because just wearing them outside got all the wrinkles out. Winters are cold and there can be heavy snow dumps but usually not all winter. Falls are beautiful. And there are fireflies! (Connor)
Rain about 2 days out of every week in the summer and snow in the winter. (Henry)
Humid summers. Lots of rain. (Josh)
Cold and wet in the winter, hot and humid in the summer. Hopefully you end up in Bluefield…natures air conditioned city. (Ryan)
Cold, Hot, Humid, Breezy, Perfect. (Benjamin)
Any things you really like about the area/people?
Everyone in West Virginia (with the exception of some college students) LOVES the Savior. It can make missionary work hard, but it's inspiring to see. Their faith strengthened my own. (Scott)
Most of the people were so down to earth. Even though many didn't receive or accept our message, most were willing to let us in out of the weather when it wasn't ideal conditions to be out. (Andrew)
Very genuine and kind. (Kayla)
The people are pretty humble in many areas since they don't have much. Other areas had plenty of college age kids because of the number of colleges in our mission. (Kevin)
The 'hollars' were an amazing place where all kinds of awesome things went down. (Jay)
Some of the people were the nicest I've ever met. I suppose you get that about everywhere you go though. It was nice that people had a Christian context they were coming from and they already believed in the Bible. I taught a few people from China once and they had no idea who Jesus even was. That's a pretty difficult lesson. So a common belief in Christ helped a lot. (Connor)
It is rural, but the people are the most friendly people I've found. (Henry)
Humble people with great hearts. A good accent too. (Josh)
So friendly and hospitable. The members really love the Missionaries. Most people you teach already have a good foundation of the Bible. (Ryan)
Humble, Love the Lord, Wanted to serve/feed the Elders, Laid back and relaxed, Very loving and outdoorsy. (Benjamin)
Any packing/clothing advice?
Pack for every weather imaginable. It can be 65 degrees one day and 15 the next. Some of the members' houses aren't heated so be prepared to need to stay warm, even inside. Also bring a good GPS that saves coordinates, not everyone has an address. (Scott)
A good coat that will block the wind well. (Andrew)
Pack for all seasons! A pair of nice waterproof insulated boots saved me. (Kayla)
Take a good coat, plenty of white shirts and garments, a couple pairs of pants, and a good couple pairs of shoes. (Kevin)
Short sleeve shirts and a 'Shout' stick so you can properly clean your collars from your neck sweat. (Jay)
Warm stuff, short sleeves for summer. It's a pretty temperate climate, nothing too extreme needed. (Connor)
Follow the directions given in your mission call. Try to wear very breathable fabrics in the summers. (Ryan)
Warm clothing and waterproof gear and more white shirts than you would think because you will get that yellow stain around the collar quick. Short sleeve white shirts for the summer months as well. Also see if you do not have to wear your jacket during the summer months. (Benjamin)
What blessings did you receive from serving a mission?
I grew to love the gospel and it solidified what I truly believed and was willing to defend (not argue about). (Andrew)
A love and understanding of the Gospel I could get no where else. (Kayla)
It's hard to describe all the blessing I received from serving my mission. I know I was able to grow immensely in the gospel and my knowledge of the plan our Heavenly Father has for us. (Kevin)
I served half of my mission in Virginia and I ended up coming back to Virginia, although not directly in my mission, for medical school. I think the fact that I lived here for two years looked good on my application. I also met my wife here 🙂 So that's a huge blessing! And I really feel like a big part of my testimony was solidified serving my mission. Lastly, if you serve in the Bible Belt, you really get to know your Bible well. (Connor)
I have a stronger testimony and many friends I still talk to to this day. (Henry)
Depth and breadth to my testimony of the restored gospel. (Josh)
My mission served as a two year boot camp for being a missionary for the rest of my life. I was blessed with a stronger testimony and the ability to empathize with the less fortunate and simple people in the church. (Ryan)
Stronger testimony, as well as ability to help serve others. I was able to see how the Lord operates in your life and others. I was able to lose myself and therefore find myself. I was able to escape the world and become a more spiritual creature. I was able to learn more about the standard works, etc. (Benjamin)
What are some skills you gained?
Leadership skills were a big one for me. I served as a trainer twice, a district leader, and a zone leader. I learned a lot about myself during those times and wanted to improve who I was. (Andrew)
People skills, teaching, conflict resolution, how to be an adult, etc. (Kayla)
Being able to talk with people and learning to study. (Kevin)
Perseverance. Communication skills. The ability to get along with anyone. (Jay)
How to teach, how to plan, how to talk to random strangers. (Connor)
Navigating, cooking, talking, scripture study. (Henry)
Sewing ripped clothes. Not having to have the last word in a disagreement. Learning to get along with others. (Josh)
Finding common ground with people. Listening. Knowledge that hard work pays off. Planning and setting goals in personal and professional life. (Ryan)
Social, scriptural, bicycle, walking, vine swinging, cooking, public speaking, organization, communication, conflict resolution, compromise, etc. (Benjamin)
What do you wish you knew/did at the beginning of your mission?
Appalachians are very proud of their heritage. A lot of missionaries I knew looked down on them because they were poor and uneducated. Don't do that. Story-telling and oral histories are important to them, so learn to teach the gospel in stories. Don't worry about being fed road kill because that doesn't happen often. Ask someone to teach you how to make pepperoni rolls. If car sickness is a problem with the bad roads, they sell bracelets at Walmart that help. (Scott)
Learn where to turn to in order to answer peoples questions about various points of doctrine, so that they could see the power the scriptures can have in our lives, especially in the Book of Mormon. (Andrew)
How to be assertive and talk to people more. (Kevin)
Learn how the Bible and Book of Mormon teach together and enhance each other. (Jay)
More of the Bible. (Connor)
I regret nothing. I would gladly go on another, but would never change the mission I had. It shaped who I am today. (Henry)
Listen to your Mission President. If he tells you to do something, do it. He was called and given the keys of revelation for you as a missionary. Listen to him. (Josh)
I wish I would have tracted less and focused on service and working with part member and less active families as well as the youth. That is where you will see most of your conversions. (Ryan)
That the companionships are the hardest part of the service not the actual preaching of the gospel! That there are a lot of preachers on just about every street or neighborhood and they love to argue and "prove" how you are going to hell, and so it is just best to bear witness quickly and move on and find the Lord's elect who are ready to learn the fullness of the gospel! (Benjamin)
Any advice/testimony for pre-missionaries called to Charleston?
These people will love you like family. Come prepared to do the same for them. (Scott)
I know that rejection is a difficult part of missionary work. There will be many doors slammed in your face, but knowing that God is with you and is there to help you makes it a little better. Don't be afraid to talk to others. You have been called to serve in a beautiful part of the world where many people have established beliefs in the Savior, and you are there to bring them closer to Him. Never get discouraged, just continue to learn and grow in the way that Heavenly Father wants you to in order to be the best missionary you can be. (Andrew)
When it's over, it's over. There is no going back, so make every day count! (Kayla)
Make sure you gain a testimony of the things we teach as missionaries. The more you believe in this gospel and the plan of salvation the better you will be able to teach those you are going out to teach. (Kevin)
Just know that you'll see everything! Be yourself! God will chip off the rough edges naturally. Just be obedient and let Him work His miracles. (Jay)
Here's one thing I really wish I had realized before – people have agency. I used to read about Ammon and Paul, and Dan Jones, and all these great missionaries and think, well what am I doing wrong to not get these results? And we would have Zone conferences where we would brainstorm and try to come up with ways to teach and baptize more people thinking that if we just worked harder that would happen more. But I realized that some people will not get baptized no matter what you do. A direct quote from Joseph Smith – "The contention in heaven was–Jesus said there would be certain souls that would not be saved; and the devil said he would save them all, and laid his plans before the grand council, who gave their vote in favor of Jesus Christ. So the devil rose up in rebellion against God, and was cast down, with all who put up their heads for him." So no matter how hard you work or how effectively you teach, or how well you bear your testimony, there are some people that will never listen to you. That shouldn't depress or discourage you, it's just a fact of missionary work. In fact if I had realized that earlier, I would have been much less stressed out as a missionary and a lot more at peace. (Connor)
Read the Book of Mormon, trust in the Lord. (Henry)
It is hard to be a missionary. Really hard. Sometimes it's painted as a glorious experience. It was a wonderful time in my life but it was because of the hard things I went through that made it so great. But it's not going to be a smile a minute. Work hard and have fun. The church is true, and the gospel will change lives including your own. (Josh)
Read and know your scriptures. Be able to answer people's questions with the Book of Mormon. You need to be ready as soon as you get into the field to teach with power and the Spirit so the work and progress of investigators' does not slow down. (Ryan)
I was told that the Charleston WV mission is one of the hardest (least amounts of baptisms) in the world. Know that you are one of the Lord's most choicest servants if he is calling you to this part of his vineyard! Also an area authority challenged us to invite 100 people to get baptized and promised if we did this that at least one person for every 100 invites will say yes. This challenge made me go forward with faith and so I challenged every door i knocked on. I was able to baptize in every area I served and so I challenge you to take your calling serious and remember that you were called to teach and to baptize, and not just to teach! Hold the faith and do your part and do not play games and mess around. Go forth and proclaim the gospel and you will have much more fun than slacking off…I promise you that! Nothing feels better than fulfilling your mission call!!!!!! (Benjamin)
What was a funny language mistake?
Almost everyone speaks English, but the dialect in rural areas can be interesting. Getting directions was always fun because locals don't measure distance in miles or north/south etc. I've had questions answered with things like "It's 20 minutes up the holler" or even "you can't get there from here." (Scott)
When people say they are retired it sounds like they say they are retard. (Ryan)
I was not accustomed to the way they pray out there as it is a group effort. So I asked a lady if I could leave with a word of prayer. She said yes, and when I started…she started in with her own words and so I started the prayer over and my companion said just keep going and don't stop. (Benjamin)
---
LDS Church & Missionary Work
---
Haley (West Virginia Charleston Mission)
–Paraphrased from Haley's mission interview–
West Virginia Charleston Mission Info
It covers five different pieces of five different states. It's like a circle through most of West Virginia. There is a sliver of Ohio and it goes down and has a third of Kentucky. Then we have the third western part of Virginia. We have a piece of Maryland and Pennsylvania as well. It's pretty diverse. We speak English and a lot of hillbilly. Everyone has the same culture, but as you go farther north, the cities are bigger and there are more people. In the southern part it's very rural. The roads are curvy, tiny, and mountainous. There are lots of trees and bugs. There are sprickets, which are like a mix between a spider and a cricket. I learned to embrace it. It's really humid and that means that winters are really cold too. My last week in the mission, it snowed three feet overnight. We got to do a lot of service shoveling out neighbors. There is a lot of flooding going on right now. I wish I could be there to help. West Virginia is pretty poor. You see it a lot. You'll be looking for an address and you'll go through a holler which is a dirt road with mountains on both sides. You pretty much have to hike up the mountain to get there. When it rains it pours there.