Free resources about the Washington Tacoma Mission:
*Other Mission Pages: Washington LDS Missions.
---
---
Tacoma Mission Address
Here's a recent address for the Tacoma Mission. We try to keep this information up to date, but it's a good idea to check the address with several sources, including your mission packet or the mission office.
Washington Tacoma Mission
4007 Bridgeport Way West Suite D
University Place, WA 98466-4330
Phone Number: 1-253-566-5480
Mission President: President  John D. Blatter
Washington Tacoma Mission Map
Here's a link to the mission map for the Tacoma Mission (LDS). To access the official LDS.org map for the Tacoma Mission:
Log into your LDS account here.
Click here.
Videos with Tacoma RMs
Here are in-depth YouTube video interviews with returned missionaries from the Tacoma Mission.  We interview hundreds of returned missionaries each year, so check back regularly to see new RM interviews.
Videos about Washington
Here are LDS-friendly educational videos about Washington. We scoured YouTube to find the best quality videos about Washington, that are free from inappropriate music, immodesty and profanity.
Tacoma Missionary Blogs
Here's a list of LDS missionary blogs for the Tacoma Mission. This list includes the missionary's name, URL and when their blog was updated.
*Send your missionary a gift (mission-specific shirts, ties, Christmas stockings/ornaments, pillowcases, etc.)
Washington Tacoma Mission Groups
Here are Tacoma Mission Groups- for LDS missionary moms, returned missionaries, mission presidents and other alumni of the mission.
Washington Tacoma Mission T-Shirts
Here are T-shirts for the Washington Tacoma Mission!
Shirt designs include Tacoma Mission logo/emblem shirts and Called to Serve shirts. The shirts make great gifts for pre-missionaries, returned missionaries and missionaries currently serving. LDS Mission shirts come in all sizes: Small, Medium, Large, Extra Large, up to 4XL.  The mission designs are printed on white shirts and are shipped to you.
*Simply click on a shirt design to view the details and submit an order. The designs on mission t-shirts may also be printed on other LDS mission gifts, including: Tacoma missionary aprons, Christmas stockings, ties, pillow cases, teddy bears and Christmas ornaments.
*Click here to browse Tacoma Mission gifts
---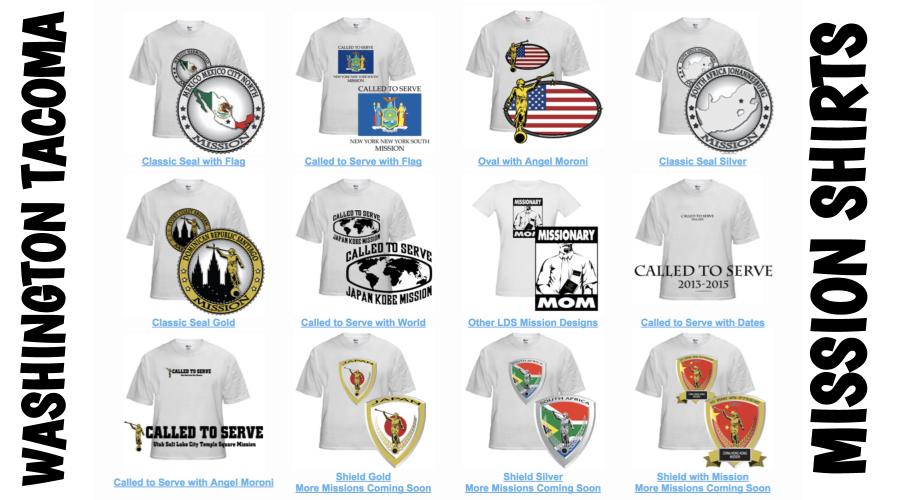 ---
Tacoma Mission Presidents
Here's a list of current and past Mission Presidents of the Tacoma Mission.
2017-2020, L. Scott Leishman
2014-2017, John Dale Blatter
2011-2014, Douglas W. Weaver
2008-2011, H. Kent Bowen
2005-2008, Kevin W. Pearson
2002-2005, John W. Allen
1999-2002, Ronald A. Stone
1996-1999, R. Bowring Woodbury
1993-1996, R. Paul Thompson
1990-1993, Sidney R. Henderson
Washington LDS Statistics (2015)
Church Membership: 282,356
Missions: 7
Temples: 3
Congregations: 549
Family History Centers: 79
Helpful Articles about Washington
Tacoma Missionary Survey
Here are survey responses from Tacoma RMs, to give you a snapshot into what it's like to live in the mission.
When did you serve?
2014-2015 (Juo)
2014-2015 (Roxanne)
2013-2015 (Jacob)
2013-2015 (Dean)
2013-2015 (Thomas)
2003-2005 (Rob)
2013-2015 (Makana)
2003-2005 (Beth)
1992-1994 (Mary)
2013-2014 (Jordan)
2011-2013 (David)
2011-2013 (Dallin)
2002-2004 (Jake)
2013-2014 (Kaylyn)
2013-2015 (Brett)
2010-2011 (Jeanne)
2002-2004 (Derrick)
1994-1996 (Jeff)
1996-1998 (Alex)
1995-1997 (Jason)
December 1994 – June 1996 (Christian)
1992-1994 (Jason)
What areas did you serve in?
Lakewood. Tacoma. American Lake, Elma, Shelton, Olympia, Deschutes River. (Roxanne)
Tacoma, Lakewood, Centralia, Bremerton, Aberdeen, Olympia. (Jacob)
Buckley, Enumclaw, Bonney Lake, Kent, Puyallup, Windom/Rochester, Port Angeles, Sunset/Tacoma. (Mary)
Parkland, University Place/Tacoma, Bremerton, Bainbridge Island, Gig Harbor. (Jordan)
Elma, Lacey, Puyallup, Lakewood, Port Angeles, Forks, Centraila, Olala, Port Townsend. (David)
Elma, Morton, Shelton, Tumwater. (Dallin)
Lakewood, Puyallup, University Place, Lacey, Port Angeles, and Lacey. (Jake)
Port Orchard (Southworth/Peninsula YSA), Yelm (Deschutes River), Lakewood (American Lake), Elma (Elma II), Gig Harbor (Wollochet), Silverdale (Silverdale 6th) and Bainbridge Island. (Kaylyn)
Gig Harbor, Kingston, Stielacoom, Winlock, Lacey 4th, Silverdale 6th, and Sinclair View. (Brett)
Sequim, Rochester, Aberdeen, Puyallup and Graham. (Puyallup and Graham are in the Federal Way Mission now). (Jeanne)
Federal Way, Bremerton, Auburn, Tacoma, Lakewood, Port Angeles, Silverdale, Morton, Yelm, Aberdeen. (Alex)
Puyallup 1st & 3rd, and South Hill 2nd, Silverdale 1st & 2nd, Mountain View, Kent 1st & 3rd, Tumwater, Port Angeles 2nd, Shelton 1st & 2nd. (Jason)
Puyallup, Bremerton, Gig Harbor, Eatonville, Olympia, Tumwater, Aberdeen, Kent. (Christian)
Port Orchard, Paulsboro, Tacoma, Federal Way, Westport. (Jason)
What were some favorite foods?
Teriyaki. (Juo)
The meals the members prepared for us. It seemed that everyone knew how to bake their own bread, make their own jams, and several of the members in the country side would even have their own cows and/or pigs for meat supply. So definitely home cooked member meals. If not, Smitty's in Elma or Happy Teriyaki in Shelton. (Roxanne)
Tacos dorados, carne asada, tacos. (Jacob)

Pizza, burgers, protein shakes and fruit shakes. (Dean)

Everything is good! They have basically the same things you'd find in a west coast family. Italian, Mexican, American, BBQ, occasional Asian food. (Thomas)
Hard to say. Everyone seemed to think we were only allowed to eat lasagna. One investigator did give us a stuffed pizza from Papa Murphy's once. That was pretty great. (Rob)
Some of my favorite foods that I ate on my mission were crock pot pot roast with potato, carrots, and onions with some kind of broth the the members made! It was so good! Also if you ever have a Red Robins…. YUMMY! I'm from Hawaii so we don't have that here but I sure had a lot of that up in Washington! (Makana)
Anything made by members for our dinner appointments, although the Samoan/Tongan members sure knew how to feed us missionaries the best! (Mary)
Pizza. Anything that wasn't sea food. (Jordan)
Chicken Alfredo (David)
The food is pretty standard fare for people from the United States, but everything involving berries is to die for. Seafood is really good, especially in the coastal areas. (Dallin)
There were quite a few members who fed us salmon in the "higher end" areas. I don't really remember anything else about the food. Costco Lasagna. Fat Smitty's in Port Townsend is a must. (Jake)
Yak burgers, spaghetti/garlic bread, homemade bread, cucumber kimchi. (Kaylyn)
Tater tot casserole, Papa Johns, quesadillas, and flavored oat meal. (Brett)
Salmon, but generally most food was pretty American. Watch out for Thanksgiving, they WILL over stuff you. (Jeanne)
Just any homemade food was perfect. (Alex)
Home cooked lasagna. (Jason)
Anytime a member made something that reminded me of my Mom's cooking. Authentic Chinese which is totally different than a restaurant, and the seafood. (Christian)
What was a funny experience?
English is not my first language so I made couple of funny mistakes while I was serving in the WATAC… I said AIDS instead of ads. (Juo)
I once got cornered by a massive turkey at a potential investigator's house that was slowly walking toward me in an aggressive way and I had to wave a very long stick at it to back my way around and out of their yard. (Jacob)
One of my companions broke our couch, so we hauled it out to the dumpster. The next morning a homeless guy was sleeping on it. (Rob)
We once got the police called on us because it was dark outside and we were knocking doors and the residents thought we were trying to rob them. But the police officer was very nice to us and let us keep doing our thing. (Thomas)
A funny experience that I had on my mission was when (coming from Hawaii) I slipped on ice! So it was winter time and it gets pretty cold. So I didn't know that it got so cold that water would turn to ice on the road. One day we were tracting or knocking on doors and there was this hill. I guess the owners forgot to turn off the water hose and it was running down that road. It looked wet NOT icy so me being from Hawaii was walking on the wet and then BOOOM! Slippers and slid down the hill while my companion was laughing. Yes…. He didn't fore-warn me that it was icy! (Makana)
At a dinner appointment with a large member family, one of the kids came to the table with a large frog in his shirt pocket. It jumped out and landed right in the middle of the casserole dish! The family wasn't too well off financially so I felt for the mom who momentarily agonized on whether to serve the meal. But she didn't take long to decide and we were served, complete with the portion that held that frog's imprint. No harm came to us but it sure was memorable! Lots of yelling and laughing and scolding and then your typical dinner appointment from then on. (Mary)
Just one? My favorite is probably the crazy man singing in the gas station in the ghetto to my companion and I, having a stranger come up and speak Arabic to us in Tacoma, or talking to the Bremerton pimp. (Jordan)
Got arrested by Lakewood SWAT police. (David)
I was in a back woods area and there was a member that fed us cougar steaks. They were good, tasted just like pork chops. (Dallin)
My companion and I got stuck in a cul-de-sac because we couldn't get past a giant, gnarly dog. After about ten minutes of trying to get by, someone saw us and drove in and picked us up. (Jake)
My companion and I prayed about where to go tracting. She felt prompted to go to a street in an area that I had never heard of, as I had been in the area for a longer amount of time. We went to that street…which turned out to be the road to a cemetery. We joked for a long time tracting among tombstones about converting the spirit world 😀 (Kaylyn)
While serving as a district leader, we didn't have anyone who could play the piano. The solution I came up with was to bring in my USB and use the music to play on the television to sing along to. We chose "Ye Elders of Israel" by the Lower Lights. It has a lot of stomping and clapping. Needless to say it didn't go super well, but the district loved it. (Brett)
It was generally pretty serious. We got invited to Thanksgiving dinner at three houses both years. The second year, we got called at night and a family wanted us to come over from the ward. We went and they gave us a pie, even the Elders in our zone wouldn't take it. Haha. Not after three thanksgiving dinners. (Jeanne)
Being from Arizona and adapting to the different type of weather always had me going. (Alex)
My green companion took a nap while we were at our District Leader's apartment on P-day. He was wearing a plain green t-shirt and black jogging pants. We chose to decorate him with a paper cut-out mask and paper cut out bikini briefs. We added Peanut M&Ms as buttons down his shirt. To commemorate the event, we took pictures. He looked like a peacefully sleeping Superhero. (Jason)
When President Hinckley came to tour our mission, Dallin H. Oaks gave a talk as well. Afterward some of us got to talk to him. I held out my hand held recorder and said Elder Oaks say hi to my mom and he grabbed my recorder and said hello to your mother. (Christian)
What was a crazy/dangerous experience?
A drunk and high man was trying to hug me… I was pretty protected though… I didn't run into some really dangerous situations. (Juo)
Washington gets really dark during the winter, especially in the countryside. So most of the time it felt like knocking on doors from 5-7 pm was a dangerous experience. People thought we were robbers going around in the neighborhoods and would threaten to call the police on us. Luckily for us, the Chief Sheriff in town was our Ward Mission Leader. And when people did call, we would usually receive a text of encouragement and a reminder that this is the Lords work and He will protect us. (Roxanne)
Having a companion from AZ drive us home through the very hilly city of Bremerton one of the only days it snowed. (Jacob)

Having an 80 year old lady point a rifle at my head. And riding a tiny bicycle. (Dean)

Well, one time one of our investigators almost shot us with a pistol on Thanksgiving. But it was because he was drunk and we had woken him up after he fell asleep watching one of his war movies and he has PTSD. We were fine. (Thomas)
We saw the SWAT team swarm the house next to our apartment on Hilltop one day during lunch. They were dragging people out down the stairs, lobbing in smoke grenades, doing SWAT team stuff. (Rob)
I believe one of the craziest experiences that I had was during my 3rd week into the mission I was hearing all of these stories about my area. I guess it didn't hit me that they were TRUE! So again, when my companion and I were tracting or knocking on doors, we came across someone that was having a really bad day and we kinda made it worse for him some how! He threatened us that he was going to call the cops and then said that we were trespassing and then pulled out his gun! I was very startled at this and this scared me very much but because of that experience, it helped me realize the importance of this gospel and that no matter what, we are servants of the lord striving to help each of our brothers and sisters know of this wonderful message. (Makana)
We were in Kent delivering a DVD to an investigator when we heard a shot pop and a whizzing sound go right by us at head height. We had the sudden prompting to leave immediately. As my companion and I walked across the courtyard in the middle of the apartment complex, we didn't notice much but by the time we got in our car we noticed several police cars and emergency vehicles racing full speed in the area we had just walked thru. We left and didn't think much of it but found out later that we had walked right into and out of a gang fight with guns being fired all over that courtyard area. The whizzing I had felt go by my right ear was one of the bullets! The Lord protected us for sure that day!!! (Mary)
I only had one gun pulled on me that I could see, and a couple of rape threats, but my favorite was when my companion and I thought we found a dead body so we stopped to check and after a few minutes the guy just popped up and muttered some stuff and walked away. (Jordan)
Got arrested by Lakewood SWAT police. (David)
My areas were pretty safe. There are some crime ridden areas of Washington, but the criminals aren't that interested in bothering missionaries. (Dallin)
I don't remember anything too dangerous. Of course, there are always people who like to antagonize the missionaries. I think you'd get that in any mission though. (Jake)
My companion and I were tracting in the winter, which meant it was dark. We were also serving in the country, so we were walking deep through the woods. We started down a long dirt road toward a house with our flashlights and could see an orange glow in the distance. We called out, saying that we were missionaries, and the orange glow started moving toward us. We could barely see the outline of a man, who was hobbling toward us. The Spirit stopped my companion and I and I heard the Spirit shout in my mind, "he has a gun." I turned around to my companion and told her to run. We started running, and the outline of the man started chasing us. We ran all the way out of the woods, got in the car, and drove to the other side of our area to keep tracting. (Kaylyn)
One night while knocking out in the boonies, my companion and a priest were knocking when came across a lady who was yelling at the top of her lungs at us. It was a dark road and all we had were our reflective belts and flashlights. She told us that we better get out of here, because the people are crazy and will literally shoot us. We got an impression that we should take her word for it. So we started walking back to our car, and right before we get to our car we hear " I think they're over there!" Then the next thing we know, we have several flash lights on us and a pair of headlights highlighting us. Then behind each light was someone with a gun asking who we are and what we were doing. They wouldn't listen that we were missionaries just trying to share the gospel of Jesus Christ. After probably a half hour of this interrogation, we finally where permitted to get in our car and leave. (Brett)
We were tracting and a dog cornered us. My companion got bitten. I didn't get bitten, but I did get a dog bite another time. (Jeanne)
Getting shot at. (Jeff)
We had a zone P-day excursion to Paradise on Mt.Ranier in April. The snow was still quite deep. We used jackets and rain slickers to slide down the mountainside. We knew the snow was deep, as we could see coniferous trees poking up through the snow. A few Elders went back in the late summer to that same area and reported to us that the 3 foot high wall we were climbing over to start sledding down the hill was actually a 60 foot drop off to a quickly fading mountain side. We had been sledding over the tops of full grown trees. (Jason)
When my district leader and His companion found a dead body. (Christian)
What was a spiritual experience?
I gained a testimony of the Book of Mormon. (Juo)
The very first spiritual experience I had on the mission was one of the first solid investigators I was able to teach. I was a greenie and lacked so much confidence in teaching abilities. In my 2nd week out, we taught a man that loved the church, members and the missionaries. I was confused as to if he was a member just trying to play a prank on us but he wasn't a member. In the first lesson we had with him, my companion did most of the talking and I just listened. But as I was listening, I was praying to know how to help and that we could know exactly what to say. From one moment to another right after that prayer my mouth opened and the words flew out from my mouth. I remember looking at my shoulder from the corner of my eye and feeling the Lord's hand. I knew at that time that it was not I that was speaking. But that the Lord had a message for this man and I was His instrument. I will never forget that feeling. After I knew that the message was over, I tried to explain what I was saying to this man but he quickly said to me with a shaky voice: "stop talking. You cannot add your words to what you just said. I have never felt the Spirit so strongly in my life. I know you are a real messenger and what you just said was not from you. Thank you so much." I balled my eyes out after this lesson. I gained testimony that day that missionaries are really instruments in the Lord's hands. That this is His work and he loves His Children so much and knows them perfectly. (Roxanne)
Not having a car one day, but still having to make several appointments that were far out of town, so we prayed to be able to get where we needed to go, and started walking. We never got a ride immediately, but we made it to all of our appointments just a little early by getting rides at just the right time. This happened 5-6 six times that day. (Jacob)

Watching the conversion of a 14 year old who we originally thought wasn't interested. (Dean)

There are too many to count. I remember having great spiritual experiences at baptisms of the people I love and at the temple. I loved the spirit of teaching the message of the Restoration to people for their first time and feeling the power of the words of the First Vision. (Thomas)
My first day in Hilltop, my companion asked where we should go tracting. I didn't know the area and had no idea. We stopped and prayed about it and I chose a random spot on the map. We parked the car and knocked on the first door. An older woman answered and we gave her the first discussion. She was nice enough, but never answered the door again. The third house we knocked on had two women and one little girl living there. We set up an appointment to come back with a member and taught them the first discussion. They readily accepted the gospel. All three were baptized. The mother's husband and son later were baptized, long after I had left the area, and asked if I could come back for the service. It was great to see how the gospel had mended a previously broken family and brought them closer together than ever. (Rob)
My companion was from the Czech Republic and we had a teaching appointment with a Russian woman. She spoke little English and no Czech. We tried teaching her in English with little success. Before my mission, I had taken a few classes in Russian but was no where close to fluent in any foreign language. We experienced the gift of tongues in teaching this woman. This was back when missionary discussions were memorized so we simply handed her our teaching materials so she could read that part but we were able to answer her questions in Russian and help her identify the Spirit that was there. We gave her a Russian Book of Mormon as well. It was remarkable! After that meeting, my ability to speak or understand Russian has left me. I'm pretty sure my learning and ability to speak was for that moment alone. I got transferred shortly after this so I don't know what happened to the woman. (Mary)
My trainer and I had all of our appointments fall through when we got a Mormon.org referral on our phone and we happened to be in that neighborhood. We went and knocked on this door that belonged to a huge, scary, biker, green beret guy. He asked if we could come back when his wife got home. Turns out we knocked on his door 12 minutes after he had referred himself on there. We ended up baptizing him and reactivating his wife. He got to baptize his son a couple months later, and every time we would go over to his house he would want to show us the new LDS tool or Bible video or scripture he had found. (Jordan)
Helped teach a young Jehova Witness girl who ended up getting baptized. (David)
It was in Port Angeles. We had been praying to find a family to teach and baptize. After a long day of contacting, we knocked the door of a woman who was praying for help, asking God for direction. She couldn't believe the moment she said amen, we knocked on her door. Their family got baptized within a few weeks of us teaching them. God will guide his servants if they listen and follow the promptings of the Holy Ghost. (Jake)
Towards the end of my mission, we were teaching one of our investigators about the Restoration. I began sharing the story of Joseph Smith's first vision, and I was totally overwhelmed with the Spirit. I wasn't the only one, because the whole room filled a warm, peaceful feeling. We all sat there for several minutes, and our investigator really felt the power of the truth that we shared. (Kaylyn)
One evening, my companion and I finally got to teach this woman who we had been trying set a lesson up with her months. We had a great restoration lesson hosted at her friends house. At the end, we invited her to be baptized two weeks from the day. She was very unsure, but you could tell if she got her answer she would. That following Sunday she was praying the whole way to church to find out if getting baptized is what she needed to do. Then when she got there, they where blessing a baby and she just started crying. She said that from that moment on she knew that baptism was the only way. (Brett)
We taught a lady about the restoration and she really connected with Joseph Smith. She got baptized too! 🙂 (Jeanne)
Every baptism. (Jeff)
In Aberdeen, had a referral from the Mission Training Center and it led us to Elaine Minkler. Was amazing to see how the Lord touched her and how she was so eager to learn and grow. (Alex)
While in the MTC, an announcement came over the PA system that President Hunter had passed away within the last hour. A quiet peace fell over the entire campus. We were saddened, as he was "our" Prophet, who had signed our Mission Calls. However, in these moments, I felt this overwhelming joy and comfort, knowing that Gordon B. Hinckley had been called by God to be His Prophet. (Jason)
All of it was a spiritual experience. (Christian)
What are some interesting facts about the Tacoma Mission?
We are a party mission? Hahaha…(Juo)
The mission is known for knocking every day from 5 pm-7 pm. Wherever you are in the mission, if it's not cloudy, you can see Mt. Rainier. We had the best transfer meetings with introduction skits. The Watac is a family. Conference calls as a mission. There are plenty of missionary musical firesides. The song Amazing Grace will change your life forever. (Roxanne)
Almost everywhere you are is only minutes from some sort of beautiful landscape. (Jacob)

We do a lot of musical firesides. There's lots of waterfront. (Dean)

Tacoma is very diverse and the Tacoma mission has every kind of person in it. From very well off to the humblest of circumstances. There are many different cultures from people around the world, and people from all over the country, mainly due to the military bases that are located there, including bases from the army, air force, and navy branches. The Tacoma mission has also been historically one of the highest baptizing and I found the people there to be very humble, down to earth, and easily loved. (Thomas)
We piloted Preach My Gospel, perfected the doorstep restoration discussion, and even knew the statistics of tracting to baptism. For example, for every 100 doors we knocked on, on average we would have 16 new investigators, 4 of which would commit to baptism, and one of which would actually get baptized. Those were the averages of the mission, so we knew how much we'd need to tract if we wanted to get a certain number of baptisms. Fortunately, the Lord doesn't always rely on statistics, and he often blessed us in abundance for our efforts. (Rob)
Lets see… Interesting facts about the WaTac. In majority of the mission you will be able to see Mt. Rainier. It used to be in the mission but when the mission split in summer of 2013, My. Rainier went with the split. Also the members are always willing to help. If you just ask, they will help you in anyway to serve! Also the WaTac is a family. No matter if you are 23 months out or 3 months out, you are treated the same and that makes you the same. We care and watch out for each other. When we fail we strive to make things better, when something personal is going on in our lives, we care and watch for each other, when we succeed, we rejoice together! (Makana)
Piloted Preach My Gospel. (Beth)
It lives true to the name of the Tacoma Aroma. It's a really transient area with all the military up there and it's really culturally diverse. Once you're outside the city, it is one of the most beautiful places I've ever been. (Jordan)
We have forks from twilight in our mission. (David)
The Tacoma mission contains the Olympic National Rain Forest, which is the only Rain Forest in the United States. The city of Dungeness, is where all the famous Dungeness crab comes from. Forks, is the place where the Twilight books were set. This is because it has the fewest sunny days of anywhere in the United States. Kurt Cobain, lead singer of Nirvana, was raised in Aberdeen and his house is still there. Olympia is the state capital of Washington and the capitol building offers tours. Tacoma has/had a freeway exit that ended in a 90 degree turn. The engineers made a mistake while building a major bridge and didn't want to leave an open jump into the valley. Tacoma Narrows bridge once collapsed because the wind blew at the perfect rate causing the bridge to resonate. They have since rebuilt it and fixed the problem. Between Olympia and Tacoma is a large combined Army/Air Force base called Fort Lewis/McChord, it is huge. Near Elma, there are two retired nuclear power plants, they were shut down due to protests and were never used. Lakewood is where the TV show Cops was started. (Dallin)
I'm not sure. The members were amazing. (Jake)
In Yelm, there is a cult called Ramtha. The Ramtha have a complex and people spend thousands of dollars to go for a week of enlightenment to watch JZ Knight channel the Ramtha God. Tacoma is known for it's bad smell, the "Tacoma aroma." There are at least three islands in our mission: Fox Island, Anderson Island, and Bainbridge Island. (Kaylyn)
It's more well known as the Wa-Tac. We knock doors literally every day from 5-7, no excuse. We had transfer meeting and had some of the best introduction skits anyone has ever seen. We are very baptismal focused and invited them to be baptized in the first visit. The second at the latest. (Brett)
It rains a lot. Only July and August are dry months. It generally rains until July 4th every year. It's high baptizing. A lot of small towns. Tacoma and Lakewood are probably the biggest and main city areas. (Jeanne)
Lots of trees and rain. (Jeff)
What's the weather like?
Rainy rainy rainy…(Juo)
Rainy and cold most of winter, but the summers are gorgeous. (Roxanne)
Very rainy by the coast, pretty rainy away from it. Summers were great though. (Jacob)

Drizzle all winter, but really nice summers. (Dean)

Western Washington is absolutely gorgeous. Every area I served in had plenty of green, fresh trees, a view of the mountains, and bodies of water, like the Puget Sound and the Pacific Ocean. Yes, it rains a lot and gets cold and dark in the winter, but the summers are pristine. Perfectly warm and sunny all day long. (Thomas)
Summer was beautiful. Fall was ok. Winter and Spring were the wettest I'd ever been. We got snow a couple of times, but mostly it was rain. (Rob)
The weather in Washington is so unpredictable! Haha! From November to about April/Mayish, its like cloudy and rainy! June to August its beautiful weather. then from September to November its getting cold and rainy again! haha! (Makana)
Rainy, cloudy. (Beth)
Wet. We were always wet! Beautiful area with weather that changed every five minutes. (Mary)
RAINY. Almost always. (Jordan)
Rainy sunny. (David)
Mild temperatures, within the 15-90 degree F range. There's a wet and dry season, the winter has constant cloud cover and mild, misty rain for about three months. Mixed into those misty days, you will get days of heavy rain, especially if you are on the peninsula. It does snow, but not very often and it is almost always gone the next day. (Dallin)
Rainy. Summers are awesome though. It's a beautiful place. (Jake)
It didn't rain as much as I thought it would, but it did rain a lot. Downpours weren't as common as steady drizzles. During the summers, it gets hot. During the winters, it gets cold. But the majority of the year the temperature is very temperate. (Kaylyn)
It was humid, and it rained a lot. But when it wasn't raining, it was usually pretty sunny and just nice weather to be out in. (Brett)
Rainy except for July and August. (Jeanne)
Rainy. (Jeff)
Cold and wet. (Alex)
On the Olympic Peninsula, it rains about once/day between October and April. It rains straight down. However, it is the kind of rain that you ignore, until after an hour you are soaked through. (Jason)
Rain, rain and more rain. (Christian)
Rain. (Jason)
Any things you really like about the area/people?
They are pretty nice.. I mean they are not closed up in any aspects because they are not from Utah or Idaho?? No offense… but I didn't feel like I was different from anyone else when I was in Washington… Well in some rural areas I did feel that though. (Juo)
Washington is so green and beautiful. There is diversity throughout the areas you serve. (Roxanne)
It was a very diverse range of circumstances that people came from. (Jacob)

I loved the diversity of the people and the beauty of the landscape. (Dean)

I love how the people of Washington are down to earth. They are very approachable (well most of them), and you will find someone who is much like you. The people are kind yet honest, humble and spiritually strong. (Thomas)
There were a lot of humble people, even among those who didn't agree with our message. The people in Olympia were kind and gracious. There were rough places where the people weren't so kind, and there were people of other denominations that were phenomenal people, and others who were down right vile. There was always a good burger place nearby, and nobody really complained about the rain. (Rob)
The mission is such a beautiful place! Its green and when the sun is shining, its just drop dead gorgeous! Also you can see Mt. Rainier from most of the mission on clear days which is just so amazing! The people of Washington is also very nice! They treat with respect. I was thinking that because I am a missionary they would treat me different and horrible but majority of the time they actually treated me with respect and they usually ask questions about what else do we do besides knock on there door! haha! You'll have many missionary opportunities.  (Makana)
I grew to love the people there! They are good, practical and kind. The area is beautiful and still holds a warm place in my heart. Mount Rainier will always be my mountain! My feet got to be on that mountain declaring peace and good riding and it was the best thing I have ever done! (Mary)
Really genuine people, also really unique. It's hard to describe unless you've been there, but there's not a place I love more. (Jordan)
Everyone was extremely genuine. (David)
They are very friendly to missionaries. It is a strong area for the church, and most of the members love to help you. (Dallin)
The people were so humble and easy to work with. I have several people with whom I still keep in contact. I mostly loved the missionaries I had the opportunity to serve with. I was blessed with incredible companions. (Jake)
The scenery is gorgeous! The trees are always green and if you serve near the water, the trees against the backdrop of the water are even prettier. Most of the areas that I served in, especially in the country, there are a lot of humble, down to earth, just genuinely, good people. (Kaylyn)
I loved the people in the Wa-Tac! There are so many people there who aren't religious at all, but they were so good to us. They tried to help us out as much as we help them out. (Brett)
Everyone was really friendly. Members always tried to give us referrals. (Jeanne)
The members were amazing and so willing to help us and give us referrals to their friends and family members who weren't members of the church. (Alex)
The place was beautiful. ALWAYS green. Valleys, mountains, rivers, streams. (Jason)
For the most part the people were pretty awesome and it was absolutely beautiful and green there. (Christian)
Green. (Jason)
Any packing/clothing advice?
A must buy thing is 2 or 3 space saver bags…. It's gonna help you in a ton of ways. (Juo)
Pack for rainy weather. Buy a good pair of rain boots and a good rain jacket. No one uses umbrellas. That adds something to carry while you are out knocking on doors from 5 pm-7 pm. (Roxanne)
Waterproof everything, more than you think you need to. (Jacob)

Waterproof bag is a must. Test it. Bring a cool preparation day shirt. (Dean)

Rain coat. But not the huge ugly ones. I don't know why everyone buys those. And we didn't really use umbrellas, just a hood and a positive attitude! 🙂 (Thomas)
Get a coat there. What the clothing stores carry is reflective of the local weather. In other words, don't get a coat for a Russian winter in Hawaii. I got a great rain coat that was waterproof and completely fleece lined, even through the sleeves. I really wish I still had it. (Rob)
Pack light! You don't need 10 pairs of anything! haha! you really only need 3 pairs of slacks not including the ones with your suits. I took 2 suits with me on my mission. That's a good amount! I just say travel there light because on your mission you are bound to collect and grab more clothing there! (Makana)
Umbrella, plastic skirt, plastic on outside of coat. (Beth)
Be practical. Plan on having wet feet. (Mary)
For sisters? Fleece lined tights. Bright colors. Rain boots. Scarves. Things you can layer, it's cool there most of the year. Loose clothes because in the summer it gets sticky. Don't pack too much, you'll get sick of your clothes, most you end up trading with other sisters anyway. (Jordan)
Don't buy rain jackets from Mr. Mac…get one on the mission. (David)
You need a raincoat and other clothing that dries quickly. It doesn't get below 0 degrees, but it will feel cold because of the rain/mist in the air and you are more exposed than most people. Leave the snow gear, but do pack warm. A lot of people, consider it wussy to use an umbrella, they are very effective, but expect to get laughed at occasionally. Waterproof shoes are a must, they do sell shoe covers that work, but they look strange. Pack vitamin D, in the winter you won't be able to make much of your own. (Dallin)
Dress for success. Waterproofing is a must. Have a high-quality rain coat. (Jake)
Definitely a good pair of rain boots, a sturdy raincoat, and good dress boots for the winter. Also, making sure to pack warm enough clothes for the winter and light clothes for the summer. I love my wool socks in the winter and breezy t-shirts that weren't see-through, so didn't require an undershirt. (Kaylyn)
Don't pack to many t-shirts or sweaters. (Brett)
Get really good shoes! I kept getting holes in the soles. So I bought 4 or 5 pairs during my mission. (Jeanne)
Rain gear. (Alex)
A quality, lightweight hooded rain jacket with a zip-out liner. (Jason)
Don't take anything unnecessary because you're just going to be packing it up and carting it around all the time. (Christian)
What blessings did you receive from serving a mission?
Knowing how to cope with stress and seeing things from a different angle. (Juo)
Count your many blessings name them one by one. The list can go on forever! Ultimately, the greatest blessing I received was knowing who my Savior is, coming to know more about the nature of our loving Father in Heaven and gaining a solid testimony of the gospel, that cannot be shaken. (Roxanne)
Too varied and many to count, but summarized as happiness. (Jacob)

Many blessings, including greater teaching skills, self control, and confidence. (Dean)

There are countless blessings. Seriously, that is such a broad question. The most valuable blessing I received from my mission was a deep and abiding love for my Savior Jesus Christ. In serving Him I became more His disciple and more converted to His gospel. I also received a greater ability to love others and serve with the Spirit. I love my mission deeply and it has changed who I am. (Thomas)
I gained a stronger testimony of the gospel, learned things through my personal study I would have never learned had I not gone, and I gained a valuable work ethic that has stuck with me for over a decade. (Rob)
I received so many blessing from serving a mission that I really can't point them all out but I will share a few with you. One of the biggest blessing that I received was how my family is now stronger in the gospel! From me serving and sharing my testimony and challenging them with different things has helped them gain a better testimony of the gospel which is just amazing. now that doesn't mean we are perfect, just more Christ-centered! Another blessing that I received from serving is being blessed with a very strong testimony of the gospel now. From the daily studying being fully committed to my mission and to the lord, I now understand that importance of having a strong testimony these latter days. I cannot express how grateful I am for the testimony that I have now. the fact that I have this testimony, doesn't make me afraid to share it with those that I come across with everyday as well. I love it! A last blessing the I received was meeting and serving with so many saints! Each of my companions and each members that I served and even converts that I have has touched my life so very greatly! Each of them has strengthen my testimony in some way or another. They helped me get through many hard days that I had and with out them I probably would have gone through the motions. I love my mission so much. (Makana)
I can't count how many blessings I've received… Not a day goes by, and it's been over 20 years, when I don't think on my time as a missionary. It affects every part of my life in ways I can't can't help but be grateful for. (Mary)
Desire to progress, some of the best friends I could ask for, and a strengthened testimony. There aren't words to describe how I changed and grew. (Jordan)
A concert knowledge that the gospel is true. (David)
I can't even begin to list them. Everything I love and hold most dear I received because I served a faithful, obedient mission. (Jake)
My testimony was strengthened, I met people that I know I knew before this life and I am excited to know in the eternities. Above all, I had so many experiences that make it undeniable that this the true Church and Jesus Christ lives. (Kaylyn)
My understanding of the gospel has grown more than I ever thought possible. I've literally seen how people's lives have completely flipped for the best because of serving. I also recently just got called as the ward mission leader of my ward. I'm excited to take what I learned and apply the things I wanted in a ward mission leader as missionary. (Brett)
More in tune with the Spirit! (Jeanne)
Made me the person I am today. (Alex)
Learning to love. (Jason)
A stronger testimony and more respect for missionaries than I ever had. (Christian)
What are some skills you gained?
Time management and coping with stress. (Juo)
Leadership skills. Talking with strangers. Giving great talks at church, especially when asked last minute. Now that I am in school, I've realized how well I am able to plan, organize and study. (Roxanne)
Spanish language, interacting confidently with strangers, dealing with people you spend a lot of time with, and of course all of the spiritual skills/experiences. (Jacob)

Talking to strangers, walking and biking long distances, leadership. (Dean)

I learned how to live on my own, I learned how to really study the scriptures, I learned how to get along and live with people who are different from me, I learned how to talk to strangers and relate to people and listen to their problems. I learned how to be a leader and how to be a listener. I learned how to serve and work as hard as I can and then a little more. I learned how to increase faith, repent, to love and listen to the Spirit and pray and set a course for a lifetime of happy enduring to the end. (Thomas)
I learned how to work a wood lathe, how to properly clean an apartment, how to teach effectively by the Spirit, and how to listen to others. (Rob)
Skills that I have gained on my mission… So one skill that I gained was definitely being able to talk to strangers! I don't have a problem anymore to ask random people for help or anything really. That s a really good skill to have when you apply for a job cause weather you have to call or talk to people in person or shoot the interview itself won't be as nerve racking. Another skill for me that I gained was how to act professionally. Like the scriptures say to put away childish things, yup I was able to learn how to be an adult because you are trusted with so many responsibilities that you need to not be a teenager anymore. Its a wonderful skill to have. (Makana)
Service, appreciation for the gospel, how to work, how to "make no little plans" (our motto), how to keep going when things got hard, how to problem solve on my feet, how to deal with contentious people, how to let others serve us, how to bloom where I am planted, how to let go and move in… And much more. (Mary)
How to deal with people who are different than you, how to love myself, how to be myself, and especially how to love regardless of who or how people are. (Jordan)
People skills and follow up. (David)
The ability to love. The ability to teach. The ability to be directed. The ability to persevere. The ability to study the scriptures. The ability to listen. The ability to serve. I changed as a person the first day I entered the mission field. (Jake)
I learned that I'm not always right and that other people's opinions are valid, maybe just different than mine. I learned how not to be afraid to talk on the phone. I learned the importance of preparation, as well as having confidence in myself and the Spirit to do things impromptu. I learned not to be afraid to talk to strangers. I learned the importance of planning and time management. I learned the benefits of waking up early–I still get up between 6 and 6:30 each day. (Kaylyn)
I learned how to really study the scriptures. I learned to true art of patience. I learned how to get more in touch with my emotions. I learned how a simple testimony is one of the most impacting tools we can ever possess. (Brett)
Teaching. (Jeanne)
Speaking. (Jeff)
Learning to love. (Jason)
Being able to talk to anybody about anything and be really interested in what they have to say. Also being able to speak in front of large crowds giving talks. (Christian)
How to read people. (Jason)
What do you wish you knew/did at the beginning of your mission?
Everyone has their own way of doing missionary work, there is not an absolute way to do it. Some say this and some say that, but you are the one to decide what kind of missionary you want to be. (Juo)
I wish I would've known how to study from Preach my Gospel. (Roxanne)

I wish I'd had better focus on the present. Read Chapter 3 of Preach My Gospel. (Dean)

I wish I knew that missionaries are people too, and they are not perfect. I wish I knew how to love everyone despite my difference with them. But some of these things are just hard to learn before experiencing them on your mission. Just come to the mission field with an unwavering testimony, HUMILITY, and a commitment to obedience and you will be wonderful. (Thomas)
I wish I had known how to properly show respect for people of other faiths. I didn't actually learn that until about five years after my mission when I lived in the South. There are a lot of other Christian denominations out there who love the Lord just as much as we do. Some, I believe, love Him more than we often show it. I wish I would have learned to show and express my love for them and their testimony of Jesus, even in the face of rejection. (Rob)
Something that I wish someone told me was to study Preach My Gospel. Your whole mission will be on Preach My Gospel. All of your questions and answers you will find in that manual. Also my cousins and other people would scare me about getting along with a companion but to be frankly honest, I had awesome companions because I went with every companion with the mindset of having a new friend. (Makana)
You don't really need a bike. Lots of cars. (Beth)
I wish I had counted my blessings more often and complained less. I didn't really start progressing until I learned that lesson. (Mary)
You don't have to be a robotic missionary. (Jordan)
Follow every rule in the white handbook. (David)
Nothing. I wouldn't change anything. The whole experience was a process of becoming and it was all perfect. (Jake)
I wish I had known that I didn't have to be perfect–that it doesn't matter what you know, it matters how much you are willing to follow the Spirit. I wish I had known the importance of balancing obedience and human fragility. I wish I had known more about the scriptures and fundamental gospel principles. (Kaylyn)
How to study Preach my Gospel better. The main one is that missionaries aren't excepted to be perfect. That you just need to take all of who you are and apply that in your missionary work. (Brett)
Saw the importance of getting along with companions. I didn't get along with my follow up trainer at all and we were stuck together for more then one transfer. It was hard transfers. About a year later, we were together again! But it was a lot better, because by then I had decided I would get along with ALL my companions no matter what! (Jeanne)
How quickly my time would go. (Jason)
How important it was to be obedient. How obedient you are greatly affects your teaching pool. (Christian)
Any advice/testimony for pre-missionaries called to Tacoma?
Deepen your understanding of the Atonement of Jesus Christ. (Juo)
Time really does go by so fast! Never waste time. Learn to listen to people. Missionaries are not to just teach lessons, they are to teach people. The Lord will bless you with what to say, when you listen. Serve the Lord with all your heart might mind and strength, every day. (Roxanne)
Be aware that you will have hard times too, but you won't regret going if you do what you should. (Jacob)

Your mission only lasts two years. You get out what you put in, so give it your all. (Dean)

Get ready for the best experience of your life. I envy that you have so much good ahead of you and so many rich, lifetime memories to be made. Prepare to serve the Lord with everything you have in you and He will make you something more. I love my mission more than I have yet found words to express. It means everything to me and I wouldn't have traded it for anything else. The work of salvation is true and Jesus Christ is the Head of it. (Thomas)
It doesn't matter if you get put in leadership. It doesn't matter how many baptisms you have. It doesn't matter who your companion is. What does matter is that you remember that you are there to serve those people in behalf of the Lord. (Rob)
LOVE YOUR MISSION!!!! If you go on your mission with this mindset then you will have so much fun and learn so much on your mission. Loving your mission entails that you love every day even if its hard or you're going through struggles. It also includes that you love your companion even if deep down you hate the person. But with that mindset and the struggles that our Savior went through… I mean, that's so little compared to what he went through. I would also recommend to read the Christlike Attribute chapter in Preach My Gospel. (Makana)
Read ponder and pray. Follow the Spirit!!! Strengthen your testimony and be prepared to work hard. Love your companion no matter what, and always serve them. Be prepared to witness miracles and to adjust to changes as they come. Be willing, open, and humble. Be obedient, be obedient, be obedient!!! (Mary)
You don't need to know everything about the gospel. Just read the Book of Mormon and Preach My Gospel and you'll do fine. BE YOURSELF. Do NOT be a robotic missionary. You were called where you were because of who you are, because of your personality, so use it. Missions can and are supposed to be fun– especially in the WATAC, it's the greatest mission in the world. And we baptize. (Jordan)
Pray listen follow to what you hear. (David)
Two words: be obedient. (Jake)
Be willing to follow the Spirit. Learn to recognize it, live to be worthy of it, and learn to live by it. It will be your guide, the real teacher, and the key to success in your mission. (Kaylyn)
Let the mission change you, but don't lose sight of yourself. You will have the most success when you put yourself into the work not who you think you should be to work. (Brett)
Have faith! Follow the white handbook and get along with ALL companions! (Jeanne)
Take it all in and never take anything for granted. Cause it will go by to fast! (Alex)
Whatever you think you know…… you can always learn more. Don't second guess your leaders- they have been called of God. Be totally obedient, dependable and honest. Soak yourself in the scriptures. Feast upon the Words of Jesus. Smile at everyone you meet. Give your best efforts to baptize all of God's elect and bring them unto Christ. Like and Appreciate yourself. Be a happy and positive person. Lose yourself in service to others. Forget yourself and leave your cares at home! Don't leave a significant other, or others, behind! S/He will only distract you from your Mission. FOCUS on serving and teaching the Gospel. It's not a vacation. Don't be selfish with your time — You will have PLENTY of selfish time when you get back. It's ONLY two years. It goes FAST. (Jason)
Be careful of the extremely large ants, LOL. (Christian)
Read the Bible and the Book of Mormon. (Jason)
What was a funny language mistake?
I was called English speaking, but am fluent in Spanish. One day during 5-7's, my companion and I knocked into a Spanish woman, in which I was able to speak with her for about an hour or less. I felt bad for my companion because she didn't speak or understand the language at all. Well, right after we left that sister's house, we received a call from our Zone Leader's, I answered the phone and I couldn't speak a single word of English! It was the craziest thing! This was also the first time in a little over a year that I was able to speak Spanish with someone. (Roxanne)
One companion had a habit of saying "nos gustamos" to mean that "we liked" something, unfortunately it rather means that "we please ourselves" or "we please each other" and when used with people it's taken as romantic interest. (Jacob)
I spoke English, and when I went on exchanges with the Spanish elders, I about fell asleep in the lesson. (Rob)
Whats funny was that when I met people from Hawaii my pidgin would come out! hahaha! Then my companion would be like "huh?" haha!! It was su funny! (Makana)
None. #Englishspeaking4thewin (Thomas)
The Spanish speaking sisters played a prank on the Spanish elders during a missionary conference where Spencer Condie was speaking. (Lipstick on the elders car windows) The sisters were walking into the chapel before the meeting, giggling & chatting in Spanish about the prank they had played. They didn't realize that Elder Condie was right behind them hearing the whole thing, nor did they know that he could speak Spanish! He had them cleaning the elder's car before the meeting was over! The shock when they realized he'd heard them was priceless! Elder Condie had a good laugh and some timely counsel for all of us after that one! (Jordan)
Sarah (Washington Tacoma Mission)
–Paraphrased from Sarah's mission interview–
The Tacoma Washington Mission is the top northwest corner of Washington. There are a lot of Spanish speakers. There is Cambodian speakers as well. We used to visit the temple once a year. The members are really strong and want to be involved. We did a lot of monthly socials with the members and investigators and new converts. We had missionary firesides too where the missionaries would sing or bare testimony of the Savior. It was amazing and beautiful. There are church tours as well. The missionaries would give tours of the church buildings to anyone that wanted to come in and look at it. They get to see it and feel the Spirit that's there.
Brittany (Washington Tacoma Mission)
–Paraphrased from Brittany's mission interview–
Living in Washington
Everyone in Washington has a dog and when you knock on doors, the dog always barks at you. You don't always know what kind of dog is gonna be behind the door. I never got attacked by a dog though. There are a lot of different cultures in Washington. I met people from Korea, Japan, Hawaii, and Samoa. You find a lot of different cultures and lot of different foods. I ate a lot of different things. I served in the capital in Olympia. There is a school there called Evergreen. Some very different people go there. It's hard to explain. There are a lot of hippies I guess downtown there. There are streets full of shops. There are a lot of homeless people too. A guy named Wild Bill just played music all over town. There are a lot of Catholics, but there are a lot of other religions as well. There are a lot of members in Washington and the wards are like Utah wards. I served in one area with an island that had a branch with maybe 30 to 40 members. They meet in a tiny building and are so humble.
Mission Facts
The Washington Tacoma mission is the best mission in the world. We are very much family and our mission president made sure we knew that. One thing we do as a mission is we go to this rope course in Belfair. You have to climb a ten foot  wall and do a trust fall and that kind of thing that helps to make us more unified as missionaries. Member work is very important in Washington. There was a week when the president wanted to get 500 lessons with members present and we got 696 lessons with members present. The members love it and are there to help you. The languages that the missionaries speak are Cambodian, Spanish, and then English. There are only like three Cambodians sisters right now. There is a temple close to Seattle maybe an hour and a half away from most of the mission and we got to go once a year or you can go if you have new members doing baptisms for the dead. We still got to go to the temple quite a bit.
Elizabeth (Washington Tacoma Mission)
–Paraphrased from Elizabeth's mission interview–
Parkland, WA
I was there for a very long time. If you've seen COPS, that's where that's filmed. There are a lot of military people. It's close to the joint air force army base. The Church is pretty strong in Washington despite being in a more atheistic part of the country. There are eight missions in Washington alone. The demographics are completely different. I was in Parkland for five transfers. I would describe it as sketchy. There is a lot of drugs and those kind of problems. There are a lot of homeless. It was one of my favorite areas at the same time because I found people genuinely searching for hope. When people are happy and established, they don't see right away why the gospel is so necessary. Everyone that I talked to needed it badly and it would change people's lives around completely. Parkland is kind of like an inner city place. There are tons of apartment complexes and tons of people to talk to. All my crazy stories come from Parkland. My dad sent us a giant thing of pepper spray. We got chased by dogs. I knew most of the homeless people by name.
Bainbridge Island, WA
It's this big island across from Seattle. It's amazing. The ward members completely changed my view of how a ward could function. It's like the opposite of my first area in Parkland. Bainbridge is this safe bubble of rich hippies. You're right across from Seattle and it started off as a small farmy island, but people kept flocking to it because it's a great place to raise kids. It's cute and adorable and clean and nice. It is super organized. The ward had great goals. Being a missionary there was a lot easier because of that. So much of the missionary work was focused on creating eternal families or helping people that didn't have fully active members of their family. It was like dominoes. People would help other people. Bainbridge was super special. It felt like this respite where even though the work was still hard, it felt like a growing time. The sisters that serve there feel nurtured. You get ample opportunities to grow. I want to go back. It was springtime too so the weather just got more and more beautiful every day. People get a lot happier when it's not dark all of the time. People were so kind and polite. Know you're in to meet some super nice people if you go to Bainbridge. We were a little confused when no one was cussing us out or setting their dogs on us. Only one time someone swore at us. It was just so different. I feel like in every mission you'll have these ends of the spectrum for areas. Most people commuted into Seattle for work. There are a lot of cyclists on the island. There are a lot of vegans. A lot of people that I would have never met in Parkland. The island felt really big, especially on days when we couldn't use our car because it was in the shop. Bainbridge is super hilly. They have these bike races that are known for their hills. Try biking in a skirt. It was one of my favorite places. Looking across the sound at Seattle was just super gorgeous. I loved being on the water. You can't go on boats though.
Belfair, WA
I was there in the dead of winter, which is really really dark in the Pacific Northwest. It is kind of a summer home town, so it was pretty deserted in the winter. It was definitely my hardest area, but I loved it. The ward was amazing. The families are so cool. Right before the holidays, I was put into Belfair. It was such an adjustment because I was so used to being in bigger cities. People in the city want to talk. You can always find people that need you and it's a lot easier to find. In Belfair we had a hard time finding people because they're holed up in their houses deep in the mountains. It's so beautiful though. My first mission president would joke that God spent a little more time on Washington. I didn't see it for the first half of my mission. In Belfair we lived on this arm of the sound jutting out into the water. It was a bigger blessing than I ever realized at the time. Sometimes it's hard being with a companion that maybe doesn't understand you. God knew that looking at the sunrises over the water would help me. Tender mercies were a really big thing for me in Belfair. In my first area, I knew everyone.  The notes that I had on the ward list were extensive. Going into a new area in the middle of winter was definitely a big shock. These little things like how insanely gorgeous the mission was were really important to me. I really started picking up on it and about how even though a mission isn't happy and nice all of the time, you can still be happy.
Lacey, WA
Lacey was my last area. I was kind of shocked because I thought I would stay on the island. It was kind of like my first area because of the amount of people, but there were a lot of transient people from the military bases. You would hear people talk about awesome families, but by the time  you get there, they've moved on. In Lacey, it was very clear that I was there for the missionaries that were around me in the area. Me and my companions were asked to go on a lot of exchanges with people a lot. I could see so clearly how my mission up to that point was preparation for some of the missionaries that I served around there. Missionary work is not just about people that haven't heard of the Church. It's for everyone. That's something that I saw recur a lot on my mission. You're there to bring yourself and your companion closer to Christ. You bring your mission president closer to Christ. You bring the ward members closer to Christ. That became one of the biggest lessons that I learned in Lacey. You can't overlook people because you think the job has been done.
Kelsea (Washington Tacoma Mission)
–Paraphrased from Kelsea's mission interview–
Mission Info
We're the west peninsula corner of Washington. There's more up top too. We're right on the ocean. There's a lot of military people there because of the military bases. I served in an army and a navy base area. There are a lot of transient people because of that. We still don't have iPads. I think we were the last mission in the US without them. We knocked doors from 5 to 7. We took a lot of pride in that. We did it every day no matter how dark or stormy it was. It takes grit and tenacity. We had a stake split right when I was leaving. The Church has been growing a lot. We did baptize quite a bit for a stateside mission. There were a lot of Word of Wisdom issues. A lot of people had disabilities or mental health issues as well. There was a lot of past trauma especially with ex military.
Elma, Washington
It's not Elmo or Alma. It's named after a woman named Elma. It was very country. There were lots of farms and land. There would be long stretches between doors when we were knocking. It was very beautiful. There are trees everywhere. All of the areas are beautiful though. Not too many people live there. It was a small town. People would commute a lot to work. There are a lot of retired people there too. It's right next to Aberdeen where Kurt Cobain is from so people talk about that. We had a convert there. He had been taking the lessons for ten months when I came in.
Lincoln Tacoma, Washington
It's the opposite of Elma. It's the city. People smoke on every corner. There is a lot of Vietnamese food close to our apartment. It was so easy to teach people because there are so many people. There were a couple times that we heard gunshots at night. Sometimes we would keep knocking, but sometimes we would get in the car and go knock somewhere else. I was never scared.
American Lake, Washington
It's the military based I served at. There was a veteran's hospital there as well. I loved it. We got to go on post to meet with members. Sometimes they would give us referrals if we worked really hard. It was a very small area though. You can't proselyte on post and 75% of our area was on post. We got to the point where we had to re-knock doors and I hated that.
Bremerton, Washington
We covered two wards. One was just all country roads. It was such a small town with lots of trees and only a few houses. You get really strong legs walking up those long driveway hills. The other ward was more city and there is a navy base nearby. I had a bishop who was in the navy. He was wonderful and very serious and strong. The work was good. It was the members though who blew me away. They were so helpful and so kind.
Lacey, Washington
It's a great place. Lots of neighborhoods and lot of people. I met Rose, my last convert there. She was incredible. The members were so good at missionary work. If we had someone we were teaching, they were on top of it. They came to lessons and helped get people to church. We had someone that needed to move out of her house and we had members take her in and house her until she found a place to live. That stake was so active in being Christlike, whatever that entailed. If that meant missionary work, or being supportive and kind, they were doing it. Lacey had a mushroom farm, so it smelled like farts the entire time. That was the downside of Lacey.