Free resources about the Washington Spokane Mission:
*Other Mission Pages: Washington LDS Missions.
---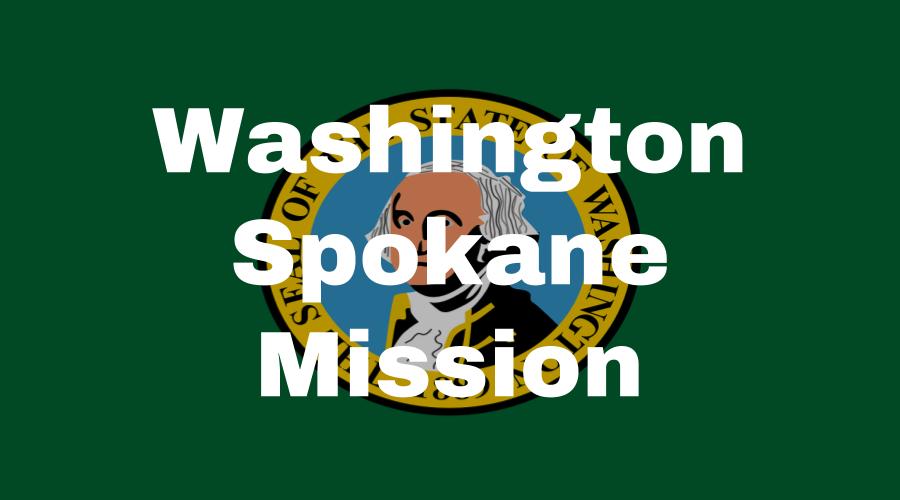 ---
Spokane Mission Address
Here's a recent address for the Spokane Mission. We try to keep this information up to date, but it's a good idea to check the address with several sources, including your mission packet or the mission office.
Washington Spokane Mission
820 S Pines Road Suite 101
Spokane Valley, Washington 99206
Phone Number: 1-509-924-8932
Mission President: President Donald E. Mullen
Washington Spokane Mission Map
Here's a link to the mission map for the Spokane Mission (LDS). To access the official LDS.org map for the Spokane Mission:
Log into your LDS account here.
Click here.
Videos with Spokane RMs
Here are in-depth YouTube video interviews with returned missionaries from the Spokane Mission.  We interview hundreds of returned missionaries each year, so check back regularly to see new RM interviews.
Videos about Washington
Here are LDS-friendly educational videos about Washington. We scoured YouTube to find the best quality videos about Washington, that are free from inappropriate music, immodesty and profanity.
Spokane Missionary Blogs
Here's a list of LDS missionary blogs for the Spokane Mission. This list includes the missionary's name, URL and when their blog was updated.
*Send your missionary a gift (mission-specific shirts, ties, Christmas stockings/ornaments, pillowcases, etc.)
Washington Spokane Mission Groups
Here are Spokane Mission Groups- for LDS missionary moms, returned missionaries, mission presidents and other alumni of the mission.
Washington Spokane Mission T-Shirts
Here are T-shirts for the Washington Spokane Mission!
Shirt designs include Spokane Mission logo/emblem shirts and Called to Serve shirts. The shirts make great gifts for pre-missionaries, returned missionaries and missionaries currently serving. LDS Mission shirts come in all sizes: Small, Medium, Large, Extra Large, up to 4XL.  The mission designs are printed on white shirts and are shipped to you.
*Simply click on a shirt design to view the details and submit an order. The designs on mission t-shirts may also be printed on other LDS mission gifts, including: Spokane missionary aprons, Christmas stockings, ties, pillow cases, teddy bears and Christmas ornaments.
*Click here to browse Spokane Mission gifts
---
---
Spokane Mission Presidents
Here's a list of current and past Mission Presidents of the Spokane Mission.
2015-2018, Wayne R. Dymock
2012-2015, Donald Eugene Mullen
2009-2012, S. Mark Palmer
2006-2009, David Rex Clark
2003-2006, Kevin L. Ludlow
2000-2003, Ronald B. Funk
1997-2000, Jeffrey Yarbrough
1994-1997, Heaton
1991-1994, Larry A. Call
1988-1991, Garth E. Eames
1985-1988, Lloyd
1983-1985, Fluhman
1980-1983, Philip D. Thorpe
1977-1980, Norwood C. McKoy
Washington LDS Statistics (2015)
Church Membership: 282,356
Missions: 7
Temples: 3
Congregations: 549
Family History Centers: 79
Helpful Articles about Washington
Spokane Missionary Survey
Here are survey responses from Washington Spokane RMs, to give you a snapshot into what it's like to live in the mission.
*Click here to take a survey to help pre-missionaries going to your mission.
When did you serve?
2014-2016 (Christopher)
2011-2013 (Diana)
2011-2013 (Daniel)
1992-1994 (Cliff)
1991-1993 (Edward)
2007-2009 (Jacob)
What areas did you serve in?
Wenatchee, WA; Rathdrum, ID; Moses Lake, WA; Moscow, ID; Spokane, WA; Omak, WA. (Daniel)
Yakima, Prosser, Richland, Medical Lake, Spokane. (Cliff)
Yakima/Hermiston/ Wallace / Moscow. (Edward)
Post Falls, Liberty Lake, Hayden Lake, Pullman, South Hill, Downtown Spokane, Colfax. (Jacob)
What were some favorite foods?
Carne Asada, venison, Gooey's ice cream, Sweeto Burrito (Christopher)
Hawaiian haystacks also known as Chinese sundaes. Conches, carne asada and empanadas. (Diana)
The foods that I normally like. It was in the same country I was raised in. (Daniel)
It was fun to see how many different ways the members could prepare chicken. We ate chicken at the majority of our Dinner Appointments. (Cliff)
Mostly everything from Spaghetti, Pizza, Tuna fish , and many other foods including fish. (Edward)
Anything huckleberry. (Jacob)
What was a funny experience?
We had a Ukrainian contact try to convince my companion and I that we could go and teach him inside his apartment solely on the merit that he had a fish. (Diana)
One of my first zone leaders accidentally caused another missionary to crash into a sign when they were on bikes. (Daniel)
There was one missionary that could make me laugh all the time. He was awesome! (Cliff)
My companion and I were in an area where people did not respond when you waived or said hello so we got used to jokingly acknowledging each other. One day, we were out tracting when someone answered the door. My companion said hello and the guy never responded so out of habit I turned to my companion and said hello back immediately recognizing what I did. The guy actually let us in after that. (Jacob)
What was a crazy experience?
We were tracting at night and my companion and I saw at a house we had just knocked at, someone climb out with a huge knife, they were holding it in a threatening manner, and both of us felt impressed to leave the area. (Diana)
I called the cops on a drunk driver who bumped into my bike. After he walked straight past me (presumably unaware that he had just hit my bike) he went inside the house of a less active lady we has just visited and started yelling at her. I thought to myself, "if I'm not allowed to intervene, I'm still gonna put homeboy in his place". Cop showed up and took care of the rest. (Daniel)
My companion and I were threatened by a drunk driver after I yelled at him for almost hitting us while we walked down the street. (Cliff)
Going down Spokane's South Hill on bikes, my companion and I regularly reached 45 MPH. One day, we jumped our bikes from a sidewalk to the road and my companion felt something weird in his front end. We got to the bottom of the hill to realize that his front end had broken and the front wheel fell of his bike as soon as we stopped but never before. Had it fallen off while we were on the hill, he would have been hurt very badly. (Jacob)
What was a spiritual experience?
All of the trainings with the Mission President and learning how to study better (Christopher)
A spiritual experience that I had while on the mission was talking to an investigator about her doubts and why she had felt to stop meeting with us. As she voiced her doubts both my companion and I said things that I know did not come from us. She was crying by the end of our visit, but she knew for herself that Heavenly Father loves her. (Diana)
Seeing a lady I baptized crying tears of joy during a sacrament hymn. (Diana)
When you work to have the Spirit, nearly everything is a spiritual experience. (Cliff)
My first Sunday in the mission, I was asked to stand in sacrament meeting and speak about the Restoration. I bore testimony at the end and the Spirit was very strong. One member left to call her husband and tell him he needed to meet me. He ended up being baptized a few weeks later. (Jacob)
What are some interesting facts about the Spokane Mission?
John Stockton lives in Spokane. (Christopher)
Some interesting facts about my mission is all the different cultures that can be found there. It was amazing to see such diversity and care amongst all the people I met. (Diana)
The Palouse region produces much of the world's wheat. John Stockton lives there. (Daniel)
It used to be the largest geographical mission in the United States covering parts of Idaho, Montana, Oregon, Washington, and a little bit into Canada. But since then the mission was split. (Cliff)
Any Microsoft screensaver showing rolling green or gold hills are pictures taken within mission boundaries. The rolling hills were caused by lava flow from a volcano and the plants are wheat. It's so beautiful to see in person. (Jacob)
What was the weather like?
Hot/dry summers (90-105 degrees high), cold and somewhat snowy winters (-10 to 15 degrees low) We saw all 4 seasons up there. (Christopher)
Depending on the area the weather was either warm and windy, or hot and dry. (Diana)
All four seasons were noticeable. (Daniel)
Hot in Summer and Cold in Winter. There was a weird wind called a Shanook (I think) that was a warm wind that would melt all the snow. (Cliff)
Absolutely beautiful summers. Winters were cold and you don't see the sun much for three months. (Jacob)
Any things you really like about the area/people?
Lots of nice people, large variety of types of wards to serve in, awesome ward members in every ward (Christopher)
I loved how the people genuinely cared for one another, and were willing to help us even when they did not like what we stood for. (Diana)
Most of them were reasonable. (Daniel)
People were nice, for the most part. (Cliff)
The people I spoke with were deeply religious. Many referred to the area as the Bible Belt of the west. (Jacob)
Any packing/clothing advice?
Have a good warm coat, a nice jacket, and something you can be comfortable in during the summer. For Elders, just bring short sleeve shirts except for one or two long sleeves. Use sweaters in the winter. That'll save you a lot of packing space. (Christopher)
Be practical. Only take what you truly need, and if you find something you like while serving, send it home. (Diana)
Don't be a sentimental fool. Throw away or give away what you don't need. (Daniel)
The usual. (Cliff)
Make sure you have layers for winter and short sleeves for summer. Bring clothes that are good for service. (Jacob)
What blessings did you receive from serving a mission?
Increased people skills, speaking ability, ability to feel the Spirit, love of the scriptures, patience, humility, etc. (Christopher)
I now speak Spanish fluently, and have a translating job. I have also been blessed by a seeping understanding of myself, my relationship with God, and what He expects of me. (Diana)
Cynicism, objectivity and confidence. (Daniel)
Stronger testimony and fun stories to tell my kids, friends, and other missionaries. (Cliff)
More than I can possibly list. The greatest blessings were a deeply strengthened testimony and a strong personal relationship with Heavenly Father. (Jacob)
What are some skills you gained?
Increased people skills, speaking ability, ability to feel the Spirit, love of the scriptures, patience, humility, etc. (Christopher)
I learned to speak, read and write Spanish. I learned how to talk so a doctor gets all the information they need, and I learned how to laugh when you are down. But most importantly I learned how to rely on God. (Diana)
Leadership, time management, teaching, communication, prioritization. (Daniel)
Bike riding. (Cliff)
Public speaking, confidence. (Jacob)
What do you wish you knew/did at the beginning of your mission?
Be in the habit of good scripture study BEFORE the mission begins. Read all of Preach My Gospel at least once. (Christopher)
I wish I had been more confident in myself and my capabilities. (Diana)
Zeal without wisdom leads to pointless destruction. Put your trust in missionaries who behave like reasonable people. Be a man (if applicable). Focus on truly understanding what you study before you focus on amplifying your zeal to petty and annoying degrees. Know that it's okay for a mission to be a bit messy. Just don't break the law or the commandments. Also, make sure that you rat on people who do when the safety of another person is concerned. (Daniel)
Relied on the Spirit more to know who and what to teach. (Cliff)
How to teach children. (Jacob)
Any advice/testimony for pre-missionaries called to Spokane?
Look for the good, and you will find a lot of it. (Christopher)
Any advice I could give would be to trust yourself, the Spirit, and know that God has a purpose for every area you serve in, for every companion you serve with, and that you have a part in that purpose. Be worthy of that purpose. (Diana)
Don't be a chump. Don't believe everything that anyone tells you. Keep it real. Don't be afraid to drop people who don't show progress. Follow the rules, but know their purpose too- that way you can confidently make judgement calls. Try to keep yourself as calm as possible while still being productive. Be a grown-up. Also, if you let Him, The Almighty will give you what you need to be happy. You let Him give it to you be sincerely pursuing it. (Daniel)
Work hard and keep the mission rules. And get full names, phone numbers, addresses, etc of companions, members, investigators/converts because you will not remember 20 years later. And label your photos, for the same reason. (Cliff)
Be grateful for your mission assignment and serve the people with all your heart. Show sincere gratitude to those who help you and show your Bishops they can trust you to fulfill assignments. (Jacob)
What was a funny language mistake?
One of the Spanish sisters accidentally said "God is lunch" instead of "God is loving" (Christopher)
There were many funny language mishaps. My favorite happened while I was teaching a Daily Dose class. We had just taught our students a word in English that I did not know in Spanish. I kept mangling the Spanish word so horribly that we all just ended up laughing. (Diana)
I once told a native Spanish speaker that I was in love with him. Big mistake. (Daniel)
I was English-speaking, but there was a time I was giving a discussion and I happened to look over at the investigator's dog (a pit bull) who she kept in the kitchen behind a baby gate during our discussions and it was staring at me and quietly growling. When we made eye contact, I completely forgot what I was saying. (Cliff)
I was transferred to a Spanish area even though I was not called as a Spanish missionary. My second day, we were teaching a Hispanic man and I thought his name was Salvador. I was asked to give the closing prayer and expressed gratitude for meeting with "Salvador." When I said amen, my companion leaned over and told me our investigator's name was Miguel. (Jacob)
Mitch (Washington Spokane Mission)
–Paraphrased from Mitch's mission interview–
The boundary goes all the way up to Canada. It's not rainy like everyone says. It's sunny and beautiful. We have all of northern Idaho. In the center of the mission we have Spokane Valley and that's where the mission home and the temple is. We have one branch in Canada. Spokane is so diverse. There is Mandarin and Russian. There is Marshalese and tons of Marshalese people. We're always looking for Spanish speakers for the Spanish elders to teach. The temple is small. Gordon B. Hinckley pushed building more of these small temples. We got to go every six weeks pretty much. It's all about bringing people back to God. My apartments were awesome. Sometimes we lived in member's homes. There are so many members. I felt like I was in Utah. I got two free footlong subs from subway every week because members owned it. There were pizza places like that. We got tons of free stuff. The members wanted to do our laundry all the time. For about 16 months I didn't even do my own laundry. The members are so incredible and every lesson you teach has a member and that's so important.
Sydney (Washington Spokane Mission)
–Paraphrased from Sydney's mission interview–
Mission Info
The mission home is in Spokane, and the temple is there too and we got to go there every three months. The boundary was just like a sliver of eastern Washington. It covers all of northern Idaho and part of Montana. There was actually one branch in Canada in the mission. I had elk meat for the first time. It was really good. The food is great. It's normal American stuff. I really appreciated that. The people we talk to are real people. They have lives and struggles and hopes and dreams. They just want to be loved. Keeping that in mind makes talking with everyone easier. It makes you want to share the gospel with them ore.
Lewiston, Moscow, and Spokane Valley
The area I was in the longest was Lewiston, Idaho. I was there for seven and a half months. The ward I served in was so kind. The city itself has about 30,000 people in it and it has a college. We had a young single adult branch and there were three other wards there. I loved it. It was home. I served in Moscow after that. That is where the University of Idaho is. I served in a YSA ward on campus. There were only 20,000 people. Our ward kind of diminished during the summer because the students left. I loved serving in the YSA because I felt like I could really relate to their struggles and their needs. We're their age sharing what makes us happy. My last area was Spokane Valley where the temple was. It was very different. It was so beautiful. The people there are very kind. There are a lot of Christians there. I loved so many of the families there.
Weston (Washington Spokane Mission)
–Paraphrased from Weston's mission interview–
LDS Mission Info
The mission has the eastern part of Washington, part of Idaho, and part of Montana. It doesn't rain a lot. You get a lot of snow. Louiston, Idaho was really interesting. They have this huge hill. People will tell you about the hill if you ask them about Louiston. One area has a branch that speaks Marshallese. They're well on their way to a ward. If you go to Cordelaine, all of the members there think you've never had steak before, so every member dinner will be fine prime rib. It's great. You meet a lot of great people. A lot of people are going through hard times and have been humbled by life. They're very willing to accept you into their home. There are a lot of different religions and a lot of faithful people. It's one of the few areas that votes for Ron Paul every year. A lot of the people are religious and pretty conservative. It's one of the few areas in Washington that had legalized marijuana before the rest of the state. There was a lot of marijuana. Walking through downtown you can smell it. It's the smell of people. It's the smell that makes me think of Spokane. There are a lot of bikers and people with long hair and tattoos. There are lot of people that the Lord is preparing for the gospel. The climate is beautiful. There are 70 lakes within 50 miles of Spokane. Seeing the sunset over the mountains was just so gorgeous. Everyone needs to see that.
Crime and Safety
Spokane is fascinating. It was originally home to the Hell's Angels. A lot of people have lived rough lives there. There is a large drug culture. A lot of people who smoke weed live there. Meth is one of the biggest drugs there and it's becoming a bigger issue throughout the United States. I was just north of downtown Spokane and this lady with her hair and teeth falling out and yellowed skin, an obvious meth user, turned to us and asked if we had a cigarette or a lighter. We didn't, but then she asked if we could walk her to safety. We walked her down to a school, and she said that she liked my name tag and asked if she could have it. I told her she couldn't have it because I only had one. Then she told us that we had to learn how to smile. She kept trying to get behind me too so we kind of started walking in circles. Then she told me that I had zits on my face and that meant that God hated me. We tried to start walking in the opposite direction and she told us she would break our knee caps if she saw us again. We saw her later harassing a guy fixing a telephone pole. We tried to sneak past her, but she saw us and started chasing us. We actually did see her again going into a meth house. She didn't chase us down that time. It's very interesting though. Most people are very nice, but there are some areas that you want to avoid, especially at night. Follow the promptings of the Spirit.