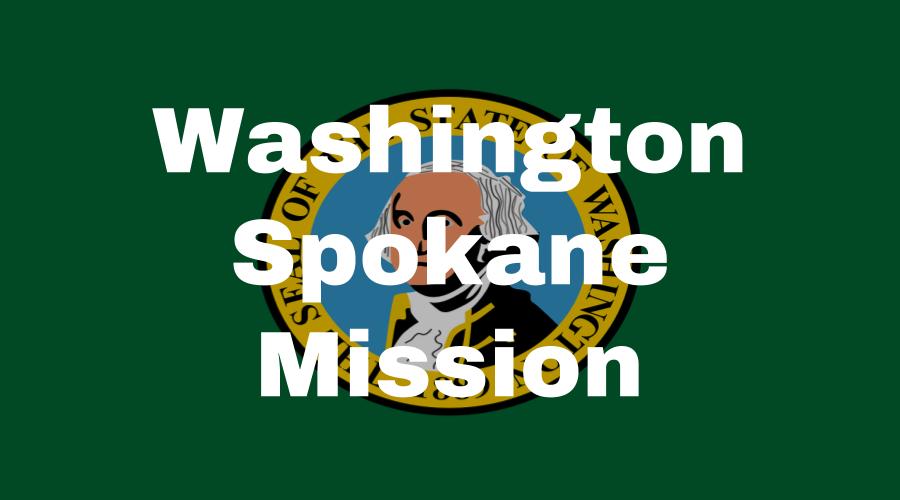 Mitch (Washington Spokane Mission)
–Paraphrased from Mitch's mission interview–
The boundary goes all the way up to Canada. It's not rainy like everyone says. It's sunny and beautiful. We have all of northern Idaho. In the center of the mission we have Spokane Valley and that's where the mission home and the temple is. We have one branch in Canada. Spokane is so diverse. There is Mandarin and Russian. There is Marshalese and tons of Marshalese people. We're always looking for Spanish speakers for the Spanish elders to teach. The temple is small. Gordon B. Hinckley pushed building more of these small temples. We got to go every six weeks pretty much. It's all about bringing people back to God. My apartments were awesome. Sometimes we lived in member's homes. There are so many members. I felt like I was in Utah. I got two free footlong subs from subway every week because members owned it. There were pizza places like that. We got tons of free stuff. The members wanted to do our laundry all the time. For about 16 months I didn't even do my own laundry. The members are so incredible and every lesson you teach has a member and that's so important.
Sydney (Washington Spokane Mission)
–Paraphrased from Sydney's mission interview–
Mission Info
The mission home is in Spokane, and the temple is there too and we got to go there every three months. The boundary was just like a sliver of eastern Washington. It covers all of northern Idaho and part of Montana. There was actually one branch in Canada in the mission. I had elk meat for the first time. It was really good. The food is great. It's normal American stuff. I really appreciated that. The people we talk to are real people. They have lives and struggles and hopes and dreams. They just want to be loved. Keeping that in mind makes talking with everyone easier. It makes you want to share the gospel with them ore.
Lewiston, Moscow, and Spokane Valley
The area I was in the longest was Lewiston, Idaho. I was there for seven and a half months. The ward I served in was so kind. The city itself has about 30,000 people in it and it has a college. We had a young single adult branch and there were three other wards there. I loved it. It was home. I served in Moscow after that. That is where the University of Idaho is. I served in a YSA ward on campus. There were only 20,000 people. Our ward kind of diminished during the summer because the students left. I loved serving in the YSA because I felt like I could really relate to their struggles and their needs. We're their age sharing what makes us happy. My last area was Spokane Valley where the temple was. It was very different. It was so beautiful. The people there are very kind. There are a lot of Christians there. I loved so many of the families there.
Weston (Washington Spokane Mission)
–Paraphrased from Weston's mission interview–
LDS Mission Info
The mission has the eastern part of Washington, part of Idaho, and part of Montana. It doesn't rain a lot. You get a lot of snow. Louiston, Idaho was really interesting. They have this huge hill. People will tell you about the hill if you ask them about Louiston. One area has a branch that speaks Marshalese. They're well on their way to a ward. If you go to Cordelaine, all of the members there think you've never had steak before, so every member dinner will be fine prime rib. It's great. You meet a lot of great people. A lot of people are going through hard times and have been humbled by life. They're very willing to accept you into their home. There are a lot of different religions and a lot of faithful people. It's one of the few areas that votes for Ron Paul every year. A lot of the people are religious and pretty conservative. It's one of the few areas in Washington that had legalized marijuana before the rest of the state. There was a lot of marijuana. Walking through downtown you can smell it. It's the smell of people. It's the smell that makes me think of Spokane. There are a lot of bikers and people with long hair and tattoos. There are lot of people that the Lord is preparing for the gospel. The climate is beautiful. There are 70 lakes within 50 miles of Spokane. Seeing the sunset over the mountains was just so gorgeous. Everyone needs to see that.
Crime and Safety
Spokane is fascinating. It was originally home to the Hell's Angels. A lot of people have lived rough lives there. There is a large drug culture. A lot of people who smoke weed live there. Meth is one of the biggest drugs there and it's becoming a bigger issue throughout the United States. I was just north of downtown Spokane and this lady with her hair and teeth falling out and yellowed skin, an obvious meth user, turned to us and asked if we had a cigarette or a lighter. We didn't, but then she asked if we could walk her to safety. We walked her down to a school, and she said that she liked my name tag and asked if she could have it. I told her she couldn't have it because I only had one. Then she told us that we had to learn how to smile. She kept trying to get behind me too so we kind of started walking in circles. Then she told me that I had zits on my face and that meant that God hated me. We tried to start walking in the opposite direction and she told us she would break our knee caps if she saw us again. We saw her later harassing a guy fixing a telephone pole. We tried to sneak past her, but she saw us and started chasing us. We actually did see her again going into a meth house. She didn't chase us down that time. It's very interesting though. Most people are very nice, but there are some areas that you want to avoid, especially at night. Follow the promptings of the Spirit.