Free resources about the Washington Federal Way Mission:
*Other Mission Pages: Washington LDS Missions.
---
---
Federal Way Mission Address
Here's a recent address for the Federal Way Mission. We try to keep this information up to date, but it's a good idea to check the address with several sources, including your mission packet or the mission office.
WA-Fed Way Mission
23175 224th Place SE suite E
Maple Valley, WA 98038
Phone Number: 1-425-413-0769
Mission President: President Sterling A. Rasmussen
Federal Way Mission Map
Here's a link to the mission map for the Federal Way Mission (LDS). To access the official LDS.org map for the Federal Way Mission:
Log into your LDS account here.
Click here.
Videos with Federal Way RMs
Here are in-depth YouTube video interviews with returned missionaries from the Federal Way Mission.  We interview hundreds of returned missionaries each year, so check back regularly to see new RM interviews.
YouTube Videos about Washington
Here are LDS-friendly educational videos about Washington. We scoured YouTube to find the best quality videos about Washington, that are free from inappropriate music, immodesty and profanity.
Federal Way Missionary Blogs
Here's a list of LDS missionary blogs for the Federal Way Mission. This list includes the missionary's name, URL and when their blog was updated.
*Send your missionary a gift (mission-specific shirts, ties, Christmas stockings/ornaments, pillowcases, etc.)
Federal Way Mission Groups
Here are Federal Way Mission Groups- for LDS missionary moms, returned missionaries, mission presidents and other alumni of the Federal Way Mission.
Federal Way Mission T-Shirts
Here are T-shirts for the Washington Federal Way Mission!
Shirt designs include Federal Way Mission logo/emblem shirts and Called to Serve shirts. The shirts make great gifts for pre-missionaries, returned missionaries and missionaries currently serving. LDS Mission shirts come in all sizes: Small, Medium, Large, Extra Large, up to 4XL.  The mission designs are printed on white shirts and are shipped to you.
*Simply click on a shirt design to view the details and submit an order. The designs on mission t-shirts may also be printed on other LDS mission gifts, including: Federal Way missionary aprons, Christmas stockings, ties, pillow cases, teddy bears and Christmas ornaments.
*Click here to browse Federal Way Mission gifts
---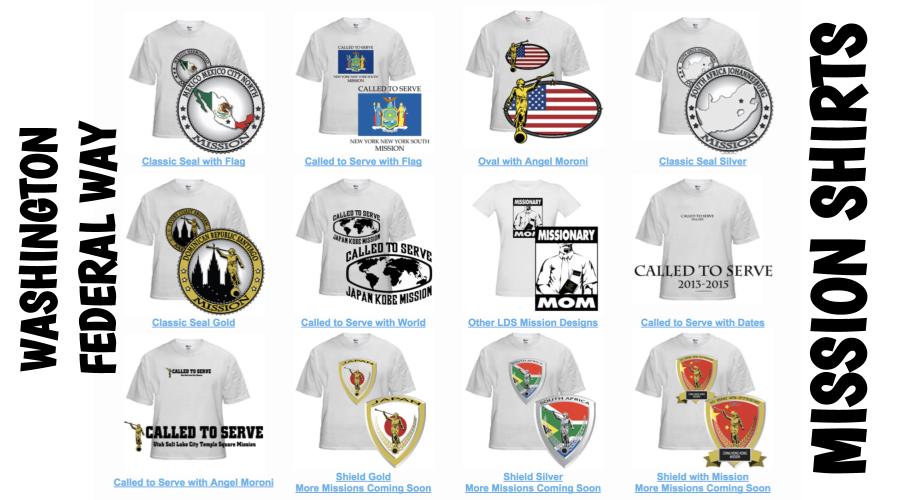 ---
Federal Way Mission Presidents
Here's a list of current and past Mission Presidents of the Federal Way Mission.
2016-2019, Sterling A. Rasmussen
2013-2016, Robert Irvin Eaton
Washington LDS Statistics (2015)
Church Membership: 282,356
Missions: 7
Temples: 3
Congregations: 549
Family History Centers: 79
Helpful Articles about Washington
Federal Way Missionary Survey
Here are survey responses from Washington Federal Way RMs, to give you a snapshot into what it's like to live in the mission.
*Click here to take a survey to help pre-missionaries going to your mission.
When did you serve?
2015-2017 (Gavin)

2015-2017 (Madison)

2014-2015 (Rachel-Spanish)
2013-2015 (Cameron)

2013-2014 (Amy)

2013-2014 (Clark)
2013-2014 (Lindsey)
2013 (Annie)
2011-2013 (Dallin)
What areas did you serve in?
Renton, Buckley, Puyallup. (Gavin)
Lake Sawyer, Silver Creek, White River/Mill Pond, Sumner. (Madison)
Puyallup, Enumclaw, Kent. (Rachel)
Dash Point, Auburn, Puyallup, Renton, South Hill, Victor Falls. (Cameron)
Surprise Lake and Bonney Lake. (Amy)
Federal Way Ward, Benson Hill Ward, Garrison Creek Ward, and Fairwood Ward. (Lindsey; also served in Seattle mission)
Bonney Lake, Silver Creek, Star Lake etc. (Annie)
Tacoma mission: Elma, Morton, Puyallup (Manorwood), Shelton, Tumwater and finally Puyallup (Pioneer Valley) which is where I was when the mission split. Federal Way: Pioneer Valley, and Federal Way (Dash Point). (Dallin)
What were some favorite foods?
Elk, steak, homemade burgers. (Gavin)
Teriyaki chicken! I had never had that until my mission, and I ate that the most. (Madison)
I loved tortas. Especially from taco trucks. Actually, any food from taco trucks. (Rachel)
Salmon, bread dipped in olive oil and balsamic vinegar. (Cameron)
The food was pretty familiar if you are from the US. But I did love the fresh salmon and crab. (Amy)
I had seafood a couple times. Delicious. (Clark)
I don't really remember any favorite food that I had there. (Lindsey)
Wendy's had chicken sandwiches with pretzel buns that was pretty good. During the mission a family from Iraq served us some Iraq food. It was very good, and a different experience since it was served from one platter, and you used your fingers to pick everything up. (Annie)
The food is pretty standard American fare. The seafood and berries are great though, especially crab if any members bring you some. Mountain bars and Almond Roca are good too. (Dallin)
What was a funny experience?
Me and my companion would have nerd wars in the apartment. (Gavin)
There are many funny stories but one of my favorites is about the kids in one of my areas. My second area many kids would run around and they loved when we came around. One of them was this 6 year old boy, his mom was an investigator, and it was his birthday and so he invited us to his party. He told us that if we came, he would make us a Jesus cake. It was hilarious. (Madison)
It was my first day with a new companion and we were at district meeting. We were such instant friends that our District Leader thought we had been together for transfers and was shocked to hear we hadn't. (Rachel)
I was tracting on Brown's Point with a member, I knocked on a door and an old Celtic gentleman opened it and said "Are you boys selling Christianity?" without thinking I replied "no sir, we are giving it away for free…" the man looked at me and slowly shook his head as he closed the door. I then realized what I had said and turned to my companion and the member who where trying very hard not to laugh. (Cameron)
I was tracting one night and a guy opened the door and was super excited that there were girls that were missionaries. We chatted for a few minutes. When we left we asked if we could leave with a prayer and if there was anything he would want us to pray for. He said "well I want to be a pop star so you can pray about that." (Amy)
We were teaching a family in their home and their four year-old son made a loud noise in the kitchen. We went in there to discover he had trapped himself on top of the refrigerator and knocked some things down. (Clark)
I really don't remember any funny experiences. (Lindsey)
There were many, but one that comes to mind is: We were helping clean up a less actives yard. There was some super gross decomposing stuff. My companion saw it and covered it with leaves. The less active member accidentally picked it up with her bare hands-it was very gross, when she found out what my Companion had done, she called her Chicken Crap. It was very funny. (Annie)
The apartments I was in had character. Little objects that others had left to make life interesting. Sometimes it was mission posters, other times it was a giant plastic wineglass that stood four foot tall. You never know what oddity the next apartment would hold. (Dallin)
What was a crazy experience?
I had a gun pointed at me. (Gavin)
As Sisters, we had to be careful of the male homes we go in. We won't go in unless we have a third female present. In my first area we went to see one of our male investigators to invite him to church. His wife was in the kitchen and we could see her and she could see us, and so we had a mini lesson with him. We said an opening prayer and he wanted to hold hands as we said it. As my companion was saying it he started rubbing my hand and squeezing it. I just thought he was into the prayer and so we continued with our lesson. I had such a bad feeling the whole time, but I ignored it because I thought he would actually come and enjoy church. Well we said our closing prayer, and we started heading out and he pulled my arm to say goodbye, but then he started rubbing it up and down. At that time I knew we needed to leave so we quickly did. I told my companion about it and she said she had a bad feeling too. It's something that happens a lot too Sisters, but when it happened to me I just felt sick. I quickly learned how important it is to follow promptings, and because I did we had learned how to get out of very tough, and possibly dangerous, situations. (Madison)
We had a bunch of guys follow us. I was driving and we ended up losing them once they realized I was driving in circles. It was terrifying though. (Rachel)
One of my companions had made some salmon and rice. However he didn't finish all of it so he put it in the fridge and forgot it for a week, when he pulled it out again he decided to eat it anyway. needless to say he was sick for three days. (Cameron)
I felt really safe everywhere I served. But one time my companion and I were trying to contact a referral. So we knocked on the door and instantly felt the spirit tell us to leave. We looked at each other and turned around and left before someone could open the door. I don't know what would have happened but when both companions are feeling uneasy follow those promptings!! (Amy)
A drunk man asked us to take him to the church building one night. We had to walk along a busy road for a mile or two to get there. He couldn't keep his balance well enough to stay out of the street. Eventually he collapsed beneath a tree and we called 911. (Clark)
None. (Lindsey)
We were talking to this family out on the driveway. Anyway, they were very receptive to the gospel (which is bound to happen) then out of nowhere came their drunk/ high relative, who started berating us, she didn't want to let me go. She was very aggressive, thankfully we had a car and were able to escape. (Annie).
Washington has some steep hills, so I had a time where I went around a blind curve at 35mph and had to crash my bike and slide on my backpack to avoid getting hit by a car. There are some higher crime areas, but incidences where it affects missionaries are rare. (Dallin)
What was a spiritual experience?
Going to a family's endowment session. (Gavin)
One night my companion and I were doing our planning, when we got a text from our investigator saying she was doing her family history and she had never felt the spirit so strong. She told us she was in tears and knew it was true. She asked if we could meet with her the next day, we did, and she committed to be baptized after meeting with missionaries for eight months! (Madison)
The day an investigator got baptized. I taught him in my first area for 8 months and 6 months after I left the area, I got to go back for his baptism. It was the happiest day of my mission and it was so wonderful to see him so happy. (Rachel)
Nothing specific comes to mind, mostly because I had so many, however, baptisms, general conference, and mission conferences are a good place to start. (Cameron)
Two of my sister in laws served in the same mission (Seattle mission at the time) 10 years before me. I was white washed into a struggling area. We had to build trust with the ward and a large group of less active Marshallese. I felt a particular connection with a couple families in the ward. Sister Gander and her family had a collage on their wall. I was looking at it one day and saw Amy (My sister's Sister in law) She had really helped this family when she was there 10 years previous. When I got home I found out that the second family I felt a connection to was found by Amy and her companion. A week later they were transferred out and John (my sister's Brother in law) was transferred in. He and his companion taught and baptized Hellen and Friser. God knows where we need to be when we need to be there. Trust him! (Amy)
Isaac Adu's baptism was special. When this sweet elderly man came up out of the water, he looked at everyone and, with a thick Ghanaian accent, said something like, "I never knew Jesus Christ had His own church on the earth. Thank you." There was a powerful feeling there. (Clark)
I had a moment when I knew that I wanted to be a stay at home mom!! (Lindsey)
Watching the First Vision and strongly feeling the spirit with some investigators. Having my converts finally connect the dots and getting baptized on Christmas. (Annie)
I loved it when we were able to spend time with the mission president. He is a spiritual giant, when I was frustrated he was able to turn me around and brush me off. I was back on track that quick. I had many experiences where I was touched, but most are too sacred to me to share. (Dallin)
What are some interesting facts about the Federal Way Mission?
It's tiny, very very diverse, and honestly just awesome. (Gavin)
It's a newer mission. One of my companions taught some brothers that play for the Seahawks. One of my areas has a test siren that goes off the first Monday of every month called the Lahar, and the Lahar, is for when Mt. Rainier blows, let's people know when to run up the mountains because we were in a valley. If it really goes off, then everyone has 13 minutes to be up the mountains surrounding or they will be buried in the melted snow and mud. (Madison)
It's pretty small, but that just makes all the missionaries closer. I loved the mix of rural towns and bigger cities in the mission. (Rachel)
it's one of the smallest in the world (outside of Utah). (Cameron)
The mission is super small!! (Amy)
It borders the Puget Sound and contains Mt. Rainier. It is one of the most ethnically diverse areas in the nation. (Clark)
The rain in WA is more like a drizzle, if it had rained all the time like it rains in GA that would have been bad. (Annie)
Tacoma: Kurt Cobain's childhood was spent in Aberdeen. The TV show Cops started in Lakewood. The Hoh rainforest is the only official rainforest in North America. Twilight was filmed in Oregon, but Forks is a real place. Dungeness is where Dungeness crabs come from, and they are delicious. Federal way: Jimmy Hendrix's grave is in Renton. Mount Rainier is in the mission and is worth visiting if mission rules allow it. (Dallin)
What was the weather like?
Rainy. The winter months you will be wet all day. (Gavin)
When I got there it was the wettest winter recorded, and I was told it was rainy 8 months of the year. I didn't believe it at first, but it was very true. (Madison)
Rainy 9 out of 12 months. But the 3 months it wasn't raining were extremely hot. (Rachel)
Beautiful in the summer, really cold in the winter, overcast and rainy for most of fall, winter and spring, it snows once or twice a year. (Cameron)
Rainy. (Amy)
It is dark and rainy for at least half of the year but summers are sunny. (Clark)
Winter was depressing and wet and summers were a little humid but really pretty. (Lindsey)
Mainly Drizzling the summers were perfect though. (Annie)
Cloudy and wet. The weather doesn't get very hot or very cold. It is misty in the winter, it rains lightly most days. Occasionally it snows, but it's usually gone the next day. During the summer there is very little rain and it's super nice. It's almost never windy, which was a shock for me. If you are on the coast itself it stays pretty cool and humid. (Dallin)
Any things you really like about the area/people?
I loved all of it. The people are a little hard hearted but once you're their friend they're loyal to that. (Gavin)
The place was so beautiful and green. The sunsets were the most beautiful sunsets I had ever seen. The people were always so kind and helpful, even if they weren't interested. I got pretty close with people that weren't interested but were so kind and willing to help anyway they can. (Madison)
I loved serving with Hispanics because they are so genuinely nice. They would do anything to help you, even if they had nothing themselves. (Rachel)
They were kind and loving. People of so many different backgrounds helped me see the universal nature of the Gospel of Jesus Christ. (Clark)
The members were amazing to work with and the people I met were from all over the place!! (Lindsey)
Weirdly, I feel many of the people in some of my areas would have felt at home in the South. (Annie)
Washington is paradise, it is beautiful. The roads are lined with pine trees. Even in winter the mist rises up from the ground until the sun burns it off every morning. It feels like camping. The people are friendly, especially out in the country. The members are kind, spiritual and make you want to be a better person. (Dallin)
Any packing/clothing advice?
A good rain coat not from Mr Mack. (Gavin)
I would pack for wet, not warm. It's humid and wet outside and so it will just go through your clothes if it's not waterproof, and then it's hard to get warm. I would go shopping there for the waterproof stuff, because they know how to waterproof for that specific place. (Madison)
A rain coat, but also and winter coat that is water-repellant. And really good boots that won't get holes in them. On my boots, the soles would start coming off and then my feet would be soaked. And start with minimal stuff. You'll pick up more stuff from companions and other missionaries. (Rachel)
Waterproofing is a REALLY good idea. (Cameron)
Bring a good pair of boots that won't fall apart on you. There is nothing worse than wet feet! (Amy)
I didn't use my umbrella or rain boots even once. If you go to a rainy place, just expect to get wet, even if you're in a car. (Clark)
I would send boxes home every so often of stuff that I had collected through the months. This made it easier when transfers happened. (Lindsey)
Rain Coats and Umbrellas aren't as important as you think they are. But it does get cold in the winters. (Annie)
You will want a raincoat, but unless you are from a wet place you'll probably want to wait and get one there. Most raincoats aren't meant for heavy activity, so you'll want one that breathes well. A jacket or sweater underneath is adequate most of the time. I only wanted a heavy coat a few times. If you can get some shoes that are waterproof, it helps keep your socks dry. I never liked the rubber shoe covers, but some people had them. Umbrellas are seen as a sign of weakness to the locals. I used one anyways. In general the weather is mild and doesn't require special equipment. (Dallin)
What blessings did you receive from serving a mission?
My parents got back together. (Gavin)
I met so many wonderful people that have changed my life. I have never been as happy as I was on my mission. My testimony grew so much, and because of that I have been able to use that as I go through out my trials. (Madison)
So many! My testimony grew like crazy. Also, I started out really shy and by the end, well, I was still shy, but not so much. I definitely learned how to come out of my shell. I am a lot more comfortable talking to people I don't know. (Rachel)
Too many to list here but the most precious blessing was coming to know my Father in Heaven and His Son Jesus Christ. (Amy)
I grew to know God more personally and I feel His trust for me. I can sense His guidance in my life. (Clark)
My college tuition is paid for. (Lindsey)
My husband-I think my mission prepared me to marry him. (Annie)
You will learn a ton; about yourself, about interacting with others and about the gospel. The self mastery and knowledge of the gospel has really helped me keep things in perspective. I had a family member close to me pass away. Without the gospel and what I learned, I wouldn't have had the strength to continue as I have. (Dallin)
What are some skills you gained?
Planning, Talking to people, Confidence, Prayer, Listening to the Spirit. (Gavin)
I am able to work hard on something I put my mind to. I am a lot better at studying things, and I am much more knowledgeable. My communication skills are much better as well. (Madison)
Making conversation is a big one. I don't think I could make small talk now if I didn't serve. I also learned how to live on my own and to live with someone 24/7. (Rachel)

The ability to communicate well. (Amy)

Listening, planning, setting goals, public speaking. (Clark)
I learned how to live with people that I sometimes don't get along with. It also helped me in my marriage. (Lindsey)
How not to be critical. Some of my companions were very critical I realized I didn't like to be criticized especially for minor things. I also think I got a little better at recognizing the Spirit. (Annie)
I was able to learn about pyrography and wood carving from a very nice member. I also was able to do lathing and pen turning. I also learned a lot about people and how to teach the gospel. (Dallin)
What do you wish you knew/did at the beginning of your mission?
I wish I would be opened my mouth sooner. And I wish I would have been more obedient. (Gavin)
I wish I focused more on the work, than being homesick. Missions go by way too fast, and I wish I would have had more time to put myself more into the work. (Madison)
I wish I talked more. It was so hard for me to talk, so I just wouldn't. I wish I had made myself do that because once I did, my Spanish got better and I felt more comfortable. (Rachel)
Don't hold anything back, go all out\all in. (Cameron)

That it's okay to have bad days/ weeks. The only thing that matters to God is that you tried your hardest. Don't beat yourself up about it. Work hard but don't run faster than you have strength. (Amy)

I wish I had better understood that God really trusts us a lot. (Clark)
That I didn't need to carry around 15 Books of Mormon and a Preach my Gospel everywhere I went, that would have saved me a lot of shoulder and back pain. (Annie)
Spend as much time as you can becoming comfortable talking to people. Being a missionary is awkward, it gets way easier once you are spending more time teaching than being awkward on doorsteps. (Dallin)
Any advice/testimony for pre-missionaries called to Federal Way?
Missions change lives. Yours and others. If you are going to serve do it fully and never half way. It is the greatest thing you will ever do. (Gavin)
Trust the Lord no matter how hard it may be. He knows what is best and he knows what will make you happy. Do not ignore the promptings you get, because it really will make a difference in how you serve. Build a good relationship with your companions so you both can work hard with the spirit of the Lord. Do not forget that you are a child of God, even when the world tries to tell you otherwise. Hold on to your testimony, and share it to everyone you come across, it will make it stronger. Study the life of Jesus Christ, and your relationship with him will grow. Read the Book of Mormon daily, so as you testify it will come from your heart. That helped me so much, and now I cannot deny the truth.  (Madison)
Read the scriptures. Start now to make reading the Book of Mormon a daily habit. Also, read the New Testament. Knowledge of these 2 books helped me help more investigators. Knowing the stories helps you apply them to your life and to the lives of those around you. (Rachel)
Be who you are because God made you that way for a purpose. There will be someone that will connect with YOU not a perfect version of you. Don't be afraid to be vulnerable and real. (Amy)
Be a missionary now! It will help you know how to help other members be missionaries. (Clark)
Find Skirts with pockets in them. Buy clothes that are easy to move around in, you will be surprised at the random acts of service you can perform. (Annie)
Work on being a person that can call on the spirit to help you. Knowledge and eloquence help, but without you and the spirit you bring they hold little value. People won't remember what you said, they will remember what you made them feel. If that is the spirit, you will never have to worry if your time was effectively spent. (Dallin)
What was a funny language mistake?
This was a friend's, but he told the investigators that Jesus Christ milked his apostles instead if ordained them. The words are very similar in Spanish. (Rachel)
I served English-speaking but one of the missionaries went around telling everyone "Como se dice" because he thought that meant "How are you". (Clark)
I spoke English, but we had Spanish missionaries. It was fun when people we'd talk to would pretend not to speak English, and their facade would break down as we asked questions. They go from not understanding English to answering complicated questions. (Dallin)