Free resources about the Washington Federal Way Mission:
*Other Mission Pages: Washington LDS Missions.
---
---
Federal Way Mission Address
Here's a recent address for the Federal Way Mission. We try to keep this information up to date, but it's a good idea to check the address with several sources, including your mission packet or the mission office.
WA-Fed Way Mission
23175 224th Place SE suite E
Maple Valley, WA 98038
Phone Number: 1-425-413-0769
Mission President: President Sterling A. Rasmussen
Federal Way Mission Map
Here's a link to the mission map for the Federal Way Mission (LDS). To access the official LDS.org map for the Federal Way Mission:
Log into your LDS account here.
Click here.
Videos with Federal Way RMs
Here are in-depth YouTube video interviews with returned missionaries from the Federal Way Mission.  We interview hundreds of returned missionaries each year, so check back regularly to see new RM interviews.
YouTube Videos about Washington
Here are LDS-friendly educational videos about Washington. We scoured YouTube to find the best quality videos about Washington, that are free from inappropriate music, immodesty and profanity.
Federal Way Missionary Blogs
Here's a list of LDS missionary blogs for the Federal Way Mission. This list includes the missionary's name, URL and when their blog was updated.
*Send your missionary a gift (mission-specific shirts, ties, Christmas stockings/ornaments, pillowcases, etc.)
Federal Way Mission Groups
Here are Federal Way Mission Groups- for LDS missionary moms, returned missionaries, mission presidents and other alumni of the Federal Way Mission.
Federal Way Mission T-Shirts
Here are T-shirts for the Washington Federal Way Mission!
Shirt designs include Federal Way Mission logo/emblem shirts and Called to Serve shirts. The shirts make great gifts for pre-missionaries, returned missionaries and missionaries currently serving. LDS Mission shirts come in all sizes: Small, Medium, Large, Extra Large, up to 4XL.  The mission designs are printed on white shirts and are shipped to you.
*Simply click on a shirt design to view the details and submit an order. The designs on mission t-shirts may also be printed on other LDS mission gifts, including: Federal Way missionary aprons, Christmas stockings, ties, pillow cases, teddy bears and Christmas ornaments.
*Click here to browse Federal Way Mission gifts
---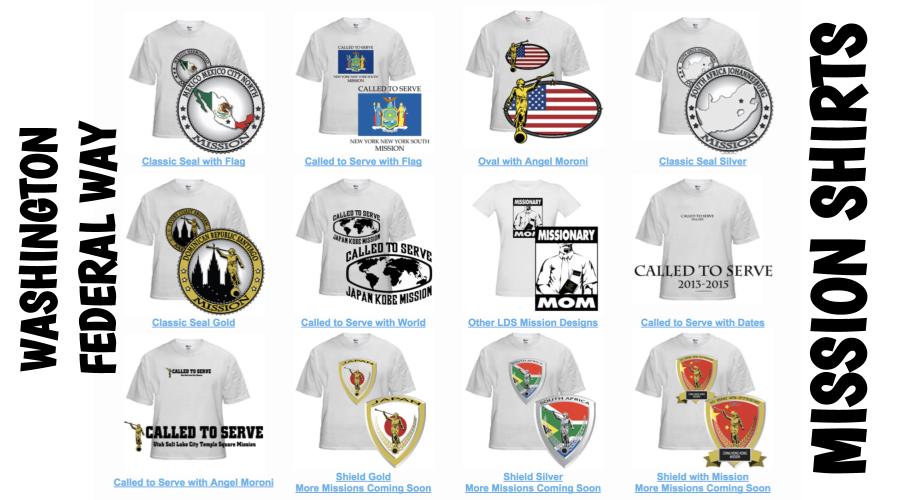 ---
Federal Way Mission Presidents
Here's a list of current and past Mission Presidents of the Federal Way Mission.
2016-2019, Sterling A. Rasmussen
2013-2016, Robert Irvin Eaton
Washington LDS Statistics (2015)
Church Membership: 282,356
Missions: 7
Temples: 3
Congregations: 549
Family History Centers: 79
Helpful Articles about Washington
Federal Way Missionary Survey
Here are survey responses from Washington Federal Way RMs, to give you a snapshot into what it's like to live in the mission.
*Click here to take a survey to help pre-missionaries going to your mission.
When did you serve?
What were some favorite foods?
I had seafood a couple times. Delicious. (Clark)
What was a funny experience?
We were teaching a family in their home and their four year-old son made a loud noise in the kitchen. We went in there to discover he had trapped himself on top of the refrigerator and knocked some things down. (Clark)
What was a crazy experience?
A drunk man asked us to take him to the church building one night. We had to walk along a busy road for a mile or two to get there. He couldn't keep his balance well enough to stay out of the street. Eventually he collapsed beneath a tree and we called 911. (Clark)
What was a spiritual experience?
Isaac Adu's baptism was special. When this sweet elderly man came up out of the water, he looked at everyone and, with a thick Ghanaian accent, said something like, "I never knew Jesus Christ had His own church on the earth. Thank you." There was a powerful feeling there. (Clark)
What are some interesting facts about the Federal Way Mission?
It borders the Puget Sound and contains Mt. Rainier. It is one of the most ethnically diverse areas in the nation. (Clark)
What was the weather like?
It is dark and rainy for at least half of the year but summers are sunny. (Clark)
Any things you really like about the area/people?
They were kind and loving. People of so many different backgrounds helped me see the universal nature of the Gospel of Jesus Christ. (Clark)
Any packing/clothing advice?
I didn't use my umbrella or rain boots even once. If you go to a rainy place, just expect to get wet, even if you're in a car. (Clark)
What blessings did you receive from serving a mission?
I grew to know God more personally and I feel His trust for me. I can sense His guidance in my life. (Clark)
What are some skills you gained?
Listening, planning, setting goals, public speaking. (Clark)
What do you wish you knew/did at the beginning of your mission?
I wish I had better understood that God really trusts us a lot. (Clark)
Any advice/testimony for pre-missionaries called to Federal Way?
Be a missionary now! It will help you know how to help other members be missionaries. (Clark)
What was a funny language mistake?
I served English-speaking but one of the missionaries went around telling everyone "Como se dice" because he thought that meant "How are you". (Clark)