Misión Venezuela Caracas Oeste
Here are free resources about the Venezuela Caracas West Mission:
Aquí están algunos recursos gratuitos sobre la Misión Venezuela Caracas Oeste:
*Other Mission Pages: Venezuela LDS Missions.
---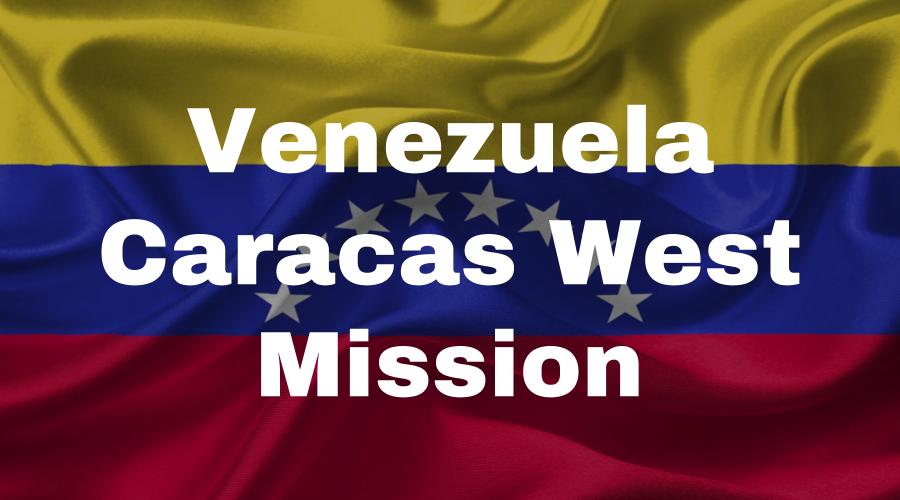 ---
Venezuela Caracas West Mission Address
Here's a recent address for the Venezuela Caracas West Mission. We try to keep this information up to date, but it's a good idea to check the mission address with several sources, including your mission packet or the mission office.
This mission does not currently exist.
Phone Number: N/A
Mission President: N/A
Venezuela Caracas West Mission Map
Here's a link to the mission map for the Venezuela Caracas West Mission (LDS). To access the official, up-to-date LDS.org map for the Caracas West Mission
*Mission does not currently exist. (Browse LDS.org mission maps)
Videos with Venezuela Caracas West RMs
Here are in-depth YouTube video interviews with returned missionaries from the Venezuela Caracas West Mission.  We interview hundreds of returned missionaries each year, so check back regularly to see new RM interviews. Coming soon..
LDS-Friendly Videos about Venezuela
Here are LDS-friendly educational videos about Venezuela. We scoured YouTube to find the best quality videos about Venezuela, that are free from inappropriate music, immodesty and profanity.
Venezuela Caracas West Missionary Blogs
Here's a list of LDS missionary blogs for the Venezuela Caracas West Mission. This blog list includes the missionary's name, URL and when their mission blog was updated.
*Send your missionary a gift (mission-specific shirts, ties, Christmas stockings/ornaments, pillowcases, etc.)
Venezuela Caracas West Mission Groups
Here are Venezuela Caracas West Mission Groups- for LDS missionary moms, returned missionaries, mission presidents and other alumni of the mission.
Venezuela Caracas West Mission Group (256 members)
Venezuela Caracas West Mission T-Shirts
Here are T-shirts for the Venezuela Caracas West Mission!
Shirt designs include Venezuela Caracas West Mission logo/emblem shirts and Called to Serve shirts. The shirts make great gifts for pre-missionaries, returned missionaries and missionaries currently serving. LDS Mission shirts come in all sizes: Small, Medium, Large, Extra Large, up to 4XL.  The mission designs are printed on white shirts and are shipped to you.
*Simply click on a shirt design to view the details and submit an order. The designs on mission t-shirts may also be printed on other LDS mission gifts, including: Caracas West missionary aprons, Christmas stockings, ties, pillow cases, teddy bears and Christmas ornaments.
*Click here to browse Caracas Mission gifts
---
---
Venezuela Caracas West Mission Presidents
Here's a list of current and past Mission Presidents of the Venezuela Caracas West LDS Mission.
1994-1997, N. Gaylon Hopkins
1991-1994, Charles Hunter
1991, Venezuela Caracas Mission divided to create Caracas East and Caracas West missions.
Venezuela LDS Statistics (2016)
Church Membership: 165,527
Missions: 4
Temples: 1
Congregations: 256
Family History Centers: 49
Helpful Articles about Venezuela
Venezuela Caracas West Missionary Survey
Here are survey responses from Venezuela Caracas West RMs, to give you a snapshot into what it's like to live in the mission.
*Click here to take a survey to help pre-missionaries going to your mission.
When did you serve?
1992-1994 (Steve)
1989-1991 (Rob)
1992-1993 (Patti)
1991-1993 (Alfredo)
What areas did you serve in?
I served in Maracay, Valencia, Barquisimeto, Calabozo, Barinas, and some others I can't recall. I actually never served in Caracas. (Steve)
La Guaira, San Juan de los Morros, Maracay, Ocumare del Tuy, El Tigre, Bonaire, Aruba. (Rob)
La Victoria, San Antonio de los Altos, San Felipe, and Araure/Acarigua. (Patti)
Guanare, acarigua, Caracas, Maracay , Barquisimeto, Valencia. (Alfredo)
What were some favorite foods?
Empanadas, arepas, Pabellon (sp?), Rico Malt. (Steve)
Arepa, Empanada, Mango, Parchita (Passion Fruit), Malta Polar. (Rob)
Hallacas, cachapas, arepas, black beans, eggplant stew, potato salad with beets in it, apple-tasting bananas, chicha. (Patti)
Todas porque soy venezolano , pero los espaguetis con caraotas y huevos en guanare fueron sensación. (Alfredo)
What was a funny experience?
…worrying about being thrown into a mud bath by a crazed bunch of guys during carnival. (Patti)
Cuando a Elder maples se le cayó el pie por la ranura del Metro de Caracas y salto como una liebre para zafarse. (Alfredo)
What was a crazy experience?
One time while traveling on a bus to a transfer, the bus collided head-on with a pick up truck. The driver of the pick up died at the scene. (Steve)
We were spinning tops in our apartment, and a guy from 1 floor below knocked the door, pointed a gun at 6 Elders, and asked us to stop all of the noise. It worked and we stopped spinning tops for at least a week or so. 😉 (Rob)
…missing the last bus in a town 45 minutes from home and being followed by a wierdo. (Patti)
Trabajar en gato negro. (Alfredo)
What was a spiritual experience?
I was prompted to go down two floors and knock the first apartment to the right. My companion urged me to skip knocking that last door so we would have more time to get something to eat (before returning to our apartment). I convinced him that it would be our last door. After all, what could knocking one last door hurt? We baptized Manuel and Jenny (a celestial family) several months later there in Ocumare del Tuy. (Rob)
…being asked to be the main speaker in Sacrament meeting 5 minutes before the meeting, when I still barely knew Spanish. I was not only given a great talk to give, by the Spirit, but I was given peace and the language skills to deliver it, and the Spirit in the meeting was so strong that most all the members had tears in their eyes. It was amazing… (Patti)
Ver a Elder piña cantando. (Alfredo)
What are some interesting facts about the Venezuela Caracas West Mission?
The mission in Venezuela included the islands of Aruba, Cumana, and Bonaire. I was blessed to finish my mission by serving 2 months in Bonaire and 2 months in Aruba. I was able to pick up Papiamento (a dialect spoken in the Antilles) while there by reading the Book of Mormon in Papiamento. (Rob)
…it rained so hard sometimes that umbrellas didn't help… the rain splashed so hard when it hit the ground that it got on the part of me the umbrella was trying to cover… or it would just rain sideways! …sometimes you could see the ground going by through the rusted out holes in the bus' floors. …how almost everyone would paint their houses at Christmas time. …how there were often no street signs, and you would have to memorize landmarks or the color of a house (which might change at Christmas time) to figure out how to get somewhere. …how many nativity scenes were all over the place at Christmas time. …sweating on top of your sheets at night to get to sleep. (Patti)
Todo todo todo. (Alfredo)
What was the weather like?
The weather was nice. I never wore a jacket, even during the rainy season. None of the places I lived had heat or A/C either, but I survived just fine. (Steve)
Dry one minute / Pouring cats and dogs the next / Rinse and repeat… (Rob)
…hot and humid most of the time. Some days could be 120 in the shade. (Patti)
Nice. (Alfredo)
Any things you really like about the area/people?
The people were very humble, giving and loving, even if they were not interested in hearing about the Gospel. (Steve)
Venezuelans were often curious about my stature (6'7″), so I got in a lot of doors just out of their curiosity. (Rob)
…they knew how to take joy in the simple things. …even when they were very poor, they always bathed and were clean and smelled good and their clothing was always clean and even pressed. …they were always willing to share whatever they had with us. (Patti)
Gente humilde y sencilla. (Alfredo)
Any packing/clothing advice?
Don't bother taking a suit, unless specifically instructed to. I never had an occasion to wear a jacket of any kind. (Steve)
Take a magic marker to the outside of your luggage, and make sure to mark it up in such a way that the luggage has no residual value to anyone. Do this, and you may actually go and return with the same luggage. My apartment was robbed and my luggage was taken during my first week in the field. Yes. It happened during my first week in Caracas. LOL. (Rob)
…take things that wash well by hand and will dry on a line. …take thin towels, because the heavy ones just mildew and stink in the humidity! (Patti)
No traigas NADA Pal frio. (Alfredo)
What blessings did you receive from serving a mission?
My testimony was strengthened and I learned to love and serve the people of Venezuela. (Steve)
All of the blessings promised for faithful mission service have come true for me. I have been blessed with a family that is sealed for time and all eternity in the temple. I have 7 children and work at BYU. My life has been blessed far beyond anything I deserve. (Rob)
…learning how awesome it was to have the Spirit with me all the time. …becoming fluent in a second language. …meeting wonderful people who will be special in my heart forever. (Patti)
Una buena vida. (Alfredo)
What are some skills you gained?
I learned Spanish, for one thing! (Steve)
I speak and write fluent Spanish (and some Papiamento). I lost a lot of weight, and I wish I could do that again. I learned to overcome my fear of speaking in public. I know how to open my mouth and share the gospel better now. (Rob)
…learning how to be at ease talking to strangers and make them feel comfortable. …trusting the Spirit in taking leaps of faith. …new recipes. …exercising new kinds of patience I didn't know about before. (Patti)
Planificar cada dia. (Alfredo)
What do you wish you knew/did at the beginning of your mission?
I wish I had known better how to turn situations over to the Lord and allow for Him to bless me with success. Later in my mission, I realized that finding, teaching, and baptizing folks wasn't about getting "notches on your belt;" rather, it was truly about building the Lord's kingdom on the earth. Once I better understood whose Church it was and better knew He who leads the Church, then I started witnessing more miracles all around me (that weren't because of me). I had to humble myself and learn to "let go" and let the Lord work his miracles. (Rob)
…Spanish. (Patti)
Como hablar con la gente. (Alfredo)
Any advice/testimony for pre-missionaries going to Caracas West?
Don't let the incessant tauntings of the people get you down. Many will say "go home gringo" and such, but recognize that similar things have been done to prophets of old and even current prophets. Why should you be exempt? 😉 (Rob)
Trust that the Lord will take care of you, if you will do your part, keep ALL the mission rules, and be willing to open your mouth to share whenever asked to do so. If you are doing the best you can, the Lord will provide. And never underestimate the power of your righteous prayers which are given on behalf of OTHERS in the range of your influence. Also, love your companions, even if they sometimes don't act like they love you… charity never faileth, in the long run. (Patti)
Nunca critiques a la gente por su manera de vivir, todos somos productos del medio ambiente. (Alfredo)
What was a funny language mistake?
One time in a restaurant my companion ordered a cherry drink, or at least he thought he did. He asked for a "cerveza" after which the time waitress walked off. I asked him what he was doing and when he realized he should have said "cereza", he ran over to her to correct his order. Also, one time a family was asking me if I liked fish. I responded in Spanish, "Si, a mi me gusta el pecado." Well, "pecado" is Spanish for "sin" while "pescado" is Spanish for fish that has been prepared to eat. So what I had said was, "Yes, I like sin." We all had a good laugh at my expense. (Steve)
A sister missionary got up and said "El Obispo me embarazo" while trying to say "the Bishop embarrassed me." The congregation was like "oooo, and aaaah." The verb embarazar basically translates to empregnate. (Rob)
Using the wrong word for comb, in a store, loud enough for many to hear… you'll have to look it up, if you don't know! (Patti)
ES ESTA ENCUESTA SOLO PARA AMERICANOS?? (Afredo)