Free resources about the Utah St. George Mission:
*Other Mission Pages: Utah LDS Missions.
*Learn about what living in Utah is like.
---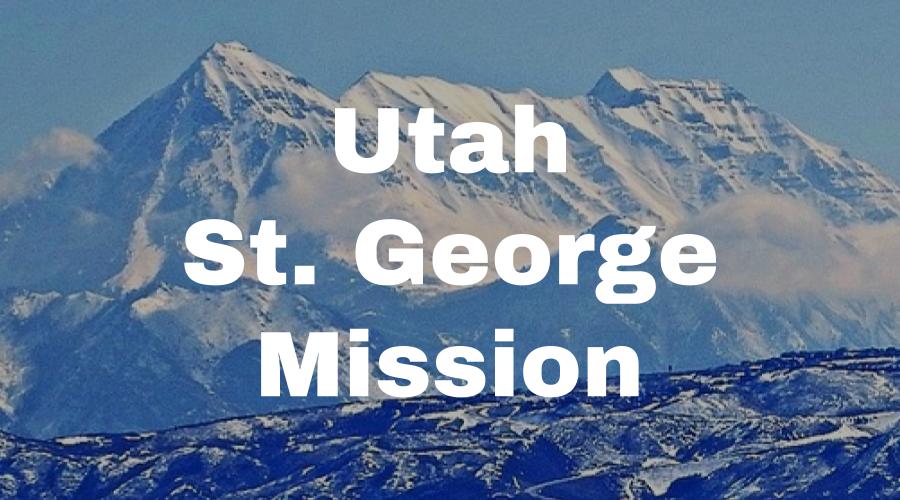 ---
Utah St. George Mission Address
Here's a recent address for the St. George Mission. We try to keep this information up to date, but it's a good idea to check the address with several sources, including your mission packet or the mission office.
Utah St. George Mission
881 S River Rd
St George UT 84790
USA
Phone Number: 1-435-628-2552
Mission President: President D. Zackary Smith
Utah St. George Mission Map
Here's a link to the mission map for the St. George Mission (LDS). To access the official LDS.org map for the St. George Mission:
Log into your LDS account here.
Click here.
Videos with St. George RMs
Here are in-depth YouTube video interviews with returned missionaries from the St. George Mission.  We interview hundreds of returned missionaries each year, so check back regularly to see new RM interviews.
LDS-Friendly Videos about Utah
Here are LDS-friendly educational videos about Utah. We scoured YouTube to find the best quality videos about Utah, that are free from inappropriate music, immodesty and profanity.
Utah St. George Missionary Blogs
Here's a list of LDS missionary blogs for the St. George Mission. This list includes the missionary's name, URL and when their blog was updated.
*Send your missionary a gift (mission-specific shirts, ties, Christmas stockings/ornaments, pillowcases, etc.)
Utah St. George Mission Groups
Here are St. George Mission Groups- for LDS missionary moms, returned missionaries, mission presidents and other alumni of the St. George Mission.
Utah St. George Mission Facebook Group (20 members)
St. George Mission Moms and Friends (LDS) Group (17 members)
Utah St. George Mission T-Shirts
Here are T-shirts for the Utah St. George Mission!
Shirt designs include St. George Mission logo/emblem shirts and Called to Serve shirts. The shirts make great gifts for pre-missionaries, returned missionaries and missionaries currently serving. LDS Mission shirts come in all sizes: Small, Medium, Large, Extra Large, up to 4XL.  The mission designs are printed on white shirts and are shipped to you.
*Simply click on a shirt design to view the details and submit an order. The designs on mission t-shirts may also be printed on other LDS mission gifts, including: St. George missionary aprons, Christmas stockings, ties, pillow cases, teddy bears and Christmas ornaments.
*Click here to browse St. George Mission gifts
---
---
Utah St. George Mission Presidents
Here's a list of current and past Mission Presidents of the St. George Mission.
2016-2019, D. Zackary Smith
2013-2016, John R. Center
2010-2013, Keith G. Leonard
Utah LDS Statistics (2016)
Church Membership: 2,040,178
Missions: 10
Temples: 16
Congregations: 5,033
Family History Centers: 171
Helpful Articles about Utah
Utah St. George Missionary Survey
Here are survey responses from St. George RMs, to give you a snapshot into what it's like to live in the mission.
*Click here to take a survey to help pre-missionaries going to your mission.
When did you serve?
2009-2011 (Meagan)
2010-2012 (Tia)
2013-2015 (Mosiah)
2013-2015 (Jacqueline)
2013-2015 (Aidan)
2014-2015 (Alexandra)
2013-2015 (Matthew)
2013-2014 (Belen)
2012-2013 (Sarai)
2012-2014 (Drew)
2012-2014 (Morgan)
Which areas did you serve in?
What were some favorite foods?
Ice cream, pretzel jello, potato bar, Cafe Rio and Iceberg. (Meagan)
Cafe Rio and Jimmy Johns were our staple. (Tia)
I had loads of Hispanic foods, something I never really had back home. (Jacqueline)
Shake n' Bake, Rabbit Steak and potatoes All kinds of Mexican. (Aidan)
Hispanic food. (Alexandra)
Deer. (Matthew)
Navajo tacos, pad thai noodles, and Nielsen's Frozen Custard. (Belen)
Iranian lamb sausages, jalapeno fried fish, Kneaders sandwiches, and pretty much everything I was served to eat! (Sarai)
Hawaiian food, spaghetti, lasagna, chop suey. (Drew)
Anything really. I mostly enjoyed the families we visited. The food was kind of a nuisance around the holidays. (Morgan)
What was a funny experience?
One time we knocked on a door to an apartment where it was clear there had been drinking going on. We heard a guy say " who is it?" So we said " the sister missionaries" he then said jokingly " we don't allow missionaries here." He opened it and realized we were serious and said " oh you're serious." We went on to talk to him. Found out he is an inactive member and when asked why he doesn't come to church he said " it's not my taste of tea" no " cup" "taste". (Meagan)
I loved riding bikes as a girl. (Tia)
I feel trying to jump. (Mosiah)
My companion and I were knocking on a door and we heard a dog barking. My companion immediately hid behind me. She said that I could protect her 😂😂😂😂. A man came to the door and shouted at the dog as if it was vicious. I was kinda, ok, maybe we should back away. He opened the door and the dog barked and ran towards us. My companion was at the bottom step already and the dog came straight at me and lifted up his leg and peed on my foot. Yep…we laughed. Luckily, one of our Ward Mission Leaders lived across from this house, so we went there to wash my foot. (Jacqueline)
All the Hispanics knowing my companion was, "The Elder that touched his eyes" after eating a really hot chile. (Aidan)
When my companion and I were pretending to teach one another and end up talking about random stuff. (Alexandra)
Too many to even decide on just one! … Seriously. (Belen)
It was a new area for both me and my companion. The first day, we took some time to walk around and explore. As we were crossing the street, a big Suburban suddenly turned toward us and came to an abrupt halt. The driver's side window rolled down. "Sisters! Thank goodness I found you! The boys I babysit, they want to get baptized! What do I do?!" What a way to start off a new area! (Sarai)
I was doing service one morning before district training meeting and so we grabbed out dress clothes and drove to the meeting to get changed there. Once we were there, I realized I had forgotten my white shirt and had to go through the meeting in a suit and t-shirt. (Drew)
Setting up my Greenie's first dinner with a member. Boiled cow tongue. (Morgan)
What was a crazy experience?
I was driving down a hill when all of the sudden a white cat came out of nowhere and I nearly hit it. My companion screeched at the top of her lungs and nearly gave me a heart attack. (Meagan)
Haha, Utah danger…I'd say the members who were so into deep doctrine that they've gone crazy. (Tia)
My companion and I planned to visit a couple (part-member). So on the day we were supposed to go, we got held back by another family appointment. We were like an hour late. As we approached the way towards their house, we saw police cars. It was dark and all we saw was a big rock with traffic. We went to the chapel instead to their ward Christmas party. The Bishop's wife approached us and said that there was a rock slide and that the couple died. We were just stunned because we were supposed to be in that house at the time of the rockslide (landslide). We were sad that they were gone, but also felt at peace. 😭😭😭😭 (Jacqueline)
Two prostitutes tried to get us to hang out with them. (Aidan)
My car accident. (Alexandra)
Visiting Goblin Valley on P-Day. (Matthew)
Got bit by a dog and ended up in the emergency room. (Belen)
A few doors we had knocked on had been rather more abrupt and rude than was usual in Utah. Finally, someone explained what was going on. Apparently, a few weeks before, there had been a couple of young men knocking on doors. They had claimed they were fundraising, but they were paying too much attention to the kids, and their parents got worried that they were kidnappers. It took a little while before we weren't seen as a potential threat. (Sarai)
There was a lady who was hiding her and her kid from her ex and we were trying to help her get away from a new guy who was trying to force his way into her family, who was a recent convert of another set of missionaries. It was surreal. (Drew)
A dog snuck up on my companion and tried to come after us, but we scared him off. There isn't really too much danger in this mission. (Morgan)
What was a spiritual experience? 
We had a mom and daughter getting baptized the same day and the mom had just gone and it was her daughter's turn. Apparently she was nervous and the mom looked at her and said she knew this was right and she didn't doubt what we had taught her and neither should he daughter. So her daughter decided to trust her mom and went ahead with the baptism too. (Meagan)
Personal, but I'd say all the baptisms and member help. (Tia)
Activated a family and helped them to go to the temple. (Mosiah)
There isn't a day that is not spiritual. 😭 It was my first area and I was a pretty fresh missionary. My companion and I drove by a couple houses and I had a strong impression to go by a certain house. I saw their names on the mailbox. I let it slide. We went to church and I asked the Ward Mission Leader. He informed me that the couple were elderly and part-member. He said we should definitely go. The week came and we still didn't go and I didn't tell my companion, because I was scared. We went to church the following Sunday and the Ward Mission Leader asked if we went by. I said no. He said, "Just so you know, the wife passed away this past week." My heart shattered and I was so angry at myself. Since then, I promised Heavenly Father that I will obey the promptings and that I will open my mouth and share His gospel. It was something I carried throughout my mission and when someone says someone is not worth visiting, they are probably the ones that needed most. It was a heart-breaking experience that led me to grow so much. (Jacqueline)
Too many to recount. There were many times where I was lead to go somewhere or say something. Many tears of joy were shed between the people I worked with. (Aidan)
When I was able to do the first lesson without seeing my trainer guiding me. I just knew it was the spirit telling me what to say and not to worry. (Alexandra)
All of it. (Matthew)
I had some incredible tender mercies from my Heavenly Father wherein I ended up teaching people I knew from before the mission and had the opportunity to watch them be baptized. There was a reason why my mission started 20 minutes away from my hometown. (Belen)
We had been teaching a family for a few weeks and had grown really close to them. Then we taught the Word of Wisdom, and both parents reacted really badly. They had an attitude of "How DARE God ask me to do this?" In the middle of his parents' anger, their 13 year old boy was trying desperately to make things OK again. When it became obvious that there were no loop holes, that we weren't going to say coffee was OK, he ran to the kitchen and brought back his favorite drink. Arizona iced tea. He held out the can in front of us and begged us to take it, to look at the label. "Is this against the Word of Wisdom?" Somewhat regretfully we told him it was. Then, in front of his angry and disapproving parents, this boy drew himself up to his full height. "Then I'm not going to drink it anymore, because I know Joseph Smith was a prophet!" (Sarai)
Every day was spiritual. Everything you do, you rely on the Spirit if you let it. But bearing testimony and having the Spirit confirm to you what you say is true, probably most of all. (Drew)
I still remember how it felt to really truly ask about The Book of Mormon in prayer the way Moroni prescribed. I had done it before, but it was at that moment I NEEDED to know if it was true. I hadn't ever been sincere enough I suppose until that moment in Pineview. Spanish at the Carpenter's house. (Morgan)
What are some interesting facts about the St. George Mission?
I served in the Visitor Center of the St. George Temple and there is so much to learn about. There are 4 sites that missionaries serve at. The Visitor Center, the Brigham Young Winter Home, the Jacob Hamblin Home and the Tabernacle. St. George, the city, is actually rather small but is surrounded by other parts such as Washington, Washington Fields, Bloomington and others. Plus, serving in Utah means members will feed you and pay for things like they feel they owe it to you. We jokingly said that if you're homeless and need anything in Utah just slap on a missionary tag and you're set. (Meagan)
The Visitor's Center! Our district only had one set of elders. Lots of girl drama, but so fun. Oh, and if you leave an old companion you get to see her all the time at the Visitor's Center, so transfers aren't so hard. (Tia)
The people are awesome. President and Sister Center rock and love you. There are NO dead areas. There is ALWAYS work! (Jacqueline)
Largest mission in Utah. There are more pigs in the Circle 4 farms near Beaver, Utah than people in the state of Utah Winters can get down to -30 degrees in some areas. Summers can get up to 120 degrees in some area (not all in St. George). Only 25 percent of Utah are active members. 50% are members, and 50% of those are inactive. (Aidan)
The visitor center and the history it's so awesome !!! (Alexandra)
It's the best. ( Matthew)
It's hot, it's cold, it's everything in between. We are the second highest baptizing mission in the United States. We have an amazing visitors' center full of the best sister missionaries! Our missionaries are incredibly diverse and come from all over the world. The members are very giving and caring. Forty pound mission… 'nough said. (Belen)
At least while I was there, we were split, demographically speaking, in thirds. A third of the population was active, a third less-active, and a third were not members. We were one of the highest baptizing English speaking missions. (Sarai)
It has multiple national parks, you cover stakes at a time, out of every 3 people, one is active, one is less active and one is not a member. (Drew)
It is the largest Utah Mission- there are roughly 300,000 people in it- 200,000 are members and half of those are less active. This leaves for a lot of work to do and a staggering amount of reactivating and baptizing- in my opinion more than anywhere else in the US, that's for sure. (Morgan)
What was the weather like?
It's hot in the summer, 90s-100s. Winter is pretty cool. It snowed just a little bit once but generally it's just chilly outside. (Meagan)
It's Saint George, I'll let you do the math. (Tia)
Hot in the summer, cold in the winter. (Mosiah)
It has four seasons, so expect it! Enjoy each weather and work at it. (Jacqueline)
It was either really hot or really cold. Spring and Fall practically don't exist. Those seasons are just really short. It is also very dry and dusty. St. George is warm year round. The coldest it usually gets is 40 degrees in the middle of winter. Anything north of Hurricane is cold in the winter. (Aidan)
It was really hot !!! 120F !! Summer time. (Alexandra)
Hot and sweaty. (Matthew)
Hot, cold, everything in between. Snow, blazing heat, but very little rain. (Belen)
In St. George, it gets cold in the winter, but mostly doesn't snow. Out of St. George proper, you can get lots of snow. In the summer, it is HOT! 115-120 (Sarai)
Windy. It's dry and can get really hot in the summer if you're near Arizona, but its windy everywhere. (Drew)
Hot in the summer, especially in the southern part of the mission. I spent most of my time in St. George itself, but when I was in Delta it was -20 the entire winter. It was my first encounter with the danger of frostbite for me (being from Southern California). (Morgan)
Any things you really like about the area/people?
That it had a Visitors Center and other cool sites that people can learn about. Also, just serving with that many sisters around as well as senior couples really helped me to accumulate awesome teaching techniques. (Meagan)
Does anyone ever not love it? (Tia)
The weather, I love snow. (Mosiah)
The people are so hospitable. I really loved everyone. There were a lot of rejections, but we invited ourselves to eat with them. It was always a yes. They are so great. I loved all my companions. We each had differences and I think that's what helped us to grow. (Jacqueline)
There are many small town in the middle of the desert. That is both really good and really bad. The people are generally very sincere and straightforward (a very cowboy feel). But small towns also lead to gossip problems and hard feelings against neighbors. A lot of our work was less-active work due to hurt feelings/lack of testimony. (Aidan)
The people are super nice and friendly/ I like the place because I was able to feel the spirit everyday. Really strong. (Alexandra)
How well I was taken care of, and how nice the people are. (Matthew)
The members were our greatest resource as missionaries because of their love for the Gospel. (Belen)
I loved that in so many cases, the hardest of the work was done by the members. All those we taught had member friends. These were friends who were willing to pick someone up for church, read scriptures with them, answer questions when we were gone. It really taught me how to be a better member missionary. I also loved desert storms! (Sarai)
People in small towns are really great. You can quickly feel like part of the community family. The national parks are beautiful and its great to spend Preparation days in the mountains. Nearly everyone, non member and less active also, are at least familiar with missionaries so they are more willing to speak with us. (Drew)
There are so many wonderful members and interesting people, in general- it will blow you away if you get to serve there. Just watch out for those dixie college girls- they're beautiful, haha. Not that it was a problem while I was there, I just see how it could've been. (Morgan)
Any packing/clothing advice?
Do buy a warm winter jacket because you may be in a walking area or have to walk around your area after being dropped of by a member when you don't have the car that day. If you're a sister, chances are you'll serve in the Visitors Center so nicer outfits are recommended for those days you serve there. Full proc day is the day you dress more comfy. As always with everywhere, sturdy shoes are a must. (Meagan)
Look cute. No matter what you wear people will call your mission president. (Tia)
Pack what you REALLY NEED, try not to accumulate stuff during your mission. (Mosiah)
Yea, don't pack a lot of things! Chances are, you'll get what you could've left behind from people in your area. (Jacqueline)
Bring a decent dressy snow jacket and bring mostly short sleeve shirts. It is much too hot to wear long sleeves during most of the year. (Aidan)
Cute comfortable clothes. (Alexandra)
Short sleeves, light color pants. (Matthew)
Don't take too much clothing. Not only do you trade among missionaries (especially sisters) but the members will buy you anything you need… trust me. They are so generous! (Belen)
Elders: pack what you need to be outside for hours in -15 cold. Sisters: pack skirts that you can comfortably sit on the floor in. Bright colors, and not much black! (Sarai)
A solid winter coat that blocks wind and insulates. Thermal underwear will do you wonders. And as breathable shirt and slacks as you can find for the summer. (Drew)
Don't bring corban garments! Bring lots of short-sleeved shirts and a few long sleeves for the cold northern winters. Make sure you size your shirts to you, unless you're happy looking like a box in a whale's shirt. Also, get some solid shoes. Get used to them. I recommend Eccos, because of their warranty- free replacements basically. (Morgan)
What blessings did you receive from serving a mission?
I learned to be more independent and responsible. I learned to work with people from all over and love people instantly because I am able to learn to see what the Savior does in each of us. (Meagan)
What blessings didn't I receive? (Tia)
All members of my family are members of the church now. (Mosiah)
A testimony of charity and being able to face a lot of my fears. (Jacqueline)
I was able to experience a sealing after my mission of people I taught. I'm glad I was able to be part of that mission. (Alexandra)
Too many to list here. (Matthew)
I have a greater eternal perspective when it comes to life. My testimony of my Savior Jesus Christ increased and I developed amazing habits that I continue to apply today. Of course, I gained eternal friends and an amazing mission family. (Belen)
Before my mission, I didn't really like people. I was quite an introvert. I didn't know how to relate. But on my mission, I learned to see people for who they are, and to love them. I know a lot of people might think of blessings for them. But for me the greatest blessing of my mission was that my life got to intersect with so many wonderful people. That memory is the most cherished blessing of my mission. (Sarai)
Many friendships I hold dear. People I consider a second family. Decision about what I want to study and become next in life. And a much deeper understanding and testimony of the atonement. (Drew)
I couldn't list them all, but the main things are: a rock solid foundation in Christ the Lord, a confirmation of the veracity of The Book of Mormon and therefore Joseph Smith/The Church as a whole, and finally cherished friendships and associations that bless me still. (Morgan)
What are some skills you gained?
I learned to be a better communicator and not to take rejection as an attack on me personally. I also learned that mistakes happen and to be honest and responsible when I needed help fixing something I did wrong. (Meagan)
Leadership, lots of sister leadership opportunities. (Tia)
Teaching skills. (Mosiah)
How to really study and ponder the scriptures, and then apply it. #PRPWP (Jacqueline)
The ability to manage missionary work while working with 1-2 Stakes at a time. Time management, Planning, Better studying, Interpersonal skills, Ability to care for all those around me, Teaching, Leadership. (Aidan)
So many that I know I still have to work on some but patience and love is the most one that I gained in my mission. (Alexandra)
Too many to count. (Matthew)
Being on time. Goal setting. Talking to everyone and being able to relate to them. Speaking. Communicating effectively. (Belen)
My trainer was super organized, and taught me to be as well. I loved it! We could have lessons every half hour and start each one on time! I learned how to relate and talk with people, to be a member missionary, and what is involved in a good lesson. (Sarai)
More easily able to communicate with others and hold a conversation with strangers. Understanding where other people are coming from. Teach at length on nearly any gospel topic. A much greater understanding and appreciation of the gospel and Bible. Less fear of public speaking. Able to tell people things they don't want to hear directly and without apology. (Drew)
Spanish, organization, public speaking, running a time-sensitive meeting, conflict resolution, time management, how to interview, budgeting etc. (Morgan)
What do you wish you knew/did at the beginning of your mission?
That I didn't have to know all there is to know about all the facts in my mission. Facts are great but it's the Spirit that teaches us. And getting lost isn't the end of the world. (Meagan)
Love to talk to strangers on the phone. (Tia)
Know how to have fun and working hard at the same time. (Mosiah)
To follow and understand the Spirit. (Jacqueline)
I needed a much stronger testimony of the gospel principles. Before my mission, I KNEW the information and doctrine, but on my mission, I learned the WHY and the true value of each piece of doctrine. It finally "clicked". (Aidan)
I wouldn't change anything because the mission changed me. (Alexandra)
Don't sweat the small stuff. (Matthew)
Cherish every single moment because the mission goes by incredibly fast. Don't be afraid to write everything to your mission president and be open with him. (Belen)
I wish I had been better at making friends with my companions. Companionship unity is the most important factor in a missionary's success. (Sarai)
Not every companion will be your favorite or easy to get along with. Not every area will be overflowing with potential investigators. Don't let these things deter you from being who you are and the kind of missionary you want to be. Don't just acquiesce and do whatever your companion wants. Some of them want to do nothing. You decide what you'll do. (Drew)
I wish I had known what I know now about the Christ-like attributes. Maybe I would've spent more time trying to develop them. I definitely would've been a more powerful teacher. I also wish I had known how important my converts would be to me, maybe I would've spent more time on them after baptism. And maybe Spanish, because an understanding of the language just allows you to express and connect better with people. (Morgan)
Any advice/testimony for pre-missionaries called to St. George?
Don't sweat it. You will learn all the history you need. Just follow the senior couples around for a bit and you'll be a pro in no time. (Meagan)
Build your routine, pray, read, and help with an open heart. (Mosiah)
Listen and follow the Spirit. Know that Heavenly Father loves you and is always there. Don't let pride win! Every area you go to is where you're supposed to be. Walk, talk and find- there is always someone! (Jacqueline)
Never let your testimony burn out or become casual. Don't focus on yourself, just get to work, even on the hard days. When you push through a challenging day, Heavenly Father is bound to bless you with priceless experience and blessings. Be mature in the gospel. Be mature in your conduct. The more of a "missionary" you are and the less of a "dude", the more work you will find. (Aidan)
Sisters and elders I know that if you were called to serve in the Utah Saint George Mission it's for a reason. You need to seek for that reason. You will have to work harder then what you think. I know this mission was for me. It changed me spiritually and I won't ever go back in my bad habits. (Alexandra)
Make everyday count. It goes by way to fast. Work hard. Be obedient. Follow the Spirit. (Matthew)
Your call is inspired by our Heavenly Father. There is great work to be done and the field is truly white, all ready to harvest, in St. George, UT. Don't be afraid to dream big and set high goals/expectations for yourself. God will help you meet the righteous desires of your heart and you will succeed. Love your companion and treat them like they are THE BEST companion in the world. I promise you they will remain some of your closest friends for the rest of your life. (Belen)
If there is one thing I learned, it is that the Lord places us where we need to be, to make the best difference. We are called where and when we need to be. Have faith in your calling. Have faith in your transfer assignments. You are going where you are most needed, assigned to the companion you need to be with. (Sarai)
It's not going to be easy. Often it will be fun, often it will not be. Sometimes it will be the hardest thing you've ever done and you'll wonder why you ever left your old life at home. Ultimately though I believe if you truly give it your all and hold nothing back, you'll love the experience and hold it dearly in your heart. (Drew)
The Lord called YOU, not a robot of yourself. Be obedient and don't lose your personality- it will come in handy, trust me. Also, sincerity is way more potent than salesmanship. Finally, don't stop planning when you get home- it is a slippery slope that will put you back to where you started before you came home and it starts with little tedious things. (Morgan)
What was a funny language mistake?
I served English but we had a lot of French speaking people so trying to help with French tours and directing was a site to see. Be sure you learn the proper way to say things like  "the bathroom is over here" and "please do not smoke on temple grounds". (Meagan)
I would say..when one of the assistants called me and said what he thought was "How are you" in my language. I told him it meant 'do you wanna fight?' and he said one of the sisters that spoke my home language said it meant how are you. (Jacqueline)
Spanish-English (Talking to my Chilean trainer) I said, "Me gusta jugar con marracas" *should have been, "Me gusta tocar las marracas" In Chilean Spanish, what I apparently said was, "I like to play with prostitutes" I was trying to say, "I like to play the marracas." (Aidan)
Kitchen intend of chicken it happen to me all the time or being "taught" with the French accent.. it was hard. (Alexandra)
I once tried to conjugate car when talking to a woman. We were trying to get in to teach a lesson, but she wasn't having it, so I offered to wash her car if she'd let us teach her while we washed the car. I said podemos lavar su cara not realizing that you do not conjugate every single word and so I actually said "we can wash your face". Everyone laughed at me: the investigator, our member helper, and my trainer. It was a great time. Laughing at yourself is part of the learning process. (Morgan)