Free resources about the Utah Ogden Mission:
*Other Mission Pages: Utah LDS Missions.
*Learn about what living in Utah is like.
---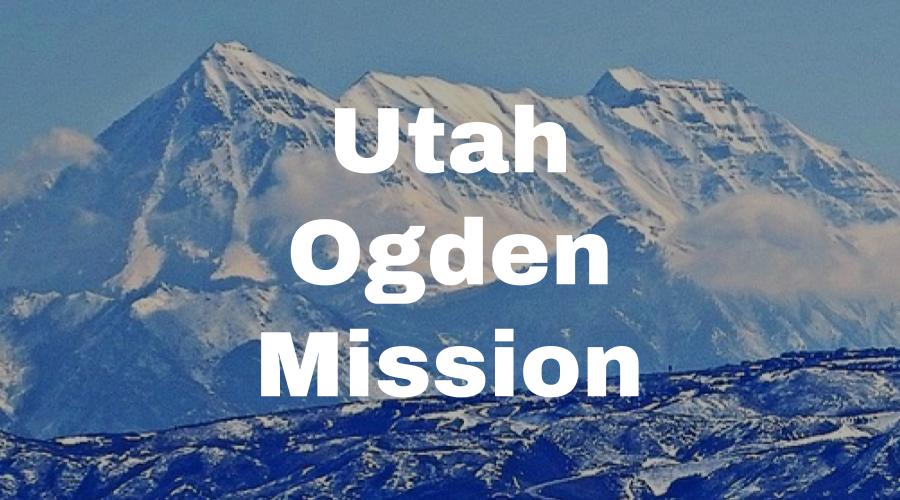 ---
Utah Ogden Mission Address
Here's a recent address for the Ogden Mission. We try to keep this information up to date, but it's a good idea to check the address with several sources, including your mission packet or the mission office.
Utah Ogden Mission
4380 S Orchard Ave
South Ogden, UT 84403
Phone Number: 1-801-392-9325
Mission President: President Jeremy R. Jaggi
Utah Ogden Mission Map
Here's a link to the mission map for the Ogden Mission (LDS). To access the official LDS.org map for the Ogden Mission:
Log into your LDS account here.
Click here.
Videos with Ogden RMs
Here are in-depth YouTube video interviews with returned missionaries from the Ogden Mission.  We interview hundreds of returned missionaries each year, so check back regularly to see new RM interviews.
LDS-Friendly Videos about Utah
Here are LDS-friendly educational videos about Utah. We scoured YouTube to find the best quality videos about Utah, that are free from inappropriate music, immodesty and profanity.
Utah Ogden Missionary Blogs
Here's a list of LDS missionary blogs for the Ogden Mission. This list includes the missionary's name, URL and when their blog was updated.
*Send your missionary a gift (mission-specific shirts, ties, Christmas stockings/ornaments, pillowcases, etc.)
Utah Ogden Mission Groups
Here are Ogden Mission Groups- for LDS missionary moms, returned missionaries, mission presidents and other alumni of the Ogden Mission.
Utah Ogden Mission T-Shirts
Here are T-shirts for the Utah Ogden Mission!
Shirt designs include Ogden Mission logo/emblem shirts and Called to Serve shirts. The shirts make great gifts for pre-missionaries, returned missionaries and missionaries currently serving. LDS Mission shirts come in all sizes: Small, Medium, Large, Extra Large, up to 4XL.  The mission designs are printed on white shirts and are shipped to you.
*Simply click on a shirt design to view the details and submit an order. The designs on mission t-shirts may also be printed on other LDS mission gifts, including: Ogden missionary aprons, Christmas stockings, ties, pillow cases, teddy bears and Christmas ornaments.
*Click here to browse Ogden Mission gifts
---
---
Utah Ogden Mission Presidents
Here's a list of current and past Mission Presidents of the Ogden Mission.
2015-2018, Jeremy R. Jaggi
2012-2015, Maurice Dowling Hiers Jr.
2009-2012, R. Brent Olson
2006-2009, Peter Leonard Joyce (Listen to an interview with the Joyces)
2003-2006, Wynn Redmond Dewsnup
2000-2003, James Allen McBride
1997-2000, Clifford L. Jones
1994-1997, Donald D. Salmon
1991-1994, Owen Daniel West, Jr.
1988-1991, E. Widstoe Shumway
1985-1988, Lloyd V. Owen
1982-1985, Gayle D. Heckle
Utah LDS Statistics (2016)
Church Membership: 2,040,178
Missions: 10
Temples: 16
Congregations: 5,033
Family History Centers: 171
Helpful Articles about Utah
Utah Ogden Missionary Survey
Here are survey responses from Ogden RMs, to give you a snapshot into what it's like to live in the mission.
When did you serve?
2014-2016 (Noppon)
2014-2016 (Jonathan)
July 2013 – June 2015 (Daniel)
August 2007-January 2009 (Ashley)
2000-2001 (Christina)
1990-1992 (James)
1990-1991 (Rhonda)
1989-1991 (Erik)
What areas did you serve in?
What were some favorite foods?
Basically, I like when members cooked food for us. It doesn't matter for me what I like the most. (Noppon)
We actually got steak several times, but the most common…the lasagna was usually the bomb. (Jonathan)
Tacos, Burritos, and Tortas. (Daniel)
Anything the members made. (Ashley)
Navajo tacos. (Christina)
Burger Bar and liver and onions. (James)
Funeral potatoes, homemade bread, fry sauce. (Rhonda)
What was a funny experience?
When my trainer and I were serving in Smithfield North Stake, we had a Zone game on New Year's Eve. We were playing Monopoly. We had 6 missionaries playing and it took 5 hours! It was competitive game and everyone didn't give up. Once you almost go bankrupt, they will offer you to buy your company so that means you didn't bankrupt, you just combine your stuff with others. (Noppon)
One time, I rammed my bike into a telephone pole so hard that the stem snapped in half. No other visible damage. Taking it into the shop, the mechanic busted out laughing and took pictures, saying the other mechanics would never believe how badly it broke. It looked like someone had taken a hacksaw to it. (Jonathan)
One time my companion and I decided to go to Zaxby's for lunch one Preparation Day. Before even entering the restaurant in the parking lot, a nice couple gave us some money to pay for our lunch. As we ordered, the worker then said that the food was "on the house." And then as we're eating our free meals an elderly lady said to us, "Elders, the next one is on me," and proceeded to give us even more money. So with a nice free lunch we ended up going home with $50+, haha. That was an awesome Preparation Day. (Daniel)
My skirt came off during a lesson as I stood up. (Ashley)
Jello desserts. (Christina)
Talking to members about how I used to wear white shoes at a church dance, though my dad would not want me to. (James)
A man from a part member family starts running towards us as we were going back to our car a half block from his house. He was the non-member and we thought he had been moved to take the discussions. As it turned out the family had extra moose frozen in their freezer and wanted to share it with us. (Rhonda)
What was a crazy/dangerous experience?
The craziest and the most dangerous experience was when my trainer and I were driving in Smithfield canyon at night before we went home. It was snowing so bad in that canyon. My trainer drove 40 mph and hit a big rock in front of the car. We called out Zone Leader but my trainer told them "We are fine, we can drive back to our apartment" and next week passed by, the senior couple drove a new car from Ogden mission office (at that time the Logan Mission wasn't created yet) and gave it to us so we can work in the big area. (Noppon)
Walking up to a door on my third day out, someone stepped out with a loaded shotgun leveled at my face and said "Keep moving. We're not interested." Needless to say, we hightailed it outta there. (Jonathan)
We were helping this lady move her stuff out of her abusive boyfriend's home and his daughters, who were the only ones home, wanted to pull a gun out and shoot us (this is when I served in Malad, an English area). (Daniel)
Some one we were teaching committed suicide. (Ashley)
Learning to drive in snow and ice. (Christina)
On bike swerving through traffic. (James)
What was a spiritual experience?
When I was serving in Hyrum Stake, we had an exchange and my District Leader came to my area. We had a lesson with an investigator who had a question about the understanding of the Bible. We sat down and he blew up a ton of question, as I remember, he asked about the third Heaven which Paul saw. I had no idea what it was, then, my district leader gave him his iPad and let him read. He read in the institute manual that talked about the third Heaven. After he read, he told the answer was reveal to his face and he had a desire to be baptize. I was shocked and then we set up a date for his baptismal service. I was amazed when we were at the right time and the right place. We expected miracles to happen in every area. When we have faith to find the lost sheep, we will receive an unexpectedly miracle. (Noppon)
I got to see an excommunicated member get re-baptized. The Spirit was so palpable you could almost see it. (Jonathan)
A spiritual experience to me was every miracle of any member sharing the Gospel with their friends and seeing them accept it. Seeing the members do the missionary work was truly a blessing and a miracle as we saw the Lord hastening His work. (Daniel)
Millions. We were warned not to talk to a gay couple in the area, but they ended up getting baptized and they were active until they died. (Ashley)
Every day serving the Lord. (Christina)
Having a baptism in a local lake and everyone with boats left the area so we could have a baptism without any interference. (James)
I really saw how the gift of discernment worked. Although the same discussions were taught, I sat in front of a couple and could feel what the Joseph Smith story meant to them. It was such a reverent, solemn experience. My last discussion was on the three fold mission of the church. When it came to redeeming the dead, I would always talk about my grandmother's mother and how her work had been done. I decided to switch it up and talk about my grandfather's mother. As soon as I started to say her work was done. I had to stop. I had a stupor of thought. The spirit spoke SO clearly that that wasn't true. When I went home, her work was the first thing I asked about. My grandma said, " I was waiting for you grandchildren to finish it." (Rhonda)
What are some interesting facts about the Ogden Mission?
1. You will get feed by members every evening 2. If members give you money at supermarkets or wherever, do not hesitate to take it and say thank you (even though it against the rule, but they will say "that's OK, you can take it") 3. Go Forward With Zeal is the mission's motto. 4. If you think that you have a good voice, you should perform at the musical fireside. 5. If members give you a ride, just jump in. No cost 6. You will lucky if you teach in the primary class and one of the kid ask you "Why we have the missionaries in Utah?" 7. It is common if someone pays your food or discount your meal. 8. Deseret Book gives you 10% discount for missionaries automatically. 9. I recommend Big J or LD's in Richmond Stake (I don't remember LD's will discount for you or not) Peach City in Brigham, and more! I think you can explore more when you come. 10. It is pretty usual if you get the door slam on your face or argue about religion. I used to, but I just kept my mouth shut, and that's it! 11. I would highly recommend you to practice to bike on hills before you go on your mission. And if you lucky enough? You will get a car. 12. Be friend with everyone, especially with members (member trust!!) 13. Work hard and be faithful. You will be missed by members after you done for 2 years 14. If you couldn't wear your cloths because it's too tight? Read the first fact. 15. You might get offended by members if you eat less (It depends, try to say like "I'm pretty full right now but I love to eat more, can we take it so we can eat later?" 16. Follow the Spirit, he will guide you unceasingly. 17. Don't fight with your companion, perhaps Heavenly Father might teach you patience. 18. What's your name? Where you from? How long have you been out? These questions are normal. So be prepare! 19. Missionary Handbook is the white Bible (that's what we call) 20. Fourth of July parade is a huge parade for missionaries and everyone just shout out "missionaries!!! WE LOVE YOU!" 21. These facts are just my opinion. You feel free to adjust to your missionary life. (Noppon)
Before the Logan Mission was split off in '15, it was the highest-baptizing English mission in the world. (Jonathan)
Just split in July 2015 to the Ogden Mission and Logan Mission. Obviously there are a lot of members in the missions. About half on average. It's the highest baptizing mission in the United States and Canada. (Daniel)
Average weight gain was 20-30 lbs. (Ashley)
The mission covered three states. The average weight gain was 50 lbs. (Christina)
Cokeville, Wyoming and what took place at the school there. (Rhonda)
What was the weather like?
The weather is kinda weird sometimes, especially in summer. There are 3 seasons in 1 day. (Noppon)
Dry. Very dry. Plenty of rain and snow, for a desert, nigh-on zero humidity. (Jonathan)
Cold in the winters, with good snow. Warm in summers. Very dry. (Daniel)
Hot and dry and then cold and super dry. (Ashley)
Four seasons. Awesome lightning storms in August. (Christina)
High elevation meant I was sunburned most of the summer. (Rhonda)
Any things you really like about the area/people?
I like food basically and I love the people in Logan Mission. They are so nice and they are willing to help you. Also, I love when youth said "I want to be a missionary" I think try to think positive! It would help you a lot! (Noppon)
So many RMs that know what's what. Best fellowships there are. (Jonathan)
The people were always so nice, even the non-members. (Daniel)
They taught me how to raise a family. (Ashley)
Many opportunities to serve. (Christina)
Everything. It was awesome. (James)
They were everyday, regular people who were always hospitable. (Rhonda)
Any packing/clothing advice?
The winter is the worst. Therefore, pack your winter stuff. However, if you are from another country, the Mission Training Center will give you a TONs of stuff which include clothes, boots, gloves, scarves, or even suits. (Noppon)
You need warm for the winter, cool for the summer. Surprisingly, long sleeves work better in summer to avoid sunburns. Take money for a bike with you, and don't cheap out. A good, quality road bike with tire liners (stickers are EVERYWHERE) will last you two years easy. That being said, don't go to Bingham Cyclery. It's way overpriced. (Jonathan)
Prepare to come back with a lot of random stuff, as the members are always nice. Also average weight gain in this mission is 40 pounds, so watch the clothes. (Daniel)
Don't bother bringing a million outfits! No one cares what you wear. (Ashley)
Layers in winter. (Christina)
It's chilly in Wyoming, even in the summer. (Rhonda)
What blessings did you receive from serving a mission?
I can't count my blessing from serving a mission. Too much blessings for me and I don't have enough room for them. You will receive blessings when you serve and after you done. (Noppon)
My grandmother had a medical crisis while I was out, and is only still with us due to an inspired doctor who used an experimental drug completely counter to its intended purpose for a side effect. That doctor saved her life. (Jonathan)
Everything in part. Life after the mission just felt laid out for me. It felt prepared and I can tell it was blessings from the mission. I found a job right away, my position in BYU was held, and I was able to visit everyone I wanted to when I returned. My family was taken care of. Even more, my less-active uncle and his non-member wife ended up coming to church. She got baptized, endowed, and they all ended up getting sealed as a family. (Daniel)
Endless and eternal ones. (Ashley)
Met people all over the world. Learned how to teach. (Christina)
I helped bring in the best convert- me. I saw the gospel in action. I gained a deep testimony of the truthfulness of the gospel. I learned from my companionships what I wanted with my eternal companion. (Rhonda)
What are some skills you gained?
Patience is Virtue. I love this quote. It helps me to unite with my companion. When you have patience, it would help you to be more humble. I want you to read in Preach My Gospel, chapter 6. (Noppon)
I learned how to drive Stick, and how to talk to people in a way that THEY will understand. (Jonathan)
Spanish, adaptability, planning, scriptural knowledge, communication, how to give feedback. (Daniel)
Speaking in church, teaching my kids the gospel. (Ashley)
Speaking. We spoke in sacrament meeting every week. (Christina)
Branding cattle. (Rhonda)
What do you wish you knew/did at the beginning of your mission?
I wish I knew that Mission Training Center would give me a tons of clothes and everything! Also I wish I knew that Logan has mountains! It was hard for me to bike! Lol (Noppon)
KEEP. A. JOURNAL. Try to get a pic with each companion. Try to learn something from each companion, whether they're teaching it or not. (Jonathan)
Not everyone is a perfect missionary. Do your best to be obedient and to follow the Spirit. (Daniel)
I wish that everyone will read the standard works before they go. (Ashley)
I wish I read the Old Testament before my mission. It helped me understand the New Testament and Book of Mormon so much better. (Christina)
The race is with you. Some missionaries are more natural at things than you. That's ok. There are people who need what YOU can do to help them come unto Christ. Don't compare yourself to anyone but you. (Rhonda)
Any advice/testimony for pre-missionaries going to Ogden?
Every missionary is always saying "I want to serve with you!" or "You are awesome!" I don't know why? But I think they want to serve with me because I'm from another country. But to be honest, all missionaries are good in the eyes of God! If you feel that you couldn't go out to work with your companion, I would suggest you to rethink and pray for His guidance. Also, take off your pride and "SERVE" with all your heart, might, mind, and strength. Say sorry first even though you haven't done anything and love your companion, he is the only person you could trust, he is the only friend you could have for 24/7 and he is the best resources to help you. Trust and be more obedient. Learn from each other and you will become a successful missionary! Go Forward With Zeal! The Lord wants you to be on His side!!! Try not to homesick. Homesick will decrease you potential to be a missionary. I'm from far away and I can't go back. I just press forward. (Noppon)
The Members of the Utah Ogden Mission are good people. Do right by them, they'll do right by you. Trust me, you'll need the referrals. (Jonathan)
Before you go on a mission please know for yourself that these things are true. Don't go for your family, your girlfriend, your Sunday School teacher, whatever. If you're going to go, go for yourself, because you want to. Do it because you actually have a testimony and that you want to invite others to come unto Christ. (Daniel)
Bring warm boots. (Ashley)
Read the Book of Mormon and have a testimony of it. Be willing to serve! (Christina)
Learn how the Spirit speaks to you. He will be your teacher. Know how He communicates to you. (Rhonda)
What was a funny language mistake?
We were eating food at the Cache Valley Mall when I had been out not too long. I told my trainer about how we eat in Thailand. "We use spoon and f**k" but I spoke "fork" wrong. He was laughing and told me not to say that again. (Noppon)
The common "embarazado" during testimony meeting, hahaha. (Daniel)
It took me a while to understand the Utah accent. A member kept tell me about a "starm". We needed to be careful. After the third warning, I said, "Oh, a storm!" (Rhonda)