Free resources about the Texas San Antonio Mission:
*Other Mission Pages: Texas Missions.
---
---
San Antonio Mission Address
Here's a recent address for the San Antonio Mission. We try to keep this information up to date, but it's a good idea to check the address with several sources, including your mission packet or the mission office.
Texas San Antonio Mission
404 E Ramsey Rd Ste 105
San Antonio, TX 78216-4665
United States
Phone Number: 1-210-349-3268
Mission President: President Jason J. Tveten
Texas San Antonio Mission Map
Here's a link to the mission map for the San Antonio Mission (LDS). To access the official LDS.org map for the mission:
Log into your LDS account here.
Click here.
Videos with San Antonio RMs
Here are in-depth YouTube video interviews with returned missionaries from the San Antonio Mission.  We interview hundreds of returned missionaries each year, so check back regularly to see new RM interviews.
LDS-Friendly Videos about Texas
Here are LDS-friendly educational videos about Texas. We scoured YouTube to find the best quality videos about Texas, that are free from inappropriate music, immodesty and profanity.
San Antonio Missionary Blogs
Here's a list of LDS missionary blogs for the San Antonio Mission. This list includes the missionary's name, URL and when their blog was updated.
*Send your missionary a gift (mission-specific shirts, ties, Christmas stockings/ornaments, pillowcases, etc.)
San Antonio Mission Groups
Here are San Antonio Mission Groups- for LDS missionary moms, returned missionaries, mission presidents and other alumni of the mission.
San Antonio Mission T-Shirts
Here are T-shirts for the Texas San Antonio Mission!
Shirt designs include Texas San Antonio Mission logo/emblem shirts and Called to Serve shirts. The shirts make great gifts for pre-missionaries, returned missionaries and missionaries currently serving. LDS Mission shirts come in all sizes: Small, Medium, Large, Extra Large, up to 4XL.  The mission designs are printed on white shirts and are shipped to you.
*Simply click on a shirt design to view the details and submit an order. The designs on mission t-shirts may also be printed on other LDS mission gifts, including: Texas San Antonio missionary aprons, Christmas stockings, ties, pillow cases, teddy bears and Christmas ornaments.
*Click here to browse San Antonio Mission gifts
---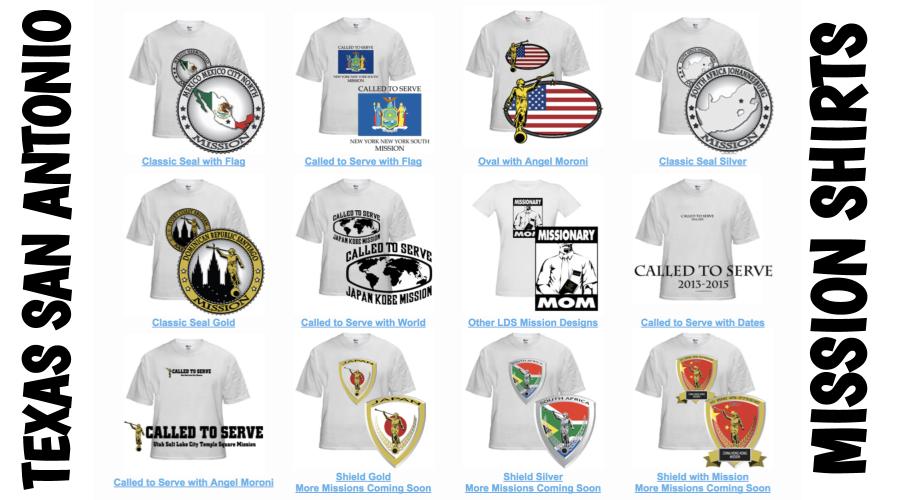 ---
San Antonio Mission Presidents
Here's a list of current and past Mission Presidents of the San Antonio Mission.
2019-, Jason J. Tveten
2016-2019, Todd B. Polley
2013-2016, James E. Slaughter
2010-2013, Stephen E. Jones
2007-2010, Charles L. Cutler
2004-2007, Derrill C. Larkin
2001-2004, Marion D. Woods
1998-2001, Kent F. Richards
1995-1998, Stephen A. West
1992-1995, Steven J. Nelson
1989-1992, Harold Greer
1986-1989, Dale Huntsman
1983-1986, Thomas L. Tyler
1981-1983, Gerald Quinn
1978-1981, Harold Pratt
1976-1976, Rudolpho Mortensen
1976-1976, James Cullimore
1976-1978, Vaughn J. Featherstone
1973-1976, Ron Loveland
1970-1973, Dale Valentine
1967-1967, Elliott C. Howe
1967-1970, Dean L. Larsen
1965-1967, Sanford Eliason
1963-1965, Donald E. Matthews
1960-1963, Melvin R. Brooks
Texas LDS Statistics (2015)
Church Membership: 334,772
Missions: 8
Temples: 4
Congregations: 635
Family History Centers: 11
Helpful Articles about Texas
San Antonio Missionary Survey
Here are survey responses from Texas San Antonio RMs, to give you a snapshot into what it's like to live in the mission.
*Click here to take a survey to help pre-missionaries going to your mission.
When did you serve?
2013-2015 (Kevin)
2012-2014 (Jared)
2012-2014 (Dain)
1997-1999 (Justin)
1999-2001 (Tim)
1988-1990 (James)
2014 (Emma)
1987-1988 (Jody)
1993-1995 (Harold)
2002-2004 (Bonnie)
2001-2003 (Mike)
1986-1988 (Trent)
What areas did you serve in?
Cibolo, Canyon Lake, San Antonio, Pflugerville, and Sonoma Ranch. (Kevin)
San Antonio, Stone Oak, Eden, Leon Springs, Bastrop, Cypress Creek, Anderson Mill, West San Antonio. (Dain)
SA, Austin, Temple, Round Rock. (Tim)
Round Rock, Kingsville, Bastrop, Gatesville, San Marcos, San Antonio. (James)
Austin, Texas. (Emma)
Edingburg, Austin, San Benito, Corpus Christi, Laredo, Pearsall. (Jody)
San Antonio, Austin and Round Rock, Texas. (Harold)
New Braunfels, Windcrest-San Antonio, Georgetown, Stone Oak-San Antonio, Sunset Valley-Austin. (Bonnie)
San Antonio, Austin. (Mike)
What were some favorite foods?
Fried chicken, fried okra, tacos, and brisket. (Kevin)
Tacos, true Mexican salsa, Rudy's, Church's Chicken, Los Pollos Asados. (Jared)
BBQ. Lots of meat and heavy food. (Dain)
Brisket (Rudy's and The Salt Lick), authentic Mexican, Blue Bell ice cream. (Justin)
Rudy's BBQ. Chris Madrids. Alamo Cafe. Kirby Lane Cafe. (Tim)
Steak. (James)
Tacos. Asian food. Tex-Mex. (Emma)
Pollo con Arroz!!! (Jody)
Mexican, the hotter the better. (Harold)
Tamales, homemade tortillas, shrimp alfredo, Rudy's BBQ, HEB Creamy Creations ice cream, Blue Bonnet Ice Cream. (Bonnie)
Brisket, carne asada, boracho beans, and all the crazy melons that you can only find in San Antonio. (Mike)
What was a funny experience?
I was training a new missionary and we had worked hard and biked all day. When we finished our planning session at night, I said the closing prayer and by the end he had fallen asleep kneeling on his chair. Poor Elder. (Kevin)
I got incredibly sick right after I got out of the MTC, and was flying to my mission, and spent the first couple days of my mission with a horrible stomach virus. (Jared)
We once went to a really sketchy zoo in Bastrop for preparation day and almost got eaten by a lion! (Dain)
Bike wrecks. Road trips. (Tim)
 Getting lost in Austin with Elder Dayley. (James)
Talking to a gypsy kind of guy who guessed the kind of people my companions and I were. (Emma)
In one ward in Austin, a family had an autistic son. The dad's threat to make the son behave in church was always "If you don't behave, I will put you in the girl's bathroom." One Sunday, after the sacrament had just been passed, the boy started to cry. His dad picked up him and began to walk out. Very loudly from the back of the church the boy yelled. "Don't lock me in the girl's bathroom, Dad!" My companion and I could not even look at each other for the rest of the meeting without laughing again. (Jody)
Almost dropping a cake made for a member right when they opened the door. (Bonnie)
Karmic bicycle retribution. I rudely took a picture of my companion after he got in a bike accident and then got in a nasty one myself. (Mike)
What was a crazy experience?
In one of my areas, all the dogs liked chasing or barking at us. Once when my companion and I were biking past a house, a Doberman size dog started to chase me and when I saw him, I knew he was so close that riding away wasn't an option so I had to stand and fight. I stopped and tried to act as big and strong as I could, so I stomped my foot and yelled at the dog. He was so startled that he jumped backwards into the car next to him then went back home. (Kevin)
The first day in a Spanish area, I lived with my companion and two other Elders, and all of our bikes got stolen overnight. What a surprise! (Jared)
Probably the time we almost got eaten by a lion. (Dain)
My companion and I stopped a guy from jumping off a bridge in Kerrville. Street contact turned suicide attempt! We held him till a cop drove up and took him. (Tim)
Driving with Elder Wright. (James)
Having someone yell at me. (Emma)
My companion and I and two other sisters were driving down a very busy freeway to a zone meeting when a tire blew. We had to maneuver over three lanes of busy traffic and change the tire by the side of the road. (Jody)
Seeing one of companions hit I guild wire on a telephone pole at night on a bike and fall down in a road. (Harold)
Car accident with my trainer and riding in the back of a cop car. (Bonnie)
Being invited in by one member of a gang and being thrown out by another on suspicion that we were the police. (Mike)
What was a spiritual experience?
This experience is sacred to me so I won't go into detail, but I had the chance to see part of my patriarchal blessing fulfilled right before my eyes. I was sick and having a very rough day, but I decided to keep moving and quit thinking of my own problems so much. I think it was the night before that I had followed a prompting to read from my patriarchal blessing, and so the words were fresh in my mind that day. My companion and I were biking towards an intersection, heading to another part of our area, when we saw a man sitting on a bench. Whether it was from a habit of talking to everyone or a prompting that we had, we went and spoke to the man and he began to cry. What he told us next was pure fulfillment of my patriarchal blessing, and I will always remember him and his prepared heart. I knew that he was waiting for us, and maybe even me specifically. He didn't get baptized while I was there, but still I could see that God had used us as instruments in his hands to help one of his children, as he had done many times on my mission, and still does. (Kevin)
Being guided by the Spirit to a Baptist preacher's house, and reading the Book of Mormon with him until he got on his knees, and received a personal revelation that it was true, and he needed to be baptized. (Jared)
I remember we helped find a new investigator when we felt prompted to drive to a different part of our area than we planned. Along the way we saw someone with their car broken down and we stopped to help push their car. They were baptized 14 months later. Sometimes, it just takes time. Not everyone you teach is going to get baptized immediately. (Dain)
So many! One of my most memorable discussions was when I deviated from the script, followed the Spirit, and shared "washed clean" poem by Elder Packer. (Justin)
Baptisms. Teaching. Praying. (Tim)
Teaching the timeline discussions in a McDonalds to a high school girl. I never felt the Spirit so strong. (James)
Studying The Book of Mormon with real intent. (Emma)
My companion and I had an appointment but we both thought that the other had written the address and direction. Having no idea where to go, we got in the car and asked Heavenly Father to guide us to this family and the way was made clear to both of us. The family was there and waiting for us to teach them. (Jody)
Meeting a investigator in the middle of a street after a long day of tracting that later was baptized. (Harold)
Teaching an investigator in an IHOP and feeling the Spirit so strong despite the noise. (Bonnie)
The realization and practice that God literally answers prayers. Also, the mission ran out of funds for proselyting materials one month and we were told to collect materials from people who weren't reading them. After a few days of trying this it became clear that it wouldn't work. So I bought a case of copies of The Book of Mormon and shared them with my district. It took pretty much my entire allotment for the month. I never ate better than I did that month. A family moved out and brought over all their food and the dinner calendar was full. I gave up the small amount that I had and God took care of me. I think the old way of doing missionary work created more faith. No purse or script made you reliant purely upon the goodness of God. No fallacies to fall back on. (Mike)
What are some interesting facts about the San Antonio Mission?
This mission is one of, if not the oldest mission in the United states. It is the home of the Alamo, where the great battle was fought as a part Texas gaining its independence. (Kevin)
Home to the Alamo; Home of the San Antonio Spurs; there is a lot more Mexican food than BBQ food. (Jared)
Vaughn J. Featherstone was a previous mission president in the TSAM. We stretch all the way to the border of Mexico. It's secretly the greatest mission in the world. (Dain)
Still the best mission in the world. (Tim)
They split the mission while I was out and created the Corpus Christi, Texas Mission which is now the McAllen Texas Mission. (James)
I only served for three months before coming home. (Emma)
Fire ants are real and they hurt!! (Jody)
Alamo. (Harold)
The Alamo is much smaller than you would think. There is a temple in the Texas San Antonio Mission. (Bonnie)
We almost doubled our monthly baptisms while I was there. (Mike)
What was the weather like?
The people in San Antonio say there are three temperatures: hot, really hot, and you have got to be kidding me! It's pretty humid and it reached 112 degrees heat index when I was there. One night, if I remember right, it rained 15 inches in one hour. If you go there, expect to get wet when it rains, even if you have an umbrella…you will find out what I mean. Even though in the winter the temperature doesn't drop very low, you would be surprised how cold the humidity makes it feel. (Kevin)
April-October is HOT and November-February is brutally cold. (Jared)
Hot, hot, hot. The summers are humid, so prepare to sweat a lot. (Dain)
Hot, then hotter, the freezing rain, then hot. (Tim)
Hot and humid. I only saw the temperature drop below 40 for about two weeks my entire mission. (James)
Bright and sunny with humidity. (Emma)
Cold in the winter and then mainly humid. The summer was sooo hot and humid and the tornadoes were an interesting touch. (Jody)
Hot, long summers and mild winters. (Harold)
Hot and dry in the summer, cool but still nice in the winter. (Bonnie)
Mild winter. Hot and humid from June to September. Long mild spring and long mild fall. Very rainy. San Antonio gets like 35 inches of rain a year. It's one of the most flood prone counties in the entire country. (Mike)
Any things you really like about the area/people?
I love what I learned about the people there, which is that Christians of other faiths can be wonderful people, and that the Lord prepares people of every kind to hear his word. I found that southern hospitality is real. Even though some might not agree with what you preach, they will give you a cold glass of water and let you stand in their air conditioned house. It seemed like a lot people were willing to pray with you, even in the middle of the street. Also, I can't leave out that the people in San Antonio take pride in their state! To say the least, they have corn chips shaped like Texas. I love the people there! (Kevin)
Everyone is religious, and understands that missionaries are servants of the Lord, and they give you instant respect. (Jared)
The people of Texas are so kind and generous. They are accepting, even if they don't accept your message. (Dain)
16 companions, all liked BBQ = good! (Tim)
The people were very friendly. (James)
It's unique. Everything is History. (Emma)
I loved the willingness of the members in all the different areas I served for helping us find and teach. Learning the different cultural aspects was amazing. (Jody)
There Spirit and joy. (Harold)
Salt of the earth people, both members and non-member. Cute towns, great Mexican food and BBQ. (Bonnie)
San Antonio is like 70% Hispanic, which gives the city a unique character. I enjoyed how laid back it was compared to other cities of it's size. I met so many interesting people. When I was there the city was full of World War 2 veterans and it was great to hear their stories. The giant trees are something else. Every once in a while you'll come across 400 year old oak trees. People build their houses around them. It's amazing. (Mike)
Any packing/clothing advice?
Don't bring games or hobby things if you are a missionary; our mission is focused and seeks to be consecrated! Don't kid yourself, it will get cold, I never brought a suit coat so I had one shipped to me. Buy durable shoes so you don't need to go through six pairs. (Kevin)
One suit for an Elder is all that is required. You will hardly wear it. Short sleeve shirts are a must. (Jared)
Lots of white shirts, you'll go through them quick. Leave extra room to bring home a pair of boots! (Dain)
Leave the extras, have pants you plan on tearing on bikes. Keep it minimal. (Tim)
Pack light and take a lot of short sleeve shirts. (James)
Maxi-skirts will be your best friend. Sweaters/cardigans are a must. And keep rain boots in the car. (Emma)
Don't take too much. Buy what you need there. The stores are prepared for the weather in that area. Many places have swap meets and discount places that you can get what you need that is better suited for where you are at a cheaper price. (Jody)
Two pant suits for elders. (Harold)
Good walking shoes. Light-weight clothing for summer and a coat for winter. The weather can get cold. (Bonnie)
Bring a lot of slacks. They get worn out quick if you are in a bike area. Don't bother with long-sleeved shirts. It's never cold enough for them to be comfortable. Silk ties are garbage. It rains on you a lot and silk ties can't stand getting wet. If you are a normal sized person you can do pretty well by buying clothes at the Goodwill. If you are bigger you need to have a replacement budget planned. I went through like ten pairs of slacks. I'm too big for Goodwill to be useful. (Mike)
What blessings did you receive from serving a mission?
There hasn't been a day that has passed since my mission that hasn't been positively impacted by it. It was hard. I struggled a lot, but through Christ, I was able to become a better person from it, and make a difference in the lives of many people, whether I know it or not. One of the greatest blessings I have received is peace and happiness. I now know how one can truly find joy and peace in this life because I have found it. I can now share this hope of Christ with people throughout my whole life! (Kevin)
A firm testimony that helps me for the rest of my life. (Jared)
Everything good in my life came as a direct result of my choice to serve a mission! (Dain)
Hot wife, saved my life, great friends, respect for the work. (Tim)
Being able to recognize the Spirit. (James)
I was my own blessing. I changed for the better and learned to trust God above all else. (Emma)
I was blessed with a greater knowledge of a second language and I was blessed to lose the fear I felt in using that language. I was blessed with a greater understanding of the love my Heavenly Father feels for me by serving those around me. (Jody)
When I got home, I introduced my future wife to the gospel and later took her to be sealed to me and our children. (Harold)
It's hard to say exactly. The amount of spiritual knowledge I came back with was way bigger than I would have ordinarily found. (Mike)
What are some skills you gained?
I learned how humility precedes learning and growth, and is a very important attribute to gain in life. I became more compassionate and understanding towards others, One of the best life applications I learned on my mission was how to deal with setbacks by being patient, having faith, and having a heart single to God. I also learned how to work with people better and have good relationships, especially with my companion. (Kevin)
Cooking refried beans from scratch, learning how to make the best salsa, how to fix a flat tire, how to manage my time effectively, and how to talk to people I don't know. (Jared)
I learned to talk to people better and also learned to listen to the whispering of the Spirit. I developed a pattern of faith and doing small works. (Dain)
Structure, how to have patience, how to get others to clean. (Tim)
Public speaking. (James)
Cooking skills for certain. (Emma)
Listening, both to my own conscience and not so much the words but the Spirit in which the words were given. I learned compromise which has been a HUGE help. (Jody)
Talking to some people even though I am not a great talker. (Harold)
Talking with people. Getting up no matter how tired I still am. Heat tolerance. Having a thick skin. (Mike)
What do you wish you knew/did at the beginning of your mission?
I wish I would have listened to my trainer, and applied what he told me. (Kevin)
It's ok to not know what you're doing at first. Try new things and never give up. (Dain)
Wouldn't change a thing. (Tim)
The scriptures. (James)
I wish I knew how hectic the Mission Training Center would be. (Emma)
I wish I had studied more on the weather. I knew it was going to be hot but I really was not prepared for the humidity. (Jody)
Read the book of Mormon more often. (Harold)
That God isn't going to remake you, merely refine what is already there. And people are often nicer and more tolerant than you would expect. The nasty ones usually have a diagnosis that makes it hard for them generally. Meaning you shouldn't take it personally. Expect to get out-argued on occasion, it only means they were more prepared. Texas has people that are pros at trying to talk you out of believing. Ultimately the question is very simple. Have you had a confirmation that Jesus is the Christ, that The Book of Mormon is legitimate, and that Joseph Smith is a prophet? Sometimes our painful experiences prepare us for greater ones. You don't have to be a Paul or an Alma in order to labor in the vineyard. God is a pro at making good things happen in spite of our best efforts. He just wants us to try. Don't expect reality to work too easily or well. It's messy on purpose. (Mike)
Any advice/testimony for pre-missionaries going to San Antonio?
I would say work hard, and keep in mind that the Lord understands when you fall short. Don't get angry or frustrated with yourself, and remember that it's not necessary to run faster than you have the strength to (just like King Benjamin said). Trust in the Lord's promise, repeated in Preach My Gospel, that people are being prepared to receive the gospel, and work accordingly; this will make all the difference! Also, be VERY careful to not be bitten by chiggers or ticks. From one of those I became very sick with a vector borne illness (like Lyme Disease) and I am still facing health issues because of it. (Kevin)
Your mission only changes you if you allow it to. Have a soft heart and be teachable. (Dain)
Know the scriptures, and know the lessons. (Tim)
Pray a lot! (James)
Listen to your companions, even on the worst days. Learn to love them. Take it one day at a time and don't ever give up. (Emma)
Go knowing the people are choice spirits. The members are there for you and support you. Love them, let them help you. (Jody)
Serve the lord with all your heart and he will bless you and those you serve with and around. (Harold)
Do not leave behind a boyfriend or girlfriend. They mess with your brain! Practice sharing the gospel with your friends. Know the scriptures. (Bonnie)
Don't be afraid. Trust the Lord. Rely on His kindness. Imagine Him actually listening to you when you pray, and you can attain a higher level of communication. Pray for the people you work with. You don't have to be perfect. He's never had perfect followers. He makes do with us little creatures and loves us for our efforts and in spite of our efforts. Be kind to yourself. A mission is a battle against frustration and discouragement. Being close to your companion will help to combat this as will good spiritual practices. Have fun on Preparation Day. A little laughter and camaraderie will help. If you get excluded by the other missionaries from such things you will have to rely on good spiritual practices alone, but don't allow yourself to be jealous or hateful. They brought their biases they carried from home with them just like you did. Wallowing in bad feelings won't do any good at all. (Mike)
What was a funny language mistake?
Learning to say y'all is very important! (Dain)
English. (Tim)
I only spoke English. (James)
My companion kept using a word that she thought meant "to find out" but it turns out it was a swear word. The investigators we were teaching looked shocked but were polite and did not stop the lesson. (Jody)