Free resources about the Texas Fort Worth Mission:
*Other Mission Pages: Texas LDS Missions.
---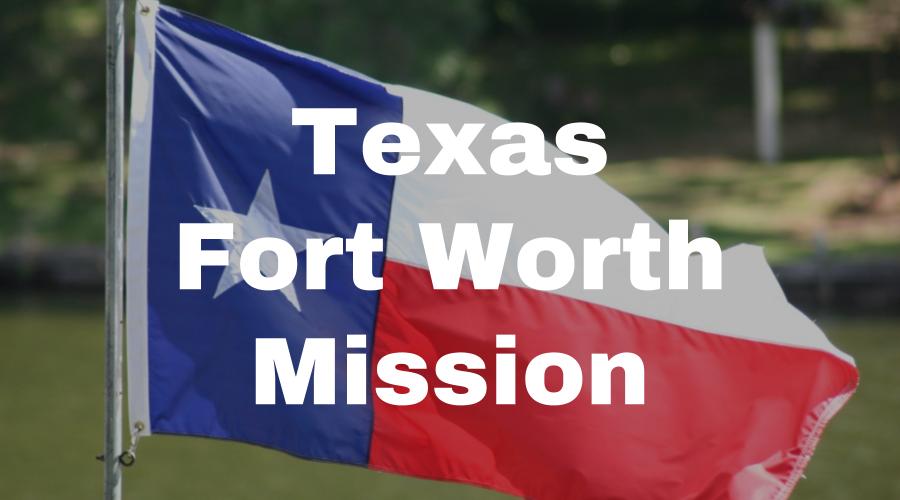 ---
Texas Fort Worth Mission Address
Here's a recent address for the Fort Worth Mission. We try to keep this information up to date, but it's a good idea to check the address with several sources, including your mission packet or the mission office.
Texas Fort Worth Mission
1331 Airport Fwy Ste 305
Euless, TX 76040-4150
Phone Number: 1-817-354-7444
Mission President: President Darrell G. Whitney
Texas Fort Worth Mission Map
Here's a link to the mission map for the Texas Fort Worth Mission (LDS). To access the official LDS.org map for the Fort Worth Mission:
Log into your LDS account here.
Click here.
Videos with Fort Worth RMs
Here are in-depth YouTube video interviews with returned missionaries from the Fort Worth Mission.  We interview hundreds of returned missionaries each year, so check back regularly to see new RM interviews.
LDS-Friendly Videos about Texas
Here are LDS-friendly educational videos about Texas. We scoured YouTube to find the best quality videos about Texas, that are free from inappropriate music, immodesty and profanity.
Texas Fort Worth Missionary Blogs
Here's a list of LDS missionary blogs for the Fort Worth Mission. This list includes the missionary's name, URL and when their blog was updated.
*Send your missionary a gift (mission-specific shirts, ties, Christmas stockings/ornaments, pillowcases, etc.)
Texas Fort Worth Mission Groups
Here are Fort Worth Mission Groups- for LDS missionary moms, returned missionaries, mission presidents and other alumni of the Fort Worth Mission.
Texas Fort Worth Mission T-Shirts
Here are T-shirts for the Texas Fort Worth Mission!
Shirt designs include Fort Worth Mission logo/emblem shirts and Called to Serve shirts. The shirts make great gifts for pre-missionaries, returned missionaries and missionaries currently serving. LDS Mission shirts come in all sizes: Small, Medium, Large, Extra Large, up to 4XL.  The mission designs are printed on white shirts and are shipped to you.
*Simply click on a shirt design to view the details and submit an order. The designs on mission t-shirts may also be printed on other LDS mission gifts, including: Fort Worth missionary aprons, Christmas stockings, ties, pillow cases, teddy bears and Christmas ornaments.
*Click here to browse Fort Worth Mission gifts
---
---
Texas Fort Worth Mission Presidents
Here's a list of current and past Mission Presidents of the Fort Worth Mission.
2016-2019, Darrell G. Whitney
2013-2016, Rodney Allen Ames
2010-2013, Joseph Monroe Sagers
2007-2010, Wright Jenkins Thurston
1989-1992, Ray L. White
Texas LDS Statistics (2015)
Church Membership: 334,772
Missions: 8
Temples: 4
Congregations: 635
Family History Centers: 11
Helpful Articles about Texas
Texas Fort Worth Missionary Survey
Here are survey responses from Texas Fort Worth RMs, to give you a snapshot into what it's like to live in the mission.
*Click here to take a survey to help pre-missionaries going to your mission.
When did you serve?
2017 (Mary)
2015-2017 (Hannah)
2015-2016 (Heidi)
May 2013-November 2014 (Lindsey)
2006-2008 (John)
2004-2006 (Chris)
1991-1993 (Darren)
1991-1992 (Rebecca)
Which areas did you serve in?
Azle, Texas. (Mary)
Denton, Joshua, Colleyville, Highland Station, Arlington (the best ones). (Hannah)
Denton, Watauga, Trophy Club, Highland Village. (Heidi)
River Trails, Burleson, Granbury, Lake City, Burleson (again), Lewisville, Arlington. (Chris)
North Richland Hills, Denton, Amarillo, Midland, Borger, Hereford, Carrolton. (Darren)
What were some favorite foods?
Mexican and Barbeque. This family made me and my companion some of the BEST tacos ever! (Mary)
Creamed corn -bbq brisket -blue bell. (Hannah)
BBQ (brisket, ribs, and smoked sausage especially!) Babe's Fried Chicken Rosa's Tortilla Factory Frito Pie Blue Bell Ice Cream. (Heidi)
The food there is pretty much the same as every where else in the United States. They do have exceptionally amazing brisket in Fort Worth. Barbecue in general is a dream in Texas. (Lindsey)
Steal steak and more steak 😄. (John)
Texas BBQ, and real Mexican food. (Chris)
Enchiladas planas. Tortillas frescas. (Darren)
Sopapillas, Texas sheet cake, brisket. (Rebecca)
What was a funny experience?
We where trying to meet up with a returning less active member of the church, and he wasn't answer his gate or his phone. So my companion and I hopped the fence (in skirts) and knocked on his door. Just to find out that he wasn't home. (Mary)
Every second was hilarious. We had to find the joy in the service. (Hannah)
My companion and I had a baptism coming up. The entire ward was ecstatic since there hadn't been a convert baptism in more than a year. Everyone was trying to remember how to fill up the font and how long it took so that we could plan accordingly. Many of the members were telling us stories of how it took 5 hours to fill the font, or how they thought that some Elders had once even slept there over night so that it could be full for a baptism in the morning. My companion and I couldn't believe what we were hearing, so we decided to test fill it for a comparison. After district meeting the week of the baptism, we started filling the font and timing it at the same time. After filling it to the top of the first row of tile, we counted how many rows of tiles there were for the font to be full, then multiplied the time it took to fill one row by the number of rows. We were estimating a little over 3 hours to fill the font, which was longer than we thought, but shorter than what members were trying to recall. On the day of the baptism, we did our studies and had an appointment at the country club. We were supposed to do something afterward, but it fell through. We decided that we could go the church early and fill the font halfway, then go to an appointment later and finish filling the font after. That ended up being totally inspired. We started filling the font and, at first, everything seemed to be going as we planned. But as the water level rose, it started taking longer and longer to fill to a new row of tile. We started doing some more math and panicked when we realized that it if things continued at their current rate, the font wouldn't be filled in time for the baptism since we only had 5 hours, and it was going to take at least 6. To make matters worse, the water started out filling as lukewarm, but instead of increasing in temperature, it dropped, so the water was pretty cold. With no other options, my companion and I went to the kitchen of the Church and found giant pots that we started filling with water. Since the water was freezing, we also utilized the burners on the stoves and tried to heat the water. We would then trek the giant pots to the other end of the church where the font was, and pour them into the font while trying not to burn ourselves. After doing that for more times than I can count over the period of several hours, the font was finally full enough and about room temperature. It was just in time for the baptism to start (literally–we had the font filling until the guests arrived and up until the Ward Mission Leader got up to conduct). Luckily, the service was beautiful and the Spirit was there in abundance. No one but my companion and I knew how much work and prayer had gone into getting the font full and not freezing. To top off a crazy day, at the end of the service when we went to congratulate our recent convert (who was just barely 19) he hugged both my companion and I with giant bear hugs out of pure joy–in front of the Assistants to the President and more than 50 ward members who were in attendance as we turned red. We got a lot of stares and joking remarks from everyone who knew that those hugs were supposed to be inappropriate given our convert's closeness in age and being of the opposite gender. But to our our relief, they all knew it wasn't planned and that he was just so happy that he didn't realize it wasn't the most appropriate thing to be hugging Sister Missionaries. When my companion and I think about that day, we just laugh because of how stressful a simple baptism should have been. (Heidi)
My companion and I once taught a 40-year-old man who didn't eat fruit because he thought that the story of Adam and Eve was about how fruit brings wickedness into the world. He thought the reason there was still evil in the world today was that people were still eating fruit. We lovingly told him that he had completely missed the point of Adam and Eve's story. We taught him about the Fall and the plan of salvation. We invited him to read and pray about the Book of Mormon and to eat an apple. (Lindsey)
The moment I decided to jump in a discussion with my senior companion while a man was trying to argue with us about the Bible. I quoted a scripture in Paul and it quieted the man and we were able to leave peacefully. As we were riding away my senior companion asked me, "So what did you learn?" I said that arguing with the Bible doesn't always work. My companion smiled and said, "I learned that you don't have to know everything to debate… cause the scripture you quoted was actually from Acts and not Paul…" (John)
The missionaries in our mission had a bit of a prank war. It finally got out of hand when one elder left a "package" on another elder's doorstep. He had dug the box out of the dumpster so it had all of the other elders' girlfriends mailing info on it so it looked real. The "victim" of the prank thought it was from her and when he opened it there was a dead opossum inside of which he had accidentally gutted open with a Lord of the Rings letter opener so the stench was horrible. He thought it was from her and was so devastated that he wrote home about it and his mother called the Mission President. So pranks were from then on banned….this is a 100% true story. I served later on with one of the "opossum postmen". (Chris)
Elder Jade Hancock was always funny. He learned to do the splits while in Texas, and one day did them on top of fence. (Darren)
Reading all of the creative signs outside of different churches in Texas. (Rebecca)
What was a crazy experience?
First day as a missionary, we were out tracting. The man was getting loud and threatened to get his gun. Luckily, we left before it got bad. (Mary)
Watching a goat get murdered in the countryside by a sketchy dog. (Hannah)
One preparation day, my companion and I went to the apartment complex laundry room in the morning as we always did. Since it was only a couple buildings away, we only brought our laundry and soap and laundry card. As we approached the door to the laundry room, my companion decided it would be a good idea to kick the door open since our arms were full with the laundry baskets. As the door swung open, a man who was sleeping on the chairs inside the laundry room suddenly woke up and started muttering to us dazedly, then went back to sleep after we apologized. After we realized there weren't enough washers, my companion woke the man to ask him if his laundry was in any of the washers. This time we got a better look at him. He was kind of scary. His eyes were bloodshot and he looked homeless. The awful stench in the laundry room seemed to becoming from a pile of feces/diarrhea on the floor near him and also smeared all over the wall. He said nothing was his and went back to sleep. My companion and I started the laundry that we could. Before going back to the apartment, we decided to leave our other laundry and soap in our baskets in the laundry room (as we had many times before). We went back to our apartment, grateful for fresh air. When it came time to take the laundry out, we went back to the laundry room. This time, as we approached the door of the laundry room, my companion and I saw the homeless-looking man standing up rifling through all of our laundry through the small window in the door. Neither of us said anything to each other, but as we talked about later, each of us was planning on confronting him about it the second that we walked through the door. However, as soon as my companion started turning the door knob, the thought came to my head, "it's better to act as if nothing happened." The logic I was going to use to confront him was taken from my mind and the only thing I could think of was that thought. My companion later told me that she too had a similar thought come into her mind, where she thought "don't say anything." Again, neither of us had said anything to each other at this point, so neither of us knew the other was planning on confronting the man but had a different thought come to mind. As we entered the laundry room, the man turned and saw us. He knew we had seen him going through our things, but neither my companion nor I said anything. We calmly and silently walked to our laundry to begin switching it. The man passed us and said nothing either. As we switched our laundry, we noticed that the stench in the laundry room was even worse. The feces/diarrhea was now in a puddle or urine on the floor. The washers and dryers had the F-bomb written all over, when it hadn't been there before. We also noticed drugs all over the floor where the man had been sleeping. At this point, we began to feel uncomfortable and unsafe. But, as we found out only moments later, it was too late. As we finished loading our laundry and turned to leave, the man stepped in front of the only door in/out of the laundry room. He boxed us in. We were trapped. We didn't have our phone or our keys or anything to protect ourselves with. It looked like he had a gun or a knife behind his back. My companion and I were internally panicked, but tried to stay calm. The man started shouting at us. "Where am I??" Us: "The Hilltop Apartments" Him: "Where's that??" My companion and I exchanged confused glances. Us: "North Richland Hills" Him: "Where's that?!?!" My companion and I were pretty frightened by this point. We were trapped in a laundry room with no way to get help or protect ourselves from a dangerous man who was clearly insane or high or something not good. Us again: "Texas?" Him: "ohhh…" In that moment he stepped aside enough for us to make a run for the door and get out. My companion and I still hadn't said a word to each other. And it wasn't until we were safely in our apartment with the door locked that we even spoke to each other. We told each other about the feelings we had to confront him, and then had those thoughts replaced. We talked about how we believed that the man who trapped us in the laundry room was the same guy who sometimes sat on the steps leading up to our apartment and how he might be the same person responsible for the attempted break-ins we had a couple weeks before. We decided to tell our Zone Leaders, who promptly contacted the mission office. We also decided we needed to contact the police. For some reason, my companion and I went outside after we decided that, and a police officer just happened to be driving near our apartment complex. We flagged the officer down and told him what happened. He said he had already found the individual and told him to leave the premises. He then took down our names and number after we described what happened. Later that day, we were told that if we ever saw that man again, we needed to call 911 and have him arrested for trespassing immediately. Although we didn't see him again (at least not clearly enough to call police on) the police ended up calling us a week or two later asking us to identify the man from a police lineup for something way bigger than vandalizing a laundry room and scaring two Sister Missionaries. Our Mission President had to call Church HQ to make sure that we were able to actually pick him out of the lineup and that it wouldn't cause legal problems for the Church. Needless to say, that was one crazy month. (Heidi)
One hot summer day, I had my hair in a bun. In the middle of a lesson this family's dog attacked me, specifically my bun. It bit my bun! I was trying to be calm, but literally all my hair was in this dog's mouth. And he was tugging! The family rescued me and my hair. Despite what people think, not all dogs are loving. (Lindsey)
After having a lesson at an older couples home as we were walking out the door, the gentleman starts saying a prayer and dips his finger in holy water and proceeds with the cross symbol on our foreheads. It caught us off guard and it happened so fast that we didn't realize what had happened. Neither my companion or I said a word to each other. We hopped on our bikes and road as fast as we could home. As soon as we got home, we immediately knelt down and prayed. (John)
We were sitting in our apartment preparing to travel to zone conference, when I heard someone at the front door jiggling the knob. I thought it was the District Leader playing a joke on us so I looked through the peep hole and it was a young guy about 16-17 years old with a screw driver trying to break into our apartment, in broad daylight! So I watched him for a minute to make sure that's what I was seeing and then unlocked the door as he was trying to get in. He thought he had successfully popped the lock, so he came into the apartment only to his surprise to find my companion and I standing in the entryway. He turned tail and ran faster than anyone I've ever seen before. There was even a police officer nearby assisting in an eviction. When we told him, he asked if anyone was hurt or if anything was stolen. We said no, so he shrugged and said well there's nothing I can do then and walked away. The phone call to the Mission President about it was a crazy one. (Chris)
We were tracting one morning in the Diamond Hill area when we came across two kids in their young teens. One of them stopped us, and yelled that we were "on their turf." "This is our neighborhood," they repeated. I kind of smiled and said that we were happy to share. The younger of the two had a metal rod in his hand, and wasn't more than five feet away from me. As the older of the two appeared to get more and more agitated, he told the younger. "Pégale. Pégale," which means "Hit him. Hit him!" At the time, I felt calm and assured that we wouldn't be harmed, but afterward realized that if he would have hit me in the heat with that metal rod, I could have easily been seriously injured. Other dangerous experiences include the gunshots we constantly heard while biking through the neighborhoods in that area, and the time when my bike was stolen from the investigator's porch, right outside from where we were giving a first discussion. I knew somebody was outside messing with our bikes, but didn't really care; I was teaching a discussion! Was there anything more important than that?! (Darren)
We barely made it into our apartment before a massive hail storm pounded our area. Cars were dented, windows were smashed in, people we met the next day who got caught in the storm had bruises on their arms. (Rebecca)
What was a spiritual experience?
Every time I prayed to be where God needed me to be, I had incredible experiences being able to say or do something that really helped someone! (Hannah)
I had many, but one of my fondest was the last Saturday of my mission. I was able to escort one of my converts from the first few months of my mission through the temple as she received her endowment. I had been the one to find her, to teach her, to be there for her baptism, and to take her to the temple to do baptisms for the dead for the first time. Faithful ward members and missionaries after me continued to teach her and bring her to church every Sunday and help her receive her patriarchal blessing, all the way up until she was ready to receive her endowment. I was waiting for her to come through into the Celestial room. As she entered the Celestial room, it was the sweetest Spirit I have ever felt. I felt like it was Heaven. The joy was so pure and so raw. Our meeting in the Celestial Room can only be a taste of what is coming in the real Celestial Kingdom as long as we stay true. She was so happy and I was so happy, and we had overflowing tears of happiness as we held each other. This experience was especially impacted me, because I had turned in my mission papers fully believing I would never see a baptism or help anyone. But in the Celestial room with my convert the last Saturday of my mission, I realized that by her receiving her endowment, I had helped someone enter the Celestial Kingdom (so long as she stays true). I had actually helped someone to not only become baptized, but to be able to enter the Celestial Kingdom. It was one of the crowning moments of my whole mission to realize what an instrument I had been able to be in her life through the help of the Lord. (Heidi)
We were teaching a woman named Briana that we had met through a member named Ashley. She was shy and would almost always cancel on us, but Ashley helped her to always meet with us one more time. One Tuesday as a companionship, we were planning our 3rd or 4th lesson. We prayed about the commitment we should leave with her and a pretty specific one came to mind. We wrote on our note card the commitment the Lord wanted us to leave with her. The day before our lesson, Ashley was praying to know what scripture she could text Briana. She picked one and then texted it to her. Briana looked at it Monday night and all day Tuesday. She kept looking at the text message and putting it off. She told us when we met Tuesday night (December 3rd) that she woke up knowing that that day was "different". She had some alone time before she came to our lesson. Briana decided to look up the scripture Ashley had texted her. She really felt the Spirit and then she prayed to know if it was true. When retelling us the story she said, "And I got the warm fuzzies. I know it's true." She was so calm, but so sure. The surety that comes when the Holy Ghost bears witness to our spirits that the gospel is true. She knows – hallelujah!!! Sister Zohner and I were so excited, but we had to keep some composure. We asked her, "Briana, what scripture was it that Ashley sent you?" She responded "2 Nephi 2: 27-28." My heart was overwhelmed with joy when I was able to pull out my notecard to Briana and show her our lesson plan and show her that the very chapter we were going to invite her to read that day was 2 Nephi 2. My heart was burning and pounding and flooding with joy. God answered Briana's prayer! And in doing so he also answered mine. Heavenly Father knew what Briana needed and had sent friends and missionaries to help her get it. It was a turning point for me on my mission. I was much less scared after that to invite anyone to do anything after that because I had a better understanding of where the invitations were really coming from. (Lindsey)
My third transfer as a senior companion, my junior and I were feeling a bit discouraged from not being able to fill up our plans for the day. We decided to just go knock doors and neither of us wanted to. While walking I had a feeling that we HAD to go to one of our investigators homes quickly. I mentioned it to my companion and he said he felt the same way. We quickly jogged back to our car and drove home to call a priest to come with us. He came and we were able to get in the door. Everything seemed dark and an emptiness was in the room. She told us about what happened (in respect I won't share what happened). We sat quietly after she finished. I looked at my companion and we both knew that we needed to pray. So we asked if we each would pray and she could pray last. She agreed and as we went around the spirit came in so strongly. As soon as she offered her prayer the room filled with tears and it was as if the spirit came whooshing in to testify to each of us that she knew the church was true. We sat quietly for a few minutes afterwards. The spirit worked on each one of our heavy hearts. Then she told us that she had been praying for someone to come. That of He loved her he would sent someone to comfort her. She said, "Then you three came knocking on my door." She was eventually baptized and I was honored to be able to go to the temple after my mission when she was sealed to her eternal companion in the Mesa, AZ temple. Greatest experience from my mission. (John)
We were shopping at a Wal Mart on our P-Day when a huge storm hit. From inside we could hear the wind howling and the shelves were shaking. When we got to the exit about 20 minutes later there were dozens of people jammed in the doorway refusing to go out in the weather. There was hail, and wind, the thunder was so loud. When we looked up through the skylight we could see black swirling clouds, our first thought was "great a tornado is going to come down right on top of the store". So we pushed our way through the crowd and proceeded to run to the car so we could get home. But as we step out of the store the weather goes from seemingly apocalyptic to absolute calm. The hail instantly stops, the wind is still and we can see a large wall of black clouds swirling overhead as it moved north revealing nothing but blue skies. About an hour or two later we heard reports that a string of massive tornadoes from that storm had hit further north and caused a lot of damage. That was one of many very poignant experiences that proved beyond any doubt that the Lord loves and protects his servants. (Chris)
I had many spiritual experiences, often daily or even more frequent than that. (Darren)
My mom passed away one day while I was on my mission. She had suffered from cancer for 10 months of my mission. I found out she died when my dad called after I got home one evening. We had been serving with one of our Zone Leaders all day. A member came to pick him up and drive him to his apartment. He saw that I was visibly upset, found out what happened, and said, "Now I know why I've been fasting today. You need a blessing." That inspired ward member was able to give me just what I needed at that moment. That blessing and comforting words from my Mission President led me to choose to finish my mission rather than go home. I have felt blessed by my mission for all of these years since I served. (Rebecca)
What are some interesting facts about the Fort Worth Mission?
It's the best obviously. Haha. The members are very strong and ready to help. The work is spreading like crazy! (Hannah)
Some parts are like a metropolitan city, but others are as country as you can get. The mission is also fairly sizable. It takes at least 3 hours (usually more though) to go from the north of the mission to the south. The Hurst Stake Center is usually used as home base for transfers, Mission Language Center, and other large meetings. There are quite a few trucks in the mission fleet. Usually the Assistants to the President, Zone Leaders, and missionaries in very rural areas had them. (Heidi)
Glenn Beck lives in the Keller 2nd Ward. The Southlake Bishop has a Mormon message. Rochelle from Mormon messages lives in the Hurst Stake. (Lindsey)
Fire ants are everywhere and Chiggers are a real thing. If you don't know what a chigger is, then look them up or don't and stay away from tall grass. (John)
Within the mission boundaries lives some pretty notable people; George W. Bush, and Ted Nugent are among the most notable. It's Texas so there are tarantulas and various otherworldly critters that are things of nightmares, so avoid sleeping with the windows open in the summer. If you live in Texas without being born there, you are called a "transplant". There are so many more things it would take forever to list. (Chris)
It is the best mission in the world. It was split into two missions a few years ago. Now there is a tie between the two for best mission in the world. (Darren)
We got permission to go to the temple once during my mission. It was during as Sisters Conference. Before that, missionaries were not allowed to go to the temple during their mission, so as to focus on serving the living. Now missionaries go frequently where possible with new members. I think that rule change is awesome. I know for me, that temple trip helped build stronger bonds among us missionaries too. (Rebecca)
What was the weather like?
I served for a few months and the weather was really nice. Mostly 80's. It's was only humid the last few weeks I was there which was great! (Mary)
It can get SO hot but the humidity seems normal after awhile. Texas thunderstorms are the best because it downpours in 2 seconds. (Hannah)
Most of the year, it was hot and slightly humid. However, in the winter, it could get pretty cold because of the humidity. The thunderstorms are the best. They are huge. The thunder is incredibly loud and it pours so much that streets often have standing water (at least where I served). Spring is tornado season. Be prepared to probably hear tornado sirens (and know what they mean), especially if you serve more to the north of the mission. (Heidi)
Really hot in the summer. Obviously not too shocking. But realize that summer there is longer than 3 months. It's hot from May to mid October. You'll daydream about people accidentally shoving you in the pool. If you're walking a lot in the summer, you'll probably need to change your clothes during lunch. It's not always cold, but when it is, it's the humid cold that goes straight to your bones. (Lindsey)
You honestly never knew what would happen. We would have 5 minutes of heavy thunder storms and then blue skies. You would hear tornado warnings and it would seem like it was 8 pm with how dark it would get sometimes. Then in the winter it would freeze! (John)
Hot, and humid except in the winter when there would be large ice storms. And can't forget the occasional tornado. (Chris)
Hot and humid in the summer, bitter cold in the winter. I remember riding my bike through a puddle so deep that the water reached the bottom of my bike seat. (Darren)
Nothing crazy. Hot in the summer, cold in the winter. (Rebecca)
Any things you really like about the area/people?
I loved the way the members were do willing to give a helping hand to help the work of the Lord push on and lift one another up. (Mary)
Everyone was so nice, even the mean people were some of the nicest people I have ever met. Everyone wants you to feel at home so they become like your family. (Hannah)
Southern hospitality is real! So is being a redneck, haha. I loved how friendly the people were. Almost everyone was willing to talk with you, even briefly. Sometimes there were those times when people would say "you don't believe in the same Jesus I do and I'm sorry to tell you, but you're going to Hell" or who would Bible bash you, but for the most part, I found people to be pleasant and hospitable. I cannot even begin to count how many times people of other faiths thanked us for what we were doing and said they already found the Lord, but they hoped we could help others. It was wonderful! And also kind of hard because they already thought they had everything haha. (Heidi)
The people are so kind and generous. Many are family oriented and have strong convictions about God and Jesus Christ. Almost everyone you talk to will offer you water in the summer time. People are always willing to talk about God. But truly the best way to find is through the members. And the members in Texas are amazing. They really want to be a part of the work of salvation. (Lindsey)
The kindness most people had even though you had different beliefs. Of course, there are always those who want to argue but that would happen anywhere. (John)
They are so incredibly kind…southern hospitality is a real thing. Texans have a lot to teach us about love, hard work and being Christlike. I was very nervous when I first arrived and the people, both member and non-member alike made me feel welcome and as if I had a special family there with me. Another thing about the Texans is respect. They take love thy neighbor to a wonderful place. You always hear them say ma'am and sir, and always treat others the way you want to be treated…it is culturally fundamental there and is drilled into the minds of the children early on. Even if you meet someone who is not necessarily interested in The Book of Mormon, they love to bear their testimonies of their love for the Savior. Which leads to the next point…they are all generally very religious. People told me before I arrived, that that would make it more difficult to find the "golden investigators" but on the contrary, it made every encounter that much more meaningful. Everyone you meet has some kind of spiritual foundation with a faith in Christ that I found makes them more open to the restored gospel. I miss the people every day. (Chris)
I loved meeting Spanish speaking people from every Spanish speaking country, and from every state in Mexico. Such diversity was beautiful. (Darren)
Talk about hospitality! We taught all day every day. Even if people didn't want to come to church or agree with our religious beliefs, they loved talking about Jesus and were generally open to having the 1st discussion with us. I had to stay with members one night during a transfer and I was treated like a princess. One woman we taught fed us the most amazing dinner of different types of Mexican dishes, and it was obvious she had a meager food budget. I'll never forget the hospitality in Texas. (Rebecca)
Any packing/clothing advice?
You don't need any sort of winter clothes. Texas doesn't really have winter, at least in the Fort Worth area. Wear breathable clothing and try to wear stretchy skirts it makes the work a little easier. (Mary)
Pack short sleeve shirts and cardigans just in case, but you will mostly just be hot. (Hannah)
Try not to layer for summer months. But also, you definitely want a coat and tights and scarves and things like that for the winter. My mom sent my winter clothes to me when temperatures started dropping my first winter so that I didn't have to try and pack a coat in my luggage. I bought some expensive tracting shoes thinking I'd use them since that's what missionaries did, but I found that if you're perfectly find walking around in flats all day, then you don't actually need the expensive (and sometimes unattractive) tracting shoes. If you are stressed about bringing everything you could possibly need–don't. It's pretty easy to get the things you need if you've forgotten something. In fact, help yourself out and don't bring things that take up unnecessary weight or space in your luggage if you were going to buy it anyway, then just buy it in Texas. (Heidi)
Have 2 nice outfits for meetings and when Apostles come. If I were to do it all again, I would do all my shopping at Walmart and wouldn't bring anything that nice. Everything you love will get worn out by the end. Plus the stuff that doesn't get worn out, you typically don't wear when you get home because you're sick of it. Because of the heat, try to find short sleeve blouses that don't require an undershirt of any kind. (Lindsey)
I always tried to pack light. Send home anything you planned on keeping to make transfers easier of you. (John)
Don't wear heavy materials like wool. Make sure suits, and skirts (for sisters) are lighter materials. The temperature can easily reach over 100 degrees. Have a good water proof jacket, when it rains its like a monsoon. (Chris)
Many missionaries left things behind for future missionaries to inherit. Coats, suits, and ties were actually quite easy to find. The Salvation Army stores also had very good selections. (Darren)
Don't worry if you don't have everything on "the list." There are Walmarts, Targets, and plenty of access to anything you need throughout Texas. (Rebecca)
What blessings did you receive from serving a mission?
I learned how to be a better person over all. I truly am learning how to become more converted to the Lord. But a blessing I received from my mission is, I can forgive others no matter the sin. (Mary)
It changed my life. I became more like the person I know God wants me to be and learned what was most important. I also made some amazing friends. (Hannah)
I came to truly see the light of the Gospel and know the Savior. I thought I knew the gospel and was on the path before my mission, but my mission showed me just how off the mark I was. I cam to see things with a crystal clarity on my mission and I can never forget that. Even though being home is difficult and sometimes things seem murky, I remember back to the things I learned and felt on my mission, and it gives me the strength to keep pushing on and enduring to the end. (Heidi)
They cannot be numbered. I learned how to pray and to pray often. I learned how to manage my time and be accountable. I changed for the better. I became less idle. I became more honest with God and my fellow men. Some of my closest friendships are because of my mission. I've dated great people who were friends with people I served with on the mission. I grew closer to the Savior. I learned how to handle adversity and have greater perspective. I learned how to be a member missionary. I'll stop here but I could fill this box forever. (Lindsey)
A perfect wife for me and two beautiful children and another on the way. Seriously though, I don't think I would have my family if I didn't serve the Lord. (John)
They are too many to count. I was blessed with greater patience and an understanding of the world that I didn't have before.  (Chris)
I learned for myself that the gospel is true. I also learned to speak Spanish, which gave me the capacity to eventually go on to be the first in my family to earn a Doctorate degree. (Darren)
I realized back then that just because you serve a mission doesn't mean you are converted and faithful. I chose who to marry partly because I loved how he talked about his mission. He served obediently and with pure charity for the people and never focused on numbers or complained about struggles with companions/negative things. (Rebecca)
What are some skills you gained?
I learned how to rely more on faith in Jesus Christ and in God's plan for me. I know I couldn't have done anything without them. (Hannah)
I got really good at talking to people and easily testifying of the Savior without feeling overly preachy. People really opened up when it didn't feel forced. I also got even better at planning than I already was. I also gained a surprising amount of house-building/restoration skills from service. I plastered walls, put up dry wall, put up insulation and Tyvek paper, painted walls, cleaned grout, and so much more. (Heidi)
Look at above box haha. (Lindsey)
The skills gained on the mission are endless. Not only did I learn to be completely independent and to care for myself, I also learned how to better work with others…having companions really helped with that. (Chris)
Speaking Spanish, confidence when speaking with strangers, a knowledge of who I am and what I can do. (Darren)
I strengthened my work ethic on my mission. I learned to plan my days more efficiently. (Rebecca)
What do you wish you knew/did at the beginning of your mission?
Just have fun. Yes, it's stressful and hard but you can also find ways to be yourself and enjoy it. Just be happy. Nothing bad lasts and the good beyond makes up for it. (Hannah)
I wish I had a scripture for every Preach My Gospel principle marked before I went out. It would have made the first few weeks easier. I also wish I knew that my mission would be the happiest, most joyful time in my whole life. I discovered happiness that I never knew existed on my mission. (Heidi)
How to plan. I hated planning at the beginning of my mission, but at the end of my mission planning day became one of my favorite times of the week. It became sacred. So much can get done if you know how to plan right. I can't really explain in this box, but when you go out ask for multiple training on effective planning. You'll see miracles. (Lindsey)
I honestly wish I would have known how hard it was going to be to face rejection. Up to that point in my life, rejection and "failure" was something I was not too familiar with. I wish I would have been more prepared for those times when I'd have doors slammed in my face and have our message rejected. Even the kindest rejections cut deep at first. I took it so personally because the gospel has been such an integral part of my life and it felt as if they were rejecting me as a person and not just our message. I wish I would have been more mentally prepared with how I would deal with that. Over time, that all works itself out. (Chris)
I wish I relaxed a little more throughout my mission. I was always so stressed, which was actually counter productive. There is no need to run faster than we have strength. (Darren)
That the letters you get or read from missionaries are the highlight reel of the week. Missions have a lot of down time where you are working on finding. You are rejected or people flake on meetings. It can be discouraging if all you've heard is how great and miraculous missions are. There are those experiences for sure, but they come with lots and lots of hard work, obedience, faith, and in between hours of hard times. (Rebecca)
Any advice/testimony for pre-missionaries going to Fort Worth?
Read from the Book of Mormon every day. Grow your testimony. Remember the experiences you have had to help get you there that can help other people as well. (Hannah)
A mission is the best thing ever!! Don't have a single expectation. I didn't have any (except that I would be miserable and hate it and wouldn't baptize a single person but I was going because Heavenly Father wanted me to anyway). Because of having hardly any expectations, and the ones that I had were negative expectations, when I was told to follow a rule or how things were, I didn't even question it. It just became my new life and I readily adopted it. The missionaries who had expectations seemed to struggle more than those who didn't, because it wasn't what they expected or they felt like things should be different. Learn how to manage your stress within mission rules before the mission. If you like to listen to music or watch a show or read a book or take a nap or things like that, chances are you probably won't be able to do those things (at least not when you want to). So learn how to deal with stress and hard things without needing to watch TV or call your mom or whatever it is that you do. You'll be better off if you do. Lastly, and probably most importantly, figure out the gospel makes you happy and how it makes life worth living. On your mission, I can almost guarantee that at some point, the gospel will be all you have on your mission (I went through this, and every missionary I talked to also experienced a time like this). Everything may be going wrong with your investigators, you might have the worst area in the world, and your companion might hate you. You will feel alone and like everything is wrong. At this moment you will need to know how the gospel makes you happy, because it will be all you have. If you can't figure that out, you won't be happy and you won't like your mission. So figure it out now. (Heidi)
This church is true. God is our loving Heavenly Father. Jesus Christ is the Savior of the world. Joseph Smith is the prophet of the Restoration. Go to church every week, say your prayers morning and night and study the scriptures and Preach My Gospel every day. You're going to love it. Also understand how much FUN the mission is. I laughed more on the mission than I thought I would. It truly was such a joyful time. (Lindsey)
Prepare yourself for the most difficult and rewarding experience of your life so far. You will mature spiritually and temporally in ways you never knew. Be open to the changes, embrace them and trust that the Lord knows what you need. Don't go in thinking you know what to expect because of the things I shared… the Lord will mold your experiences to fit YOU and he will place people in your path that he wants YOU to meet. So be yourself, use your strengths, embrace your weaknesses and celebrate any speed bumps or failures as opportunities to grow, do and be your very best. The harder you work the more the Lord can work through you. (Chris)
Obedience is important, and learning to truly love the people. (Darren)
The time to develop your testimony and love for Jesus Christ is well before your mission. That testimony will grow on your mission, but the more you develop in faith, talents, work ethic, people skills, etc. before your mission, the more you will have to give others on your mission. (Rebecca)
What was a funny language mistake?
We were English but my companion wanted to really nail a door approach in Spanish so she memorized one. We got to a house, knocked and she started into it until the lady stopped her and said "we speak English here." Haha (Hannah)
I tried to teach myself Spanish. It went hilariously wrong on many occasions. Because there were so many Spanish speaking people, I thought I could learn Spanish so I could get referrals for the Spanish elders while we were out contacting. A few times it worked out but usually I just confused people and they would just keep saying "no intiende" . At least I tried. (Chris)
For what it's worth, "Estoy embarasado" does NOT mean "I'm embarrassed." (Darren)