Free resources about the Texas Dallas Mission:
*Other Mission Pages: Texas LDS Missions.
---
---
Texas Dallas Mission Address
Here's a recent address for the Dallas Mission. We try to keep this information up to date, but it's a good idea to check the address with several sources, including your mission packet or the mission office.
Texas Dallas Mission
13747 Montfort Drive,
Suite 120
Dallas, Texas 75240-4479
Phone Number: 1-972-239-5621
Mission President: President John C. Dalton
Texas Dallas Mission Map
Here's a link to the mission map for the Dallas Mission (LDS). To access the official LDS.org map for the Dallas Mission:
Log into your LDS account here.
Click here.
Videos with Texas Dallas RMs
Here are in-depth YouTube video interviews with returned missionaries from the Dallas Mission.  We interview hundreds of returned missionaries each year, so check back regularly to see new RM interviews.
LDS-Friendly Videos about Texas
Here are LDS-friendly educational videos about Texas. We scoured YouTube to find the best quality videos about Texas, that are free from inappropriate music, immodesty and profanity.
Texas Dallas Missionary Blogs
Here's a list of LDS missionary blogs for the Dallas Mission. This list includes the missionary's name, URL and when their blog was updated.
*Send your missionary a gift (mission-specific shirts, ties, Christmas stockings/ornaments, pillowcases, etc.)
Texas Dallas Mission Groups
Here are Dallas Mission Groups- for LDS missionary moms, returned missionaries, mission presidents and other alumni of the Dallas Mission.
Texas Dallas Mission T-Shirts
Here are T-shirts for the Texas Dallas Mission!
Shirt designs include Dallas Mission logo/emblem shirts and Called to Serve shirts. The shirts make great gifts for pre-missionaries, returned missionaries and missionaries currently serving. LDS Mission shirts come in all sizes: Small, Medium, Large, Extra Large, up to 4XL.  The mission designs are printed on white shirts and are shipped to you.
*Simply click on a shirt design to view the details and submit an order. The designs on mission t-shirts may also be printed on other LDS mission gifts, including: Dallas missionary aprons, Christmas stockings, ties, pillow cases, teddy bears and Christmas ornaments.
*Click here to browse Dallas Mission gifts
---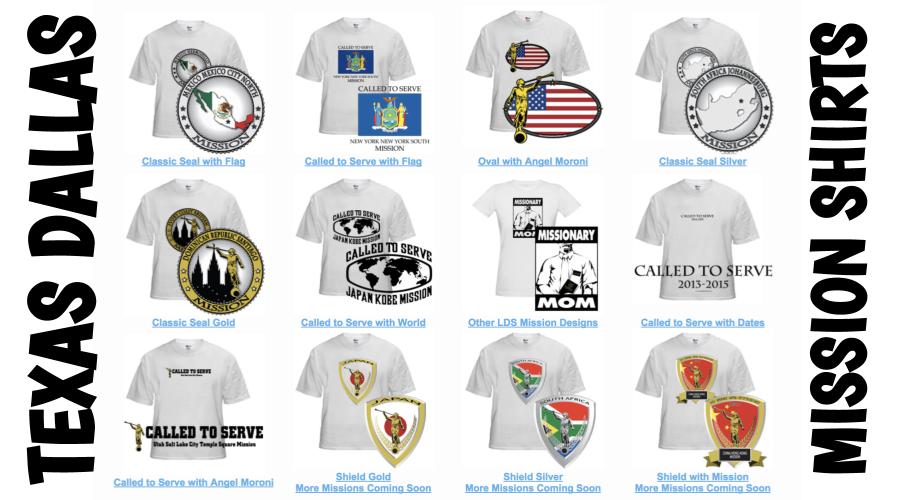 ---
Texas Dallas Mission Presidents
Here's a list of current and past Mission Presidents of the Dallas Mission.
2017-2020, John C. Dalton
2014-2017, Brian K. Taylor
2011-2014, Devin George Durrant
2008-2011, Barry M. Smith
2005-2008, Bart C. Warner
2002-2005, Kimel P. Fisher
1999-2002, Blaine C. Morgan
1996-1999, Paul A. Hanks
1993-1996, W. Rolfe Kerr
1990-1993, M. Dean Anderson
1987-1990, Douglas E. Brinley
1985-1987, J. Merrill Bushnell
1982-1985, Grant Barton
1979-1982, Orville W. Matheny
1976-1979, C. Monroe Hart
1973-1976, George Lovell
1970-1973, Carlos Asay
1966-1969, Howe
Texas LDS Statistics (2015)
Church Membership: 334,772
Missions: 8
Temples: 4
Congregations: 635
Family History Centers: 11
Helpful Articles about Texas
Texas Dallas Missionary Survey
Here are survey responses from Dallas RMs, to give you a snapshot into what it's like to live in the mission.
*Click here to take a survey to help pre-missionaries going to your mission.
When did you serve?
2004-2006 (Zach)
2005-2007 (Bobby)
2003-2005 (Skip)
2002-2003 (Laura)
1976-1978 (Walter)
1999-2001 (Lawrence)
1998-2000 (Brian)
1997-1998 (Leslie)
1996-1998 (Melanie)
1994 (Eduviges)
1971-1973 (Joseph)
What areas did you serve?
Dallas, Garland, Longview, Sherman, Greenville, Oak Cliff. (Zach)
Plano, Tyler, Gilmer, Nacogdoches. (Bobby)
Gilmer, Irving, Waxahachie, McKinney, Henderson. (Skip)
Arlington, Paris, Sherman, Canyon, Paris (a 2nd time). (Walter)
Duncanville, Grand Prairie, Oak Cliff, Irving, Rockwall, Paris, Garland. (Lawrence)
Plano, Garland, Quitman, Allen. (Brian)
Grand Prairie, Richardson, Coppelle, Lewisville, Dallas. (Leslie)
Garland 2nd Ward, Dallas 1st Ward, Quitman, Flower Mound 2nd/Lewisville 1st. (Melanie)
Dallas, Waco to name a couple…Texas North Mission back then. (Joseph)
What were some favorite foods?
Anything Mexican. (Zach)
BBQ, Squirrel, Rabbit. (Bobby)
BBQ anything. (Skip)
Papusas. Sopes. Augas de fruta. (Laura)
Tex-Mex. Blue Bell ice cream. (Lawrence)
Mexican, Southern home cooking! (Brian)
Flautas, Tex-Mex. (Leslie)
Steaks, BBQ, fresh fruits. (Melanie)
Many kinds of food. (Eduviges)
Fried Chicken, Hamburgers, the occasional Roast beef (at meal appointments) Enchiladas. (Joseph)
What was a funny experience?
My companion falling off his bike, twice. (Skip)
Yahtzee with the elderly for service at a rest home. Using Spanish incorrectly. (Laura)
While riding our bikes back to our apartment during a heavy rain storm, we went through a very large mud puddle. I hit an unseen, under-the-water hole and flipped over my handle bars "like a pretzel" according to my companion who had turned around to try to warn me of the hole that he was aware of from previous trips. As I hit the water, I heard my tire pop. I was was scraped up a little but otherwise OK and we both laughed while I sat there in the puddle in the middle of the street. Fortunately a member with a pick up truck came by very soon after the crash and took us to our apartment. (Walter)
We were helping someone move, and they had taco/tortilla soup. I wasn't paying attention, and started spilling on my pants. One of the members proceeded to tie 2 bags on me. One around my neck, so it hung like a bib. The other one, covering my pants. (Lawrence)
One of my companions separated his shoulder in a bike crash coming home one night. Having him in the Emergency Room and being asked to help him hold the urinal for him! :o. (Brian)
Getting tongue tied while trying to find less active members and confusing street names with last names of families. (Melanie)
We had space heaters to use during the winter. One 4th of July, my companion and I plotted and pulled off, putting a fire cracker behind the space heater, with the fuse just touching the hole where the flame came out. Then we waited until the grape vine sent the message that the District Leaders had lit the space heater and KABOOM! Neither my companion or I were in the same area. But the story spread through the mission. (Joseph)
What was a crazy experience?
Woke up to our bathroom being flooded. Also ran into a guide wire one time biking in our area. Lol. (Bobby)
Crossing the freeway on ramp, always. (Skip)
Neighbors got shot in the middle of the night in our complex. (Laura)
My companion crawling up into the duct work in the ceiling of our apartment to try to fix the heating/cooling system. (Walter)
Every time we went to an area where we were the only white people. (Lawrence)
Having people speak in tongues was quite disturbing for me! (Brian)
Several scary experiences tracting in section 8 housing complexes. I saw drug use, daily struggles of addicts, prostitutes soliciting, gangs. (Leslie)
Meeting "investigators" who had bad intentions. (Melanie)
Our district in Waco Texas, went through a very large storm drain one P day. We walked in complete darkness feeling our way through the pipe with our hand on the side of the pipe. After we walked about 2 miles the pipe opened up in front of Lake Brazos. WE walked back on the streets to the apartment. At church that Sunday, we told about our adventure to the Ward Mission Leader. It was then we found out, that both snapping turtles and water moccasins lived in that pipe. Safe to say, we had been protected and we didn't go through there ever again. (Joseph)
What was a spiritual experience?
Meeting people you know you helped in some way. (Skip)
Too many to share. (Laura)
Finding out about the revelation on Priesthood and then teaching a Black young man. (Walter)
At the Mission Training Center, we had an experience where we needed to use the priesthood authority. At that point, I didn't really know for sure if I had a testimony. After the experience, I asked to know the truth. I received the answer, that I already knew! Then, I felt the Savior wrap his loving arms around me!!! (Lawrence)
Hearing people you've taught to pray for the first time! Always a wonderful spirit! (Brian)
Seeing the power of the Atonement change lives and give peace to myself and others. (Melanie)
I was a greenie in Waco, Texas. My trainer and I had tracted all day with no success. My trainer, Ben Allen, could see I was down. He put his arm over my shoulder and said, " Elder Thompson, don't feel bad. The Lord will bless us if we continue to have faith and work hard." He then pointed to an apartment building and said, " I know in those apartments we will find someone, teach and baptize them." I smiled at that thought. Well, the next day, a sister came up to us and asked if we were elders. We said, " Yes" she asked us if we could talk to her about the church, because she had just moved to Waco and had started the lessons in Japan. She had come to Waco to attend Baylor University. We agreed to come over and teach her. Guess where she lived! We taught her, and baptized her. She is still active and married in the temple. For a greenie, depressed, it taught me to persevere and have faith! (Joseph)
What are some interesting facts about the Dallas Mission?
Preach My Gospel came out exactly halfway through my time. (Skip)
The field is white, and ready to harvest. Even in Texas! (Brian)
In 1971 there were 4 stakes in the northern 1/2 of the state of Texas. Today just between Dallas and Ft. Worth a 40 mile drive, there are 6 stakes and 3 missions, not counting Ft. Worth and Dallas. In 71 there were 200 missionaries to cover the whole northern half of the state. Today there are 200 missionaries in just the mission in the Arlington, Hurst Mission. (Joseph)
What was the weather like?
Hot and humid in the summer, cold and humid in the winter. (Zach)
Hot and humid. (Bobby)
Pretty decent. (Skip)
So stinking humid!!!! (Laura)
We had some dust storms -when Canyon was in the mission. (Walter)
Hot!!! My first summer, it got up to 118 degrees for a week solid. In the fall, you have "monsoon" season. It would rain pretty bad, for about 1 week. Quite often in the winter, you'll see sleet or freezing rain. I loved it all!!! (Lawrence)
HOT HOT HOT HOT HOT in the summer, and freaking cold in the winter. Really there's only two seasons in Texas. ;). (Brian)
Hot & humid. (Leslie)
Hot and humid with mild winters. Tornados in the Spring. (Melanie)
HOT, HUMID. Winter was mild until a cold front came down from Canada, then it was biting COLD and humid! If a dusting of snow hit the ground, schools were cancelled and all life stopped. Being from Washington State, I couldn't believe it. Tornadoes, especially in the Pan Handle of Texas. And I was in 2 cities right in the middle of tornado alley. Spent a few nights in a member's storm shelters. (Joseph)
Any things you really like about the area/people?
Friendly. (Skip)
We had a saying that the people were so friendly they would say, "Ya all come back!" as they slammed the door in our face. (Walter)
Most of the people were friendly. "Southern hospitality" is great! Even if they didn't want to hear our message, they were usually respectful. When it was hot, they would say no, but still offer us water!!! (Lawrence)
People for the most part were pretty kind, so love them, and serve faithfully and they will love you to pieces. (Brian)
The Hispanic people were very generous & loving. (Leslie)
The people are very religious and open and willing to talk about religion. Some are antagonistic but by far most are civil. Southern hospitality is real. (Melanie)
Texas is God's favorite place in the USA. If it wasn't, why did he make it so big? The people outside of Dallas, especially in the Pan Handle are the friendliest people in the world! They would invite us in, NOT TO TALK RELIGION, but to let us cool off and drink a cold drink. We would leave most of the time having placed a Book of Mormon with the family. I LOVE TEXAS! After my mission and school, I moved back to Texas with my family when I had a good opportunity! (Joseph)
Any packing/clothing advice?
Cool clothing for the summer and warm clothing for the winter, especially if on a bike. (Zach)
Still take a good jacket. The humidity makes it very cold. (Skip)
In the summer, it gets really hot. In the winter, sometimes it can be quite cold. You do need a couple of long sleeve shirts, but mostly short sleeve. (Lawrence)
A winter coat. Believe it or not, it can get pretty cold in the winter time. Don't go cheap on your shoes, or bike. I would also say to get a cheap suit for everyday proselytizing and two nice ones for Sundays and other meetings. (Brian)
Rain gear is very helpful. (Leslie)
Even though the temperature doesn't dip very low, it is humid and so when it is cold it cuts right through your clothes. Bring thermal underwear to wear under your clothes for tracting and outside contacting. (Melanie)
Pack cool, light suits, lots of handkerchiefs especially if your a bike elder. Comfortable shoes that breath. Short sleeve white shirts. Get a foot locker. You will eventually. (Joseph)
What blessings did you receive from serving a mission?
I learned a lot about myself. The mission sure helps you grow. (Bobby)
Solidified my testimony and grew my love of sharing the gospel. (Skip)
My four sons all served full time missions. (Walter)
I learned quite a bit about myself, who I really am, and my abilities. I was able to start opening up, and be able to talk to people. (Lawrence)
Wow, where to begin? Everything I hold dear to my heart was a direct result of my mission. (Brian)
It completely changed my life for the good. I still think about people and experiences that I had 20 years ago almost every week. It has made all of the difference in the world to me. (Melanie)
Many blessings. Learned what I really valued in a wife, from all of my companions. Learned to study effectively. Learned to rely on the Spirit to direct me many, many blessings. (Joseph)
What are some skills you gained?
Learned I get along with anyone. (Skip)
How to deal with differences between me and my companions in a positive way. As instructed by our mission president, we both would pray together, each saying a prayer, and then discuss our concerns. (Walter)
Learning how to talk to people. Learning to communicate, in a group setting as well as one on one. Learning how to cook. (Lawrence)
How to get along even when you're with someone totally different than you. Being able to talk to complete strangers. (Brian)
People skills. I learned how to listen and figure out what people value by watching how they act and hearing what they say even though they may not be putting it into words. I learned how to build on common beliefs and LOVE people no matter where they are in life. (Melanie)
Patience, concentration, better people skills, learning skills, effective time management skills, how to prioritize, how to study. (Joseph)
What do you wish you knew/did at the beginning of your mission?
I wish I had studied the scriptures more. (Bobby)
Lesson planning. (Skip)
Don't take everything so serious. Learn to be yourself and still be a missionary. (Laura)
I wish I had known how to recognize the Spirit. No one had ever taught me how it felt. Being able to resolve concerns with others while staying calm, and being able to help everyone involved. (Lawrence)
I wish I knew the Bible better when I came out. (Brian)
I wish I knew how to deal with rejection, and not take it so personally. (Melanie)
I wish I knew the Bible a whole lot better. In Texas, the people there read their Bibles and study their Bibles. I wish I had known my Bible far better than I did! (Joseph)
Any advice/testimony for pre-missionaries going to Dallas?
Obedience!! Obedience!! Obedience!! And patience!! (Bobby)
Get comfortable talking to people and befriend them even if they aren't interested. (Skip)
Practice talking to people, especially about the gospel, since this is the most important thing you do. Become comfortable talking to others, then learn to share your feelings and testimony. (Lawrence)
Work hard and serve harder! If you're not having fun, you're doing something wrong. (Brian)
A member of the 70's came and spoke to us the first part of my mission. He suggested that we set personal goals for our mission and to write down in your journal what you want to get out of your time serving. I did that. I had 4 very specific things that I wanted to get out of my mission. By the last month of my mission all of my goals were met and I literally saw miracles. I had to work my tail off and was stretched beyond what I felt I could handle, but I GREW so much. Heavenly Father will bless you and will always compensate for all of your shortcomings because His grace is sufficient. (Melanie)
Know your Bible, study your Bible. Trust me when I say, the people in Texas especially the Baptists know their Bibles. Especially the concept, " If you accept Jesus as your personal Savior, you are saved!" And once you accept Jesus as your Savior, you cannot fall from grace. You can commit almost any sin and not worry about repenting because once saved always saved! Then learn to LOVE the people your teaching. (Joseph)
What was a funny language mistake?
Had a Tongan companion, a companion from Taiwan, London, and be careful when other cultures want to feed you. Know what you're getting into. (Brian)
Y'all, means everyone. Fixin too… means your getting ready to do something. A piece.. means you go down the road until you get there. A piece. Lard/ Lord one is for cooking and one is for worship. This is the Texas accent you need to attune your ear to, too figure out which they are meaning. Yont to.. means want to? Yee Haa… means either the Longhorns or the Cowboys scored! Funnun… means your teasing someone. I's just funnun with ya! (Joseph)