Free resources about the Taiwan Taipei Mission:
*Other Mission Pages: Taiwan Taichung Mission.
---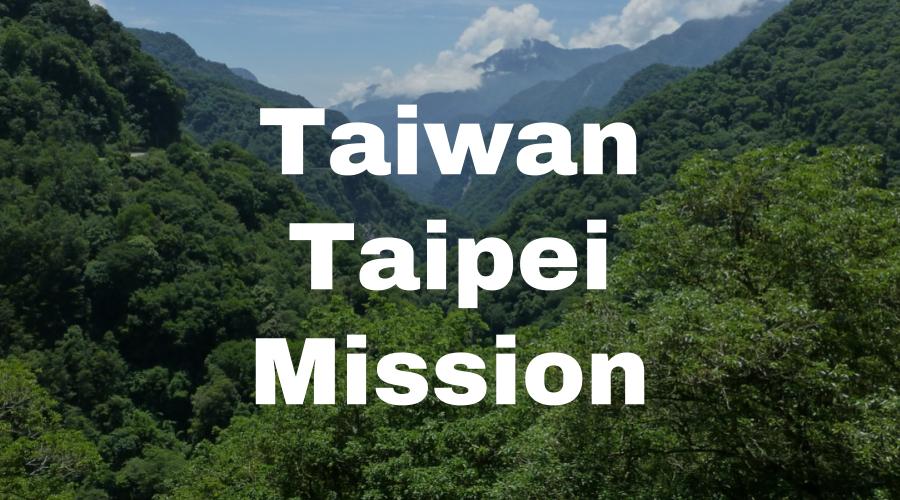 ---
Taiwan Taipei Mission Address
Here's a recent address for the Taipei Mission. We try to keep this info up to date, but it's a good idea to check the address with several sources, including your mission packet or the mission office.
Taiwan Taipei Mission
4/F, #24, Lane 183
Jin Hua Street,
Taipei 106, Taiwan
Phone Number: 886-02-2393-3285
Mission President: President Jace B. Jergensen
Taiwan Taipei Mission Map
Here's a link to the mission map for the Taiwan Taipei Mission (LDS). To access the official, up-to-date LDS.org map for the Taipei Mission:
Log into your LDS account here.
Click here.
Videos with Taipei RMs
Here are in-depth YouTube video interviews with returned missionaries from the Taipei Mission.  We interview hundreds of returned missionaries each year, so check back regularly to see new RM interviews.
Taiwan Taipei Missionary Blogs
Here's a list of LDS missionary blogs for the Taiwan Taipei Mission. This list includes the missionary's name, URL and when their blog was updated.
*Email alexbalinski@gmail.com to add your blog to the list.
Taiwan Taipei Mission Groups
Here are Taipei Mission Groups- for LDS missionary moms, returned missionaries, mission presidents and other alumni of the Taipei Mission.
Taiwan Taipei Mission T-Shirts
Here are T-shirts for the Taiwan Taipei Mission!
Shirt designs include Taipei Mission logo/emblem shirts and Called to Serve shirts. The shirts make great gifts for pre-missionaries, returned missionaries and missionaries currently serving. LDS Mission shirts come in all sizes: Small, Medium, Large, Extra Large, up to 4XL.  The mission designs are printed on white shirts and are shipped to you.
*Simply click on a shirt design to view the details and submit an order. The designs on mission t-shirts may also be printed on other LDS mission gifts, including: Taipei missionary aprons, Christmas stockings, ties, pillow cases, teddy bears and Christmas ornaments.
*Click here to browse Taipei Mission gifts
---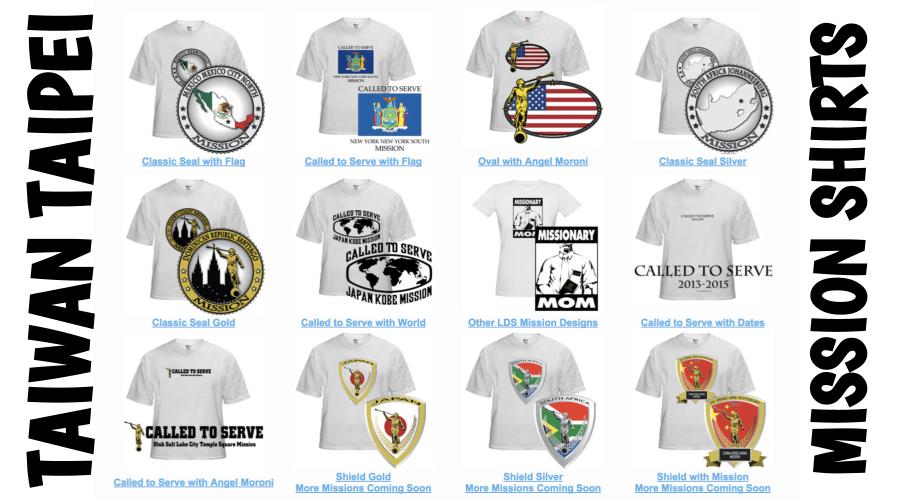 ---
Taiwan Taipei Mission Presidents
Here's a list of current and past Mission Presidents of the Taipei Mission.
2015-2018, Jace B. Jergensen
2012-2015, David Owen Day
2009-2012, Terence Elial Grimley
2006-2009, Norman Sanford Nielson (Listen to an interview with the Nielsons)
2003-2006, Anthony Duane Perkins
2000-2003, Edward James Phipps
1997-2000, Michael G. Harris
1994-1997, Richard B. Stamps
1991-1994, Harvey G. Horner
1988-1991, Patrick H. Price
1985-1988, Larry Y. C. Chen
1982-1985, Paul V. Hyer
1979-1982, Douglas H. Powelson
1977-1979, Frederick W. Crook
1974-1977, Thomas P. Nielson
1971-1974, Malan Robert Jackson
1968-1971, W. Brent Hardy
1965-1968, Keith E. Garner
1962-1965, Jay A. Quealey
1959-1962, Robert S. Taylor
1955-1959, H. Grant Heaton
1949-1953, Hilton A. Robertson
Taiwan LDS Statistics (2015)
Church Membership: 57,889
Missions: 2
Temples: 1
Congregations: 105
Family History Centers: 12
Helpful Articles about Taiwan
Taiwan Taipei Missionary Survey
Here are survey responses from Taiwan Taipei RMs, to give you a snapshot into what it's like to live in the mission.
*Click here to take a survey to help pre-missionaries going to your mission.
When did you serve?
2014-2015 (Kaitlyn)
2013-2015 (Kim)
2013-2015 (Michelle)
2013-2015 (Paden)
2012-2014 (Zach)
2012-2014 (Trevor)
2012-2014 (Tina)
2011-2013 (Buster)
2011-2013 (Kevan)
2011-2012 (Lydia)
2010-2012 (Edward)
2009-2010 (Ashley)
2009-2010 (Laura)
2007-2009 (Miriam)
1997-1998 (Steffanie)
1995-1997 (Brad)
1995-1997 (Koki)
1994-1996 (Jeremiah)
1994-1996 (Michelle)
1982-1984 (Delores)
2002-2004 (Erin)
What areas did you serve in?
DaTong, San Chong and Zhong Li. (Kaitlyn)
YiLan!!! Miracle land! And NanKan. (Kim)
三重,土城,竹南. (Michelle)
花蓮市,吉安鄉,板橋市,桃園市,龜山鄉,蘆竹鄉,木柵,新竹市. (Paden)
Wanda, Zhudong, Miaoli, Taidong, Shuanghe. (Zach)
Snatching, Banqiao, Taoyuan, Zhunan, Xindian, Taipei City. (Trevor)
Taoyuan, Songshan, Xizhi, Xinzhu. (Tina)
Taidong, JiAn, Xinzhu, Neihu. (Buster)
All over Taipei and Taoyuan county, XiZhi is my favorite city. (Kevan)
XiZhi, JiLong, Tao 2. (Lydia)
Taibei (Banqiao); Zhunan; Toufen; Xinzhu; Yilan; Ji'an. (Edward)
Neihu, Xinzhu, Jilong, Xizhi, Banqiao. (Ashley)
Taoyuan and Taidong. (Laura)
Tao yuan, ji long, Zhong li, Tu cheng. (Miriam)
Bade, Miaoli, Zhonghe/Younghe. (Steffanie)
Ilan, Taipei, Miaoli, Zhongli, Neihu. (Brad)
Taipei 5th, Peitou, Chutung, Taoyuan. (Koki)
Zhonghe, Taipei, Hualien, Luodong, Taipei, Taichung, and Beitou. (Jeremiah)
Chungli, Yanmei, Taipei. (Michelle)
San Chung, Hsin Dian, Yong He, Taipei, Ilan. (Delores)
What were some favorite foods?
Cua Bing! Mochi! The bread is incredible! But be careful it's also how you will gain weight super fast, haha. Cocos and teas, Dong Gua Cha add zhenzhu and ice cream=heaven! Mangoes. Hand cut beef noodles. (Kaitlyn)
小籠包!Little dragon… Balls?? Haha 🙂 they are like steamed pot stickers but are super delicious!! 花生加冰! Peanut shavings with ice cream!! And green onion pancakes with egg!!! (Kim)
Fried rice, beef noodles, 豆花, 紅豆餅. (Michelle)
抓餅,曼果,理智,百香果,牛肉麵,肥肉飯,蚵仔煎,摩爾麼奶茶(桃園縣龜山鄉成員的抓餅店),玉米湯,鐵蛋,鳳梨,冰,火鍋,甜不辣,鍋貼,水餃,鵝肉便當, 麻糬,檸檬愛玉汁,冬瓜茶,買茶. (Paden)
Beef noodles, fried rice, and fried chicken lunch box meals with green peppers, bean sprouts and cabbage. (Zach)
Curry, 便當,冬瓜茶,芒果冰沙,芒果,shwarma, 包子,湯包. (Trevor)
These might sound weird after translations, but they're so delicious! Curry chicken, zhua bing (a flaky savory pastry with meat, eggs and/or veggies inside), douhua (a sweet tofu dessert pudding), xiancao (grass jelly with creamer), danbaofan (rice omelette), lvdousha (mung bean slushie), and anything and everything I could get at the vegetarian locations which are abundant everywhere. (Tina)
Rice, Noodles, Curry. (Buster)
There is not a singular item that I love more than another, Taiwanese cuisine is all delicious in its own way. Don't shy away from it, even if it doesn't look or sound appealing. They eat it for a reason. (Kevan)
The egg and tomato dish, tarot milkshakes, curry rice, winter melon tea. (Lydia)
Kong rou fan. Dan bing. Dan bao Fan. (Edward)
Curry, Taro bread, MeinGeDa noodle soup, Beef noodle soup, Scallion pancakes, Shaved ice, Eggplant, Pineapple, Wax apples, Egg pancakes, Fried tofu, Hot pot, Steamed buns, and the seasoning you just can't get in America. (Ashley)
Dumplings, tofu, fruit. (Laura)
Zhua bing, Sweet potato fries with mei fen, Everything at bakeries, Shaved ice, Thai curry with fried chicken on top. (Miriam)
Fried rice, pay-by-the-pound buffet, pastries from the bread stores, cold noodles from 7-11, papaya milk, beef noodles, goyzas, ALMOST EVERYTHING! (Steffanie)
Chicken feet and pig knuckle. Not really, but I did like the curry place near the church in Taipei. (Brad)
Dan Bing. Chua Bing. Niu Rwo Mien. Tian Bu La. Do Jiang. (Koki)
Guotie (potstickers), Shuijiao (boiled dumplings), Galifan (curry on rice), and street food. (Jeremiah)
Steamed meat buns, beef noodle soup, soy milk, dumplings. (Delores)
Fried dumplings, Fried Rice…anything fried, and chocolate toast. (Erin)
What was a funny experience?
I had just transferred areas and my companion was a sister from Taiwan. We were out contacting when I suddenly really had to go to the bathroom. I asked her if there was anywhere we could go, and she said there was a member nearby. Then she told me about how the member had a turtle in the toilet. I was so confused about a turtle being in a toilet, but I had to go to the bathroom, and I had to go bad. I figured I was going to diarrhea and kill the poor turtle, but I had to go. We rode to the members house, and I ran to the bathroom. I quickly went to the restroom, and to my relief, I saw the turtle swimming in their bathtub. (Michelle)
My companion was cleaning his shoes on the balcony of our apartment. We lived on the 20th story. I was sweeping the living room, and he all of the sudden screams, "No!!" I figured nothing good happened and he is leaning over the balcony staring down 20 some-odd stories. His shoe had landed on an adjacent building's roof. We headed to this building thinking that we were going to get his shoe back. But, the landlady would not let us go onto the roof to get his shoe. So we started knocking doors in our apartment building. The first place that we knocked the people living there invited us in but would not let us jump from their window to the adjacent building to get my companion's shoe. We then went on exchanges and my companion still had not gotten the shoe back. A day later we decided to continue knocking doors to find an apartment that had a window facing the building. We finally knocked on the perfect door. But, they would not let us jump onto the balcony. My companion and I were dejected, and were about ready to head upstairs when my companion rang the doorbell of their neighbor. This lady invites us into the house and proceeds to show us the house, like we're going to buy the house. Finally, a young man tells the grandma that we have no interest in the house, but that we want to get my companions shoe back. We find a room with the window facing the roof of the other building, and it is the perfect place to get across from, but the window was stuck. So my companion and I start pulling on the window. We hear the door open and someone yells, "grandma!" We then realize that is the daughter of the lady next door. My companion frantically tried to pry the window open, the girl grabbed my companion. The whole thing was a mess, everyone was yelling, and the grandma began to clutch her chest. I was thinking, oh no we just gave grandma a heart attack. My companion and I convinced them to let him jump and get the shoe. Which he did. Mind, grandma is still clutching her chest at this point. We both check on grandma, who is hysterically laughing. She became a new investigator, and we got the shoe back. (Paden)
There was a time that a sister in our mission accidentally ran into her mother. I was walking by with my companion, and he was a pretty goofy guy. Anyway, she turned to introduce us to her mother and she introduced my companion as "This is Elder Ke…my eternal companion!" Her mother jumped. Like 5 feet in the air! (Zach)
I was eating at a member's house, and they had their parents over. The members had made a black chicken soup, and it looked like acid. The grandpa told us in English "This chicken black, like your president, Obamachicken!" (I am not making this up he really said all of this). The next day at church all of our stomachs felt a little uncomfortable, Sister Chen told us sorry, I think Obamachicken made us sick. Moral of the story don't name your food after Obama. (Trevor)
I told my bishop about where I grew up and the cherry tree by the side of my house. "Uh-huh," he responded, "that's interesting. I always thought cherries were kind of like strawberries– they grow up from the ground and you pick 'em from a little plant." I died laughing. (Tina)
Be prepared to accidentally swap genders of everyone and being told you are fat or have pimples. (Buster)
Lots of scooters, meaning lots of helmets, and a lot of scooter contacting. I mistakenly called a woman "Mr." because the helmet made it hard to tell who it was I was speaking to. (Kevan)
Having to borrow a bike from an Elder who was 6′ 4″. I'm 5′ 8″. I had to find a mounting block to get on it :). (Lydia)
I had a couple experiences with monks that were funny. One time on the MRT (light rail system), I was talking w/a passenger about the Restoration (using the pamphlet). After I finished talking with the passenger, this young monk came up to me and asked for the pamphlet. He acted quite interested. The funny part was that he came up to me and was like, "Can I have that?," and just took it. The other instance was that I ran into a monk on my bike, and he didn't quite seem sane. He kept asking me loaded questions that I couldn't answer (the questions were quite weird), then he complimented me on my patience and gave me his pastries and his business card. I still have the business card. (Edward)
A new convert Sister Liao always thought my companion and I were not dressed warmly enough, so she gave us some thick legging tights. My companion was nearly 6′ tall. The leggings' crotch only came up just past her knees. She wore them anyway, because it was cold. (Ashley)
When we tried to contact a couple making out in the park one night. We made a game of contacting people at awkward moments. It was hilarious. (Miriam)
Seeing entire families of 5 and 6 riding on one scooter. And cold soy milk. And the breakfast sandwich place in Ilan. (Brad)
1. Giving old men baths as service. 2. There was a car commercial that had actors portrayed as missionaries riding bicycles. We used that as a contacting tool. (Koki)
As we were riding our bikes through a very narrow alley, a dog started chasing me and barking. He didn't see my companion behind us, and my comp didn't have time (or didn't want to!) swerve, so ran over the top of the dog!! Solved the problem! (Jeremiah)
Riding home one of my first nights on island. My trainer was diligently watching for the street to turn up the hill to our apartment. I was following a little too close behind and he suddenly made a right turn. I had to hit the breaks on my bike sending my back end up. I was able to use my momentum to turn myself to the right by pivoting on my front tire. However, this was during rush hour, I was now perpendicular to the oncoming traffic, and a group of cars were headed my direction. I pushed down on the peddles as hard as I could. Thankfully the tires found traction on the wet pavement and I sped up the hill behind my trainer. (Erin)
What was a crazy experience?
My companion and I were searching for less actives and we ride up to her address and it was a super old abandoned place but we had seen people live in worse, so we stopped to write her a note and ask her to call us back when her next door neighbor little grandma walks out of the house and started yelling and shaking her fist at my companion and I so we left and tried to finish writing the note on the side of the road and when we looked up she was coming at us and we realized she was missing an eye and it was all black around it. Scared us to death! So we basically grabbed our bikes and ran away as fast as we could! (Kim)
I was riding down the main road in 三重 and a lady pulled over to the side of the road and threw open her door. My handlebar hit the door and I went flying in front of a bunch of taxis. Fortunately they were all able to stop before hitting me, but I got pretty scraped up. (Michelle)
My companion and I got shot at once. We were riding down a rural road, trying to find people to talk to when we heard a giant crack. A bullet whizzed past us and hit the side of the road. We decided to head in the opposite direction, and got chased by a pack of feral dogs, then we headed due East and found two new investigators. (Paden)
There was one time that I was so tired because my companion always biked so fast…anyway I passed out in the middle of the road because I was so tired. (Zach)
Any time I was biking around the city. (Trevor)
The streets are pretty busy, and it's easy to get into accidents on your bike. Sometimes it's a hassle or feels dumb, but wear your reflective belts! When that procedure was brought in it was inspired. (Tina)
Getting hit by busses and cars. (Buster)
Traffic is crazy and a car turning left sped through a small traffic gap and would have hit me if I wasn't prompted to stop my bike suddenly. (Kevan)
Riding downhill in the rain with no brakes on my bike. My shoes were never quite the same. (Lydia)
One weird/crazy experience. I ran into a monk who used to be American. I should have realized he wasn't all there when upon first talking to him he was talking about how he could ignore the heat of summer in his winter robe through repeatedly chanting his mantra. He later started bringing up how he felt betrayed by Vietnam (apparently he served during 'Nam), and how he was excommunicated from his Baptist church concerning false accusations involving a woman. He was scary. (Edward)
While running late to a district meeting I was trying to eat a cream pastry and bike. I needed to brake with both hands at an intersection, and did. Thus smashing the cream pastry all over myself and still crashing my bike into a thankfully slow moving truck. Lesson: don't eat and bike. (Ashley)
Turned around to talk to my companion while we were biking and ran into the back of this taxi that had suddenly stopped. He was not happy with me, but I was ok. (Miriam)
Drunk men trying to hit on me; a man on a scooter attempting to follow my companion and I on our bikes; a stalker in 1 of my areas; getting in an accident on my bike with a scooter on a busy Taipei intersection. (Steffanie)
I was hit by a bus once and also a scooter. The scooter rear-ended me at what felt like full speed and knocked me to the ground. It really hurt, but I had no permanent injury. (Brad)
Riding a bicycle in Taipei traffic at night for the first time on an unfamiliar bike without any idea where you're going. (Koki)
Riding a bike down the middle of a major street trying to turn left with huge buses going opposite directions on either side of us. (Jeremiah)
My comp got hit by a bus, technically. The roof caved in, in our apartment and we had a frog living in our drain from the kitchen sink. (Michelle)
We had an experience when a "flasher" came up behind us and tried to get the member who was my temporary companion to talk to him. Finally she yelled, "Hey, there's a guy here who…" And at that he ran off. We decided to get into the first house we could. I randomly chose a doorbell on the apartment doorbell panel. They let us in. When we got to their door, we discovered it was one of the bishops from one of the wards! (Delores)
At the start of my mission I had a large bag that was awkward to carry on my back, so thought the best place for it was in my front basket. The was not a good idea since it threw my balance way off especially when it shifted in the basket. On one occasion I followed my trainer between 2 busses, and they started moving. The bag shifted back and forth in my basket. I ended up having to bang my hand on one of the buses to keep my balance before being crushed between them. Thankfully the driver slowed down enough for me to get through and pull to the side of the road. On another occasion, likely the same day, I was headed down a hill after my trainer. The turn down the hill was angled to the right and again my bag shifted sending me into a wall. I didn't notice before but I did at that moment that the wall was only a couple feet high just tall enough to keep me from riding down a very steep and deep cliff. I finally pulled the bag out of my basket and ended up changing to a different bag a month or so later. (Erin)
What was a spiritual experience?
Some of my most spiritual experiences happened when I listened to a crazy thought I had and acted on it. What I mean is, if I had a thought that was a good thing, but it was a little out there, we would try it anyway and every time it ended in a miracle. Not always a big one, but a tender mercy just the same. (Kaitlyn)
In one of my areas, every Sunday my companion and I would go on exchanges with members to go finding. One week we invited a sister to go with us who had just returned from Australia. Every week after that we'd invite her to come finding with us. After I left the area, I got an email from her explaining that when she had returned to Taiwan, she didn't want to go to church anymore, but she couldn't say no to the sister missionaries. Through finding with us, her testimony was rekindled and her desire to stay in The Church grew. (Michelle)
When I helped a less-active lady return to full activity. She had a very difficult life, and an on-again off-again relationship with the church, and she made a goal to go to the temple, get her patriarchal blessing, and invite her beauty salon clients to English Class and Church. She slowly worked her way back into The Church and started to help renew the missionary fire and culture into the ward. She helped bring several people back into the ward, and was a huge blessing to us missionaries. (Paden)
Too many, and too hard to elaborate in a survey. Sharing the first vision was always a battle to keep it from being a rote presentation, but MAN. When you got it, you got it. Spiritual Smackdown. (Zach)
Having the opportunity to go back to one of my areas on exchanges and help a less active member I had taught before, come back. (Trevor)
Being able to understand when your investigators are speaking Taiwanese and know how to teach them. (Buster)
There are too many, I don't wish to share. However, you can trust that the Lord will show you His role as our Savior, through you and the people you see. (Kevan)
Finding an investigator at the end of my fast on Fast Sunday. I wanted to quit and go home early but my companion wouldn't do it. We stayed, had several street lessons and got a new investigator. (Lydia)
One of the most spiritual experiences of my life occurred shortly after I arrived in Taiwan. I had received some unfortunate news in a letter. I tearfully prayed to the Father to help me deal with it, as I did not believe I could finish out my mission unless my feelings about the issue were resolved. Instantly I felt the Spirit calm me and give me the reassurances I needed. (Ashley)
Teaching a wonderful lady about the Atonement, and feeling the spirit surround the entire room. (Laura)
We were going to a bunch of inactive members addresses to find out what happened to them and it was pouring rain the whole time. We did this for four hours straight. I was so wet and miserable and I felt like I didn't have the strength to go on. Then then I felt God give me the strength to finish it. I will never forget that. (Miriam)
Feeling like an instrument in God's hands to communicate his love for his children. (Steffanie)
Baptizing a family from Taipei. The Chou family. (Brad)
Attending the temple and hearing the temple video in Chinese for the first time. (Koki)
Baptizing awesome people! Translating for President Hinckley, Elder Wirthlin and others. (Jeremiah)
Christmas baptisms. (Michelle)
I remember on Easter Sunday we were able to teach a discussion about Jesus Christ. The woman we were teaching called to her son and said, "Can you believe that they would crucify Him?" I remember that discussion about the Savior made my Easter very special. (Delores)
That moment when an entire family decides to do what they have been asked in faith. (Erin)
What are some interesting facts about the Taipei Mission?
Mission song, Truth Reflects Upon Our Senses. (Kaitlyn)
Taking a public bus is actually pretty cool there! Their buses are like giant tour buses and are pretty comfortable! (Kim)
There were about 60 sisters. As a mission we had 40-60 baptisms every month. (Michelle)
Taiwan has been a free nation for just around 100 years. Taiwan has cool festivals, fireworks, and markets. Great food! (Paden)
We had to speak Chinese. (Zach)
It is the best mission ever! (Trevor)
Taiwan was once called "the Island of Formosa," meaning "beautiful island." It is, indeed, quite beautiful. There used to be many Hawaiian missionaries in Taiwan, and they brought the tradition of starting meetings with the speaker saying "Brothers and sisters, aloha!" The congregation then responded with "aloha," and the speaker would begin his prepared talk. Many Taiwanese wards have adopted their own version of this, starting each meeting out with a similar dialogue of greeting between congregation and speaker. The people favor fair skin, and many will carry around umbrellas, wear long-sleeved cardigans, and purchase whitening cream to use all summer and avoid becoming tan. (Tina)
Beautiful, food is marvelous, the people steal your heart, and you'll sweat more than you ever imagined, but you don't care as long as you can make it to your appointment on time. (Buster)
Taipei 101 is there. Super tall building. Go look it up. (Lydia)
We were encouraged to eat at restaurants. It was a proven contacting method–my first baptism came from a lunch at the rattiest place I've ever eaten. Chapels are often in high-rise buildings. A scooter can in fact carry a large load of beams. There did not seem to be any grass in any of my areas. Sisters get to do a monthly duty as temple guides. (Ashley)
Taipei is a big city. Even the parts outside the city are heavily populated. (Miriam)
Church membership in Taiwan has DOUBLED since my mission! (Jeremiah)
The first temple in "China" was built in Taipei. Taiwan is considered by China to be part of China. I do believe that great blessings have come to Taiwan and China as a result of that temple being built. (Delores)
Going to Costco was a treat, when given permission by the mission home, and would always take the entire P-Day to complete. It is debatable whether going to Costco was ever worth it. However, eating pancakes and eggs in the morning was really nice. (Erin)
If you didn't keep your crotch dry during the summer, crotch rot would set in. The summers were so hot you needed to sleep with a fan. They had all you could eat Pizza Hut. (Koki)
What was the weather like?
Super hot!! And really humid! 🙂 the winters are wet and sticky. (Kim)
Humid. Hot during the summer, cold during the winter. And lots of rain. (Michelle)
Spring- Rainy, but there are some awesome perfect days. Summer- Rainy, hot, humid, feels like you are boiling in sweat. Fall- Rainy, humid, hot, rainy, typhoons. Winter- Rainy, cold, humid feels like your blood froze over, tile and hardwood floors make it worse so use the space heaters. (Paden)
Hot and humid. (Zach)
Hot and humid. (Trevor)
The weather varies so much! Summers are hot and dry while winters are cold and wet. I heard of missionaries getting called to the south where they ditched their coats for more luggage space. In Northern Taiwan, however, it gets cold! I believe the coldest it got on my mission was around 45 or so degrees F, which seems warm, but really isn't when the humidity and constant winter rain is accounted for. You'll be pretty consistently dealing with wet weather. In the summer it gets HOT, especially in the larger cities, where the air gets enclosed by large concrete skyscrapers. (Tina)
Hot, humid. (Buster)
Sunny and hot or rainy and hot. (Kevan)
Very hot and humid in the summer. Cold and humid in the winter. Taiwan has a typhoon season. (Lydia)
Overall good. In the summer, it is hot and muggy. The winters are surprisingly cold. (Edward)
Hot and muggy. With frequent rain. And 50 degrees in humid windy or rainy weather feels like 10 degrees when you are out all day. (Ashley)
Beautiful! Most of the time is was quite hot and humid, but the wind blew often enough to keep it from being too uncomfortable. (Laura)
Very humid. Rains all the time. Deathly hot and humid in the summer, need a jacket in the winter. The humidity makes it seem colder than it is. (Miriam)
The hot was a sweaty, sweltering, suffocating hot due to the humidity. The cold was bone-chilling – the coldest I've been in my life. So cold my body hurt. (Steffanie)
Wet. (Brad)
Hot and humid summers. Cold and humid winters. So cold and humid your clothes wouldn't dry. Had to throw our garments and shirts in the microwave to get them dry. (Koki)
Wet. Summers were hot and wet, winters were cold and wet! (Jeremiah)
Rained the entire month of March… it wasn't really cold in December but because it went from 100 to 70 I was cold. (Michelle)
The summer is very hot and humid. The winter, because of the humidity, is very cold, even though the temperature doesn't get that low. There are occasional typhoons. (Delores)
Almost always cloudy. When it was cold it was really cold because of the humidity. It rains a lot during the Winter. However, the summer was really nice. If you're brave and it's not too dangerous, take a little walk during a Typhoon, it's really interesting. (Erin)
Any things you really like about the area/people?
Everyone is soo kind. They are so willing to listen to you, if in return you are willing to listen to them. (Kaitlyn)
They are all so sweet with helping you learn their language! They also will help you if you ever get lost! (Yep, experienced that more than once.) (Kim)
Everything. (Michelle)
I loved how each place was unique, and had something special to offer. I loved the people and I love how hard working they are (at times this tested my patience because they overwork, 24/7 basically). I loved that so many could be so kind and decent to some random white kid from the states. I loved the mountains, the ocean, and the good weather during spring. (Paden)
Food! So good. Also, the people are angels. (Zach)
Everything. (Trevor)
The people are very patient with those who are learning the language. They heap flattery on anyone who is trying. Because of this, it's easy to get back up after hitting a language low. (Tina)
Very kind. They will take care of you as a family member. (Buster)
Very friendly to Americans. Everyone seems to want to practice their English. When Taiwanese people smile, their whole face lights up. (Lydia)
Overall a really nice people. Very patient with poor language skills. (Edward)
Nearly everyone was kind. Even if they were not interested many people would listen to you or offer you snacks or drinks. I always felt safe there. Though you should still lock your bike. (Ashley)
I like liked how welcoming and honest the people were. (Laura)
They are so kind. Even as they reject the gospel. The ward is so supportive! And actually the baptism rate isn't bad either. (Miriam)
The people we unbelievably kind and generous. (Steffanie)
The Taiwanese people must be the most friendly people on earth. (Brad)
They were very kind and sincere. (Koki)
Great, spiritual people in every area. Non-members were nice and generally polite as well. (Jeremiah)
It was never boring. (Michelle)
I love the Chinese culture! The people are wonderful and are very gracious hosts. They are humble. Heavenly Father must really love Chinese people because He made so many of them! 🙂 (Delores)
All of the people are nice and are willing to listen to you to a certain point. When you're out there, make sure to talk to everyone. (Erin)
Any packing/clothing advice?
The majority of the clothes I wore are the ones that I bought there and they are so much cheaper than in America. I'd say to take a few things, and then buy clothes there. They have these dresses that are $3 and so comfy and light weight. I just bought half shirts to put under them and I wore those all summer. (Kaitlyn)
A crazy good rain jacket. They say buy one there but… I would buy a nice one- it will be well worth your money. And rubber shoes. Any nice ones will just get ruined in the rain. Oh and for sisters, do not buy clothes you will have to layer… (Kim)
Bring a raincoat. (Michelle)
Pack for hot weather, but bring a warm, comfortable, but more athletic coat or jacket for winter, have a good rain jacket, bring durable preparation day athletic wear and service clothes. (Paden)
Follow the instructions in the packet. (Zach)
Bring lots of short-sleeved shirts. Winters may get a little chilly, so bring a sweater or two. (Trevor)
Don't worry about buying loads of nice, expensive sunscreen. If you feel you need it, it's fairly inexpensive and easy to find in Taiwan. Buy your umbrella in Taiwan. Try finding shoes that won't stink when they're wet. Bring a travel container of hand sanitizer and a larger one for refills. (Doesn't need to be giant). Bring a two year supply of deodorant. Sisters: For biking, medium length skirts are the best (mid calf, if possible). Dark colors are nice because it's harder to see the mud that splashes up in the rain. Leggings and/or thermals are your friends in the winter. If you're a sister and prefer these, bring a year and a half supply of tampons (it has to be said). (Tina)
Something breathable. Bring normal deodorant. Avoid antiperspirant. All it does its ruin your garments and you'll be just as wet. (Buster)
You have distant moves, so don't get too many knick-knacks at the beginning of your mission. Everything you own will get dirty and wet. (Kevan)
Pack wicking or fast drying fabrics if you can. For sisters, buy tops you don't have to layer for the summer. You do not want to wear more than you have to. Leggings and sweaters are awesome for layering in the winter because it gets cold! Buildings aren't usually heated. (Lydia)
Sisters: No pencil skirts, and nothing ankle-length either. They just don't work with bikes. Also some shorts to go under your skirt will keep you modest in wind. Also if you are a tampon user, bring those, they are not sold in Taiwan. (Ashley)
Shorts for sisters to go under their skirts. (Laura)
Leggings and long socks under your skirt are great for keeping you warm in the winter. You will need a light coat. For biking in pouring rain, most people wear ponchos there. (Miriam)
Sisters – take extra personal products and ibuprofen – they can be difficult/pricey to come by. In the winter, if you are serving in the north of Taiwan, bring fuzzy tights and thermal garments. Don't buy rain gear in the states unless you live in a predominantly rainy area perhaps – the rain gear in Taiwan is better, more appropriate and cheaper. (Staffanie)
Do not bring more than one suit jacket. Dump the trench coat. Bring plenty of short sleeve white shirts. Bring ties you can wash. (Brad)
Don't worry about pants. Get your pants made at the tailors. Polyester bullet proof pants will serve you well your whole mission. (Koki)
Stuff that breathes! We had a tailor (member) who made clothes inexpensively for members/missionaries. I think it was Hong Kong Tailors. (Jeremiah)
Get slip on shoes if possible because it is tradition to take off our shoes when entering a house. I preferred the mesh under clothing because it stayed dry. Make sure, if you have large feet, to bring enough shoes. It can be difficult to find larger sized shoes and clothing in Taiwan. (Delores)
Take everything that the president tells you to regardless of what you are told by others. Take some type of a back pack that attaches to your waste. (Erin)
What blessings did you receive from serving a mission?
More than I ever imagined. The Lord changed my heart. My testimony and understanding of the gospel grew. I learned to love. And that's just naming a few. (Kaitlyn)
I learned so much. I learned Chinese, I learned what it meant to be a disciple of Christ, the blessings of obedience, I made lifelong friends, I learned that I have a long way to go, but as long as I'm trying each day I'll be ok. I learned how to study the gospel. (Michelle)
I haven't been able to even count the ways that I have been blessed. I have been led to different situations and opportunities that I could never have imagined. I have gained new talents and abilities as a result, but I feel it blessed my family, and I know it blessed my future family. (Paden)
Speaking Chinese, meeting wonderful people, getting to serve God… honestly I don't feel like I could list a lot of really specific blessings, but we don't serve for the blessings. We serve for God. (Zach)
Conversion, the strength to endure, a powerful witness of the Savior and His atonement, great friends. (Trevor)
Patience. A genuine love and interest in people and the energy to be kind despite all the rudeness that flies around. (Buster)
My mission broke my heart due to depression, but I did my best to seek help and stay. I was blessed with a wonderful friend who helped me to heal from some of the heartache and then became my wife. Not a reason to serve a mission, but a blessing all the same. (Kevan)
I'm a kinder, more open-minded person. I also made some amazing friends, both with natives and missionaries. I learned to love testifying of Jesus Christ. (Lydia)
Experience dealing with people. (Edward)
Friendships. Life experience. Better understanding of God's plan for me. (Ashley)
I grew spiritually and developed a greater love for others, particularly the Chinese people, and those of different backgrounds from my own. (Laura)
It strengthened my testimony. I saw people through God's eyes and loved those people so much! (Miriam)
Besides the awesome spiritual experiences, it is the most character-building thing I've ever done. (Brad0
Serving was one of the best decisions I ever made. Taught me great humility and trust in the Lord. Built my testimony and became truly converted. (Koki)
Chinese language! Huge impact on my life. Study hard and learn GOOD Chinese, not missionary Chinese! Lifelong friends. Stronger testimony. (Jeremiah)
Love for people of all kinds. I can use my vocabulary to make anyone understand how I feel. (Michelle)
I think the greatest thing that came about from my mission was the development of my own character. I learned more faith, and I learned more about the world. It was a good preparation for further service in The Church. (Delores)
All of them. (Erin)
What are some skills you gained?
Chinese, scheduling, being bold, making phone calls, getting out of my comfort zone and talking to people. (Michelle)
Interpersonal abilities, I learned how to negotiate, how to compromise, how to serve, and how to adapt in diverse situations. (Paden)
Speaking Chinese, making phone calls, ignoring my feelings unless they were definitely the Holy Ghost. (Zach)
Being able to plan. (Buster)
Mandarin, a good taste in foods :). (Kevan)
Planning, organization, prioritization, foreign language. (Lydia)
Mandarin. (Edward)
Mandarin Chinese. Biking. Withstanding heat with minimal sweating. Cooking different foods. Eating anything. (Ashley)
I learned how to make small talk and come out of my shell. I don't think it is scary to talk to strangers anymore. (Miriam)
Being able to recognize the influence of the Holy Ghost in my own life from constant practice as a missionary. (Steffanie)
Chinese and people skills. (Brad)
Learned how to ride a bike really well. My mission experience led me on a path to study the martial arts, and because of that I'm now a martial arts instructor. (Koki)
Learned how to ride a bike really well. My mission experience led me on a path to study the martial arts, and because of that I'm now a martial arts instructor.
Talking to people, salesmanship, leadership, organizational skills, time management, etc. (Jeremiah)
Of course I learned Chinese, although honestly my Chinese improved more after coming home and taking Chinese classes. I also learned better communication skills and social skills. I also learned to eat with chopsticks. 🙂 (Delores)
Study practices, language skills, an understanding of how to talk to people. (Erin)
What do you wish you knew/did at the beginning of your mission?
Fear no man. And that there is so right or wrong way to share the gospel. When Christ was teaching He wasn't always in a temple preaching, He was serving and loving EVERYONE! Even those who didn't want to listen to His message, He was still there for them. He was their friend. It is possible to be a missionary and a friend at the same time. (Kaitlyn)
To not carry around every single book I had :). And relax, everything will be okay. Just breathe and always keep a prayer in your heart! (Kim)
You are there to serve. This is God's work, you cannot fail when you're doing it his way. (Michelle)
That true missionary work is so much more than numbers, and it is more about really working to absolutely bless all of the lives you come into contact with, it is about trying to get everyone you meet on the path to exaltation. That is the whole purpose, and it will not end just because the badge comes off. (Paden)
Trust God and don't listen to all the things people say they wish they knew/did. (Zach)
The Lord works in His own time frame and He has people ready. Work and the Lord will put them in your path. Seek to have unity and harmony in your companionship. (Buster)
I wish I had given up my will to the Lords and not have thought about what I wanted. (Kevan)
Things will get better if you stick it out. You'll learn to be happy again. You really can find joy in this work. (Lydia)
Cared less about the rules and more about the mission. (Ashley)
Don't worry so much. Everything will turn out ok in the end. Don't be hard on yourself about learning the language it comes with time. Work as hard as you can every day and time will fly by and you will have no regrets. You will get used to feeling like things are so out of your control and you don't completely know what you're doing. Just follow the spirit. By the time you finally feel you have things figured out, it will be time to go home. (Miriam)
That two years truly does fly by. (Brad)
Memorized the characters and discussions quicker. (Koki)
Set more personal growth goals. I grew a lot, and had some focus, but no focused growth goals. I think that would have helped even more. Also, recognize why you are there early and that will help you stay focused. (Jeremiah)
if you see something you think you would like as a memento. Buy it then, it probably won't be there when you come back. Send home stuff you collect every two months, even if its just a small box. Don't be afraid to use clothing that was left behind by other sisters. Take care of your bike and it will always take care of you. Be teachable, little kids are great at teaching you the language be open to their help. (Michelle)
I wish I had been better trained in how to help investigators to progress. I think missionaries today get better training in how to extend invitations for the investigators to act on what they have heard. (Delores)
Learned patience and respect of my companion. (Erin)
Any advice/testimony for pre-missionaries going to Taipei?
There will come a time when you will question why you are there. How could you possibly be helping anyone when you can't even speak the language? But I know that we were all sent there for a reason. There are so many other ways to teach and to share the gospel that don't involve speaking fluent Chinese. If you will pray to know what YOUR part is, Heavenly Father will let you know. (Kaitlyn)
Trust in the Lord, develop your faith. I was not anything special- my language, knowledge and skills were average- but my companions and I had so much success simply because we worked as hard as we could, were obedient and had faith. (Michelle)
Don't worry about anything but working hard and being yourself. Gain an appreciation and love for the people you serve, the language will come! Also try different approaches, eat new things, and have fun! Mission life can be tough but it is worth the struggle. Work with your companions, get to really know them, talk to them, and work together, success is helping yourself gain an appreciation of the Atonement, helping your companion strengthen his or her testimony, serving the members with your talents, loving the less actives and really working with them, and gaining new friends and family as investigators in the gospel. Have fun, be one with the Spirit, and work hard. (Paden)
Just live it up and stop asking people for advice. Do your best and God will take care of you. (Zach)
Work with faith and strive to improve, don't coast along in second gear, push yourself and wrestle with God to pull miracles down from Heaven. (Trevor)
Love the Lord with all your heart. Seek to communicate with Him and show Him how much you love Him by developing charity. (Buster)
The Lord lives. Taiwan will be very difficult in many ways, but it will be beautiful and fulfilling in other ways. The people will know your love as you serve them. Really serve (get out and work for them). They won't accept it if asked, but they will see the Lord in you as you do. He lives, trust Him. (Kevan)
Be patient with the language. It's hard but possible to learn. Try to listen when people talk even if you only understand a few words. Your listening and speaking will improve as you practice. (Lydia)
Mosiah 4:27: "And see that all these things are done in wisdom and order; for it is not requisite that a man should run faster than he has strength. And again, it is expedient that he should be diligent, that thereby he might win the prize; therefore, all things must be done in order." (Edward)
Go even if you have doubts. Don't give up even when it's hard. Find the joy in something you do everyday. (Ashley)
You will love everything about Taiwan. The people are generous, the culture is so awesome. It is a beautiful country. After my first transfer we had just had Christmas (not celebrated in Taiwan) and I was so homesick. And I thought I've learned and grown a lot. I wish this could end now. But my companion told me, just like life a mission is about enduring to the end. That is the hardest part, but also the most important. (Miriam)
Go with a good attitude. Don't complain. Ever. This is just 1.5 or 2 years. You can handle ANYTHING for that long. Chalk it all up to fodder for great stories later and drink it ALL in – the good, the bad, the discouraging and the exalting. (Steffanie)
Study the language twice as much as the mission recommends. There will be plenty of opportunities to use it when you get home, and you need to become as fluent as you can. (Brad)
Love the people. Learn the language. Learn how to use chop sticks. Learn how to eat anything. (Koki)
Work hard! You only get one chance. (Jeremiah)
Every person matters. You never know what kind of impact you will make on that person. Work with the members, gain their trust, know who they are. My companionships had the most success when the members were involved. Be the missionary that members will want to introduce to their friends. Always study your language, you will never know too much Chinese. (Michelle)
My mission president used talk to us about the idea of being not just a survivor, but a "thriver". Jump into the culture with both feet. Try new foods. Don't criticize the way things are done there. It is different from what we do in America, but their ways have worked for them for thousands of years. Things that look silly to us, actually have a practical reason behind them. (Delores)
Learn the gospel, learn the language, obey all the commandments all the time, and listen to the spirit. Pray always. (Erin)
What was a funny language mistake?
Oh goodness, all the time! I was making them up to my last week out. We were reviewing the third lesson with an investigator who was being baptized that week and we used an analogy with a stair case to teach the lesson. So with all the faith and testimony I could muster I wanted to say, "we need to climb the staircase and endure to the end" and instead I ended up, very passionately saying " we need to be naked and eat our hands forever". Good thing the investigator thought it was funny and she still got baptized. Hahaha. (Kaitlyn)
Haha!!! My companion was teaching he law of chastity for the first time and instead of saying you can meet with the bishop about previous sins she told her, "you can meet with the pig's foot about your previous sins" (Kim)
I was talking to a member and I told them I would put their picture on my fridge. They gave me a weird look and said, "really?" I was confused and asked if Taiwanese people did that too. She said they put pictures on the fridge, not in it with the food. Apparently I told her I'd put her picture in my fridge! (Michelle)
My trainee and I demonstrated companionship inventory at a FHE and my companion (whom I was training) was trying to be funny by translating, "I love your face," into Chinese except he did not say "我喜歡你的臉" but said "我喜歡你的麵" it was so funny that the wife of our host fell out of her chair. (Paden)
"We believe in a church built on the foundation of prophets and rocks." (the word for rocks and apostles are similar) "don't forget to grab your steamed bun!" (the word for bag and steamed bun are related). (Zach)
Mispronouncing words is the best! Once I spent an entire week inviting everyone to a "Mexican food activity" we were holding, only to discover I'd actually been inviting everyone to a "Moses" party. That was embarrassing. (Tina)
Be careful of tones. They can be the death of you in Chinese. (Buster)
…. Haha (Kevan)
In Taiwan the word BeBe means grandfather. Officially baby is WaWa, but often the English word Baby is used. I was describing a picture of a woman and baby, but kept saying BeBe. Thus confusing the people all around me. (Ashley)
I called a member's number to ask them to "pei ke" which is when a member comes to a lesson with us for an investigator. I didn't realize the number was for a male member so I asked for Sister so and so who was not a member. His sister came to the phone. When I asked her to pei ke she hung up. My Chinese companion told me to a nonmember it can sound like you want them to accompany customer instead of lesson (same sound but different character) which means prostituting for a night. (Miriam)
I trained an elder who could not tell the difference between zhanglan (roach) and zhanglao (elder). It took him two months of calling himself and me roaches before he finally figured it out. (Brad)
Introduced himself as jung lung instead of jung lau. (Koki)
When I first got to Taiwan, we went out tracting for the first time. My companion asked me to teach the first principle of the discussion. I gave the entire thing word perfect. When I finished, the man turned to my companion and said, "What did she say?" I've heard of missionaries confusing the word "prophet" with the word "banana". Another missionary accidentally asked for the "baptism store" instead of the bathroom. (Delores)
I won't say the exact thing, but make sure to say "new" properly especially when referring to new friends that are currently investigators or members. (Erin)