Free resources about the Taiwan Taichung Mission:
*Other Mission Pages: Taiwan Taipei Mission.
---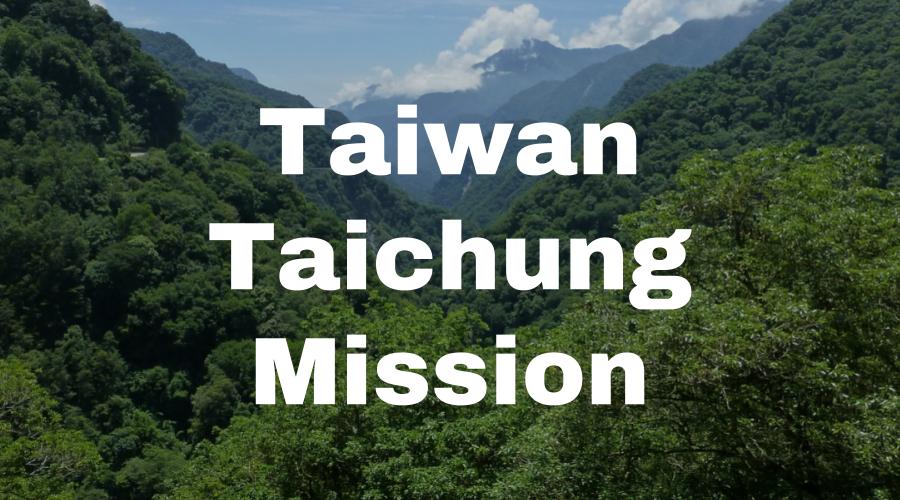 ---
Taiwan Taichung Mission Address
Here's a recent address for the Taiwan Taichung Mission. We try to keep this information up to date, but it's a good idea to check the address with several sources, including your mission packet or the mission office.
Taiwan Taichung Mission
#498-11 , Wu Chuan Road
Taichung 404-46
Taiwan
Phone Number: 886-42-226-7181
Mission President: President Michael John U. Teh
Taiwan Taichung Mission Map
Here's a link to the mission map for the Taiwan Taichung Mission (LDS). To access the official, up-to-date LDS.org map for the Taichung Mission:
Log into your LDS account here.
Click here.
Videos with Taichung RMs
Here are in-depth YouTube video interviews with returned missionaries from the Taichung Mission.  We interview hundreds of returned missionaries each year, so check back regularly to see new RM interviews.
LDS-Friendly Videos about Taiwan
Here are LDS-friendly educational videos about Taiwan. We scoured YouTube to find the best quality videos about Taiwan, that are free from inappropriate music, immodesty and profanity.
Taiwan Taichung Missionary Blogs
Here's a list of LDS missionary blogs for the Taichung Mission. This list includes the missionary's name, URL and when their blog was updated.
*Send your missionary a gift (mission-specific shirts, ties, Christmas stockings/ornaments, pillowcases, etc.)
Taiwan Taichung Mission Groups
Here are Taichung Mission Groups- for LDS missionary moms, returned missionaries, mission presidents and other alumni of the Taichung Mission.
Taiwan Taichung Mission T-Shirts
Here are T-shirts for the Taiwan Taichung Mission!
Shirt designs include Taichung Mission logo/emblem shirts and Called to Serve shirts. The shirts make great gifts for pre-missionaries, returned missionaries and missionaries currently serving. LDS Mission shirts come in all sizes: Small, Medium, Large, Extra Large, up to 4XL.  The mission designs are printed on white shirts and are shipped to you.
*Simply click on a shirt design to view the details and submit an order. The designs on mission t-shirts may also be printed on other LDS mission gifts, including: Taichung missionary aprons, Christmas stockings, ties, pillow cases, teddy bears and Christmas ornaments.
*Click here to browse Taichung Mission gifts
---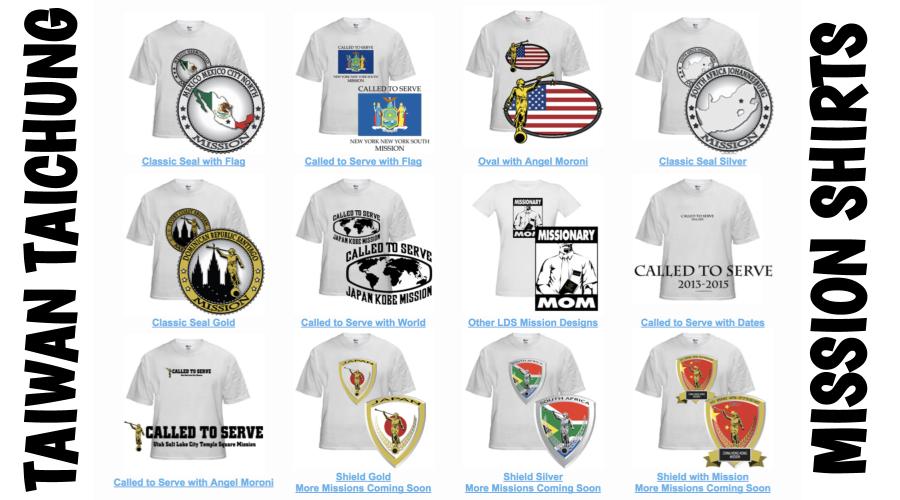 ---
Taiwan Taichung Mission Presidents
Here's a list of current and past Mission Presidents of the Taichung Mission.
2016-2019, Michael John U. Teh
2013-2016, Kurt Lee Blickenstaff
2010-2013, Clark Thorpe Bishop
2007-2010, Michael Hoer (Listen to an interview with the Hoers)
2004-2007, Scott R. Watterson
2001-2004, J. Kent Larkin
1998-2001, Dennis Chai Han Kim
1995-1998, Karl R. Koerner
1992-1995, Timothy P. Stratford
1989-1992, Kent Watson
1986-1989, Gary Williams
1983-1986, Monte B. Carlson
1980-1982, Edward Glen Miner
1979-1982, George Baker
1979-1980, Fredrick W. Crook
1976-1979, Boyd Hales
1971-1974, Malan Jackson
Taiwan LDS Statistics (2015)
Church Membership: 57,889
Missions: 2
Temples: 1
Congregations: 105
Family History Centers: 12
Helpful Articles about Taiwan
Taiwan Taichung Missionary Survey
Here are survey responses from Taichung RMs, to give you a snapshot into what it's like to live in the mission.
*Click here to take a survey to help pre-missionaries going to your mission.
When did you serve?
2002-2004 (Keith)
2012-2014 (Daniel)
December 1999-January 2002 (Jesse)
2012-2013 (Andrea)
2010-2012 (Savannah)
2011-2013 (Devin)
2014-2015 (Megan)
1986-1988 (Chuck)
2013-2015 (Estelle)
1998-2000 (Caleb)
2008-2010 (Jacquie)
2010-2011 (Amanda)
2013-2014 (Valorie)
1999-2001 (Edrea)
1993-1995 (Jeremy)
1991-1993 (Shane)
What areas did you serve in?
XinYing, NanTou, GangShan, NanZi, TaiBao, DaLi, and SanMin. (Daniel)
Nantou, Taichung, Changhua, Yuanlin. (Jesse)
Taichung (Wu Quan 1st), GaoXiong (Lingya and ShiZhong), ZhangHua (ZhangHua 3rd). (Andrea)
Wufeng (霧峰),Jiayi (嘉義), and Yuanlin (員林). (Savannah)
Taizhong Dongqu, Tainan Guiren, Pingdong Chaozhou, Jiayi City, and Taizhong Daya. (Devin)
Pingdong City, Shizhong (Gaoxiong), Tanzi (Taichung), Tainan 3rd ward. (Megan)
FengYuan, Tainan, Chiayi, Fengshan, Chaochou. (Chuck)
4 areas, all cities. (Estelle)
Yuan Lin, Guan Dong, PuLi, Tai Ping, Zhong Xing. (Caleb)
ZhangHua, ShaLu, NanTou, and Taizhomg Beitun. (Jacquie)
Zhanghua/Hemei, Yongkang, Gaoxiong, Donghai/Fengjia. (Amanda)
Nantun District, Shizhong/Qijin Districts, Dali/Wufeng Districts. (Valorie)
Taichung bei tun qu. (Edrea)
台中,平东,高雄,新营,嘉义,雾峰 (Jeremy)
Dou Lyou, Gau Syung, Jung Sying Syin Tswun. (Shane)
What were some favorite foods?
甜不辣 tian bu la, 老虎牙子lao hu ya zi, Cream bread. Papaya milk (Keith)
Curry, Chicken Steak, 冬瓜茶, Hot pot, Sashimi, meat fried rice, shao rou fan, and McDonald's. (Daniel)
Chashao lunch box. Fried chicken. Papaya milk. Beef noodle soup. Breakfast hamburgers. Danbing. Mijiang. (Jesse)
ZhuaBing (onion pancakes). GuoTie (pot stickers). Soup noodles. Fresh fruit. Hot pot. (Andrea)
Fried Rice, Cold Noodles (noodles served with a sesame sauce), dumplings, a variety of vegetable stir fry, fruit (mangoes, papaya, pineapple, star fruit, wax apples, apples, strawberries, oranges, etc.), steam bread, pineapple cakes, and red bean soup. (Savannah)
Xiaolongbao, fried rice, dumplings, biandang, mantou, soy milk. (Devin)
Potstickers, beef noodles, dry noodles, lunchbox, kung-pao chicken, fried chicken, mangoes, all fruit, curry rice. (Megan)
Ice bings, fried rice, dumplings, spare ribs. (Chuck)
Stinky Tofu, Fried sweet potatoes (Zha di gua), Fried chicken. (Estelle)
Fried Dumplings, spicy fried squid, stinky toufu. (Caleb)
Oh there are too many to name. I don't really remember eating anything I didn't like. (Jacquie)
Zhuabing Mango bing Anything to drink (Ovaltine w/ zhenzhu). (Amanda)
Spicy duck blood hot pot. YUM! Turkey rice and cabbage. (Valorie)
Zha ji pai (fried chicken steak), Zhen Zhu drinks (tapioca drinks), Xiang Chang and mi Chang (sausage and rice sausage), Man tou (steamed buns), Bian dang (lunch boxes), Chou dou fu (stinky tofu), Tian bu la (fried fish paste?), Chua Bing (shaved ice), Rou wan (meat dumpling?), Fruits like guava, mango, pineapples, lychee. (Edrea)
Mantou jia dan, Youtiao, Hongshao Yu, Dongpo Rou, Ni Daye, Congyou Bong, Ice Bing, Shuiguo Bing, Xuehua Bing, Gourou, Gaoshan Cha. (Jeremy)
Dan bings. (Shane)
What was a funny experience?
Binglang and sick dogs- long story (Keith)
In my first area (XinYing) I was practicing teaching to a member. I said to her in Chinese, "我要認識你." To which she responded, "你要認識我多少?" At the time I did not really understand her, but she continued to tease me about that throughout my mission, and still does even to this day. (Daniel)
We had a 10 year old recent convert in my first area who loved going out with the missionaries to visit people. One day we took him with us to visit a grandma who had a hard time coming to church. She fell in love with our little recent convert! We asked her if she would come to church on Sunday, and her response: Will he be there? We said yes, and she said she would. And she did! We decided we needed to take him with us everywhere because he got people to come to church with his cuteness. (Andrea)
My first day of the mission, I wasn't quite used to riding a bike. My trainer, who had been serving a year longer than I, was a very experienced bike rider. I was peddling my bike as fast as I possibly could, but no matter how fast I went I still lost sight of my companion. I was a little nervous since I could barely speak or read Mandarin. I quickly said a prayer in my heart asking the Heavenly Father to help me. As I finished my prayer, my bike chain fell off my bike. I was stuck. At that time, I didn't know that my chain falling off of my bike was an answer to my prayer. A minute or so later my companion came back to look for me. She helped me fix my bike and then took a look at my bike. She said, "You poor thing! You have been riding your bike on the first gear." She fixed my bike and we were able to get back on our way. (Savannah)
Everyone asked if I knew Kobe Bryant or Jeremy Lin and believed me when I said yes. (Devin)
I went to Monkey Mountain in Gaoxiong (Gushan District) for Preparation Day and I was almost attacked by a monkey because I accidentally stepped on berries that it wanted to eat! That was funny, haha. (Megan)
Companion teaching entire discussion in Chinese in his sleep. Pinning down an investigator until he agreed to baptism – and he is still active 30 years later. (Chuck)
We were tracting and knocked on a man's door, he opened and we chatted for a while. He then asked nervously if we wanted to come in, and we accepted cheerfully, but then he yelled: "Oh no!" and then slammed the door to our faces. (Estelle)
Too many to count! Saying the wrong words, playing with the kids on the street, riding your bike for miles and miles. That island is an island of magic. (Jacquie)
One day I knocked on the window of a car to share the gospel with them. The woman in the passenger seat screamed and appeared to pass out. I felt really bad that I had scared her, but the man driving rolled down the window and thanked me for making her pass out because she wouldn't stop talking all day! He drove away hysterically laughing! 🙂 (Amanda)
Seeing my companion try to learn how to ride a bike in a skirt in the city. (Valorie)
My third night on the island there was a 7.2 earthquake. I was asleep when the earthquake struck and I thought it was a ghost. (Edrea)
Fooling new missionaries to eat pigs blood and intestines. Finding out after dinner and feeling a little woozy that the investigator spiked our soup with alcohol. (Jeremy)
Elder Lewis diving in the rain puddles at Gao Syung chapel. (Shane)
What was a crazy experience?
Biking. (Keith)
One time we were teaching this investigator in a park at night, when a bunch of Tai ke's showed up and started beating up this other kid. We went over and told them to stop, then my companion called the cops. When one of them saw him calling the cops, he rushed at my companion, grabbed him by the neck and then took our cell phone. I got the phone back from the kid, then the cops showed up and they all ran away. (Daniel)
We were returning home at night and in the plaza area of our apartment complex a group of teenage boys were running out as we were running in. One boy kicked a neighbor's dog as she walked it on a leash. She said something to them but soon stopped when she saw he had a knife. He then got in my face and spoke angrily in Taiwanese. I was focused on getting home on time so we just kept running. (Jesse)
 We had been teaching a lady who was not very stable, mentally. One day on exchanges with a sister who had previously served in my area and had taught this sister, we went to take her dinner at her house. We got there and she said she wanted to go out and buy some more food. Neither I nor the sister I was with fully understood what was going on, but the lady we were visiting left us sitting alone in her apartment. She called about 5 minutes later but we didn't understand what she was saying, so we just stayed put in the apartment. About 30 minutes later the lady came back, mad as heck. Apparently she had wanted us to come down to the front of the apartment building and go with her, but we didn't understand that. She was livid, and began threatening to kill us. I made the decision that we needed to leave right then, and we did. We left and as we were walking down the stairs, we could hear her screaming and throwing things. That was the last time we ever visited her. (Andrea)
Taiwan is relatively a very safe place. It is known as the second safest country in the world. However, with that being said there were only two times that I felt unsafe in Taiwan. I will tell you about my first experience. There was this lady who we would meet with on occasion. She was very thin, fragile, and had bruises on her body. We would usually meet her in a cafe, but one day she said if we were going to meet with her, we would have to meet with her at her house. We agreed. When we got to their house, there was an eerie feeling about that place. The men in the home looked at us strangely, and I felt extremely uncomfortable. After the visit, I told my companion about my feeling of unease. She said that she did not have the same feeling as I had. So we still set up another time to meet with them though I still felt very uneasy about the next meeting. During the first visit to the second, I had switched companions. When my new companion and I went back to meet with this family again, she told me that she had feelings of unease and she felt that the Spirit was warning us of danger. I had told her that I had had the exact same feelings the first time I had visited that house. She then asked me why we were still visiting the house if I had those promptings before. I told her about how my first companion's feelings and mine were different from each other, so we had decided to still meet with them again. After the meeting, she said we were not going there again. If we were going to continue to meet with them, it needed to be in a public place where we would also be safe. This experience taught me that you should not second guess feelings of the Spirit. Strive to always be in tune with the Spirit, so that he can lead, guide, and protect you. You should not wait until something bad has happened to know that the Spirit was warning you to get out. I am grateful nothing happened and that the Spirit was watching over us. (Savannah)
Got hit by a bus and taxi at the same time, taught a guy from the mafia who eventually went crazy and scared us to death. (Devin)
A 20+ year old guy came up to my companion and me and asked if we "liked sexy". He said he loved American girls and wanted to hang out with us later. We told him no because we were missionaries, but he kept persisting. He wasn't dangerous, I thought it was kind of funny, but a little crazy! (Megan)
Ate monkey brains. (Chuck)
The blue trucks are definitely the most dangerous vehicles on the road, they are driven by construction workers who chew beetle nuts and are "high" the majority of the time, those are definitely the ones we tried to avoid on the road. (Estelle)
9/21/99 Earthquake. (Caleb)
1) My companion was hit by a drunk driver when we were walking across the street. 2) During a big typhoon, a bridge flooded over and we rode across anyway because it was the only way we knew how to get to church. Oops. 3) In one of my areas, we had a stalker and had to be escorted home by the elders every night for a couple weeks. (Jacquie)
A recent convert stopped coming to church for a few weeks, wouldn't answer her phone, etc. My companion, the bishopric and I were worried about her, so we were asked to go find her. On the way to her home (which was in a mountainous and unpopulated area), we got attacked by a pack of wild dogs. The dogs chased us into a sandy area with no way out except to go through the dogs again uphill. We knew we couldn't ride out without getting bit, so we walked using our bikes as shields and our water bottles as clubs to fend off the dogs. We were scared to death and praying the whole time. We got a few nips at our heels, but were able to get away from the dogs with only a few scratches. Suffice it to say, we didn't find our recent convert's house. (Amanda)
Biking in typhoons was always crazy fun. (Valorie)
Riding my bike outside during a typhoon. (Totally not a very smart thing to do!) (Edrea)
Hitch hiking, getting picked up by a drunk driver. (Jeremy)
What was a spiritual experience?
Biking. (Keith)
Every baptism, every time you witness the gospel change a life, every time you meet the members who have been changed because of the gospel. (Daniel)
Many times I didn't understand exactly what investigators were saying but felt the Spirit tell me to keep teaching. Twice I met people and the Spirit told me the person was yi guan dao before asking any questions. (Jesse)
We had an investigator who was very sick. We had talked briefly about priesthood blessings, and so we asked her if she would like a blessing. We explained that the elders would come over with us to give her one. She agreed and said she would appreciate that. So the elders and my companion and I went to this sister's apartment. She was quite weak, but was able to move to a chair to sit. I really had not had many experiences with Elders and blessings on my mission, so I was excited for this experience too. The elders gave a beautiful blessing of healing, and immediately our investigator commented on how much better she felt. I was transferred soon after, and right after I was transferred, this sister had a major heart attack. The new sisters and elders went to visit her frequently in the hospital, and to give her priesthood blessings. She made a full recovery and was baptized soon after she was released from the hospital. She said she knew it was because of the priesthood blessings that she was healed and therefore she knew the gospel was true. (Andrea)
One particular spiritual experience I will never forget came as a direct result of fasting. My companion and I had felt that we needed to fast before our lesson the next day to help us know of our investigators' needs. After fasting, we had both felt that we needed to have a lesson on the Savior. During planning that morning, I told my companion I had thought of the picture of the Lord knocking on the door waiting for us to let him in. She said that we should bring the picture along just in case. During that lesson, I don't remember what was particularly said or taught, but I will never forget the feeling that was present in that room. I vaguely remember one of our investigators was having a hard time following the commandments. At this time, my companion felt moved upon by the Spirit to bring out the picture of Christ. She told them, that the Lord is always waiting to help us, but it is our choice to let him into our lives or not. The Spirit was so strong that there was not a dry eye in the room. We all knew that the Lord was waiting for us to call upon him for help, and that he would help us as soon as we willingly opened that door and let him into our lives. It was such a powerful lesson because the Spirit was the teacher. My companion and I were simply the instruments used to help the Lord teach his children. (Savannah)
A family was baptized and a year later all went to the temple together! (Devin)
I had so many! Every time I asked someone if they wanted to get baptized and then they said yes, it was always so spiritual. The people there are so willing to change! (Megan)
Taught 10 college students and had gift of tongues. Committed whole family to baptism on Christmas Day. Baptized investigator in a mountain river. (Chuck)
I went home during my mission due to knee surgery but was able to recover, return to the mission field and finish. Throughout the experience, I felt very close to my loving Heavenly Father and His heavenly help. (Estelle)
The work in Taiwan is exploding. Some of the most tender experiences were hearing investigators really pray for the first time, hearing them shout for joy after being baptized, and then sharing their testimonies of finally knowing God. (Jacquie)
President Bishop asked us to use the Book of Mormon as our main source when contacting. My companion and I stopped a small family on a scooter and introduced the Book of Mormon. The mother asked us to please come to her apartment as soon as possible. When we got there she pulled out a Book of Mormon and a children's Book of Mormon. She said she had been taught before, but after moving, she had lost touch with the church. She said if we hadn't used the Book of Mormon in our approach, she would have passed us off as "normal" Christian missionaries. But, because we had followed the challenge of our Mission President, we were able to find her and help her entire family get baptized just as they had once planned. (Amanda)
I moved into a new area in Gaoxiong and was meeting lots of members my first Sunday. I asked my companion about a young adult woman and she told me that she was an active member, but she didn't know her name. I introduced myself and found out that she actually wasn't a member yet and hadn't been approached by the missionaries because they all assumed she was already baptized. We started meeting with her and she was baptized later. She is now going to school in Utah and is one of my best friends. (: (Valorie)
Being so close to and having the constant companionship of the Spirit every single day was so awesome! One time we were fasting for our investigator who was facing one issue before she could commit to getting baptized. That day when we did, the fast happened to be zone conference and they were serving Domino's pizzas. But we couldn't have any of that because we were fasting. But our sacrifice was so worth it because our investigator had the issue resolved and was able to get baptized! (Edrea)
Finding an investigator, Pan Mingchuan who was a Christian that had, had an angel appear to him 3 days prior and tell him that 2 missionaries were going to contact him and to listen to our message. (Jeremy)
Protection from death threats in Dou Lyou. (Shane)
What are some interesting facts about the Taichung Mission?
There were 3 missions. Now only 2. (Keith)
It's the best mission out there! (Daniel)
You learn a lot about Buddhism and Taoism because so many people are a part of one of those religions. Because most people don't have a basic Christian background, very rarely do people know what the Bible is, and so when you introduce the Book of Mormon to them, they don't question having a second witness of Christ. You will try random, sometimes not so pleasant food. (Andrea)
Taiwan is a very family oriented country. They love and honor their families. (Savannah)
Nicest people in the world. Safest place in the world. Everyone is funny, it's an amazing culture, lots of sister missionaries, really hot, lots of rain, bikes only. (Devin)
The people are very hospitable. You will eat weird stuff. Kids go to school basically from 7 am to 8 or 9 pm… The grandparents take care of the kids, not the parents. (Megan)
Hardest 2 years of my life. Best 2 years of my life. (Chuck)
It's a hard working, obedient, faithful mission. No one is left behind and we all encourage and uplift each other in this Holy work. (Estelle)
It's the greatest mission in the world. 😉 The majority of missionary language tools come out of the Taizhong mission. In 2009, we baptized almost 1500 people. (Jacquie)
Contacting is not what you think about in other missions. Most missions don't go in circles around an intersection talking to people. The members know the mission rules as much as the missionaries do. Lugang is a great place to visit on a preparation day. (Amanda)
I served in a tri-companionship. I only served in three areas, one of which I was in for nine months (so, half of my mission). AND! In that area I helped teach a family, helped them prepare for baptism and was asked to be the mother's escort in the temple when they went to be endowed and sealed together forever. (: (Valorie)
Sister missionaries ride bikes. We had duan qi (short-term) missionaries a lot and it was great working with these members who sacrifice so much to come out for one week or two at a time and serve a mini-mission. (Edrea)
What was the weather like?
Hot, humid, monsoonal. (Keith)
Mostly sunny, hot, and humid. Then there would be weeks of nothing but rain. (Daniel)
Hot and rainy in summer and cold and rainy in winter. (Jesse)
Depending on where you are, at what time of the year, it can be hot and humid, or cold and humid. The one constant is that it is always humid. There are typhoons in the summer, which means lots of rain. (Andrea)
The fall is the best time of year. It is perfect in temperature and it is not as humid as the rest of the year. Winter is very rainy and cold, so you will want to buy warm clothes. The spring is similar to the fall. It is nice weather. The summer is very hot and humid. (Savannah)
Very hot and sunny during parts of the year, typhoon season is all overcast with lots of rain, winter gets a tiny bit cold but not really, very humid but it's awesome. (Devin)
It was mostly hot and humid. In December and January, it was a little cold. (Megan)
So hot in summer that after showering, no need to dry off. Just put clothes on totally wet. (Chuck)
The weather is really humid and hot, with many mosquitoes and cockroaches to kill in the summer, thunderstorms, typhoons and earthquakes are part of the scenery. (Estelle)
Humid, Very Humid. (Caleb)
Hot. So so hot. And humid. It rains a lot. But there are a couple months where it's bitter cold but maybe it felt so cold because it was so so hot. (Jacquie)
Summer was hot and humid, winter was wet and cold. Basically, never expect to be dry while you are there. You are either sweating or it's raining. (Amanda)
Winter is colder than everyone says. Seriously you will need a coat. Summer is not as hot as everyone says. You will be fine with whatever light clothing you bring. The typhoons are JUST as wet/rainy/dreary/AWESOME as everyone says. You'll love it. (Valorie)
Hot and sticky! But you'll get used to it! (Edrea)
Hot. (Jeremy)
Any things you really like about the area/people?
All nice. Buddhists are nice. (Keith)
The people in Taiwan are the best! I loved how kind they all were as well as their sense of humor. (Daniel)
As a missionary, I loved the food. (Jesse)
Everyone I met was genuinely nice and wanted to get to know me, both members and non-members alike. Members become your family, and will do anything for you if you need. And the relationships you build do not end when you go home. You forever have a family in Taiwan, and if you go visit, they will drop everything to see you and spend time with you. They are the most generous and loving people I've ever met, and I've met a lot of people in a lot of different places. Taiwan itself is a beautiful country with delicious food! You will fall in love with it and never want to leave. (Andrea)
The people are some of the nicest people in the world. They are very loving, kind and charitable. (Savannah)
So nice!! Lots of respect, very fun to be around, they'd never hurt you, want to see you all the time. (Devin)
I loved how I could talk to someone at every second of the day! Whether it be while biking, in lessons, at 7-11s, in parks, etc! There was always someone to talk to! (Megan)
Kind and shy people with genuine interest in becoming friends and learning the truth. (Chuck)
The Taiwanese people are the most generous, friendliest and family centered people I have ever met. They are very traditional and like for it to stay that way, it is a beautiful culture and beautiful heritage that needs to be preserved and respected. (Estelle)
Everything. (Caleb)
The Taiwanese people are incredibly kind and welcoming. They're patient and respectful. Taiwan, itself, is full of culture and a super interesting history. People are really willing to be taught and like to help so asking questions is a really good idea. (Jacquie)
They were wonderful! I just wish I could convince my husband to go live there. They are so kind and helpful. (Amanda)
Taiwan and the people there feel like home. (Valorie)
People are nice and polite. I love the Taiwanese people! Taiwan is an interesting place to live in. I remember when I was a greenie, the garbage truck would come by our apartment a few times a week early in the morning and it played music. At first I didn't know the music was from a garbage truck and thought it was weird that the ice cream truck come out so early in the morning to sell ice cream. (Edrea)
Very friendly and welcoming. (Jeremy)
Any packing/clothing advice?
Breathable rain jacket and pants. (Keith)
Just bring what it says in the packet. You will wear short-sleeve white shirts almost every day. Bring shoes that you can put on and take off easily, because every time you go into someone's home it is polite to take them off. (Daniel)
Baby powder and fan drying after showers is a must. Sweat rags are a must. Shoes that are comfortable and can handle water. Raingear that the locals buy is best. (Jesse)
Waterproof shoes! If you don't use something for an entire transfer, re-evaluate when you move if it truly is something you need. If not, get rid of it. When it comes time to go home, send a box via slow boat at the beginning of your last move, with all the really heavy books and things that you won't need the last transfer, but that you want to take home. (Andrea)
I would pack skirts that are comfortable. I would not wear skirts that fall below the calves because they tend to get caught in the chain, or skirts that are cut off at the knee because they will fly up when you ride your bike at high speeds. Also, I would not buy cotton skirts since they tend to fly really easy with the wind. (Savannah)
Pack light. Rain gear and other weather things can be bought there for cheap and better quality. (Devin)
Don't fear that they won't have something you need there in Taiwan. They have everything! (Megan)
Short sleeves. (Chuck)
Buy Crocs flats, they are the only shoes sisters wear. Waterproof watch, waterproof handbag, waterproof everything if possible! (Estelle)
Comfortable shoes that will last. (Caleb)
If you're petite, you can buy everything you need there. Except deodorant and feminine hygiene products. Pack enough of those for the whole time. A lot of sisters leave their clothes behind in apartments, too, when they get transferred or go home so you can often find clothes in apartments. Let yourself get souvenirs and stuff, just let yourself be completely into where you are. (Jacquie)
Sisters, buy your shoes there–buy jelly shoes that are waterproof. Unless you are size 9 or above, size 9 or above should buy Crocs or something in the United States. Also, buy rain gear there too. Bags are essential too, I would suggest one that connects at the waist and on at least one shoulder. This will help so it doesn't slide around when you're biking. Sisters bring all hygiene products with you. Don't expect to be able to get much from home (it costs a lot to send stuff from the United States), so don't forget things. (Amanda)
Seriously, take a winter coat. (Valorie)
Knee high/tights are good for sisters. You can tuck your dress in your knee high while you ride your bike so your dress doesn't get caught on your bike while riding. (Edrea)
Don't wear mesh garments…you'll get a rash. (Jeremy)
What blessings did you receive from serving a mission?
Everything! (Keith)
A stronger testimony of the Savior and His Gospel. Work after the mission. My family received many blessings as well. (Daniel)
Mandarin Chinese. (Jesse)
The two biggest blessings I have received are the relationships I built while there, and the ability to speak and use my Chinese. Being fluent in Chinese had given me many opportunities and has helped me form a lot of unique relationships. The people I met in Taiwan have formed and shaped my life, and I am a much better person because I know and interacted with them. (Andrea)
I think the biggest blessing I received was the love of the people. While I was a missionary, I was able to make many lasting friendships. To this day, I still continue to have contact with people from my mission. I love them with all of my heart. Taiwan is my second home. Another blessing I received was my friendship with the Lord. He was always there for me when I needed Him. I saw him bless my life and the lives of my friends in Taiwan. That was truly the biggest blessing of all. (Savannah)
I can speak Mandarin, got a job using Mandarin, I'm a nicer person, very spiritually strong. (Devin)
I gained such a greater understanding of my relationship with my Heavenly Father and Savior, Jesus Christ. I'm also so grateful for all the friendships I have created with the members over there! (Megan)
Gave me courage to face the challenges in the rest of my life. (Chuck)
My faith and testimony in the Savior and His Atonement have been forever strengthened, my desire to return to my Heavenly Father and Jesus Christ has increased tremendously. (Estelle)
My family back home was blessed. I was blessed to be able to learn and love the people of Taiwan. Even though now if feels like a dream, I think about it every day. (Caleb)
Every good thing I have in my life, I owe to serving a faithful mission. I couldn't be the wife and mother I am, nor would I have been worthy of the wonderful man I married if I hadn't allowed the Lord to mold me on that island. There's not a day that goes by in which I don't think of some tiny part of my mission. It means so much to me because that's where I really learned about the Atonement. Of course, I've learned since then and had sacred experiences but I still hold that time in my life as holy. (Jacquie)
My parents stopped fighting, at least for a little bit. I kept studying Chinese, which led me to meet my husband. I have so many friends with a lot in common. (Amanda)
Serving a mission helped me in my journey to meet my eternal companion and some eternal friends. (Valorie)
Faith strengthened, testimony strengthened and anchored. Knowledge of the gospel increased. Great friendships made (I'm still in contact with some of the people). (Edrea)
Too many to count and too personal to share. (Jeremy)
What are some skills you gained?
Mandarin (Keith)
I learned the Chinese language, relating to other people, communication skills, and hard work. (Daniel)
Learned to be a better missionary. I can speak Mandarin Chinese. (Jesse)
The biggest is obviously the ability to speak Chinese. I have also gained public speaking and teaching skills. I have learned how to teach English classes. I have better planning and execution skills. I learned how to conduct training meetings, and to give effective feedback. (Andrea)
I have learned how to love people. For example, I have become more accepting of different cultures and viewpoints. Also, I learned humility. Learning a language did not come easy to me. It was very hard. I had to learn how to not give up and put my trust in the Lord. Eventually, I was able to learn to communicate with people in Mandarin Chinese. The people really appreciate and respect that you are willing to learn Chinese to teach them the gospel. (Savannah)
Chinese, bike riding, social skills. (Devin)
Organization, planning, being open with people, conversational skills. (Megan)
Learned Chinese. Learned to talk to people totally different from myself. (Chuck)
I learned social skills and how to stay focused on one task, goals setting, and listening skills. (Estelle)
Interpersonal skills, a greater self confidence. (Caleb)
I learned to work, to see people as more than their excuses or situations. I learned that I'm more capable than I'd given myself credit. I saw myself as Heavenly Father sees me. I learned that strong women are needed in the work of the Lord. I also learned that my personal best is all that's required of me, not what someone else's best could do. (Jacquie)
Chinese, patience, ability to talk to others, respect for peoples and cultures, love for the gospel, obedience, diligence, worthiness. (Amanda)
I learned to not judge others as blatantly as I did before my mission. (Valorie)
Public speaking, getting out of my comfort zone, people skills, leadership, planning/organizational skills, etc. (Edrea)
Language, Public speaking. (Jeremy)
What do you wish you knew/did at the beginning of your mission?
Other religions. (Keith)
I wish that I had better language study habits, and just better study habits in general. (Daniel)
Told the MTC that their system is wrong. (I hear it is better now). I needed more personal language study time. Class was mostly useless because I could not learn all that was taught. More personal practice. (Jesse)
I wish I had been willing to be more outgoing and talk with everyone I met from the beginning. (Andrea)
Every missionary is different. Do not compare yourself to other missionaries or the success of other missionaries. All that matters is that you are trying your hardest to be the best missionary you can be. The Lord called you to serve in that area so that you can bring your talents to the area. Each missionary is important and has their own calling. (Savannah)
Never be afraid of people or having bad Chinese. They all love you and want to help. (Devin)
I wish I wasn't afraid to open my mouth because of my fear of saying things wrong in Chinese! (Megan)
Relax. God determines your success – not you. Your only job is to do your best. (Chuck)
I wish I had better read and studied Preach My Gospel. (Estelle)
I wish I worked even harder to learn the language faster but by 4-5 months I remember waking up one day and everything was as clear as if I was speaking English. (Caleb)
I wish I would've seen people as more than a cool story to write home about or a baptism to attend. I wish I wouldn't have been so hard on myself and my lack of language ability and just let myself learn and feel what I was doing. But at the same time, I did my best at my level of understanding and I think that's all you can do…and you should be a better missionary the longer you're out, so I'm not mad at the newbie I was. (Jacquie)
That every missionary does missionary work differently and that's okay. There is no such thing as a cookie cutter missionary, including myself. I don't have to do every thing the same as my senior companion. We are to work as a companionship, so even as a trainee or junior companion, I have an opinion. (Amanda)
I wish I knew how fast the time goes. (Valorie)
That I'm not supposed to flush toilet paper down the toilet. I did not know or was never told until towards the end of my mission. (Edrea)
Any advice/testimony for pre-missionaries going to Taichung?
Just get out there and the people will receive you. Don't be afraid because you don't speak Chinese yet, it will come. Always remember whose name you wear on your chest and be proud of it! Work, work, work! Love your companion. Eat everything. (Daniel)
Don't harass members for referrals. Members start going inactive before they stop going to church. Visit members often and ask them if they are having trouble keeping any commandments. Encourage them to repent with their Bishop asap. Follow up. Members will give you referrals if they trust that you are an awesome missionary. This is done by you being successful. Contact families teach girls at their home with their entire family or just invite them to church. All the girls and singles I baptized are not active. Half of the families (mom, dad and kids) are active. (Jesse)
Talk to everyone and be diligent, because the Lord will bless your efforts. Write down miracles, blessings, and why you are grateful to be a missionary on a daily basis. Utilize prayer and fasting because you will see miracles. Work with the ward and do everything to can to build up that relationship. Involve members in every lesson and work hard to show the members you care about them. (Andrea)
Build your relationship with Heavenly Father, Jesus Christ, and the Holy Ghost now. Know them personally, love them deeply, and trust them completely. They will be there to help you ever step of the way if you let them. (Savannah)
Put in effort! You'll regret days when you don't. Love your companion and love the people. Speak as much Chinese as possible, don't worry so much about reading and writing. (Devin)
Don't be afraid! The Lord is by your side! If you are having a hard time, just know that it is for your learning and growth. D&C 6:36! (Megan)
Do it! Just be the best you you can be. (Chuck)
Love the Lord, do it all for Him, that will be the right reason for you to do anything on your mission, let love be your motivation. Pray often and follow the commandments as best you can, a lot more rules will add up on your mission. (Estelle)
Love every minute. Learn the language, but learn the culture and respect it. (Caleb)
Go. Get your heart right before God and don't look back. If you're willing to fully surrender yourself to the Lord, you will experience miracles and things you can't even imagine. It's going to be hard. How hard, you can't even comprehend it right now. But that's also what's so amazing. We can do hard things because God is with us. Go and serve the best you can and live your mission in such a way you'll have stories you'll be proud to tell your children and grandchildren. This is the best decision of your life. (Jacquie)
Missions are hard, but you can do hard things. Throw yourself into the work and you will find it becomes easier. (Amanda)
If you love your mission, your mission will love you. Stay obedient and you will be blessed. (Valorie)
Go on a mission! You won't regret it! You will grow and learn so much. It'll be one of the best decisions/experiences you'll make/have in your life! (Edrea)
Read scriptures and pray hard. (Jeremy)
What was a funny language mistake?
I repeated some Chinese and it basically means "what the he** are you doing?" I just thought it meant what are you doing. (Jesse)
In the MTC, my companion was explaining in Chinese why she had to serve in another mission for a transfer before going to Taiwan. The word for visa and testimony are very similar, and instead of saying "I don't have a visa" as her reason for not going to Taiwan yet, she said, "I don't have a testimony". We all died of laughter! (Andrea)
Before my mission, I had studied Spanish for 7 years. Therefore, in the MTC, I would often mix up Chinese and Spanish principles. Well, the first week into my mission, I saw the cutest little boy and his mother riding on a scooter together. I absolutely love children, so I wanted to ask the mother how old her child was. At the stop light, I pulled up beside the mother and her child. I smiled and waved at the little boy. Since it was my first week on the island, I was a little nervous so I had to gather all of my courage to speak to them in Chinese. In my mind, I had said, "You're little boy is so cute! How old is he?" However, the mother's reaction was far different than the one I had expected. The mother was very offended and drove away on her scooter as fast as she could. I was extremely confused why she would act like that. It wasn't until later when my trainer told me what I had actually said. What I had said was, "You're little boy is so cute! Has he sinned?" The reason for this mistake was because in Spanish, if you are asking someone how old they are, you ask how many years do they have. And in Chinese the word for age (sui 歲) and the word for sin (zui 罪) sound very similar to a new language learner so it was easy for me to mix up the two. I was extremely embarrassed, but I can say I never made the same mistake again! (Savannah)
I told people we believed in discrimination instead of prayer! The words for the two are the same but different tones so I said the wrong one. (Devin)
I wanted to say someone should be more friendly if they wanted more friends, but I accidentally said they should be more hypocritical… (I had learned both those words that week and accidentally mixed them up!) (Megan)
Just remember tones. Learn and use the right tones. (Caleb)
When I was teaching at the MTC, some elders were trying to commit me to reading the scriptures but got the tones wrong on the word "invite". So, rather than saying "we want to invite you…" They said "we want to kiss you…" (Jacquie)