Free resources about the Sweden Stockholm Mission:
---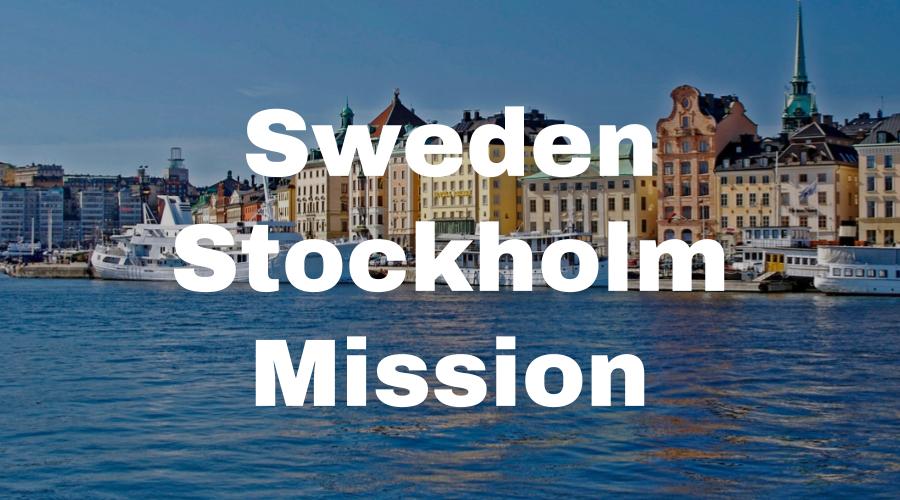 ---
Sweden Stockholm Mission Address
Here's a recent address for the Sweden Stockholm Mission. We try to keep this information up to date, but it's a good idea to check the address with several sources, including your mission packet or the mission office.
Sweden Stockholm Mission
Enebybergsvagen 38
182 46 Enebyberg
Sweden
Phone Number: 46-8-5447-0930
Mission President: President James E. Beckstrand
Sweden Stockholm Mission Map
Here's a link to the mission map for the Sweden Stockholm Mission (LDS). To access the official, up-to-date LDS.org map for the Stockholm Mission:
Log into your LDS account here.
Click here.
Videos with Sweden RMs
Here are in-depth YouTube video interviews with returned missionaries from the Stockholm Mission.  We interview hundreds of returned missionaries each year, so check back regularly to see new RM interviews.
LDS-Friendly Videos about Sweden
Here are LDS-friendly educational videos about Sweden. We scoured YouTube to find the best quality videos about Sweden, that are free from inappropriate music, immodesty and profanity.
Sweden Stockholm Missionary Blogs
Here's a list of LDS missionary blogs for the Stockholm Mission. This list includes the missionary's name, URL and when their blog was updated.
*Send your missionary a gift (mission-specific shirts, ties, Christmas stockings/ornaments, pillowcases, etc.)
Sweden Stockholm Mission Groups
Here are Sweden Stockholm Mission Groups- for LDS missionary moms, returned missionaries, mission presidents and other alumni of the Stockholm Mission.
Sweden Stockholm Mission T-Shirts
Here are T-shirts for the Sweden Stockholm Mission!
Shirt designs include Stockholm Mission logo/emblem shirts and Called to Serve shirts. The shirts make great gifts for pre-missionaries, returned missionaries and missionaries currently serving. LDS Mission shirts come in all sizes: Small, Medium, Large, Extra Large, up to 4XL.  The mission designs are printed on white shirts and are shipped to you.
*Simply click on a shirt design to view the details and submit an order. The designs on mission t-shirts may also be printed on other LDS mission gifts, including: Stockholm missionary aprons, Christmas stockings, ties, pillow cases, teddy bears and Christmas ornaments.
*Click here to browse Stockholm Mission gifts
---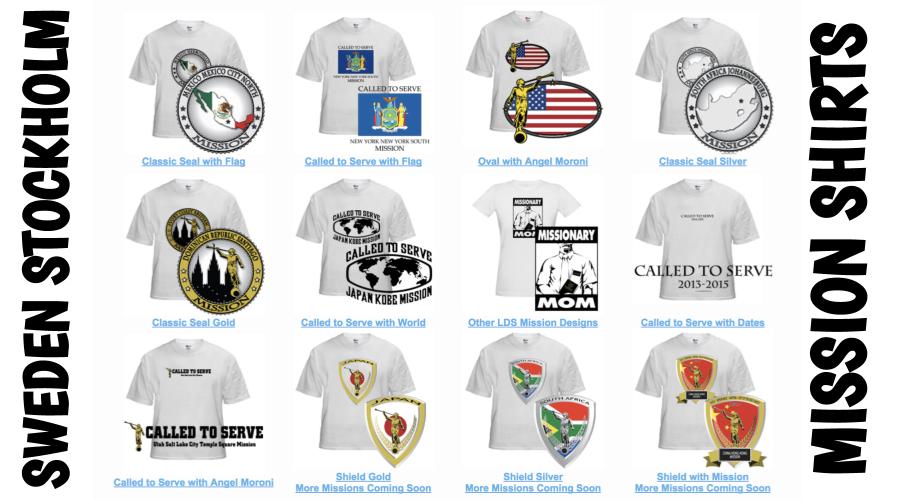 ---
Stockholm Mission Presidents
Here's a list of current and past Mission Presidents of the Stockholm Mission.
2014-2017, James Earl Beckstrand
2011-2014, Gregory J. Newell
2008-2011, Larry Ernest Anderson
2005-2008, Jan ke Karlsson
2002-2005, Preston Blair Hoyt
1993-1996, Arne L. Hedberg
Sweden LDS Statistics (2015)
Church Membership: 9,538
Missions: 1
Temples: 1
Congregations: 40
Family History Centers: 35
Helpful Articles about Sweden
Stockholm Missionary Survey
Here are survey responses from Sweden Stockholm RMs, to give you a snapshot into what it's like to live in the mission.
*Click here to take a survey to help pre-missionaries going to your mission.
When did you serve?
2013-2015 (Kody)
1984-1986 (Steven)
1978-1980 (Brent)
2013-2015 (Trevor)
2003-2005 (Brady)
1999-2000 (Anonymous)
1998-2000 (G)
1996 (Darren)
1978-1980 (Brent)
1988-1990 (Jeff)
2012 (Jesse)
2001-2003 (Joel)
1967-1969 (John)
What areas did you serve in?
Västerås, Borlänge, Skellefteå, Linköping, Karlskrona, Täby, Sundsvall, Vendelsö, Hägersten. (Kody)
Sodertalje, Uppsala, Taby, Soleftea. (Mark)
Örnsköldsvik, Göteborg, Norrköping, Linköping, Borlänge. (Bud)
Göteborg, Västra Fralunda, Utby, Skellefteå, Malmö. (Anonymous)
Handen, Taby, Ostersund, Gavla, Enshoping, Froson, Avesta. (Brent)
Märsta, Gävle, Lund, Kristianstad, Katrineholm, Halmstad. (Joel)
Trollhättan, Umeå, Härnösand, Örnsköldsvik, Växjö and Göteborg. (John)
What were some favorite foods?
Risgrynsgröt, Kebab pizza. (Kody)
Risgrynsgröt ock Syster Person's äppelpaj med vanilj sås. (Steven)
Potatoes, pomac, torta, fil milk, saft. (Brent)
Swedish foods. (Mark)
Köttbullar (meatballs), Blodbröd (blood soup), elk meat, raw salmon, Knäckebröd Pepporkakor (ginger bread), Surströmming (rotten fermented fish). (Trevor)
Kebabrulle. (Bud)
Meatballs, pear ice cream, pear juice/cider. (Brady)
Waffles, pancakes, meatballs and red potatoes, falafel, kebob, and princess cake. (Anonymous)
Meatballs, salmon, vanilla sauce, Swedish thin-crust kebab pizza. (G)
Inbakade pizza (calzone) kötbullar (meatballs) (Darren)
Meat balls, potatoes, kaka, saft, semlor. (Brent)
Svenska pannkakor, Sausage, Köttbullar. (Jeff)
Kebab pizza. (Joel)
What was a funny experience?
A missionary who will remain anonymous (Telschow), trying to tell a member he was full after a great meal and said: "jag är full" and then corrected it to "Jag är ful". (Steven)
Putting stickers on Elder Erikkson's head while he was sleeping. (Brent)
Riding bikes in Uppsala in the first snow and watching my companion go sideways through an intersection, because he couldn't stop. (Mark)
My funniest experience was meeting an Israeli man on the street who started eating my baguette out of my hang. He then proceeded to give the bread that was mine to his kids, who told me that I was Jesus and then thanked me. (Trevor)
Missing the bus at Sollefteå mot Örnsköldsvik. (Bud)
A handle on our skillet lid broke, so my companion and I used a handlebar from a children's tricycle to replace it. (Brady)
Trying to speak the language and not mix up use and repent. (Anonymous)
I once organized a four zone wide pizza eating contest when the three Pizza Hut's in Sweden had a cheap buffet offer over the summer. (G)
my companion and I were called "the widest companionship" in the mission. (Darren)
Coloring the milk like the carton to trick greenies. Riding home on my bike in a foot of snow and my handlebars cracked and face planted in the snow. (Jeff)
Getting covered with snow by an X2000 train while dealing with a sick stomach in Lund. (Joel)
What was a crazy experience?
Witnessing Elder Hansen wrestle a trouble-making teen off the commuter train with some high school wrestling moves. Also, just biking a winter in Eskilstuna. (Steven)
Riding the trains and busses. (Brent)
Almost getting hit by a bus in Solleftea. (Mark)
I accidentally tracted into a drunk drug dealer's house with drugs, money, and weapons all on the table. He took us in and was discussing with his partner if he should kill me and my companion, and we were trapped until he found out we weren't the police. We then taught about Jesus, but it was an intense hour, half thinking I was going to die. Another crazy experience is slaughtering eight sheep and skinning them. For dinner we had blood soup from the blood of the sheep we just slaughtered. (Trevor)
It's Sweden… Come on! 😉 (Bud)
Our car slid off a country road in the winter. Beware companions from Texas who think they know how to drive in the snow! (G)
There was a less-active sister who had been having what she called ghosts or strange noises she could not explain. Both my companion and myself felt the room change when she talked about these occurrences. (Darren)
Had a drunk that thought two young men in dark suits and long trench coats were KGB. (Jeff)
A guy in Gävle tried to stab me in the stomach with a screw driver while Äldste Hemenway and I were on our way to meet with a less active member. The whole time I kept thinking what a cool story it was going to be for my journal. 🙂 (Joel)
What was a spiritual experience?
Too many to note. Perhaps teaching hundreds in the Open House of the Dedication of the Stockholm Temple. (Steven)
Baptisms, I had two. (Brent)
Teaching the first discussion and feeling the Spirit so strong, it couldn't be denied. (Mark)
I was able to baptize one person in the Baltic Sea, in the middle of winter, when the water was 28 degrees Fahrenheit. There was ice and snow everywhere and my legs froze. (Trevor)
I gained a stronger testimony. I saw so many come to know our Savior and take the necessary steps to return to Him. (Bud)
Teaching a family from Albania, who had never heard of Jesus before. (Anonymous)
We were late for a train to meet with a family we'd been meeting with for a long time. They hated it if we showed up late. I ran faster than I think I've ever run in my life (I played soccer in high school. I can run pretty fast, but I'd never run like this). We made the train and that day he told us he was going to be baptized. I think the angels were pushing us. (G)
Immediately after we visited the sister I described in the crazy experience, My companion and I stood in the stairwell and said a prayer and invoked the power of heaven to protect her home from these experiences. (Darren)
Praying about were to track and being led by the Spirit right to an investigator who got baptized. Also baptizing in the ocean in the middle of the summer at 10 pm and sun still up, very spiritual experience. (Jeff)
I always loved talking to people who said they were atheists… it was fun to see them recognize the spirit and not know quite what to do about it. Some of my best discussions. (Joel)
What are some interesting facts about the Stockholm Mission?
I was able to extend from 18 months to two years. I was a member for two years when I arrived in the mission field and my mission galvanized my testimony. When I completed my mission I had been a missionary for half my membership. (Steven)
We had our own printing press, and printed our own materials. We used film strip projectors and often met in rented offices for church. (Brent)
How there use to be so many stakes in Sweden, until there was a migration of the Saints to the USA. (Mark)
Sweden is the same size as California. However, all of Sweden is just one mission. Sometimes the nearest missionaries are six hours away by car or train. I was isolated many times in the middle of Sweden. During the winter, the sun rises at 11am and then sets at 1pm. It's pitch black almost the whole year. The opposite is true during the summer! The sun will never set! You can travel to the arctic circle! And the northern lights are seen frequently! (Trevor)
It's the best mission. (Bud)
We taught in English mostly, because those we taught were not Swedish at all. Sweden is the size of California and Oregon. (Anonymous)
You take flights between transfers sometimes. Or 8-hour train rides. It's a big country. (G)
Sweden is often confused with Switzerland. Just after I left, a 4th stake was organized in the country. You can always tell who the non-natives are on a bus, because they are the only people talking. (Darren)
Winter- in Gävle and seeing Northern lights. Cold,cold,cold! Seeing worlds tallest Dala Häst. (Jeff)
It is the only mission with a prophecy to have a "second harvest", meaning about period of mass baptisms like during the 1800s when whole cities were joining the church in Sweden and then moving to Salt Lake City. (Joel)
What was the weather like?
Wonderful. Cold, warm and everything in between. (Steven)
Typical Swedish weather is cold, cold, cold. We always wore our suit coats. (Brent)
I enjoyed the moment so much, I really didn't let the weather concern me. The summers were wonderful and the winters were a bit cold. (Mark)
80 Fahrenheit in the summer, but it lasts only two months. The lowest temperature I experienced was -30 Fahrenheit. It is cloudy almost every single day, and rains or snows all the time. (Trevor)
Depends on where you serve. Northland was cold during the winter. I felt like it rained a ton while in Göteborg during the summer. (Bud)
Summer: beautiful, amazing, wonderful. Winter: cold and dark. (Brady)
Beautiful in the summer, cold and humid in the winter. It snows in the north and has a damp cold bite in the south. (Anonymous)
There are some very cold places, but most of the cities are near the water and don't get too cold. The summers are amazing. The lack of sun in the Winter can be depressing. (G)
During the summer, the weather is beautiful. The sun really never sets because of the northern latitude at which Sweden is located. During the winter, just the opposite, though in many places in the country you can see the aurora borealis. (Darren)
Cold. (Brent)
Again- Winter in the North COLD, COLD, COLD! Riding bikes in foot of snow is CRAZY! (Jeff)
Mostly wet in the summer with a few days of sunshine. Snowy and cold in the winter. (Joel)
Any things you really like about the area/people?
Cant' put it into words. Amazing. Beautiful. Challenging. Inspiring. Unforgettable. (Steven)
The best people ever. (Brent)
How accepting and wonderful they were to us as missionaries. (Mark)
It is the most beautiful country in the world. Sweden has the bluest skies I can cry thinking about it. The landscape is stunning and there is not pollution. The Swedish people are so unique. There are many people from Africa and the Middle East and Sweden is one of the most diversified countries. I think I handed out at least 30 copies of The Book of Mormon in languages other than English or Swedish. (Trevor)
Once people opened up to you… You became friends for life. (Bud)
The country is beautiful. The people are beautiful. Public transportation is spectacular. (Brady)
It's a big melting pot of war torn immigrants. The land is full of lakes and rivers and very lush landscapes. The Swedish people are kind, helpful, and reserved. (Anonymous)
Sweden is awesome. It wasn't bombed out like the rest of Europe, so downtown Stockholm has a very different feel than Berlin or London. The people are smart and caring. They do some things differently than Americans do. (G)
It seemed like when you were 'in' the circle of trust, you were there forever. It was amusing how many of the people said they didn't speak english… unless they had been drinking. (Darren)
Great people. (Brent)
Wonderful people! (Jeff)
Their almost childlike and guileless honesty. (Joel)
Any packing/clothing advice?
When it comes to suits and winter clothing, I would highly recommend purchasing in country (in Sweden). (Kody)
Two pants, suits and extra slacks. Warm, long coat. Wool works great. Shoes that can be resoled. At least two pairs of shoes. Rubber or synthetic bottoms. (Steven)
Buy your winter stuff there. (Brent)
You don't need two coats, but do take warm socks and warm gloves. (Mark)
BUY A JACKET IN SWEDEN. Bring a light one, but buy a heavy one in Sweden. You will have time to do so. Also, buy a suit in Sweden. Nothing is classier than Swedish suits. By the end of my mission I was wearing only Swedish clothes. Swedish white shirts and pants. I would only bring a few to start out with, but buy the majority of my clothes in Sweden. They are not that much more expensive. Only a dollar or two. (Trevor)
Don't buy winter clothes in America. Buy them when you get there. Dressman Outlet in Sweden is the best thing since sliced bread. There's an H&M on like every corner in Stockholm. (Bud)
Don't bring winter boots. (Brady)
Rain hats, jackets and umbrellas, warm coat, gloves, scarf, hat and long underwater for winter, and short sleeves in the summer. (Anonymous)
The Swedes say "Det finns ingen dåliga väder, bara dåliga kläder" (there is no bad weather, there are only bad clothes). Yes, it's cold. Get some thermal underwear, a good coat, and some good gloves. The summers are nice. (G)
Warm clothing is a MUST. you'll need good shoes, and many pairs of good socks. Typically, you take off your shoes in someone's home, and I once received several pairs of socks after I had been in a member's home with holes in my socks. Overcoats are also a must. (Darren)
Good walking shoes. Shop thrift stores, can get awesome deals and occasionally a nice suit. Dress warm if up North. (Jeff)
Resist wearing long johns – you'll get overheated anytime you go inside somewhere. (Joel)
What blessings did you receive from serving a mission?
Again, immeasurable. It is truly the foundation of my life in many ways. Serve every second. (Steven)
My testimony was truly strengthened. (Mark)
The biggest blessing I have noticed so far from my mission is my growing faith in the Lord Jesus Christ. I have noticed His hand in my life, guiding me. And things are working out amazingly for me, and I have to attribute that to the blessings that were stored up. I didn't see a lot of blessings on my mission, because it was very hard. Not a lot of people listened. But I am seeing the blessings now. (Trevor)
I was able to speak the language so well people actually thought I was from Sweden. (Bud)
Gained a strong testimony of the gospel of Jesus Christ. Learned to listen to the Holy Ghost, and made some amazing friends. (Anonymous)
A lot of perspective on life. I loved being able to be in so many homes and see the way they live. It was a great experience to help me prepare for my own family. (G)
I met my very best friend on my mission. I also gained a powerful testimony of the truth of Joseph Smith's vision. My testimony of the promise in Moroni 10:3-5 grew so much as I watched it work in me and in a few families we worked with. (Darren)
Strengthened testimony! Lifetime friends! Knowledge of language. (Jeff)
An enormous increase of faith. (Joel)
What are some skills you gained?
Speaking, loving, serving, praying, solving, overcoming, persevering and obeying. (Steven)
How to reach out to others. (Mark)
I learned how to cook! We didn't have members feed us, because there aren't a lot of members, so I cooked almost every single day of my mission for all three meals! I perfected my fajitas recipe. (Trevor)
Organization, leadership skills, bow staff skills… How to use the scriptures better. (Bud)
Independence, housekeeping. (Brady)
Overcoming a fear of public speaking and talking to complete strangers. Learning another language, and driving in the snow. (Anonymous)
I really enjoyed reading the scriptures. Study them hard. Study them the way you would a textbook. Think of which scriptures you can share with people, all the time. The more scripture you know, the better you'll be able to pick the right ones to share. (G)
I learned how to apply prayer, which has helped me as I served in the stake young men's organization and also in my callings in the ward. I also learned how to make gravy from scratch- a necessary thing to do when making meatballs and potatoes. (Darren)
Language. (Jeff)
Making handmade tortillas. (Joel)
What do you wish you knew/did at the beginning of your mission?
I wish I knew that being a missionary means doing my best, not being perfect. (Kody)
That each challenge was purposeful and to use every second to serve others, not myself. (Steven)
If I knew how hard the language was the first part of my mission, I would have studied the language better in the MTC. (Mark)
I wish I knew what the mission is truly like. I saw all the videos that are produced by the church and the stories that returned missionaries told me. I felt a little betrayed when my mission did not feel like what I saw in the videos. It felt like I was doing something wrong or that the videos are not true. I learned that things are just different. It took awhile for me to understand life in Sweden. (Trevor)
Really studied the Bible more. (Bud)
I wish I knew what the signs of depression are, how to get help when you have depression or know someone who does. It's okay to not be perfect. It's okay to have fun. (Brady)
Spoke Swedish more with my companion. (Anonymous)
Be nicer to the members. Be a missionary to them, too. It's hard to be a Mormon in Sweden. Never show frustration to the members. It's hard to always be positive and thankful to people, but that's kind of your job. (G)
Missionary work is hard. You don't think it sounds hard until you do it. Submitting your will to your mission president, and to the general authorities of the church is tough. When you submit your will to Heavenly Father, things become much easier. I make this distinction because it's a different thing to submit your will to our father than it is to submit your will to a man or a group of men. (Darren)
Know language better and had Duolingo language app. Available on android, not sure about iPhone. (Jeff)
Throw fear out the window and talk to everyone all the time. (Joel)
Any advice/testimony for pre-missionaries going to Sweden?
Listen to the Spirit and follow it no matter what. Don't just do the tracting that everyone feels they have to do. Think outside the box and within the rules. Obey no matter what. (Steven)
Keep an open heart and love the people. (Mark)
Learn how to work hard. Learn how to stay faithful. Many members are falling away from The Church, and just because you are a missionary doesn't mean you can't lose your testimony. Stay strong. Stay obedient. Trust the Lord. (Trevor)
Don't get frustrated with the language … It will come and it feels amazing. Talk to the youth. Always ask "how do you say.." and then write it down. (Bud)
Trust in the Lord, pray hard and work even harder. (Anonymous)
Don't let rejection get you down. Many Swedes are quite unreligious. They view that religion has caused many problems, and if you lived a country that had been conquered in religious wars many years ago, you might feel that way, too. Some people really don't like you, but don't take it personally. (G)
My conversion… my change to a better person came during a zone conference, when we were studying the language and how to better communicate the story of Joseph Smith's first vision. When I actually thought about what it was that I was saying…that I was relating a story which I believed to be true… A pillar of light descended on Joseph Smith and in the pillar of light were the Father and Jesus Christ. They came to this boy because of his prayer and his faithfulness… his desire to know. Pure intelligence poured into me. I understood what that was like. If you do not already have a testimony of that event, spend time on your knees, asking God, in the name of Jesus Christ "…if these things are not true; and if ye shall ask with a sincere heart, with real intent, having faith in Christ, he will manifest the truth of it unto you, by the power of the Holy Ghost. And by the power of the Holy Ghost ye may know the truth of all things." I bear my testimony that these things ARE true. (Darren)
Give the Lord his time. Serve the absolute best you can. Study scriptures in Swedish. Go home exhausted. (Jeff)
Embrace food in a tube. (Joel)
What was a funny language mistake?
See above, in the funny experience. (Steven)
Be careful about what words are used, so no profanity is spoken in front of the members. (Mark)
A sister missionary was looking for apartment number six. However six in Swedish is sex. Which also means sex. So she approached a man and said "I am looking for six" which also means "I'm looking for sex". Needless to say everyone was uncomfortable. (Trevor)
Berg vs. Bög. Thought they were the same so… When asked what I missed from Colorado I said "Bög" and everyone laughed. (Bud)
It's important to pronounce both "böner" and "Gävle" correctly. (Joel)