Misión España Madrid
Free resources about the Spain Madrid Mission:
Aquí están algunos recursos gratuitos sobre la Misión España Madrid:
*Other Mission Pages: Spain LDS Missions.
---
---
Spain Madrid Mission Address
Here's a recent address for the Madrid Mission. We try to keep this info up to date, but it's a good idea to check the address with several sources, including your mission packet or the mission office.
Spain Madrid Mission
Calle Fuerteventura 4, 2, Office 8B
28703 San Sebastian de los Reyes
Madrid
Spain
Phone Number: 34-916-237-030
Mission President: President Kevin B. Pack
Spain Madrid Mission Map
Here's a link to the mission map for the Madrid Mission (LDS). To access the official, up-to-date LDS.org map for the Madrid Mission:
Log into your LDS account here.
Click here.
Videos with Madrid RMs
Here are in-depth YouTube video interviews with returned missionaries from the Spain Madrid Mission.  We interview hundreds of returned missionaries each year, so check back regularly to see new RM interviews.
LDS-Friendly Videos about Spain
Here are LDS-friendly educational videos about Spain. We scoured YouTube to find the best quality videos about Spain, that are free from inappropriate music, immodesty and profanity.
Spain Madrid Missionary Blogs
Here's a list of LDS missionary blogs for the Madrid Mission. This list includes the missionary's name, URL and when their blog was updated.
*Send your missionary a gift (mission-specific shirts, ties, Christmas stockings/ornaments, pillowcases, etc.)
Spain Madrid Mission Groups
Here are Madrid Mission Groups- for LDS missionary moms, returned missionaries, mission presidents and other alumni of the Madrid Mission.
Spain Madrid Mission T-Shirts
Here are T-shirts for the Spain Madrid Mission!
Shirt designs include Madrid Mission logo/emblem shirts and Called to Serve shirts. The shirts make great gifts for pre-missionaries, returned missionaries and missionaries currently serving. LDS Mission shirts come in all sizes: Small, Medium, Large, Extra Large, up to 4XL.  The mission designs are printed on white shirts and are shipped to you.
*Simply click on a shirt design to view the details and submit an order. The designs on mission t-shirts may also be printed on other LDS mission gifts, including: Madrid missionary aprons, Christmas stockings, ties, pillow cases, teddy bears and Christmas ornaments.
*Click here to browse Madrid Mission gifts
---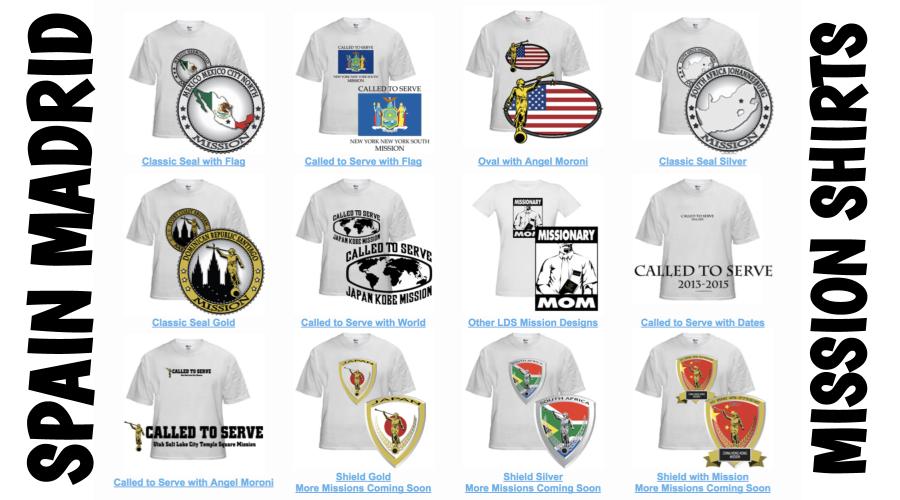 ---
Spain Madrid Mission Presidents
Here's a list of current and past Mission Presidents of the Madrid Mission.
2015-2018, Kevin B. Pack
2012-2015, Scott T. Jackson
2009-2012, James Stanford Watkins
2006-2009, Brad W. Farnsworth (Listen to an interview with the Farnsworths)
2003-2006, Ronald G. Davies
2000-2003, David C. Clark
1997-2000, Steven Shallenberger
1994-1997, Richard Winkel
1991-1994, Mark C. Nelson
1988-1991, Gerry L. Heaton
1985-1988, J. Michael Paya
1982-1985, N. Earl Deschamps
1979-1982, Robert A. Tucker
1976-1979, G. Sterling Nixon
1973-1976, Robert V. Stevens
1970-1973, R. Raymond Barnes
Spain LDS Statistics (2015)
Church Membership: 52,747
Missions: 3
Temples: 1
Congregations: 141
Family History Centers: 55
Helpful Articles about Spain
Spain Madrid Missionary Survey
Here are survey responses from Spain Madrid RMs, to give you a snapshot into what it's like to live in the mission.
When did you serve?
2014-2015 (McKenna)
2013-2015 (Levi)
2010-2012 (Leland)
2013-2015 (Daniel)
2013-2015 (Stephen)
2010-2012 (Alexandra)
2009-2010 (Kristin)
2011-2013 (Ezra)
2002-2004 (Nathan)
2002-2004 (Shari)
2004-2006 (Chris)
2002-2004 (Ross)
2001-2003 (David)
2003-2005 (Adam)
2002- 2004 (Shari)
2002-2003 (Judith)
2000-2002 (Kyle)
2000-2002 (Sean)
1999-2001 (Brian)
1999-2001 (Pablo)
1999-2000 (Chris)
1998-2000 (David)
1995-1997 (Boas)
1989-1991 (Richard)
1989-1990 (Dave)
1987-1989 (Paul)
1987-1989 (Cesar)
1986-1988 (Paul)
1984-1986 (Jon)
1983-1985 (Jule)
1976-1977 (Dara)
1975-1976 (James)
What areas did you serve in?
Alcalá de Henares, Alcorcón, Los Cristianos en la Isla Tenerife, Toledo. (McKenna)
I personally served in Talavera de La Rena, Alcobendas, Cuenca, Alcorcon, Barrio 2, Villalba, Salamanca, and both area's in Badajoz. (Adam)
Madrid, Alcala de Henares. (Shari)
Toledo, Badajoz, Alcala. (Judith)
Madrid (barrio 3 and barrio 5). (Kyle)
Served in leganes, Madrid, Merida, alacala de Henares and Salamanca. (Sean)
Aluche, Sol, Badajoz, Puertollano. (Brian)
Salamanca/ en Madrid barrio 1,2,3. (Pablo)
Aranjuez, Badajoz, Valdepeñas, Villalba, Getafe, Segovia, Madrid. (Chris)
Badajoz, Madrid, Villalba, Ciudad Real, Torrejón, y mas. (David)
Torrejon;Fuenlabrada; Madrid Sol South; Salamanca; Barrio Pilar; Guadalajara. (Boas)
Valdepenas, Villa Verde, Moratalaz, Barrio 2, Leganes, Arganda del Rey, Badajoz. (Richard)
Alcobendas, Madrid, Vial A, Cuenca, Fuenlabrada. (Dave)
Salamanca,Toledo, La Coruna. (Paul)
Madrid, Getafe, Villalba, Talavera de la Reyna. (Cesar)
Toledo, Salamanca. (Paul)
Torrejón de Ardoz, Gijón, Santiago de Compostela, Alcorcón, Valladolid, and Ponferrada. (Jon)
Barcelona, Elche, Madrid, Santander. (James)
What were some favorite foods?
The Spanish tortilla churros and chocolate. (Levi)

Paella, Jamón, Ceviche, Arepas. (Leland)
Calamari Sandwich, Morir, Andin's Crystal, Patacones, Cocido and Jamon Serrano. (Daniel)
Tortilla de Patata – A typical Spanish food, kind of like a giant omelet with potatoes. Chorizo – Delicious spanish sausage. Muesli Crujiente – The world's most addictive crunchy granola, available at Mercadona. (Stephen)
Seviche Arroz con lentejas Pure de calabacin Jamon serrano Baleadas Tacos Silpancho. (Alexandra)
Cañas de chocolate Churros y chocolate Tortilla de patata Gaspacho Turrón (de coco) Lentejas. (Kristin)
Paella, Spanish Tortilla, Polvoron, papas con mojón. (Ezra)
Paella, Migas, Pisto Manchego, Queso Manchego, Telepizza, Mosto, Rabbit dishes, Lamb dishes, Doner Kebab. (Nathan)
Pasteries, Turron, Paella, any of the cheeses. (Shari)
Tortilla, paella, bocadillos, chorizo, mosto, horchata, flan. (Chris)
Lentejas, Chorizo, Jamón Serrano (pata negra), Tosta Rica. (Ross)
Churros con chocolate, croquetas, cake from dia, tortilla de patata, doner kebabs. (David)
Chorizo, Huevos con Papas, Pallela, and Corn Flakes with Chocolate granola sprinkled on top. (Adam)
Churros, piella, chuches. (Shari)
Paella, pan, lentils, arroz Cubao, chuches, palmeras. (Judith)
Tortilla Espana, Pepitos, Chorizo. (Kyle)
Paella, Tortilla Española, Olivas, Jamón serrano, Cocido madrileño, Chirizo, Queso manchego. (Sean)
Spanish tortilla, McCerdo (from McDonald's), Telepizza, Chorizo, Jamón Serrano. (Brian)
Tórtilla de patatas, Arroz con pollo. (Pablo)
Tortilla, paella, pisto, palmeras, cocido. (Chris)
Paella, torta de patata, carne asada. (David)
Garbanzo bean soup. Tortilla Espanola. Lentil bean soup. Jamon Serrano. Chorizo. Pallets. (Boas)
Paella. Jamon serrano. Pan. Bollecao. acetunas. (Richard)
Tortilla de papa. (Dave)
Paella, Fabada Asturiana, Pulpo con Papas, Hake in Salasa Verde, pollo Asado, Fish Galician style. (Paul)
Paella. (Cesar)
Fabada Asturiana, Pulpo con papas. (Paul)
Cocido Madrileño, Churros. (Jon)
Paella, empanada. (Jule)
Tortilla Espanola, Paella, Turron, Palmeras, the thick, pudding-like hot chocolate with churros. (Dara)
Paella was my favorite but I also loved churros con cocolate. (James)
What was a funny experience?
During personal study once my chair broke and I fell! My companion and I laughed so hard. (Levi)

I got one foot stuck in the metro door with the rest of me still on the platform as it started to go and couldn't get it out. Hopping down the station someone finally helped me open the door enough to get it out. My Companion made it on the metro and was just laughing his face off from a seat as he watched my face of panic! (Leland)
At one point, my companion and I taught a Dominican guy named Javier for almost two full weeks (and were about to invite him to be baptized!) before we found out that he was already a member of The Church. Communication is important. (Stephen)
I needed to use the service and we had to ask a lady, that knocked on her door, but she thought we wanted to steal or something and she closed the door in our faces. (Alexandra)
Teaching some companions how to speak English. (Ezra)
Getting invited into Gypsy's home thinking we were going to teach a lesson and then getting confronted with anti-Mormon literature. (Nathan)
So many times, the bus system could be confusing! One Christmas Day, we decided to take a bus out to a smaller town to visit a very sick investigator that had been in the hospital for a few days. In all the confusion, we ended up getting off the bus a few stops early and hiking more than a mile in the pouring rain. The four of us could NOT stop laughing and had one of the most memorable Christmases of my life. We were able to visit the investigator (nurses and doctors couldn't figure out why we were dripping all over the floors), and we had a delicious Christmas dinner at a Chinese restaurant! (Shari)
My companion taking down the gypsy who stole my wallet. (Chris)
Once we visited a family and they decided to feed us. About halfway through the meal, we realized we had forgotten that we actually had a planned lunch appointment right then, and we were late. We had to run to the other side of town and have another meal. This is a lot funnier when you realize that in Spain, lunch is the major meal of the day. We didn't get many lunch or dinner appointments, but that day we were stuffed. (Ross)
One preparation day we drove to Salamanca and ended up playing hacky sack in Plaza Mayor. A big group of people ended up stopping and watching us. Every time we caught the sack and threw it at each other the crowd cheered. (David)
One time my companion and I were waiting at a foggy bus stop, super early in the morning. All of a sudden, a car (with 2 flat tires) came to a screeching stop and an Eastern European guy got out and ran like crazy. Within 2 minutes, two Spanish cops stopped right behind his car and took off after him. My companion and I just looked at each other and laughed! We felt like we were watching a movie! (Shari)
Chasing nuns (there were plenty). (Judith)
Playing pranks on each other. (Sean)
When we launched water balloons into a tree above the entrance to an arcade, and a teenager got soaked when all the water sprayed down on him. He had no idea what happened! (Brian)
Enseñar una vez en el metro y estar muy animado enseñando y no nos dimos cuenta que nos habíamos salido de nuestra área , pero valió la pena. (Pablo)
Culture shock/differences. (Chris)
Some kids on a metro thought they were rough and tough by throwing our chapas on the ground, we thought that was funny. (David)
In Palencia, one of the families in Palencia had a dog named Chulin and he used to jump on people. (Paul)
I was able to see the boy band Backstreet Boys arrive at a hotel in Madrid to thousands of screaming Spanish girls. They had to fight through the crowd to get in the hotel and then made it to the top of the roof to wave to all of their adoring fans. (Boas)
While not necessarily funny, I found that the missionaries were trusted. When I went to renew my visa, I was asked how long I planned to be in the country. Once I told him, he extended my visa for my whole mission instead of simply the three months generally given to visitors. I had a similar experience coming through United States customs in New York City. The customs agent opened our suitcases, took a quick look, and sent us on our way. Other passengers were being searched much more thoroughly. (Jon)
The time we tracked out a group of college age kids playing cards and smoking marijuana. (Jule)
When I first got to Spain, I was standing on one of the sidewalk vents, where air comes up from the metro, and didn't know my dress was blowing up until someone came up and said I had funny underwear!! 😖. (Dara)
What was a crazy/dangerous experience?
We were stuck in some drunk guy's smoky house and they wouldn't let us leave, which freaked me out. They tried their hardest to get us to smoke. But after having a coca cola and sitting down for a bit we got to leave. (Levi)

See above, also one night my companion and I were walking to a lesson, it was pretty late and was our last lesson. Two men approached us asking for a Bible, but we didn't carry any (I had seen the men around town a lot, as I had been in the area for almost a year). They started following us saying all sorts of really horrible things and then they cut us off and hit us with some sort of pipe that they had picked up somewhere. I remember thinking "if they hit either one of us one more time… Then we'll have no choice but to fight back" just then a calming spirit came over my companion and I and the two men just stopped and left. We never saw them again. (Leland)
Living in the ghetto Vallecas of Madrid. (Daniel)
It turns out that if you try to fix the apartment boiler by yourself, you might accidentally flood the entire kitchen before finding the valve to shut the water off. But that totally never happened to me, of course. (Stephen)
Talking to 2 drunk man and my companion wouldn't stop talking more and more. (Alexandra)
Being with a mentally unstable companion. (Ezra)
Getting stopped in the street by a group of Iraqi War protestors. (Nathan)
Two weeks before the end of my mission (March 11th), we woke up to a call from the Assistants to the President telling us not to leave our apartments under any circumstances. As we found out what had happened, our hearts dropped! Three bombs had been detonated in the trains commuting into Madrid that morning which just happened to be headed for the station we had traveled through less than 12 hours before. Hundreds were killed and an extremist group out of Iraq claimed the attempt. It was a rough event to go through following only two and a half years exactly after September 11th. Many friends and loved ones were lost in those horrible explosions. (Shari)
Getting my wallet stolen by gypsies. (Chris)
Once, some kids on bicycles tried to steal my groceries and spat in my face. They didn't get a good enough grip on my bag as they sped by, though, so no harm done, aside from the gross aspect of having been spat in the face. (Ross)
Teaching a discussion to an apartment full of Nigerians and realizing part way through that the women in the room were prostitutes and one of the men was their pimp. (David)
I was walking one of the the young men from my ward in Villalba home from English class late one evening when my companion and I came across a man with his mother in law and girlfriend parked in a car arguing. The mother in law was in the front seat and the girlfriend was in the back while the enraged boyfriend was in the drivers seat. He then proceeded to open his door, run around to the back door, then lunged himself in and started swinging at his girlfriend. I was shocked, never came across a situation like this before, and my heart was jacked with adrenaline. My junior companion (who was the hardest companion I worked with in my whole mission) looked at me and shouted, DO SOMETHING!!! That snapped me out of my shock and I raced over to the back door, and sternly snapped at the man to get out of the car (helped I was much bigger than him. At the time, I was about 6'2″ and 200 lbs, compared to his 5'6″ and 150 lbs) He stopped, and I demanded again that he get out of the car. He started to comply when his girlfriend, who he had just stopped beating, wrapped her arms around him to protect him from what she must have thought was myself about to beat her boyfriend. I was befuddled that she was protecting the man who was just beating her. I stepped back a step or two, enough for him to get out of the car, look at me, the scurry over to the drivers side to drive away. In my broken Spanish (I didn't know the stern rebuking language in Spanish needed for this kind of situation) I told him if he hit her again then God would punish him. He got in and sped off, all while my companion and the poor helpless 12 year old deacon who was accompanying us watched. He drove off and around the corner that we were walking to, so we continued to walk our deacon home. As we turned the corner, we saw the car stop and the man lunge from the drivers seat into the back seat at his girlfriend again. I charged the car again, screaming anything I could to get him to stop. He heard me screaming and sped off, flying some 50+ miles an hour down some narrow two lane streets into the night. I collected our group and together we walked our deacon home. As we got to the door, I shared with him that I didn't have the answers to explain what happened tonight, but God did and he should tell his father everything that he saw happen tonight. We bid him goodnight. That Sunday in church his father made a point to find me and thank me emphatically both for protecting his son as well as directing him to go to him (his father) for comfort and guidance. He gave him a blessing that night and the little deacon was as normal as ever that day. (Adam)
One of the streets in our area was labeled the most dangerous section in Europe. SO many times I literally felt angels walking with us when I noticed different gang members shadowing us or watching us. Many times we felt strongly we needed to get off the street immediately, and we would find a family and be able to teach them for a bit until we felt the danger had passed. (Shari)
Getting robbed on the metro. (Judith)
I was there for 9/11 when the towers fell so we were on high alert and our Mission President had us hide out for a week until things calmed down a bit. There were also a lot of gypsies that would try to rob us if we weren't careful. I never had anything stolen though because we knew of their tricks. (Kyle)
Running with the bulls! (Sean)
When we thought we saw a bunch of children playing tag in the street, but it turned out that one child had actually smeared dog poop on his hand and was trying to wipe it on the other kids. As we walked by he got a crazy look on his face and started chasing us, hand outstretched. I've never run so fast in my life! (Brian)
Conducir por la noche con algunos misioneros entre ellos los ap y meternos sin querer en el parque lleno de mujeres dela calle y cerrar los ojos para no ver y gritábamos mucho pero logramos salir de allí , fue gracioso y peligroso. (Pablo)
Gypsies. (Chris)
We had a mob of jovenes throw some oranges at us- not rocks, but oranges, it was dark and in the middle of a bad area of town. Scary, but not dangerous! (David)
I had a few crazy dangerous experiences on my mission. There was a knife pulled on me and my companion twice. We also had people throwing rocks at us in a parking Salamanca. There was also two Spanish males who tried to jump us on the Metro subway. (Boas)
The hijacked virgin. (Dave)
I was trying to pet a dog at the play ground near the apartment in Salamanca and it bit me. (Paul)
My companion and I were accosted by a group of gypsy children. They were making noises about robbing us. I had been letting my companion do the talking. When they started the robbing talk I spoke up and said NO. They all scattered. (Jule)
Rode on the outside of the metro car when they were crowded, like the Spaniards do, until I mentioned it to President Nixon and he freaked out and said to never do that again! (Dara)
I remember being in the Lationo district and seeing a protest start up. As it came down the street, we stepped into a doorway and let it go on by. This was as we had been instructed to do. During this time after Franco's death, there were many protests as the political groups tried to get power. All of us missionaries were in Madrid for a mission conference the day Franco died. As far as I know, that was never a problem for any of us, but many at home were worried about how it would be. (James)
What was a spiritual experience?
In a certain area we were so in tune to the spiritual guidance, it amazed me. One time while we walked at night I got just a simple idea to try this one street. As we walked there we found Edison, and had we not run into him that day he wouldn't be active right now. (Levi)

I don't think a day went by when I didn't have a spiritual experience. I looked for them constantly and every night I would write it down in my planner. One of the most hopeful lessons any missionary can learn to do right away. (Leland)
Teaching and baptizing an extremely prepared, amazing woman. (Daniel)
On one of the worst, hardest days of my mission, after having been rejected and failed and rained on all day, we were literally just heading home defeated, when we stopped a lady walking on the street. It turned out that one of her roommates had been talking to her about the Mormons just earlier that day, and they had been wondering how to get in contact with us. We went over to teach them that very night, and both were later baptized. (Stephen)
More at the end of my mission, we were teaching a mother and 2 doughters, and after a few weeks of teaching, the oldest doughter told us that she feels that she has to get baptised. And so after 4-5 months after I left home (and went back to visit) the 2 girls got baptized; the mother told me that she needed more time, also cause she had problems with the husband. (Alexandra)
Watching the people you teach want to change their lives because they know that the message is true. (Ezra)
Attending the temple, baptisms, Noches de hogar. (Nathan)
There were several, but I remember one that was such a miracle. A young lady approached a couple of Elders one day on the train and asked to know more about the church. Her best friend in Peru was LDS, and she wanted to know more. The Elders called us immediately and we were able to meet with her within a few days. She was such a golden contact and accepted the gospel within a few weeks. I'm actually still in contact with her 12 years later, and can't help but smile when I see her happiness. (Shari)
Seeing the look on a man's face as the Spirit testified to him of the truthfulness of the Book of Mormon. (Chris)
It may sound like a small thing, but there were times when I would have a migraine or other pain, but then we would be visiting a family or person and the pain would leave for the duration of the visit. As soon as we left, the pain would return, but the fact that the pain would leave for that visit let me know that those people were important enough to God that he would take away my pain just long enough to have us visit them when I would otherwise be considering calling it a day. (Ross)
While teaching a first discussion to a room full of people at church I testified about the first vision then asked how people felt. As we went around the room the answers sounded like this: "I feel good." "I feel peaceful." "Yeah, I feel good being here, I like everything you're saying." "When you speak, it's like there's a warmth coming out of you and it's filling me up with joy." It was amazing to see the Spirit testify so strongly to people each and every day of my mission. There's no better feeling than testifying of the Savior and His restored gospel and feeling the Spirit immediately fill the room to serve as a witness of the things you're teaching. (David)
There was a young Aztec Mexican earning his Doctorate in the town of Salamanca (northwest of Madrid) that I met through a ward party. He was very open to the gospel but didn't return our calls so that we could teach him the gospel. A month passed before he suddenly appeared at church with his friend, who was also a student and active member of our small branch. Then he was ready to soak up the gospel, a true golden investigator who was prepared by the Lord, and he accepted our invitation to baptism after only two weeks of lessons. A week before he was to be baptized, he came to us after church saying he was having very dark feelings and doubts about his baptism, and kept having the same strange dream and didn't know what it meant. He asked if we could help. The first time he shared his dream it was hard to understand, and we were as baffled as he was, but he still asked what it meant. My junior companion tried to talk about the dreams of Joseph in Egypt while I pondered and prayed for understanding. I asked if he could share it again, this time allowing me to draw his dream on the chalkboard to see if that could help. He agreed. In his dream he was standing on a cliff, with two beautiful crystal clear streams of water flowing on either side of him, one on top of the cliff and one at the bottom of the cliff. They looked like the crystal clear water of his home up in the mountains of Mexico. He wanted to throw a pebble into the water, so he picked one up and threw it into the stream close by him. As he did a small fish jumped out of the water and swallowed the pebble. He was shocked, why would a fish do that? What was more amazing though was that before the little fish could enter the water, another larger fish jumped out of the water and ate the little fish before crashing back again into the water. Amazing. What does that mean? Does it have meaning he thought? He then tried the same thing with the pebble in the stream down at the bottom of the cliff. He threw his pebble, and the same series of events happened, with the smaller fish eating the pebble and then the larger fishing eating the smaller fish, all while jumping out of the water. As he finished, he turned to us with watery eyes and said simply, What does it mean? I looked at the drawing I drew of the dream he had just described, before I turned around a simply let the Spirit work through me. I was able to interpret his dream for him. I explained that he had a choice, to throw the first pebble and accept baptism into the Church of Jesus Christ of Latter-day Saints here (in Spain while he was at school) by throwing the pebble into the stream closest to him. If he chose to do so…if he chose to make the effort to throw the pebble and accept baptism,  the power of the adversary would try to thwart him represented by the smaller fish. But to fear not because the power and love of Christ would swallow up all fears he would have and embrace him, like the larger fish eating the smaller fish. I also pointed out that if he chose not to throw the pebble to accept baptism here in Spain, he would have a chance to throw the pebble later, at the bottom of the cliff when he returned to Mexico. If that was his choice, then he would would face the same challenges and adversity that he was facing now. The Lord wanted him to know that it was his choice, and he was waiting for him whichever path he chose. The young man thanked me for the insight, said he was grateful to understand now and felt at peace to know that the Lord was speaking to him. He made the choice to be baptized a week later in the river by the city. He became one of the strongest members of the church for that region during his time there according to my Mission President. He helped me feel that my 18+ months I had already served in the mission were worth the toil and heartache I had to go through to get the chance to be God's instrument for him. (Adam)
Had more than one experience where we felt angels teaching with us and the pirit felt almost tangible. (Shari)
Knocking on doors and having him be baptized. (Judith)
One of my most spiritual experiences was finding a lady named Carmen to teach. We went to her apartment looking for an inactive member but he did not live there anymore. Carmen answered the door. As soon as I saw her, the Spirit said teach the gospel to Carmen. I asked if she was interested and she turned us down. I could not stop thinking about her as we walked down the five flights of stairs to leave. When we got to the bottom, she followed us down to suggest another place we might find the inactive member. When I saw her the Spirit again said teach the gospel to Carmen. I asked her again if she wanted to listen and she again said no. We left her building to go to another appointment and I could not think about anything else besides Carmen. It was the opposite of a stupor of thought. The Lord told me to go back and I had a conversation in my mind with the Lord. I said, "Lord, I already asked her twice and she said no twice. She is not interested." The Lord said, "Go back and teach the gospel to Carmen." I argued with the Lord for 10 minutes as we walked to our next appointment. I finally told the Lord that if our next appointment was not there, I would ask my companion if he wanted to go back. I figured I was safe because our next appointment was a very active member family that never stood us up and I was also sure that my companion would laugh if I asked him if he wanted to back to Carmen. Well our appointment was not there so I looked at my companion and said, "What do you think about going back to that lady who already told us no twice?" He said that sounds like a great idea. I said are you sure. She already told us no twice and will likely get mad and yell at us. He said I think we should go back. So we went back, climbed the 5 flights of stairs and knocked on her door. When she answered, she looked at me and rolled her eyes. I said, "Carmen, God wants us to share a message with you. Can we please come in?" She said okay come in. I almost fell over. I had never felt so guided in my whole life.We started teaching her and then I was transferred. I had the opportunity to visit several months later and Carmen was still not baptized but 5 of her family members were now baptized. It was overwhelmed with gratitude.  (Kyle)
Being there for people in need – connections lasted years, til today even. (Sean)
When we didn't have enough money to take the train to a mandatory conference in Madrid from Puertollano (200 km away), so we bought a ticket to one town over and just stayed on the train instead of getting off. We prayed that we wouldn't get caught, and the prayers were answered! Hallelujah! (We wouldn't have been in this mess if the office elders hadn't screwed up the money transfers that month.) (Brian)
Sentir el amor de , Dios al enseñar después de haber ayunado dos días y encontrar a Mkchael y enseñarle y recibirle después de tanta búsqueda y ayuno , jamás había visto tan clara la mano del Señor. (Kyle)
There was an evening, when one of our new converts came to a conference. She had been thrown out by the people she lived with for joining The Church and she was very distraught. She was hysterical (not in a funny way) and there was a dark spirit that was bothering her. Piano music was played, a prayer was said and a blessing given, and literally that darkness went away and was replaced by hope, peace and light. (David)
A spiritual experience I had with the time with Elder Stapleton. We were walking in the street of Madrid on the "Calle Granvia" and it was just about the time for Medio dia. We heard and saw a lady scream my purse, my purse it's being stolen! Please help! So we started running across the main road towards the perpetrator. He ran away from us into the narrow streets of Madrid. We gained ground and one of the only times I was without my companion, I saw that the man dove into two parked cars on the side street. When I approached the man, I was startled to see the man wielding a knife! The man came at me and in a motion with the knife, he raised it to cut me. I raised my hands and thought to myself "Oh, dear". As I waited for the blow, a calmness fell over me! And in an instant, the man vanished in front of me. Elder Stapleton ran around the corner and I asked him "did you see where the man went?" We looked and looked and could not find him or the purse. Luckily, I was saved! We walked back to our Piso and enjoyed a Medio Dia. (Boas)
Baptism of Manuela Vinyolo Planos. (Dave)
The power of the gospel to change lives. (Jule)
My first baptism was on Christmas Day! Also, we met an 18 year old girl while knocking doors in Oviedo and half way through the first charla, she asked when she could have a Book of Mormon, before we ever mentioned it! (Dara)
In Barcelona, we were guided to a building to buzz the forth floor. All the other floors had several apartments, but the was only one on that floor. The guy invited us up and talked to us like old friends. We set up another appointment, but I was transferred before that happened. When we went home, we could find no record of that apartment ever being contacted before. We were truly guided by the Spirit. (James)
What are some interesting facts about the Madrid Mission?
Spaniards are very much Catholic there, or atheist. But the unique thing about Spain is that there are so many immigrants! I kept a list of all the nationalities I made contact with, and it got to over 45. (Levi)

Spain has been a country longer than the USA and still some people I know think it is a "third-world country". (Leland)
We speak the correct Spanish. (Daniel)
Showering is entirely optional in Spain. Obeying traffic laws is entirely optional in Spain. Political Correctness is entirely nonexistent in Spain. Just try to remember that people are trying to be direct, not offensive. (Stephen)
The city of Toledo is well known for their swords, Cuenca is well known for their hanging houses, almost every city has its own bull fighting arena with exception to the Canary Islands. (Ezra)
It was, at the time, the only land-locked mission on the Iberian Peninsula. I think that's changed. The whole mission, and that region of Spain in general, revolved around Madrid. (Nathan)
Cool castles to visit on preparation day, tons of history and sights to see, has a temple that is absolutely gorgeous (and has become such a pride for the neighborhood), and interesting bull fights and the running of the bulls events our Mission President gave us permission to see. (Shari)
Lots of Roman ruins everywhere. (Chris)
There's a temple in the mission. Its had its boundaries redrawn, so some of the areas I served in are no longer part of the Madrid Mission. (Ross)
When I entered the mission in early 2004 after my 9 weeks in the MTC and CCM (Spain Madrid MTC) there were some 250 missionaries in the field. When I left in November 2005, there were less than 130 of us. -The Madrid Mission, at the time, did not include the old Bilbao Mission of Galicia, Asturias, Leon, Burgos, San Sebastian and the Basque country. The furthest north you could serve was Valladolid. -At the time, the mission was broken up into three types of places you could serve, the City (Madrid), the Afueras (the suburbs of Madrid) and the Pueblos (the cities outside of Madrid inside the mission) -The City included Barrios (wards) 1-9, broken up into two separate stakes, the east stake and the west stake. There was also an English Speaking branch which was known as the African Branch. -The Afueras south of Madrid included Alcorcon, Fuenlabrada, Mosteles, Getafe, Leganes and the combined congregation of Parla/Pino. The eastern afueras of Torrejon de Ardoz, Alcala de Henares, Azuqueca de Henares, and Guadalajara. The afueras north of Madrid included the dual city of Alcobendas/San Sebastian de los Reys and Collado Villalba. -The Pueblos of the Castille Leon included Segovia, Valladolid, and Salamanca. The Pueblos of the near south included Talavera de La Rena, Toledo, Aranjuez and Cuenca. The Pueblos of Castilla la Mancha included Cuidad Real, Manzanares, Valdepenas, and Puretollano. The Pueblos of Extremadura included Badajoz, Caceres, and Merida. = I personally served in Talavera de La Rena, Alcobendas, Cuenca, Alcorcon, Barrio 2, Villalba, Salamanca, and both area's in Badajoz. – I personally visited or worked in Barrios 1, 2, 3, 4, 5 (downtown Madrid), 8 (Spain Temple), 9, Alcorcon, Fuenlabrada, Mosteles, Getafe, Leganes, Alcala de Henares (University city older the USA), Azuqueca de Henares, Alcobendas/San Sebastian de los Reys (Mission President home ward and mission office ward), Collado Villalba, Segovia (Roman/Imperial City), Valladolid (Imperial City), and Salamanca (Cultural City), Zamora, Avila (best preserved Medieval wall in Europe), Talavera de La Rena (roman/pottery), Toledo (gold/swords/castles), Aranjuez (Royal Summer River Palace city), Cuenca (city with canyons for city walls, Badajoz (frontier city with Portugal) , Caceres (Medieval City), Trujillo, Zafra,and Merida (former capital of Spain during Roman times, massive amounts of Roman ruins), San Lorenzo de Escorial (Royal Summer Mountain Palace city), Cerro de los Angeles (geographic center of Spain), Consuegra (Windmills), and Valle de los Caidos (massive Spanish Civil War Memorial) -I know that there used to be branches of the church in Trujillo, Zafra, (in Extremadura) Zamora, Avila and Sofria (in Castile and Leon) before they were shut down due to lack of growth or established members moving away (actually my Bishop in Collado Villabla used to be the Bishop in Cuenca when they first opened the city. Come to think of it, my Bishop in Alcobendas/San Sebastian de los Reys moved after I served in that city to Salamanca where he was again called as Bishop) -I was among the last missionaries to serve in Cuenca, was the District Leader when Segovia was closed down, and the Zone Leader when Merida and Cuenca were closed down (remember I served at a time when our numbers dwindled from 250 to 130). – When I served in Cuenca, we once had a sacrament meeting with just the Branch President and us two Elders. He didn't have to move when we blessed and passed the sacrament. – Most of the membership in Madrid is actually comprised of South Americans, the majority of whom are from Ecuador (they come over because Ecuador is so poor and they come looking for work) – There was only one stake center in the entire country at the time, the stake center at Temple Square. -There are no bikes or cars in the mission, everything is walking or public transportation. (Adam)
SO many cool sights to visit. Salamanca, Toledo, Segovia (the castle there is supposedly the castle Disney modeled his castle after), etc. Never a boring P-Day! (Shari)
When I got there, the Madrid Temple had recently been built. The Madrid MTC is actually on the temple grounds so we got to go to the temple often while at the MTC. There was only one stake when I was there. (Kyle)
Served in leganes, Madrid, Merida, alacala de Henares and Salamanca. I had two mission presidents, shalenberger and Clark. (Sean)
Hardly any of the missionary apartments had microwaves, even though nearly every home that invited us in had one. Still not sure why the mission kept us all living in poverty like that. You can get a small microwave for around $30. (Brian)
El metro me encantaba. (Pablo)
Center of the Iberian peninsula is in Getafe, world's oldest and longest running restaurant is in Madrid. (Chris)
We were not a high baptizing mission, but those who converted that were from Spain usually remained firm in the faith. (David)
I served in Salamanca, Spain which was the first college in Europe. In Alcalá de Henares, I was able to see the house where Miguel Cervantes wrote the book Don Quixote. (Boas)
The mission opened in 1969 soon after the death of Franco. During Franco's rule it was illegal to proselyte and you had to attend mass in order to get food vouchers to shop at the grocery store. (Dave)
A lot of castles, cobblestones. (Paul)
Spain still uses the Vosotros form when addressing a group of people, instead of the Ustedes form common in Latin America. They also use the "theta," meaning that "z,""ce," and "ci" have a "th" sound. Other Spanish-speaking countries pronounces these letters the same as "s." (Jon)
Spain is a beautiful country. The interior is very similar to the Intermountain West. Mountain ranges and valleys. (Jule)
The Bible had only been available in Spanish for 10 years when I got there. Only 1% of the country was anything other than Catholic. (Dara)
There were only two branches in Madrid when I started. The chaple by Cuatro Caminos was just opened in the first part of my mission. Oh yes, one of the Branches was English speaking from the American air base that was there at the time. I also was there when all of Spain was one mission. I served in Barcelona for 4 months, Elche for 2 months, Madrid area for 1 year total time, and Santander for 5 Months. I was also there when the split happened in July of 1976. Those were exciting times to go from 150 missionaries to 50 and back to 100+ in six months. (James)
What's the weather like?
Very, very hot and dry in the summer, and the winters are fairly chilly, but have hardly any snow. (Levi)

The weather is a lot like Northern California. It's humid and can get really hot, but also has some pretty cold winters. (Leland)
Long summers. In the winter it barely reaches freezing. (Daniel)
Depends where you go. In the north (Galicia and Asturias), it rains pretty much all day every day. In Madrid, it tends to be really hot and dry, though it does get chilly in the winter. (Stephen)
 4 seasons, but no snow. (Alexandra)
Hot summers and cold winters. (Ezra)
Hot in the summer with cool mornings/evenings and warm days in the spring and fall. Also, very rainy in the spring and fall. Cool, but not frigid, winters with little to no snow. Very similar weather pattern to the upper-South in the United States with less humidity. (Nathan)
Super hot in the summer (about 120 degrees Fahrenheit and NOBODY has AC), and freezing, bitter winds in the winter. (Shari)
Warm. (Chris)
Really hot in the summer, not too bad in the winter though there was very little snow, depending on where you were. Keep in mind, though, I'm from Alaska, so "not too bad" for me might be very bad for you. (Ross)
Nothing too extreme. It definitely get's cold in the winter but we never saw more than a light dusting of snow while I was there. On the hottest days of the summer it would stay around 100 degrees Fahrenheit. (David)
In the summer it would reach 120 degrees Fahrenheit (with very few apartments containing AC), and the winter was a bitter cold wind with 1 inch of snow maybe twice. (Shari)
Same as us. (Judith)
It was always hot!!! I have never sweat so much in my life. During the summer, I would take two or three cold showers a day to wash the sweat off. If I wore a backpack, when I got home here was a 2 inch salt line on my back from where I was sweating. It does not get to freezing in the winter and rarely snows but it did snow a little once in the two years I was there. (Kyle)
Hot and sunny, and cold in the winter – it actually snowed in Madrid. It was awesome! (Sean)
Warm in the summer, moderately cold and very wet in the winter, and nice for a couple of weeks each spring and fall. (Brian)
El frío. (Pablo)
Madrid is on the same latitude as Salt Lake City, so about the same as you'd expect from Yellowstone, Wyoming down to St. George, Utah. (Adam)
Warm and muggy. (David)
Mainly warm weather…the summers got into the low hundreds. In the winters, it never really got below 20°…its snowed, I believe, three times on my mission. (Boas))
Hot! And bone chilling cold in the winter. (Richard)
Nice most of the time, along with high humidity. (Dave)
Warm. (Paul)
The coastline had a very mild climate. Other areas seemed to experience the four seasons much like many areas of the United States, although I only saw snow in one area. (Jon)
Around Madrid, the winters are cold and summers are hot. (Jule)
Hot in the summer and cold and rainy in the winter…mild otherwise. (Dara)
To me it was much like Idaho in central Spain. I did love the coast and having more rain. (James)
Any things you really like about the area/people?
So much diversity in the people, and also I loved the European culture of it and medieval history. (Levi)

I was in Ourense for a year. I was able to grow really close with all of the members. I knew the area like the back of my hand and was really able to rely on the Lord to help me find the people that were for me to teach and bring the Gospel. (Leland)
Friendly Latinos and ward members. Beautiful tourist areas. (Daniel)
It's kind of an odd quirk, but Spaniards LOVE to give directions. If you ask a Spaniard how to get somewhere, he will happily take 10 whole minutes, stopping other passersby to conference on how to get where it is you want to go. (Stephen)
Some are kind, and would give up their food for the missionaries. (Alexandra)
Although the Spanish people weren't interested most of the time, they knew their cities really well and were willing to help you get to where you needed to go, if you asked. I liked seeing the architecture of the old buildings too. (Ezra)
The traditions and pride people had. (Nathan)
The culture for sure and the love the people had for you once they warmed up to you. They would be so helpful and cared deeply for you as if you were their own family member. (Shari)
If Spaniards do commit, they will do it. (Chris)
I liked how Spaniards where very frank and honest. People from certain other places in the world were…less honest. They seemed to view lying as being polite. If they didn't want to talk to you, they'd tell you to return when they wouldn't be home. Spaniards would just tell you to get the hell off their damn porch. I much preferred the Spanish method of doing things. (Ross)
Everything. I loved serving in the smaller cities where the people and the culture were pure Spanish. I also loved serving in Madrid where I taught people from probably every Central/South American country, multiple African countries, China, Romania, Bulgaria and I'm sure there are some other countries I'm forgetting. (David)
The people are always willing to engage and talk with you about anything as long as you make an effort to do it in Spanish. People in Spain say "I'm Catholic" the same way someone else would say "I have brown hair." It's part of their cultural identity, not so much a doctrine to believe in or follow. (Adam)Amazing culture and beautiful country. The Spaniards are harder to reach spiritually, but they are AMAZING converts once they do. (Shari)
Very authentic. (Judith)
Spain has so much history and culture. I did not like the big city of Madrid but I loved the small towns outside of Madrid. Salamanca was my favorite city. There were buildings and bridges that were built in the fourth century by the Romans. If you don't talk about religion, Spaniards are some of the nicest and most helpful people I have ever met. I love them! (Kyle)
Love the people! Love the language, and the change of pace-plus all of the history. (Sean)
In Madrid, it was very cosmopolitan. People from almost every Spanish speaking country, which was great for learning and distinguishing accents. And in the small towns, we got lots of autonomy. We basically ran the church there. (Brian)
Las diferentes culturas que conocí y sus comidas. (Pablo)
I loved that it was hard. I loved the people, the food, and the foreigners who came to Spain for a better life. Everywhere you go in Spain is like being a tourist. It's beautiful, ancient, and exotic, yet the people are simple and good people (David)
The Spanish people were very proud of being a Spaniards. It was like a tight knit community and if you were accepted, they could be very friendly and hospitable but on the other hand they could be very hardheaded and rude sometimes. (Boas)
I like everything, like a second home. (Dave)
Some are very beautiful. (Paul)
Generous. (Paul)
The people are very friendly. No one seemed upset when we would stop them on the street to talk to them. Even if they were not interested in our message, they would still converse with us. One man even took our photo and sent it to our families. (Jon)
The people were interesting. I enjoyed learning about their customs and culture. (Jule)
Loved the language! Spanish is the easiest language to learn, as well as the most useful language, other than English. The people were so open and friendly and would let you keep coming even if they didn't want to be taught. (Dara)
I love traveling by train. In those days a transfer from the coast to Madrid was an all night trip. You could get a fold down bed, sleep in your clothes along with 5 other people in the room, and be in the new city in the morning. I also love the history, and old building. 200 year old buildings are young there. Segovia was one of my favorites. I always made it a point of taking any new greenie I had there, so I went five or six times at least. I also loved Toledo. The Prado museum was great because I had take a general humanities class at Ricks college, and the teacher told us about some of the histories of the pictures, and artists. (James)
Any packing/clothing advice?
Bring lots of clothes for the summer and deodorant (because they don't have it there). (Levi)

Don't spend a lot of money on clothes in the states. Save your money to buy dress clothes over there. Spain has the nicest suits, shirts and pants. Your going to want to buy them there anyway. (Leland)
Athletic socks help avoid blisters. Bring maple extract to make syrup. Learn to cook. (Daniel)
I personally far preferred short sleeved shirts over long sleeved – it can get burning hot in the Madrid summer, and you will suffer if you dress too warm. Bring a coat for the winter. (Stephen)
Take a little of everything, and if possible, have the family send more later. (Alexandra)
Pack for both warm and cold weather. Also pack shoes made by Ecco since you will be doing a lot of walking. (Ezra)
Bring a couple pairs of jeans for preparation days. (Nathan)
Buy your winter wear over there. It's so much easier when you know what you're getting into and can base your style on their culture as well. (Shari)
Lightweight suits. Can't have enough socks. (Chris)
A common trend is that new missionaries would carry *everything* they thought they would need with them. As they progressed in their mission they would carry less and less with them. So my advice is find out early what you do need to bring with you and don't take more than that. Your shoulders will thank you. (Ross)
Pack for both extreme weathers. (Shari)
If your Mission President lets you, take lots of short sleeved shirts. It is hot. Brush up on your ironing skills too because no one in Spain had a dryer so you have to hang your clothes to dry. You will then need to iron them even if they are wrinkle free. (Kyle)
Summer-short sleeves are nice. Winter, plan on wearing a nice coat. Get some really good walking shoes! (Sean)
Bring a good winter coat, no matter what anyone tells you. And lots of comfy socks. And maybe a pair of soccer cleats. (Brian)
You don't need long john garments. Make sure you get the overcoat/undercoat that all missionaries seem to get. Double or Triple pair of shoes needed. (Adam)
Short sleeve shirts, not heavy suits or dresses. (David)
I loved my Doc Martin shoes. They served me very well throughout the whole mission. (Boas)
Performance fabric underclothes that pull moisture away from your body. Don't scrimp on your shoes. (Dave)
Follow the advice given when you receive your mission call. Whatever you are asked to bring, please do so. By the way, the voltage is different in Spain, so either get a converter, pack battery-operated items, or buy what you need in Spain. (Jon)
Pack sturdy comfortable shoes for every day use. Pack a dressy pair for conferences and Sunday dress up. If you are average size, you can buy clothing. If you are big and tall, bring what you need with you. (Jule)
You can buy pretty much anything there. (Dara)
What blessings did you receive from serving a mission?
Learning what my true priorities are in life. And feeling the true importance of family. I know how to study and feast on the Gospel. (Levi)

Too many to count. It has blessed my life more than I could ever express. (Leland)
A new language and lots of growth in so many ways. (Daniel)
Too many to count. It's hard to explain to someone who hasn't lived it. A mission is the Lord's opportunity to teach you the lessons that you always thought would be impossible to learn. Day by day, it can get frustrating and you might feel like you're not progressing, but every once in a while you suddenly realize that a major part of your character has completely changed. It sounds cliche, but to quote Ether 12, the Lord makes your weak things become strong. (Stephen)
Knowing what family really is, and know what I want for my own. (Alexandra)
Patience, love for others, a positive outlook on life, and the ability to see the hand of the Lord in my life. (Ezra)
Countless. In particular, Spanish has become almost as used in my life as English. I have a job requiring the use of Spanish. I can trace how I support my family back to my time in Spain. I never would have guessed that before living in Spain or even while I was there. (Nathan)
Everything/blessing in my life now is based off of my time in Madrid. That time led me to companions/friends, that led me to a new school, that directed me to my career and husband. It completely changed the course of my life and has made it far better than I ever dreamed. (Shari)
I now work in a job where I use my language skills on a daily basis. Companions convinced me to go to BYU Idaho. Met my wife there. The list goes on. (Chris)
That's kind of like asking what benefits are there from breathing? It completely steered me onto the path I chose later in life. My career, the college I went to, all sorts of other things…I was led to those decisions by things that happened on my mission. (Ross)
Too many to count. I think most importantly I gained of love of the scriptures, a love of the gospel, a love of teaching, and a more sound understanding of the Atonement of Jesus Christ. (David)
I'm still true to the covenants I made to the Lord in the Temple when I took out my endowments and when I was sealed to my wife. She was worth waiting for. (Adam)
Everything I have in my life now ties back to the blessing of serving a mission. I met my amazing husband because of a mission friend, my testimony is SO much more firm because of my time there, I discovered I loved teaching and became an elementary teacher. The blessings are endless. (Shari)
All kinds and still reaping them. (Judith)
The mission is where I learned how to speak with God and receive revelation. I learned how to love and see others as God sees them. I learned that faith is a principle of power. You can work miracles through faith. (Kyle)
Language and connection to great people. (Sean)
I learned Spanish. It has helped my career. (Brian)
Lo mejor fue recibir un mayor testimonios del Salvador y su divinidad. Y aprender los principios que me han ayudado a gobernar mi vida y la de mi familia. (Pablo)
I am still receiving blessings today, even 16 or 17 years later. A second language opens doors to many people and opportunities after the mission. Having served, what I first and foremost gained is a testimony of the gospel, a testimony of the Savior and His love for me and for those we serve. The leadership, and the growth is immeasurable. (David)
I was blessed in the fact that I had accomplished something very difficult and my blessing was eternal friends and very spiritual experiences. (Boas)
Learned to love the people. I had a lot of personal growth. Built a relationship with my Savior. (Richard)
Many, I think that I go on discovering blessings that come as a result of my missionary service. The most significant blessing I believe is in part due to my missionary service, that is my wife. (Dave)
I am more into Eurodance. (Paul)
I learned Spanish. (Paul)
A strong testimony of the Gospel of Jesus Christ. (Jon)
I was blessed to learn Spanish. I met some great people. (Jule)
More than I can name! I learned to depend on and trust the Lord to direct my life…and that He would. Seeing people change their lives and join the Church, in the face of family and friends' opposition and even rejection, and their willingness to serve in callings immediately after joining. So faithful! (Dara)
I gained a stronger testimony of the gospel, and learned how to follow the Spirit better. I also learned Spanish, and though I have never had to depend on it for my work, it has blessed me in talking to people in this area. I gained a great love for Spain. I still follow the blogs of missionaries there. I love to sing the songs I still know in Spanish while the rest of the ward sings in English. Through the love of my mission my children knew it was important to me and 5 of them have fulfilled missions. (James)
What are some skills you gained?
How to study, work hard, not complain, and trust in the Lord and others. (Levi)

People skills, language skills, how to plan, set goals, and meet them. (Leland)
People skills. Determination. Spanish. (Daniel)
Going out of my comfort zone. Impromptu speaking. Getting along with people. Study skills. Humility. Not being a picky eater. And many, many more. (Stephen)
To talk to people and express my feelings. To make sure I know what my priority is before I make any decisions. Be more organized in everything especially in spending money on what is worth it, not just cause I want it. (Alexandra)
Talking to people about the gospel or about their interests. (Ezra)
People skills, language, public speaking, organizational and planning skills, consulting skills and study skills. (Nathan)
Obviously Spanish is a big bonus to be able to know, I learned my love of teaching (which helped me in my career choice of BEING a teacher), and I learned that I can do really hard things. (Shari)
Spanish. Study skills. Etc. learned how to handle rejection. (Chris)
Lots of language skills. (Ross)
Learning Spanish is an obvious one. But I also feel that learning a second language helped me gain a better understanding of my first language. As a missionary, I gained a love for teaching and public speaking. (David)
Teaching, time management, living on a schedule (we have 2 sets of twins, so that one is critical 🙂 (Shari)
How to live with a roommate, talk to strangers, study scriptures. (Judith)
Ironing, navigating big cities without GPS, loving others, serving others, playing the piano, taking care of myself, living with a companion. (Kyle)
People skills, Learning how to appreciate other cultures. (Sean)
I learned Spanish. I learned how to travel on my own and be self-reliant. (Brian)
Confidence in speaking with others, study skills, habits of hard work, perseverance, etc. (David)
I was able to speak the language very fluently. I also was able to learn of the ways of the people of Spain, cooking, and cleaning for myself and others. (Boas)
Communication skills, the ability to trust the voice of the Spirit. (Dave)
Speaking Spanish. (Jon)
Speaking Spanish, teaching the gospel, good gospel study habits. (Dara)
I learned Spanish. I also learned how to lead, and serve. I learned how to prepare to talk on a subject in church. I even learned about setting up branches and financing and the reports, because many times the missionaries were the branch presidents, and did tithing and donations. (James)
What do you wish you knew/did at the beginning of your mission?
The better things to spend my time studying. (Levi)

I wish I had studied Preach My Gospel more. (Leland)
Practice more Spanish and the Gospel. (Daniel)
You're not going to be an amazing missionary right from the first day, AND THAT'S OKAY. Don't be a perfectionist right from the get-go, or you will wind up hating everything. Work hard to improve, but be very patient with yourself. The Lord hasn't asked us to be perfect by ourselves; he has asked us to be made perfect in Him. (Stephen)
Wish I could have someone to tell me that is not easy, and the real importance of staying focused. (Alexandra)
More about family history to use it to find people! (Kristin)
I wish I knew more about the scriptures and Preach My Gospel before I went. It would have been very helpful. (Ezra)
Realized it was going to go much faster than it felt like it was going to. (Nathan)
That it really does go way too fast. (Shari)
I wish I hadn't carried quite so much in my backpack. (Ross)
I wish I had decided what kind of missionary I was going to be. When I started my mission, I thought, "a missionary is a missionary" period. I didn't realize that I was going to encounter a full spectrum of missionaries. That is to say that every missionary has a different level of commitment, effort, obedience, faith etc. Part way through my mission, I committed to the Lord that I was not going to let anyone else dictate the kind of missionary I would be. I was going be the best possible missionary I could be regardless of my companion/district/zone/ward or branch. I did not want to be the kind of missionary that just survived my two years and then went home. I wanted to "leave it all on the court" so to speak. But it took me a few months to come to that decision and I wish I had done it before I entered the Mission Training Center. (David)
How fast it goes…. I have a huge, amazing family, and I spent too much time at night missing them. If I knew how fast time went, I think I would've been able to relax more. (Shari)
Speak Spanish. (Judith)
I wish I had learned how to use faith as a principle of power earlier on. I could have been a lot more effective in my first 6 months. (Kyle)
To plan for failure and to quickly get back to it. (Sean)
Bring along some college level grammar books for language study. The stuff they give you in the MTC is a joke. (Brian)
Ter feito seminário. (Pablo)
Obedience, I knew it, but there is no doubt the older I get that there is no substitute, if you want to be filled with the Spirit. (David)
I wish that I had told my bishop all of the things I needed to before I went out on my mission because it caused some problems and held me back 6 months. (Boas)
How fast it would go. (Dave)
I was so concerned that Spain would be like Mexico. Other than a similar language, nothing could be further from the truth. The water in Spain is safe to drink. The food is not spicy. The people are fair-skinned. There is indoor plumbing. Spain is definitely not a poor, third-world country. (Jon)
Maybe more background about the country…and that arguing with people was pointless. Just bearing a simple testimony was more effective. (Dara)
Any advice/testimony for pre-missionaries going to Madrid?
Know that it's gonna be tough, but just go out there and have fun! Don't worry too much- I think that's what helped me so much- to be focused on my mission and the people there. (Levi)

The reason you go out to serve a mission is not nearly as important as the reason you stay. (Leland)
Study the language and missionary lessons before the MTC. And, it'll be hard, but worth it. (Daniel)
Don't give up. Chances are, a mission will be the hardest thing you've ever done by a LOT. It can be very tempting to give up on it and throw in the towel. DON'T DO IT. Keep trying. Keep working. It is SO worth it, and you will NEVER regret sticking it out to the end. (Stephen)
Be prepared for any circumstances that could come. Mission is full of new experiences that you would never ever have outside of the mission. Learn from every mistake, yours or your companions. Serve your companion every day, even more if you don't get along. Never lose hope, your smile or faith. Stay strong on the field and even more after. Never forget who you are and why you decide to go on a mission. Serve those 18 /24 months, work hard, do your best and after you can do what ever you want. Remember – IS THE LORDS TIME! (Alexandra)
I know the gospel of Jesus Christ is the only way to gain eternal life. I know that the Book of Mormon is the word of God and that it can help people get closer to the Lord and Savior, Jesus Christ. I know that The Church of Jesus Christ of Latter-Day Saints is the only true church on the earth today and that if you continue to be firm and steadfast, it can be a guide in your life. (Ezra)
Relax and enjoy the ride. (Nathan)
Just enjoy your time. It's stressful and crazy, but the people of Spain are amazing and the Lord will guide you to the most amazing people you will ever meet. (Shari)
Madrid was awesome. (Chris)
TALK TO OLD PEOPLE. There's this idea that "old people won't listen to you because they're too set in their ways." And sadly, for a long time I believed it because that's what other missionaries told me. It's false. Old people can become some of your best friends. By the end of my mission, I realized you can sit down on a bench next to old people and literally just start talking about the weather or asking if you can practice your Spanish with them and have a great conversation with them and eventually they will start asking you about the gospel. Spaniards in general love to talk about anything except religion, but if you can get them to ask you instead of trying to approach them first, then they are perfectly fine with it and often very curious about your strange, non-Catholic beliefs. But old people especially are wonderful to talk to. You can learn a lot from them. (Ross)
Start praying every day that you'll have a love for the people. I testify that the Lord will answer that prayer. To this day, I have a deep love for the people of Spain. If you truly love them, you will find it easier to serve them and make difficult sacrifices in order to bless their lives. One of the great sacrifices you will make is following the mission rules with exactness. Each rule is an opportunity for you to earn blessings. As a missionary, the greatest blessings you can receive are those that benefit the people you are teaching. You don't want to leave your mission with any "what if's", what if I had worked harder? what if I had been more obedient? Could I have blessed the lives of more people if I had the Spirit with me more often? (David)
The mission experience is not about you finding people to bring them the gospel, its about the Lord molding you to become a man. Not just a man, but a man of God, one he can trust to give a choice daughter to wife who will raise a family who grow up knowing of and learning about him. You become that kind of a man by completely forgetting about yourself, your needs, your wants, your desires, to go focus on the needs, wants, and desires of others and helping bring them the fruits of the harvest you already know. (Adam)
Enjoy the awesome and amazing ride you now get to have! This country is amazing, beautiful, and historic. There is plenty of work to do and plenty of cool places to visit on your day off. (Shari)
Read your scriptures!! (Judith)
The best advice I can give is the advice my Mission President gave to me when I was struggling. Missionaries are called to teach and to baptize. They are not called to just plant seeds. You will plant seeds along the way but you are called to teach and to baptize. When I got called to Madrid, many of my ward members felt sorry for me. They told me my mission would be hard and that I would be lucky if I got a baptism. Well the terrible thing was that I believed them and the first 6 months of my mission I only saw one baptism and he didn't even get confirmed. My Mission President told me to quit putting my faith in those members back home and to put my faith in God. God called me to Spain to teach and to baptize. Once I believed that, I could start using my faith as a principle of power. It changed everything. By the end of my mission, I was having a baptism every single week. Trust is God and believe that He called you to teach and to baptize! (Kyle)
Work so hard you fall fast asleep! No regrets! (Sean)
Que sirvan con amor y fe , que obedezcan a su oye de misión y trabajen duro . Pero inteligentemente. (Pablo)
Love the Lord, put Him first. Love your companion, don't gossip or find fault. Work hard every day, and find ways to also work smart. Don't be afraid to open your mouth. Don't be a robot, be yourself. Why are you on a mission, share what is special to you in addition to teaching the gospel in the Lord's way. Share your heart, and your love for the Savior and the gospel. Share how you have been touched and changed by the atonement. Remember your job is to bring the gospel to their hearts, the Spirit converts, and the individual chooses whether or not to receive it into their hearts. Don't get down, Spain is hard, but you will dream about your mission the rest of your life. I still long to be there even as a married man with children. (David)
I know that this church is true and that Thomas S. Monson is a prophet, that he leads and guides a true church which brings many people happiness and fulfillment in their lives. (Boas)
Never underestimate the importance of charity, never give up on anyone and leave every person you meet happier than you found them. (Dave)
Don't be afraid. A lot of people will say no but there are going to be some that say yes. (Jule)
Don't try to prove what they've learned in another religion is wrong, but find common ground, like in the teaching experiences of the sons of Mosiah. (Dara)
What was a funny language mistake?
The word "embarazada" is awfully close to "embarrassed", but it actually means "pregnant". So lots of times Elders and Sisters will say they're pregnant when they mean embarrassed, haha. (Levi)
It is very common for missionaries to say they are pregnant when trying to say the are embarrassed. (Leland)
I said me and my companion were novios (boyfriends) instead of nuevos (new). (Daniel)
In Spanish, the verb "soportar" does not mean "to support", as you might guess, but "to endure" or "to put up with." I did not know this at the beginning of my mission. So, when an investigator was at his wit's end and everything was going wrong in his life and my companion and I were trying to comfort him, I kindly assured him that "we would put up with him no matter what." I still remember the perplexed look my trainer gave me. (Stephen)
At the beginning of my mission I said verdaduras in stead of verduras. And another one that I remember in my third transfer, and my companion laughed at me, I was talking to our new member and her daughter (investigator) that we are humans (como humanos) and instead of that I said we are men (como hombres). It was funny and I still laugh when I remember. (Alexandra)
Too many to count. You're going to make them despite your best efforts. Embrace them as learning opportunities. (Nathan)
Fish and face are very close in Spanish, don't mix those up when bearing your testimony! (Shari)
Looking for inactive members on the ward list, the guy at the door told me someone had passed away and I thought he said moved away so I asked if he had his new address. (Chris)
I inadvertently cussed pretty loudly in a little store right next to our apartment while talking with one of the neighbors. Whenever you need to say "with me", remember that it's "conmigo". Never say "con yo", that sounds the same as a different word that you don't want to say. (David)
Tengo un masaje muy importante de Jesucristo que quiero compartir. They got the message, but I wonder what they thought about the possible massage. (David)
Early on I once used the word "embarazada" (pregnant) thinking I was saying I was embarrassed! (Dara)
Don't mistake pecado and pescado. (Shari)
Asking for jabon when ordering meat (jamon). (Judith)
On the subway I tried to offer my seat to an older lady and I said "se quiere sentir?" That means "would you like to feel yourself?" I should have said "se quiere sentar?" (Kyle)
I probably made lots/you will so laugh about it when you do. (Sean)
Instead of asking for a cono (ice cream cone), a missionary asked for a coño (part of female anatomy). The girl behind the counter said "¡Eso no se vende por 50 pelas!" Hilarious. (Brian)
I once demanded that a laxidasical investigator finally come to church by saying "?Vinene a la Iglesia con yo?" He agreed somewhat contritely. (Dave)
I remember the members getting a big kick out of the accent of one of my companions. He would say "todo" (all) and sound like "toro" (bull). (Jon)
A Spanish lady saw a picture of my companion's girl friend, and said "Que mona" I tried to convince him that she had called her a monkey. (James)