Free resources about the South Carolina Columbia Mission:
---
---
Columbia Mission Address
Here's a recent address for the Columbia Mission. We try to keep this information up to date, but it's a good idea to check the address with several sources, including your mission packet or the mission office.
South Carolina Columbia Mission
110 Oak Park Dr Ste B
Irmo, SC 29063
United States
Phone Number: 1-803-781-6100
Mission President: President Weston R. Innes
South Carolina Columbia Mission Map
Here's a link to the mission map for the South Carolina Columbia Mission (LDS). To access the official LDS.org map for the Columbia Mission:
Log into your LDS account here.
Click here.
Videos with Columbia RMs
Here are in-depth YouTube video interviews with returned missionaries from the Columbia Mission.  We interview hundreds of returned missionaries each year, so check back regularly to see new RM interviews.
Videos about South Carolina
Here are LDS-friendly educational videos about South Carolina. We scoured YouTube to find the best quality videos about South Carolina, that are free from inappropriate music, immodesty and profanity.
Columbia Missionary Blogs
Here's a list of LDS missionary blogs for the Columbia Mission. This list includes the missionary's name, URL and when their blog was updated.
*Send your missionary a gift (mission-specific shirts, ties, Christmas stockings/ornaments, pillowcases, etc.)
Columbia Mission Groups
Here are Columbia Mission Groups- for LDS missionary moms, returned missionaries, mission presidents and other alumni of the Columbia Mission.
Columbia Mission T-Shirts
Here are T-shirts for the South Carolina Columbia Mission!
Shirt designs include Columbia Mission logo/emblem shirts and Called to Serve shirts. The shirts make great gifts for pre-missionaries, returned missionaries and missionaries currently serving. LDS Mission shirts come in all sizes: Small, Medium, Large, Extra Large, up to 4XL.  The mission designs are printed on white shirts and are shipped to you.
*Simply click on a shirt design to view the details and submit an order. The designs on mission t-shirts may also be printed on other LDS mission gifts, including: Columbia missionary aprons, Christmas stockings, ties, pillow cases, teddy bears and Christmas ornaments.
*Click here to browse Columbia Mission gifts
---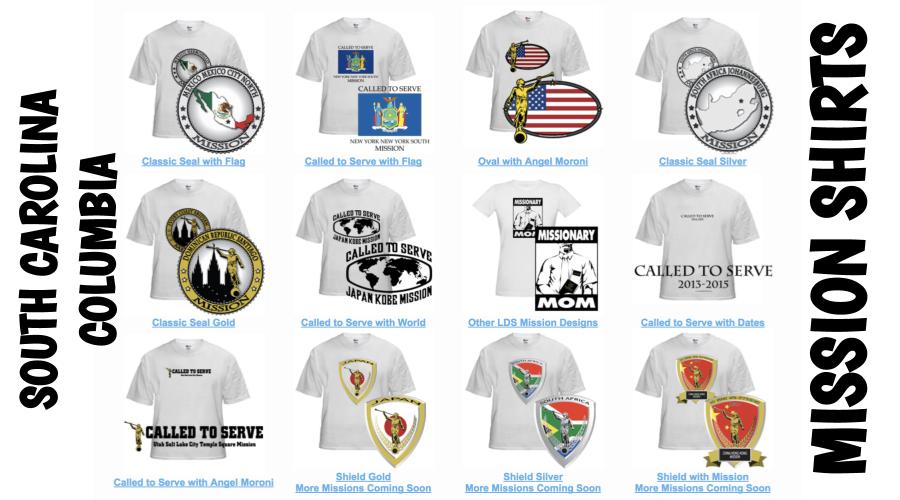 ---
Columbia Mission Presidents
Here's a list of current and past Mission Presidents of the Columbia Mission.
2017-2020, Weston R. Innes
2014-2017, Judd Arthur Turner
2011-2014, Monte Holm
2008-2011, Steven McConkie
2005-2008, Kenneth Brailsford
2002-2005, LeRoy K. Berrett
1999-2002, Roger Doxey
1996-1999, David O. Maxfield
1993-1996, L. Holly Fryer
1990-1993, Don B. Castleton
1987-1990, Kenneth L. Neal
1984-1987, J. Weston Daw
1981-1984, John C. Riches
1978-1981, Robert H. Parker
1975-1978, Ronald L. Knighton
1972-1975, Seth Redford
South Carolina LDS Statistics (2015)
Church Membership: 40,288
Missions: 1
Temples: 1
Congregations: 68
Family History Centers: 19
Helpful Articles about South Carolina
Columbia Missionary Survey
Here are survey responses from Columbia RMs, to give you a snapshot into what it's like to live in the mission.
When did you serve?
July 2009 – January 2011 (Calli)
July 2013 – January 2015 (Amy)
March 1979-March 1981 (Steven)
2004-2006 (Brian)
2013-2015 (Dallin)
2011-2013 (Adam)
2011-2013 (Chelsea)
1987-1989 (Ken)
March 2013-September 2014 (Carra)
2013-2015 (Zach)
1988-1990 (Major)
2011-2012 (Amber)
1995-1996 (Frank)
1994-1995 (Andrea)
1991-1993 (Amy)
2000-2002 (Larry)
What areas/cities did you serve in? 
Greenville, Charleston (Brian)
Myrtle Beach, Summerville, Lexington, Greenville, Goose Creek. (Adam)
Hartsville, Florence, Irmo, West Columbia, etc. (Chelsea)
Orangeburg, James Island, Aiken, Augusta, Beaufort, Sumter. (Ken)
Greer, SC; Lugoff, SC; Boiling Springs, SC; and Georgetown, SC. (Carra)
Marion, North Charleston, Chapin, Congaree. (Zach)
Ladson (Charleston), Goose Creek (Charleston), Greenville, Grovetown (Agusta), Savannah, West Columbia. (Major)
Columbia, Orangeburg, Surfside Beach, Jamestown, Spartanburg, Gaffney, Blythewood, Greenville, Laurens. (Larry)
What were some favorite foods?
Fried okra, pizza, veggies cooked in butter (which I cannot seem to replicate), hush puppies and fresh-caught fish. (Calli)
MACARONI PIE!!! Fried chicken, sweet potato casserole, and homemade pecan pie. (Amy)
Stewed squirrel w/rice and gravy, bull clams from Charleston Bay, fresh caught crabs and shrimp from Savannah, Georgia. (Steven)
Fried Chicken, hush puppies, boiled peanuts. (Brian)
Chicken and rice, Shrimp and grits, Fried chicken, Chicken and dumplings. (Dallin)
Fine seafood (calamari, shrimp) BBQ. (Adam)
My favorite food when I was a missionary would of been the Mexican food. (Chelsea)
Everything Southern. (Ken)
Low country boil and fried chicken! (Carra)
Corn bread, fry bread, fried chicken, Hawaiian haystacks, fried catfish, hush puppies, squirrel, rabbit. (Zach)
Brunswick Stew, Crab Claws, Southern Boil, Grits, Black-eye Peas, Black-tip Shark, and Carolina Barbecue. (Major)
Pizza, avocado, sesame chicken, chocolate, cookie dough ice cream (Amber)
Fried chicken. (Frank)
Fried Okra, grits, macaroni pie, sweet potatoes. (Amy)
Pulled pork, fried chicken. (Larry)
What was a funny experience?
The first time I really heard someone talk with a southern accent, I had to ask them to repeat themselves multiple times before helplessly looking to my trainer for help. They both had a good laugh at my dismay and confusion. (Calli)
My companion and I met this man as we were tracting (who was later baptized and is now a faithful member of The Church). We gave him a Book of Mormon and asked if we could leave him a chapter to read. He said "I think I'll start at the beginning!" I replied "Sounds good! That's where God started after all!" (Genesis 1:1). (Amy)
The preparation day that the Branch mission leader took us out of the mission without warning. He laughed and laughed. I can laugh now, but not at the moment it happened. (Steven)
When a man told me he was angry at God for killing all the dinosaurs and he didn't want to talk about Him. (Dallin)
Always a funny experience hanging with Sisters. (Ken)
My trainer and I were walking on a sunny day and we were walking back to our apartment when we heard a gun shot. We decided to go knock on some doors in a neighboring housing area since we had a little time but after about twenty minutes we needed to use the restroom. We headed back to our apartment and as we were entering the parking lot, I saw a few police vehicles and a news van. My trainer was freaking out and was about ready to call President Holm but we kept walking toward out apartment. We were almost to our door when we saw our neighbor and asked him what was going on. He pointed out the blood on the sidewalk, which I hadn't noticed, and informed us that a cow had escaped from the butcher nearby and they had to get a team to come kill it. Apparently it was all on the news and it showed the cow going right passed our door. Interesting things happen so often! (Carra)
One time I knocked on a less-active's door late at night in the middle of nowhere. We knew this man pretty well. He saw two men standing outside his door in suits, and came around the back with a gun and said, "Who is it?!" We said, "The Missionaries!" He lowered the gun and said, "Oh it's ya'll! Come on in!" We went inside, and him and his buddy were frying up some freshly killed quail, rabbit and squirrel while getting drunk on moonshine. He asked us, "Ya'll want some moonshine?" I said, "We're okay, thanks. But I've always wanted to try rabbit. Can I have some?" He said, "Sure!" He gave us some and I ate it, and it was a little tough and gamey but really good. (Zach)
My missionary district waited for me to go to sleep, turned all the clocks forward and then took me out for laundry and grocery shopping at Piggly Wiggly. I showered, shaved, ate breakfast and went along for the ride. I was so shocked as we were dropping off our groceries and my district began getting ready for bed. It was about 1 or 2 in the morning…they got me 🙂 Another funny story was one winter it snowed in Savannah, GA. I stopped to help some of the Southern motorists to put their cars back on the road from sliding off in the inch or so of snow. One missionary, who remained in the car suggested how funny it would be if I slipped and fell. Well, a missionary did slip and fall, but it wasn't me. 🙂 (Major)
Teaching people about the church. (Frank)
One day we were getting ready to teach a lady and we asked her if we could pray with her before we started and we said, " This is your home, who would you like to say the prayer? she said to me, "you can say it." and so I started saying the prayer. After I began she started praying at the same time as me, saying things like "oh thank you Jesus! oh yes, we just want to thank you for bringing these girls to us who are out witnessing for the Lord." I stop praying and asked her if she wanted to say the prayer she replied no you go ahead it's fine but she kept praying at the same time I did it was very distracting and I was having a hard time keeping a straight face. (Amy)
My companion wanted to play a practical joke on the elders in the area we were in so she made some no bake cookies and put some stuff that would turn their urine blue. It back fired because a member ate them before they got to them. We had to explain what was going on to him. (Andrea)
Gallon challenge with Elder White. (Larry)
What was a crazy/dangerous experience?
My trainer was fearless I tell you, to the point that she would contact anyone, anywhere, any time, even on our way home at night. Well, one of those nights, she bikes us up to a group of 8 or so young men (in the dark I might add) to ask if they wanted us to teach them about Jesus. They didn't. They did seem interested in us though… Without further details, we biked our little tails outta there! (Calli)
In the second to last transfer of my mission, I was in a car crash. We were hit head on going 55 mph (For the record, it was not my fault). I'm still amazed that I came out of it alive and with minor injuries. I only broke 4 bones in my hand, one of which required surgery. (Amy)
It didn't happen to me, but we had two older Sisters killed by the son of a lady they were teaching. It was a hard thing to take in. (Steven)
Lots of crazy rainstorms, it was fun to ride your bike on them. Except when there were downed power lines sitting in a puddle that stretched across the whole road. (Dallin)
Getting hit by cars occasionally while riding my bike. (Adam)
My companion and I were out looking for new investigators. We went on this property that had 2 trailers. One of the residents said he'd shoot us if we didn't leave. (Chelsea)
Chased by a 9 foot gator. Having a shotgun pointed in my face. (Ken)
We were out visiting a few people in one of our favorite areas and we were about to get out of the car when one of the troublemaker children was walking around and he pulled out a gun and just carried it around, right next to a school. We started panicking and we called our district leader, who didn't answer then we called our zone leaders who didn't answer, next we called the APs, who didn't answer, then we called President Holm, who didn't answer, then Sister Holm, who didn't answer. Finally, we made the decision to call the police and notify them. They, of course, answered and told us that there has been a lot of issues with a group of young children in that area and that they'd be there soon. We didn't stick around to see if they were really going to come or not because we left. It was scary and I know nothing happened to anyone that day but definitely made us rethink our plan for the day. (Carra)
We were in a small town in the middle of nowhere at 7:30 pm to meet up with a recent convert for a lesson, and the appointment fell through, so we decided we'd knock a few doors before we left. We knocked on a door, and no one answered. We decided we'd wait a few minutes since he might be coming down the stairs (it was a big house). We knocked again, waited a few more minutes and then decided to leave. Right as we start to turn to leave, the door slowly opens. I say, "Hi! We're missionaries from the Church of Jesus Christ of Latter-Day Saints. We're sharing a message about Jesus, would you be interested?" He firmly said, "No." I said with my typical beaming smile, "Okay, well have a good night!" As we were walking away he said, "Don't go to anybody else's house either!" I said over my shoulder, "Okay!" As we continued to walk away my companion said, "That was scary!" I said, "He seemed like a pretty nice guy to me." My companion said, "Ohh, tough guy" (referring to me). I said, "What do you mean?" My companion said, "That guy had a gun!" I said, "What?! That guy had a gun! I didn't even see it!" We both laughed and went home. (Zach)
Hurricane Hugo was pretty dangerous but we made it through okay. Another time, we were being chased by a couple of dogs while we tried to escape on our bikes. One by one as they came close to us they tripped and tumbled. I've never known dogs to trip like that, let alone more than one…I have an idea who tripped them 🙂 (Major)
My appendix burst. (Frank)
I got a gun pulled on me twice. Nothing serious came of it but it was very scary. (Amy)
My companion and I were tracting in a trailer home area. We knocked on one of the doors and I did the door approach. They said sure that we could go in. I felt the Spirit tell me not to strongly. I said no but too quietly for my companion to hear, so she said yes. When we got in we were getting to know them (trying to at least) when a little boy came in and went into the kitchen. The guy in the kitchen bent down and did something and we never heard or saw the little boy again. I looked on the ground by the feet of the other six people in there, there was a little girl asleep. One of the people picked her up and shook her very hard and she did not wake or anything. The chairs were set up in a semi circle. The people were in the semi circle while we were on a sofa. While we were teaching the first discussion, I did not feel comfortable at all. All I wanted to do was to get out of there, but I did not know how to bring it up. Then one of the guys picked up a plastic tube and started to play with it, then the people started to move towards the door slowly. Then out of the blue my companion said let's leave. I think if we would have stayed something terrible would have happened to us. (Andrea)
Running from dogs. (Larry)
What was a spiritual experience?
My sister died while I was serving, about halfway through my mission. I got the news on the same day we had an appointment to teach the husband of a part-member family. Well, needless to say, this totally changed the tone of our lesson…to exactly what he needed and wanted to hear. He got baptized and has since taken his wife and kids to get sealed. He had met with missionaries before but never joined the church. I'm convinced if God didn't know how to work our trials for our good, he still wouldn't be a member. (Calli)
Well…The experience above. Haha. I did it all without my family there with me. I had to rely on God a lot! That's when I realized how much He loved me and how both He and Jesus Christ knew exactly what I was going through. (Amy)
Watching an investigator experience the the touch of the Holy Ghost. Seeing their expression change and their eyes open wide as if (and they were )seeing with new eyes. (Steven)
My companion and I set a goal to baptize in a month and a half. We did everything we could to accomplish it but nothing seemed to be working. 2 works before the date, a former investigator showed up to church and wanted to get baptized as soon as he could. He got baptized on the day we'd set the goal. (Dallin)
One of my favorite experiences was actually something really simple, my companion and I were doing our morning study and we were both excited to share our personal study findings. We talked about the same scripture and both felt like it would be perfect for one of our investigators. It was so amazing and I could really feel the Spirit. (Carra)
My companion and I helped teach a woman named Tiny. Tiny's father was verbally abusive to her (Tiny) and physically abusive to her mother. Her mother despised Tiny's father, and when she was dying refused to even speak to him. When Tiny's mother died, she asked Tiny to spread her ashes in the ocean. When we found Tiny, her mother had just passed away, and her ashes were sitting on the entryway table. Over time, Tiny opened up and told us about her life and her mother's last request. I felt prompted to tell her, "I really think that if you spread your mother's ashes in the ocean it would help with the contention in your home." She said, "I can't part with her yet, and even if I could I can't get in the ocean. My doctor says if I do my diabetes will destroy my feet." As time went on she built really strong relationships with people in the branch and felt ready to spread her mom's ashes in the ocean. I was released from my assignment as a missionary, but was still technically called and set apart as a missionary (which in a nutshell means I had to follow some rules but not all of the rules, and that it was very difficult to delineate between the two. For instance, I had to have a companion at all times, but my companion was my mom, I didn't need to get out of the car and guide my mom as she backed, I didn't have to stay within an assigned area, etc. The last Sunday I was in South Carolina, I went to the branch where Tiny was attending. We worshiped, and then all got in a car and headed to Myrtle Beach. Tiny gave me her mom's ashes after saying a silent prayer, and (in my suit and name tag) I went in to the ocean and spread the ashes in the ocean. It was a perfect capstone to end my mission. I felt the Holy Ghost extremely powerfully witness to my heart that Tiny's mother not only accepted my gesture but was grateful for it. (Zach)
Every time we went out to serve, we felt the Spirit of the Lord was with us…and as I was standing in the foyer of the Savannah 2nd ward on the final Sunday of my mission, I felt as though I was leaving a dear friend as I would no longer be His feet and His hands to minister to the fine people of the South. A sweet sister went to greet me and saw the look in my eye…she respectfully recognized that I was having a moment and allowed me to embrace the moment. (Major)
Seeing the people's lives change. (Frank)
We taught a family with four children that had to give up smoking and a lot of hard-to-make changes- it was wonderful to see. There was a lot of noise and members there and the spirit was very strong. (Amy)
When we were having one of our zone conferences, we had a visiting General Authority (one of the Seventy) Elder Craven. He was talking how simple testimonies about the Savior, atonement, the Book of Mormon, Joseph Smith, and the living prophet is all that we needed to bring the Spirit in. He asked for a volunteer to bear their testimony. No one raised their hands, so he looked around and pointed at me and asked me to bear mine. So I did. When I was done I was going to sit down. He stopped me and put his arm around my shoulders and said that he knew that what I said I knew to be true because the Spirit confirmed it. He could tell because the room was so quiet that you could hear a pin drop. (Andrea)
Baptism of Brother Bingham in Myrtle Beach. (Larry)
What are some interesting facts about the Columbia Mission?
Everyone there knows random facts about the state and will expect you to also. There are still some towns that are somewhat segregated. They deep fry anything! Collard greens are a thing- no one likes them, everyone eats them. There are more religions than you can imagine. (Calli)
It takes up the majority of South Carolina. There are pineapples everywhere to represent hospitality. There is a big college rivalry between the University of South Carolina and Clemson and it was hard core. Some people even refused to wear the opposing teams color ever! (Amy)
It covered parts of three states(South Carolina, North Carolina & Georgia) but all of none. I was born there and returned to serve a mission. (Steven)
It's the greatest mission in the world. The palmetto tree (seen on their flag) is a hugely popular symbol. Pineapples are also very common in decorations. (Dallin)
Bob Jones University (located in Greenville) openly teaches that the Church is a cult. (Adam)
Before my mission, I looked up so many random things about South Carolina but one of my favorite things that I found was that the state fossil is the woolly mammoth. (Carra)
Almost everyone believes in Jesus already, and love to talk about Him! (Zach)
It contained two of the most storied and culturally rich cities of the South, in Charleston and Savannah, both of which I served in. Kudzu, a climbing weed that covers the South, was imported from Africa to provide a food source to cattle. The cattle didn't like the kudzu and it took over the landscape. It may be a nuisance but it looks great against the red clay dirt of Georgia and South Carolina. (Major)
South Carolina has an interesting history. I always used the door approach of asking people about what the pineapple was that decorated so many homes etc…. It was great because it had to do with southern hospitality. That got our foot in the door. Lol (Amy)
Just be careful…there are still people that are prejudice down there (race and religion). The further south you go, the worse it will get. (Andrea)
Civil War started in Charleston. (Larry)
What was the weather like?
Humid. Always. Hot, hot in July and August. Randomly huge rain storms can strike anywhere, for any length of time, any time of year. The winter is cold and rainy with one or two snow storms. The thermometer might say 50° but in rain and humidity and a skirt, it is cold. (Calli)
Very humid and warm. It was also surprisingly rainy. We had a lot of flash floods. It hardly ever snowed and if it did, it wouldn't stick. I happened to be there for one ice storm though. Everything was shut down. We were even on lock down for three days for it! (Amy)
Depended on where you were. The mountains of North Carolina were cool even in the summer and the further south and east you went the hotter it got, until you got to the coast and the sea breezes kicked in. Summers 90's to 100's. Winters 50's to 00's. (Steven)
Hot humid and wet. (Brian)
Very humid! That made it very hot in the summer, cold in the winter, and wonderful spring and fall. I got there in July, it rained every day my first month, except for 2 or 3 days. (Dallin)
Erratic. Much more so than the northwest where I'm from. (Adam)
Most of the time the weather was warm. (Chelsea)
Hot & humid or cold & humid. (Ken)
It seemed to rain off and on my first six months on my mission. All the rain really made me begin to fall in love with rain, now I miss it so much. (Carra)
I was there during one of the coldest winters in North American history, so it was over 100 degrees in the summer sometimes and below 30 degrees in the winter sometimes. Normally the weather is perfect though – a nice 65-80 degree range. (Zach)
It was very hot….record breaking heat. This made the people in the neighborhood very concerned for us, and who regularly offered us refreshing beverages, even if they didn't want to share a discussion. (Major)
Very mild, wind was rare. (Amber)
Always hot in the summer not bad in the winter. (Frank)
Hot & humid in the summer! Winter cold, but rarely snowed. Need a coat though. Ice storms at times and tornadoes on occasion. BEAUTIFUL FALL AND SPRING! (Amy)
The summers are hot and humid, the winters are not too cold, but the humidity makes the chilliness go deeper than in Idaho and Utah. Springs and falls are nice. (Andrea)
Beautiful spring, cold winters, humid summer. (Larry)
Any things you really like about the area/people?
Oh, so much! The accents, the green and trees and lakes, the love from members, the zany-ness of Southerners, tea olive trees (best smell in the world!), the amount people would feed us, that everyone knows and cares about Jesus. (Calli)
People: Everyone was so incredibly nice! Most people were willing to give you the shirt off their backs. They loved talking to you, especially when it came to Jesus. They love the Lord! Areas: I mainly served in rural areas. I grew up in a middle class area. To be in these areas really opened my eyes to actually see the poverty some people live in. (Amy)
When the people are humble, they are really humble. (Andrea)
They were a lot like me. (Born in Georgia and grew up in north Florida.) (Steven)
There were a bunch of good people who were trying to be like Christ. (Brian)
People for the most part were very nice. They also are very good cooks. The plant and animal life is awesome, it smells amazing in the spring and summer if you're in the right areas 🙂 (Dallin)
Their Christian background was easy to build off, if they were open minded enough. Otherwise it was a road block. (Adam)
The people were really nice and most of them were willing to listen to us. (Chelsea)
Good ole Southern hospitality. (Ken)
I loved everything about it and the people. I miss it every day and I've been home for over a year. I wish I were closer to South Carolina but I hope to return one day. (Carra)
They were extremely kind! Even when people weren't receptive to us sharing our message, they would often offer us food and water, sometimes even money! (Zach)
One of the great facets of serving a mission in South Carolina and Georgia…you never had trouble finding people who were willing to engage in conversation about the Lord Jesus Christ and the Bible. It was truly a great place to share the Gospel message with people who were open and able to confess their love of him and share a brotherhood/sisterhood in Christ. (Major)
I love the laid-back culture of not being in a hurry or worried and not caring about how people dress. (Amber)
Very friendly and they live the Bible. (Frank)
People are so religious and love God. Many different churches. People are active in all the churches. Made it easy, and hard to teach people for those same reasons. (Amy)
Every one you talked to believed in Christ. It made talking about Christ, easy. (Larry)
Any packing/clothing advice? 
Take warmer clothes for winter than you think you might need. Also, dri-lux garments silk are your best friends in the summer. Avoid silly stuff, you're sweat will have it clinging to you. All the sentimental stuff you think you need to take out with you, you don't. The time goes so fast. Save your suitcase room for bringing home new sentimental things you will cling to for the rest of your life. (Calli)
Don't pack clothes that require layers. Summers start early April and end mid-October. It gets hot- especially with the humidity! However it does get pretty cold in the winter with the humidity as well. I would just buy a coat, hat, gloves, etc. on the mission, so you don't have to carry them around all the time. (Amy)
Light for the summer and heavy for the winter. (Winter of 1979 in Columbia was blanketed in snow and ice… everything came to s screeching halt.) (Steven)
Extra pants and shirts that are machine washable. (Brian)
Get a good rain shell. You won't need it in the summer, it's too hot, but it rains during the winter too, and if you don't have a good rain shell it can be rough. Don't buy the mr. Mac ones, they don't work. (Dallin)
Mesh garments for the summer and thermal garments for the winter. (Adam)
For the girls, I'd say pack clothes that don't feel heavy on your body. There's going to be times where you're going to do a lot of walking out in the warm heat for long periods of time. (Chelsea)
Light summer wear. Heavy winter wear. (Ken)
Take CDs and a USB because you'll need them both! (Carra)
Buy your clothes at Goodwill, because they're going to get destroyed in the heat. Don't spend a bunch of money on clothing because you're going to destroy them. Buy a few expensive shirts and a few nice suits, but only wear them for meetings and church. For clothes that you proselyte in, buy them from thrift stores. Avoid silk ties too, because it rains almost every day and they'll get destroyed. (Zach)
Bring short-sleeve shirts, buy talcum powder, light colors (as light as permissible) and thin cotton slacks. Also, be sure to use sunscreen and ankle clips while riding your bike. (Major)
Keep it simple, but bring clothes you like and will enjoy. (Amber)
Still need coat for winter. Cotton garments are a must. You'll be too sticky otherwise. (Amy)
Pack a coat for the winter and a nice rain coat (I had one that was thin and did not do me any good). Bring an umbrella. Sister's knee high nylons, or whatever they can wear now. I know there are some changes. SAS shoes are of good quality. My parents got me some, They lasted me all 19 months. Just pack clothes that do well in humidity. (Andrea)
Forget the trench coat, get a good lightweight jacket, and good shoes. (Larry)
What blessings did you receive from serving a mission?
Joy. Lots and lots of joy. And friends I never would have otherwise meet. A larger world view. Knowledge of the Gospel and a super strong testimony. Patience. Ability to raise my children better than I otherwise could have. Relatability with my husband. (Calli)
More than I can count. I received a solid testimony that this is Christ's true church restored on the earth today; I discovered what I want to major in for college; I learned a whole new way of life and gained greater empathy for others; and I met some lifelong friends in my companions and those I taught. (Amy)
I had joined the Church two years earlier and I learned a lot more about the Church during this time. (Steven)
I received so many blessings! I learned how to truly love and serve others. I learned to work hard. I learned how to study and appreciate the scriptures. I gained a much stronger testimony, and a much greater capacity to love and understand others. (Dallin)
My gospel knowledge increased more than I can describe. -Increase in testimony -Increase in discipline/resolve -Many friends made. (Adam)
My setting apart blessing told me that I would feel more at home on my mission than I did at home and I really felt that from the time I was in the Mission Training Center onward. It was definitely an experience I will never regret. (Carra)
That's a difficult question to answer because I received so many. I was a recent convert when I left on my mission, so I came home with a rock solid testimony of Jesus, Joseph Smith and the Book of Mormon. I also came back with a deep understanding of the application of Grace (the Atonement), a deep knowledge of the scriptures, and an uncanny ability to discern and follow promptings from the Holy Ghost. There were countless blessings that I received from my mission, but those were the ones I wanted the most. Something important to remember that you don't receive blessings without paying the price of obedience. You'll get nothing out of your mission if you don't obey the Lord. (Zach)
I learned leadership (preparing me for a commission in the Air Force), self-discipline, and the ability to empathize with others. (Major)
While visiting two years later I met my husband and we currently live 2 hours way from my mission. (Amber)
A stronger testimony! Life-long friends, ability to have so much more knowledge from studying the gospel. It's made me a better mom to my 5 kids. Compassion, patience, many more things. (Amy)
I am more comfortable in believing that people understand me. I was born with a very strong speech impediment. When I was growing up I thought no one understood me or did not care what I was saying. I did get a blessing from my Mission President that helped me, and I had some awesome and patient companions that helped me believe differently and to start caring and trying to improve. (Andrea)
A chance to fully develop my testimony of the restoration of the gospel. (Larry)
What are some skills you gained?
Talking to people. Getting along with people who disagree with me. Teaching the Gospel to any age group. Biking. Looking respectable with little time or clothing to work with every morning. Listening to my spiritual gifts and the Holy Ghost. (Calli)
I know how to talk with people. I can make conversations with others and make it not feel awkward or forced. I learned how to love the tough things in life. I also learned how to read the scriptures in a way that it's applicable in my life. (Amy)
Talking to strangers, and bearing my testimony. (Steven)
I learned how to effectively talk to people. I learned how to listen. I learned how to set goals and achieve them. I learned how to use faith as a principle of power. I learned how to get answers to my prayers. (Dallin)
-Effective study -Social skills -Bike riding -Teaching. (Adam)
Empathy. (Ken)
I gained great people skills and the ability to push through and work with difficult people and things. (Carra)
Other blessings I received were the ability to administrate, organize, plan, set goals, succeed, be confident in front of crowds, and other very marketable skills. It was a perfect preparation for college and business life. Again, you will gain no skills if you don't choose to be obedient to the Lord, your mission leaders, and the mission rules! (Zach)
My mission opened me up to be more friendly and engaging with others. You can't spend much time in the South, where people wave to you, invite you to picnics and share their food with you and not gain a sense of hospitality and Southern charm. I've learned to shape my life by this experience ever since. (Major)
Confidence, speaking, organization, discipline. (Amber)
Communication, teacher, leadership, how to give community service. (Amy)
Social skills. (Andrea)
Sewing buttons, bicycle maintenance, study habits. (Larry)
What do you wish you knew/did at the beginning of your mission?
Scripture references for all the doctrinal points I grew up learning. Humility. (Calli)
I wish I would have taken members out with us more. They really make the difference in lessons and help the investigators feel more comfortable. (Amy)
Studied harder and knew more. The Lord will provide for his servants, but it's a lot easier on the servants if there is a well for Him to draw from. (Steven)
My advice to new missionaries would be this. First, enjoy being the new one. Work as hard as you can every day. Focus your studies on just the book of Mormon and preach my gospel your first two transfers, it will help! (Dallin)
I wish I had taken the advancement of my knowledge more seriously and memorized more scriptures. (Adam)
I wish my testimony and understanding of the church had been stronger. (Chelsea)
Interpersonal skills. (Ken)
I loved the beginning of my mission so I am happy with the way it was. (Carra)
I wish I knew at the beginning of my mission that it's not about me. You'll never succeed as a missionary if you're not willing to sacrifice for the people you're serving. You have to give all of yourself and not hold back, otherwise you'll get nowhere. Remember, Jesus gave us the Gospel not to protect us from broken hearts but to heal our broken hearts. It's painful, but it's what the Lord asks us to do and it's TOTALLY WORTH IT! (Zach)
Fortunately I was raised by a father who was a convert to the Church and had raised me on Bible teachings…I felt well equipped to converse with the Protestant believers of the South. (Major)
Not to worry, trust God. (Amber)
Missions are really hard. Mentally and physically, but they are worth it. (Amy)
I always understood and loved the gospel. The thing I did learn was how to teach it better. The one thing I learned is that people did like to be around me, and that they did care about what I had to say. I did have one thing confirmed for me, and that is that when the Spirit speaks through me everyone that listens with the Spirit will understand me no matter how fast I am going. (Andrea)
How to use the scriptures to teach. Not just using them as a reference for a principle. (Larry)
Any advice/testimony for pre-missionaries going to Columbia?
It is great, and horrible, and great. You will never be the same whether you go or you don't- go so you can look back and see yourself improved. (Calli)
Write down the reason why you want to go on a mission now and bring it with you on your mission. There will be hard times and being reminded why you're serving God will give you that extra boost throughout the day/week/transfer. (Amy)
For those just entering seminary, study hard and flex your testimony muscles as often as possible. (Steven)
You will absolutely love it. If you go out with the determination to to work hard, be obedient, and love the people, you will love your mission. The Lord has called you to an amazing place, and you will have the funnest, hardest, toughest, most enjoyable and memorable time of your life! (Dallin)
Study hard and work hard. The Lord expects you to do everything in your power to succeed (D&C 123:17). Then, you will see miracles. (Adam)
Leave with no girlfriends or boyfriends. You'll get a Dear John or Dear Jane. You can focus better without the distraction. (Ken)
Never give up, you'll have hard days and you'll have good days but the good will always outweigh the bad days. Also, keep track of everything! Don't skip out on filing out your reports because it gets annoying when you go into areas and the area book isn't up-to date. (Carra)
A few pieces of advice: – You'll never be perfect, but you can be precise. Seek precision, not perfection. (AKA Do your best and leave the rest to the Lord) – Get thick skin. You WILL be reviled for what you believe. – Know what you believe before you leave for your mission. Pray and ask for a confirmation of the following (I'm serious, you NEED to do this! Again and again!): – Is the Book of Mormon true? – Is Joseph Smith a prophet? – Did Joseph Smith really see Heavenly Father & Jesus Christ? – Is Jesus' Grace (Atonement) real? – Does Heavenly Father have a body of flesh and bones? – Does Heavenly Father love me? – Does Heavenly Father know every detail of my life? – Can I be forgiven if I make a mistake? – Will I really and truly be set apart by the power of God (the priesthood) to preach His Gospel? – Will I know what I need to say when I need to say it? I testify to ya'll that the answer to all of these questions is YES. I know that these things are true, and that by you teaching them to others is EXACTLY what the Lord's will is for you to do. Don't be afraid to tell the truth! Remember also that YOU will not make a difference in these people's lives, JESUS will. You're not doing anything other than inviting and helping people to come unto Christ. If you forget that you'll lose any power to do missionary work (D&C 121:34-46). I pray for your success, and seal this prayer and my testimony to you in the name of Jesus Christ, amen. Now GO GET 'EM! 😀 (Zach)
Get to know and love the Savior, smile at everyone you meet and love them without reservation or condition. (Major)
God does love you and care about you and how you are feeling, but for the next 18 months or 24 months you are to try and forget about you and focus on helping others. God will help you. Your friends and family can try and support you, but your biggest support will be the Holy Ghost. God is your companion the whole time, so when you want to talk to PARENTS or friends and you can't, you can talk to God and your personal relationship with him will grow. (Amy)
Just learn and love the gospel. Follow the rules and God will be able to help you more in teaching and to be safe. (Andrea)
Try to teach a principle of the gospel only using the scriptures. Not by Bible bashing, just teaching from them. (Larry)
What was a funny language mistake?
Some people say "st" words "sc", such as straps on shoes became scraps on shoes and I couldn't for the life of me figure out her scrappy shoes. (Calli)
No funny mistakes here. Although I totally think Southern counts as a language! I did have some members teach me how to properly say "y'all" though. It's said more like "yaw". (Amy)
Fortunately for me, I spoke the southern dialect. However for my western companions, only a few mastered the use of "ya'll" and in the case of the North Carolina area "you'ins". It was fun to watch them try. (Steven)
Spoke English, but even still sometimes you forget how to do that. I just wish I could blame that on having to learn another language. (Dallin)
Get to know and love the Savior, smile at everyone you meet and love them without reservation or condition. (Ken)
The impoverished spoke a weird dialect of English called Gulla or Geechee, and at the beginning of my mission I had a really hard time understanding what they were saying. They would always say, "I'm not stupid!" and I would respond, "I know you're not stupid, I AM! I can't understand what you're telling me!" (Zach)
They speak Gullah on the boundary islands…you'll pick up on the Southern dialect in a few short weeks. (Major)
We got names wrong quite often. (Amber)
SC has it's southern accents that are fun. Also saying things like "cut out the lights" instead of " turn out the lights". Many more. (Amy)