Free resources about the South Africa Johannesburg Mission:
*Other Mission Pages: South Africa LDS Missions.
---
---
Johannesburg Mission Address
Here's a recent address for the Johannesburg Mission. We try to keep this information up to date, but it's a good idea to check the address with several sources, including your mission packet or the mission office.
South Africa Johannesburg Mission
Private Bag X4
Ansfrere 1711
Republic of South Africa
Phone Number: 27-11-758-6650
Mission President: President Dane O. Leavitt
Johannesburg Mission Map
Here's a link to the mission map for the South Africa Johannesburg Mission (LDS). To access the official, up-to-date LDS.org map for the Johannesburg Mission:
Log into your LDS account here.
Click here.
Videos with Johannesburg RMs
Here are in-depth YouTube video interviews with returned missionaries from the Johannesburg Mission.  We interview hundreds of returned missionaries each year, so check back regularly to see new RM interviews.
Videos about South Africa
Here are LDS-friendly educational videos about South Africa. We scoured YouTube to find the best quality videos about South Africa, that are free from inappropriate music, immodesty and profanity.
Johannesburg Missionary Blogs
Here's a list of LDS missionary blogs for the Johannesburg Mission. This list includes the missionary's name, URL and when their blog was updated.
*Send your missionary a gift (mission-specific shirts, ties, Christmas stockings/ornaments, pillowcases, etc.)
Johannesburg Mission Groups
Here are Johannesburg Mission Groups- for LDS missionary moms, returned missionaries, mission presidents and other alumni of the Johannesburg Mission.
Johannesburg Mission T-Shirts
Here are T-shirts for the South Africa Johannesburg Mission!
Shirt designs include Johannesburg Mission logo/emblem shirts and Called to Serve shirts. The shirts make great gifts for pre-missionaries, returned missionaries and missionaries currently serving. LDS Mission shirts come in all sizes: Small, Medium, Large, Extra Large, up to 4XL.  The mission designs are printed on white shirts and are shipped to you.
*Simply click on a shirt design to view the details and submit an order. The designs on mission t-shirts may also be printed on other LDS mission gifts, including: Johannesburg missionary aprons, Christmas stockings, ties, pillow cases, teddy bears and Christmas ornaments.
*Click here to browse Johannesburg Mission gifts
---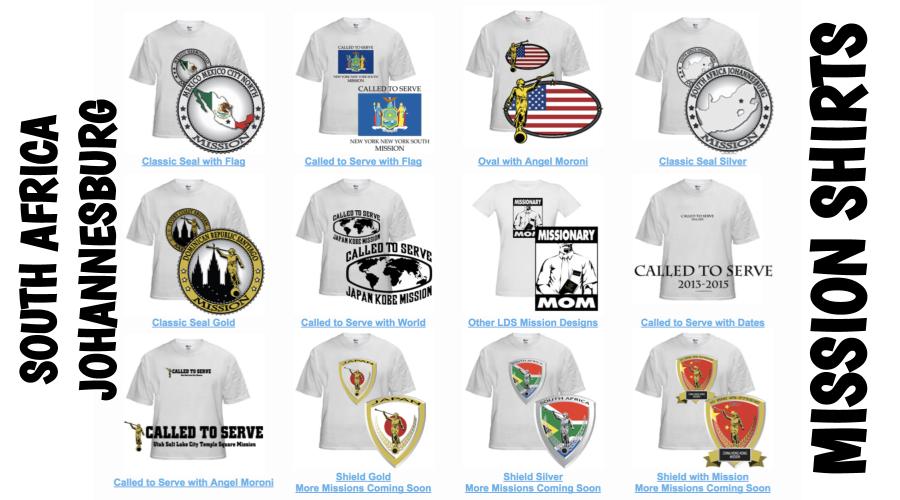 ---
Johannesburg Mission Presidents
Here's a list of current and past Mission Presidents of the Johannesburg Mission.
2017-2020, Dane O. Leavitt
2014-2017, Michael Austin Dunn
2011-2014, S. Craig Omer
2008-2011, David Edward Poulsen
2005-2008, James A. Bowden
2002-2005, James Warren Fitch
1999-2002, P. Roger DeMordaunt
1996-1999, Norman H. Bangerter
1993-1996, Keith L. Orr
1990-1993, Peter Mourik
1987-1990, R. J. Snow
1984-1987, Maurice B. Bateman
1982-1984, G. Phillip Margetts
1979-1982, Lowell D. Wood
1976-1979, E. Dale LeBaron
1973-1976, Robert P. Thorn
1970-1973, Harlan W. Clark
1967-1970, Howard C. Badger
1964-1967, J. Golden Snow
1960-1964, O. Layton Alldredge
1957-1960, Glen G. Fisher
1953-1957, Leroy H. Duncan
1948-1953, Evan P. Wright
1944-1948, June B. Sharp
1938-1944, Richard E. Folland
South Africa LDS Statistics (2015)
Church Membership: 61,221
Missions: 3
Temples: 1
Congregations: 159
Family History Centers: 69
Helpful Articles about South Africa
Johannesburg Missionary Survey
Here are survey responses from Johannesburg RMs, to give you a snapshot into what it's like to live in the mission.
*Click here to take a survey to help pre-missionaries going to your mission.
When did you serve?
2014-2016 (Tanner)
2014-2016 (Duke)
2013-2014 (Elizabeth)
2012-2014 (Glen)
2012-2014 (Robert)
2012-2013 (Christena)
2011-2013 (Tyler)
2011-2013 (Owen)
2011-2013 (Christopher)
2011-2013 (Jayson)
2011-2013 (Landon)
2010-2012 (Daniel)
2010-2012 (Mponda)
2009-2011 (Sam)
2008-2010 (William)
2007-2009 (Amanda)
2005-2007 (Michael)
2004-2006 (Cody)
2003-2005 (Sibonelo)
1998-2000 (Chas)
1997-1999 (Elizabeth)
1997-1999 (Jordan)
1997-1998 (Tory)
1992-1994 (Steve)
1992-1994 (Jaime)
1991-1993 (Sarah)
1991-1993 (Tracy)
1991-1992 (David)
1990-1992 (W. Chris)
1989-1991 (Peter)
1985-1986 (Melodie)
What cities/areas did you serve in?
Alberton, Germiston, Dobsonville, Centurion. (Tanner)
"Hospital View" Tembisa, Tzaneen, Modjadji, Sunnyside Pretoria, Pretoria North. (Duke)
Gwest Broadhurst, Mafikeng, Monarch and Gerald. (Elizabeth)
Soweto, Birch Acres, Mansiville. (Glen)
Gaborone and Gerald (Christena)
Protea Glen, Ridgeway, Benoni, Potchefstroom, Mokopane. (Tyler)
Witbank,Tzaneen,Gaborone,Kanye and Johannesburg. (Owen)
Lesotho, Botswana, Soweto. (Sibonelo)
Lobatse, Benoni, Protea Glen, Carletonville, Soshanguve, Rynfield. (Michael)
Maputo, Matola, Magoanine, Beira. (Cody)
Johannesburgh Krugardorp, Campton Park, Botswana Gaborone West and Broadhurst. (Amanda)
Etwatwa, Tzaneen, Vereeniging, Fourways, Kagiso. (Christopher)
Broadhurst, Botswana. G-West, Botswana, Katlehong, Benoni, Florida, Cosmo City and Katlehong again. (Daniel)
Mamelodi 1, Mokopane, Sebokeng, Daveyton, and Mochudi Botswana east. (Mponda)
Kwaguqua, Nelspruit, Soweto, Kwathema. (Sam)
Thembisa, Springs/Selection Park, Kwa Guwa, Krugersdorp, Gabarone Botswana, Soweto (Tory)
Soweto, Sandton (office), Lenyenye, Edenvale, Embalenhle, Galashewe. (Steve)
Alberton, Lobatse, Vereeniging, Seshego, and Khutsong. (Chas)
Florida, Soweto, Randburg, Pretoria, Gaberoni Botswana. (Elizabeth)
Swaziland, Nelspruit/Kanyamazane, Germiston, Mamalodi, Ridgeway. (Sarah)
Johannesburg, Klerksdorp, Botswana, and Tzaneen. (David)
Mamelodi, Mabopane, Tzaneen, Lenyenye, Nkowakowa, Manzini, Soweto, Springs. (W. Chris)
Roodeport, Tembisa, Edenvale, Hospital View, Albeton, Hammanskrall. (Robert)
Pretoria, Witbank, Florida, Swaziland, Nelspruit, Johannesburg and Brackenhurst. (Tracy)
South Africa: Soweto, Attredgeville, Mamelodi, Johannesburg Central. Botswana: Gabarone and Molepolole. (Landon)
Hillbrow, Pretoria, Benoni, Witbank, Kempton Park, Verwoerdburg, Florida, Rustenburg, Phokeng. (Peter)
Centurion (was Verwoerdburg), Pretoria, Mabopane, Sandton, Middleburg. (Melodie)
What were some favorite foods?
Kota, dombolo, and melktart. (Tanner)
Kota!!!! Creamed Spinach and pumpkin "7 Colors" on Sundays. (Duke)
Qota, papa, magwinyas and many others. (Elizabeth)
Pap and mogudu, tortillas. (Glen)
Pap- corn maize and boiled water, Maguna- like scones but much better, and Chapaties- like warm thick tortillas, but way better. (Christena)
Kota! Dombolo! Chicken feet! Pap! (Tyler)
Kota, Pap and KFC. (Owen)
Township Sandwich (kota). (Sibonelo)
Mapakiwa in Botswana and Siswa. (Amanda)
Pap and wors. Kotas. (Michael)
Bagia and that a some bread shaped like a canoe. MANGOS! (Cody)
Boerewors! Steak, English breakfasts, spur burger, Kota. (Christopher)
Pap and Chicken Kota. (Daniel)
Kota, pap, chicken, bread. (Mponda)
Mohodu (steamed bread). Kota. (Sam)
Malva pudding. Kota. Pap. (William)
Loved the chicken burger at muchachos in Krugersdorp. Also loved Nandos. Pap and sesswa. In Soweto loved churches chicken. Mutton and fresh cooked bread. (Tory)
Pap and Vors with Tomato and Onion gravy! The Boerwors was amazing!! (Steve)
Braai. Boerewors. Biltong. (Jaime)
Mealy Pap. (Chas)
Nando's, McDonald's, Mango and orange juice. (Elizabeth)
Curry. (Jordan)
Mealie pop, scones, rooibos tea, milo, macadamia nuts, mangoes, guavas, top deck candy bar. (Sarah)
Pap and wors, curry. (David)
Boerewors, Pap, Buttermilk Rusks, Braai anything, Bobotie, and all the puddings to fill in the gaps. (W. Chris)
Dumbolo and beef stew. chakalaka. kota. (Robert)
Kota. (Jayson)
Chicken, seasonal fruit & pasta. (Tracy)
Pap, seswaa, bunny chow/kota, fried cabbage, and boerwors. (Landon)
Melktert, boerewors, chips (what we call french fries) with salt & vinegar. (Peter)
Milk Tart, curried bananas, samoosas, ginger pudding, bobotie (my favorite) and biltong. (Melodie)
What was a funny experience?
Well every day there are many really, especially in South Africa. It is such a diverse country and so many different things happen each day that most people wouldn't consider "normal" but it's all about loving every experience really. (Duke)
When we feed monkeys on marcimeros. (Elizabeth)
To learn different cultures, as South Africa is a rainbow nation! And on Heritage Day my companion almost got a free hug from a gay person! (Glen)
Sitting in a donkey cart and holding the reigns looking like I was riding in it. (Christena)
I remember riding bikes through the Protea Glen township rushing to our next appointment. It was a really wet and rainy day, and since infrastructure in townships are kind of still developing, there really wasn't any sort of drainage system for water in the roads. There's this tour bus called the "Rea veo" I think, but it was this huge tour bus that would haul through the narrow streets of Protea Glen. Just hauling past other cars and pedestrians almost as though it had no regard for human safety. Hahah. A bunch of our appointments had cancelled and we were both trying to smile, then we heard the Rea Vea's engine echoing through the walls of the township so we knew we had to get the heck out of there fast. It came out of nowhere as we were about to leave and just splashed the heck out of my follow up trainer. I looked at him about to bust up laughing and he started to laugh too. It was such a crappy situation but because it was so awful it brought the humor out and the joy of mission being the most wonderful, and most horrible experience of our lives, experiencing tremendous joy in the work and experiencing deep ravines of discouragement. (Tyler)
The toilet in Magoanine was flushed by poking a stick down the hole. (Cody)
Teaching people who were only interested in having white people in their homes so they can brag to their neighbors. (Sibonelo)
Playing the recorder terribly for the entire mission. (Christopher)
My companion was yelling at me for tooting. He ran his bike into a 2 year old boy who didn't get hurt at all. We used it as a contact and his two aunts got baptized. (Daniel)
Hiking mountain. (Mponda)
When my companions and I went to appointments and we were very early. We noticed that the investigator was having a party. Loud music and we parked our car across the road. Then decided to call the investigator to find out where he was and make another appointment. The phone rang and he went outside the house because the music was very loud in the house. My companion greeted him and ask where he was and we could see him, he answered and said Hi sisters I am not home, and my companion said but I can see you are outside your house he looked around and he ran inside. We were using a different car from the one he knew. (Amanda)
All the black kids always follow you. You have your own little fan club every where you go. (Michael)
All the little kids were fascinated by arm hair. (William)
Going to Krugersdorp National and the Santon Lion Park (Tory)
A pair of Elders had there car stolen. At a later date, a member called them to tell them that their car was across the road, so the Elders got a ride in and stole it back. (Steve)
When everyone in town insisted there were mermaids in the local dam. (Chas)
Killing a cockroach in our flat in Botswana and then going to district meeting, upon our return, the guard at our apartment complex told us that a car full of police turned up as our neighbor heard us trying to kill something or someone and called them. Thankfully they had a sense of humor about the incident. (Elizabeth)
Sister missionaries had been begging the zone to go to some zoo and nobody wanted to. Then at zone meeting, we all acted like we had gone without them and had an awesome time. They got all teary and one said "but I made you pie!" It was pretty hilarious. (Jordan)
Seeing Sister Hansen come face to face with an ostrich at Mkaya Game Reserve. I don't know who was more surprised! (Sarah)
Hitting a dog on my bike and landing on top of the dog at which time the dog went to the bathroom. (David)
Seeing the reaction of a companion the first time he saw an investigator come to the doorway topless. (W. Chris)
Talking with drunk people every time there was a holiday. (Robert)
Having to cycle with your skirt pegged. (Tracy)
My companion and I went to an appointment and chained our bikes together to a light pole outside. When we finished our appointment, we came out and saw that the chain had been cut. My companion's bike was still there leaning against the pole, but my bike was gone. The funny thing was that his was a much nicer bike and much more expensive. Mine was a junky old bike, but it had a light on it that was powered by friction with the front wheel. They must have liked that feature and stole mine instead of his. My companion thought it was a lot more funny than I did at the time, but I ended up getting a better bike anyway. (Peter)
We were tracting and at one house a man leaned over his balcony to let us know he'd be down to answer. After he popped out of view I said, "Rapunzel, Rapunzel, let down you hair." Well my companion got the giggles and so did I. He thought we were giggling at my bad Afrikaans and he was very encouraging! (Melodie)
What was a crazy experience?
One time, we were teaching a lesson in a university.  As we were teaching, we heard lots of noise coming from outside. Then as were about to leave, we discovered that around 2000 or more students were rioting, and they had blocked off both entrances to the school, or more and barricaded it. So we thought well, so we don't get killed, let's just try walking out…surely they will let us walk out. We then met a guy who had previously met the missionaries. He said I can help you get out…but you have to drive slowly and I will walk along side the car so they don't do anything to you. And as we started driving, all the students started chasing our car with rocks and sticks and anything to throw…but sure enough as they chased us, the young man told them to stop and they did, though they followed us too. We did finally make it out, and were so blessed to have that young man's help. (Duke)
When we were driving and almost crashed. (Elizabeth)
Almost got mugged in Soweto coming for a 7pm appointment. (Glen)
Holding a lion. (Christena)
Honestly, I never really had a crazy dangerous situation, which is really uncommon for our mission. Other than sliding out wrecking on the bicycles due to gravel on the township roads, there wasn't anything dangerous. (Tyler)
Trying to get away from the police station after being arrested for not having our traveling papers with us. (Sibonelo)
Teaching someone with schizophrenia and having him bear his testimony of the people that visit him at night. (Christopher)
Car was stolen at gunpoint. It was pretty awesome. (Daniel)
I rode bike from Mamelodi to Pretoria town during a night getting back to the flat, and I got lost from my companion. (Mponda)
Driving at night. (Sam)
A kid stole our phone. (William)
We hiked a hill called Lovers Hill as a zone in Botswana. It's was very dangerous because we didn't even have the route to use to go up .We had to make one ourselves. (Amanda)
I was mugged walking to an appointment. (Michael)
Almost got arrested a number of times. Learned to intimidate the cops just right until they gave up. (Cody)
You know for as dangerous as it can be in places, I never had a dangerous experience. (Tory)
I was on mission when South Africa had its first multi-racial elections in the country's history. We were in lock down for the week of elections. The morning of the election, I was awakened by a car bomb driven into Jan Smuts Airport. It was a crazy time as you watched Nelson Mandela become the President of a nation after being imprisoned at Robin Island. (Steve)
My companion and I were talking to a member at his gate. Heard what we thought were firecrackers going off. Then noticed dirt puffing up/exploding near us. Turned around to see a man and woman fighting on the floor. One with a gun in hand. The firecrackers was in fact indiscriminate shooting with bullets landing near us. We wrapped our visit pretty quickly. (Jaime)
When we got mugged by a bunch of guys with a machete. (Chas)
Being mugged in Soweto, we had been told by the Elders a safe place to park our car, so we always parked in that spot. One day we happened to park somewhere else and four black men came upon us, ripped my earrings out of my ears, took our sunglasses, and other personal items….we were later told by people we knew in the area that they had been after our car but they couldn't find it so they decided to mug us instead. (Elizabeth)
I was shot at and robbed at gunpoint multiple times. I saw people murdered or the aftermath. Prostitution and pedophilia was rampant. Knew lots of people that had AIDS. The law enforcement was extremely corrupt. Joburg was the worst and Soweto was almost as bad. I was born and have been to every bad part of Los Angeles and it is a cakewalk compared to Joburg. (Jordan)
My companion and I were talking to a member at his gate. Heard what we thought were firecrackers going off. Then noticed dirt puffing up/exploding near us. Turned around to see a man and woman fighting on the floor. One with a gun in hand. The firecrackers was in fact indiscriminate shooting with bullets landing near us. We wrapped our visit pretty quickly.
Being chased by a mob in our car. They were upset that their preacher and his family were joining The Church. (Sarah)
Driving in the townships after dark. (David)
Saw a drunk driver hit our doorman and we took him to the hospital where he was pronounced dead. Coming back home we saw the drunk driver being pulled out of his car by bystanders to enact some 'community justice' and we interceded telling people to go home to avoid any more violence. (W. Chris)
Miner strikes shut down a few areas for a month or so. (Robert)
Played with lions. (Jayson)
Sitting in a investigator's home who was being prepared for baptism that Saturday. My companion and I had taken turns to teach the discussion. That evening, we decided that I would teach the first 3 principles and then she would teach the next set of 3 principles. As I sat their listening to her teach, I received the impression how would I get out of this house if I needed to. I looked to where the front door was and the back door and it was pretty much in the same place, so you could not leave without the person at the front door detecting that you were leaving by the back door. I brushed the thought off and then the impression came again, how could you safely leave this home. I then realized the Spirit was talking to me and we needed to leave. I interrupted the lesson and said we need to go and say closing prayer. My companion looked at me a little confused but obeyed. I then had to get the car out of the yard, but it was a dirt road and a chicken wire fence that I had to drag across the dirt to open up to pull the car out into another dirt road, as we were teaching in Pienaar, which is a township outside of Nelspruit. My companion kept on speaking and the urgency inside of me became overwhelming. I then got into the car and pulled the car out of the drive and shouted at my companion to get into the car now, as the Spirit was clearly prompting me that we needed to leave and leave NOW! My companion got into the car and was most upset with me for being so rude and shouting at her. I said that I am sorry and told her to buckle up but that we needed to get out a.s.a.p. I told her what I had experienced and she then left it at that. The next morning she called to the investigator's work, as he worked at a member's shop as a delivery boy. He came on the phone and told her what had happened that evening. He had inherited his father's church, as his father had been a pastor in the area for many years and on his death it all became his son's. The congregation expected him to continue in his father's stead, which he did. He even had the chapel next to his home. He explained that when we had left, members of his congregation had come within 15 minutes of us leaving to his home. Had surrounded the house and then knocked on the windows demanding him to hand-over the sister missionaries. He had told his congregation the Sunday before that he would be leaving, as he had found the true church of Jesus Christ and that he did not have the authority to teach them anymore but that they were welcome to join the true church of Jesus Christ. With the group of people being very traditional, you can imagine that they did not want to do this and so had decided they would rather get rid of the sisters missionaries who had lead their pastor astray. He did not get baptized that Saturday, as you can imagine. He was a very good soul that we met. The Holy Spirit kept us safe that night and I am glad I listened. (Tracy)
Held up by knife point after one of our lessons. (Landon)
My companion and I were teaching someone who, unknown to us, had been a part of the coup to overthrow the Bophuthatswana government in 1990. He was killed in a car chase with the South African police and we were asked to preside at and conduct his funeral. There were thousands of people in attendance, many of whom were angry with the South African government who they blamed for his death. There were armed men with machine guns patrolling the area. All of the speeches leading up to my closing remarks were political and confrontational. One of the native religious leaders ran point for us and ensured that everyone knew that we were the religious leaders in charge. We felt protected and blessed to have been able to teach so many people about the atonement and restored gospel in my remarks. (Peter)
Four of us Sisters were driving from Pretoria to the black township of Mabopane. There was a roadblock and soldiers were checking all car boots (trunks) for items not allowed. The soldiers were fully armed and English was not not their first language. We were the only white people within miles. We started singing happy songs and clapping to the music to show we were friendly. When it came our turn my companion opened the boot and we had a whole box of rifle – type squirt guns. Scary moments followed as my companion tried to explain what they were. They finally understood "water" and she started spraying herself. They finally laughed and let us on our way. (Melodie)
What was a spiritual experience?
There were so many, but one I'd love to share is – We were in a rural area and we met this lady who really didn't speak any English at all, but she expressed to the young man we took teaching with us, that she wanted to learn from us, and about the Savior. So we had to teach her very, very slowly and using the most simple of English so that young man could translate for her. She understood the gospel so well, perhaps better then most people I had previously taught, she had a real testimony, though it took time and effort, she was finally able to be baptized. What a joy filled our heart. (Duke)
A lot, seeing our investigators enter the waters of baptism and enduring. (Elizabeth)
It was after I had been home for several months, but hearing that one of my favorite investigators was finally allowed to be baptized. He was fully repented but due to consequences he had to wait. (Christena)
Aside from having very personal testimony experiences, some of the most spiritual experiences I had involved testifying of the restoration with investigators. Almost every time, I felt the reassuring witness, and I know all of them felt it as well. (Tyler)
I talked to God a lot…I walked with God every day…I taught people by the Spirit and saw many cry as they were touched and overcome by the power of the Holy Ghost. I sometimes cried because of my weakness and repented that I had pride. The restored Gospel is real, it's true…I have no shadow of doubt about it. The prophet, apostles and all the General Authorities are called of God, they are directed by God, the Book of Mormon changes lives.  It brings the Spirit to all who seriously study it. I've gained so much knowledge from it that I apply in my day to day life. Joseph Smith saw God the Father and his Son Jesus Christ. He restored the fullness of the everlasting Gospel. I am glad I have the priesthood, which gives the privilege to act in behalf of God. (Owen)
To be able to baptize the whole family and still have them active up to this date. (Sibonelo)
Teaching a man for six months from start to baptism and seeing the change and testimony develop. (Christopher)
I was able to be at the baptism of a family from my former area and was able to baptize their youngest son, Walker. He was my favorite investigator and we both sobbed when I first surprised him at the baptism. (Daniel)
Share my testimony with everybody on street. (Mponda)
Serving a mission for two years. (Sam)
When we tracted a guy who invited us  in and offered us a drink. And he was baptized. He was prepared to hear the gospel from us. He was my first attempt to try tracting. (Amanda)
I was able to watch a family I taught get baptized and go to the temple. As you work and work, you will find those who are ready and you will see the gospel change their lives. (Michael)
Receiving emails years later from people you taught. Every day meeting such humble people. (Cody)
When God heard our prayers about a teenage brother and sister who wanted baptism more than anything, and He softened the hearts of their parents to let them be baptized. (Chas)
Tracting a street and recognizing a women, she too recognized me, she told me that she knew we knew each other before coming to earth and I had promised her I would take her the gospel. She wasn't ready, but was grateful I kept my promise. (Elizabeth)
Being able to work with a less active family in Welcome and watch how they started to regain their testimonies, return to church, get their patriarchal blessings and eventually attend the temple. All from having them read the Book of Mormon with us and continue to do so as a family. (Jaime)
Teaching the preacher and his family. He knew many gospel principles before we even taught them. (Sarah)
In Toekomsrus working with the Kroet family. (David)
I was feeling down about being in a leadership position when others in my district had been out longer than me. Prayed a ton on our cool tiled bathroom floor but did not feel like I was getting any better as a leader. Then I stood up one day after a month or so of praying and felt calluses had developed on my knees. (W. Chris)
Helping a part-member family, Blessing and Vimbi return to activity and having the husband be able to baptize his wife. (Robert)
Reading the Book of Mormon in a tough companionship. (Jayson)
I was blessed with so many but one was when I was into my mission 5 months and had not experienced a convert baptism and prayed that we might find a family to teach and be baptized. I got transferred and was handed a family that the elders had found and just started to teach in a Florida suburb…a husband and wife. We continued to teach the discussions and they accepted baptism and I saw them enter the waters of baptism. It was so amazing to experience…they were golden! (Tracy)
See crazy/dangerous experience. (Peter)
On Christmas Day, there was supposed to be a baptism at the chapel in Pretoria for several black individuals from Mabopane but the custodian forgot to fill the font. It takes hours to fill, so the ward mission leader offered his swimming pool. It was 100 degrees outside, so that was fine. The Spirit was very strong and it was wonderful to see two of the Mabopane teenagers baptize family members. (Melodie)
What are some interesting facts about the Johannesburg Mission?
Well, kind of a hard question, Mostly people are very friendly, and open to talk to you. Especially when they see the name "Jesus Christ" on your name tag. They really love Jesus over there. There really are 2 extremes in living too. Some people live in HUGE!!! houses and some live in shacks. But I found those who live a very poor life, live the happier lives. (Duke)
We have a mission anthem. The mission office and the MTC are in the same complex. (Elizabeth)
Transfer meetings were the best!! And it is the best mission ever. In Soweto there was and will never prose lighting when there is a Soweto soccer derby. Orlando Pirates vs. Kaizer Chief, all the people either go to the FNB stadium to watch the game or they will inside their homes glued to their TV sets with no room for any disturbances. (Glen)
Botswana is best known for their animal parks. They are also the most stable and economically well-off country in Africa. (Christena)
It's been too long. (Tyler)
When you are in Johannesberg Mission, at least you will be robbed once or more. (Owen)
It's very diverse and people from all over the world go there. The people are very friendly and the water is clean. (Christopher)
Took hours to drive from one end to the other. The missionaries who lived far away would take two days to make the trip. (Daniel)
Playing with my companions and others missionaries on p-days. (Mponda)
It's huge and baptizes a bunch. (Sam)
I know my mission was inspired. I was suppose to meet the people I met on my mission and learn from them. (Amanda)
It has the most cars of any mission. Most places I lived in were out side of my area so we had to drive to it every day. (Michael)
It was one of the best missions in the entire church history. We were the mission with the most cars. (Sibonelo)
11 official languages in Johannesburg, South Africa. (Tory)
I was there 4 years after the end of apartheid. (Chas)
My first area covered Soweto. When I first started my mission it was a branch, just before I left the area it became a ward, when I left my mission I was told it had become a stake. The people there were so humble. (Elizabeth)
Joburg was 1st or 2nd every year for violent crime all the years I was there (between Bogata). (Jordan)
The toilet water swirls the other way. The stars are different. Stoplights are just a suggestion. (Sarah)
Part of Botswana was part of the mission. (David)
Nelson Mandela had just been freed months before arriving in Johannesburg. A lot of unrest was happening in the townships and we were one of the first missionaries to actually go into the townships. For being so far away it was actually one of the first overseas missions of The Church officially opening in 1853. (W. Chris)
The mission split while I was there and the Botswana Mission was created. (Robert)
It has the most cars in the world. (Jayson)
The various cultures and cosmopolitan area. (Tracy)
I was there during the time when apartheid was being dismantled and was able to see the gospel more fully be taken to the native African people like never before. When I first arrived we had no missionaries in any of the black homelands or townships, but by the time I left, most missionaries were serving in those areas, and our baptisms had more than doubled. (Peter)
Not sure what this means but I'll take a crack at it. The average number of baptisms per missionary was 1 per missionary for their entire time! The Johannesburg Temple was built and dedicated while I was there. All native Africans spoke two and some 3 or more languages. They knew their tribe's language plus either Afrikaans or English and sometimes both! During my time there, marriage between whites and non- whites was legalized. (Melodie)
What was the weather like?
Mostly dry and hot. Gets to around 45 degrees Celsius in the summer months. Hardly rains at all. Maybe a few times in 2 years. Though the locals did say it normally rains much more. But when it rains, it normally pours…lots of flooding. (Duke)
It was summer, winter and autumn. (Elizabeth)
In August 2012 we had snow in Johannesburg and it is very cold in winter, very hot in summer and plenty of rain. (Glen)
HOT just the way I like it. (Christena)
Pretty cold in the winter, but super hot in the summer hahah. (Tyler)
Amazing. Winters can get very cold though and the heaters dry any room you put them. But overall amazing. (Christopher)
Hot and rainy. (Daniel)
Cold. (Mponda)
Warm and not very humid. In the winter, it can get cold but it usually didn't ever snow. Seasons are flipped in the Southern Hemisphere. (Sam)
Very hot and it's was dry heart. (Amanda)
Hot Sept-May and cooler June-Aug. Most of the cool weather was just thin jacket weather with only a few shivering days. (Michael)
We carried handkerchiefs to wipe the sweat off our faces and arms. It is a new kind of hot. (Cody)
Cold but beautiful. (Sibonelo)
The weather was favorable and conducive for proselyting,unless for those who had problems with the heat. (Owen)
Great, always loved it. (Tory)
Usually warm, but cool in winter. (Chas)
Mostly warm, the rain was beautiful…. Massive rain drops that fell and then drenched the earth and moments after stopping there was little evidence that it had rained. The storms were mind blowing, streaks of lightening danced across the sky… It was beautiful. (Elizabeth)
Pretty decent, kinda like Southern California. Bring sunglasses and and I don't think anyone ever used the trench coat they told us to bring. If you do, there is a gay guy named Stan from Durban in Joburg that used to feed the the missionaries every Sunday that would buy it off you. Food is awesome. (Jordan)
VERY HOT AND DRY!!! (Steve)
Hot! I loved it. It was so hot and muggy. Absolutely wonderful! (Sarah)
Hot, just the way I like it. (David)
Depends on where you were- In Swaziland it could get cool in the winter but it was very warm and little muggy in summer months – same was true in the Transvaal area. The rainy seasons were mainly from November to February, again depending on where you were this would vary. (W. Chris)
Paradise. (Robert)
Mostly hot, and when it rained it really comes down. (Jayson)
Hot, humid, wet and cold but more 9 months hot than cold. No snow. (Tracy)
Snowed a couple times and was cold (10 degrees Fahrenheit) during the winter, but then dry and hot (105 degrees Fahrenheit) during the summer. (Landon)
Very nice weather most of the time. Cold in the winter, but it never snowed the entire time I was there. In the rainy season, it seemed to rain nearly every day around the same time in the afternoon in short, strong cloud bursts. (Peter)
It was 90 – 100 in summer (Dec, Jan, Feb) and cool in winter (Jun, Jul, Aug) – 50s at night 60s daytime. Every afternoon in summer there was a huge thunderstorm at 4:00 that lasted one hour. (Melodie)
Any things you really like about the area/people?
The people!!! They are just some of the most amazing people on the planet. I loved the friendly nature of them, and always willing to serve you and help you. Because of what we do for them, they truly have a great respect for the missionaries. I loved the meals they serve, especially on Sunday's the "7 colors" YUM!!! Also Kota is amazing!!! (Duke)
They are nice and also kind, mostly Botswana. (Elizabeth)
I served most of time in Soweto and Protea Glen Ward was the best, the choir sang so majestic and the attendance was awesome! And the area was full of friendly people who were always willing to learn the gospel and share their food as well! (Glen)
The people are so humble and willing to give you everything. They love to hear the gospel and they are not afraid to share it with others. (Christena)
I love the love that the African people have for guests. They literally had no idea who we were but still opened their doors and offered biscuits and juice. (Tyler)
The people in my mission were wonderful. You have to learn about their culture, respect them and treat them as VIPs. You will have a lots of success. (Owen)
I got to dive into some of the most amazing cultures from all over Africa. People were generally very warm and welcoming, the atmosphere was so relaxing. (Christopher)
Love. They were full of it. (Daniel)
Beautiful place, people are kind and accepting. (Mponda)
Very spiritual people who freely discuss religion. (Sam)
The people are so humble. I miss them every day. (Amanda)
I love being on the street and being able to talk to people. You are able to hear amazing life stores and see how they live. I also liked all the tuck shops on the corners. I miss those. (Michael)
What a wonderful people. I often miss the simplicity of life in Moz. You can talk to anyone there. (Cody)
I like how they tell you what they think. Good or bad. You don't have to guess what they are thinking. (Tory)
As much as we had the perception that Johannesburg was very dangerous but the people were the best. (Sibonelo)
I absolutely loved the people. (Chas)
I loved the country, the people mostly were so humble. Just loving the gospel. The sky seemed to go on forever, the earth I remember being almost red, and the talent in the people, in wood carvings. (Elizabeth)
They gave so much when they had so little. They were grateful for anything. Most of them can sing, like to hold hands and walk you wherever you are looking for. (Jordan)
I really enjoyed serving in the townships in our mission because the people were so humble. The cities were a little more difficult. (Steve)
Everything. I love the people of SA. They are humble and sweet and very forgiving. (Sarah)
I loved everything about the people, except the racial tension. (David)
How most everyone was welcoming and was willing to feed you. (W. Chris)
They were very welcoming and kind. (Robert)
Humbleness and kindness. South Africa is very diverse so you go from stinking rich to dirt poor. I got to serve among them all. Even though I am a South African, I got to see the country and it's people in a whole different way as a missionary. (Tracy)
The people of South Africa and Botswana were receptive of the Gospel. They were humble and cared about missionaries as if they were family of theirs. (Landon)
The people were very friendly and welcoming to us, especially in the townships and homelands. Most people we met had a strong faith in Christ and lived by Christian standards. (Peter)
I loved the people in Mabopane! In spite of 3rd world living conditions and terrible racism, they were happy and so gracious to us. It was difficult to get Afrikaaners to join the church, but once they do, they are faithful and active. I love the Jacaranda trees in October in Pretoria. (Melodie)
Any packing/clothing advice?
Short sleeve, white shirts are a must. Also bring machine washable slacks because they will get very dusty and dirty quickly. Bring a few warm clothes because it does get cold for the winter months, June and July only though. (Duke)
As described in the mission call. (Elizabeth)
Winter jackets, and a hat for summer blazing sun! Do not pack a fancy back pack because it will attract thieves! (Glen)
For Sisters- wear cotton tops, you do not need button down, in fact if you have to bring one then really just bring one. Look nice but not overly fancy, you want to look inviting, not rich. Don't worry about jewelry, it is not needed. (Christena)
Windbreaker and winter coat. Soccer shoes. Seven short sleeve, white shirts. 3-4 slacks. haha Two pairs of dress shoes (assigning one for proselyting and one for Sundays). Two suits (assigning one for proselyting and one for Sundays). (Tyler)
Carry the items outlined in the mission package. There is no need to carry bulk of suits and white shirts. You acquire a lot of stuff and and they just rot in the apartments due to transfers. (Owen)
Change socks regularly, umbrella for rain and for the sun, extra blanket at night during winter. (Christopher)
Good rain jacket. (Daniel)
Church clothes. (Mponda)
Bring a hoodie for morning exercise during winter. (Sam)
More shirts and summer dresses because summer is longer than winter. (Amanda)
Pack light. You will think you need more than you do. Also try to replace your garments and white shirts often. The dirt in the air will make them change color and  look dirty even after you have washed them. (Michael)
Two suits and short sleeve white shirts. Ties and a good rain coat. And some good dress boots like Doc Martens. (Tory)
Follow the guidelines given in your letter. (Chas)
Even though you are told to take cold weather clothing, their cold weather was a British autumn (not too cold) so thermals were not needed. (Elizabeth)
I wore a couple slacks and short sleeves the whole time. I took a couple dumbbell handles and barbell with me and bought plates and a small bench there. Weights were more expensive than the US. I had two large suitcases but my weights alone were about 220 pounds. Transfers were rough and my luggage was falling apart, bring tough luggage. (Jordan)
For sisters, take sandals and drisilque garments. They cool faster. Take mix and match skirts and shirts. (Sarah)
Cool breathable clothing. (David)
Not cotton. (W. Chris)
Winter gets a bit cold so make sure to have some warm clothes. (Jayson)
Comfortable shoes…a good pair of thick soled leather shoes, as you walk and walk. (Tracy)
Make sure to have sweaters for the winter seasons, an umbrella for rain storms, and good walking shoes that will last two years. (Landon)
Pack lightweight clothes that can handle a lot of washing! In summer you may have to shower and change clothes during the afternoon so bring enough clothes that you don't run out before Preparation Day. (Melodie)
What blessings did you receive from serving a mission?
The blessing of a sure and true testimony. The amazing knowledge of who I really am, and who my Heavenly Father needs me to be. I think the blessing too of being able to see and love people the way the Savior sees and loved each of us. (Duke)
Uncountable blessings. I am now married to a returned missionary and sealed, part of my family joined The Church when I returned and others that I cannot remember. (Elizabeth)
To be a good companion with the Holy Spirit and l had a blessing of repentance as l have accepted that I did wrong things. (Glen)
My Dad was diagnosed with stage four cancer while I was out and he is still alive. Another blessing is I have more faith now as I battle MS. (Christena)
A testimony I could never forget nor deny. Understanding of full repentance. Eyes opening to the scriptures. Greater appreciation for all of God's children! (Tyler)
My life has changed.  I look to God for every decision that I make and I see his hand to be upon me. I don't look at challenges the way I used to before my mission, but I see them as developments that I need to work on. If I didn't serve, I would't have known so many things pertaining to the Kingdom of God, such as temples. (Sibonelo)
Too many. Learned more about Africa and the world, learned how to work and a thoroughly stronger testimony, greater empathy for others. (Christopher)
Every blessing I have ever had in my life, before or since, I can tie to my decision to serve a mission. (Daniel)
A strong testimony. (Mponda)
All of them. (Sam)
The love for my Father in Heaven, Jesus Christ and his Gospel. The love for everyone regardless of the country you are from. We are all brothers and sisters. The love for my family. (Amanda)
Countless. I always reflect on my mission. It has helped me in callings and it helped me learn life lessons. (Michael)
My wife and kids. (Tory)
A stronger testimony of our Savior's love; A greater ability to love others regardless of their circumstances. (Steve)
Learned a ton, learned to love people better. (Chas)
I'm strong in The Church, I have a faithful husband whom I am married to for eternity, we have five beautiful children who are interested in serving a mission as their parents did, I have a deeper understanding of service, the gospel, and this all comes from serving a mission, but the most part, I walked with my Savior, I have so many wonderful memories of feeling His presence. (Elizabeth)
The realization that I was spoiled my entire life and have every opportunity in the world. (Jordan)
Immeasurable love from my Savior and my God. Immeasurable love from the people. Lifelong friends. Immeasurable love for others. Humility. Gratitude. (Sarah)
I have a beautiful wife and five beautiful children. (David)
Really developed a gift of discernment. (W. Chris)
So many and I still am blessed from serving a mission and see it every day in my life. The principles taught and gained keep repeating themselves in helping me to stay closer to our Heavenly Father. (Tracy)
My mission set the tone for the rest of my life. I learned the importance and blessings of obedience. I internalized the gospel and deepened my understanding of the atonement. I was my own most significant convert. (Peter)
Too many to count! A love for people completely different from me, amazing companions and good health the entire time I served. My husband waited for me – he said I was perfect in every way except that I wasn't a return Missionary. Confidence, a greater understanding of the Scriptures, a new language, and the joy of driving down the road and seeing zebras and springbok along the road! (Melodie)
What are some skills you gained?
Hard work…most weeks you will be doing a service project of some type, some areas, you may need to haul buckets of water for people. Also becoming Christlike and selfless. (Duke)
How to teach, how to keep time, how to cook, mingling with others, etc.. (Elizabeth)
I now speak three South African languages. Improved teaching skills and cooking. (Glen)
I was not shy before my mission but I don't think I just walked up to strangers and started talking with them. I am able to do that now, however it does not look creepy, it is just natural. (Christena)
Abilities to cooperate and negotiate with companions without bringing contention. Ability to recognize the Spirit. (Tyler)
Computer literacy, time management, budgeting, public relations/speaker and above all learned to help a lot of young African missionaries to have a sound footing in the field. (Owen)
Doing something you don't want to do sometimes but it needs to be done, doing the small tiny things that make a companionship better, being able to change yourself before others, communication especially when nobody wants to talk. (Christopher)
Thinking and reasoning for myself. Following my own instincts and God for all life decisions. (Daniel)
English language. (Mponda)
Leadership. How to live with somebody 24/7. (Sam)
Confidence, public speaking. (Amanda)
People skills. Getting out of your comfort zone. It also helped me to not judge people. (Michael)
Empathy, making due with what you have. Mozambique teaches you what really matters (hint: it's not material possessions). (Cody)
Motivational public speaking. (Sibonelo)
How to teach the gospel. (Tory)
Patience. (Steve)
Learned to get along with a companion. (Chas)
Leadership. Serving, dedication, commitment, wanting to make a change and being able to do it. Skills I use in my community not just in my callings at church. (Elizabeth)
Questioning authority and self-reliance. (Jordan)
How to organize my time better. How to choose the best thing to do. How to stay focused and be goal-oriented. How to study better. (Sarah)
It helped me become flexible for every situation I've faced in my adult life. (David)
Again I would say helping to analyze people motives and their feelings- discernment. (W. Chris)
Budgeting. (Jayson)
Communication. Listening. People skills. Discipline. Obedience. (Tracy)
I gained confidence, especially relating to teaching gospel principles. I learned the ability to explain the gospel in simple terms, and in parables, to help others more easily understand the teachings. I also learned leadership skills that I have been able to use in my personal life, work and church service. (Peter)
Patience, better study habits, driving on the left side of the road, empathy, writing talks in a foreign language and getting along with difficult people. Taking criticism without crumbling. (Melodie)
What do you wish you knew/did at the beginning of your mission?
Just get right into it. Don't worry about being shy and nervous. The people just want what you have. Love the people, especially the members. Be a REAL friend to them, learn about them and be there for them. (Duke)
I wish I was exactly obedient- I missed out on miracles. (Elizabeth)
I wish I had studied Preach My Gospel more along with the matching scriptures. I was to focused on getting my goals of reading The Book of Mormon, Jesus the Christ and others to really focus on what was important. (Christena)
Focused on the people more rather than my own weaknesses and what I wasn't doing right. No one is ever going to serve a perfect mission except Christ. (Tyler)
I wish I had known how to drive because I ended up backing my companions every day for two years. (Owen)
I wish I knew how to speak another language. (Christopher)
I wish I had read and lived the book 'The Anatomy of Peace'. (Daniel)
Learned English which was new language for me. (Mponda)
I wish I knew the scriptures better and stayed awake in seminary. (Sam)
I had to bring my old scriptures with me on my mission. I was like an investigator having to try and find verses. (Amanda)
I wish I had the 1st Vision memorized earlier. I would also recommend that you know how to hand wash your clothes. It was cheaper some times to do it yourself. (Michael)
Studied the language more. (Cody)
How to teach with the Spirit. (Sibonelo)
Wished I new the discussions. And I wish I'd memorize mission scriptures. (Tory)
That I have ADHD. I didn't know about that until about 15 years later. (Chas)
Learned to listen and act when the Spirit spoke- had this happened, the issues I had with my visa would not have happened. Other than that, I'm not sure a mission is something you can prepare for…it's such a life-altering experience. (Elizabeth)
How to jump in with both feet and not worry about what others think. (Sarah)
I wish I had a stronger testimony at the beginning of my mission. (David)
Learned the various language greetings quicker. (W. Chris)
How to open up and share with everyone. (Jayson)
I am a convert to the church, so I was 19 years old when I was baptized. I noticed that the missionaries who had done seminary knew their scriptures well. I had to learn and study hard to obtain that level on my mission. They had such a great foundation laid down for themselves. Don't ever put yourself down, the Lord uses all types to spread His gospel. Where I was not a scholastic scriptorian, I definitely had the spirit of the gospel and knew how to recognize and act upon it. (Tracy)
I wish I had jumped right into the work at the beginning of mission. I wish I had forgotten about my family and worked as hard as I possibly could have. (Landon)
I wish I had the opportunity to go through a mission preparation class. I also wish we had Preach My Gospel back then. (Peter)
I wish I had known that there would be a LOT of extra expenses along the way. I wish I had copied down more family recipes from the members. I wish I had known that I would not return to South Africa. (Melodie)
Any advice/testimony for pre-missionaries going to Johannesburg?
LOVE the members!!! If you genuinely love them and serve them, they will love you and will do anything for you. And especially love the Bishops in your ward or branch, be their best friend!!! Make weekly appointments with him, report to him what you are doing, and ask him what he needs you to do. (Duke)
That The Church is true and that they should forget themselves and go to work, not to waste any single second of their time. (Elizabeth)
Going on mission is the best thing ever to happen to me and it has happened once (never will happen again) so I advise you to make it the best with good memories! Student mentality is the key, MTC will definitely change your perspective towards missionary work! I learned a lot. (Glen)
Be yourself and you and your companion will get along better. No one likes being around someone who is being fake. (Christena)
Leave EVERYTHING behind. Even future plans, and definitely past transgressions. (Tyler)
It's the best mission in the world, you discover who you are, change peoples lives by sharing the restored gospel, the field is white there and most of the people are prepared to received the everlasting gospel. Love the people, talk to everyone. (Owen)
Sometimes the best lessons I ever had were "from the manual". Just relaxing and talking is sometimes the key. Also it's ok to take a deep breath, not get stressed and relax for a minute. (Christopher)
Live what you teach. Specifically study charity. (Daniel)
Remain faithfully, before you go to the mission field go out with missionaries in your ward. (Mponda)
Know your purpose as a missionary and live according to that purpose. (Sam)
It's only 18 months. Be there for the right reasons. Just lose yourself and go to work. I know it is true. I tried it. (Amanda)
Just work. Treat everyone you meet as a potential investigator. I saw people get baptized that I never thought would step foot inside a church. Also be patient with drunks. You will meet a lot in certain areas. (Michael)
Throw English away when you arrive. (Cody)
Know why you going on a mission and it's not always about you but your companion also. (Sibonelo)
Try and have all of the standard works read before the mission. Try and have Preach My Gospel studied thoroughly before the mission. Read the books Articles of Faith, Jesus the Christ, and A Marvelous Work and a Wonder. The last book I would recommend would be a small book called The Book of Mormon; key to conversion. (Tory)
It's the Lord's work, and it's a great blessing to be part of it. (Chas)
Love the work, love the people, love the Lord. Listen to the promptings of the Spirit as it is a dangerous mission. Work hard, go home with no regrets. (Elizabeth)
Just love the people with all your heart. (Sarah)
Have your foundational testimony in place. (David)
Embrace diversity. (W. Chris)
Serve the Lord with all your heart! The secret to missionary work is work, work, work, work! by Ezra Taft Benson. (Tracy)
Take advantage of a mission preparation class if one is offered in your area. Get a copy of Preach My Gospel and use it in your personal study the year before you leave on your mission. Commit now to be strictly obedient and practice being obedient and sacrificing ahead of your mission so it won't be such a shock in the MTC. (Peter)
Be strong and keep working with a cheerful attitude even if baptisms don't come your way. Some missions are all about planting seeds. Look around while you're there because you may never get the chance to go back. Remember that if the person shutting the door in your face only knew what you were offering they would welcome you with open arms. Write down 10 good things you like about your companion and refer to the list as often as needed. The Church is true in South Africa just as it is where you live. The Book of Mormon is true in Afrikaans. Jesus Christ is our Savior and Redeemer. Remember that what you know through your testimony is more than all the religious studies that ministers have done. (Melodie)
What was a funny language mistake?
Not that I can recall, but learning all the different languages can be a difficult thing, but do it anyway! It will be worth it. And remember the people will only laugh with you, not at you. In fact, they will respect you more for trying. (Duke)
Dumela magogo, greeting young girls- that's how are you old ladies, hahaha, it was funny and many others. (Elizabeth)
I had been out a few weeks and the people mostly spoke English but there was a dialect too. It is Setswana. Well I asked my companion what was the language but I wanted to do it in an accent. I also was not sure which of the two it was so I said "Is the language Shona or Shitsw… I paused because I realized all she heard was the swear word. I was so embarrassed, she called the district leader and the other Elders. Two out of four of those Elders were with me for over half my mission. They even came home same time as me. Our last night together guess what they brought up… (Christena)
Instead of calling people father in Zulu, I would call them baby. Hahahha. (Tyler)
Just some fun accent. (Owen)
It was an English-speaking mission but when I started I spoke the way I do when I'm at home and people had no clue what I was saying, then after 18 months training a new missionary from England, he had the same issue. It was kind of a fun little thing to reflect on. (Christopher)
Accidentally called a lady by the wrong name, called her "Pretty" because that was the name of the person we erroneously thought was her name. (Chas)
Calling someone crazy or dumb as a joke is really offensive. (Sam)
I think my mouth was not designed  to speak Sestwana. I call myself hair instead of a tribe. It's was just the wrong pronunciation. I was just trying to be a native. (Amanda)
Always ask if you are saying something right. You will know if you aren't because people will laugh at you, not being mean. (Michael)
Some Elders were doing the door approach in Afrikaans, but they said the wrong thing and swore instead, the man was so touched by their attempt to speak his language he invited them in. (Elizabeth)
We were teaching with a translator and I was beginning to get the hang of Zulu. She kept going on and on in her translations of our short sentences. Suddenly the sentences started making sense. So I told her in Zulu that that was not what I said. She was giving so much false information to our investigator. (Sarah)
My district leader took me out the second day and during tracting told me to say a phrase very quickly and he broke it up in such a way I couldn't understand what it meant, but I trusted him and his experience, so I did it- Translated I actually said to the lady at the door 'I am a big fat pig and I am looking for food.' (W. Chris)
In Zulu, the children would call out at us 'nomlungu', which means white person. I did not know what it meant and thought it was hello and so I would call back 'Nomlungu!' and the children would burst out laughing, until one day I was out on a split with a local member and she then laughingly corrected me and told me what I was saying. (Tracy)