Free resources about the South Africa Cape Town Mission:
*Other Mission Pages: South Africa LDS Missions.
---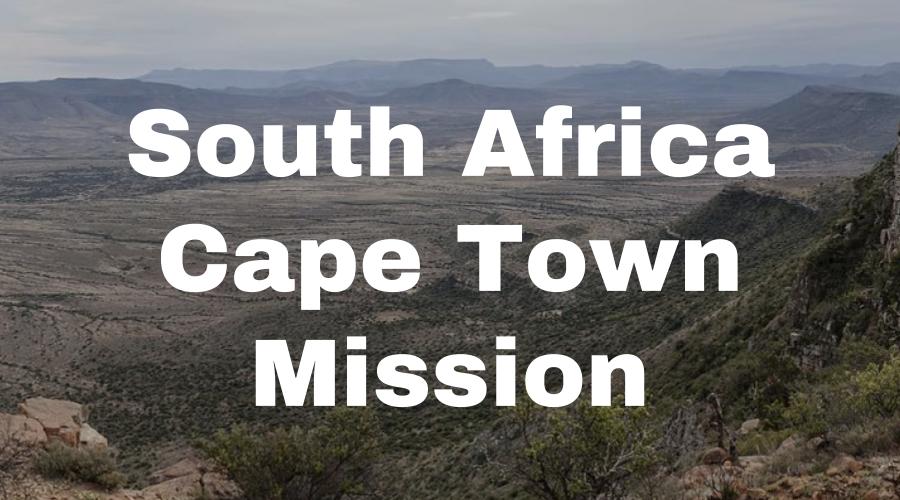 ---
Cape Town Mission Address
Here's a recent address for the Cape Town Mission. We try to keep this information up to date, but it's a good idea to check the address with several sources, including your mission packet or the mission office.
South Africa Cape Town Mission
PO Box 181
Observatory
Cape Town 7935
Phone Number: 27-21-447-5530
Mission President: President Thabo Lebethoa
South Africa Cape Town Mission Map
Here's a link to the mission map for the Cape Town Mission (LDS). To access the official, up-to-date LDS.org map for the mission:
Log into your LDS account here.
Click here.
Videos with Cape Town RMs
Here are in-depth YouTube video interviews with returned missionaries from the Cape Town Mission.  We interview hundreds of returned missionaries each year, so check back regularly to see new RM interviews. Coming soon..
Videos about South Africa
Here are LDS-friendly educational videos about South Africa. We scoured YouTube to find the best quality videos about South Africa, that are free from inappropriate music, immodesty and profanity.
Cape Town Missionary Blogs
Here's a list of LDS missionary blogs for the Cape Town Mission. This list includes the missionary's name, URL and when their blog was updated.
*Send your missionary a gift (mission-specific shirts, ties, Christmas stockings/ornaments, pillowcases, etc.)
Cape Town Mission Groups
Here are Cape Town Mission Groups- for LDS missionary moms, returned missionaries, mission presidents and other alumni of the Cape Town Mission.
Cape Town Mission T-Shirts
Here are T-shirts for the South Africa Cape Town Mission!
Shirt designs include Cape Town Mission logo/emblem shirts and Called to Serve shirts. The shirts make great gifts for pre-missionaries, returned missionaries and missionaries currently serving. LDS Mission shirts come in all sizes: Small, Medium, Large, Extra Large, up to 4XL.  The mission designs are printed on white shirts and are shipped to you.
*Simply click on a shirt design to view the details and submit an order. The designs on mission t-shirts may also be printed on other LDS mission gifts, including: Cape Town missionary aprons, Christmas stockings, ties, pillow cases, teddy bears and Christmas ornaments.
*Click here to browse Cape Town Mission gifts
---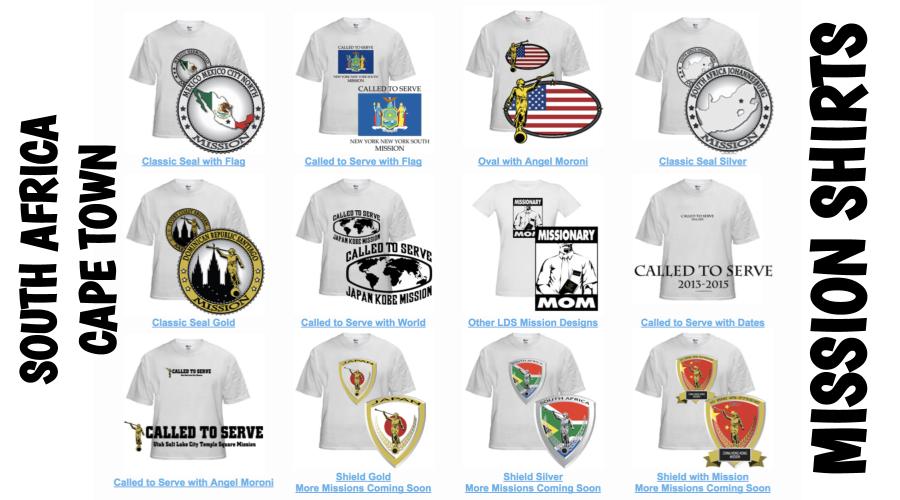 ---
Cape Town Mission Presidents
Here's a list of current and past Mission Presidents of the Cape Town Mission.
2017-2020, Thabo Lebethoa
2014-2017, Stephen J. Merrill
2011-2014, Mark L. Wood
2008-2011, Randall K. Probst
2005-2008, Robert M. Egan
2002-2005, David Daniel Marriott
1999-2002, Gary K. Haddock
1996-1999, Glen Markus
1993-1996, Kenneth S. Armstrong
1990-1993, Blaine Hudson
1987-1990, Reed C. Snow
1985-1987, J. Richard Clarke
1984-1985, G. Phillip Margetts
South Africa LDS Statistics (2015)
Church Membership: 61,221
Missions: 3
Temples: 1
Congregations: 159
Family History Centers: 69
Helpful Articles about South Africa
Cape Town Missionary Survey
Here are survey responses from South Africa Cape Town RMs, to give you a snapshot into what it's like to live in the mission.
*Click here to take a survey to help pre-missionaries going to your mission.
When did you serve?
2012-2014 (Learnmore)
1986-1988 (Mike)
1986-1988 (Darrin)
1986-1987 (Deryn)
1985-1987 (Justin)
1985-1987 (Kyle)
1986-1988 (Will)
Which areas did you serve in?
Gugulethu in Capetown, Sada in Queenstown, George in the Western Cape, Mdatsane in Eastlondon, Kwanobuhle in Port Elizabeth, KwaDwesi in Port Elizabeth, Meadowridge in Capetown. (Learnmore)
Capetown, East London, Durban, Margate, and Chatsworth. (Mike)
Parow/Bellville, Somerset West/Strand, Kraaifontein, and George. (Darrin)
Cape Town, Belville, Paarl, Newcastle. (Deryn)
Muizenberg, Richards Bay, Amanzimtoti, Durban North, East London, Cape Town. (Justin)
Capetown, East London, Durban. (Kyle)
Muizenberg, Chatsworth, Amanzimtoti, Margate, East London, Port Elizabeth, Kenilworth. (Will)
What were some favorite foods?
Steamed bread. (Learnmore)
Curry, Leechies, Biltong, Braiis, and fresh seafood (shark). (Mike)
Boerewors, Biltong, Appletizer, waffles from "The Spur", and anything from home. (Darrin)
Burgers, T-Bone, Sago Pudding, Apple Pie, Rump, Chips, Fried egg, Doughnuts, Black Forest Cake, Beef Stroganoff. (Deryn)
Milk Tart, Liqui-Fruit, Roast Potatoes, Moni's, Good Curry, Pop n Vors. (Justin)
Curry (bunny chow) Melktart Cape Cod. (Kyle)
Curry, Melktart. (Will)
What was a funny experience?
I served in a rural area, so getting rides in donkey drawn carts. (Learnmore)
Not really funny, but awesome was judging a black Choir competition in Durban Harbor. Most awesome singing ever, but we were escorted out under security because many of the crowd of over a thousand was unhappy with our decision! (Mike)
My companion was riding with no hands when suddenly the brake handle just fell off the bike. He reached forward to grab it, but it fell down and went into the spokes. It came around and hit the fork, causing the entire bike to flip and putting him on the pavement. We were on our way to an appointment, so we kept going and he cleaned up when we got there. He was okay (was more concerned about his suit). (Darrin)
We knocked on a door and this rather large lady meant to ask if we were from the Watchtowers (Jehovah's Witnesses) but instead she asked very seriously, "Are you from the weight watchers?" We had to stop tracting for a while after that to compose ourselves. As my companion said, it's a pity we were not from weight watchers because she really needed it. (Deryn)
A fun experience was a group of us playing the South African all star baseball team, and beating them 28-0….I umpired the game…. Chris Pearson threw a no hitter….(Justin)
A Bible toting man tried to cast my companion and me out of a train station because we were "evil demons". (Kyle)
Tropical storm/hurricane of 87 or early 88 when I served in Amanzimtoti. Tried to get out of the car, the wind was blowing so hard it blew the door open and bent the hinges, blew my umbrella inside out.etc.etc. (Will)
What was a crazy experience?
My companion and I were held at gun point at an attempted car highjacking, but they ended up taking our clothes and left the car. (Learnmore)
Once my companion decided to save the neighborhood by beating to death a cobra that we ran over with our bikes on the road. Luckily, someone came out of his house and saved us with a shovel! I was also almost run over by a lady driving a car as she shouted at us to never come back to her family's house. (Mike)
Drove a man back home into a black area. As we arrived, a crazed man came running toward the car, but he was tackled before he got to us. (Darrin)
My companion and I were asked to visit one of the senior Dominees (Dutch reformed minister) of the Mother Church in Paarl. When we got there, he refused us entrance and physically attacked my companion. My companion wanted to lay charges, but the Mission President, Elder J Richard Clark advised him to let it be. (Deryn)
The race from PE to East London after Zone Conference…. A bit unnerving…. (Justin)
A lady stabbed her husband right before we got there and her daughter was mopping up a big pool of blood. (Kyle)
Trying to get a picture of a bull elephant. He had his head down in some brush so I "tossed" a rock in his direction. (Will)
What was a spiritual experience?
The greatest was watching the gospel in action as in you meet a person who had limited knowledge of the gospel, but they grow to be better people as they apply the principles and meeting most of them at the temple after my mission. (Learnmore)
So many, but performing a baptism of a Jewish family in a pond at the base of Table Mountain was definitely a high point of my mission and my life. (Mike)
The most spiritual experience was at the baptism of a colored family in Paarl. At that time there was still heavy opposition to non-whites in South Africa being at the height of apartheid. This particular baptism reunited both communities in Paarl for that short time and was enjoyed by all. (Deryn)
Many….the baptism of the Beavis family is a certain highlight….(Justin)
We taught and baptized a great family in Durban and the dad was against it at first but he picked up a Book of Mormon and began reading it one night and was so touched he wanted us to teach him all the lessons in one night. (Kyle)
What are some interesting facts about the Cape Town Mission?
It was the first place to receive missionaries in South Africa. We have mountains called the Quorum of the Twelve as well as three buildings called the First Presidency. The mission is very huge, the closest city from the mission home is a 5-hour drive. (Learnmore)
The people are good and loving. Toyota Corollas can recover from a turn taken too fast on a dirt road and almost going into a bank if Heavenly Father lends a hand. (Mike)
I think it's the farthest mission from SLC (or it was at the time). (Darrin)
At that time, the Cape Town Mission ranged from, and including, Namibia around the South African coastline to the northern tip of Kwa-Zulu Natal. It was presided over by a member of the First Quorum of Seventy, Elder J Richard Clark. (Deryn)
Served 9 months in my first area, Muizenberg….Had a General Authority for a President, Elder J Richard Clarke….he and his wife Barbara are so very special…. Baptized in every area I served. (Justin)
Apartheid was still going strong so it was weird to have an entire train car to ourselves while 300 blacks smashed into one train car because our train said "No Blacks". (Kyle)
What was the weather like?
The call it Capetown weather meaning it changed all the time, your guess is probably right on how it is, Port Elizabeth is windy, East London is humid, Queenstown is very hot during summer and snows during winter. These are the main cities that our mission covered. (Learnmore)
Awesome. A little cold in the winter in Capetown, but not freezing. But there were no heaters to warm up when cold (at least then), so make sure to have some warm sweaters. (Mike)
Summers were HOT. Winters were cold and rainy. Not terribly cold, but no one had heat in their homes, so it made it worse. (Darrin)
Sunny South Africa, but in Cape Town the winters are wet and cold. (Deryn)
Beautiful sub tropical, Cape Town is so gorgeous. (Justin)
Very nice but summer was very hot and humid. (Kyle)
Amazing. (Will)
Any things you really like about the area/people?
Very humble people who will let you teach them at least a lesson, they hardly turned you away. The place is just beautiful. (Learnmore)
They were humble and loving people. They opened their doors for us and welcomed us in. They may not have always agreed with our teachings, but they were good people. (Mike)
I found the majority of the people humble and receptive, especially in the townships. The people are generally friendly and helpful. (Deryn)
Kind, warm, firmly committed to the gospel…Willing to sacrifice. (Justin)
Everything! I love the people of South Africa. They are so kind and generous and their accents are cool as well! 😀 (Kyle)
Food was amazing and the people were generally very friendly, even if they were not interested in listening. (Will)
Any packing/clothing advice?
Stay under 20 kilos as you fly during transfers because of the geographic nature of the mission. Place your book in a carry-on bag, not in your check-in bag. (Learnmore)
Take warm clothes for the winters and cool clothes for the summers. You will need both. (Mike)
The Cape Town Mission is now refined to the Eastern and Western Cape. In the Western Cape, it gets cold and wet in winter. Ensure that you have warm clothes, but for the rest it is generally a warm climate ranging between 22 and 40 degrees Celsius in summer. (Deryn)
Take a warm coat, the nights in the winter will be cool….plenty of shirts. (Justin)
Lots of comfortable white shirts and good walking shoes. (Kyle)
Lightweight clothing. (Will)
What blessings did you receive from serving a mission?
The greatest blessing was me being converted into the gospel in a way I could not have imagined, my love and understanding of the Savior grew. My testimony has grown and I have been able to face the challenges after the mission, much better. I now know the meaning of scripture study and the meaning of the Lord's time. (Learnmore)
Having the most awesome mission president in the world and to serve with choice elders and sisters who still set an example today. (Mike)
I grew closer to the Lord and became a pretty goo orator. (Deryn)
A testimony, a sure knowledge of my Savior. (Justin)
It was indescribable, the things I learned and the experiences I had have deeply impacted my life. (Kyle)
Grew up a lot and saved/converted myself more than anyone else. (Will)
What are some skills you gained?
Setting goals, planning, communication skills, accountability, listening skills, delegation, administration. (Learnmore)
Learning to talk to people, learning to appreciate diversity, love of the scriptures, and appreciation of family and church. (Mike)
I learned how to deal with people and to open my mouth. (Deryn)
How to listen…. How to bear testimony. (Justin)
Public speaking, ability to talk to others (I'm in sales), courage to face adversity, and I learned to work hard. (Kyle)
Letting insults slide. Still not very good at it. Communication, organization. (Will)
What do you wish you knew/did at the beginning of your mission?
Took more pictures. (Learnmore)
I would have known the scriptures better. (Mike)
That it wasn't all about how many hours or discussions or even how many baptisms. If I could do it again, I would do more service. (Darrin)
I wish I was better prepared. I was only a member for 1 year before entering the mission field and found adjusting in the first two months very difficult on mission. (Deryn)
That the Book of Mormon is true. (Justin)
I wish I wasn't so intense and listened to my senior companions more and learned from them. (Kyle)
How much I would want to keep doing missionary work and not go home. (Will)
Any advice/testimony for pre-missionaries going to Cape Town?
The mission is one of the greatest blessing our Father in Heaven has given us. It teaches you to be more like the Savior and as you serve you grow in knowledge of the gospel. You become your greatest convert at the end of your mission. (Learnmore)
Get ready for one awesome experience and take it all in. (Mike)
Make sure you are prepared. Study the gospel, know your scriptures and learn to live with others. Ensure your housekeeping and cooking skills are up to par. Ensure you are in the habit of DAILY scripture and gospel study. (Deryn)
Patience…. Trust….Courage…. Love for the Godhead. (Justin)
Yes, learn the scriptures and go out with a firm testimony, it will just make it that much easier. Have a testimony of your Savior. (Kyle)
Believe in yourself. (Will)
What was a funny language mistake?
I once told a Zulu gentleman that he could take my bike. Gotta be careful what you say with a limited vocabulary! (Mike)
I remember my one companion saying that he was happy to be a body part of the church instead of a member of the church in Afrikaans. The words in Afrikaans are very similar. A body part is "ledemate" and member is "Lidmate". Interestingly enough, I thought I could fool the Lord when I sent in my papers. I wanted to go on a foreign mission so I said on my mission papers that I could not speak Afrikaans, even though from a half Afrikaans family on my mother's side. (I could speak it fluently.) I also said that I had studied German, which was not a lie, but I only had one month of study. When my call came I was called to the Cape Town South Africa mission and only ever served in predominantly Afrikaans areas. You CAN NOT fool the Lord. (Deryn)
I was English speaking so the language was easy to pick up! 😀 (Kyle)