Here are free resources about the Scotland Edinburgh Mission:
*Click here for resources on the Scotland/Ireland Mission.
---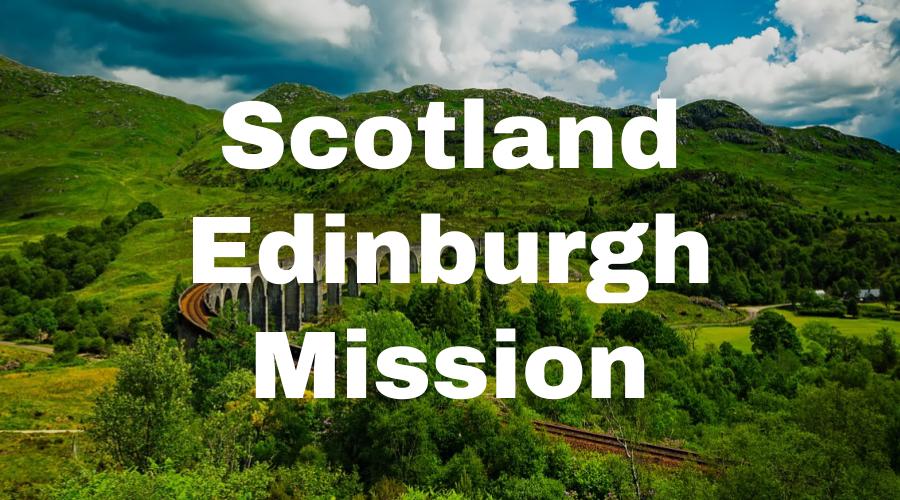 ---
Scotland Edinburgh Mission Address
Here's a recent address for the Scotland Edinburgh Mission. We try to keep this information up to date, but it's a good idea to check the mission address with several sources, including your mission packet or the mission office.
This mission does not currently exist.
Phone Number: N/A
Mission President: N/A
Scotland Edinburgh Mission Map
Here's a link to the mission map for the Scotland Edinburgh Mission (LDS). To access the official, up-to-date LDS.org map for the Edinburgh Mission
*Mission does not currently exist. (Browse LDS.org mission maps)
Videos with Scotland Edinburgh RMs
Here are in-depth YouTube video interviews with returned missionaries from the Scotland Edinburgh Mission.  We interview hundreds of returned missionaries each year, so check back regularly to see new RM interviews. Coming soon..
LDS-Friendly Videos about Scotland
Here are LDS-friendly educational videos about Scotland. We scoured YouTube to find the best quality videos about Scotland, that are free from inappropriate music, immodesty and profanity.
Scotland Edinburgh Missionary Blogs
Here's a list of LDS missionary blogs for the Scotland Edinburgh Mission. This blog list includes the missionary's name, URL and when their mission blog was updated.
*Send your missionary a gift (mission-specific shirts, ties, Christmas stockings/ornaments, pillowcases, etc.)
Scotland Edinburgh Mission Groups
Here are Scotland Edinburgh Mission Groups- for LDS missionary moms, returned missionaries, mission presidents and other alumni of the mission.
Scotland Edinburgh Mission RMs Group (723 members)
Scotland Edinburgh Mission Re-union Group (370 members)
Scotland Edinburgh Mission – Clyde 1997-2000 Group (331 members)
Scotland Edinburgh Mission – Swanney 1992-1995 Group (177 members)
Scotland Edinburgh Mission Group (56 members)
Scotland Edinburgh Mission T-Shirts
Here are T-shirts for the Scotland Edinburgh Mission!
Shirt designs include Scotland Edinburgh Mission logo/emblem shirts and Called to Serve shirts. The shirts make great gifts for pre-missionaries, returned missionaries and missionaries currently serving. LDS Mission shirts come in all sizes: Small, Medium, Large, Extra Large, up to 4XL.  The mission designs are printed on white shirts and are shipped to you.
*Simply click on a shirt design to view the details and submit an order. The designs on mission t-shirts may also be printed on other LDS mission gifts, including: Edinburgh missionary aprons, Christmas stockings, ties, pillow cases, teddy bears and Christmas ornaments.
*Click here to browse Edinburgh Mission gifts
---
---
Scotland Edinburgh Mission Presidents
Here's a list of current and past Mission Presidents of the Scotland Edinburgh LDS Mission.
2010, Ireland Dublin and Scotland Edinburgh missions combined to create Scotland/Ireland Mission.
2009-2010, Gary King Griffiths
2006-2009, Lynn Lee Summerhays
1995-1998, Gordon Williams
1992-1995, Ian D. Swanney
1989-1992, Joseph Fielding McConkie
United Kingdom LDS Statistics (2016)
Church Membership: 186,423
Missions: 6
Temples: 2
Congregations: 332
Family History Centers: 122
Helpful Articles about Scotland
Scotland Edinburgh Missionary Survey
Here are survey responses from Scotland Edinburgh RMs, to give you a snapshot into what it's like to live in the mission.
*Click here to take a survey to help pre-missionaries going to your mission.
When did you serve?
2007-2009 (Evan)
1994-1996 (Nathan)
1990-1991 (Debbie)
2001-2003 (Thom)
1989-1990 (Laurie)
1995-1997 (Andrew)
1995-1997 (Jeremy)
1998-2000 (Lance)
1992-1994 (Derek)
August 1996-March 1998 (Nicole)
2000-2002 (Chad)
1994-1996 (Douglas)
1994-1995 (Katinka)
1988-1990 (Karl)
1966-1968 (Gary)
1978-1980 (Linda)
1972-1973 (Dennis)
1994-1996 (Nathan)
1977-1979 (Andrew)
1988-1990 (Karl)
1990-1991 (Keena)
January 1992-July 1993 (Collette)
1983-1985 (Larry)
1975-1977 (Shane)
What areas did you serve in?
Coatbridge, Pollok, Broughty Ferry, Greenock, Kirkcaldy, Alloa. (Evan)
Dunfirmline, Glasgow, Kirkcaldy, Thurso. (Nathan)
Aberdeen, Edinburgh, Fraserburgh, Montrose, Dumfries. (Debbie)
Mostly Glasgow. (Thom)
Cupar Fife, Dunoon, Paisley, Glascow, Ediburgh, Fraserburgh and Cumbernald. (Laurie)
Glasgow, Inverness, Shetland, Edinburgh, Johnstone. (Andrew)
Aberdeen, Dunfermline, Muirhouse, Orkney, Galashiels, Ayr, Peterhead, Thurso. (Jeremy)
Glasgow, Irvine, Edinburgh, Falkirk, Livingston, and Thurso. (Lance)
Kilmarnock, Hamilton, Maryhill, Glenrothes, Arbroath, Montrose. (Derek)
Falkirk, Edinburgh, Aberdeen, Dunfermline, Boness, Alness. (Nicole)
Huntley, Kirkcaldy, Galashiels, Aberdeen, Airdrie. (Chad)
Glasgow, Dalkeith, Edinburgh, Banff, Dundee, and Aberdeen. (Douglas)
Glasgow, Dundee, Dunfirmline, Aberdeen, Falkirk. (Katinka)
Cowdenbeath, Drumchapel, Musselburgh, Perth, Edinburgh. (Gary)
Edinburgh, Dundee. And Dumfries. (Linda)
Glasgow, Dumfries, Airdrie, Saltcoats, Edinburgh, Paisley, Dunfirmline. (Dennis)
Dunfirmline, Glasgow (multiple areas), Kirkaldy, and Thurso. (Nathan)
Portobello, Musselbourough, Wick, Lerwick, Arbroath, Dumfries. (Andrew)
Dundee, Aberdeen, Inverness, Glasgow, Airdrie, Galashields, Oban Airdrie and Hamilton. (Karl)
Alness, Edinburgh, Paisley, Beith. (Keena)
Ayr, Glasgow, Dunfermline, Perth, Thurso. (Collette)
Salt Coats, Glasgow, Glenrothes, Ayrshire, Aberdeen. (Larry)
Edinburg, Glasgow Sterling, Adrie, Denny, Wishaw, Easterhouse, Paisley, Ibrox. (Shane)
What were some favorite foods?
Haggis, neeps, and tatties. Scotch broth. Lentil soup. Mince and tatties. Stovies. Fish and chips. Indian food. Donner kebabs. Deep fried pizza. Battered mars bars. Munchie box. (Evan)
Kebabs, Chippy (there is a fantastic Chippy shop in my neighborhood in NYC), chocolate and biscuits. (Nathan)
Steak Pie. Curry. Pasties. Kebabs. Shepherd's Pie. Haggis. (Thom)
Mince and totties, chips in a newspaper, sweets. (Laurie)
Fried Pizza, Fish Suppers, Curry, Donner Kababs, Haggis especially fried. (Andrew)
Mince and tatties, fish and chips, Steak bridies from Stephens Bakery, Fudge doughnuts. (Jeremy)
Mince and Totties. HobNobs. Truffle. Chips and fish. (Lance)
Real Indian food and fish and chips from the corner chip shops. (Derek)
Hobnobs. Chicken Korma. Fish and chips. Gyros. (Nicole)
Battered Pizza. All Indian Food. Fish and Chips. (Chad)
Kebabs, Indian curry foods, chocolate and the soups were delicious. (Douglas)
Mince and tatties! (Katinka)
Turkish and Indian kebabs. (Karl)
Trifle, Fish & Chips. (Gary)
Stews, Pizza's and HaggisTe. (Linda)
Chocolate Swiss Rolls. (Dennis)
Chippy, pudding, fried totties… (Nathan)
In Arbroath there was a grain shop and ever since I've been eating muesli for breakfast. (Andrew)
Haggis tatties and neeps. (Karl)
Fish and chips, Mince and tatties, Sausage and eggs, Lilt soft drink, Hobnobs Ribiena (dilute black currant drink), Murray mints. (Keena)
Fish and chips, Crisps and chocolate, Curry from the Pakistani restaurants. (Collette)
Fish & Chips, Beef curry, Irnbru. (Larry)
Fish and chips in newspaper with malt vinegar. Mince and tatties. Even fresh not canned haggis. Iron brew. Fish and chips on Albert St., mince and tatties, Yorkshire pudding, weatabix, sour plums, Piccadilly, great food at the Golden Dragon in Glasgow. (Shane)
What was a funny experience?
I was training a missionary and he had never had of diluted juice before. You're supposed to pour half diluted juice and half water in your cup and mix it. The juice is very concentrated. Anyway, I didn't tell him this on purpose to see his reaction. As he was pouring himself a full glass, I thought to myself, "I can't wait for this." As he started to drink from this potent glass. He gagged and his face shriveled up just like a baby sucking on a lemon for the first time. (Evan)
Had to go the ER and while waiting to see the doctor my companion said he had to run to the Loo. Before he came back I was called into meet with the doctor. While I was bit worried where he was, I went ahead and went in and met with the doctor. Upon finishing my appointment I returned to the waiting room and my companion was still nowhere to be found. After waiting for awhile later he finally showed up and told me that he had gotten locked in the loo due to the locking mechanism malfunctioning and they had to break the door down to let him out. (Nathan)
Someone once threw an AA battery from a car at my companion. (Thom)
While we were taking the train back to our flat in Cupar Fife, we ran into some of the Gatlin Brothers. They made a song about us and our pizza! "if you love Jesus more than pizza then your gonna go to heck. (Laurie)
We were attending a cultural event on Shetland. It was getting close to time to go home but we justified being a little late to stay and watch some traditional dancing. Lo and behold they announced the dancing and then encouraged the ladies to pick an eligible partner. All eyes immediately zoomed in on my companion and I. We graciously declined and headed for the door. (Andrew)
Played a game with some kids on Christmas going through the alphabet with names. My companion and I kept alive using Book of Mormon names. (Lance)
Little kids telling us "good Mormon" in the morning. I wanted to say "bad Catholic", but I didn't. (Derek)
While I was golden questioning a couple on the high street in Aberdeen, a sea gull practically landed on my head and pooped. It ran down the side of my head all in my hair. My companion laughed hysterically then had to go to the trash bin because she was going to throw up. The couple we were speaking to laughed and walked away! (Nichole)
Being slapped by a four foot man. (Chad)
P-day as a zone bicycling on an Island in general – getting to know so many great people! Both Scots, members and companions. (Katinka)
Introducing myself for first time in Dundee, Scotland. People started laughing uncontrollably at me. I think they were surprised and shocked to hear an Irish accent coming from a missionary as most back then were from America. (Karl)
Playing football on the beach on the Isle of Arran – not many people there, but they were astounded at seeing our game. (Gary)
Telling the then MAs that I had a return train ticket and that if I didn't like it I was going home. Walking down a stairwell and getting my scarf hooked up on a deaf old mans umbrella. Finally sewing bread bags in a Zone Leaders jacket sleeve thus leaving him a little confused as to why he could not put is hands in. (Linda)
Visiting the hospital (see next story) for a concussion and coming out to my companion mission, 30 minutes later he showed up and apparently while I was with the doctor he went to use the bathroom and the door for jammed and they had to break it down to get him out. (Nathan)
I was told that I'd be serving in AN ENGLISH-speaking mission I did not go to the MTC But only went straight to the temple then on my mission the next day in early February 1988. So as you might imagine. That first weekend – being sent to Dundee in Scotland. At church. listening to everyone speak in church meeting. I'd no idea what most people were saying. Thinking maybe I should have learned a foreign language first before coming here. I remember it was near the end of sacrament meeting and a young boy about age 12/13 handed me a note from the bishop. Asking me if I'd come to the front and introduce myself to everyone despite the meeting nearing it's end. Once people heard my accent. They all burst out laughing shocked to hear an Irish accent. Probably surprised that it wasn't from Utah or American. (Karl)
We got on the wrong bus that took us out of our area. As soon as we realized we were going the wrong way, we asked the bus driver to stop and let us out. We walked back (not even a mile) to the same bus stop and waited for the right bus to take us back to our flat. (Keena)
The wind picking my companion up and turning us in the opposite direction! My stockings falling down around my ankles. My first night in Ayr we had a dinner appointment and the sister kept saying do you Ken to my trainer and I and I turned to my trainer and whispered who is Ken. (Collette)
Going to Pizza Hut and having the waitress dump my companion's hot pizza right in his lap. Being chased through a park in Glenrothes by a young girl every night while returning from our area. (Larry)
Funny and sad. Playing football on the beach after helping build a new chapel and the tide came in and washed out all of our cameras which we had placed in a pile in the beach. Asking a sales clerk to see her suspenders and pants. (Shane)
What was a crazy experience?
As my companion and I were walking down from the church building to the high street, three men were walking up. They noticed us and one of them hit me in the face with his palm. Avoid groups of kids as well. (Evan)
The reason for being at the ER is that I had been mugged and suffered a concussion from being hit over the head (Friday evening). Stayed in the flat all day Saturday and felt fine so went to church on Sunday and normal proselytizing. Monday morning at district meeting I blacked out so I headed to the ER to get checked out. (Nathan)
Someone once threw a glass whisky bottle at me. (Thom)
While in Cumbernald, we had like two dinners back to back. We were hurrying to another appointment and I had to stop and puke. My companion turned around to see what I was doing. (Laurie)
We had a guy invite us into his house and then tell us all about how he stole things all day to pay for his heroin habit and then he demonstrated how to smoke it in front of us. (Andrew)
Was in a car accident and hit the windshield with my head. Learned how cruddy socialized medicine is. (Lance)
Driving on the wrong side of the road on tiny roads with no shoulders. (Derek)
Having our apartment robbed while we slept. (Chad)
My companion and I were riding the bus home and a brick came flying right through the window of the bus. (Douglas)
Being thrown bricks at by a gang of youth. (Katinka)
Walking on south side of Glasgow wearing a clean, cut suit. Locals assumed we were police officers – one guy came over to ask who we were. Once he established we weren't police, he made silent gestures inviting all his hidden accomplices to come out from their hiding places. Then they openly began sharing around their hard drugs and offered us some. Which we respectfully declined. It was first time I had seen illegal drugs. (Karl)
Looked left and started to cross the street only to have my companion jerk me back just before being clobbered by a bus (double-decker). (Gary)
Driving on winedy roads in the depth of winter. (Linda)
Having a knife pulled on me and my companion in Drumchapel. When the glue he was sniffing wore off after a half hour of calming him down we invited him to church the next day. (Dennis)
Got mugged and hit over the head giving me a concussion and then blacking out a couple of days later in district meeting. (Nathan)
Our car was making a funny noise all morning. When we were a block from our flat (going home for lunch) the noise got much worse. Turns out all but one lug nut had sheared off and the front drivers side tire was attached at a curious angle. (Keena)
Getting into a fender bender in a round about. Guys following us down an Alley after passing a pub. (Collette)
Trying to get home one night walking through Ibrox after a Celtics, Rangers game. (Larry)
Having rocks thrown at us for being those daughter stealing Mormons. Forgetting to look right when stepping off a curb and being rescued by my companion. Stepping off the curve and almost getting hit by a car coming on the "wrong" side of the street. Thanks to the fast reflexes of Elder Tingy I was saved. Drinking milk which has been sitting in a store window all day un-refrigerated. Working in Easterhouse area any time. (Shane)
What was a spiritual experience?
Going to a funeral of one of our investigators. (Thom)
We were at a Zone Conference with President Joseph F. McConkie watching the last testimony of Bruce R. McConkie, his father. I could see President McConkie and the television. I just had a strong impression of what he said was true. I know he was a special witness of Jesus Christ and this is Christ's church. (Laurie)
I gained my testimony of Joseph Smith when I testified he was a prophet to a minister on the street. I received a sure witness that he was who he said he was. (Andrew)
Had a lot and most of them were around baptisms. Had Elder Scott visit was way cool too though. (Lance)
Converting people and seeing them change for the better. They would start cleaning themselves up, both physically and spiritually. (Derek)
Too many. (Chad)
Too many to list. The most spiritual for me was when I was praying and searching to know if what I was teaching really was true. As I gave the first discussion on the restoration, the Spirit came in very, very, very strong and testified to me that this was true. I mentioned to my companion how strong the Spirit was. He responded with something like "I didn't feel anything different than normal". I asked, "Why would I feel it so strong and not you?" He responded, "Maybe you were asking for it?". (Douglas)
Many! One of them being a man who was given a Book of Mormon, when we came by again, he said he had been reading the book and had felt something special inside him as he read. His family was shortly after baptized. (Katinka)
Discovering some who seemed very welcoming of us coming to talk with them. They apologized as they were not currently available to meet with us but sincerely wished to do so as soon as possible. My companion seemed concerned that the individual wished urgently to have our address so they could come find us in case we never returned. Later, it was shared with me that the occupant had a difficult, hard childhood and had one prominent desire in her heart. She wanted only to be happy. She often would have a dream were in she met a man who would have her wear a white dress and put her under water. Essentially, she dreamed seeing herself being baptized. And once she came up again out of the water, she felt the happiness she always longed for. (Karl)
Faith of a contact who had already accepted and was living the Word of Wisdom before we presented it. Working the challenge of Elder Mark E. Peterson, of the Quorum of the Twelve, who taught us to prepare lots of optional approaches and then approach people at doors or on the street with no particular thought in mind, trusting in the Spirit to guide our conversation. The results were astounding when we prepared properly. (Gary)
My first baptism and teaching my first ever discussion. (Linda)
Too many to share; but strengthening my own testimony and watching others gain theirs was a highlight. (Nathan)
I won't mention the location to respect the individual concerned. One evening we had been asked to set aside an evening when we made no previous plans. But were prayerful about what and where we should go that evening – After time of prayer. We put a map spread out on the floor. Looking randomly ALL around the map of the area of that town we were assigned to work in around slowly and around my eyes went. Looking with no pre-judgement or thought as to where we should go to in advance. My eyes felt gently attracted to the north west area of the town. I kept looking around and around the map. Again very very softly and quiet felt drawn or very quietly attracted to that same particular part of the town. So. Without questioning or doubting. We simply walked 20-30 minutes over to that part of town. But once there. We stopped and thanked the Lord in quiet prayer for prompting us to come to this area of town. We explained that we were obedient to the prompting to come to this part of the town and thanked the Lord for this guidance. But now. We are asking for further guidance or direction as we had been obedient – I felt nothing – then my companion took out his Book of Mormon, held it in his hands and randomly started flicking through the pages. He was looking upward away from looking directly at the book as he randomly flicked through it's pages. Then he stopped at a page and randomly pointed to a verse. Then looked down at that random verse he had pointed to whilst flicking through the pages. He read the verse but felt nothing from it – but didn't change the verse because he felt nothing from it. But he handed me the book and pointed out the verse he had just read. Asking me to also read it to see what I thought of that verse. I noticed it mentioned 2 years in the reign of the judges. I felt. Yes. Let's walk up here to each street and knock these 2 door numbers. The 2 numbers were next to each other The 48th and 49th year. Thus knocking these 2 door numbers on that street These first 2 numbers – both doors didn't answer, so we then walked up to the next street over. Again knocking on numbers 48 and 49 But again we were not received or welcomed. Not to be deterred. On we continued up the hill to the last street and walked up to these 2 same numbers. Missing all others in this 3rd street also just as we had done in the previous 2 roads. The first door – we were rejected and not received. We knocked number 49 …After a little while the door opened. We recognized the nice young lady that came to the door. She was surprised to see us and asked us … " So , what brings you here?" My companion began answering almost in a disappointed tone that we had been looking for a golden investigator and …I felt calmly overwhelmed to gently interrupt him. With the thought to tell this young lady the truth. That we had been asked to set aside a time and pray and asking The Lord what we should do tonight. And we have been led by the Lord's promptings to come here to knock your door to tell you that The Lord loves you and cares for you deeply. At this. The young woman began to reverently be tearful and wept. This young woman I recognized her as a nice sister who actually attended church but at that time in her life did not have her full membership of The Church. She had felt so worthless and felt imperfect before The Lord. Felt herself of no worth or value – at the moment we called at her door. She had been crying and praying or expressing feeling to The Lord that she felt so worthless to Him, I reverently say she was wanting to end or take her own life amid these exact feelings of despair. It was at this very moment she was feeling despairing and of no worth and almost about to act upon her feelings and end her life. That suddenly. A knock came to her door at that very moment. And feeling the Spirit of The Lord. And whether it be by the voice of The Lord. Or by the voice of His servants it is the same. Felt to share with her that The Lord LOVES HER personally. Her life was spared. The thoughts I have were – interesting my companions thoughts and desires were to FIND that golden investigator to teach and baptize. Almost like feeling that service on mission was measured or judged by numbers of people we baptize. That night we saw – that we prayed asking The Lord what HE would have us do ? And were guided and prompted to do what The Lord prompted us to do. Following that prompting, rescued a precious young woman from great despair. The Lord loves her just as he loves each of us. The tender mercies of The Lord are very tender and very very personal to each individual. And things happen that specifically touch each person that brings them into Christ. I recall a childhood game. A game where I would have a blindfold places on me. I'd get spun and spun around. And start walking in any random direction. But my friends would inform me if I was getting nearer or farther from the post by saying. "you're getting warmer. Or very warm. Or hot. Maybe getting colder and colder or freezing" Implying that I was getting closer or farther from the place I needed to find. I felt The Lord also plays this game with us. By letting us know we are getting warmer or colder. Or closer or farther from where we need to go by feeling the Spirit of The Lord or feelings of absence of the Spirit. I'm thankful on that night a dear sister was shown in a very tender personal way that The Lord knew and loves her. (Karl)
Before each lesson we would explain to our investigators that they would be hearing a true message and would feel the Holy Ghost confirming that to them. I know it helped them understand what they felt. Each time I talked about it, the Spirit bore witness to me that our Gospel message was true. I had no doubt I was where I needed to be, doing what I needed to do! (Keena)
I had a lot. The most memorable was when Sister Delangen and I challenged Michael J. Fox to be baptized and he accepted. (Collette)
My companion, Elder Mullenaux and I had decided to commit our investigator to baptism. We were there teaching him when the Spirit came into the room so strong and powerful that our I vestige tor Archy began to well up with tears. I quickly interrupted the lesson and asked him if he could feel the Holy Ghost bearing witness to him, of the truthfulness of what we were teaching. He said he did. Then I asked him if he felt that the things we have taught him were true. He said yes. He then said that he was ready to be baptized. We set the date and he was baptized. (Larry)
Giving blessings and seeing instant results. Studying with my companion. Being prompted to knock on that next door. Being led to a new area after fasting and praying. Loved breaking our fast on fresh, hand picked berries. Opening new areas. Listening to S Dilworth Young, Barnard P Brockbank. Loren C Dunn. Having the Prophet Spencer W Kimball come to speak and many more. Teaching the Browns. Serving with Elder Rasmussen. Listening to the prophet speak. (Shane)
What are some interesting facts about the Scotland Edinburgh Mission?
Other than it's the best mission. Scots are always up for a laugh. It's called "carrying on". Scotland is a huge melting pot. The Scots have tremendous national pride. The island is big enough to meet people with different ways of saying things, yet small enough to be serving on one coast and be transferred to the other coast. (Evan)
Served most of my mission in Glasgow (three different areas). (Nathan)
Climbing Arthur's Seat with my Mission President, Joseph Fielding McConkie, his wife, all the British Aisle Mission Presidents and their wives, along with Neal A. Maxwell who rededicated Scotland for the teaching of missionary work in October 1990. (Debbie)
Scottish people were very supportive of the United States invasion of Afghanistan and very unsupportive of the United States invasion of Iraq. (Thom)
We only had like 1 bike area…everything else was walking and cars. I flew in an airplane more times on my mission (between Aberdeen and Shetland) than I did before my mission. (Andrew)
We only had like 1 bike area. Everything else was walking and cars. I flew in an airplane more times on my mission (between Aberdeen and Shetland) than I did before my mission. (Andrew)
The famous quote of President McKay "What ere thou art, act well thy part" came from this mission. (Lance)
There are tons of castles to visit. (Derek)
Beautiful nature, interesting castles, friendly people, rough areas where you need to be wise and alert, big differences between rich and poor, contrast. (Katinka)
I never got to go to the Missionary Training Center like others did. Due to several days before I was due to first attend – I was informed they had no room and asked if I could wait till further notice. When this occurred, I volunteered myself to the President of the Irish Mission, President Gull in 1988. After 17-18 days, I was contacted again and asked to go to London – was with the group I should have been with for 1 evening – and went to London Temple the next morning then, was put on train to Edinburgh the next day. Regional accents can change so much – I jokingly say that I always wanted to learn a foreign language. Well in some parts of Scotland it can be hard to pick up the local dialect- They can be so different just 40-50 miles in another direction. (Karl)
When I served we had David O. McKay's daughter serving in a missionary couple, and also had Richard D. Hanks who is now a mission President today. (Linda)
I loved being in the Mission Home as the accountant and staff leader. A lot of work, a lot of fun and kept me out of the rain. (Dennis)
The mission home is a castle. You have a chance of seeing the Loch Ness Monster. You might experience Hagis at a dinner appointment. (Keena)
I started my mission at the bottom of Scotland (Ayr) and finished at the top. My first area Ayr was a whitewash, they had not had Sister missionaries in years. (Collette)
It was said it was impossible to baptize in Scotland. Being involved in at least nine baptisms. Finding out that I really did go to a foreign speaking mission after all. Seeing the place where David O McKay read the words "where ere thou art, act well thy part". Visiting the mound where Parley P Pratt dedicated the land for missionary work. The utter beauty of this great country. The long history but having most of the people still living in the well era. Seeing the Aurora Boreallis. Seeing it rain up. So many shades of green. Always being wet. Three mission presidents, two missions, 22 companions . Served as a trainer most of the time and loved it. (Shane)
What was the weather like?
If you don't know Scotland, then you're in for a dynamic adventure. I'm from a place that has very little weather and the weather was refreshing to me. Anyway, it's windy and rainy year round. In the winter, it's freezing, but the temperature is not extreme. It's freezing because of how wet it is. Moisture gets everywhere in your clothes. It will snow a little bit in the winter. The summers are great, still rainy and windy though. (Evan)
Wet and cold. (Nathan)
Cold. Wet. Absolutely beautiful sky. (Debbie)
Most days had a combination of sunshine and clouds. It rained frequently but not hard. The cold was only difficult when it was windy. Summer was very nice. (Thom)
Rainy and cold in the winters. Summers were quite nice. (Laurie)
Rainy all the time, well most of the time. (Andrew)
Always changing. (Jeremy)
Rainy, at times cold. (Lance)
Damp and rainy like Seattle, Washington. (Derek)
Weather was chilly, windy and damp. (Nicole)
Three months of winter and 9 months of bad weather. (Chad)
Mostly rainy, cold and for me, it seemed like only 1 or 2 weeks each year was it hot enough that you wanted to take your suit coat off. (Douglas)
Four seasons in a day as they say. (Katinka)
4 seasons in 1 day 🙂 (Karl)
I joke in saying that the first summer (1967) came and went while I was getting a hair cut, but it was nearly true. The weather can be very changeable and swing from one extreme to the other in a single day. Never go out without a rain coat or brolly (umbrella). (Gary)
Cold winter, wet summer. (Linda)
I showed up on Dec. 1st, 1971. I didn't see the sun, not one time until July 13th. Having snowball fights with kids in the park in Dumbarton was always interesting. (Dennis)
Rainy. (Nathan)
I was always in the North and only took my coat off for the last six months of my mission. (Andrew)
Lots of rain :). More so north and west in Scotland. Mild – the west side can have a lot of rain fall even in the summer months – it's not cold, but did rain a lot. (Karl)
When I in Paisley and Beth it was cold and rainy most days. There would be occasional gale force winds or torrential downpours. The worst was when the wind and rain combined and your exposed lower legs were pelted with what felt like ice shards and it felt like your legs were icicles. Good times. (Keena)
4 seasons in 20 minutes. I have never been so wet and cold in my life. When the sun did come out it was absolutely beautiful! (Collette)
Always cold and rainy. (Larry)
Wet. Very low skys. (Shane)
Any things you really like about the area/people?
The mission is the greatest. You will not find a more friendly and dedicated people. The members in Scotland treat the missionaries very well, especially if you respect them and are friendly to them. (Evan)
They were blunt. (Thom)
Everything! The country is so beautiful. The people are so kind and mostly friendly! They are cheeky and have a good sense of humor. I love the accent of Scotland. I met amazing people. (Laurie)
The land is incredible and beautiful. The people are generous and humble. Once you are a friend, you are friends forever. (Andrew)
The food, the people were for the most part very friendly and helpful. (Lance)
Very friendly people and it really is beautiful countryside. (Derek)
I love their patriotism for their country. I love that they preserve traditions. I love their music and dancing. Scotland is the most beautifully untouched country I have visited. It's is breathtaking. (Nicole)
Straight forward. (Chad)
The people are so nice and willing to serve each other. The place did not seem to have very many insects or dangerous animals (besides the Rottweiler's). A lot of selection in food and the heritage and sites to see were fun. (Douglas)
Again, very friendly people and a beautiful historical country. (Katinka)
Coming from Northern Ireland where many having a conflict of social identity. I loved how everyone seemed proud of their heritage and Scottish identity irrespective of religious background in comparison to the challenges in Northern Ireland in mid 1980's. (Karl)
The people were generally very friendly once you get past the first "you are a foreigner" look. They are very willing to help when it is needed. (Gary)
Love the place and people. (Linda)
I loved the people and most of the places I served. I didn't care much for Paisley because we lived across the street from a glue factory and it stunk all the time. (Dennis)
I got to learn a foreign language in English. (Karl)
The scenery and landscape are breathtaking. The members are wonderful and accepting. The Scots are a wonderful and proud people. (Keena)
I loved how much the members adored us. I also loved that when we were let into a home, that we were always treated like royalty. (Collette)
I loved their sense of humor and hospitality. (Larry)
Very friendly. As long as your not talking religion. Stalwart, loving. Loved the Denny-Sterling area. BUT ALL WERE WONDERFUL. Very proud of their heritage. Loved the large thistles. (Shane)
Any packing/clothing advice?
Don't pack warm clothes before hand. Buy all of your warm clothes there. The outerwear is better there and more suitable for the weather. (Evan)
Bring a performance raincoat. Not a "dressy" one so much as one that is entirely waterproof. Bring leather shoes that can be waterproofed. (Thom)
Shirts and skirts are good to mix and match. Fashion didn't matter as much just thicker and durable is better. At least one nice dress for Zone Conferences. Thermals and sweaters are good. Get good walking shoes. (Laurie)
Don't take a trench coat even if the packing list says so. You will abandon it after the first rain. Get a nice Gortex coat. (Andrew)
Get yourself a good Gortex jacket instead of a trench coat. (Jeremy)
Take a rain coat. And waterproof your shoes. (Lance)
Warm clothes in winter, buy 2 pairs of pants for each suit. (Derek)
Shoes that can get wet. Warm waterproof rain coat. (Nicole)
Light rain jacket that can be packed in a small bag. Many days it will rain for just 20 minutes. (Chad)
Just bring money and purchase your coat in Scotland. They have the best options for the weather and you will most likely not bring the right thing. (Douglas)
A warm rain coat and waterproof shoes. Gloves. (Katinka)
Only bring winter clothes if you come from a cold climate. You will need many layers to survive, especially on the North Sea coast. When the wind comes of the mountains of Norway, it will bite through most winter clothing. For me, a small beret and ear muffs when needed, was the best in winter, because they can be stuffed in a pocket when you go inside. (Gary)
Clothes are good quality and affordable, it is your choice, but I would purchase the here. (Linda)
Cotton not polyester. (you get what I mean). (Dennis)
Gortex jacket is a must. (Nathan)
Dress boots that are big enough to wear several layers of socks in. You can get all the rings you need for the weather when you get there, i.e. wooly tights, duvet, hot water bottle, wax jacket, etc. (Keena)
Thermal underwear and buy Doc Marten boots. (Larry)
Buy your suits and shoes in Scotland. They are designed for the weather. Invest in a good raincoat…a good umbrella. Remember that pants are called trousers and suspenders are called braces. Rubberize the soles of your shoes or else the salt water will just eat through the leather. (Shane)
What blessings did you receive from serving a mission?
So many and too personal. (Evan)
I learned so much about the Book of Mormon. Strengthened my weak testimony. (Debbie)
My testimony of the restoration grew and was stronger. I have greater faith. I meet so many super missionaries and people there. My appreciation and love for America is greater and stronger. Learned to love the Scottish people. (Laurie)
I learned how to learn. Before I was a C- student. I came home and became an A student. I also learned how to listen to the Lord and to feel the Spirit. (Andrew)
So many it's hard to count. The most important was the growth of my Testimony. (Lance)
I received a stronger testimony and love for the gospel and my family. (Derek)
Too many to name and some cannot be expressed in words. Mainly, a true testimony of Jesus Christ that anchors me through all the challenges I have weathered. A blessing on my mission was that as D&C 4 states: if you have a desire to serve, you are qualified for the work! I was qualified! Missionary service is a blessing itself and will follow you throughout your life. (Nicole)
Solid testimony of Jesus Christ, knowledge of the scriptures and I learned how to serve. I also was exposed to other cultures and people and it helped me learn that everyone is a brother and sister, we are all children of our Heavenly Father. (Douglas)
So many it is impossible to count! I learned so much about the gospel and as a convert it was to me, priceless. I learned to rely on the Holy Ghost. I learned how the Holy Ghost warns you too. And I could see in others how the gospel worked to transform lives. (Katinka)
Was wonderful to witness lives change for the better. (Karl)
I learned to stick to the task "What e'r thou art, act well thy part," and trust in the Lord for the rest. (Gary)
Many blessing and many friends which are blessings in themselves. (Linda)
Nothing definite, but a stronger testimony of the restored gospel and our Savior and Heavenly Father. (Nathan)
They seem to increase within as the years go by. (Andrew)
Learned to speak another version of English 😉 I did struggle after mission because I'd no family to return to. I wish someone helped me more – I was employed in a secure job actually by The Church before my mission. Yes I left my job to go on mission, BUT I didn't know I could have resigned my job for the duration of my mission and had a secure job to come to on my return. That would have provided some stability for me to provide and sustain me to get the basic necessities of life provided for so I could have housing and then begin education part-time and have a place to live. It's funny that 25 years after I served as a missionary. I was back in a different town – one in which I'd never been as a missionary – we attended church and enjoyed the final speaker who shared a story about a European missionary who was serving in the states. During his mission in America, he met a man that had been less active and a returned missionary from many years before. Who happened to have served back in his home country. The less active returned missionary felt discouraged and felt a failure as he only baptized one person while a missionary many years before back in the current missionaries home country. The returned missionary asked the new young Elder if he happened to know — and named the one person he taught? The young missionary replies by saying … "yes, that was my father". He married and had large family – all married in the temple, etc. and I'm here on my mission now said the young man. The sacrament meeting ended where I heard this story told. Then one of the bishopric members walked to me and said hi. Asking if I knew who he was? He looked closer to me and described a young student with long long hair and a beard. My last area in Glasgow – a wife invited us to come to dinner with her non-member husband and cautioned us that we must not mention The Church. Hmm. Did I listen? No. Well before me now is this man who I challenged and invited him to be baptized 26 years earlier. He apologized saying it took him 13-14 more years. But here now he is. Serving in the bishopric. (Karl)
I made lifelong friendships with members and fellow missionaries. My testimony of the Gospel grew to the size of a giant. It is an experience like no other I've experienced. I wouldn't trade it for anything! (Keena)
I gained a love for the people of another country. I gained a testimony of The Book of Mormon, the restoration and the prophet Joseph Smith! (Collette)
My testimony has lasted my entire life. The studying and praying made me a better disciple of Christ. (Larry)
Wonderful memories. Wonderful experiences. Working with 21 great companions. Serving under three great Mission Presidents in two wonderful missions. Fond memories, lifetime friends, a deeper knowledge of the gospel. Enriched my life. (Shane)
What are some skills you gained?
My communication skills improved. Study habits were developed. Working a 13 hour day helped my work ethic. Learned how to train someone who had no idea what to do. (Evan)
I learned to approach people and talk to them even though it feels uncomfortable sometimes. (Thom)
Reading and Studying the Scriptures. Enduring to the end. Patience. Work. Driving on the other side of the car and road. Communication skills. Adapting to new things. (Laurie)
I gained the ability to speak on any subject without preparation time. I learned how to budget. (Andrew)
Personal accountability. (Jeremy)
I'm now very good with my social skills. (Lance)
Teaching, confidence, speaking more quickly, and serving with joy. (Douglas)
Ability to Not Be Afraid Of Public Speaking and not be intimidated cold calling in my jobs. (Derek)
Proper scripture study skills Following the spirit. How to bear a testimony How to organize and communicate thoughts effectively. How to pray with all your heart!! How to chase a bus down! (Nicole)
Public Speaking, Teaching, Knowledge. (Chad)
To plan and be better organized. (Katinka)
Got to learn a foreign language, lol. If one can speak English already then move into Scotland and hear various accents and different ways of communicating. (Karl)
Walking in cadence with a swinging brolly. How to mount and dismount a rear deck bus while it slows to turn a corner – not always at a stop. (Gary)
Better cooking skills and how to get from A to B without the use of a sat nav. (Linda)
To live with someone else. (Andrew)
I learned to manage my finances. Work and live with people who I did not get along with. (Collette)
Self reliance, confidence and compassion. (Larry)
Leadership. Teaching. Better teacher, (Shane)
What do you wish you knew/did at the beginning of your mission?
Not stress out about being the best missionary in the mission. (Evan)
Humility and not be afraid. (Laurie)
I wish I knew the scriptures better before I left. I also wish I didn't think I knew it all. I missed an opportunity to learn from an amazing missionary because I was prideful. (Andrew)
Spent more time on listening to the Spirit and studied my Bible more. (Lance)
I wish I had gone out with missionaries more to get some more experience. (Derek)
I wish I had thought less about myself and more about the needs of others, especially my companions and investigators. I wish I followed the Spirit more instead of a script. (Nicole)
Not all missionaries are obedient. (Chad)
More about Christ and what he taught in the Bible so I could relate to non-members better. (Douglas)
Nothing other than what I was lucky to hear by a returning missionary at my MTC before I started mine; your mission will be over faster than you can imagine. Make it worth it. Be sure to give it your all so that you can return home knowing you did what you could. (Katinka)
Because of my personal family situation at that time, my twin sister and I had our mother die before we were age 2. Our birth father paid privately for a family to look after us from age 2 till age 12. From 12-16, we lived in his house. But at that point, he distanced himself and physically and emotionally separated himself from us, leaving us to fend completely for ourselves from 16 onwards. I think due to this, being on our own from age 12 till 16 then completely unguided and alone. I felt inadequate as far as many learned social skills that many other young people I feel developed naturally coming from better or more supportive family backgrounds, that most other young missionaries came from. (Karl)
How to understand the language. It is sort of like the English spoken in the United States, but for a few weeks, many people were just talking gibberish to my untrained ears. (Gary)
How to not be afraid. (Linda)
How to understand the average Glasgow citizen. The rest of the country was easy to pick up, but Glasgow was tough. (Dennis)
More about loving people. (Andrew)
Put your faith in the Lord. Follow the prompting of the Spirit at all times. Love your companion and help them as much as you possibly can. (Keena)
How to budget and manage my finances better. (Collette)
How important it is to be prepared to teach. Understand gospel principles better. (Larry)
Prepared better in studying. Lived a more righteous life. How short their beds are. More old testament. (Shane)
Any advice/testimony for pre-missionaries going to Scotland?
As long as you show your love for the members, they will treat you well. Do not do anything that will diminish their confidence in you as a missionary because that will not just affect you but future missionaries that serve in that area. (Evan)
Don't go unless you really want to. Don't go expecting to gain a testimony. Don't go just to please your parents, friends, or future dating partners. If you decide to go, do everything you can to go to a foreign or at foreign-speaking mission. The experience will be much more valuable in your future. (Thom)
Learn to be obedient. Learn to love the people you serve. Study the gospel and scriptures. Pray and develop a relationship with your Father in Heaven. (Laurie)
Learn to talk to people and listen to them. Realize that seeing people as people will be the key to success. Love them as he would. (Andrew)
Focus on your father's goals for his children and not on the amount of baptisms you have or get. (Lance)
Love the people you are serving. They have a hard outer shell, but are very loyal and will do anything for you once you gain their trust. (Derek)
Learn how to work BEFORE you go on your mission. Build your own testimony before your mission. However, your testimony will grow in ways you could never imagine. Repentance is a gift… USE IT! (Nicole)
As you serve you mission, I want you to remember the "OWL." O – Obedient: be exactly obedient, the Lord promises rich blessings to those who obey. D & C 130:20-21 W – Work Hard and Work Smart: "The greatest secret to missionary work is…work! If a missionary works, he will get the Spirit; if he gets the Spirit, he will teach by the Spirit; if teaches by the Spirit, he will touch the hearts of the people and he will be happy. Work, work, work- there is no satisfactory substitute , especially in missionary work." Ezra Taft Benson L – Love: love the people, love the members, love your Mission President, love your companion. If you ever struggle to love someone, pray for them aloud and if possible in their presence. Moroni 7 :47. We love you and wish you the best! Return with Honor. (Chad)
Remember prayer is so important. Once I had a missionary companion that would not pray for help in finding someone to teach while we were out tractingto teach because he claimed it never worked for him. We were not finding anyone to teach. Finally, I talked him into letting me pray. A prayer was said and soon after we were able to get into a door and teach. I have found that sincere prayer is the key for being led and guided. (Douglas)
Be prepared for anything and everything. Be rule keepers. The Lord will bless you for keeping even the smallest of rules. Pray a lot. If you are to knock on doors, pray to find out which area and which street and pray to find those who are prepared to receive. Smile. Show people that this is a gospel of joy. And never give up. Something good will come around the bend. (Katinka)
I went on a mission of my choice and decision. I did find myself socially awkward coming from the background I came from. But there were many who I could understand and communicate with because I didn't have a sheltered, pampered life with supportive family around about me in my teen years. I am a rare case. I never actually had the experience of attending the MTC for 3 weeks, 2 days before I was due to go on mission I had a knock on my door early on the Saturday morning informing me that there was no room at the London MTC and asked if I might wait another few months or till whenever? This was a shock. I had already left my job, etc. So I contacted the president of the Ireland Dublin Mission, President Gull asking if I might be of any use to him explaining what had just happened. I wanted to be anxiously engaged in a good cause until matters were resolved. Asked if I might volunteer to be of use to him. So I went to Dublin to work in the mission office – after 2 and a little weeks. I had a prompting that I needed to go 150 miles home. I arrived late Thursday night – then early Saturday morning again came another call at door. To inform me that Elder Maxwell had asked if I might go to the London temple on Monday coming. I went or attended a final testimony meeting WITH the missionaries that I should have been with the past 3 weeks. They went on assignment on the next morning – I went to the London temple and then put on a train to London City to catch the train to Edinburgh Scotland. During the testimony meeting half way through the closing prayer given by the MTC president. He spoke of our missions. And regarding having taught many of our friends the gospel in the pre-existence. He said that on our missions we will meet these people and continue teaching them from where we had left off before. That we would remember them and they us. How tender it was to meet someone that shares that only wanted to be happy. And often as a child dreaming this dream of wanting to be happy. Followed by meeting someone who would have them wear white and bring them into water. And then they would receive the happiness they sought. To learn this person knew who I was the minute they saw me because of a dream they always had and can't recall not having this memory or that dream. (Karl)
Be worthy and willing to work and you will learn to love the people and find success in spreading the gospel. (Gary)
Live the gospel before. (Linda)
Learn how to smile. Don't be so serious that you're unpleasant to be around. (Dennis)
Love the people you will meet like the Saviour would. (Andrew)
As you've heard many, many times…..A mission is one of the hardest things you will ever LOVE!! (Keena)
No girl friends before the mission. Go on group dates. You don't need a one on one relationship until after the mission. (Larry)
Learn quickly to love the people. Just love the people. Serve with all your might and obey the mission rules. (Shane)
What was a funny language mistake?
Don't say words you've heard on television like "Bloody", "Bugger", "piss" etc. they are extremely offensive. (Evan)
Don't ever say ride or flower…those are bad words. (Debbie)
I had a habit of using the word "crap" way too often. That word is much more vulgar in Britain than in America. (Thom)
Never say that you have a bloody nose. In Scotland, everyone has a "bloody" nose, but not everyone has a nose bleed! (Jeremy)
I said I spilled something on my pants which there means underwear. (Lance)
Fanny is a woman's private parts. My trainer, when he was a greenie, wanted a fanny pack instead of a back pack. When he wanted to get it and went for a store to get it, he asked for a fanny pack. The gave him a box of tampons. He wanted a "bum bag." (Chad)
I remember being asked if I wanted juice and I was thirsty and hot and so of course, I did. They brought out a caffeinated soda. I had to decline. I learned very quickly that juice means any fizzy drink. (Douglas)
If you are American, beware that the word crap is a swear word in Britain. (Katinka)
I often joke that the thing I loved about going on a mission to Scotland was that I always wanted to learn a foreign language. It was wonderful. (Karl)
Things to learn right away: President David O. McKay is pronounced "McKye". A napkin is what goes on the baby's bottom. A serviette goes on the table. Petrol goes in the tank of a car and gas goes in the tyres. The lid that opens on the front of a car is the bonnet and the one in the rear is the boot. Never cross the street in front of a taxi as they are liable to run you down. (Gary)
Pants–to us that means outerwear; over there it means underwear. When getting a haircut, what we call bangs are called fringe. Also regarding visiting a hair salon, make sure you've communicated what you want and the stylist understands. One of the sisters with fairly long hair went in and asked for a trim. At that time there was a popular haircut called the "trim". What that sister actually got was what we would call a pixie cut. (Keena)
Asked a sales Clark to see her pants. And another one, if she would show me her suspenders. Pants are underwear and suspenders are bras. It's not plaid. It's tartin. (Shane)