Free resources about the Russia Samara Mission:
*Other Mission Pages: Russia LDS Missions.
---
---
Russia Samara Mission Address
Here's a recent address for the Samara Mission. We try to keep this info up to date, but it's a good idea to check the mission address with several sources, including your mission packet or the mission office.
Russia Samara Mission
Vodnikov Street 95-1
Samara
Samara oblast 443099
Russia
Phone Number:  7-846-310-2829
Mission President: President S. Eric Ottesen
Russia Samara Mission Map
Here's a link to the mission map for the Russia Samara Mission (LDS). To access the official, up-to-date LDS.org map for the Samara Mission:
Log into your LDS account here.
Click here.
Videos with Samara RMs
Here are in-depth YouTube video interviews with returned missionaries from the Samara Mission.  We interview hundreds of returned missionaries each year, so check back regularly to see new RM interviews.
LDS-Friendly Videos about Russia
Here are LDS-friendly educational videos about Russia. We scoured YouTube to find the best quality videos about Russia, that are free from inappropriate music, immodesty and profanity.
Russia Samara Missionary Blogs
Here's a list of LDS missionary blogs for the Samara Mission. This list includes the missionary's name, URL and when their blog was updated.
*Send your missionary a gift (mission-specific shirts, ties, Christmas stockings/ornaments, pillowcases, etc.)
Russia Samara Mission Groups
Here are Samara Mission Groups- for LDS missionary moms, returned missionaries, mission presidents and other alumni of the Samara Mission.
Russia Samara Mission T-Shirts
Here are T-shirts for the Russia Samara Mission!
Shirt designs include Rusia Samara Mission logo/emblem shirts and Called to Serve shirts. The shirts make great gifts for pre-missionaries, returned missionaries and missionaries currently serving. LDS Mission shirts come in all sizes: Small, Medium, Large, Extra Large, up to 4XL.  The mission designs are printed on white shirts and are shipped to you.
*Simply click on a shirt design to view the details and submit an order. The designs on mission t-shirts may also be printed on other LDS mission gifts, including: Samara missionary aprons, Christmas stockings, ties, pillow cases, teddy bears and Christmas ornaments.
*Click here to browse Samara Mission gifts
---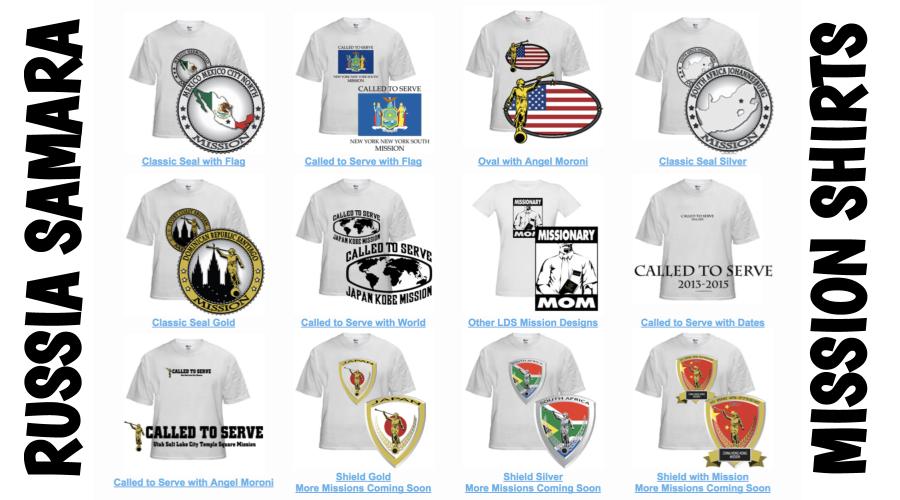 ---
Russia Samara Mission Presidents
Here's a list of current and past Mission Presidents of the Samara Mission.
2016-2019, S. Eric Ottesen
2013-2016, Michael L. Schwab
2010-2013, R. J. Sartori
2007-2010, Randall Kay Bennett (Listen to an interview with the Bennetts)
2004-2007, Michael Michaekovich Davidek
2001-2004, Norman Curtis Boehm
1998-2001, Sheridan Ted Gashler
1996-1998, Cordell Wold
1993-1996, Arlo Nelson
Russia LDS Statistics (2015)
Church Membership: 22,472
Missions: 7
Temples: 0
Congregations: 95
Family History Centers: 56
Helpful Articles about Russia
Russia Samara Missionary Survey
Here are survey responses from Samara RMs, to give you a snapshot into what it's like to live in the mission.
*Click here to take a survey to help pre-missionaries going to your mission.
When did you serve?
1999-2000 (Alyssa)
2001-2003 (KC)
August 1995-January 1997 (Sharon)
November 2009-November 2011 (Nelson)
Late 1990s (Wendy)
November 1999-May 2001 (Shauntai)
2012-2014 (Chuck)
2007-2009 (Trevor)
What areas did you serve in?
Saratov, Togliatti, Engles. (Wendy)
Saratov but visited all the other branches occasionally. Also got to travel to Turkey twice and Moscow a few times and St. Petersburg once. (Chuck)
Saratov (18 months), Penza (3 months). (Trevor)
What were some favorite foods?
Bread and cheese, Pelmeni, Salads, Vereniki. (Alyssa)
Pelmeni, shashlik, plov, shaurma, parmalat milk, dark chocolate, frozen Fanta pop, McDonald's (I swear it's better there 🙂 ) (KC)
Borscht, Peroshki. (Sharon)
Pelmenni, Borsh, Plov, Cnezhok. (Nelson)
Blini, shee (Cabbage soup), salad (cucumbers, tomatoes, & onions in vinegar), pelmeni, piroshki (oh my gosh, I miss those!), this cake-type desert called "napoleon", chibureki (a kind of flat meat pie that always made me sick, but I loved it so much I didn't care), eggplant, these cookies called "priyaniki", and the bread. The bread. THE BREAD!!! So amazing. Also, I heard they made excellent shashliki, or shishkabobs, but I never got to have those. (Wendy)
Small ice cream cones from the vendors. German pancakes from the mission recipe book. Chicken and beet sandwiches on black bread. Corn and crab salad as taught by Sister Maksimova! Tvorog Mentos Pumpkin juice!!!!! (Shauntai)
Shashlik. Sorlanka. (We served as senior missionaries so forgive the poor language skills) (Chuck)
Borsch, plov, pirozhki, blini. (Trevor)
What was a funny experience?
Too many to count! Being chased by dogs. Being spit on. Wearing fur hats that are so tight and big that I was yelling but didn't realize it, because I couldn't hear myself. (Alyssa)
Skits at Christmas Zone Conferences. Make sure to enjoy appropriate humor, think President Gordon B. Hinckley's style. (KC)
Trying to cram my way onto the tramvy. I wasn't pushy enough and didn't make it on before the doors closed in my face. I was left standing there dumbfounded, while my companion rode off without me. (Sharon)
Being kissed by a drunk man. (Nelson)
I was having some serious tooth pain, and decided I needed to go see a dentist. The mission office found a "reputable" dentist in our area and gave us the address, so my companion and I went off to get my teeth fixed. We walked in and filled out some paperwork, most of which I couldn't understand, and waited for my name to be called. While we were waiting , the door opened and these three guys in scrubs came walking in wearing flip flops and traipsed back into the offices. I was so caught off guard by the dentists wearing flip flops that I started laughing and said, "I hope none of those guys are my dentist! Flip flops? How unprofessional!" When it was my turn, we followed a lady back to a little room, and I sat in the chair to wait. This big guy came in, and I was glad to see he wasn't wearing flip flops. He said he was going to do some x-rays, so I opened my mouth, and next thing I know, his big, hairy fingers are shoving those bite things in my mouth, and he's NOT WEARING ANY GLOVES! I started gagging (because I could only imagine where his hands had been) and he's all, "Calm down! This will only take a second!" Then he goes out of the room and I hear the machine buzzing. He had forgotten to give me the lead blanket thing to cover me! Then he came in and did the other side. I jerked it out and asked for a covering, and he said "We don't have those. It'll be fine, you really don't need it. Put the thing back in!" and left the room again. I said a quick prayer that my insides wouldn't fry and I wouldn't get any diseases from his hands, and put the thing back in. Later, when the x-rays came back, he looked at it and said "Yep, you have a big cavity underneath that metal filling. I'd pull it out and fix it, but the filling is so nice and well-done, I don't want to ruin it. Just wait until you're back in America and your dentist can do it. In the meantime, don't eat or drink anything hot or cold, or sweet. Also, don't chew on that side, and you'll be fine." I took a lot of Ibuprofen during the next three months and drank a lot of lukewarm herbal tea, and when I got back home, I had eight cavities filled. My dentist thought that story was hilarious. (Wendy)
Slipping in the same, darn spot every morning in Solnechney with Sister Feld! Losing our apartment keys in the snow after sledding with the zone in Solnechney. Being let into our apartment by "Spasiteli" another time we locked ourselves out. Blowing up sweetened condensed milk all over the apartment kitchen ceiling. Memorizing discussions in freezing cold showers and learning later to boil water on the stove in a metal bucket. (Thank goodness for native companions!) Trying the old rumor that eating ice cream on a freezing cold day would warm us up, again with Sister Feld. Doesn't work. (Shauntai)
I was asked to bear my testimony at a baptism…so I used my caveman Russian. After I finished my Russian buddy came up and asked if I could say shhhhhhhh. I did so. He said the word I wanted was shto. I asked him what I had said and he said sto…which means 100. So, my testimony said I know 100… At the same baptism Elder Reshetnikov, then an Area 70, came up and said my Russian was horrible but he could feel the spirit when I spoke. When we came home we gave a fireside to some potential senior missionaries and I bore my testimony is Russian…which really impressed them! Afterwards a lady came up and said that she couldn't understand my Russian but she could really feel the spirit when I spoke. So, apparently I am tri-lingual! Or the spirit speaks in every language which we found to be true. (Chuck)
My companion's leg falling through the ice when testing the thickness of the frozen pond. (Trevor)
What was a crazy experience?
Going to jail for not having my passport with me. Being mugged. (Alyssa)
Stray dogs, slipping on ice, groups of teenagers. (KC)
Having drunk men pounding on our door and ringing the doorbell in the middle of the night. (Sharon)
A drunk police man threatening to punch my greenie companion. (Nelson)
One night my companion and I were coming home, and some guys started yelling at us to come party with them. Drunk guys yelled at us all the time, so we ignored them and kept walking. Just around the corner from the stairwell to our apartment, one of them came up behind us and grabbed us both really tight, around our arms and waists so we couldn't move. I don't know how he was so strong, because he was shorter than me and very drunk, but we couldn't get away. He was telling us we would have so much fun if we came with them, and probably other things that I thankfully couldn't understand, and my companion was saying in English, "Lemme hit him! Lemme hit him and we'll run!" I was pretty sure that would be a bad idea, since there were three more guys standing by us, watching and laughing, so I told her no. I kept trying to reason with him, trying to get him to let us go, and waiting for the Spirit to zap him or something, but that never happened. Eventually he let my companion go and then had both arms around me, trying to kiss me and drag me towards his group of friends. She was pulling on his arms, trying to get him to let go, and I was squirming around and calling for help, but no one would stop. They just kept walking by. My companion told me to "push on 3!", so she counted to 3 and we pushed him at the same time and he let go and fell down. We took off running around the corner and passed by a group of our babushki friends and called to them that there were some men after us. They said to keep running and they'd help us. We flew up three flights of stairs to our apartment, ran in, and slammed the door. Then, of course, we both fell on the floor and started laughing, because what else do you do? A few minutes later, one of the women came upstairs to make sure we were ok. She told us that the men had asked them where we went, and they told them we went down the street to another apartment. We gave her huge hugs, we were so grateful for their help! The next day we took them cookies, because like I said, always make friends with the babushki! (Wendy)
Umm, can we say Russian taxi? 🙂 After an especially spiritual zone conference, our zone went to see "West Side Story." The costumes and choreography were less than uplifting. Being a dance major, I was trying to convince myself that it was worth staying because the technique was so strong. My awesome companion, whose name is now Margo Larina, said, "I'm not going to sit here and watch this smut." She stood and I followed her out, only to turn and see the rest of the district follow. I was so grateful for a strong companion that day. (Shauntai)
I got attacked by a midget. And it wasn't funny so quit laughing. It was on a Sunday and then ext day we drove with our Church Education Services Coordinator to a town 23 hours away by car. When we got the Tuesday I met a missionary I had never met before who served in this little branch in the middle of nowhere. When I introduced myself he said, "You're the guy who got beat up by a midget!"(Chuck)
Being chased on foot by a guy trying to run us over with his SUV. (Trevor)
What was a spiritual experience?
The Holy Ghost giving me a strong prompting to STOP while my companion and I were in a dead sprint to get home on time (dark outside) and just as I stopped, I saw a barb wire fence right at eye level that I was about to run head into. (Alyssa)
Teaching the Gospel and feeling the Spirit. Remembering specific street corner discussions 12 years later. (KC)
There were lots of spiritual experiences, but here's one I'll share- we were walking home one night after a long day of working hard and I just had an overwhelming feeling of love as I looked at the clear night sky and the words to the scripture 'be still and know that I am,' went through my mind. (Sharon)
Seeing a man who had smoked and drank for 50 years give it up cold turkey. (Nelson)
Once we were gathered for a baptism, but for some reason, the investigator (not ours) didn't show up. Everyone was disappointed, but just then Irina, one of our investigators who had come to see the baptism, said "I will be baptized today!" She was barely 18 and had been coming to church for a year, but her parents had wanted her to wait until she was older and she didn't want to make them angry. But that day, she decided she was getting baptized no matter what. We were worried her parents would be angry, but she said it would be fine, because she was ready. So we went ahead with the baptism. It was a wonderful, peaceful, and happy day. Afterwards, she went home and told her parents, and miraculously, they were ok with it. She has been a rock ever since then. She came with us on discussions often, and her testimony and example were always a welcome addition to our lessons. She later got married and was able to go to the Swiss Temple a few years later to be sealed to her husband. They have a little girl and are still very active in their branch today. I have always been grateful that she was willing to listen to the Spirit and do something she was initially afraid to do. (Wendy)
Being at a baptism of people I had taught, and realizing that in the end, I had had very little to do with it. It truly is the Lord's work. (Shauntai)
Too numerous to list. Baptizing a young man who is now serving a mission in Rostov was awesome. Baptizing a genuine Russian ballerina was cool. Best was when the spirit directed a guy like me to do something and it bore good fruit. (Chuck)
Giving a blessing of comfort to the Reshetnikovs before they flew to Salt Lake to be called as the first Russian general authority. (Trevor)
What are some interesting facts about the Samara Mission?
In Saratov there is a large group of Deaf members in the Dachney branch. They are amazing! There are lots of Armenians and Georgians in the Samara Mission. They are the best. (Alyssa)
It's very large geographically, the Volga River runs through it. There are lots of Muslims from Tatarstan and the -stan countries. (KC)
There is a small republic called Udmurtia where there is a city called Izhevsk, it's where the AK47 was invented and there is a museum dedicated to it. (Nelson)
Yuri Gagarin, the first man in space and the first to orbit the earth, landed his spacecraft, the Vostok 1, 16 miles outside of Engles, where I spent 9 months of my mission. There's a big statue and monument dedicated to Yuri at the landing site. It's pretty cool and the Russians are very proud of it. The city of Togliatti is home to one of Russia's pro hockey teams, HC Lada. Monthly hockey games made for some pretty fun culture nights! My mission was also the mission where the two Elders got kidnapped. I was in Engles, right across the river from Saratov, during that time and the mission president made all of us in Engles and Saratov cancel all our appointments and stay indoors for FIVE DAYS while the whole thing was going on. It was a very weird time, but everything turned out all right in the end. Also, the longest bridge in Russia spans the Volga from Engles to Saratov. The bridge is 1.75 miles long, and the view of the Volga from the highest point of the bridge at sunset will stay in my memory as one of the most breathtaking things I have ever seen. (Wendy)
Saratov was made a stake a few months ago. Wish we could have been there. (Chuck)
Most the cities lie along the beautiful Volga river. Yuri Gagarin landed near Engels after being the first human in space, and now they celebrate Space Day annually. (Trevor)
What was the weather like?
Freezing, gray, dry…Warm, humid summers (short summers though). (Alyssa)
Hot and humid in the summer. Bitter cold in the winter. I loved my Russian leather coat with faux fur inside, that I bought at the market. (KC)
About like Utah. (Sharon)
Cold in the winter, hot in the summer. (Nelson)
I'm from Idaho and lived in Rexburg for three years, so I thought it was pretty comparable. Don't get me wrong- winters there were snowy, long, and cold. Really cold. But like most places, it wasn't constant- it did get down to -40 degrees sometimes, but a cold snap like that would only last for a couple of weeks at a time. The rest of the time it was like a normal Rexburg, Idaho winter to me. The summers were surprisingly hot (90's average, except for a heat wave that was in the 100's for two or three weeks) and humid- I am used to a desert climate, so any humidity is a lot to me, and it was certainly not what I was expecting from a place so famous for it's bone-chilling winters. (Wendy)
Cold. Icy. Hot. Humid. (Chuck)
Frequently 0-20 degrees Fahrenheit from November-March with a constant layer of dirty, frozen snow those months. March and April were always filthy as all the snow melted and everything became mud. The summers were much hotter and more humid than expected, getting up to 100F throughout August. (Trevor)
Any things you really like about the area/people?
EVERYTHING. (Alyssa)
They're warm and friendly once you earn their trust. (KC)
Everything. I absolutely loved it all. (Sharon)
They had a hard shell, but once you got past it, they were the most hospitable people I have ever met. (Nelson)
Some areas in which I served were postcard scenic, while others were not, but I grew to love them all and saw beauty in some unlikely places. We went on several day trips to do service at people's dachas and for youth activities, and discovered lots of beautiful forests and lovely river views in places I never would have expected. I'm from a small town, so public transit was weird at first, but when I got used to it, I loved it. They were dirty and smelly and usually running late, but it was better than walking, which we still did a lot of. I missed the public transit when I came home, and I still get weirdly excited when I get a chance to ride a bus or Trax or FrontRunner. The people I met were, by and large, some of the warmest, kindest, and most generous I have ever met. The poorest of them would feed us and worry that we weren't warm enough or that we had to walk so much. It was so amazing that they wanted to take care of us when they had so little themselves. We always made sure to befriend the groups of older women, or babushkas (grandmas), who were everywhere, and they would call us "their girls". They always watched out for us, and a few times chased off unsavory characters for us, because there is nothing scarier than an angry pack of babushki protecting their young. So many of the people we met were such hard workers, and their economy was such a mess that most of them got paid very little, if anything at all. They would complain a little, like any normal person, but then got up and found a way to take care of their families. They didn't sit back and wait for someone to swoop in and relieve their burdens, because there usually wasn't anyone around to do it anyway. I really admired that, and I was grateful that my parents taught me how work, because when we would offer to help them in any way, they would take us up on it and then work us HARD. It was fantastic! (Wendy)
Wow. So, so much. I loved the cultural variety. I loved seeing them grow. I loved Saratov in the spring, the Women's Day holiday with everyone handing out flowers. I loved overlooking the river from the meeting house in Balakovo. (Shauntai)
Everything. We have been home for 15 months and we miss the people EVERY day! (Chuck)
Russian people are brutally honest, which I learned to appreciate. They seem cold at first, but once you become friends, they are very open. (Trevor)
Any packing/clothing advice?
Buy winter coats there (in Russia). You can buy real fur for cheaper! But get your boots in the USA. (Alyssa)
Bring mittens- not gloves- an umbrella, Russian coat, and in general, wear what they wear for the weather. Show that you are adopting their patterns inasmuch as you are allowed and is prudent to do so. (KC)
It's so different now than it was when I was there. (Sharon)
Bring a light, but warm coat- heavy coats will make your shoulders sore. Bring good boots with good ankle support. Buy an animal fur hat- they keep you warm in the coldest temperatures. (Nelson)
Contrary to popular belief, Russia is not a third-world country. Yes, there is a lot of poverty, but since missionaries have money, they can find most everything they need. Warm winter clothing and boots can be purchased over there, along with any clothing and hygiene items you need, so you don't need to stuff your suitcase with a huge coat and boots and 18 months worth of feminine products. Yes, they may have to settle for different brands for 18 months or two years, but it can be done. Obviously, things like extra garments, prescription medications, contacts, extra glasses, your favorite pain reliever, etc. need to be taken with you, because getting those things over there was nearly impossible when I was there (late 90's), mainly because they took so much time. But in general, I found that getting what I needed was much easier in Russia than it was in the MTC! (Wendy)
Buy it all there. You don't want to stand out like a sore thumb, and experiencing the culture with the natives is an incredible experience. (Shauntai)
You can buy what you need there. We worried way too much about what to bring. (Chuck)
Bring really nice, warm, comfortable boots. (Trevor)
What blessings did you receive from serving a mission?
My Dad quit smoking after 52 years and started going to church. We went to the temple when I got home. Best blessing ever. (Alyssa)
My mission expanded my whole range of emotion- higher highs, lower lows, greater love and deeper sorrow. I gained more appreciation of my family. Gained testimony of more Gospel teachings. Friends. More sensitivity to the Spirit. (KC)
Too many to count. The many people I met and grew to love. Watching those who were baptized grow in the Gospel and go to the temple. The memories. The opportunities to serve. I could go on and on. (Sharon)
I am still fluent in Russian. I found my savior. (Nelson)
I met people who touched my life in ways I am still discovering 18 years later. I learned a new language that has helped me in a lot of unexpected ways (like this time when I was working at a book store, and these two Russian ladies came in and were looking for a certain book. I heard them speaking Russian, so I came up to them and in Russian, offered to help. They were amazed and so happy someone spoke their language. I helped them find what they needed, rang up their purchases, and they left with huge smiles on their faces. It was fabulous.) I got a job teaching Russian at the MTC when I got back, which was also an amazing experience, and it was while I was working there that I met my husband. He was working at a restaurant and the night we met, we started talking about the MTC, because he was interviewing for a job there the next week and was hoping I could give him some pointers. He had served in Moscow, so we had a lot in common. He didn't get the job, but he called me up later and asked me out anyway, and we really hit it off. Obviously. I've also been able to bear my testimony about missionary work with my children, the kids in Primary in our ward, with the young women in our ward, and pretty much anyone who will listen. In our home, we talk often with our children about how important missionary work is for everyone, not just young men. It's been a great blessing in my life! (Wendy)
Daily testimony strength. (Shauntai)
Spiritual growth, closer relationship with each other. We both will never be the same. We would go again in a minute. (Chuck)
An incredible wife. Strong marriage because I learned how to work through problems in a relationship. Gratitude- recognizing the many, many blessings I have. (Trevor)
What are some skills you gained?
Getting along with companions (people) that are very different from me (especially culturally). I gained independence and reliance on God. (Alyssa)
Survival, adapting to a different way of life, talking to strangers, feeling relatively comfortable in unfamiliar locations. (KC)
How to speak Russian. How to teach. How to have confidence in myself. How to be a leader. (Sharon)
Russian language skills, obviously. Also how to dicker with guys selling shapkas at the market, although I never got really good at it. I also was very shy when I went on a mission and was uncomfortable meeting new people. Serving a mission makes you get over that really fast! Now I am much better at socializing with new people, and at times I actually enjoy it. I got better at public speaking, and the experience of speaking at the last minute has helped me out numerous times. (Once a couple of years ago, I was supposed to give a talk in church and I completely forgot about it until the Bishop announced at the pulpit that I would be speaking after the youth speaker. That gave me 5 minutes to come up with something, so I scribbled out some notes, and managed to speak for 20 minutes. Luckily the topic was… missionary work.) Thank you mission! I also learned a lot about not worrying excessively about things that are out of your control- as a missionary you have to depend so much on the Lord so you can get things done His way. I don't know if that counts as a skill or not, but it's a lesson I try to remember now as a non-missionary. (Wendy)
Determination and faith in myself and others. (Shauntai)
Overcoming fear of the unknown. (Chuck)
Russian. Persistence. Knowing I can do anything because nothing will be harder than my mission. (Trevor)
What do you wish you knew/did at the beginning of your mission?
I wish I knew I would eventually get the language! Don't get discouraged. (Alyssa)
Love your companions, pray for them and serve them. If you do that, everything will be better than it would've been. (KC)
I wish I knew how hard it would be. But I wouldn't trade it for the world. (Sharon)
I wish I had taken a mission prep class, but wasn't able to, so I just had to wing it when I got to the MTC. I also wish I would have known more about world religions. There were tons of Muslims in some of the cities I served in, and at the time, I didn't even know what a Muslim was. There were also Russian Orthodox folks, Jews, Jehovah's Witnesses, atheists, and a few Baptists sprinkled here and there. It would have been nice to have some common ground conversation prepared when someone told us what religion they were. I think it would have been helpful to take some self defense courses so I could have been better prepared for all the grabbing and groping that I experienced nearly every single day. Even if I never actually had to take someone down (except for that one drunk guy I mentioned earlier), at least it would have given me confidence in confronting pervy guys and telling them to back off. I also wish I had learned how to cook. I could follow a recipe all right, but if you don't have any recipes, what do you do? I struggled finding basic cooking items in my areas because they didn't have grocery stores like we did in America- they had open air markets that had hundreds of booths where you could find most of what you wanted, provided you knew where to look and what you were looking for. Baking powder? Wasn't in the dictionary. Marshmallows? Didn't exist. Lemon juice? Go find a lemon, if you can!! It was an adventure, to say the least. I was grateful for our mission president's wife, who finally compiled a cookbook of basic recipes, along with tips and tricks about how to find things at the markets, and made sure every apartment had a copy. And I usually ended up with companions who actually knew how to cook, so it turned out all right. (Wendy)
I wish I knew how much the gospel is about the way you treat yourself and others. Obeying the rules is so very essential. The approach you take to do so is where truly following Christ comes in. (Shauntai)
Relax and let it flow…quit worrying about language, food, clothing, etc. All will be well. (Chuck)
Any advice/testimony for pre-missionaries going to Samara?
Study Russian EVERY DAY and learn new words. Speak Russian always. You will be speaking it, but give it time. Focus on members and building their testimonies. (Alyssa)
It is the Lord's work. Don't be discouraged. You won't see all or even most of the fruit of your labors. Do not contend, ever. Gain a testimony now, especially of The Book of Mormon, Joseph Smith and the current prophet, practice teaching Gospel principles, set goals to improve your obedience, fully repent and seek a confirmation of that. Do your home/visiting teaching- it's one of the nearest things to being a missionary. Don't be too serious- enjoy appropriate fun and sports. The Lord cares about how you treat other people. (KC)
Learn the scriptures. Know that even missionaries aren't going to be perfect. We all have our own talents and gifts to share with others. Learn from everyone you meet. Have fun. Remember that with so many praying for you, you can't go wrong. (Sharon)
Basically it all comes down to understanding that a mission is exactly like regular life, but magnified a thousand times. You'll have good times and bad times, amazing spiritual experiences and dark, depressing minutes, or hours, or days. You'll be frustrated beyond belief at the choices people make and the circumstances they end up in, and you'll be blown away by the tender mercies that come your way that make things right again. You'll love people you don't even know, and weep for them as you watch them struggle and suffer, even when they're making the right choices. You yourself will stumble and fall and feel like a failure, and wonder why you even came on a mission. You'll feel like a conduit for the Spirit and see lives being blessed and think you never want to leave. You'll love your companions, but sometimes you'll want to punch them because they're annoying or lazy. Everyone feels things like this, but you'll feel them all in a day, or an hour, and you'll feel them waaay more intensely. Don't worry, you're not crazy: that is completely normal. All of it. So embrace it and move on, because it's ok. Like the weather in Utah, if you don't like it, wait 5 minutes and it will change. (Wendy)
Ahhhhh!!!!! Get a temple there! (Shauntai)
Senior couples…relax. It's going to be AWESOME!!! (Chuck)
What was a funny language mistake?
Lots. (Alyssa)
Ya hochu pivo, instead of ya hochu pit. Gde ulibatsya instead of gde ulibka. 🙂 (KC)
I just remember a challenge we did one day as we did door approaches. We would pick a new word we wanted to learn and try and use it in our approach. I also remember the first few weeks I was there sitting at a table with a bowl of soup sitting in front of me wondering what was in it. I couldn't understand anything my companion and the lady were talking about, but I could swear she was talking about there being dog in the soup. 🙂 (Sharon)
The difference between "to urinate" and "to write" is only an accent. (Nelson)
We stopped by a little store one day on the way home for some bread and I was talking to the cashier and asked him how things were going. His answer was a word I had never heard before, but the way he said it was really energetic, so I assumed it was something positive, so I said, "That's great, I'm so glad for you!" He gave me a weird look and shook his head, gave us our bread, and we left. When we got outside, I pulled out my dictionary to look up the word he used. Turns out, it meant "disgusting, abominable". He was having a terrible day and my response was "That's great, I'm so glad for you!" Sigh. (Wendy)
My trainer, Sister Natalya Yakovleva, was a native. We were on a bus one time, and a gentleman was asking me questions. I thought I understood him, I was smiling and answering, "Da!" Sister Yakovleva told me after we exited the bus, "Sister if you don't understand what someone is saying, DON'T say, 'Da!'" I still don't know what he said. Another time, we were at a soccer game. One of the Elders leaned forward and asked if I knew what the people were shouting. I didn't. He said that was good. (Shauntai)