Free resources about the Russia Novosibirsk Mission:
*Click here for resources about the Central Eurasian Mission.
---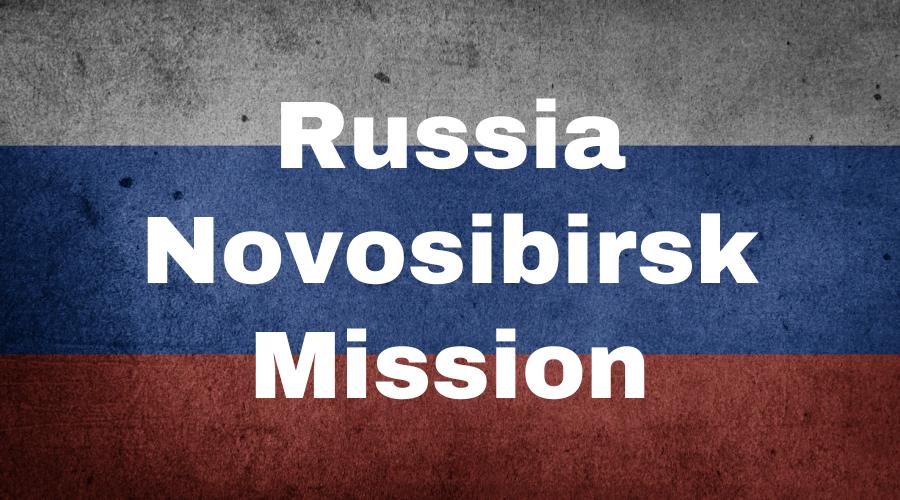 ---
*Other Mission Pages: Russia LDS Missions.
Russia Novosibirsk Mission Address
Here's a recent address for the Russia Novosibirsk Mission. We try to keep this information up to date, but it's a good idea to check the address with several sources, including your mission packet or the mission office.
Russia Novosibirsk Mission
46 Kirova Street
Novosibirsk
Novosibirsk oblast 630102
Russia
Phone Number: 7-383-200-3527
Mission President: President Stephen E. Lamb
Russia Novosibirsk Mission Map
Here's a link to the mission map for the Russia Novosibirsk Mission (LDS). To access the official, up-to-date LDS.org map for the Novosibirsk Mission:
Log into your LDS account here.
Click here.
Videos with Novosibirsk RMs
Here are in-depth YouTube video interviews with returned missionaries from the Novosibirsk Mission.  We interview hundreds of returned missionaries each year, so check back regularly to see new RM interviews. Coming soon..
LDS-Friendly Videos about Russia
Here are LDS-friendly educational videos about Russia. We scoured YouTube to find the best quality videos about Russia, that are free from inappropriate music, immodesty and profanity.
Russia Novosibirsk Missionary Blogs
Here's a list of LDS missionary blogs for the Novosibirsk Mission. This list includes the missionary's name, URL and when their blog was updated.
*Send your missionary a gift (mission-specific shirts, ties, Christmas stockings/ornaments, pillowcases, etc.)
Russia Novosibirsk Mission Groups
Here are Novosibirsk Mission Groups- for LDS missionary moms, returned missionaries, mission presidents and other alumni of the Novosibirsk Mission.
Russia Novosibirsk Mission T-Shirts
Here are T-shirts for the Russia Novosibirsk Mission!
Shirt designs include Novosibirsk Mission logo/emblem shirts and Called to Serve shirts. The shirts make great gifts for pre-missionaries, returned missionaries and missionaries currently serving. LDS Mission shirts come in all sizes: Small, Medium, Large, Extra Large, up to 4XL.  The mission designs are printed on white shirts and are shipped to you.
*Simply click on a shirt design to view the details and submit an order. The designs on mission t-shirts may also be printed on other LDS mission gifts, including: Novosibirsk missionary aprons, Christmas stockings, ties, pillow cases, teddy bears and Christmas ornaments.
*Click here to browse Novosibirsk Mission gifts
---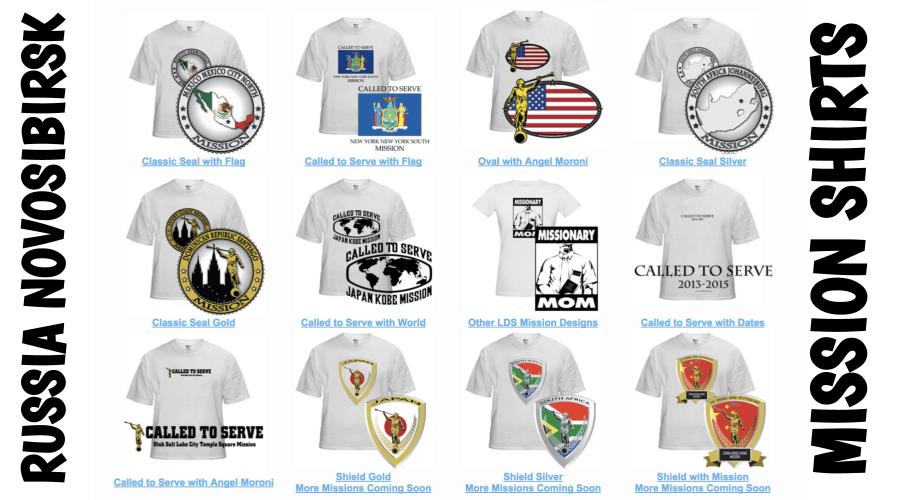 ---
Russia Novosibirsk Mission Presidents
Here's a list of current and past Mission Presidents of the Novosibirsk Mission.
2017-2020, Stephen E. Lamb
2014-2017, Michael George Williams
2011-2014, Daniel Bay Gibbons
Russia LDS Statistics (2015)
Church Membership: 22,472
Missions: 7
Temples: 0
Congregations: 95
Family History Centers: 56
Helpful Articles about Russia
Russia Novosibirsk Missionary Survey
Here are survey responses from Russia Novosibirsk RMs, to give you a snapshot into what it's like to live in the mission.
*Click here to take a survey to help pre-missionaries going to your mission.
When did you serve?
What areas did you serve in?
Novosibirsk, Barnaul. (Lane)
What were some favorite foods?
Bleenie, Dya-Dya Dyoners in Novo, ice cream, borscht, palmienee. (Lane)
What was a funny experience?
The Russian people love to have fun. You may not always see it, but they do. We had an investigator sing to us. (Lane)
What was a crazy experience?
Smart Return Missionary's won't tell about their worst experiences because you need to go into this country loving the people, not fearing them. But I will say that Heavenly Father does not choose His missionaries to go there if they cannot handle what THE toughest mission in the church has to throw at you. (Lane)
What was a spiritual experience?
I had many during my time in country but my favorite was being able to bear my testimony on the frozen sidewalk in way below zero weather, but the Spirit making me feel like I was at the beach. (Lane)
What are some interesting facts about the Novosibirsk Mission?
Novo is the third biggest mission behind Moscow and St. Pete's. It is the capital of Siberia, the coldest populated region on earth, and it is full of some of the most wonderful Children of God. (Lane)
What was the weather like?
I'm sure you know in the winter it is cold. Bring a decent coat from home, but do not go buy some expensive one. Wait until you get there. It is so much cheaper. I still have mine and am always the warmest person. In the summer it does get hot. Bring bug spray. Also Russia doesn't use A/C so you are lucky if you have a unit in your apartment. (Lane)
Any things you really like about the area/people?
I love everything about them. My mission was hard, don't get me wrong, but the people are what made it great. (Lane)
Any packing/clothing advice?
You only need 1 towel and one washcloth, you do not need 6 white shirts. You will end up dumping them when you leave your first area anyways. DO NOT buy Hush Puppy missionary shoes. They are MEGA uncomfortable and super ugly. (Lane)
What blessings did you receive from serving a mission?
My family was kept safe. And I don't just mean free from war, like my sister almost died twice, my little brother got hit by a car, people in car accidents, depression, suicidal. They are all with me today and things have worked out. Believe me, I know how hard it is to be away from a struggling family. But you know Heavenly Father will take care of them. (Lane)
What are some skills you gained?
Russian for one, budgeting, cooking, evading drunk pursuers (not kidding), spotting drunk people, and learning to love those that hate me. (Lane)
What do you wish you knew/did at the beginning of your mission?
Learn the alphabet before you go, I already mentioned the coat and shoes, enjoy being in the US while you can, maybe take a lot of photos from around your hometown My companion took some dirt with him as American soil. I ended up returning home with it and it never felt so good to be back in the US. The time difference is crazy and your sleep schedule will get messed up big time. Also the plane over seas. twelve hours to France. (Lane)
Any advice/testimony for pre-missionaries going to Novosibirsk?
This will be the best two years you have had up to this point in your life. Learn to love the people. You can hate the Russian government all you want because they make the work very hard, but love the people. Serve them with everything you have because they have earned it. It really is not easy to be a member in Russia. (Lane)
What was a funny language mistake?
Be careful with man (mooshina) and car (mashina). There was an elder who told a man on the street that he washes mooshinee (multiple men). (Lane)