Misión Puerto Rico San Juan
Free resources about the Puerto Rico San Juan Mission:
Aquí están algunos recursos gratuitos sobre la Misión Puerto Rico San Juan:
*Access free resources on the San Juan East Mission and San Juan West Mission.
---
---
San Juan Mission Address
Here's a recent address for the Puerto Rico San Juan Mission. We try to keep this information up to date, but it's a good idea to check the address with several sources, including your mission packet or the mission office.
Puerto Rico San Juan Mission
Urb. Jardines de Caparra
#500 Calle Marginal Norte
Bayamon PR 00959-7852
Puerto Rico
Phone Number: 1-787-786-2210
Mission President: President Kevin Bruce Boucher
Puerto Rico San Juan Mission Map
Here's a link to the mission map for the Puerto Rico San Juan Mission (LDS). To access the official, up-to-date LDS.org map for the mission:
Log into your LDS account here.
Click here.
Videos with San Juan RMs
Here are in-depth YouTube video interviews with returned missionaries from the San Juan Mission.  We interview hundreds of returned missionaries each year, so check back regularly to see new RM interviews.
Videos about Puerto Rico
Here are LDS-friendly educational videos about Puerto Rico. We scoured YouTube to find the best quality videos about Puerto Rico, that are free from inappropriate music, immodesty and profanity.
San Juan Missionary Blogs
Here's a list of LDS missionary blogs for the San Juan Mission. This list includes the missionary's name, URL and when their blog was updated.
*Send your missionary a gift (mission-specific shirts, ties, Christmas stockings/ornaments, pillowcases, etc.)
San Juan Mission Groups
Here are San Juan Mission Groups- for LDS missionary moms, returned missionaries, mission presidents and other alumni of the San Juan Mission.
San Juan Mission T-Shirts
Here are T-shirts for the Puerto Rico San Juan Mission!
Shirt designs include San Juan Mission logo/emblem shirts and Called to Serve shirts. The shirts make great gifts for pre-missionaries, returned missionaries and missionaries currently serving. LDS Mission shirts come in all sizes: Small, Medium, Large, Extra Large, up to 4XL.  The mission designs are printed on white shirts and are shipped to you.
*Simply click on a shirt design to view the details and submit an order. The designs on mission t-shirts may also be printed on other LDS mission gifts, including: San Juan missionary aprons, Christmas stockings, ties, pillow cases, teddy bears and Christmas ornaments.
*Click here to browse San Juan Mission gifts
---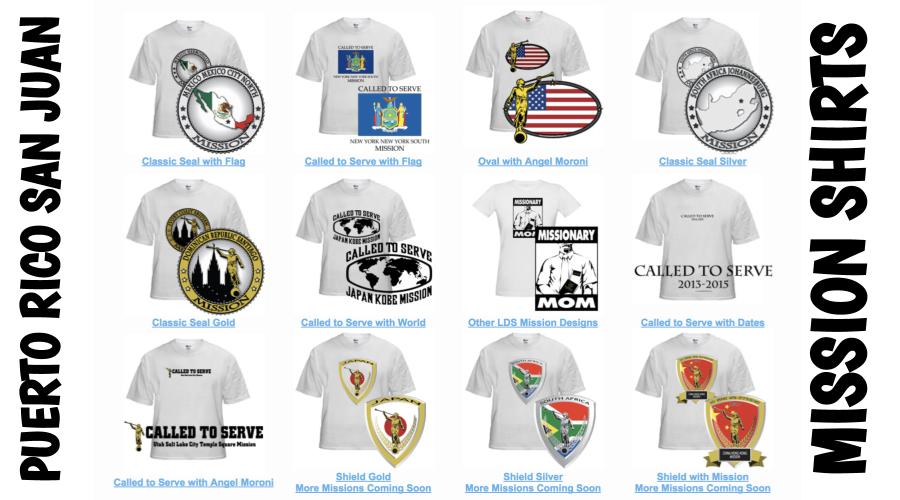 ---
San Juan Mission Presidents
Here's a list of current and past Mission Presidents of the San Juan Mission.
2014-2017, Kevin Bruce Boucher
2014-2014, W. Craig Zwick
2011-2014, P. Knox Smartt III
2004-2007, David Heber Crane
2001-2004, John Knapp Baird
1998-2001, Dean M. Davies
1995-1998, Jesus Nieves
1992-1995, Ronald E. Dyer
1989-1992, Kay W. Briggs
1986-1989, Wilford Farnsworth
1983-1986, Enoc Flores
1980-1983, Clive Barney
1977-1980, Richard Millett
1975-1977, Von R. Nielsen
1972-1975, Arden B. Hutchings
Puerto Rico LDS Statistics (2016)
Church Membership: 23,191
Missions: 1
Temples:
Congregations: 42
Family History Centers: 8
Helpful Articles about Puerto Rico
San Juan Missionary Survey
Here are survey responses from San Juan RMs, to give you a snapshot into what it's like to live in the mission.
*Click here to take a survey to help pre-missionaries going to your mission.
When did you serve?
2013-2014 (Marissa)
1999-2001 (Jess)
1984-1986 (Dennis)
1982-1984 (Patrick)
1982-1983 (Brian)
1981-1983 (Heather)
1980-1982 (KC)
August 1980-March 1982 (Caprese)
1979-1981 (Ron)
1992-1994 (James)
1988-1990 (Brent)
1994-1996 (Rebecca)
1995-1997 (Ken)
What areas did you serve in?
Fajardo, Juana Dias, Coamo, Ponce, Humacoa, Bayamon. (Patrick)
Ponce, Humacao(3x), Dorado, Levitown, Sta Isabel, Mayagues, San Juan, Bayamon, Santurce, was with the Health Fair and traveled the Island. (Caprese)
Isabella, Carolina, Rio Piedra's, Vaugus, Guaynabo, Bayamon, Boqueron. (James)
Arecibo, Naguabo, Vieques, Sabana Grande, Carolina. (Brent)
Hatillo/ Camuy, Manatí, San Lorenzo. (Rebecca)
Vega Baja, Carolina, Caguas, Fajardo. (Ken)
What were some favorite foods?
Arroz con habichuela (rice and beans), Bizcocho (cake), Pan (bread). (Marissa)
Arroz y habichuelas (rice and beans) Tostones (fried plantain) Pollo frito (fried chicken) Pasteles (kinda of like tamales, but better) Malta (unique barley drink, you will miss it after you leave). (Jess)
Everything! I still love and cook for my famiy Puerto Rican dishes like rice & beans, tostones, mofongo, lechon, picadillo, pastelon, etc. (Dennis)
Rice and beans, Tostones, Barq pork. (Patrick)
Rice and Beans, Tostones, Empanadilla, Soft Bread. (Brian)
Fresh Orange Juice and Fresh Passion juice, Platanos, Rice con Pollo with Green Olives cooked in. (Heather)
Arroz con Pollo, papas rellenas, Alcapurria. (KC)
Arroz con Gondules, Pasteles, Pinchos, Mangos, Tostones, Pollo Dorado, Pan de Agua. (Caprese)
Sancocho, platinos, arroz y habituellas. (Ron)
Tostones. Quinepas. Parcha. Pinchos. Arroz con gondules. (James)
Pasteles, Arroz con Habichuelas, Pollo Encebollado. (Brent)
Malta, pineapple, arroz con harbituelas. (Rebecca)
Rice and Beans, Tostones, all the home cooked meals were fantastic. (Ken)
What was a funny experience?
An old man asked me to marry him. (Marissa)
I loved learning the language, the members are great at helping you too. My funny experience was saying something in Spanish that I though was correct (direct translation) which wasn't correct and actually was inappropriate, so everyone got a great laugh, I found the humor in my mistake and moved on. Those were some of my favorite times. (Jess)
Elder getting hurt playing basketball one P-day and going to the doctor and seeing how he wrapped up his arm and shoulder. Hilarious! (Patrick)
Watching a grandfather cut his grandson's hair with a machete… did a good job. (Heather)
I did the dream of all bicycle riding missionaries. My last day in my mission, I threw my bike off a cliff. I aimed for bushes so it was not badly hurt, then I gave the bike to a member. (KC)
Getting my hair permed. It was supposed to be soft waves but came out like an afro and Elder Brian Kerr told me I looked like I was just trying to fit into the culture. 🙂 (Caprese)
Getting hit in the back of the head by a bat and blaming my companion for throwing things at me. (Ron)
My companion and I were cruising on our bikes down the highway. The chain slipped on my bike. I looked down to see what happened. When I looked up, there was a city bus parked 5 feet in front of me. I proceeded to slam into the back of said bus. (James)
Milagros in Sabana Grande waking us up every morning at 6 O'clock yelling…Rubios Americanos. (Brent)
Watching people that were obviously home hiding from sister missionaries. (Rebecca)
Learning about the crazy Christmas traditions… at 2 am when a procession of partiers camped out front our apartment and sang, banged drums, played musical instruments for 20-30 minutes. (Ken)
What was a crazy experience?
I felt like driving on that island was a crazy and dangerous experience. So scary! (Marissa)
Hitching a ride with a bunch of drunk people. Crazy and dangerous, wouldn't recommend it. (Jess)
Crossing a flooded road with water from an overflowing river. The water was up to our bicycle seats and flowing, but we made it to our discussion. However they had cancelled due to the flooding. (Dennis)
Riding bikes in the rain. Driving anywhere. (Patrick)
I flew to St. Vincent with 7 dollars in my pocket, no phone numbers. When I got there, no one had been told I was coming. I waited in the tiny airport. After an hour, a long hair bearded guy said he would take me where I needed to go. I declined his invitation. After two hours he invited me again. Again, I declined. After 3 hours of waiting and not knowing what to do, I accepted his 3rd invitation. He happened to be a member, but had not told me. The mission had forgot to let the Elders in St. Vincent know there would be a transfer. (Brian)
Some one stole our car and crashed it…. We were not in danger, but you need to be aware of protecting your purse etc. (Heather)
Traveling some mountain roads during construction. The roads were closed but it would have taken us another hour to get to the destination by foot or bike. We had boulders falling around where the construction workers were pushing them off the mountain top above us. (KC)
Tracting and having a man invite us in to teach him and his wife who was in the house "descansando". We look down and see a pentagram painted on his driveway. Hermana Finau and I both got such an awful feeling we drove to our zone leaders apartment and had them give us a blessing. (Caprese)
Hurricane David. (Ron)
Punk kids in Guaynabo trying to scare my companion and I by pulling a gun on us. Tried to scare us. Then drove off. (James)
Eating some foods that you could not identify. (Brent)
Our 1-way stop in San Lorenzo. (Rebecca)
Having my bike tires stolen. Then carrying my bike down the road, a kid hung out of a school bus door and kicked me in the back. (Ken)
What was a spiritual experience?
There were too many to count. But I felt the Lord guide me every day and protect me from danger. (Marissa)
My first invite to be baptized was to a sister who absolutely was ready to follow our Savior. Not only did everyone feel the spirit but she was excited to be offered the opportunity. (Jess)
I was invited to teach a college class studying religion. I taught the class for an hour, fielding questions of every kind including all of typical controversial ones. After the class I couldn't remember most of what I said, but my tongue was loosed and I was just the mouthpiece on this occasion. (Dennis)
Talking to the wonderful Puerto Rican people and seeing the Gospel of our Lord, Jesus Christ enlighten their lives. (Patrick)
We had the opportunity to have a visit from the Prophet Spencer W. Kimball, Elder Monson (at the time), Elder Wirthlin and Elder Poleman while I was there. These are always memorable; the teaching and the spirit. (Heather)
President Spencer W Kimball came to the mission and talked about visiting the temple. I saw people sacrifice lots to go to the Washington DC Temple (the closest in 1981). I saw the differences in the lives of members when they got back. (KC)
Tracting on a street and a German shepherd charged towards us and Hermana Evans and I faced each other and prayed. We felt a warmth encircle us and the dog yelped, turned, tail tucked and ran back down the sidewalk. We could feel the spirits around us. Hermana Evans said one of them was her mom. (Caprese)
We taught a group of YM in Santa Isabella and had many great experiences with them. (Ron)
The Spirit that attends the telling of the First Vision, every time it is related. (James)
When a convert in Sabana Grande came to us asking to be baptized. He knew that we were the right religion just by our examples. (Brent)
Learning to teach by the Spirit, feeling the promptings in Spanish. Feeling the tender mercies of the Lord and gaining the testimony that He really does know me. (Ken)
What are some interesting facts about the San Juan Mission?
The island itself is smaller than the state of Utah. Some areas are blazing hot while the mountainous areas actually get cold in December. The Coqui are little frogs that are all over the foresty areas. I found one in my shower once. Cockroaches also like to enter the house through the shower drains. (Marissa)
The island isn't as small as it looks on the map. There are a lot of fun places to see, other than the beach…although the ocean has a spectacular view. The rain forest is the only official United States rain forest in the world…worth a visit. (Jess)
It's the perfect mission: it's foreign where you learn Spanish. But you enjoy US Mail, US water, and you can see the benefits of US tax dollars at work. Great people, culture, food, weather, etc. (Dennis)
Each area was so different. My first area made me feel I was in the Palmyra, New York during the 1820's. Everyone was excited about religion, but no one would listen to us. This was Levittown. My 2nd area was Guyama and it was terrific. We found great families. The field was white already to harvest. My 3rd area was San Lorenzo and it felt like Satan had hold of the area. My 4th area was in St. Vincent and the church was in the pioneer stages having just received the gospel a few years prior, very exciting. And my last area Coamo was a delight. We opened a branch there and the gospel was just bursting everywhere. (Brian)
It is a US territory and Spanish speaking and it feels like you are in a foreign country, BUT… it has the U.S. Mail system, so I received packages and mail very reliably from my family. (Heather)
Here is a link for the mission history: http://www.puertoricomission.net/history. (KC)
Don't sit on plastic covered seats that are cracked, that is where scabies hide. The people there, members and non-members are so kind and generous. President Barney was/is the best Mission President. Watch out for the mosquitoes, the Dengue they spread is miserable. (Caprese)
I served half of my mission in the Dominican Republic. (Ron)
United States Territory with United States money and Postal Service. (James)
I served the first and last 5 months on my mission in the same area. (Rebecca)
I spent the entire mission in 4 areas, never west of Vega Baja, never South of Caguas and never east. (Ken)
What was the weather like?
See above. Very hot and humid year round. Except in mountainous areas. (Marissa)
Humid. Hot in the summer, and warm in the winter. But once you acclimate, it will get cold in the winter where a sheet isn't enough to keep you warm. It is a tropical island, expect rain, especially if you are near the rain forest. (Jess)
Perfect weather. Sometimes rainy, but mostly perfect. Short sleeve weather every day. (Dennis)
Always hot and high humidity. Got below 70 degrees once. East side of Puerto Rico rained almost daily for just a few minutes. Southern part in four months it rained only one time (for three straight days ). Beautiful Island. (Patrick)
Mostly nice days. Sometimes a little warm, never cold. When it rains, it really comes down hard. (Brian)
Very similar to other tropical islands. It can rain, but be very warm so the climate is humid much of the time. (Heather)
We had everything from beautiful weather to severe flooding because of tropical storms. (KC)
I used a queen size top sheet. In the spring/summer it stayed unfolded, in the fall/winter I folded it in half. Cool, breezy, a bit of heaven on earth. (Caprese)
Mostly hot and tropical but there were a number of hurricanes. (Ron)
Warm and humid on the north side of the island. Drier on the south side. Cooler on the central mountains. Rains frequently. Tropical Depression, Storms, and Hurricanes may pass through. Small earthquakes at times. (James)
Always hot and humid. (Brent)
We had 2 hurricane warnings within 2 weeks. (Rebecca)
Beautiful, paradise! Only a couple hurricanes spoiled the fun. Endless summer is a pretty great thing to experience for a mission, 🙂 (Ken)
Any things you really like about the area/people?
They are warm and loving and very welcoming. (Marissa)
The people are friendly, willing to listen and spend time with you, and I am not talking just members. The island will open your eyes to colors…the green here isn't the same as the green your use to at home, unless you are from an island. (Jess)
The Puerto Rican people are the most kind and giving people I've ever met. One Christmas Eve we were walking down a residential street and a man came out of his house and invited us to dinner with his family. He didn't know us nor was he a member. But that's how Puerto Ricans are. (Dennis)
People were friendly. Island's beautiful. Never felt afraid except for the first couple months because I was learning Spanish. I really enjoyed myself. (Patrick)
Kind, loving and respectful. (Brian)
Warm and loving people who have a foundational belief in Jesus Christ and have a spiritual aptitude of wanting to keep Heavenly Fathers' Commandments. They have strong and deep family ties and speaking about eternal families and temples is a very tender topic. (Heather)
I was always in small towns. I got to know the people well in those towns. (KC)
I served part of my mission as a Welfare Service Missionary and the rest as a Proselyter. I had the best of both worlds. My favorite place was Mayaguez. I served all over the island. The people were kind for the most part. Members kept us fed. The fresh bread, fruit and mangoes were the best. The kids there were so loving and hugs were abundant. (Caprese)
The people were very caring and easy going. (Ron)
Very friendly people. They can be quite prideful. (James)
The people are very humble and giving. (Brent)
The easy going nature of most everyone. Puerto Ricans seam to understand that relationships are more important than check-lists. (Ken)
Any packing/clothing advice?
Don't pack big bottles of shampoo or conditioner. Just take enough to get through the Mission Training Center. Puerto Rico has Walmart. (Marissa)
Packing…keep it as light as possible. Moving from area to area with all your belongings isn't fun when you have too much. Clothing…take items that dry quickly. Getting wet while walking around is normal. Also they don't use dryers as often as we do. Line drying is fairly common. Although some areas or laundromats did have dryers. (Jess)
There was no A/C, so wear light clothing, short sleeves, and that can handle wet, humid environment. (Dennis)
Strong material suits. A bunch of short sleeve white shirts. Good strong comfortable shoes. A lot of ties so they can be traded. (Patrick)
Only bring one suit. Not black. Mosquitoes love black. In my first area, I had over 100 bites just on one leg. (Brian)
It's warmer weather most of the time, so long sleeves you can layer over a cooler or shorter sleeved top or dress is very practical. At least one light, water proof jacket with a hood and umbrella. (Heather)
PolyCotton or Cotton Clothes. It's humid. Rains every afternoon. For the sisters thigh-high nylons. (Caprese)
Light and airy. (Ron)
Short sleeve white shirt. (James)
Clothes that are for hot weather. Short sleeves. (Brent)
Lots of cotton, bug spray and sun screen. (Rebecca)
Moisture wicking, mesh garments, lots of sunscreen. (Ken)
What blessings did you receive from serving a mission?
I was able to find my spouse quickly and know he was the right man for me. I made many friends and got to know how God speaks to me personally. (Marissa)
Good friends. The ability to speak Spanish. A better relationship with my Savior. Good study habits. Appreciation for the things I have in life. (Jess)
Self worth, Spanish language, Organization, Working with people, Great friends. (Patrick)
I received a spiritual base that has lasted me all my life. I learned to love people. I learned that without love and the spirit, no one will accept the gospel. (Brian)
Too many to say…. I learned so much more in depth the meaning of having a SAVIOR, Redeemer, the Plan of Salvation and an understanding of the Doctrine of Christ. My time to personally study and then teach the gospel has been invaluable in my own life as a mother and member of the church. (Heather)
Learning a foreign language that has served me well in my career as a Nurse. A deeper testimony and love for the gospel. Life lessons learned from my companions and fellow missionaries and Puerto Ricans I served and served with. (Caprese)
Too many to list. (Ron)
I am a Spanish teacher today. (James)
A very strong testimony of the church and the rewards of hard work. (Brent)
I still continue to use my Spanish at my job. I also have a long lasting friendship with the missionaries I served with. (Rebecca)
Learned how to communicate with others, learned Spanish, developed a stronger work ethic, forged life long friendships with the people I worked with. (Ken)
What are some skills you gained?
Spanish! (Marissa)
Learned how to cook Puerto Rican food. Speak Spanish. Communicate with others. (Jess)
Confidence, trust in the Lord, obedience, faith. (Dennis)
Practice in learning to feel the spirit, hear the spirit and follow those promptings. (Heather)
Better command of the Spanish language. Leadership skills. (KC)
Hablando Espanol. Patience. Love for others. (Caprese)
Spanish, study habits. (James)
The ability to backup a car on narrow streets and cars on both sides. (Rebecca)
Communication, Spanish, work ethic, how to relate with those that don't share my same view point. Learning how to work and live with a companion. (Ken)
What do you wish you knew/did at the beginning of your mission?
I wish I knew to enjoy it, especially all the challenges. (Marissa)
How to forget yourself, and understand it is the Lord you are out there serving. (Jess)
Humility. (Dennis)
Spanish. (Patrick)
Better prepared in serving. (KC)
Speaking Spanish for myself instead of allowing my companions to answer for me. The Spirit will help you and make up for what you lack. (Caprese)
Trust in the Spirit more. Puerto Ricans appreciate it when you try to speak Spanish. They will help you when you falter. (James)
A proper expectation that you have to work hard and that not everyone will listen and that's ok. To embrace each and every moment. Your mission life and memories are YOURS, they will not be exactly the same as others. When you have preconceived notions of how it will go, and when it doesn't go that way… that can lead to disappointment. Truly embrace YOUR experience and make it a wonderful mission. Also, love your companion, treat him/her with the highest level of respect, no passing judgments. (Ken)
Any advice/testimony for pre-missionaries going to San Juan?
I loved being a missionary and miss it every day. (Marissa)
It will pass by so fast you will wonder what happened. I wanted to extend my time. If you devote yourself to the Lord and focus on how you can help those who need Him, your reward will be beyond explanation. I look forward to the day my wife and I will get to serve again anywhere, hopefully Puerto Rico. (Jess)
Give up everything: your ego, your girlfriend, your dependence on your mom, your friends, your video games–everything. Put it all on the altar for two years. Never complain about mission rules, just follow them. All of them. Let go and get to work. (Dennis)
Work hard, learn to pray and feel the guidance of the Holy Spirit. Love the people. (Patrick)
Keep your mind focused. Speak your language. Be the best you can be. You are the Lord's servants and He is there to bless and help you. I promise you that as you faithfully serve keeping your eye single to your missionary work, praying for His guidance, that you will be blessed and will then be able to bless others. (Caprese)
Work hard and forget about home and what is going on there. (Brent)
I found the mission taught me many things and I firmly believe that I still reap blessings from the mission on a daily basis. I also know that the mission will test you physically, mentally, spiritually and emotionally. Follow President Hinckley's advise, which he gave while I was serving in Puerto Rico, "Forget yourself, and go to work!" At the end of your mission you'll be able to say as Jacob in the Book of Mormon, "the time passed away with us, and also our lives passed away like as it were unto us a dream…" (Ken)
What was a funny language mistake?
I was asking the members to come and go with me. Apparently literal translation is va con yo. When pronounced together it sounds like a swear word. The individual words are fine, just the order pronounced is not. It should have been va conmigo. Oh well, we all had a great laugh, they more than I. Because they keep saying no elder, that is wrong and I would again translate it in my mind, repeat the phrase and ask why is that wrong. So you can see the humor in it. I finally understood the reason and quickly changed my words. I will never forget it, but at least the members were great at helping me understand my errors and were willing to help fix it. (Jess)
Mispronouncing the baptismal prayer and ended up baptizing a person three times. (KC)
One of my companions said, Estoy muy embarazada (pregnant), instead of avergonzado (embarrassed). In one of the lessons I kept saying, Hay tres patos (ducks) instead of pasos (steps). (Caprese)
We were doing service my first week and I learned Puerto Ricans don't speak real Spanish. My Spanish was okay but I learned the phrase "la luz está flashando." (Rebecca)
Calling a young, pre-teen girl, Seniora. (Ken)