Here's a ton of free resources about the Portugal Porto Mission, including:
*Other Mission Pages: Portugal LDS Missions.
---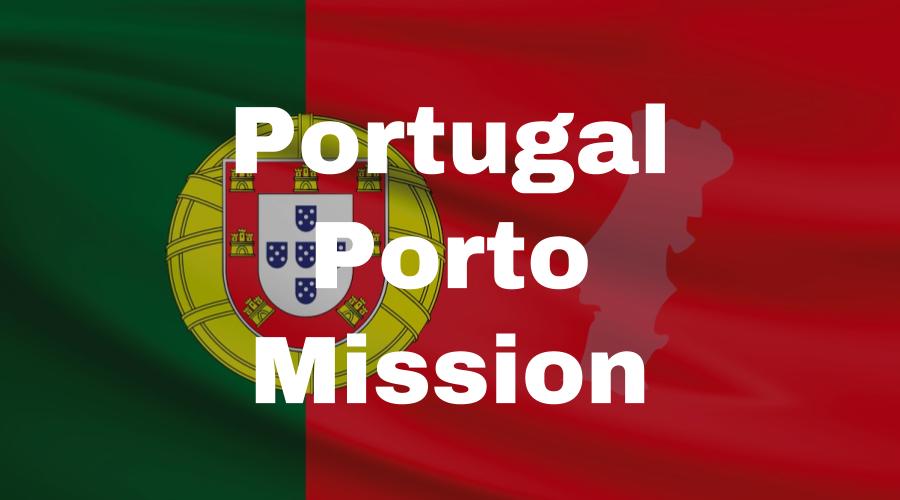 ---
Interesting facts about Porto
Porto is the second largest city in Portugal, after Lisbon.
Porto is an important Atlantic port.
Wine, cork, fruits, olive oil and building materials are major exports.
Evidence of people in the Porto area dates back to 8th century BC.
In 1807 Napoleon attacked the city and was repelled with the help of British troops.
The most apparent landmark is a Baroque Tower called the 

Torre dos Clérigos (built in the 1700s).
Portugal Porto Mission Address
Here's a recent address for the Portugal Porto Mission. We try our best to keep this information up to date, but it's a good idea to double check the mission address with several sources, including your mission packet or the mission office.
Portugal Porto Mission
Rua de Amália Luazes Nº 23 Sala I
4200-052 Porto
Phone Number: 351-220-941-640
Mission President: President Joni L. Koch
Portugal Porto Mission Map
Here's a link to the mission map for the Porto Mission (LDS). To access the official LDS.org map for the Porto Mission:
Log into your LDS account here.
Click here.
Videos with Portugal Porto RMs
Here are in-depth YouTube video interviews with returned missionaries from the Portugal Porto Mission.  We interview hundreds of returned missionaries each year, so check back regularly to see new RM interviews.
Portugal Porto Missionary Blogs
Here's a list of LDS missionary blogs for the Portugal Porto Mission. This blog list includes the missionary's name, blog URL and when their mission blog was last updated.
*Send your missionary a gift (mission-specific shirts, ties, Christmas stockings/ornaments, pillowcases, etc.)
Portugal Porto Mission Groups
Here are Portugal Porto Mission Groups- for LDS missionary moms, returned missionaries, mission presidents and other alumni who served in the Portugal Porto Mission. Coming soon..
Portugal Porto Mission T-Shirts
Here are T-shirts for the Portugal Porto Mission!
Shirt designs include Portugal Porto Mission logo/emblem shirts and Called to Serve shirts. The shirts make great gifts for pre-missionaries, returned missionaries and missionaries currently serving. LDS Mission shirts come in all sizes: Small, Medium, Large, Extra Large, up to 4XL.  The mission designs are printed on white shirts and are shipped to you.
*Simply click on a shirt design to view the details and submit an order. The designs on mission t-shirts may also be printed on other LDS mission gifts, including: Portugal Porto missionary aprons, Christmas stockings, ties, pillow cases, teddy bears and Christmas ornaments.
*Click here to browse Porto Mission gifts
---
---
Portugal Porto Mission Presidents
Here's a list of current and past Mission Presidents of the Portugal Porto LDS Mission.
2015-2018, Joni L. Koch
Portugal LDS Statistics (2016)
Church Membership: 43,240
Missions: 2
Temples:
Congregations: 74
Family History Centers: 25
Helpful Articles about Portugal
Coming soon..
Portugal Porto Missionary Survey
Here are survey responses from Portugal Porto RMs, to give you a snapshot into what it's like to live in the mission.
*Click here to take a survey to help pre-missionaries going to your mission.
When did you serve?
2016-2017 (Jenna)
July 2014-January 2016 (Anonymous)
1995-1996 (Paul)
1993-1994 (Mark)
1992-1994 (José)
1991-1993 (Robert)
1990-1992 (Lea)
1990-1991 (Jennifer)
1990-1991 (Kathleen)
1988-1990 (Sutton)
What areas did you serve in?
Ivana do Castelo, Guimaraes, Gaia 2, Leiria (I also traveled to other sister areas). (Jenna)
Viseu (Porto mission), Miratejo, Barreiro, Mem Martins, Póvoa (all Lisbon). (Anonymous)
Santa Clara, Avieto, Gondomar, Mangualde, Coimbra. (Paul)
Guimarães, Famalicão, Guarda, Porto, Leiria, Vila Real, Vila do Conde, Coimbra, Águeda, Santa Maria da Feira. (José)
Leiria, Coimbra,Vila Nova de Gaia, Braga, Vila Real, Guarda, Valadares, Ingote. (Robert)
Porto, Viseu, Gaia, Guarda, Braganca, Espinho. (Lea)
Porto (the Foz) Viseu, Espinho, Villa Nova de Gaia, and Figueira de Foz. (Kathleen)
Porto, Villa Nova de Gaia, Viseu, Castelo Branco. (Jennifer)
Port, Matosihos, Villanova de Gaia and Coimbra. (Sutton)
What were some favorite foods?
All of the pastries… pasta and bread. (Jenna)
ALL THE BREAD!!!! And all the pastries! (Anonymous)
Hot bread, little chocolate cakes, soup with bread. (Paul)
Soups, Pastries, Breads. (Mark)
Bacalhau (Codfish), Cozido à Portuguesa. (Boiled pork, beef, chicken and several vegetables). (José)
Pao, Chorizo, Feijoada, anything Portuguese. (Robert)
The freshly baked bread was awesome. I would have about 6 of those little loaves for breakfast. The pastries were to die for. I marked in my journal how many I ate and I think I had about 800 my whole mission which is over one a day. The frango (chicken) from a churrasqueria was also to die for. (Lea)
Bacalhau Abras, pasteis com natas, caldo verde. (Jennifer)
Bolo de Arroz. Sopa de Lugumes. any kind of Pao. Caldo Verde. croissants. Sumo de Ananas. Pastel de nata. Bacalhau. Feijoada. Carne de porco a altentejana. piri piri chicken. queijada. tocino de cielo. arroz doce. rabanadas. salame de chocolate. regueifa. (Kathleen)
Bread. (Sutton)
What was a funny experience?
At least once a week, I had some old guy come and hit on me. This one time we were contacting people at a festival and one of the elder's investigators came up to us and he fell to his knees and confessed his love for me and asked me to marry him over and over again. (Jenna)
Teaching discussions in a crack house. (Mark)
We went out to eat with some members. It was a pork platter. Basically the whole pig. Towards the end of the meal, the members put a pigs ear on my plate. After a few minutes of stalling I apologized and said I couldn't eat it. They all had a big laugh and said they wouldn't eat it either. (Robert)
I wanted to tell a person hosting us that the food was good which was:' "Esta gostoso" which is :"it's tasty" But instead I said "Estou gostoso" which was "I'm tasty" I got a good laugh from that. (Lea)
In Porto for St John's Day (The Beheading of John the Baptist), they go around hitting each other with small plastic mallets that make squeaky noises and each sardines and German bread and drink copiously. It's kind of funny to watch (from the window. We weren't allowed out that night. (Jennifer)
My companion hitting a man over the head with her umbrella for hissing at me. The whole district touring the Port Wine facility in Gaia. Stomping Grapes with my companion while teaching the owners about the word of wisdom in Viseu.(Kathleen)
It was an extremely hot day in Santa Clara. We were having lunch at the Branch President's house in the backyard. The kids were swimming in their pool. While I was talking with the Branch President's wife about investigators, my companion complained about how hot it was and that he couldn't take it anymore. Suddenly I saw him stand up take his shoes off, take his named tag off, pull out his white missionary Bible while loosing his tie. He set the items on the ground and suddenly dove into the pool fully clothed and swam to the other side and got out. He walked back to me and stated that he was ready to go. Soaking wet we left the Branch President's house and walked to the bus stop and waited for the bus so that he could go home and change. (Sutton)
What was a crazy experience?
I was in the city of Darque and we were helping an investigator quit smoking and drinking so she could be baptized. She got involved with the wrong group. Not even moments after we had left the lesson, a group of gangsters showed up and beat the crap out of her. The next day we returned to her house, she told us the story and the Spirit literally disappeared from the room. My companion and I felt awful… they were going to visit again and "finish the job" she kept saying. My companion and I knew that was going to be tonight…. we took her to a cafe and talked to the owner. He agreed to let her stay there. Once we left, there were cops surrounding her apartment and men running down the back steps in masks. (Jenna)
Being threatened with an AIDS infected drug needle. (Mark)
The traffic was really dangerous. We witnessed many auto-pedestrian accidents. (Robert)
My companion got on a bus before I could get on and the bus took off. So I ran to the next bus stop and got there just in time before it took off. I got a round of applause from all of the people on the bus. (Lea)
We almost got accosted my a large gypsy at an open market when I refused to buy a sweater from his booth. (Jennifer)
Sao Joao – I think there is a curfew now.. The Mar – getting caught in the tide. accidentally. Drinking the tap water. When the gypsies tried to take my earings at the feira in Espinho. Avoiding the Praia in Fig de Foz due to the issue of no clothing. Bible bashing with the Jehova Witnesses. Helping a woman who was being beaten by her husband at a shoe shop. (Kathleen)
What was a spiritual experience?
So many….. We had an investigator marked for baptism and she was starting to doubt her baptism and preparation. We knelt and had her say the prayer. This was one of the most spiritual experiences I've had in my life. She was so genuine and had real intention to act on her answer! The response was so strong! (Jenna)
Interviewing a young man for the priesthood. (Paul)
Seeing the change in the countenance of a new convert. (Mark)
Once in a mission meeting we were blessed with Elder Curtis' (Area Presidency) presence. We had been asked to prepare a text to deliver in that meeting to the zone leaders. I didn't prepare the text. I saw all the missionaries delivering their papers to the mission leaders. While giving his talk, Elder Curtis paused and said: There's a missionary among us that has some words to share with us all. He came down from the stand and pointed at me. I bore my testimony to the missionaries attending. (José)
There were too many to list. (Robert)
Seeing people get baptized and become integral parts of their branch. Also, President Hinckley and President Monson came within a year of each other. That really helped this missionary. (Lea)
The bishop gave us a referral for a lady who had attended the mission conference when Elder Monson had spoken. He didn't know her name or exactly where she lived, but he knew she had blond hair and we needed to talk to her. So we started knocking doors asking if anyone had attended the conference. After a few doors, we noticed a lady standing on her doorstep looking at us. She said to us, "You are looking for me." She was an amazing investigator that was very prepared for the gospel. Everything we taught her, she already knew. In fact, she taught us many of the principles. (Jennifer)
Too many to count. my first area was also my last area. I got the privilege of seeing a whole family (my first door contact) thriving and adding to the church in Viseu. The faith of the youth then was amazing. In Gaia, the youth was the administration at the church. They ran every auxiliary and every activity. It was a humbling experience. A man named Horacio came up to my companion and I in a parking lot and started talking to us. He said he had been looking for us. It took him a while to accept all that comes a long with being baptized, but he eventually was. Years later he is a leader in Coimbra. 🙂 President Brown. (Kathleen)
While in Coimbra I had the privilege to serve in a district with sisters. Many times the sisters would invite us zone leaders to accompany them on some teaching appointments. The Sisters always had a special ability to find those golden families. The reason I believe they often invited us is because we had been out in the mission field quite a long time and we spoke the language very well. During this appointment while teaching this family I felt the spirit extremely strong. It was obvious they were prepared. In addition I believe I was prepared as later on it was explained to me that I was glowing while teaching them and the family had no doubt that everything that they have been taught by The Sisters was true. It truly was a privilege to serve with sisters in the mission field. (Sutton)
What are some interesting facts about the Porto Mission?
The people are amazing! Everyone smokes! Most people walk in Portugal! It's gorgeous. (Jenna)
Castles and medieval castles, and lots of them. Preparation day was fun. (Paul)
It's the best mission in the church. I guess everyone says that about their mission. Except for Porto and Coimbra, I think you see a lot of rural areas and green. (Lea)
The former president of Portugal is now the leader of the United Nations. Portugal was only opened in the late 70's after the revolution, so when I was there many members were still relatively new. Before then, the official state religion was Catholicism. There weren't a lot of other churches there when I served. That has probably changed. (Jennifer)
There were several times throughout my mission that we were one of three of the highest baptizing missions in the world. (Sutton)
What was the weather like?
The months of September-February are cold and rainy. March-May rain but not as freezing. June-August sooo hot! Always humid ALWAYS. (Jenna)
Hot in the summer, rainy and cooold in the winter. (Anonymous)
Depending on the area, mostly nice but lots of rain in the winter. (Paul)
Warm and rainy. (Mark)
Depends where you served. By the beach areas the weather was nice. Up higher in Guarda it got cold. The rain was crazy also. (Robert)
Lots of heat in the summer and rain in the winter. (Lea)
It rained from November to March non-stop. The summers were really nice though, although they did get really warm sometimes and there wasn't a lot of air conditioning. (Jennifer)
Beautiful. rainy in the winter. The rain rained up and not down. I was always soaked. In the summer, it was humid. We didn't like wearing pantyhose. Sister Brown told us to wear them, but we never did. We would carry around knee highs in case we ran into her. (Kathleen)
Very much like where I am from. Western Washington state. Rainy in the late fall and winters and Beautiful not to hot sunny summers. (Sutton)
Any things you really like about the area/people?
They would do anything for You! They serve one another! You can feel their genuine love. (Jenna)
The people are loving and humble. They are good people. The places and towns are "old country" and it felt like I was going back into history. The cities are modern with younger generations. (Paul)
Humble people, trying constantly to make you feel welcome. (José)
They are great people and friendly. They know how to prepare food, not the ready made junk we currently down in the US. (Robert)
They were very friendly and stopped to talk with you when you wanted to approach them about the church. I still love them for the good people they are and I am so happy that a Temple is being built in Lisbon for them. (Lea)
They are very genuine. They tell you what they think. They are also very generous. They would feed us even when it took food out of their mouths. They are very religious and family-oriented. (Jennifer)
Their humility. The love they have for each other. Their faith. They would give you the shirt off their backs and all the food in their cupboards if they thought you needed it. It took me a while though to love them. Once I did, there was no going back. (Kathleen)
They're so warm and loving I served in the Port, Matosihos, Villanova de Gaia and Coimbra areas. I like to because I was always near a body of water. Similar to where I am from, Western Washington state. (Sutton)
Any packing/clothing advice?
Depends on the season you go in. If we come in the cold, a nice, warm jacket. If you come in the hot, lots of short sleeves, flowy skirts, and sunscreen also a nice pair of sandals. (Jenna)
Sisters—don't bother bringing all the clothes on the packing list unless you plan on wearing only those clothes your whole mission. Sisters leave clothes behind in houses all the time, so you'll end up with new clothes. Bring a good, water-proof coat and good boots for the winter (or have them sent to you if you get there spring or summer). Bring skirts that aren't too heavy but won't fly around too much in the wind. (Anonymous)
Take a rain coat and purchase an umbrella when you get to your mission. Winters are cold to the bone, so bring so long underwear. Summers are hot enough to wear short-sleeved shirts. (Paul)
Just what the mission president tells you to bring in your initial packet. I would recommend a good raincoat though. (Lea)
Don't bring wool coats. They get soaked. Bring water-proof jackets. (Jennifer)
Buy comfortable shoes. The cobblestone does a number on sister's hips. Make sure the umbrella is sturdy, or else don't use one at all. Boots. When you get over there, buy a little heater to heat your own space. I froze because most houses did not have heating. Take flea collars to put under mattresses. (Kathleen)
Take as little as possible. As you will find it purchasing authentic Portuguese clothing is very for filling. Also leave everything that you brought with the members and people Portugal. They will appreciate. (Sutton)
What blessings did you receive from serving a mission?
Closer to my Heavenly Father! Firmer testimony of my brother Jesus Christ as my savior. Firmer understanding of how the holy ghost speaks to me. More patience with my shortcomings and weaknesses! I loved my mission! The hardest 18 month so far but by far the best 18 months for my life! (Jenna)
Personal relationship with the Savior. Super solid husband 😉 (Anonymous)
I received many blessings from serving and I am still receiving them. (Paul)
I got married to a worthy and amazing woman that had a goal to marry a returned missionary. (José)
Confidence that I could do hard things. I learned to pray…I mean REALLY pray. Learned a foreign language. I got to hear and sit at the feet of five prophets, seers and revelators. (Lea)
When I came home from my mission, I actually scored 100 points higher on the GRE than when I attempted it before my mission. I also really learned to recognize the Spirit and I learned that God is not only individually aware of me, but he is aware of the people of Portugal and he loves them unconditionally. I also met my husband on my mission. He is my greatest blessing. (Jennifer)
A life time of testimony. One that has gotten me through many a trial. An eternal perspective. The importance of home/visiting teaching. A love for the Book of Mormon. (Kathleen)
The knowledge that I can learn and speak new languages. Essentially the gift of tongues. (Sutton)
What are some skills you gained?
Planning, patience, Christ-like love, better friend, diligence, dedicated, determined, hardworking, empathetic, humble! (Jenna)
Planning! How to live with someone I don't necessarily care for or agree with how they live! How to chill the heck out and just be okay with what the Lord has planned because it will never be the same as my plan, but it will ALWAYS be better than my plan. (Anonymous)
Language skills and study skills. (Paul)
Learned to speak face to face with other people despite their background. Before my mission I was very shy and incapable of talking in public. Today I'm a Branch President capable of showing empathy to members and missionaries. (José)
Cooking and loving the work. (Robert)
Portuguese language. Getting out of my comfort zone and talk to people. Not just work, but work effectively. (Lea)
I can wring clothes out like a Portuguese woman, wash clothes on a stone tank with a scrub brush and make a bed with a flat sheet. I can also talk to people better, empathize better and speak another language. (Jennifer)
Walking. Time management. Good gospel study habits. No fear. the ability to make mistakes and laugh at myself. companion inventory. :-). (Kathleen)
The ability to talk to people and teach. (Sutton)
What do you wish you knew/did at the beginning of your mission?
Face my fear and be myself. Relax and trust in my Heavenly father so he could use me as an instrument faster. I would get out of my own way so I could reach my potential that he has for me! (Jenna)
It's hard, but a mission is really quite easy. You always know exactly what you need to do and where you need to be. Money shows up in your bank account for basics every month. Your apartment is paid for every month. You just have to get up on time, follow the schedule, and love and serve the heck out of the people! It's coming home that is really the hard part. (Anonymous)
Do not worry about the language and being able to speak it. It will come as long as you work hard. (Paul)
Every thing I knew at the end. (Mark)
More scriptures and doctrine related to mission discussions. (José)
Portuguese. (Robert)
I wished I would not have stressed the bad days so much, because they will come even to the most obedient and effective of missionaries. Even Alma the Younger and the sons of Mosiah had bad days. Just know that if you are doing your best to be worthy and obedient, you are doing good. (Lea)
Don't be so hard on myself. Forgive myself for not being perfect and listen to the Spirit more. (Jennifer)
Read the Book of Mormon. Had better sleeping habits. Wasn't afraid to make mistakes. (Kathleen)
Worked harder and invited more people to follow Jesus Christ. (Sutton)
Any advice/testimony for pre-missionaries going to Porto?
Love the people, love the language, trust in the savior and his divine plan!!! You are supposed to be there. Do you best everyday to be obedient and work hard! Smile and enjoy it! Passes too quickly. Make every moment a sacred one! (Jenna)
Love the heck out of Portugal and the people and the language. Eat as much bread as you can—don't worry about getting fat. Visit as many castles and historic sites as possible. (Anonymous)
Love the Lord, Love the people and prepare to serve with all of your heart. You will be successful. (Paul)
Listen to your leaders and parents. Study and get acquainted with the scriptures. (José)
Learn to love and work hard. The Catholic church has a stronghold on people's hearts. But they make great members when they are converted by the Holy Ghost. (Robert)
BEAR YOUR TESTIMONY!!! Do this whenever you are down…The spiritual benefits will lift you. If the people won't listen then bear it to your companion or the members. (Lea)
Rely on the Lord. Make him your best friend. Remember that things are different in Portugal, but it's not better or worse than your home country. It's just different. Try to see the people through the Lord's eyes and you will have an amazing experience. All try to be exactly obedient. The Lord blesses you through your obedience. (Jennifer)
Have a testimony of the Book of Mormon. Know the stories and how to apply them to your life. Attend the temple starting when you're 12. Have family home evening and do the teaching. laugh more. Go there loving the people. Eat whatever they give you. Smile and laugh with the members and have them introduce you to their family members and friends. (Kathleen)
Remember that you are a disciple of Jesus Christ and you are entitled to special blessings and power endowed on high. Show the confidence that you are a true representative of Jesus Christ. People will feel and believe you if you pray to have that confidence. (Sutton)
What was a funny language mistake?
Again, I have so many! In the first vision, the last word in Portuguese is ouvi o like hear him but ouv o means egg. So for a few transfers, I would say it beautifully and the soirit would be so strong I'd look at the investigator and say "this is my beloved son egg" 😂😂😂😂 (Jenna)
The word for Mrs. and carrot are very close. (Paul)
I was having a hard time getting along with a particular companion. She was so sincere as she looked at me during our morning testimony sharing and said, "Eu quero te supportar melhor." She was trying to say, "I want to support you more, but it came out, "I want to endure you better." I didn't have the heart to tell her. I just said, "Tambem eu." (Me too.) (Jennifer)
I can't say. It's too embarrassing. Has to do with batteries. (Kathleen)