Free resources about the Philippines Manila Mission:
*Other Mission Pages: Philippines LDS Missions.
---
---
Philippines Manila Mission Address
Here's a recent address for the Philippines Manila Mission. We try to keep this information up to date, but it's a good idea to check the address with several sources, including your mission packet or the mission office.
Philippines Manila Mission
PO Box 1997
Makati City
0714 Metro Manila
Philippines
Phone Number: 63-2-836-4962
Mission President: President Michael J. Fermanis
Philippines Manila Mission Map
Here's a link to the mission map for the Philippines Manila Mission (LDS). To access the official, up-to-date LDS.org map for the Manila Mission:
Log into your LDS account here.
Click here.
Videos with Philippines Manila RMs
Here are in-depth YouTube video interviews with returned missionaries from the Philippines Manila Mission.  We interview hundreds of returned missionaries each year, so check back regularly to see new RM interviews.
LDS-Friendly Videos about Philippines
Here are LDS-friendly educational videos about Philippines. We scoured YouTube to find the best quality videos about Philippines, that are free from inappropriate music, immodesty and profanity.
Philippines Manila Missionary Blogs
Here's a list of LDS missionary blogs for the Manila Mission. This list includes the missionary's name, URL and when their blog was updated.
*Send your missionary a gift (mission-specific shirts, ties, Christmas stockings/ornaments, pillowcases, etc.)
Philippines Manila Mission Groups
Here are Philippines Manila Mission Groups- for LDS missionary moms, returned missionaries, mission presidents and other alumni of the Manila Mission.
Philippines Manila Mission T-Shirts
Here are T-shirts for the Philippines Manila Mission!
Shirt designs include Philippines Manila Mission logo/emblem shirts and Called to Serve shirts. The shirts make great gifts for pre-missionaries, returned missionaries and missionaries currently serving. LDS Mission shirts come in all sizes: Small, Medium, Large, Extra Large, up to 4XL.  The mission designs are printed on white shirts and are shipped to you.
*Simply click on a shirt design to view the details and submit an order. The designs on mission t-shirts may also be printed on other LDS mission gifts, including: Manila missionary aprons, Christmas stockings, ties, pillow cases, teddy bears and Christmas ornaments.
*Click here to browse Manila Mission gifts
---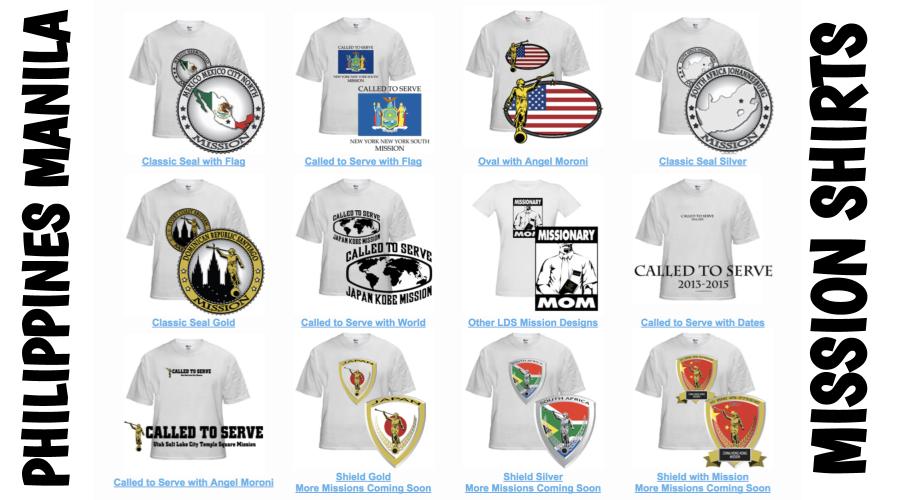 ---
Recommended Mission Prep Books

(Fun Fact: John Bytheway served in the Philippines!)
Philippines Manila Mission Presidents
Here's a list of current and past Mission Presidents of the Manila Mission. 
2017-2020, Michael J. Fermanis
2014-2017, Craig D. Ostler
2011-2014, Lyle Jay Stucki
2008-2011, Mark J. Howard
2005-2008, David E. LeSueur
2002-2005, D. Gary Beck
1999-2002, Jack M. Peck
1996-1999, D. Rex Gerratt
1995-1996, Henry K. Chai
1992-1995, L. Stephens Richards
1989-1992, Donald H. Hilton
1986-1989, E. William Jackson
1983-1986, Joseph  Kjar
1980-1983, W. Garth Andrus
1977-1980, Steven K. Iba
1974-1977, Raymond L. Goodson
1973-1974, Carl D. Jones
1970-1973, DeWitt C. Smith
1967-1970, Paul Rose
1964-1967, Kieth Garner
Philippines LDS Statistics (2015)
Church Membership: 710,764
Missions: 21
Temples: 2
Congregations: 1,181
Family History Centers: 171
Helpful Tips about the Philippines (articles written by RMs)
Philippines Manila Missionary Survey
Here are survey responses from Philippines Manila RMs, to give you a snapshot into what it's like to live in the mission.
*Click here to take a survey to help pre-missionaries going to your mission.
When did you serve?
2013-2015 (Jordan)
2013-2015 (Joshua)
June 2007-July 2009 (Richi)
June 2010-January 2012 (Sara)
May 2007-May 2009 (Mar)
2006-2008 (Jared)
January 1999-January 2001 (Ernest)
January 2013-July 2014 (Ashley)
2000-2002 (Cameron)
November 2013-October 2015 (Joshua)
2001-2002 (Erlinda)
2013-2015 (Brinton)
December 1991-June 1993 (Liza)
2012-2014 (Ianeta)
2013-2015 (Mary)
1985-1987 (Estrella)
2007-2009 (Ar-jay)
1971-1973 (Richard)
1998-2000 (Fe)
2001-2002 (Erlinda)
1985-1987 (Liduina)
2005-2007 (Delton)
1974-1975 (Janalee)
1990-1992 (Elora)
What areas did you serve in?
Palawan, Makati, Manila. (Jordan)
Dasma, Cabar, Pasig, Bacoor, Parañaque, Mandaluyong. (Jared)
Sampaloc, Manila; Pasay; Brooks Point, Palawan; Mandaluyong; and Cembo, Bonifacio. (Joshua)
Manila 2 Ward Sta Mesa Ward Pasay 2 Ward and Kawit Cavite Ward. (Liza)
Mandaluyong, Makati, Manila, Paranaque, Pasay, Sta. Mesa, Palawan (for a week). (Ianeta)
Pina Ward, Sta. Monica Branch, Bonifacio 6th Ward, Las Pinas and Pasay. (Mary)
Makati City, San Pablo City, Parañaque, Naga City, and Naic, Cavite. (Estrella)
Palawan, Manila, Mandaluyong, Signal, Dasmarinas, San Gabriel, Naic, Taguig. (Ar-jay)
Manila area. Everywhere but Mindinau. I lived in 3 different language areas in a mission that serviced the whole country, unlike many missions today. (Richard)
Laguna, Dasmarinas Cavite, Pasig. (Fe)
Sta Misa,Pamplona, Dasma Bayan,Trece Martirez. (Erlinda)
Naga City, Parañaque, Quezon City, Lucena City, Batangas City, Lipa City. (Liduina)
Cities of Manila. (Elora)
What were some favorite foods?
Sinagog na baboy, Lumpia shanghia. (Jordan)
Lumpia, adobo, fried chicken. (Joshua)
BINALOT, TAPSILOG. (Richi)
Chicken adobo. Chicken curry. Sweet and sour fish. (Sara)
Mix chicken and pork adobo, Pork Sinigang sa Gabi, Fresh seafood paksiw at Palawan. (Mar)
Chaolong. (Jared)
Pork and Beans, Rice, Adobo chicken, fried chicken, ice cream. (Ernest)
Kahit ano, basta may kanin! Adobong manok. Sinigang baboy. Lumpiang shanghai. Halo-halo. Taho. Tuyo. Crocodile Sisig galing sa Palawan. Pancit. Hotdog na may keso. Puto. Pinakbet. Longaniza. Bicol Express. Bibingka. Mangga. Champorado. Turon. Pan de coco. Leche flan. Ubo ice cream. Pan de ubo. (Ashley)
Fish, pork, lumpia, rice, coconuts. (Cameron)
Adobo. Ginataan. (Joshua)
Senigang and Adobo. (Erlinda)
Pork adobo and chicken adobo with brown sugar and pineapple tidbits added, bicol express, and letson baby. (Brinton)
Ginataang malunggay. Spaghetti. Peanut sauce. (Liza)
Bicol express, turon, ube ice cream, pandesal, barbeque sticks (of every meat you can possibly think of that you can put on a small stick), lichon. (Ianeta)
Chicken Adobo, No Bake Cookies and Tuna Sandwhich. (Mary)
Chopsuey. Crispy Pata. Sardines. Tuyo. Fried Fish. (Estrella)
Pinoy dishes, pizza. (Ar-jay)
Lumpia! (Richard)
SINIGANG, SPECIAL TIKOY AND LATO. (Erlinda)
Adobo, Sinigang. Pancit. (Liduina)
Sinigang na Bangus. (Delton)
I enjoyed eating all of the native Filipino foods, except Balut, which is a half fertilized baby duck egg. I really liked eating pancit, lumpia, chicken adobo, and the drink halo-halo. (Janalee)
Filipino foodsiii. (Elora)
What was a funny experience?
We caught a Tuko in a cupboard, after chasing it all through our house. (Jordan)
Getting lost and OYMing our way out of the maze. 🙂 (Joshua)
When the dog is barking and the dog eyes/smells alcohol or hand sanitizer..the dog cries. (Richi)
When my neck tie was cut by our Mission President's wife, Sister Howard, because I was wearing a shiny tie. (But it was just for show so that other missionaries won't use bright colored ties and afterwards, President Howard let me choose one of his ties.). (Mar)
We have a lot of fun because I'm happy to share the gospel. (Ernest)
My companion fell into the muck beneath a tulay on Palawan. (Ashley)
Ward talent show performance by young men was danced to a very inappropriate song sung in English. (Cameron)
Getting lost and talking to a lot of people trying to find a way out of the area. (Joshua)
When we were in our proselyting area last Sept. 2013 and our area was flooded but then my companions are both American. Because the water was just up to their hips but for me having a Filipino height the water was up to my tummy. (Mary)
Every preparation day. (Ar-jay)
Every minute of every day. (Richard)
We did community service at school. We saw some old plants that don't bear any flowers…we uprooted it and removed all the weeds surrounding the garden area…when the principal came she was screaming and cursing at the top of her lungs seeing the garden bare and clean…she yelled and asked why did we remove the plants. We were all shocked and don't know what to say..because next month will be the beautification audit…To make the story short, our elders were compelled to wake up at 4 am to water the plants that we have bought because of water scarcity… We even prayed and fasted. (Fe)
My funny experience…my companion took a picture with me while I was at the toilet para iiri at maglabas ng tae…stolen shot. (Erlinda)
Riding in a habal habal in Bicol. (Liduina)
Before my mission, I had asked my bishop, "What do welfare service missionaries do?" He said that I would be sent to a place where the Church was fairly new, and the Welfare sisters would help get the church organizations going. I said to myself, I know the Church Office sends out training manuals. So, I don't really think they need us… In the mission field, my companion and I were late getting to the Branch Relief Society meeting. When we walked in, the 12 sisters there were standing up and doing jumping jacks. After the meeting, we went up and asked the Relief Society President to tell us about these jumping jacks that we saw. She replied back to us, "Well, in the training manual, it says, 'Try to keep your opening exercises under 5 minutes.' " I said to myself, "YES, YES, Welfare Service Missionaries ARE needed!" And we proceeded to explain what "opening exercises" really are. (Janalee)
Inside the apartment with my companion hiding from our zone leader😁😜😁. (Elora)
What was a crazy experience?
We were chased away from a house by a woman with a large kitchen knife. (Jordan)
When a snake interrupted our lesson. (Joshua)
When we were trying to run out of he flood in Palawan area..because of heavy rain. (Richi)
The traffic was bad. Don't remember in which area. And due to heavy traffic, a car ran over my right foot. That was terrible. (Sara)
One night, we were walking in a squatter area. There were people fighting with  knives. Fortunately, other people let us in their house. (Mar)
After our Zone Conference with our Mission President in Puerto Palawan, my companion and I, a District Leader and my Zone Leader and other Elders decided to sleep in another apartment. So we are 6 Elders ready to leave that Puerto Elders apartment and we decided to sleep in Sta. Monica Elder's apartment. After we bought food, our Zone Leader decided to leave the store and ride a tricycle. He decided the first tricycle that arrives, we must ride on it. But I told to my companion that I do not feel good about riding on that tricycle. But my Zone Leader says we are late to go home if we wait for another tricycle to arrive. So they decided to ride that first tricycle. After a minute of riding that tricycle, the tire in the front of the tricycle explodes. After that we have an accident in the middle of the highway. The tricycle circles around three times because I did not close my eyes and I counted how many times we circle in the middle of highway…after that many people help us to get out of the tricycle. Our feet are in the air and our head on the highway road. I'm the first one to get out and we don't expect that accident with 6 Elders with a tricycle driver. (Ernest)
I was almost robbed in the street but scared him off with my squeal. (Ashley)
Cannibal entered missionary apartments. Yikes! No one was eaten 🙂 (Cameron)
A snake interrupted one of our lessons. (Joshua)
Typhoon Yolanda was the single most dangerous, yet significant experience of my mission. (Brinton)
When I jumped over the three rifles during my militarily training. (Liza)
In broad daylight, we were walking to the market and someone pulled my companion's earring and took off. (Ianeta)
When we are having some problem in our apartment because our fire alarm kept on giving as warning about carbon monoxide. (Mary)
It is not advisable to mention it…..But missionaries are not alone they're always protected by the LORD! (Estrella)
Being disobedient. (Ar-jay)
Living through a year of Martial Law. (Richard)
Dangerous experience was that I accidentally found an anti Book of Mormon book and read it cover to cover which shook my testimony…and regained it when I confessed and was counselled by my Mission President. (Fe)
My companion and I eating a corneto para maglabas ng sama ng loob dahil hirap maghanap ng matuturuan. (Erlinda)
Chased by a stray dog, yelling repent and behave. (Liduiana)
About the scariest experience I had was when the water buffalo chased me. My companion and I were just walking in a field, and we saw a water buffalo there, and it charged at us! So we ran to safety! (Janalee)
When the investigator was asking your hand in marriage while teaching. (Elora)
What was a spiritual experience?
Seeing the kindness of the Gospel. And watching the Filipino people embrace the Gospel and everything about them changing. (Jordan)
Asking a whole family to be baptized. (Joshua)
When the investigators accept the baptismal date and come to church. (Richi)
I had so many spiritual experiences. One of them was, one day we were walking across the road and there was a man painting his house. He ran to us and said "I was waiting for you missionaries for a long time". Then we went with him to his home and we shared the restored gospel with him. He was so excited. We were so happy. The Lord had prepared him for us. After few weeks, he got baptized and remained active in church. We really felt the spirit and we knew that the work of the Lord is real. (Sara)
We asked a family if we could share with them the gospel but were rejected the first four attempts (separate days). But for the fifth time, we knocked and asked if we could share and the mother let us in. After 4 weeks, the family was baptized. Then the mother became an asset in the area. She always had referrals. (Mar)
When I transferred to Palawan Island, and my companion and I are tracting one of the houses in our area, the father said I saw of you guys in my dream…one American and a Filipino but the faces are not clear to me. I asked him what the dream was about…what happen?  The father said, "It's just like you guys dress in white shirts and neckties"…and the father said "did you bring a book, the blue one" and we said "yes, we have a book the cover is blue"…and I showed a copy of a Book of Mormon, and he said that is the book I saw in my dreams, and he said you gave me the book in my dream. You said its free and the only pay is to read it because those are the words of God, and we said yes we give to you this book. It's free…but first we teach the first discussion. When we offered a prayer the Spirit of the Lord was so strong in that moment at that time, the father cried and my companion and I had tears in our eyes. After that, we gave him a reading assignment in 3 Nephi 11, and we set a next appointment to visit him again. After we visited that house, my companion and I cannot speak. We are shocked by that experience. We need to pray about that family. (Ernest)
Every day. (Ashley)
Every day spiritual experiences give you strength and reaffirm your decision to serve. (Cameron)
When one of the people we where teaching could feel the Holy Ghost so powerfully she started to cry. (Joshua)
During our Discussion. (Erlinda)
The Lord protected all of us missionaries during the typhoon and through all of the typhoons and storms that happened after it. It was a powerful testimony to me that the Lord protects His servants and those who are diligently devoted to the work and engaged in the building of His Kingdom. (Brinton)
When the missionaries asked me if Joseph was truly prophet of God. (Liza)
My last transfer, we hardly got to work because my companion was always sick. One night, we were walking home and she started throwing up and then she fainted. The people around us, including my district members, helped me take her to the hospital. The Lord was there because we didn't get to pay the tricycle man because he was so kind to take us there for free, and when the doctor saw that we were missionaries, he lowered the bill to a price that we could afford. I was traumatized by that experience but I learned that the Lord protects his missionaries as long as we are faithful. My companion was medically released after that and it was sad, but I never forgot that transfer and that companion was exactly there for a reason to help me rebuild my faith in Christ and that trials will always be there even at the end of your missions. (Ianeta)
During one of our mission tours with Elder Echo Hawk and I had a one on one interview with him. (Mary)
Too many to mention. (Estrella)
Going to the temple once every transfer. (Ar-jay)
Every day of 2 years. (Richard)
A lot but a particular was in Binan Laguna which is known for flooding. We got stuck in the flood up to chest area and we just walked naturally. When we came back the next day, we found out that the area we had walked was full of drainage and bumpy…if we missed our steps it might cause big danger…Heavenly Father's protection is really in action. (Fe)
During when we taught the discussions about the first vision of Prophet Joseph Smith…during that discussion I feel the Spirit…lalo na matangap nila na si Joseph Smith is a prophet of God. (Erlinda)
Committing/challenging investigators for baptism. (Liduina)
I had been sent to the Philippines as a Welfare Services Health Missionary, and proselyting was something I had never wanted to do on my mission. I had a strong testimony and knew the church was true. I just had problems with proselyting and sharing this with others. While sitting in a family's nipha hut on a rainy evening, I was watching a lizard run around the walls, and I kept moving my body around so the rain from the leaky roof wouldn't get me too wet. My companion elbowed me, and I knew it was my turn to share the end part of the Joseph Smith story and bear my testimony. When it was my turn to speak, I finished up the Joseph Smith story and then bore my testimony. The father then asked my companion a question. While they were talking, I heard a voice in my head and my heart, saying to me, what you have just told this family, and the testimony that you bore, is true. This IS the Lord's church. SHARE YOUR TESTIMONY! From my head to my toes, the warm-fuzzies (warmth) filled my body as I heard those words. On that special rainy night, I was converted to proselyting. I could hardly wait for 6:00 pm to come each day, when we stopped our health work and we went proselyting! I have been home from my mission for 40 years, and since that special night, I have not stopped proselyting! (Janalee)
Sharing testimony❤. (Elora)
What are some interesting facts about the Manila Mission?
We had very small areas, but still were able to find people everywhere who accept the Gospel. (Jordan)
It is the first mission in the Philippines. The Manila Mission has been split so many times that there are now 21 missions in the Philippines. (Joshua)
Interesting facts….. I love the zone conferences. I love the live music concert that we missionaries did. I loved it whenever an Elder from Quorum of Seventy or any Apostles visited us. (Sara)
Missionaries are very diligent. The goal is to convert one person every week. Convert people, not baptize. :-). (Mar)
Interestingly, in my mission, people find it hard to accept the gospel but they allow us and accept us as preachers to enter there house,and sometimes they offer food and water to drink to bless them. (Ernest)
There are so many less-active members so the focus was to spend half our time rescuing them. (Ashley)
It is the best mission of all time. (Cameron)
Most densely populated mission in the world. (Joshua)
Enjoying companionship with other sisters. (Liza)
Palawan is one of the best places in the world and it's in our mission. (Ianeta)
Manila mission is not that safe but all the missionaries are obeying the rules of the mission. (Mary)
We have a temple day. (Ar-jay)
In the Manila area, my 1st area was Mandeluyong (outside) from September to October, 1971. My last area was in Cainta from August to September, 1973 where I was a District Leader and the Branch President in the new Manila Stake. (Richard)
My mission call was not in Manila Mission but Taiwan Mission… But Heavenly Father moves in mysterious ways. (Fe)
I got to the find out who I am. (Erlinda)
Sharing the gospel discussion. (Liduina)
When I arrived in the Manila Philippines Mission, it was the only mission there. During my time there, the Cebu Mission was created. Now there are 21 missions in the Philippine islands! When I was there in 1974, we had only one church building. Today, there are over 400 meeting places and chapels. (Janalee)
I can be more familiar of the streets compared to those living in that area. (Elora)
What was the weather like?
It was mainly very hot and humid. But it was very frequent as well to have very, VERY heavy rainfall! (Jordan)
Hot, humid and wet. (Joshua)
Rainy. (Richi)
The weather was always very hot. And sometimes rainy for a short time period. (Sara)
Hot and rainy. In summer, it is very hot. On rainy days, there are places that are flooded. If you are used to cold places, it will be very hot in the Philippines. (Mar)
The weather is three seasons; summer, rainy and stormy. (Ernest)
Hot and humid. Or less hot and rainy and humid if it's rainy season. (Ashley)
Very warm, humid, beautiful. Lots of rainy days, weeks, months. (Cameron)
Hot and humid. (Joshua)
Rainy Season (Erlinda)
Very rainy! Lots and lots of rain and humidity.. But overall, it was the perfect temperature all the time. (Brinton)
In the Philippines summer. I prefer spring because the weather is good and I truly loved flowers. (Liza)
Hot, rainy and windy. (Ianeta)
Rainy sometimes hot. But it's just a part of climate change. (Mary)
The weather before, sometimes so hot and sometimes raining…..And storm signals. (Estrella)
Hot weather. (Ar-jay)
Hot and wet, except for December, 1971 to May, 1972 when I was in Baguio. (Richard)
Wet and dry season. (Fe)
Rainy day..dahil yung mga tao nasa bahay sila…so walang dahil para ma prepare namin sila to invite and to teach. (Erlinda)
Nice and cool. (Liduina)
It was very, Very, VERY humid! When I walked off the plane and was hit with the humidity, I almost turned around and walked back onto the plane. (Janalee)
Unpredictable- now sunny, later it's pouring. (Elora)
Any things you really like about the area/people?
The kindness of the people. They really enjoyed becoming friends with us. (Jordan)
There are so many people and they are all so hospitable. (Joshua)
More people and more acceptance. (Richi)
I love the people there. They were really very nice and humble. That's why I visited them again after my mission in September 2015. (Sara)
Lots of people…many are willing to listen, but most don't want to be baptized. They are just being kind letting the missionaries inside the house. Also, people always smile especially if you first smile at them. (Mar)
They are friendly even though they don't accept the gospel. (Ernest)
I served on Palawan which was absolutely beautiful and the people were very accepting of the gospel. The people there will give you everything they have and leave nothing for themselves. (Ashley)
The Filipino people in general are very kind and faithful. The church is very strong in the Philippines. (Cameron)
The people are very humble. (Joshua)
The filipino people are very humble and inviting.. They would always feed us and welcome us in to their homes, and in general, they were very willing to hear our message and to "try it out" so to speak. That was of course a fruit of the humility that they often exemplified. (Brinton)
Place provides a lot of fruits and people were hospitable. (Liza)
They were always willing to help me with the language and they loved to feed me. (Ianeta)
I served in a province and the people there are very friendly and they love talking with the missionaries. And even if it's hard for them to attend church services, still they are trying their very best to attend. (Mary)
People were so good… Loving to accept the missionaries to their homes…..But there are also people who have no time for them and for the restored Gospel of Jesus Christ. (Estrella)
Kind and aggressive people. (Ar-jay)
It was a beautiful place full of beautiful people. (Richard)
I love the way they treat the missionaries… They are all hospitable…every place I was assigned to was a blessing. (Fe)
I like my last area the Trece Martirez cavite. (Erlinda)
Food and the people/members around, very cheerful. (Liduina)
I love how kind, loving and giving the Filipino people are! The countryside is so green and wildly beautiful. The local food is delicious! (Janalee)
Their kindness, hospitality, and of course the food they served every time we visited. (Elora)
Any packing/clothing advice?
Pack only the essentials. You will over pack, but whatever you bring with you, you will be packing and repacking multiple times. (Jordan)
Don't bring a suit. (Joshua)
Just keep clothes that are suitable for summer. (Sara)
As an ambassador of the Lord, we need to be neat and clean in our clothes.(Ernest)
You can buy any clothes you will need there at thrift stores (unless you have larger feet). They have normal power outlets there.  Sisters, you will need to pack any personal items that you prefer because they don't carry some things. You will not find them for sale anywhere. Pack enough garments. They only place you can buy them is Manila and they don't have many options. You can buy really anything else you will need, so pack light. I ended up giving away a lot of extra things I never used. (However, an umbrella is something you might want on day one). (Ashley)
You can purchase just about anything you need in the Philippines for a very reasonable price. (Cameron)
No suits. (Joshua)
Pack like your gonna be in rain for two years. Because you are and will be. So buy waterproof clothes, shoes, and proselyting bags. Also I would recommend that bug spray be a priority, because there are mosquitos everywhere.. However they seem to stop sucking your blood after about a year of you being there.. Or they try and bite less often. But in short, you will sweat and get rained on almost every day. Plan clothes accordingly. (Brinton)
Rolling the dresses. (Liza)
If you are serving here in the Philippines, you don't need to pack lots of clothing. You can find a place we usually called "Ukay Ukay". You can buy clothing in that place. American size or Filipino size, good quality of clothing, etc. And it's affordable. (Mary)
You roll your clothes…don't bring thick clothes. (Estrella)
Don't bring lots of clothes from home. (Ar-jay)
Make sure you are prepared for the heat as well as frequent rains and floods. (Richard)
Flat shoes are always on the go…a pair of jeans, jogging pants and sneakers for the community service and sun block and umbrella too. (Fe)
Casual. (Liduina)
It's HOT over there. 🙂 Pack accordingly. (Janalee)
If you are foreigner serving a mission in the Philippines, bring only light clothes and lotion for mosquitoes. (Elora)
What blessings did you receive from serving a mission?
I learned how to work hard and to love the Lord more. I learned that patience follows true love. (Jordan)
Patience. (Joshua)
I fulfilled my goal to marry inside the temple..and strengthen my faith to the most high God. (Richi)
I have received so many great blessings from serving a mission. After my mission, I liked an returned missionary but because I live in Pakistan, it was very hard to tell my parents that I like someone . It's not our culture. So the Lord helped me to marry that returned missionary in February 2015. After marriage, we were blessed to see the temple together and we got sealed there for all time and eternity. (Sara)
Before my mission, I only ate once a day. It was luck to eat twice a day. I consider eating three times a day a miracle. Back then, I had a scholarship (free tuition fee with monthly allowance that only lasted for a week) and my relatives are pushing me not to stop my college because if I go, my scholarship will be stopped. But I still went. While I was in my mission, my mother got a very decent job. Now, I am working a as Project Engineer, married to a faithful woman, have one year old son, have our own car, and helping others to study. I have received a lot, more than what I deserve. (Mar)
The blessing is I'm becoming stronger and able to face the challenges. I give thanks for my mission because it helped me be a better child of God. (Ernest)
Learning how to set goals and how to study the gospel. Learning the importance of families in God's plan. I became more comfortable talking to strangers about things that are important to me. I learned how to really love people I don't know. (Ashley)
Too many to count 🙂 (Cameron)
A love of God's children. A love for God and a love for my Savior. (Joshua)
I know how to plan much more effectively now, and I am better at budgeting my money. I have a stronger purpose in the direction I'm going in life, and I have much better study habits. This has improved my grades up at college significantly. These are all rather temporal blessings, but there has of course also been an increase in strength as to my testimony and conviction of the truthfulness of the gospel. (Brinton)
Truthfulness of the gospel of Jesus Christ. (Liza)
An appreciation of the Atonement of Jesus Christ. (Ianeta)
I have lots of blessings because of my mission. And I can't name them all but the most special thing I got is when I was able to send my younger brother on his mission. And when a less active young single adult served her mission. (Mary)
Too many to mention…(Estrella)
Maturity in the gospel aspect. (Ar-jay)
I don't think I was loved by so many people at any other time in my life. (Richard)
Love of knowledge. (Fe)
Blessing? All of them 😊😊 spiritual, physical and temporal ….di ko lang mabilang. (Erlinda)
Stronger testimony, developed self esteem. (Liduina)
When I turned 21, my bishop called me into his office and invited me to consider serving a mission. I said, "Sorry Bishop. No way am I going out to proselyte." Every time I came home from BYU, he would call me into his office and we'd have the same talk. Four years later, I was still having to meet with the bishop. On one of these "chats", I decided I was going to have to come up with a plan to get the bishop off my back. I thought and thought, and then came up with a really great plan. When I was called into the bishop's office, I said to him, "Bishop, if you can find me a mission to go on, where I don't have to proselyte, I will go." I was really laughing inside, because at that time in 1974, there weren't any. I left his office, and TWO hours later, I got a phone call from him. He said, "How soon can you get into my office? I've got some exciting news to tell you. I called Salt Lake, and they have a new program now, called Welfare Service Missionaries. And one of the departments are Health Missionaries, and since you have a medical background, you'd be perfect for that!" I reluctantly signed my mission papers and waited to see what would happen next. That was the beginning of an awesome, AWESOME mission experience. Another blessing from a mission: When I read the dedicatory prayer by Elder Hinckley 15 years after he gave it, it brought tears of joy to my heart, to see how many blessings he had blessed the people and the land with. To me, it was awesome to see that so many of these blessings had come to pass from his dedicatory prayer. (Janalee)
Strong and firm testimony. (Elora)
What are some skills you gained?
I learned that I could do hard things. The language was a struggle, but it came. Heavenly Father can do anything! (Jordan)
Teaching. I currently teach swimming lessons. (Joshua)
Talk to everyone and use time wisely. (Richi)
I learned lots of patience and how to love everyone. (Sara)
My communication skills were improved a lot. I can say that I can understand people without them saying any word, just by looking at their facial expressions and their gestures. Also, I have learned to love people I just met. Once we started to talk for at least a minute, it will broke my heart to see you suffer. (Mar)
Skills I gained in my mission are that I am never too shy to talk to people. (Ernest)
Cooking, cleaning, speaking Tagalog, planning and organizing, speaking in public, dealing with others. (Cameron)
Listening skills. (Joshua)
Teaching, learning a couple new languages, studying, social skills, leadership, budgeting money, and planning effectively. (Brinton)
Budgeting. (Liza)
Social/communication skills, organizational skills with planning my day (although I am still improving with that). (Ianeta)
I learned how to cook for myself and budget my money. (Mary)
Too many to mention….(Estrella)
Talking a lot. Lol (Ar-jay)
One important skill was not to judge people by the first impression. Most of them are far greater than they appear. I also learned to be ready for ANYTHING, ANYTIME! (Richard)
Confidence. (Fe)
Skills…I know how to handle myself for being mahiyain..after my mission kapal mukha ko na😊😊. (Erlinda)
Self confidence in speaking/talking to people whom we come in contact with. (Liduina)
I gained skills on how to really read and study the scriptures. I learned to love the Lord's children and see them as the Lord sees them, rather than looking on the outward appearance. I learned HOW to share my testimony with anyone, any place. And without offending too! (Janalee)
Talking to people. (Elora)
What do you wish you knew/did at the beginning of your mission?
Stop stressing about the language so much. Practice as much as possible and it will come. It just takes time. (Jordan)
The language takes a year, not six months. (Joshua)
To become worthy to teach and fulfill our daily stats. (Richi)
I wish I could learn the language before or at the Mission Training Center. I had learned the language Tagalog on my own. (Sara)
I wish I had memorized all the scripture masteries and worked with the missionaries often. (Mar)
My wish is to meet the Prophet. (Ernest)
Don't stress too much. Don't feel bad if you feel like you're not fulfilling your purpose because of your inability to speak the language well or teach lessons well. It will come if you work hard and pray hard and be obedient. (Ashley)
I wish I would have read my scriptures more before I left on my mission. (Cameron)
Loved more. (Joshua)
More home teaching! It is a perfect environment to teach with a companion and learn how to alternate teaching during a lesson. (Brinton)
Discovering places. (Liza)
To have my own testimony so that I had the chance to encourage the young single adults in my first area to serve in the Lord's vineyard. Unfortunately, my own testimony has been developed when I was already in my second area. Sta. Monica Branch in Puerto Princesa Palawan. (Mary)
That missionaries who wished and wish to serve will be spiritually, mentally and emotionally prepared for this work. (Estrella)
I learned that the harder you work, the easier and more fulfilling it is. (Richard)
I wish I had attended institute. (Fe)
To serve with all my heart, might, mind and strength….and return with honor. (Erlinda)
Carrying your own pieces of luggage. (Liduina)
Nothing, for it was a wonderful journey..everything in it. (Elora)
Any advice/testimony for pre-missionaries going to Manila?
The Lord knows that area very well. His children are there and ready for you to share the Gospel with them. (Jordan)
You don't have to feel ready, just be worthy and do your best. (Joshua)
Be always active in all the meetings of the church and apply those principles in everyday life.Work out, finish your Duty to God and always attend Institute. Be obedient always. (Richi)
Learn the language very well at the Mission Training Center. It will help you stay focused. I know the work of the Lord is real. I know Heavenly Father and Jesus live and love me too. I am so blessed from serving a mission. I know the Lord blesses us when we remain obedient. In Jesus name, Amen. (Sara)
Just be your best self. If you are to talk with other people, think of them as your friend. People will more likely to listen to their friend's story than to a stranger's. So first build relationships. Don't be afraid to be away from your family, people will love you especially if you eat what they cook and tell them its delicious even if its not. I know you will come to love the people as time goes by, then when your full-time mission has come to an end, you will wish to stay. (Mar)
My advise to those who serve in mission…don't argue with your companion. Remember in 3 Nephi 11:29, "the spirit of contention is not of me, but is of the devil…" Love your companion whatever happens. Be neat and clean in clothing, even at apartment, that the spirit of the Lord may stay in you and in your apartment. Be sensitive to the still small voice and always listen to your companion. If your companion has shared a spiritual prompting, like what happen to me, you might receive a consequence like when my district leader and zone leader did not listen to me about not riding that tricycle because I heard a voice said not to ride on that tricycle. So the price was, we had an accident on the highway when the tire of the tricycle exploded. Before you go on a mission, read and study the missionary handbook. Be obedient to the mission rules for your safety. (Ernest)
Focus in the Mission Training Center and spend as much time learning the language and the gospel as you can. People will tell you that you can learn it in the field, which is true, but it's much better to have a head start. I was able to teach my trainer a lot about Tagalog grammar because I focused hard in the Mission Training Center and tried to speak as much Tagalog there as possible. That being said, no matter how much you prepare beforehand, you will never be ready for the field. You will always have to rely on the Savior every day. Serving a mission was the best decision I've ever made. (Ashley)
You will absolutely love it. What a wonderful place to serve. (Cameron)
Study all the chapters in the Preach My Gospel except for chapter 3 until later when you start teaching. (Joshua)
Make sure you go for the right reasons.. Do it for you, not for anyone else in your life besides the Savior and a love for Him.. No other peer related influence should matter, and it certainly won't once you get to the mission and finally realized what you got yourself in to. So go because you love God and go because preaching the gospel is singlehandedly the most important work we can do in time and in eternity. Souls are at stake. And for two years you will engage in this holy work 24/7. And essentially, it's the same work that the Brethren do every day of their lives.. So you join them in that joyous cause for the time that you serve. And that opportunity is sacred. Be worthy. You have to be worthy and you have to be obedient throughout your mission. Your effectiveness will be contingent in large part of your worthiness. And God is trusting us with this sacred opportunity to serve His children. But I will return with my original statement. The most important thing that you must do before you leave is to make sure that you decide to go because you love God and wish to serve Him. That's it. Not because your friends are all going or your parents are telling you to or because you feel like it's a duty to go. And it is for the men, but go because you are converted. Go because you want to be changed and want to be improved and refined by the Lord. Go because there is no holier thing you can do in this life than to serve a mission… Because covenants are directly involved with it. And it's the helping of individuals in making those covenants that is the whole purpose of missionary work in its entirety. Lastly, go when you can go and when you should go… Don't wait longer than is needful… But get your life in order before you leave… Talk with your bishop and be completely and openly honest with him… Do not go on the mission unworthily. Your mission will be endlessly more enjoyable and more effective and guided by the spirit if you go worthily.
Love your companion. (Liza)
I know that God takes care of his missionaries and that the Atonement is real. That only Christ knows what it's like to be us and that He knows how to overcome our trials. I know that this is His Church, the same one that was organized when He was on this Earth and I know that because Heavenly Father loves each of us, He restored that same church through the prophet Joseph Smith. I know that the Book of Mormon is true. If you have a testimony of the Book of Mormon, you will bless the lives of those you teach in the Philippines. I love this work. If you are strictly obedient, you will see miracles in the lives of those you teach. I am grateful for the Savior and his Atonement. Be humble. Forget yourself and do the work. Do it with joy because it is a message of joy. Follow your leaders. Sustain them and pray for them. (Ianeta)
Future missionaries. Serving your mission is the biggest challenge you could ever face. It's all about doing what the Lord wants you to do but if you will become faithful and will obey the rules with exactness, you will see miracles every day in your life. I know leaving your family is not easy, I felt so alone when I hit my 3 months in my mission because a strong typhoon Yolanda/ Haiyan hit Tacloban and my family was a victim of it but I had a strong testimony that if I will remain faithful they will be saved and Tacloban missionaries will survived. It is a miracle that I have seen because of choosing what the Lord wants me to do. This is my testimony and I know this is true in the name of our Savior, Jesus the Christ, Amen. (Mary)
That missionaries must immersed themselves in reading and studying the four standard works of The Church of Jesus Christ of Latter day Saints. (Estrella)
Magtrabaho, magtrabaho, magtrabaho at pagsunod! (Ar-jay)
Some time after my mission, after I was married and had young children, I taught some Institute, including Missionary Preparation. I taught my students what to look forward to, to work hard, to work even harder, to obey the rules and to love the people. As these students returned home, they said that everything I told them was true, and they had a marvelous experience. (Richard)
Mission life is somewhat preparation for learning and rediscovering ourselves… It is the time that we will know/realize our weaknesses and strengths of our companions will be our reflections…either you will like them hate them or love them… either way, you have to deal with it because you are 24/7 together. (Fe)
Forget yourself….and serve without expectations and be obedient to the mission rules…strive to be obedient. (Erlinda)
Be prepared temporally and spiritually. (Liduina)
The Filipino people are some of the most loving and giving people I have ever met. My companion had warned me ahead of time that when we went to someone's home, if I saw a picture or any figurine or decoration that I liked, do not tell them that it's pretty or that you like it. Because if you do, you'll be walking out their door with it! They're that giving! The country is a very lush and beautiful place. It's sad that even today, the living conditions are under par. In some schools and buildings, there isn't running water or electricity. Yet, the Filipino people are joyful and happy. (Janalee)
Read the whole Book of Mormon. (Elora)
What was a funny language mistake?
Hahaha, no…too embarrassing. (Joshua)
Kabus kabus ka banar,meaning loko loko ka talaga..I was using when I saw people in Palawan..meaning you are crazy. (Richi)
I mixed up "bones" with "bottles" when teaching that Heavenly Father and Jesus Christ have bodies of flesh and bone. There are tons of ways to mess up with the grammar but they will generally understand what you're saying. (Ashley)
I was trying to say. "I want to teach you." But I was trying to practice using the word "kita" I ended up saying "Gusto kita…" but I didn't know how to add in "teach". So I accidentally told her I like her. Hahahahahaha (Joshua)
Mga… my companion had a hard time saying that… she said always mangga. (Liza)
I translated fasting as a way to sacrifice your body (meaning not eat and drink) only because that was the translation with how we would say it in my native language and it came out as human sacrifice in Tagalog. No, we do not do human sacrifices in our church or ever! Another mistake I told our investigator is that we fast linggo linggo..weekly hehehe..no don't say that! you always will get this wrong the first time if you're not careful.. puso and pusa. Puso is heart, pusa is cat. Enjoy learning Tagalog! IT is sooooo much fun but to master the language, you have to work hard and rely on the Spirit. (Ianeta)
Learning the dialect of Palawan. It's crazy and seems like your talking with a person came from another planet. (Mary)
I lived in 3 different language areas in a mission that serviced the whole country, unlike many missions today. (Richard)
During Book of Mormon reading….since I am visaya…I used the word during the discussion (libog in visaya means naguguluhan or nalilito) but in tagalog libog words is a word like bastos term😊😊 (Erlinda)
"pispis". (Liduina)
We just spoke English, so we didn't have any language mistakes. However, it was so sweet to hear how Filipinos called us "sister". They would say "Seester"! (Janalee)