Free resources about the Philippines Legaspi (Legazpi) Mission:
*Other Mission Pages: Philippines LDS Missions.
---
---
Philippines Legaspi Mission Address
Here's a recent address for the Philippines Legaspi Mission. We try to keep this information up to date, but it's a good idea to check the address with several sources, including your mission packet or the mission office.
Philippines Legazpi Mission
LDS Chapel #152 Rizal St
Barangay Sagpon, Daraga
4501 Albay
Philippines
Phone Number: 63-52-742-0996
Mission President: President Dale K. Kotter
Philippines Legaspi Mission Map
Here's a link to the mission map for the Philippines Legaspi Mission (LDS). To access the official, up-to-date LDS.org map for the Legaspi Mission:
Log into your LDS account here.
Click here.
Videos with Legazpi RMs
Here are in-depth YouTube video interviews with returned missionaries from the Legazpi Mission.  We interview hundreds of returned missionaries each year, so check back regularly to see new RM interviews.
LDS-Friendly Videos about Philippines
Here are LDS-friendly educational videos about Philippines. We scoured YouTube to find the best quality videos about Philippines, that are free from inappropriate music, immodesty and profanity.
Philippines Legaspi Missionary Blogs
Here's a list of LDS missionary blogs for the Legaspi Mission. This list includes the missionary's name, URL and when their blog was updated.
*Send your missionary a gift (mission-specific shirts, ties, Christmas stockings/ornaments, pillowcases, etc.)
Philippines Legaspi Mission Groups
Here are Legaspi Mission Groups- for LDS missionary moms, returned missionaries, mission presidents and other alumni of the Legaspi Mission.
Philippines Legaspi Missionary Families Group (51 members)
Philippines Legazpi Mission Group (122 members)
Philippines Legaspi Mission T-Shirts
Here are T-shirts for the Philippines Legaspi Mission!
Shirt designs include Legaspi Mission logo/emblem shirts and Called to Serve shirts. The shirts make great gifts for pre-missionaries, returned missionaries and missionaries currently serving. LDS Mission shirts come in all sizes: Small, Medium, Large, Extra Large, up to 4XL.  The mission designs are printed on white shirts and are shipped to you.
*Simply click on a shirt design to view the details and submit an order. The designs on mission t-shirts may also be printed on other LDS mission gifts, including: Legaspi missionary aprons, Christmas stockings, ties, pillow cases, teddy bears and Christmas ornaments.
*Click here to browse Legaspi Mission gifts
---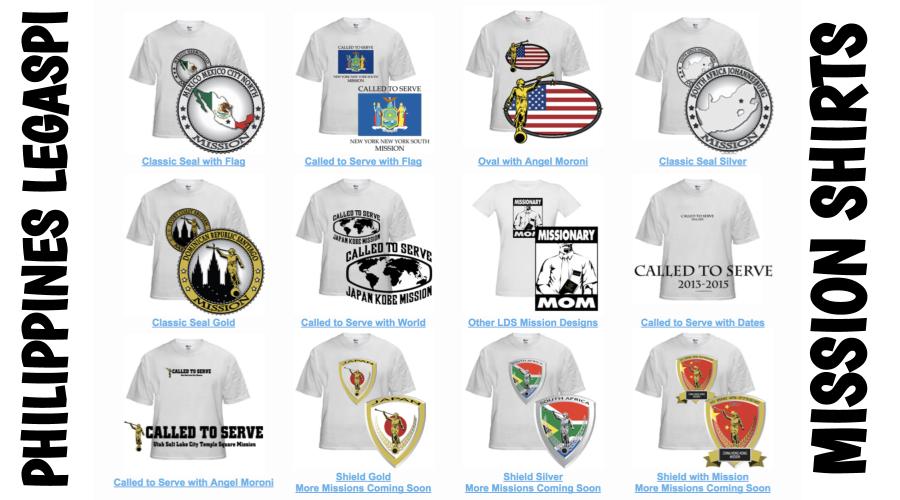 ---
Recommended Mission Prep Books

(Fun Fact: John Bytheway served in the Philippines!)
Philippines Legaspi Mission Presidents
Here's a list of current and past Mission Presidents of the Legaspi Mission. 
2016-2019, Dale K. Kotter
2013-2016, Jovenzio A. Guanzon
Philippines LDS Statistics (2015)
Church Membership: 710,764
Missions: 21
Temples: 2
Congregations: 1,181
Family History Centers: 171
Helpful Tips about the Philippines (articles written by RMs)
Philippines Legaspi Missionary Survey
Here are survey responses from Philippines Legaspi RMs, to give you a snapshot into what it's like to live in the mission.
*Click here to take a survey to help pre-missionaries going to your mission.
When did you serve?
2013-2015 (Hyrum)
2013 (Ruth)
What areas did you serve in?
Ligao, Daraga, Masbate. (Ruth)
What were some favorite foods?
Anything with gata! (coconut milk) and pili nuts. Also you have to try the sili Ice cream! (Hyrum)
"Pinangat" coconut and crabs covered in taro leaves, Bicol express. (Ruth)
What was a funny experience?
One day there was a fiesta going on and we were passing by and then all of a sudden a very drunk guy came wobbling towards us. He then puts his arms around us and stares at the both of us. I just looked at him and said hi. Then he flashed a toothy grin and invited us in for lunch and then later wanted us to teach them. So we did! (Hyrum)
When it was raining and we were walking in a muddy area and I fell, my companion took picture of me before helping me up! ahaha. (Ruth)
What was a crazy experience?
Driving in the Philippines will always be the craziest and most dangerous experience. (Hyrum)
Walking through a long coconut trunk to get thru to the other little island … And the handle of the bridge was a long connected bamboo. The wind was strong and the water on the river was high… I just did it twice. Thanks goodness the bridge was done in a week. (Ruth)
What was a spiritual experience?
Honestly, every day was a spiritual experience. It's too hard to pick. (Hyrum)
There were a lot of spiritual experiences I encountered. Maybe praying for a family we could teach that week and then at the end of the week we met three families and all of them went to church. In a month or two, they where baptized. (Ruth)
What are some interesting facts about the Legaspi Mission?
The majestic volcano, Mt. Mayon! Also there are 3 islands areas that you have to take cool boat rides. Sister Guanzon's food. You will never run out of language to study with the amount of different styles of Bikol there. (Hyrum)
What was the weather like?
Hot and humid. Wet and humid. You will never experience a mission life without a typhoon. Its a must but don't worry you'll be safe. (Hyrum)
Hot… muddy… rainy. (Ruth)
Any things you really like about the area/people?
Everything! Filipino's are the most hospitable and loving people ever. They will love you for who you are. (Hyrum)
They where welcoming and very kind and humble. (Ruth)
Any packing/clothing advice?
Shoes are hard to find above a size 11 for men. So that is a must to stock up on if your shoes aren't that durable. (Hyrum)
Bring clothes that are light and you don't need to iron, black or dark skirts are better too. (Ruth)
What blessings did you receive from serving a mission?
An eternal perspective. And most importantly, a wife… Just kidding. Haha (Hyrum)
A lot, I came to know more about Christ and realized that it's not just all about me but His other children. (Ruth)
What are some skills you gained?
Social skills for sure. Teaching skills. Cooking skills. Planning skills. Leadership skills. Time management. Machete skills (for doing service projects). (Hyrum)
Talking skills, being more approachable and learning to love and accept differences. (Ruth)
What do you wish you knew/did at the beginning of your mission?
I wish I was more diligent in learning how to speak Bikolano. I wish I knew sign language. (Hyrum)
Studying more scriptures and history. (Ruth)
Any advice/testimony for pre-missionaries going to Legaspi?
You will get more out of this mission than whatever you put into it even if you try your best. No amount of your diligence will ever equal to the blessings that Heavenly Father will give you. Legazpi Mission will be your home and enjoy it to the fullest everyday by giving your all. Step out of your comfort zone and talk to everyone! Try all the food because it will endear you to them. The most important thing is to get as close as you can to Heavenly Father at this period of time. (Hyrum)
Just do what the Lord has asks you to do and miracles will happen. (Ruth)
What was a funny language mistake?
"mahal kita…. ng diyos" (Hyrum)
When I used bicol in Masbanteno people. (Ruth)