Free resources about the Peru Huancayo Mission:
Aquí están algunos recursos gratuitos sobre la Misión Perú Huancayo:
*Other Mission Pages: Peru LDS Missions.
---
---
Peru Huancayo Mission Address
Here's a recent address for the Peru Huancayo Mission. We try to keep this information up to date, but it's a good idea to check the address with several sources, including your mission packet or the mission office.
Perú Huancayo Mission
Jirón Cusco #278
Huancayo
Junin
Phone Number: 51-64-211-525
Mission President: President Edgar Silva Julian
Peru Huancayo Mission Map
Here's a link to the mission map for the Peru Huancayo Mission (LDS). To access the official, up-to-date LDS.org map for the Huancayo Mission:
Log into your LDS account here.
Click here.
Videos with Peru Huancayo RMs
Here are in-depth YouTube video interviews with returned missionaries from the Peru Huancayo Mission.  We interview hundreds of returned missionaries each year, so check back regularly to see new RM interviews.
LDS-Friendly Videos about Peru
Here are LDS-friendly educational videos about Peru. We scoured YouTube to find the best quality videos about Peru, that are free from inappropriate music, immodesty and profanity.
Peru Huancayo Missionary Blogs
Here's a list of LDS missionary blogs for the Huancayo Mission. This list includes the missionary's name, URL and when their blog was updated.
*Send your missionary a gift (mission-specific shirts, ties, Christmas stockings/ornaments, pillowcases, etc.)
Peru Huancayo Mission Groups
Here are Peru Huancayo Mission Groups- for LDS missionary moms, returned missionaries, mission presidents and other alumni of the Huancayo Mission.
Huancayo LDS Missionary Families Group (150 members)
Peru Huancayo Missionaries Group (73 members)
Peru Huancayo Mission T-Shirts
Here are T-shirts for the Peru Huancayo Mission!
Shirt designs include Huancayo Mission logo/emblem shirts and Called to Serve shirts. The shirts make great gifts for pre-missionaries, returned missionaries and missionaries currently serving. LDS Mission shirts come in all sizes: Small, Medium, Large, Extra Large, up to 4XL.  The mission designs are printed on white shirts and are shipped to you.
*Simply click on a shirt design to view the details and submit an order. The designs on mission t-shirts may also be printed on other LDS mission gifts, including: Huancayo missionary aprons, Christmas stockings, ties, pillow cases, teddy bears and Christmas ornaments.
*Click here to browse Huancayo Mission gifts
---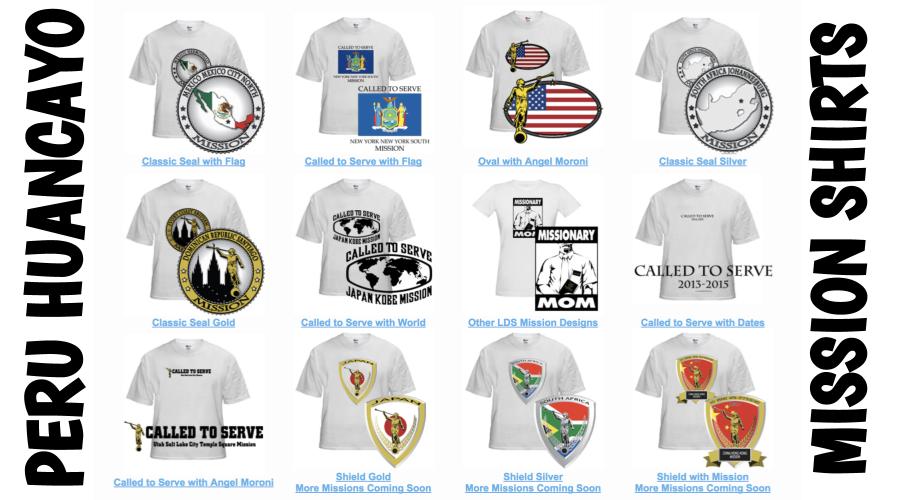 ---
Peru Huancayo Mission Presidents
Here's a list of current and past Mission Presidents of the Huancayo Mission.  
2016-2019, Edgar Silva Julian
2013-2016, David Y. Henderson
Peru LDS Statistics (2015)
Church Membership: 557,328
Missions: 12
Temples: 2
Congregations: 774
Family History Centers: 125
Helpful Articles about Peru
Peru Huancayo Missionary Survey
Here are survey responses from Peru Huancayo RMs, to give you a snapshot into what it's like to live in the mission.
*Click here to take a survey to help pre-missionaries going to your mission.
When did you serve?
2015-2017 (Zack)
2013-2015 (Cassandra)
2013-2015 (Decker)
2013-2015 (Ryan)
2013-2015 (Lisee)
2014-2015 (Sydney)
Which areas did you serve in?
Villa Rica, Carhuamayo, Huanuco (Viña del Río), Huancayo (Mariscal Castilla, and San Carlos), Huancavelica. (Zack)
Huancayo, Cerro de pasto, Huanuco, La Merced. (Cassandra)
Huanuco/Cayhuayna; Tingo Maria; Tarma/San Pedro de Cajas; Huancayo/La Libertad; Cerro de Pasco/Cerro de Pasco. (Decker)
Cerro de Pasco, Yanag, La Florida, Chilca, Tarapaca, Micaela, Los Andes, and Pichanaki. (Ryan)
La Merced, Huancayo, and Huanuco. (Lisee)
What were some favorite foods?
Taiarines verdes; Papa a la Huancaina can be good if made right. Causa de pollo. (Cassandra)
95% of the dishes include half a plate of rice, a small portion of meat (normally chicken), and a great sauce overtop. It's so good!! There's often a substitute of french fries for the rice, and that's amazing, too. Get pumped for el lomo saltado, arroz con pollo, los tallarines, aji de gallina, and the famous pollo a la brasa!! And if you see chicken feet, yes you can eat them, and yes they're really good! (Decker)
Lomo saltado, Pollo a la brasa, Ahí de gallina, and Papa rellena. (Ryan)
Pollo a la Brasa, Papa Rellena, and Pollo de Mani. (Lisee)
Ají de gallina. (Sydney)
Rocoto relleno, Ají de Gallina, Aeropuerto, INCA KOLA, Ceviche, panchamanca, pariwella, chincharon del pota. (Zack)
What was a funny experience?
One time the food we were eating was just so gross and inedible that me and my companion told the pensionista that we needed a drink so she would go into the kitchen and when she left the room we shoved all our food into my boot. Then we walked home after to clean out my shoe. (Cassandra)
I'll just say the drunk guys in the streets are hilarious. They always think they know English, so they will try and strike up a conversation with "Good Morning" at 6:00 at night or something hahaha. They are harmless 95% of the time and they make for some funny conversations.  (Decker)
There was a drunk guy that tried to argue with my companion in the street. Eventually, he grabbed my companion's head with one hand, lifted the other high in the air, and stared screaming "give him understanding" repeatedly at the top of his lungs. There were people in the street looking at him, and my companion and I just about lost it laughing. (Ryan)
Getting egg whites poured over my stomach because a sister in the ward was convinced that was the only thing that would rid me of my fever. (Lisee)
Once upon a time I dropped a chastity pamphlet on a couple that was making out hard core 3 stories below our apartment. (Sydney)
What was a crazy experience?
I didn't really have any dangerous experiences. It's a pretty safe place. But there are so many crazy experinences and moments when you just laugh and say, "Did that really just happen?!?" (Cassandra)
You hear of lots of them, so stay out of the dark parts of the big cities, but there is only maybe one iffy area with sisters in it. Mainly there are just elders there and most Peruvians are scared of a tall, muscular dudes, so you're just fine. One time on a really busy day in the big city, a sister was talking on the cell phone sitting in the back seat of a taxi with the window rolled down and a dude darted to the window and kind of punched her trying to grab the phone from her hand. She took the blow and held on to her phone, and then the ratero took off. There are some desperate people. (Decker)
Well, in the Huancayo mission, the people in general are more used to dangerous stuff being normal. Showering with a potentially dangerous electrical short above your head is commonplace for example. In my case, one really crazy thing that happened was one day when my companion and I decided to explore a part of our area where missionaries had never really been before. We came to a large house and went to go knock on the large metal door on the exterior wall. Instead, we looked through and saw a truck with lots of people unloading boxes. My companion realized they were probably unloading some illicit goods and that someone might have seen us, so we walked away. Moments later all work stopped and people came out trying to find us. We were already pretty far away, so there was no real issue, but we never went back. (Ryan)
Hiding in an ally while we waited for a person that had been chasing us to leave. (Lisee)
A drunk man in the middle of the of the day took ahold of me by the arm and my comp had to pull me away from him. (Sydney)
I got bit by a dog? One time I was in an area that was over 13k feet and it was way cold and I didn't eat well. I dropped like 20+ pounds in 4 months. (Zack)
What was a spiritual experience?
In short, we had a rotten day, visiting all potential lessons in about 2 hours with not one door opened to us. We kept trudging through the village of mostly abandoned houses, and then when the day was coming to a close and we hadn't sat down since lunch time, we went to the room to quickly use the restroom. While the other was in the bathroom, we each said a personal prayer, and then together we prayed to know what to do with the last hour of the night. I can't begin to describe the inexplicable feeling of peace and deep love that I felt which could only have come from my Heavenly Father. Separately, we each thought of the same family and went and were able to have a wonderful lesson with a family slowly being reactivated. (Decker)
Where do I even start? I guess I'll talk about a young man that we taught. His name was Josimar. We met him while visiting some recent converts, and when I saw him in the background, I felt the Spirit prompt me to talk with him and asked one of the new members to get him for me. He came over and we made an appointment. When we came back, he was belligerent and confrontational regarding his atheistic beliefs, and the resulting visit was more frustrating than anything else. A bit exasperated, we left him a copy of the Book of Mormon and a chapter to read, made another appointment and left. When that appointment came, we were running late and had to choose whether to go to him or to another appointment. I prayed and felt like we needed to go back to Josimar. We did. It turned out that he had read just eight verses from the chapter we had left, but his demeanor was entirely different. He sincerely wanted to learn. We taught him the Plan of Salvation, and from then on he began to progress. Eventually, our friend Josimar was baptized and is happily serving in his ward to this day. (Ryan)
Watching Monica change as she accepted the gospel and felt forgiven. Teaching Max about the restoration. (Lisee)
Our investigator Juan Piña. When we would testify to him, the spirit was soooo strong and he eventually got baptized 🙂 (Sydney)
Well, there were tons. It's hard to pick one. One experience I had was early in the mission and I was going to teach repentance to a family. Up to that point I had problems with the language. However earlier that day I prayed to the Lord that I would be able to teach well because I love them. When the lesson came I taught repentance and it went amazingly well. It was wonderful for me. (Zack)
What are some interesting facts about the Huancayo Mission?
Part of it is jungle, so super hot. And the other part is in the mountains, so super cold! (Cassandra)
We have the highest stake center in the world in Cerro de Pasco, sitting at around 4300 m above sea level. There are lots of cool facts, some of which will scare moms, but it really is an awesome place. You'll have to go to find out more interesting things. (Decker)
This mission's altitude varies significantly. One area sits at 14,000 feet, and others sit at about 500. Temperatures vary just as significantly. (Ryan)
Part of it is in the jungle and really warm, another is in the mountains and is really high in altitude and is freezing cold. (Lisee)
We have the highest city with a population of over 50,000 in the world! I was lucky enough to be part of the "chosen frozen" of Cerro de Pasco (Sydney)
Has the highest stake, and zone in the world. Poorest mission in Peru. Best mission in the world. (Zack)
What was the weather like?
If you were in the mountains it was cold and rainy like every day. In the jungle it's super hot!! (Cassandra)
There are deep jungle areas where you may be sweating from after your morning shower until you get in the cold water to shower the next day. It rains a lot and is pretty hot, meaning short-sleeves and sweating every day. Then there are a lot of milder, dry areas in the mountains, in which a long-sleeve shirt will suffice with an occasional sweater and rain coat in the winter. Then there are several areas where the people that go there are deemed "The Chozen Frozen". There, it hails and snows and drops below freezing, and with no heating in any building except maybe the chapel, the mission is kind enough to supply blankets and maybe a small heater. (Decker)
Mostly depends on where you are. Some places very cold, other areas are very hot. (Ryan)
During the "winter" it was really rainy. In Huanuco, it was always really windy and hot. (Lisee)
Cold in most of my areas. I did have a jungle area that was amazing! But most of the areas you generally need at least 1 or 2 sweaters…(Sydney)
Depends what area. Some places are basically year round winter way up in the mountains. Some are very hot all year in the low elevation jungle. His Icon is just paradise. (Zack)
Any things you really like about the area/people?
The people are so nice! (Cassandra)
This place is like no other you have seen or been in. That's what I loved! You will see such random, hilarious, and strange things that you just have to laugh and accept the culture and that YOU are the visitor. Even if you've been to other Latin American countries, everybody agrees that this place is crazier than all others. (Decker)
The people are warm, open, and friendly. It is a very religious culture and many are interested in learning more about God and Jesus Christ. (Ryan)
The people were really nice. I really liked the climate, it wasn't too bad to walk around in. We did a lot of walking. (Lisee)
They are overall very kind people that are willing to do so much to learn more about the gospel! I liked that everyone had a belief in God because all of the schools are Catholic and they teach about it haha (Sydney)
They are so kind and humble. Maybe not the brightest people in the world, but they're so kind and genuine. Truly, even if they don't have true interest in the gospel they are so warm. (Zack)
Any packing/clothing advice?
Take a sleeping bag!! You can sleep in it in the cold and sleep on top of it in the hot! Ziplock bags!! You need them for a lot of things and you can't get them there. (Cassandra)
Bring some cold weather stuff, bring some warm weather clothes. You never know… you could get transferred from the inner jungle (90 and humid year round) to Cerro de Pasco (below freezing every night year round) so be ready!! As far as bulky items like coats and boots, if you can fit them in the suitcase, great. If not, other missionaries are nice enough to circulate their warm things when they leave and there are a few places to buy things to use. Disclaimer: these coats and boots will not be Columbia, North Face, or anything nice. They will be okay material, but they will do. The warmest things I took were 2 sweaters, and I was just fine when I got to Cerro de Pasco. (Decker)
You need to be packed for warm, cold, wet, and dry. Good shoes and a tough pair of boots are important. (Ryan)
Huanuco is a windy place, so have skirts that aren't flippy. Also, be aware that when its time to leave, you'll want to leave most of your clothes so you have room for other stuffs so don't bring something you would be sad about leaving behind. Also stuff you wouldn't be sad about getting ruined or stolen or lost. (Lisee)
Ladies: bring stuff that doesn't show sweat. Bring plenty of tights and warm leggings. Also sweaters, headbands, scarves, gloves. But also, pack for warm weather where you won't need that stuff. (Sydney)
Half short sleeve half long sleeve. Sweaters and thermal clothes can be bought there. But you should bring good boots and a good coat. Get light cool pants for the jungle. You can always put more thermal underwear on, but warm pants are the worst in the jungle. (Zack)
What blessings did you receive from serving a mission?
I cane to know my Savior and learned how to Recognize his promptings. That had helped me know what direction to go after the mission and has helped me feel a sense of knowing I am doing the right thing. (Cassandra)
The strength of my personal testimony is probably the biggest one, but other blessings would have to be the experiences of seeing such changes in others' lives. Also, I think I am healthier now after my mission because of eating so well and doing exercise daily. My study habits are better and I am more focused in school after having studied daily and realizing what my priorities are. (Decker)
Being able to speak and understand. Patience. Faith. Compassion. (Lisee)
Although there were plenty of hardships in my family during the time that I served, they were all blessings in disguise. Whether it was with the work of either of my parents, or the health of my siblings. We all somehow made it through 🙂 (Sydney)
Well, I've only been home four months so I can't say everything. However, I can say there are so many blessings, and more I feel that are to come. (Zack)
What are some skills you gained?
I definitely learned to not be embarrassed or nervous about just talking to people. There really isn't a point in being scared. The worst thing that can happen is you mess up or they say no (both of which will often happen), and you each go on your way with more experience under your belt. You'll get better, but just go up to people, get to know them, and tell them how wonderful the gospel is personally to you! (Decker)
Working hard and persevering even when its hard. Following the Holy Ghost and listening for him. (Lisee)
Spanish, patience, love, kindness, teaching (Sydney)
I speak Spanish now. I can better organize my time. I am a much better communicator now, and I like talking to people. I can coordinate and lead groups. (Zack)
What do you wish you knew/did at the beginning of your mission?
I wish I knew Preach My Gospel Chapter 3 like the back of my hand. If there was one thing that would have helped me get into the groove faster and be effective sooner in the mission, it would be to know all of Preach My Gospel but especially Chapter 3. (Decker)
Its really hard some days. There are some really good days as well. Keep pushing through the hard days and then you'll get to the awesome ones and forget the detail of the hard ones. Also, think happy thoughts and make sure you keep a journal. (Lisee)
Spanish. Haha just kidding-gift if tongues is real 😉 I wish I had read and prepared more from PMG and the scriptures. It took me a while to figure out my purpose as a missionary. (Sydney)
IT'S NOT ABOUT THE NUMBERS. It's about love, and doing what's best for all your spirit brothers and sisters. It took me too long to understand that. (Zack)
Any advice/testimony for pre-missionaries going to Huancayo?
Be obedient and do what you are supposed to but don't forget to enjoy the journey along the way. Missions are hard work but they are also a lot of fun! (Cassandra)
The favorite time in my life up until now has been those two years that recently ended. From experience I can promise that if you try to forget yourself and think of what the Lord would want from you and what the people need from you, you will thoroughly enjoy yourself and see wonderful things come about. You will make long-lasting friends, you will see miracles, you will come home with an unbreakable testimony, and you will forever love Peru and the Gospel. (Decker)
Read your scriptures and pray and go to the temple often. Write down the spiritual experiences you have and take them with you so that you can remember your testimony when it gets hard and you start to slip. (Lisee)
This is the best experience you will ever have! You will be giving people the gift of the gospel that we are so blessed to have 🙂 I do not regret my mission in the least. It will help you to become a better son or daughter of God and you will be able to see that kind of change in those you teach as well 🙂 (Sydney)
Bring a good coat. Be obedient. Love. Work hard. Follow the Spirit. (Zack)
What was a funny language mistake?
One missionary went up to the door and said, "good morning, I have a wonderful massage to share with you." (Decker)
I told someone I was married instead of telling them I was tired. (Lisee)
Pecado and pescado: sin and fish. (Sydney)
One time I accidentally asked a girl out when trying to take out an appointment to teach her. I once said I like fried butt in stead of I like fried squid. (Zack)