Free resources about the Oklahoma Oklahoma City Mission:
*Other Mission Pages: Oklahoma Tulsa Mission.
---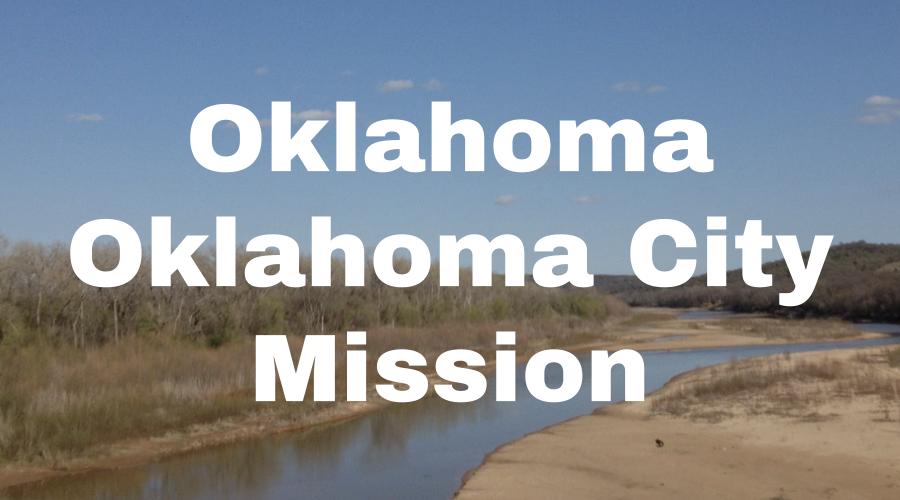 ---
Oklahoma City Mission Address
Here's a recent address for the Oklahoma City Mission. We try to keep this information up to date, but it's a good idea to check the address with several sources, including your mission packet or the mission office.
Oklahoma Oklahoma City Mission
1967 W 33rd St
Ste. 100
Edmond OK 73013-3875
Phone Number: 1-405-601-9926
Mission President: President Darren J. Mansell
Oklahoma City Mission Map
Here's a link to the mission map for the Oklahoma City Mission (LDS). To access the official LDS.org map for the mission:
Log into your LDS account here.
Click here.
Videos with Oklahoma City RMs
Here are in-depth YouTube video interviews with returned missionaries from the Oklahoma City Mission.  We interview hundreds of returned missionaries each year, so check back regularly to see new RM interviews.
LDS-Friendly Videos about Oklahoma
Here are LDS-friendly educational videos about Oklahoma. We scoured YouTube to find the best quality videos about Oklahoma, that are free from inappropriate music, immodesty and profanity.
Oklahoma City Missionary Blogs
Here's a list of LDS missionary blogs for the Oklahoma City Mission. This list includes the missionary's name, URL and when their blog was updated.
*Send your missionary a gift (mission-specific shirts, ties, Christmas stockings/ornaments, pillowcases, etc.)
Oklahoma City Mission Groups
Here are Oklahoma City Mission Groups- for LDS missionary moms, returned missionaries, mission presidents and other alumni of the mission.
Oklahoma City Mission T-Shirts
Here are T-shirts for the Oklahoma Oklahoma City Mission!
Shirt designs include Oklahoma City Mission logo/emblem shirts and Called to Serve shirts. The shirts make great gifts for pre-missionaries, returned missionaries and missionaries currently serving. LDS Mission shirts come in all sizes: Small, Medium, Large, Extra Large, up to 4XL.  The mission designs are printed on white shirts and are shipped to you.
*Simply click on a shirt design to view the details and submit an order. The designs on mission t-shirts may also be printed on other LDS mission gifts, including: Oklahoma City missionary aprons, Christmas stockings, ties, pillow cases, teddy bears and Christmas ornaments.
*Click here to browse Oklahoma City Mission gifts
---
---
Oklahoma City Mission Presidents
Here's a list of current and past Mission Presidents of the Oklahoma City Mission.
2016-2019, Darren J. Mansell
2013-2016, Stewart R. Walkenhorst
2010-2013, Nolan S. Taylor
2007-2010, James Ricks Gee
2004-2007, Richard L. Bracha
2001-2004, Gene Raymond Mangum
1998-2001, James R. Engebretsen
1996-1998, Henry K. Chai II
1993-1996, Grant M. Patch
1990-1993, Duane Beazer
Oklahoma LDS Statistics (2015)
Church Membership: 46,588
Missions: 2
Temples: 1
Congregations: 88
Family History Centers: 26
Helpful Articles about Oklahoma
Oklahoma City Missionary Survey
Here are survey responses from Oklahoma City RMs, to give you a snapshot into what it's like to live in the mission.
When did you serve?
April 2013 -October 2014 (Kailey)
2013-2014 (Haley)
2012-2014 (Kyle)
December 2013-June 2015 (Laura)
April 2013-October 2014 (Grace)
2014-2015 Megan
2012-2014 (Jasen)
2012-2014 (Logan)
Oct 2013- May 2015 (Cleo)
2013-2015 (Jillian)
2013-2015 (Braden)
January 2013-January 2015 (Travis)
Which areas did you serve in?
Wichita Falls, Texas (Spanglish); North OKC (Spanish); Norman OU (English); Stillwater (Spanish); Stillwater (English); Norman (English). (Haley)
Edmond (student ward), Norman (YSA), and the OKC 1st Ward. (Jillian)
Woodward, Altus, Norman, and Burkburnett, TX. (Braden)
Shawnee, Ada, Lawton, Paul's Valley, and Stillwater. (Travis)
What were some favorite foods?
Fried chicken, BBQ chicken, fried steak, biscuits and gravy. (Kailey)
English Areas: Brisket. Braum's Ice Cream. Fuzzy's Tacos in Norman/Stillwater. Arbuckle Mountain Fried Pies. Fried Okra. Ribs. Church's Chicken. Fried Chicken. Grilled chicken. Bratwurst. Biscuits & Gravy from Tiffany's in Noble. Anything that Brother Swaim grills up in Norman 1st Ward. (Please note that you may or may not go up to 6 months without seeing a real salad). Spanish Areas: Pozole. Ceviche. 1001 variations of tacos. Popcorn with Valentina hot sauce. Enchiladas (the real type). Caldo (Mexican Soup). Papas a la huancaina (Peruvian dish). (Haley)
Alfredo Chicken, Biscuits and Chocolate gravy. (Kyle)
Tortas, Tamales, Tacos, Chicken Fried Steak, Mole, Chicken Gnocchi Soup… I could go on forever. (Laura)
Barbecue, Real Mexican food, Southern cooking. (Grace)
BBQ and Braum's ice cream. (Megan)
Brisket, deep fried foods. (Jasen)
Corn bread, Braums ice cream. (Logan)
Braums, Marshallesse foods, Rib crib. (Cleo)
Fried okra, fried chicken, brisket, and Sonic. (Jillian)
BBQ! So good. Pretty much all the food is very good though. (Braden)
Everything barbecue, and authentic Mexican food. (Travis)
What was a funny experience?
Once we were going to a lesson and stopped at a stop sign. There was a man crossing the street. Without warning, my companion rolled down her window and asked if he knew Jesus (it was the south). He looked at us kinda funny and decided to come talk to us. We were late to our lesson. But we saw a miracle and met a totally prepared man! (Kailey)
Sometimes we had to let them (the elders) borrow the truck and one day we were driving in it just after letting them borrow it. We were driving down the freeway and I was sitting in the passenger's side of the vehicle. There was sun and so I pulled down the visor and then a snake dropped into my lap. Of course, it was fake, but I didn't know that. It looked real, especially since I was then shaking and screaming (My driving trainer was also screaming). I rolled down the window and flipped it outside with my skirt. I was so scared! (Haley)
My first "tracting" experience, we had a lady open the door and as we began to introduce ourselves she said "I know who you are, and I know Jesus better than you…I think" and she proceeded to slam the door. (Kyle)
One time a drunk man fell on me when I tried to hand him a pass-along card. (Laura)
Working with missionaries in this mission provided me with the funniest memories. I made some of my greatest friends here! (Grace)
Getting knocked in the stomach during a meal at a members house and farting. (Jasen)
We tracted into a drug bust and I asked this police officer if we could pray with them before I knew it was a cop…whoops! (Jillian)
What was a crazy/dangerous experience?
My companion and I were tracting in an apt complex that was known for being a little sketchy. It was day time so we felt we were safe. We knocked on this door and we heard a scream like I have never heard.  My companion served in the navy before her mission and this gave her some severe ptsd.  She ran back to the car and had a panic attack. It was the scariest thing ever! (Kailey)
My companions and I had just dropped an investigator because he had a dangerous aura about him and because he brought a gun to our last lesson. Plus, he had an extreme hatred of one of my companions, even though he really connected with me. Anyways, one night we were locking up the stake center after everyone was gone and I started to feel like we really needed to get out of there. However, I'm prone to being paranoid at night and so I just told myself that if we could get to our car and get our of there that I'd be alright. We got to our car and one of my companions (there were 3 of us) was driving. She headed to the parking lot exit but decided to head to the back of the church, saying "I feel like something is back there and we should check it out." However, the other companion and I felt really against this and somehow ended up yelling "No, turn back now." She hesitated as she was driving towards the back of the church, saying "are you sure?", but finally she turned back and we raced the car home. It was more of a very spiritual experience and we could all feel the intensity of the Spirit telling us to leave. The next day, the driving companion and I discussed what had happened. She told me that as she was driving towards the back of the church that she felt like we were driving to our deaths and that she could actually feel that investigator's presence. I agreed with her that I could as well. After that, we made sure to never lock up the church alone and to stay away from that investigator. We'll never know what would have happened, but we are all glad that we followed the Spirit. (Haley)
There was a time when I was serving in a little town called Chickasha. I served there for my first tornado season. We were watching the sky and keeping our eyes peeled for the signs of a tornado. Around 7:00 pm that evening as the sun was setting, we noticed a couple clouds moving in opposite directions and were impressed to get to the shelter we had. So we did. After a while, it seemed like it calmed down and it was almost time for us to turn in for the night so we headed home for the evening and prepared for a long night. Just after 10:30, the sky turned a bluish green. We dashed to the car and rushed to the church to wait out the storm while we stayed in contact with our leaders. It was a thrilling and scary experience. No tornado touched down but we were in the middle of a potential catastrophe. (Kyle)
We went in to teach a lady once and immediately we could smell that her gas was broken… it was awful. We were glad we went, because she had no idea what was going on. She was probably on drugs. (Laura)
I had a knife pulled on me in one area. He inferred that he might kill us if we didn't leave him alone. Ha, fortunately he didn't. (Grace)
Standing out on a frozen pond when the ice started to break and my companions and I almost fell in. (Jasen)
I was contacting with a new missionary on exchanges in Midwest city. During the middle of the day we were biking through a park, and we stopped and tried to talk to this guy. At that moment he turned around and pulled a gun on us! He told us to give him all our money. As I was deciding in my mind to give him all my cash or just half of it, he walked directly up to me pointing the gun at me, chocked the gun and said, "give me all your money!" After we gave him our money he ran off and we met with the police briefly. Then off we went to teach a new member lesson shortly after! Later that day as we were biking through a neighborhood we passed the same guy who robbed us on the street. (Logan)
One night me and my companion came to our investigators house for a lesson. They weren't home but there were two wild pitbulls. It was on the outskirts in a small town called Lahoma. The dogs were circling us and lunging forward. No one was around us for miles. We said a quick prayer that we wouldn't be hurt and got to the car as fast as we could. Probably like 20 yards. Angels protected us that night. The dogs were biting at our ankles, but never hurt us. (Cleo)
Driving through floods and tornado storms! (Jillian)
I was almost assaulted by a couple of different people at different times. Nothing came of it, and I also had a gun flashed at me. (Braden)
My and my companion drive into a F1 tornado cell in Paul's Valley. We just thought it was a bad storm. (Travis)
What was a spiritual experience?
We were teaching one of our solid investigators who was a miracle! Due to things in his past, he had to be interviewed by a general authority before he could be baptized. He was waiting for his letter from the First Presidency telling him he was good to be baptized. We were having a lesson on patience.  He told us that he knew it was true and he would wait for the church as long as it took but he hoped he didn't have to wait too long! The spirit was so strong! Later that week he received the letter and was baptized the following week! (Kailey)
I was over half-way through my mission when we were told to stay home one Sunday because there was ice and too much snow outside. Our ward had cancelled church and our cars were grounded. However, I knew that the other ward would never cancel church and so the second that our cars got ungrounded I asked my companion "Well, do you want to go to church." Her answer was, surprisingly "no" because by the time that we would get there that we would miss the sacrament and that there was no point for us to go to church if we would miss out on that. Her response made me feel, as the Sr companion, that I needed to teach her that there were many reasons for us to go to church. I said, "Sister, get dressed, we are going to church". She reluctantly did. When we got there, we walked into the back of the chapel and sat down. They were just making the closing announcements. We sang the last song and heard the prayer. I could tell that my companion was irritated, but I still felt that we should be there.The second that the service ended, one of the priests ran up to me and asked if we would like to take the sacrament. We said "sure" and he ushered us to the sacrament table where the Bishop of that ward stood and said "I knew that you two should take the sacrament because it is important". And we did. It felt great, but, more importantly, I learned how important it was to go to church and take the sacrament. (Haley)
I think that my most spiritual experiences came from when I had my prayers answered. I wondered all my mission if I was being an effective missionary. If I was touching someone's life for good. I spent my time looking for those that I had been sent to touch. So I would pray that I would find someone to help. Someone to bring closer to Christ. I don't know if I managed it in all of my areas but of the ones that I know about, I feel were the most spiritual times of my life this far. (Kyle)
So many! How do I even begin? Over and over again I had the truthfulness of the Book of Mormon confirmed to me– personal study, reading with investigators, street contacting… I am so grateful for that witness. (Laura)
I opened my 4th area. The first week I was there, I met an anti Mormon lady who was married to a man that recently returned to activity. We worked with her family with little success. The worst lesson I taught was to her. Through a series of miracles and inspired lessons she got baptized less than a week before I left, 7 months after I was transferred to the area. We had dinner with the family a couple days after the baptism and the husband said, "Sister Morrell, I have a confession to make. How long ago were you sent to Enid?" I replied, "7 months." His answer humbled me: "8 or 9 months ago I started praying that the Lord would send sister missionaries to Enid. I knew that if my wife was to get baptized Sister Missionaries had to do it." One transfer later a new area was opened and I was sent there. I was sent to this area for this sister. (Grace)
Testifying of the Book Of Mormon to investigators. (Jasen)
Baptisms were some of my favorite spiritual experience…The Spirit was always so strong! (Jillian)
A man we were teaching wanted to join the church but couldn't because he had to work every Sunday. We all were praying that he could get Sunday's off, and one day he was told that he got a promotion and would be able to get Sunday's off! Then he joined the church and is still doing very well. (Braden)
Going out to tract and deciding we needed to pray again about where to go. We stared at a map for a bit in silence and both chose the same spot. We found a member we didn't know that lived there and they directed us to two really awesome families that we were eventually able to invite to be baptized. (Travis)
What are some interesting facts about the Oklahoma City Mission?
It is not all cows and farm land. There is a museum in downtown Oklahoma City that is about the bombing that happened a couple decades ago. It is really neat. Lots of famous people live in it…Toby Keith, Kevin Durrant and a ton others. (Kailey)
It is the fast food capital of the world. Toby Keith lives there and has a few bars there that, of course, you'll never get to go to. People there love country and gospel music. There is a church and fried chicken place on nearly every corner. (Haley)
My mission currently holds the record for the largest Tornado…it was 2.5 miles wide. Luckily, it touched down in more fields than city so no one was hurt. (Kyle)
It rocks! ;).  (Grace)
You can run into quite a few people who are missing their front teeth. (Jasen)
The people love the Bible, most of the people are very kind and offer you water even if they don't want to hear your message, the dirt is red, people only decorate trees halfway up the trunk for Christmas, they put reindeer antlers and noses on their cars at Christmas time. (Jillian)
It's flat. There's lots of tornadoes. And football! 🙂 (Braden)
Okies like to make up their own words. The weather changes every 10 minutes. They have more private zoos than anywhere else I have been. (Travis)
What was the weather like?
Some days were sunny and some were rainy. In the winter, it got really cold and there were lots of ice and snow storms. In the spring, there were tornadoes. It was windy all the time! (Kailey)
Humidity. Tornadoes (escaped one my first day in the mission). Rain. Hail. Tornadoes (was there for the May 2013 one that tore up a good chunk of Moore). Heat. Ice. Snow. Tornadoes (just expect these to happen). (Haley)
It was pretty normal weather unless it was tornado season then it could get crazy. I also experienced thunder snow and freezing rain for the first time while out there. (Kyle)
Cold in the winter (Lots of ice! Be careful driving!) and hot and humid in the summers/spring. (Laura)
Hot and humid during the summer, usually cold during the winter but there were days it would be in the 50s or 60s. Spring was rainy and tornado-y. (Grace)
It changes from hour to hour. There I a quote that the Locals love and it goes, "If you don't like the weather, wait a few mins. It will change." But you can always count on there being a little wind:) (Megan)
HOT summers and COLD windy winters. (Jasen)
Occasionally tornadoes come your way, and they are exciting! In the winter they have a cold powerful wind. (Logan)
Cold and windy or hot and humid. (Cleo)
Crazy! You could experience all four seasons in one day…and I thought Idaho was bad! (Jillian)
Super hot during the summer, and all over the place during the winter. Spring is pretty crazy with all of the storms that come through. (Braden)
It changes daily but hot and humid in the summer with sometimes crazy rain storms, and then really cold with ice storms in the winter. March, April and May were my favorite months because that is tornado season and you never know what you will get. The thunder storms there are unlike anywhere else. (Travis)
Any things you really like about the area/people?
Every one in Oklahoma is so nice! They know the true meaning of southern hospitality. They are also a people of strong faith! They love God and love to talk about him! (Kailey)
The people of Oklahoma have a different type of heart. When they love, they truly love. They will show you that in every meal that they cook and are the nicest, toughest people that I have ever known. They are a praying people and love Jesus Christ so much. (Haley)
The people of Oklahoma were amazing. They are friendly and they went out of their way to help people that needed it. They were pretty set in their ways but would almost always be willing to talk about why they believed their religion or how they saw God that week. (Kyle)
Oklahoma is seriously the best place ever. People are so kind. (Laura)
The people are good, Christian people! They live Jesus and know their Bibles. (Grace)
The People there are amazing. You are in the start if the Bible Belt so most if the Okies go to church and believe in Jesus so it is really easy to bring up religion. They are also very nice and in most cases, when my companion and I would knock on their doors during the summer, they would always give us water. (Megan)
Very open, love to talk and spiritual. (Jasen)
Most everyone already has a strong testimony of Jesus Christ. (Logan)
Southern hospitality. They put all the sweethearts in the south. (Cleo)
Everything! I miss them so much. You will form memories and friendships that will stay with you through your entire life, and hopefully into the eternities. (Jillian)
The people were the best. I loved them! So nice and friendly. (Braden)
I loved how everyone was not afraid of talking about Christ or even praying with us in the street. Having gospel conversations was pretty enlightening with others. Most of the people there are great and wonderful people. (Travis)
Any packing/clothing advice?
We do have bike areas so for sisters bike shorts are a must. Also, it is windy everyday so don't get overly flowy skirts. (Kailey)
If you can't get the packing material where you can vacuum out the air, then you can just use garbage bags. That is what I did for packing to go home. I folded my clothes into garbage bags in a neat way and vacuumed out the air. (Haley)
Prepare for rain…and lots of it at once. (Kyle)
Sisters: For summer, you'll want tops that you don't need to wear any kind of undershirt with– the less layers you have to wear, the happier you will be. Also, my bike shorts were the best investment I made. They are worth it, promise. (Laura)
You need clothes for the hottest of days and the coldest. A lot of clothes are left behind so you can leave with a whole new wardrobe than you came with. All missionaries bike, even sisters so skirts that are flow-y can get caught in chains. Bring bike shorts. (Grace)
Have something of a wind breaker to put over your coat. (Jasen)
Skirts with pockets. Go to thrift shops often. (Cleo)
Just bring what your mission packet tells you to because you'll pick up more clothing along the way! At least if you're a sister missionary. Don't worry about getting rid of stuff until the end of your mission because there's usually room to bring everything you need to transfers. Oh, and sisters, bring some heavier skirts that go at least a couple inches past your knees for biking, or the wind will catch your skirt! (Jillian)
Don't take to much. It's a pain when you get transferred to have to lug it all around. (Braden)
Thermal garments for the winter. Service clothes for sure. Rain coat. Mesh garments for the summer. A couple extra white shirts. They will get nasty in the summer. (Travis)
What blessings did you receive from serving a mission?
Blessings: I received the blessing of knowledge. I learned so much on my mission which led to the strengthening of my testimony.  Also, the blessing to see the hand of God working in others' lives is the most humbling thing I have experienced. (Kailey)
I gained a lot of friends, learned to love others (I wasn't the most loving person before), and, when I came home, I knew how to stay organized and be diligent and was able to finally start making good grades at school (I was on the brink of dropping out). (Haley)
I received an amazing blessing of saving lives. Some Spiritual and others their actual life. (Kyle)
Confidence, love for the Hispanic people, true friendships, gospel knowledge, language skills (that I still use!), direction,  and purpose. (Laura)
Conversion. I know Jesus. My ability to love had grown. I look for people to serve. (Grace)
Confidence, spirituality, an amazing fiancé, a love of the scriptures. (Jasen)
Joy! Every single day I think about my mission and I feel so grateful that I was able to serve the lord. The mission makes you grow up. It also helps you realize what you want in life. (Logan)
More than all ever know I'm sure. (Cleo)
Testimony that God is real and He loves me, experiences with the Spirit, the gift of teaching, a greater understanding of the gospel, stronger relationship with my Savior, friends, confidence. I could go on and on. (Jillian)
I can't list them all. They are to many to name! (Braden)
There's not enough time in the world to share all of them. My family drew closer together and were taken care of a lot by the Lord and his tender mercies. I know who I am and understand what the gospel is for me and have a greater connection to my Heavenly Father. (Travis)
What are some skills you gained?
Time management, determination, dedication, but most importantly how to love someone. (Kailey)
Spanish language. Organization. Diligence. (Haley)
Planning skills, teaching skills and most importantly communication skills. (Kyle)
Making pinatas, making tortillas, speaking Spanish, talking to strangers, asking good questions. (Laura)
Running on exhaustion. Studying. Focusing on work. (Grace)
Communication skills, greater work ethic. (Jasen)
Confidence in the lord and knowing the lord has confidence in me. (Cleo)
Teaching children, teaching people from foreign countries, planning skills, ability to schedule out time, and the ability to recognize and follow the Spirit. (Jillian)
Social skills for sure, and a knowledge of the scriptures. (Braden)
Being able to engage strangers in conversation and reading people and situations. (Travis)
What do you wish you knew/did at the beginning of your mission?
I wish I knew that I didn't have to be perfect! God called me, a human with a personality with quirks and traits. He called me because some one would be able to understand the gospel in the way the Spirit told me to teach it with my personality. If God wanted a robot missionary, he would have made one. (Kailey)
I wish that I had known that it was okay to let my guard down and that it was important to open up to people completely. Before going to Oklahoma, I was given a blessing where I was told that everything that I had ever gone through was for the purpose of my mission. Now, I had a lot of burdens that I carried throughout my life, but I met people out in Oklahoma who really represented those different points of my life and were able to connect to me, my story, and the gospel as I was able to show them how it connected to them in their circumstances. Use your experiences, no matter how personal they are. (Haley)
That the Lord was there with me even when I was making mistakes. (Kyle)
Be prepared that your relationships with your companions are likely not going to all be perfect… and that's not a big deal. You will work things out. You don't have to be best friends immediately to learn to love each other and work well together. (Laura)
There is no such thing as the perfect missionary. Just be your best self and try to be better every day. If you do your best, you will go home with no regrets. (Grace)
PMG. (Jasen)
Work through the members as much as you can! Become great friends with the members, but don't waste time hanging out at members homes. Make every visit have a purpose! (Logan)
You might not think your prideful but ohh…you so are. (Cleo)
I wish I would've been a little more carefree and not been weighed down by the stresses of home–I wish I could've just been happy. Forget about your significant other, forget about your school or job, and just go to work! They'll all still be there when you get home, or else you'll find something better. Trust God to take care of you and just enjoy the time you have. (Jillian)
I wish I had known the Bible better. They will test you daily! (Braden)
Letting your testimony be a part of everything you say and do rather than having it just be words for special timing. To share points of the gospel with the same feeling you get when you share the most important parts to you, of your testimony. (Travis)
Any advice/testimony for pre-missionaries going to Oklahoma City?
This is the best mission. When I got called, I thought it was a joke. I didn't even know where Oklahoma was on the map. But I know I was meant to go to Oklahoma. I learned things there that I could not have learned any where else! It is impossible to not fall in love with Oklahoma. My first day in the mission was really hard. I didn't know why the lord had sent me there or what I would need to do there that I couldn't have done in any other mission. My companion and I were tracting and I looked to the sky and I saw the most beautiful sunset I had ever seen.  In that moment, I still had no clue why I was in Oklahoma but I loved the sunset and became determined to find out. (Kailey)
Learn the Bible. Read the New Testament and the Book of Mormon before you go. The people out there love their Bible and you will struggle if you don't, because they won't always take you seriously. I'm not talking about story basics, either, I'm talking verses and being able to connect it to the Book of Mormon and the gospel in general. The books that helped me out the most were Acts, Romans, and 2nd Corinthians. But I definitely used the whole New Testament to help. (Haley)
Trust in the Lord…he knows what he is doing. I remember asking him at the beginning of my mission during some personal challenges I was facing if I should stay or go home. The response was to stay, but I never learned why till the last two transfers of my mission. The Lord knows the end from the beginning and if you trust him, he will bless you with the knowledge of knowing what it was (it may not be till many years later but he will let you know). (Kyle)
Love and respect the people and they will do the same for you. Remember that even if they are set in their religious ways, you can find common ground in loving Jesus. 🙂 (Laura)
Love every minute of it! It goes by fast! Choose to learn from it and let it change you! (Grace)
Go in knowing you don't know anything and be willing to learn. You'll grow much faster this way and be more in tune with the spirit by having a humble outlook. Don't think you're better then other missionaries. (Jasen)
I loved OKC! I loved my mission! Don't take a single day for granted on your mission! Talk to everyone! And most importantly have fun sharing the gospel of happiness! (Logan)
Forget what your leaving behind and bury yourself in the work of the lord. You will be the happiest you have ever been in your life. (Cleo)
Love the members, and treat them like you can't do the work without them–because you can't. (Jillian)
Work hard, don't give up! It's all worth it in the end, serve in such a way you will not have any regrets at the end. Two years really does come to an end, so live it up while you can! (Braden)
There are people there who will fight against you and yell at you. Take that opportunity to bear your testimony and rejoice in Christ with that person. There are two types of people there. People with faith and people with fear. The fearful will reject and run you off and fight you. (Travis)
What was a funny language mistake?
I spoke English on my mission but Oklahoma has some funny little sayings and one of them is "bless your heart".  At the beginning of my mission, a sweet old lady told me I was "greener than grass" ( meaning it was really obvious that I was a brand new missionary.  Then she said, "bless your heart".  I thanked her graciously. She laughed at me and explained that it is a term that means a pity of sorts. (Kailey)
For Spanish-speaking missionaries you won't always stay in Spanish areas and so my first area was Spanglish and so I didn't get enough practice by my second transfer when I went to a real Spanish area. We were sitting down teaching to an investigator and it was my turn to give my part of the lesson. Now, matado means 'killed' and llamado means 'called'. I was talking about the ministry of Jesus Christ and said that "Los apostoles fueron matados por Jesucristo" Basically, I ended up saying that the apostles were killed by Jesus Christ. I quickly corrected myself as soon as I said it as I saw the alarming look in my investigator's eyes and said "No, llamados por Jesus" or "No, called by Jesus". (Haley)
I often mixed up the word "ovas" (sheep) with the word "uvas" (grapes)… yeah, I taught the parable of the lost grapes a few times… not as effective. (Laura)
This isn't a mistake but Marshallese is spoken in a city in Oklahoma. The mission president called an English speaking missionary to the Marshallese area. He had to learn Marshallese. (Grace)
There was a missionary from Citibis or some island in the Pacific who was teaching a district meeting and said, in his broken English, he could speak Spanish. I told him to do it and he started just speaking gibberish. (Travis)