Free resources about the Ohio Columbus Mission:
*Other Mission Pages: Ohio LDS Missions.
---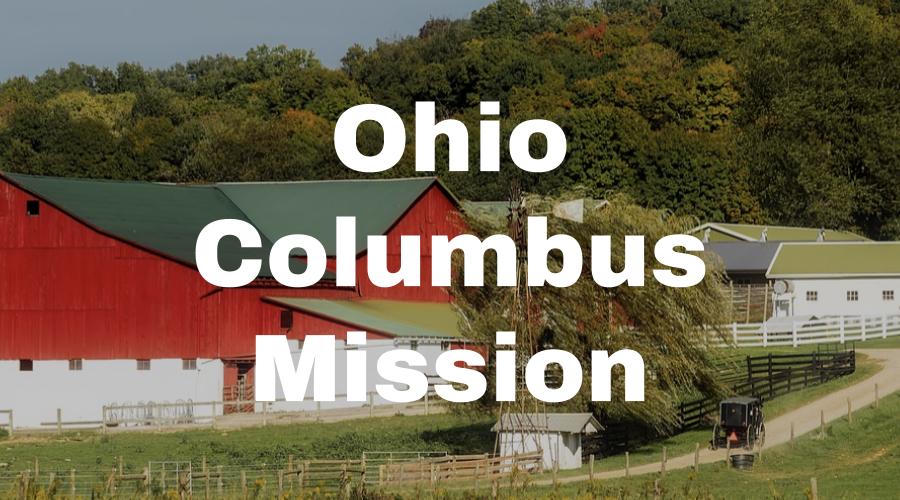 ---
Ohio Columbus Mission Address
Here's a recent address for the Ohio Columbus Mission. We try to keep this information up to date, but it's a good idea to check the address with several sources, including your mission packet or the mission office.
Ohio Columbus Mission
19 Clairedan Dr.
Powell, OH 43065
Phone Number: 1-614-880-9960
Mission President: President Val T. Stratford
Ohio Columbus Mission Map
Here's a link to the mission map for the Ohio Columbus Mission (LDS). To access the official LDS.org map for the Columbus Mission:
Log into your LDS account here.
Click here.
Videos with Columbus RMs
Here are in-depth YouTube video interviews with returned missionaries from the Ohio Columbus Mission.  We interview hundreds of returned missionaries each year, so check back regularly to see new RM interviews. Coming soon..
LDS-Friendly Videos about Ohio
Here are LDS-friendly educational videos about Ohio. We scoured YouTube to find the best quality videos about Ohio, that are free from inappropriate music, immodesty and profanity.
Ohio Columbus Missionary Blogs
Here's a list of LDS missionary blogs for the Ohio Columbus Mission. This list includes the missionary's name, URL and when their blog was updated.
*Send your missionary a gift (mission-specific shirts, ties, Christmas stockings/ornaments, pillowcases, etc.)
Ohio Columbus Mission Groups
Here are Ohio Columbus Mission Groups- for LDS missionary moms, returned missionaries, mission presidents and other alumni of the Columbus Mission.
Ohio Columbus Mission T-Shirts
Here are T-shirts for the Ohio Columbus Mission!
Shirt designs include Columbus Mission logo/emblem shirts and Called to Serve shirts. The shirts make great gifts for pre-missionaries, returned missionaries and missionaries currently serving. LDS Mission shirts come in all sizes: Small, Medium, Large, Extra Large, up to 4XL.  The mission designs are printed on white shirts and are shipped to you.
*Simply click on a shirt design to view the details and submit an order. The designs on mission t-shirts may also be printed on other LDS mission gifts, including: Columbus missionary aprons, Christmas stockings, ties, pillow cases, teddy bears and Christmas ornaments.
*Click here to browse Columbus Mission gifts
---
---
Ohio Columbus Mission Presidents
Here's a list of current and past Mission Presidents of the Ohio Columbus Mission.
2017-2020, Val T. Stratford
2014-2017, Nolan Daines
2011-2014, Robert Nilsen
2008-2011, Robert F. Jensen
2005-2008, Russell S. Gilliland
2002-2005, Steven L. Driscoll
1999-2002, Robert A. Sharp
1996-1999, Joe L. Johnson
1993-1996, Gene L. Hancock
1990-1993, Hugh S. West
1987-1990, Arnold B. Gilbert
1984-1987, Weymouth D. Pew
1983-1984, Stanley M. Smoot
1980-1983, Melvin Huber
1977-1980, Frank D. Bailey
1976-1977, Donald S. Brewer
1973-1976, Paul Buehner
1970-1973, Marshall T. Burton
1967-1970, E. Garrett Barlow
Ohio LDS Statistics (2016)
Church Membership: 60,971
Missions: 3
Temples: 1
Congregations: 127
Family History Centers: 46
Helpful Articles about Ohio
Ohio Columbus Missionary Survey
Here are survey responses from Ohio Columbus RMs, to give you a snapshot into what it's like to live in the mission.
*Click here to take a survey to help pre-missionaries going to your mission.
When did you serve?
1993-1995 (Deina)
1983 – 1985 (Emil)
1981-1983 (Marva-Jean)
1976-1978 (Mark)
What areas did you serve in?
Cambridge, Columbus (OSU), Athens, Marion. (Deina)
Cleveland Heights, Dayton (Beavercreek), Columbus (Bexley/Whitehall), and Zanesville. (Mark)
What were some favorite foods?
I liked BW3's wings, Grater's ice cream ( Columbus area), grinders sandwiches, and UDF ice cream. I also liked the tea cookies in Cambridge, Ohio. (Deina)
Kay Raidts cheesecake-Dayton Ohio, Mike Thomas's Chicken Chili casserole-Fairborn Ohio (Marva-Jean)
Spaghetti, steak and potatoes, etc. (Mark)
What was a funny experience?
One time, we were helping an investigator. She lived in a trailer, had two little kids and needed mattresses for them. We found some used ones and climbed through her window to surprise her with them. Also, we went to a member's house once. She had a dog inside in a kennel. She took it out and it ran right over to me. I think it was excited to be out, like dogs get. It sat on my foot, next thing you know my foot was wet. And this wasn't the first incident of being hit by a dog…..my scriptures got it by a puppy one time as we were walking doing street contacts…(Deina)
That's quite awhile ago! Loved seeing glo worms for the very first time. Oh, seeing people drive if it snowed at all. They just shut everything down! (Marva-Jean)
When I was living in Boise, Idaho, before my mission, my seminary teacher had us go tracting. I was with two friends and were knocking on doors and this one guy opened the door. One of my friends introduced us and said "we represent The Church of Jesus Christ of Latter-day Saints," and this guy at the door said ,"Well, if that's all you want, I'm going back to bed," and closed the door. (Mark)
What was a crazy experience?
Riding with some members… Ha One time we got a flat tire and had some people come by and gave us some obscene gestures….we we're a little nervous there. Also, driving with a member and next to us someone with a gun in there car openly displaying it. (Deina)
Tracting in Yellow Springs, Ohio. Needed to be rededicated because there was so much evil going on. Spirit told us not to go up to certain places a few times, so very important to listen to the spirit. Another time, the rain was going sideways and we didn't know why as we were driving along a highway. The trees opened up for a minute and there was a tornado on the other side of the trees going along with us. We stopped! But the clouds get so low you can't see anything. Another time we were tracting again and a storm was coming in and they come fast. This guy answered his door in his underwear. ( Jesse James grandson) he told us to come in, but we told him he had to get some pants on first. We waited but could see this storm. He finally came in. We came into his house and there was a huge bang! The whole house was shaking. It had happened before but this was close. About 5 min. later down the street a half block, lightning had struck a huge 4 ft hole into the roof of a house. We were being watched over! Another time, we were threatened with a gun. Pulled into 7 eleven and was just going to get out of the car when all these police come roaring in with cars, and lights, then out of their cars with guns. It was being robbed, so we got out of there fast. Still being protected! Whew! (Marva-Jean)
When I was in Columbus, it was the dead of winter and we were riding our bikes that day. We had to go under a tunnel and what I thought was a clear tarp was actually ice and I almost ran over that. Fortunately I saw it in time. (Mark)
What was a spiritual experience?
We were able to work with the niece of a member. She was baptized and shared her testimony with us. She seemed solid and I really appreciated her testimony and the Spirit that went with it. (Deina)
So many!! Every time we taught someone!! Every time we were protected or guided by the spirit! Our mini Zions that we did worked so well. One area we taught a single guy on every street for 5 blocks. Our Mini Zion! Everyone accepted the gospel and they were strong! We had a huge fireside with many investigators. It was so good. About 40 of us sang Christmas carols at a mall in Columbus. Got so many referrals as people were so impressed by all the sharp looking young men and women. They'd never seen so many together. (It was the spirit that they were seeing) Teaching in a members home! Everyday was a spiritual experience! My first area, President asked our zone to go GQuing downtown Columbus and try it out. So we all broke up with our companions. Us being in front of Lazarus's. These pimps kept hitting on us and a few others, scared the living daylights out of us. So we went into the department store to the bathroom and said a prayer, that if this was the right thing to do and President was inspired that the Elders needed to be at the front doors waiting for us. We went down and there they were. They stayed close to us the few other times we went down there, but we never had a problem again and met some good people. (Marva-Jean)
When we were teaching a lesson on the plan of salvation to a contact. She said she felt the spirit in the lesson. She was later baptized. (Mark)
What are some interesting facts about the Columbus Mission?
Columbus had a riverfront with a replica of the Santa Maria. Ohio has fireflies. Sometimes you will see the Amish driving buggies around, they don't like their picture taken. They build and sell furniture. Rocky boot company was established in Nelsonville, Ohio. The world's largest basket is found in Newark, Ohio. (Longeberger) Cambridge Ohio has a "Hoppy" museum, that's about Hopalong Cassady (William Boyd). People eat water turtles and say they taste like 7 different kinds of meat. (Deina)
I was call by President Kimball to go with President Smoot to the Ohio Akron Mission from the Ohio Columbus Mission. It was a great experience to be with President Smoot and his dear wife Sister Mary Ellen Smoot. (Emil)
We were the highest baptizing mission in Eastern states at the time. Also baptized more men than women. Hill Air force base is the largest Air Force base. They have a huge museum there and (never got to see, got transferred) air show. There are tons of covered bridges, the ancient mounds of bones are all over in Fairborn and Yellow Springs area. I love archaeology and there are many ancient places. Snake mound, etc. The capital is in Columbus. Learned from a Kentucky investigator who was a MaCoy how the feud started with the Hatfields and MaCoys. A strayed pig caused it all. Most people have Cherokee in them. Many are from LDS ancestors! I thought at first that they had the marijuana leaf on everything and wouldn't buy and souvenirs. Its the Buckeye Leaf! Ohio State is the big team! If they play Michigan then they board everything up for blocks and the police are shoulder to shoulder for about 6 blocks and for 3 blocks on each side they about arms length spread out because of the rioting. I was amazed that the train rail lines were the division from the ghetto and very rich Jewish areas. Weird. Tons of one way streets. Get to know the alleys very well. Springfield, Ohio is where the Jonestown group started and many other cults like it spring up there. Yellow Springs is where Antioch College is. That's where the black riots started we were told. Many other things like mentioned above. Centerville is in the center of Ohio. Many gorgeous, antique pianos were built in Ohio and many people have them. There's lots of cool things. I found only the Kentucky people had accents, the Ohioans didn't. Harness racing is big in Ohio, so lots of farms. Lots of Mafia, taught a couple. Drag strip racing is big out by Dayton and of course the Indianapolis 500. Oh yes, hope this has changed, people never stopped for pedestrians, and would go through red lights and stop at green ones? Dave Thomas lived across the street from the mission home. Wendy's was headquartered in Columbus. So much to tell! (Marva-Jean)
Before the mission split, since the state was rich in Church History mainly in Northeastern Ohio the state was home to 47% of the revelations and visions as do documented in the Doctrine and Covenants and is home to the first temple of this dispensation. (Mark)
What was the weather like?
Humid!!!! (Deina)
Cold in the winter. Humid in the summer. (Emil)
It changes every 5 min. Hot and humid, storms come in and they are low so you have to get in because the lightning hits every time it flashes. Tornadoes. In winter you had better have very warm, wool coats, and good boots as it gets very cold (does get colder than Alberta, Canada) the humidity goes through you! When it rains it comes down hard and fast! It rose in 5 minutes up to the bottom of the car door. So you need to be prepared at all times. (Marva-Jean)
Hot and humid in the summer and cold and humid in the winter. (Mark)
Any things you really like about the area/people?
Very green and pretty. There were a lot of nice people there. They have a bit of an accent with certain words….(Deina)
I loved my mission!!! I loved the people, Fairborn was the best mission-minded ward! Hilliard and Dayton was my first area. The people were wonderful! I had a hard time leaving because I loved it! If you get to work you can be so busy you don't have time for tracting even one house per day. I was in rich and poor areas and we were always booked up. I loved opening new areas! (Marva-Jean)
The people were really great if not set in their ways. (Mark)
Any packing/clothing advice?
Raincoat and rain proof shoes. Clothes for cold weather and for hot sticky weather. Umbrella. (Deina)
Wool for winter warmth, cotton for cool in summer and pockets in the skirts so you don't lock the keys in the car all the time. Good, warm, rubber soled boots for winter. Like the Baffin or Sorrel brands! (Marva-Jean)
Pack warm clothing as it is especially cold in the winter. (Mark)
What blessings did you receive from serving a mission?
I learned about myself, about the gospel, made lifetime friends, and shared the gospel with them. I learned patience and had a great experience. (Deina)
Where do I start. I met wonderful people who have gone to the temple and found true happiness in their lives, I found people that I promised to teach. I learned to love myself by serving others and doing the Lord's work. Coming home, I could study way better at school, deal with people way better, could tell in 5 min. about a guy when looking for a husband by how he talked about his mission. All I learned helped me everyday in my life and continues too. I use the experiences from my mission still. I have taught my children since they were young about a mission. 3 of them will be serving one. How great is that? Their own desire, and my oldest loved his and continues with his wife (also a returned missionary) to use the good habits he learned on his mission. I had the best mission President! He and one of my district leaders have helped support me in the most difficult trial of my life so far. What a blessing they have been. There are so many more! (Marva-Jean)
How one could tell how sincere he/she was about learning the gospel. (Mark)
What are some skills you gained?
People skills. Leadership skills. Being in front of people skills. Learning to live with and deal with people who were different than myself. (Deina)
Study better, people skills, knowledge, my testimony only got way stronger, I got closer to my parents. I saw miracles not only on my mission but at home. (Marva-Jean)
How to interact with people. (Mark)
What do you wish you knew/did at the beginning of your mission?
Brought different clothes. Dedicated myself more fully. (Deina)
I wish I had learned what I could in home study so I'd have known the scriptures better, also knowing the discussions so I could have shared more or known how with my non-member friends. Memorized the 13 Articles of Faith. (Marva-Jean)
Nothing. (Mark)
Any advice/testimony for pre-missionaries going to Columbus?
Love the people. Be obedient. Be humble, (Deina)
Positive attitude, learn to love the people, your self, work, follow the rules. Some of the best missionaries are the obedient ones, doing all they can. To aspire to be a district, zone leader or AP. That's not important you're in that position to grow. But to be the best missionary you can be and share the gospel! Don't let a companion pull you down. If they are doing something they shouldn't, don't be afraid to let the President know right away. You don't want to get sent home. Faith in reaching your goals! It'll happen! Use your imagination and have sensible fun when tracting! As my President told us, if you're getting worn out tracting all day, take a break and spiritually rebuild yourself up. Always remember you are representing the Lord and his church at their door! Look sharp, be respectful, smile!!! You have the truth! They are your brothers and sisters, treat them as they are! (Marva-Jean)
Just go out in the right frame of mind, and get along with your companion. (Mark)
What was a funny language mistake?
Pronunciation of certain towns like Chauncey for example. (Deina)
Around Ohio State there are many people from other countries. When I was there there were many Asians. There are many African Americans and they have a lingo. When you're in their company you learn to speak like them. Then getting transferred back to a rich area you need to watch your proper English. That was hard for a bit. It was funny the things you came out with. (Marva-Jean)