Free resources about the Nigeria Benin City Mission:
*Other Mission Pages: Nigeria LDS Missions.
---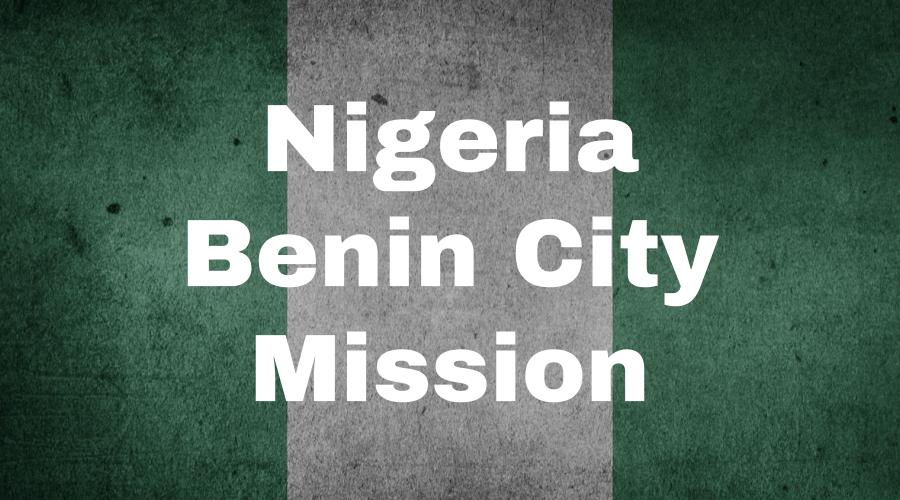 ---
Benin City Mission Address
Here's a recent address for the Benin City Mission. We try to keep this information up to date, but it's a good idea to check the address with several sources, including your mission packet or the mission office.
Nigeria Benin City Mission
PO Box 7713
Benin City
Edo State
Nigeria

Phone Number: 234-815-064-4819
Mission President: President Alexander A. Odume
Nigeria Benin City Mission Map
Here's a link to the mission map for the Nigeria Benin City Mission (LDS). To access the official, up-to-date LDS.org map for the Benin City Mission:
Log into your LDS account here.
Click here.
Videos with Benin City RMs
Here are in-depth YouTube video interviews with returned missionaries from the Benin City Mission.  We interview hundreds of returned missionaries each year, so check back regularly to see new RM interviews. Coming soon..
Videos about Nigeria
Here are LDS-friendly educational videos about Nigeria. We scoured YouTube to find the best quality videos about Nigeria, that are free from inappropriate music, immodesty and profanity.
Nigeria Benin City Missionary Blogs
Here's a list of LDS missionary blogs for the Benin City Mission. This list includes the missionary's name, URL and when their blog was updated.
*Send your missionary a gift (mission-specific shirts, ties, Christmas stockings/ornaments, pillowcases, etc.)
Nigeria Benin City Mission Groups
Here are Nigeria Benin City Mission Groups- for LDS missionary moms, returned missionaries, mission presidents and other alumni of the Benin City Mission.
Nigeria Benin City Mission RMs Group (57 members)
Nigeria Benin City Mission T-Shirts
Here are T-shirts for the Nigeria Benin City Mission!
Shirt designs include Nigeria Benin City Mission logo/emblem shirts and Called to Serve shirts. The shirts make great gifts for pre-missionaries, returned missionaries and missionaries currently serving. LDS Mission shirts come in all sizes: Small, Medium, Large, Extra Large, up to 4XL.  The mission designs are printed on white shirts and are shipped to you.
*Simply click on a shirt design to view the details and submit an order. The designs on mission t-shirts may also be printed on other LDS mission gifts, including: Nigeria Benin City missionary aprons, Christmas stockings, ties, pillow cases, teddy bears and Christmas ornaments.
*Click here to browse Benin City Mission gifts
---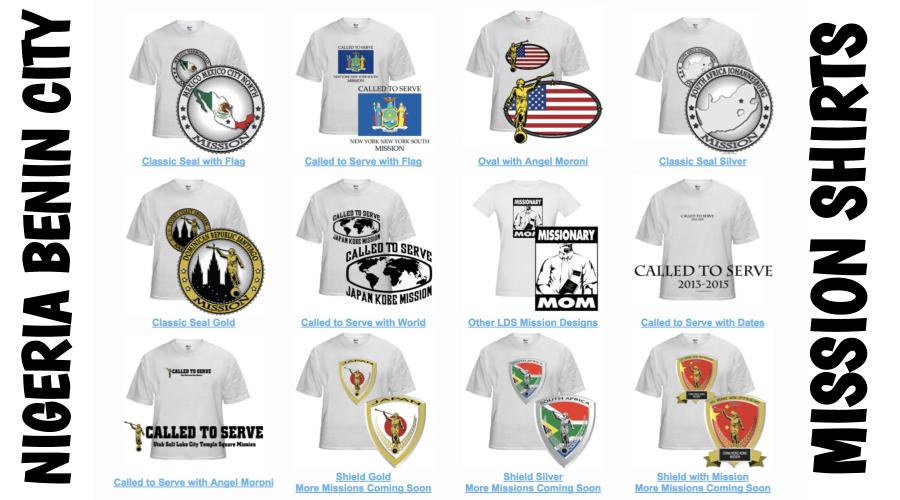 ---
Nigeria Benin City Mission Presidents
Here's a list of current and past Mission Presidents of the Benin City Mission.
2016-2019, Alexander A. Odume
2013-2016, Akingbade A. Ojo
Nigeria LDS Statistics (2015)
Church Membership: 129,989
Missions: 5
Temples: 1
Congregations: 416
Family History Centers: 46
Helpful Articles about Nigeria
Nigeria Benin City Missionary Survey
Here are survey responses from Nigeria Benin City RMs, to give you a snapshot into what it's like to live in the mission.
*Click here to take a survey to help pre-missionaries going to your mission.
When did you serve?
September 2013-September 2015 (Robert)
2013-2015 (Kalu)
Which areas did you serve in?
What were some favorite foods?
Eba with Egusi soup, Eba with Adam soup. Rice and beans. Nodles . Fufu with ogbolo soup. (Robert)
Rice and Eba. (Kalu)
What was a funny experience?
When I entered the mission field, to my surprise I was given spoiled Egusi soup with old made Eba. wow! I nearly freak out. (Kalu)
What was a crazy experience?
I can't think of any dangerous experiences in my entire mission because the people are so cool and have respect for missionaries. (Robert)
While teaching a man about the Book of Mormon, he threatened to cut me and my companion with a cutlass so we have to run far away. Yet, we still came back the following day only for him to receive us into his house. (Kalu)
What was a spiritual experience?
We contacted a blind sister and it took us 3 days to follow up on her. She was alone sitting on couch but she called up to us even before we could get near. I know it was made known to her by the Holy Ghost. (Robert)
We once met a man who never believed in God. After many appointments, he later started to develop faith in God. As we read through the Book of Mormon, my testimony of it increased more. (Kalu)
What are some interesting facts about the Benin City Mission?
We are always looking forward to zone conference because you get a chance to see your tc's and also get to eat fried rice and chicken. (Robert)
One is that we have a very fantastic mission president and mission mama, Sister Ojo. She always encouraged us to take our doxy many of which we fail to do. (Kalu)
What was the weather like?
As for me, the weather was not much different when you are in the state of Edo but it rains much in the south side. (Robert)
Hot so hot. (Kalu)
Any things you really like about the area/people?
They are cool and awesome people. (Robert)
Any packing/clothing advice?
White shirts are so cheap and easy to get at the Oba market. (Robert)
What blessings did you receive from serving a mission?
There are many but the best blessing I received are the people I was able to share the Restored Gospel with and I am so grateful. (Robert)
What are some skills you gained?
Service is the best skill I gained and used on my mission. (Robert)
What do you wish you knew/did at the beginning of your mission?
Don't take too many personal belongings. (Robert)
Any advice/testimony for pre-missionaries going to Benin City?
A mission is stressful and compelling…I know. There were times I cried and there were times I felt like I could not go on but I tell you that no matter what happens, you can still go on because is not about us, it's about our Heavenly Father and his children. I know that he will always make a way for for us to accomplish the things He has commanded. (Robert)
What was a funny language mistake?