Free resources about the Nicaragua Managua North Mission:
*Other Mission Pages: Nicaragua LDS Missions.
---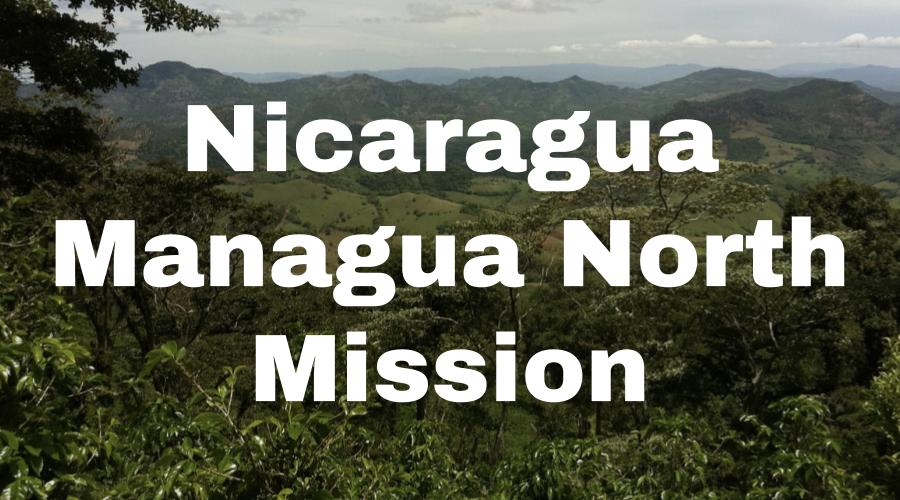 ---
Managua North Mission Address
Here's a recent address for the Managua North Mission. We try to keep this information up to date, but it's a good idea to check the address with several sources, including your mission packet or the mission office.
Nicaragua Managua North Mission
La Iglesia de Jesucristo De Los Santos De Los Ultimos Dias
Mision Nicaragua Managua Norte
Antigua Shell Waspan 25 Vrs Al Sur
11084
Phone Number: 505-2278-6740
Mission President: President Sergio A. Poncio Alvarez
Managua North Mission Map
Here's a link to the mission map for the Managua North Mission (LDS). To access the official, up-to-date LDS.org map for the Managua North Mission:
Log into your LDS account here.
Click here.
Videos with Managua North RMs
Here are in-depth YouTube video interviews with returned missionaries from the Managua North Mission.  We interview hundreds of returned missionaries each year, so check back regularly to see new RM interviews. Coming soon..
LDS-Friendly Videos about Nicaragua
Here are LDS-friendly educational videos about Nicaragua. We scoured YouTube to find the best quality videos about Nicaragua, that are free from inappropriate music, immodesty and profanity.
Managua North Missionary Blogs
Here's a list of LDS missionary blogs for the Managua North Mission. This list includes the missionary's name, URL and when their blog was updated.
*Send your missionary a gift (mission-specific shirts, ties, Christmas stockings/ornaments, pillowcases, etc.)
Managua North Mission Groups
Here are Nicaragua Managua North Mission Groups- for LDS missionary moms, returned missionaries, mission presidents and other alumni of the Managua North Mission.
Mision Nicaragua Managua Norte Group (8 members)
Managua North Missionary Moms Group (3 members)
Managua North Mission T-Shirts
Here are T-shirts for the Nicaragua Managua North Mission!
Shirt designs include Managua North Mission logo/emblem shirts and Called to Serve shirts. The shirts make great gifts for pre-missionaries, returned missionaries and missionaries currently serving. LDS Mission shirts come in all sizes: Small, Medium, Large, Extra Large, up to 4XL.  The mission designs are printed on white shirts and are shipped to you.
*Simply click on a shirt design to view the details and submit an order. The designs on mission t-shirts may also be printed on other LDS mission gifts, including: Managua North missionary aprons, Christmas stockings, ties, pillow cases, teddy bears and Christmas ornaments.
*Click here to browse Managua North Mission gifts
---
---
Managua North Mission Presidents
Here's a list of current and past Mission Presidents of the Managua North Mission.
2016-2019, Sergio A. Poncio Alvarez
2013-2016, Monsop Collado
2010-2013, Carlos F. Arredondo
2010, Mission was created
Nicaragua LDS Statistics (2016)
Church Membership: 92,152
Missions: 2
Temples:
Congregations: 103
Family History Centers: 12
Helpful Articles about Nicaragua
Managua North Missionary Survey
Here are survey responses from Nicaragua Managua North RMs, to give you a snapshot into what it's like to live in the mission.
*Click here to take a survey to help pre-missionaries going to your mission.
When did you serve?
2014-2015 (Kayla)
2010-2012 (Jenna)
Which areas did you serve in?
Esteli (Rosario and Esteli), Chinandega Oeste (Naranjo and Viejo), and Managua (Ciudad Jardin). (Jenna)
What were some favorite foods?
Sopa de cuajada (cheese soup), repochetas, indio viejo, pinolillo, banano con leche, gallo pinto, and sopa de frijoles (en Chichigalpa de Hermana Janet). (Kayla)
Rice and beans with cuajada, enchiladas, and breads. (Jenna)
What was a funny experience?
We fell out of a triciclo (public transport made of a little cart and a bike contraption where a nice Nicaraguan sits and bikes you around) and the tricicler still made us pay. 😀 Helpful hints: even though they will allow it, don't go more than 3 in a triciclo. And help the driver avoid potholes. (Kayla)
Falling in a canal because the streets were so flooded we couldn't tell where the bridge was. (Jenna)
What was a crazy experience?
Scorpions in my bed and tarantulas in the shower. (Jenna)
There were lots of earthquakes. Sometimes you will feel them. Sometimes you won't. It's normal. Don't freak out. (Kayla)
What was a spiritual experience?
I loved it when the members chose the hymns at the baptisms. They always choose "the Spirit of God". And in Nicaragua, you always sing the WHOLE SONG. Always. It was funny and cute in the beginning, but then it really started to hit me that these people that I love so much will one day sing this song when their temple in Nicaragua gets dedicated. It was always a special moment when they chose to sing that song. (Kayla)
What are some interesting facts about the Managua North Mission?
The church has been around for a while, but during the country's civil war, the church got forced into minimizing and they went from having stakes to having these units called family nuclei. Many people went inactive during this time, But now the church is back and there are many stakes. (Kayla)
What was the weather like?
Hot and dry in some areas, constant rain during some seasons, colder in the mountains. (Jenna)
It is always hot. There is a rainy season that is very necessary. Not very windy. Never cold. But bring a jacket because it is cold in the church building. There is AC there. 😉 (Kayla)
Any things you really like about the area/people?
You can be up front with them, very generous and welcoming. (Jenna)
Any packing/clothing advice?
Dress for warm weather, bring sweaters, extra shoes, a really good umbrella, nothing you wouldn't want stolen. (Jenna)
What blessings did you receive from serving a mission?
What are some skills you gained?
Asking inspired questions, how to work beyond point of exhaustion, how to visit people, how to help in all church organizations and activities, and how to be guided by the Spirit. (Jenna)
What do you wish you knew/did at the beginning of your mission?
Any advice/testimony for pre-missionaries going to Managua North?
Visit people!!!! Visiting teaching and home teaching!! (Kayla)
Learn the language as fast and as thoroughly as you can, don't get discouraged when you see negative things in leaders and people, learn to recognize and act on promptings, beware of pride and time-wasting. (Jenna)
What was a funny language mistake?