Here are free resources about the Nicaragua Managua Mission:
*Other Mission Pages: Nicaragua LDS Missions.
---
---
Nicaragua Managua Mission Address
Here's a recent address for the Nicaragua Managua Mission. We try to keep this information up to date, but it's a good idea to check the mission address with several sources, including your mission packet or the mission office.
This mission does not currently exist.
Phone Number: N/A
Mission President: N/A
Nicaragua Managua Mission Map
Here's a link to the mission map for the Nicaragua Managua Mission (LDS). To access the official, up-to-date LDS.org map for the Nicaragua Managua Mission
*Mission does not currently exist. (Browse LDS.org mission maps)
Videos with Nicaragua Managua RMs
Here are in-depth YouTube video interviews with returned missionaries from the Nicaragua Managua Mission.  We interview hundreds of returned missionaries each year, so check back regularly to see new RM interviews. Coming soon..
LDS-Friendly Videos about Nicaragua
Here are LDS-friendly educational videos about Nicaragua. We scoured YouTube to find the best quality videos about Nicaragua, that are free from inappropriate music, immodesty and profanity.
Nicaragua Managua Missionary Blogs
Here's a list of LDS missionary blogs for the Nicaragua Managua Mission. This blog list includes the missionary's name, URL and when their mission blog was updated.
*Send your missionary a gift (mission-specific shirts, ties, Christmas stockings/ornaments, pillowcases, etc.)
Nicaragua Managua Mission Groups
Here are Nicaragua Managua Mission Groups- for LDS missionary moms, returned missionaries, mission presidents and other alumni of the mission.
Nicaragua Managua Mission T-Shirts
Here are T-shirts for the Nicaragua Managua Mission!
Shirt designs include Nicaragua Managua Mission logo/emblem shirts and Called to Serve shirts. The shirts make great gifts for pre-missionaries, returned missionaries and missionaries currently serving. LDS Mission shirts come in all sizes: Small, Medium, Large, Extra Large, up to 4XL.  The mission designs are printed on white shirts and are shipped to you.
*Simply click on a shirt design to view the details and submit an order. The designs on mission t-shirts may also be printed on other LDS mission gifts, including: Nicaragua Managua missionary aprons, Christmas stockings, ties, pillow cases, teddy bears and Christmas ornaments.
*Click here to browse Managua Mission gifts
---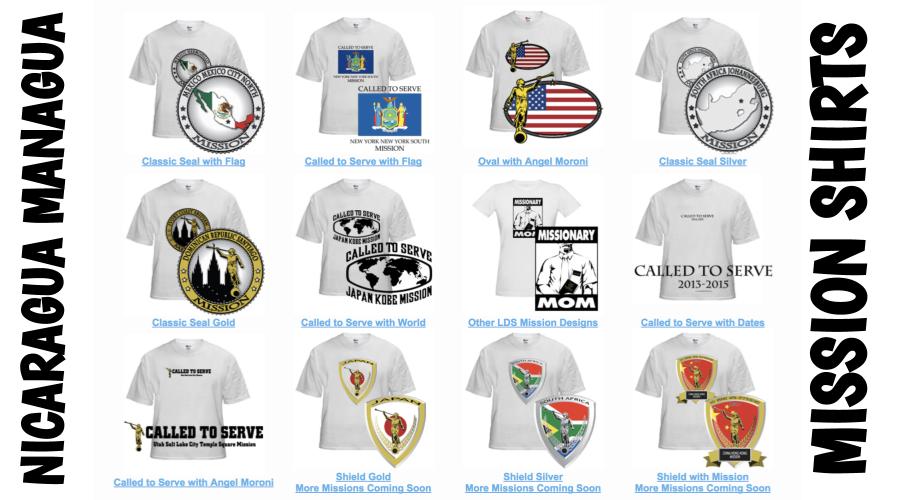 ---
Nicaragua Managua Mission Presidents
Here's a list of current and past Mission Presidents of the Nicaragua Managua LDS Mission.
2010, Mission divided into Managua North Mission and Managua South Mission.
2007-2010, Romel E. Fraatz
2004-2007, Ricardo Valladares
2001-2004, Nelson L. Altamirano
1998-2001, Fernando Daniel Ortega
1995-1998, Darryl Townsend
1992-1995, Jose Evenor Boza Dompe
1990-1992, Luiz Alberto Alvarez Ovando
1977-1979, Joseph Muren
1974-1977, John Eager
1971-1974, Quinten Hunsaker
1968-1971, Milton R. Smith
1965-1968, Ted Brewerton
Nicaragua LDS Statistics (2016)
Church Membership: 92,152
Missions: 2
Temples:
Congregations: 103
Family History Centers: 12
Helpful Articles about the Nicaragua
Nicaragua Managua Missionary Survey
Here are survey responses from Managua RMs, to give you a snapshot into what it's like to live in the mission.
*Click here to take a survey to help pre-missionaries going to your mission.
When did you serve?
2009-2011 (Cesar)
2001-2003 (Wayne)
1997-1999 (Timothy)
2009-2011 (Grant)
2002-2004 (Taylor)
2007-2009 (Leonel)
2007-2009 (Alex)
2002-2004 (Jonathan)
2007-2009 (Scott)
What areas did you serve in?
Rivas, Jinotega, San Juan Managua, Jinotepe Carazo, and Las Americas II. (Wayne)
Managua, Masaya, Leon, Ciudad Sandino, Esteli, Matagalpa. (Timothy)
Rivas/Ometepe, Villa Flor, Las Mercedes, Corinto, Linda Vista, San Marcos. (Taylor)
Managua, Corinto and Rivas. (Leonel)
Managua, Ciudad Sandino, Leon. El Viejo (Chinandega) Masaya. There was just one mission when I served. (Alex)
Acome (Chinandega), Juigalpa, Acahualince (Managua), Villa Venezuela (Managua), Esteli, Nindiri. (Jonathan)
Totolate, Matagalpa; Ciudad Jardin, Managua; Pancasan, Granada; Jinotepe, Jinotepe; Las Palmas, Managua. (Scott)
What were some favorite foods?
Gallo Pinto, papa rellena, Baho, Pinolillo. (Cesar)
Street foods (tacos, enchiladas, vigeron). Gallo pinto with quajada and eggs. (Timothy)
 Gallo Pinto and all the fruit drinks. (Grant)
Pitaya (drink), Gallo Pinto. (Taylor)
Gallo pinto, tajada, cacao and enchiladas. (Leonel)
Gallo pinto Arroz aguado Enchiladas Quesillos Pupusas (I know, not native but still delicious). (Alex)
Fried chicken, gallo pinto, arroz valenciana, and Eskimo ice cream. (Jonathan)
Gallo pinto, Jocotes. (Scott)
What was a funny experience?
A family knew that our chapel was really nice, and they felt that they didn't have nice enough clothes to attend. Fortunately, the heal of my shoe was coming off, so I was able to use it as a puppet as I told them that it didn't matter what they wore. (Wayne)
My companion and I were assigned to an area but our house was in another area, so every day, we would ride the bus from our house to the area. Every night, we had to be sure to catch the last bus or else it was a good hour walk home. One night, we stayed too long in a discussion and when we got to the bus stop, it was completely dark and quiet. We were crestfallen and debating on whether to start walking or wait, when far off down the deserted highway I saw blinking lights and heard a horn honking. When it got closer, the bus was honking the horn to the music, which was cranked up, had a disco ball inside, and the porters were singing at the top of their voices. It was the last bus of the evening to Tipitopa, and we were saved in style. (Timothy)
Packing 6 missionaries into a 2-person motor taxi on a P-Day. (Grant)
Let me start this by saying I am a 5 foot 9, skinny white boy. While I was in the MTC, one of the guys in my district was a Māori from New Zealand. His name is Marcus Joseph. He taught the district how to do the Haka, a war dance. So I am sitting at a Christmas in Nicaragua in the mission president's back yard and I hear Elder Joseph, the Māori say that he wants to do the Haka for the president. So he starts collecting all the Polys and he remembers that he taught me how to do it. So he comes over to me, grabs me by my shoulders and lifts me out of my chair and tells me I am doing the Haka with them. I positioned myself on one of the ends hoping that no one would notice that I haven't done this dance in over a year. Later in the mission, one of my companions was at that dinner and he took a picture of the Polys doing the Haka and conveniently cut me out of the frame. (Taylor)
To hear Indio Viejo as a food. (Leonel)
I am taller then the average Nica…many times I would hit my head on a tree branch while watching the ground or hit in the bus rails when exiting. (Alex)
For my 20th birthday while serving in Acahualinca, our landlord (not a member) invited members, neighbors, and her family to celebrate. She had a Mariachi band wake us up at 4:00 in the morning. It was hilarious, but a lot of fun. (Jonathan)
My companion and I were helping a member family dig a new latrine. I went down first to clear out some leaves and debris. The locals told me to go down bear footed, so that my shoes wouldn't fill with sweat. As I was loading leaves into a bucket, twelve feet down in a hole, a picacaballo (tarantula sized spider) called out. Thankfully I had a shovel, and I freaked out and killed the spider with the shovel. After that, I asked them to throw down my shoes. (Scott)
What was a crazy experience?
Not a whole lot really. I had a guy rip my watch off my wrist once. The joke was on him, it was a cheap plastic watch that I bought in Nicaragua that cost less than an American dollar. It would have cost him more to fix the band he just broke. (Wayne)
Being in Esteli during Hurricane Mitch, the roads collapsed and all power and communication was lost. Landslides, lots of deaths. Good times, not really. (Timothy)
Every time I drove in the four-lane roundabouts. (Grant)
Crossing the streets, especially if they were more than two lanes. We would cross one lane at a time as car would wiz by on both sides and often in both directions. (Taylor)
Just to see a man carrying a pig in a bicycle. (Leonel)
The scariest experience I had was a drunk throwing a rock at us as we walked by. (Alex)
Too numerous to count. Serving in Villa Venezuela as a Zone Leader for 6 months and having to go to Rene Polanco, Reparto Schick, Villa Flor, and other neighborhoods that were notorious for gang violence was always a treat. (Jonathan)
One day while I was companions with a member of the young men, we were walking down a safe part of Jinotepe. All of a sudden, we heard a loud crash behind us. I turned to look, and saw a crazed, muscular man hurling cinder blocks at us. The young man froze, and I had to deal him away from the spot while yelling at him to run. (Scott)
What was a spiritual experience?
Every time I could see that they understood clearly and accepted the teachings of Jesus Christ was a spiritual experience. This was my favorite part of the mission, when I could see that light turn on. (Wayne)
Seeing a recent convert bless his sick baby boy days after receiving the Melchizedek Priesthood. (Grant)
There were four of us walking down the street one day and a guy's van's was broken down so we offered to push it home for him. (He only lived 2 or 3 blocks away.) When we got there, his brother, who had helped us push, offered for us to come in and teach the guy. He had been an alcoholic. In the middle of the lesson, he got up and walked out. We later found out that he had felt the Spirit strong enough that he had started to cry and since he didn't want us to see him crying, he had gotten up. After teaching him for awhile, his wife told us that he had once chased her around the house with a knife and was a very mean drunk. She told us that he had stopped drinking completely. After that, every time we showed up to the house to teach him, he was never there and the rest of the family wouldn't let us in so we decided to stop trying. About 2 weeks later, we were walking to church and he pulled up in his van to apologize for not being there and told us to come the following day. We finished teaching them. (Taylor)
To see how a Hermana in one of my areas healed a day after a priesthood blessing. (Leonel)
I was looking for an inactive member in Nagarote, (helping the sisters find inactive elders). My companion and I were passing some women and I had the feeling to ask them about the guy, but I resisted do not wanting to be a muso, the feeling came again. And lo and behold, one was the wife of the man! It was simple, but has stuck with me. (Alex)
Watching the spiritually ready Nicaraguans develop a testimony. Some of my best memories are involving members and their willingness to introduce us to their friends and family. At first, it seemed like they would not respond well or would put up a fight, but by giving them space and letting them progress through the discussions, the Spirit would touch their heart and really let them know about the gospel. (Jonathan)
I started teaching a family in my second to last area. In the beginning, the teenage children were the only ones interested, but the parents would listen in occasionally. The kids all got baptized after about a month of going to church and meeting with us. We continued to visit them, and the parents grew more interested as they saw changes occur in their children. I was transferred out after six months in the area, and almost that long teaching the family. At a conference about a month later, the zone leader of my previous area informed me that the parents had been baptized. (Scott)
What are some interesting facts about the Nicaragua Managua Mission?
Nicaragua is the only place that I know of that has fresh water sharks in Lake Nicaragua. (I've seen shark jaws that a member told me he pulled the shark out of the lake) (Wayne)
Second poorest country in the Americas. (Timothy)
The mission is one of the highest baptizing missions in the world. (Grant)
When I was there, it was one mission with about 200 missionaries. There were multiple branches but there was only one maybe two stakes. There are now two missions and at least 7 stakes. (Taylor)
I think is wonderful to see so many obedient missionaries.  (Leonel)
We were the highest baptizing mission in the world, but had one of the worst retention rates. By the time I left, we had one of the best retention rates in all central America. I believe two stakes were split while I was there. (Alex)
At the time I was serving, it was only one mission. We always heard that it was one of the highest baptizing missions in the world. There were a lot of cities/towns that had not had a chance to hear the gospel. Ocotal was one of those towns where my companion and I were asked to visit once a week. It was a lot of fun being the first introduction to the church that some people had ever experienced. (Jonathan)
The mission split six months after I left. The people call themselves Pinoleros. People live in shacks, but everyone has a cellphone. (Scott)
What was the weather like?
Hot, really hot. Sometimes it rained, but I didn't like the rain because no matter what you did to try and stay dry you would get soaked. In essence don't worry about the weather, it's either going to be humid or rainy. (Wayne)
Hot and humid, much like my home in Mississippi. (Timothy)
Hot and dry for 6 months. Hot and wet for the other 6 months. (Grant)
Hot and humid. Wet season and dry season. (Taylor)
Really hot. (Leonel)
Hot, humid, wet. Beautiful. (Alex)
Nicaragua is hot. I served in Chinandega (Acome) and it was hotter than anything I had ever experienced. Juigalpa (my second area) was hot and dry and I remember going months without running water, Acahualinca and Villa Venezuela (both in Managua) were my 3rd and 4th areas and they were amazing. Both areas were warm, but during the rainy season it would cool down. The best weather I had was while I was in Esteli. The weather would cool down at night, but I remember being there during Easter and it was one of the warmer weeks I could remember. My last area was Nindiri and the weather was great. (Jonathan)
Tropical everywhere but in the mountains, where it can get cooler In the winter, it rains pretty heavily, but the best way to deal with it is to wrap your scriptures and other paper items in a shopping bag, and just get wet. You'll dry off after the rain stops. (Scott)
Any things you really like about the area/people?
They are a happy people, and they love to have a good time and laugh. (Wayne)
Friendly and ready to help at a moment's notice. (Timothy)
Nicaraguans are some of the most welcoming, loving, humble, and hospitable people in the world. No matter how poor they are, they offer you food. Nicaraguans are true friends and they remember you. They are very religious and rarely decline an invitation to listen to the missionaries. (Taylor)
Humble. Kind. Happy, Lots of trash but Nicaragua was a beautiful country. (Alex)
Acome – Members and people in the neighborhoods were amazing. It was my first area so I was lost for a long part of it, but the zone and missionaries were some of my favorite. Juigalpa – We lived by the Casa de Queso and the food was good. The area was very difficult during my time there. The Nicaraguans were amazing people and would always invite us in. Acahualinca – Great area with great members. Most members were working so it was difficult at times to really work with them during the week. Villa Venezuela – The members were wonderful and very willing to help. We had lunch and dinner appointments every day and I can honestly say that we were well taken care of. I spent my second Christmas there and it was one of the most memorable of my life. Esteli – This area was a very pro Sandanista area and we were constantly bugged about being "gringos." Nindiri – Is awesome. (Jonathan)
The people are very humble and fun loving. They will give you the shirt off their back, and invite you to their party at the same time. The place is like a tropical vacation, and a mountain retreat at the same time, depending on where you are. (Scott)
Any packing/clothing advice?
Pack light. (Wayne)
Bring more white shirts than you think you will need, use only open half of them, then halfway through you have new shirts to wear. (Timothy)
I would take thin cotton. Nothing silky. Polyester ties. (Taylor)
I believe requirements are different now, so you don't need a suit. But take at least 5 or 6 pants, rotate daily, and at least 8 shirts. (Alex)
You do NOT need to bring big hiking boots. It is hot and your feet will sweat… A lot! Find yourself a good pair of walking shoes (you can find dressier shoes with good soles) and buy two pair. They most likely will last you through your two years. You can have a dressier pair of shoes for Zone Conferences and your time in the MTC. (Jonathan)
The list provided by the church is spot on. Don't bring too many treats or goodies from home. Immerse yourself in the culture. You'll miss it after you leave. (Scott)
What blessings did you receive from serving a mission?
So many, probably the one that stands out the most in this moment is that I gained the understanding that I'm not alone. Anytime I received an assignment that I felt was over my head the Lord trained, inspired, and directed me. Often times the Lord did this through His servants. (Wayne)
Everything I am is because of my mission. (Timothy)
A deep and abiding testimony in Jesus Christ. A witness that His work is hastening. Greater dedication to serving him and good study habits that helped me focus on my studies and get a great first job. (Grant)
I learned humility. I learned the gospel. (Taylor)
My family and my job. (Leonel)
Too many to count. (Alex)
Enhancing my knowledge and testimony of the gospel, learning the Spanish language, and being introduced to a new and very different culture and country. (Jonathan)
I have been blessed with the Spanish language. It has helped me, and continues to help me in my profession. My testimony of the fact that you don't need a lot of money to be happy came to me on my mission. (Scott)
What are some skills you gained?
Learning to remain positive and keep the big picture in mind despite facing disappointment. (Wayne)
Speaking Spanish obviously, but also speaking to people and helping them through their problems, which is what I do now as an attorney. (Timothy)
Interpersonal skills, patience, trust in the lord, planning, goal setting, work ethic. (Grant)
I learned how to speak a foreign language. I learned to talk to people. (Taylor)
To speak English. (Leonel)
Overcame my fear of talking g to people amd having attention to on placed on me. Speaking Spanish is great, especially in the construction trades, money management. (Alex)
Spanish language skills, negotiation skills, learning to live independent of family and friends, learning to live with a roommate(s) that you may not like or get along with. (Jonathan)
Interpersonal skills. The Spanish language. Sense of humor (Latino style). Organization of time.
What do you wish you knew/did at the beginning of your mission?
I wish I would have prepared better as far as how much walking I would be doing. I had blisters for a while when I first started. I think I'll run a couple marathons with my boys before they go. (Just to get them ready in that aspect). (Wayne)
Walked around more, although there is no way to accustom your feet to walking all of the time. I got blisters on top of blisters on all of my toes until my feet got broken in. It wasn't from my shoes, either, they were already broken in. (Timothy)
It is OK to have fun. (Grant)
Not to be afraid. I wish I had worked more with the ward members. They are going to be the ones that help the new members/investigators to continue to go to church. Also do not worry about numbers, focus on the people. Show them the love you have for them. Ask the bishop for a ward list and visit the inactive members. Your mission president isn't scary. He is there as a resource to you. Talk to him about everything. Start a journal on day one. Get a map of each of your areas and write on it, mark it up with where the church is, where you live, where members and investigators live. Put it in your journal. Take lots of pictures. Get email addresses from everyone so you can talk to them when you get home. (Taylor)
Better spiritually prepared. (Alex)
I wish I had put more focus on preparing a plan to study the Spanish language more thoroughly throughout my time in Nicaragua. There came a time when I thought I was comfortable enough, but at the end of the day the language is continually evolving and if you don't correct mistakes from the start, you will make them throughout your life. (Jonathan)
I wish I would have studied a little bit more about the culture. (Scott)
Any advice/testimony for pre-missionaries going to Nicaragua Managua?
Develop a testimony of and trust in the guidance of the Holy Ghost. It's just like anything, it takes practice and time, and gradually your ability to recognize and follow his promptings will increase. (Wayne)
Relax, and enjoy it. Don't get so uptight that you cannot enjoy the trip. Also don't assume that the culture of the United States or Utah is right. The gospel is bigger than culture, but many times missionaries confuse the two. Just because you have always done something one way doesn't make any other way wrong. (Timothy)
The field is definitely white. Teach everyone as if they're ready to be baptized and you'll find that you're probably right most of the time. (Grant)
Have fun. Enjoy your time. The mission isn't just about bringing people to Christ but about becoming closer to Christ yourself. There will be hard times and it is necessary to learn to lean on your Savior and also your companion. This will help you later in life. Make sure you have fun. (Taylor)
Accept where you are. That you will stay, that you can help so many people. And learn to love it quicker than I did.
Be willing to go and put in the work. It will be hard and you will have days when you don't want to do anything, but strike up a conversation with one random man or woman on the street and it will change your whole day and outlook. There are times when Nicaraguans will not want to hear about the gospel, but take the time to want to hear about what they want to talk about and you will be more well rounded and will be prepared to communicate better as you grow in your testimony of the gospel and testimony of how amazing the Nicaragua people are. (Jonathan)
Go into this experience knowing that, at times, your going to look silly, and be ok with that. As soon as you realize that the people already love you, and want to help you, you will begin to grow. I saw too many missionaries not take the time necessary to learn to love the language. They were still talking like newbies after two years of being there. Take time to practice the accent. I forced myself to learn the Nicaraguan accent, and people were always super impressed, and wanted to talk to me. Sometimes they even asked me if I was from Nicaragua. Love the people, and they will love you. (Scott)
What was a funny language mistake?
Remember that the Spanish word sin and fish sound a lot alike. It took me a while to be able to distinguish between those two words. When talking to members I once said "oh I love pecado" (sin). I wanted to say is that I love pescado (fish). (Wayne)
Thinking that a tie in a game is the same as a tie around your neck. They are different words. (Timothy)
Embarazada doesn't mean embarrassed. If you want to impress people, learn to say eye, ear, throat doctor; otorrinolaringologista. Do not play "Got your nose" with the kids. (Taylor)
ehhh chavalo! (Leonel)
I accidentally said I was gonna poop myself for the longest time. And no one would correct me. (Alex)
Ha. Not even going to start into that one. I can still remember the day my tongue relaxed enough so that I could roll my rs and properly pronounce words with rr. (Jonathan)
My second "son"(greenie) was from Honduras. He needed some hangers for his shirts. We went to the corner pulperia (store run out of someone's house) to buy some. He asked for "perchas", and the lady at the counter got embarrassed and a little offended. I had to explain to my companion that in Nicaragua "perchas" referred to a woman's chest, and that he was looking for "ganchos". My poor companion got very embarrassed, and the lady started laughing after we explained that he was used to a different dialect. (Scott)