Free resources about the New York Rochester Mission:
*Other Mission Pages: New York LDS Missions.
---
---
New York Rochester Mission Address
Here's a recent address for the Rochester Mission. We try to keep this info up to date, but it's a good idea to check the address with several sources, including your mission packet or the mission office.
New York Rochester Mission
460 Kreag Road
Pittsford, NY 14534-3733
Phone Number: 1-585-223-3440
Mission President: President Zachary Evans
New York Rochester Mission Map
Here's a link to the mission map for the NY Rochester Mission (LDS). To access the official LDS.org map for the Rochester Mission:
Log into your LDS account here.
Click here.
Videos with NY Rochester RMs
Here are in-depth YouTube video interviews with returned missionaries from the New York Rochester Mission.  We interview hundreds of returned missionaries each year, so check back regularly to see new RM interviews.
LDS-Friendly Videos about New York
Here are LDS-friendly educational videos about New York. We scoured YouTube to find the best quality videos about New York, that are free from inappropriate music, immodesty and profanity.
New York Rochester Missionary Blogs
Here's a list of LDS missionary blogs for the Rochester Mission. This list includes the missionary's name, URL and when their blog was updated.
*Send your missionary a gift (mission-specific shirts, ties, Christmas stockings/ornaments, pillowcases, etc.)
New York Rochester Mission Groups
Here are Rochester Mission Groups- for LDS missionary moms, returned missionaries, mission presidents and other alumni of the Rochester Mission.
New York Rochester Mission T-Shirts
Here are T-shirts for the New York Rochester Mission!
Shirt designs include New York Rochester Mission logo/emblem shirts and Called to Serve shirts. The shirts make great gifts for pre-missionaries, returned missionaries and missionaries currently serving. LDS Mission shirts come in all sizes: Small, Medium, Large, Extra Large, up to 4XL.  The mission designs are printed on white shirts and are shipped to you.
*Simply click on a shirt design to view the details and submit an order. The designs on mission t-shirts may also be printed on other LDS mission gifts, including: Rochester missionary aprons, Christmas stockings, ties, pillow cases, teddy bears and Christmas ornaments.
*Click here to browse Rochester Mission gifts
---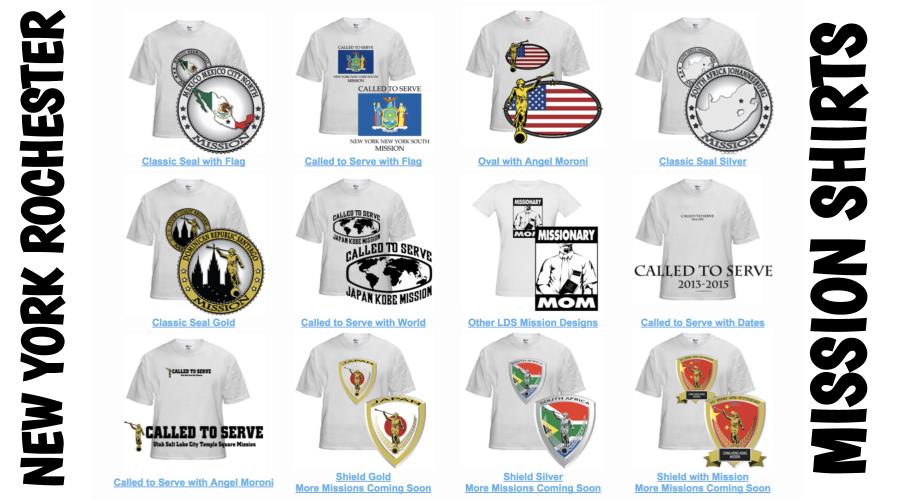 ---
Rochester Mission Presidents
Here's a list of current and past Mission Presidents of the Rochester Mission.
2016-2019, Zachary Evans
2013-2016, Arthur R. Francis
2010-2013, Jack R. Christianson
2007-2010, Michael Hemmingway (Listen to an interview with Pres. Hemingway)
2004-2007, Alan S. Layton
2001-2004, Walter J. Plumb
1998-2001, Mark F. Breinholt
1998-1998, Gary J. Coleman
1996-1998, Gene A. Pratt
1995-1996, Lynn J. Packham
1993-1995, Marlin K. Jensen
1990-1993, Gordon Mauss
1987-1990, Richard Christensen
1984-1987, Dale R. Shumway
1981-1984, Bryton B. Orton
1978-1981, Marvin R. Curtis
1975-1978, Milton A. Barlow
1972-1975, William R. Siddoway
1969-1972, Robert L Stephenson
1966-1969, Reid E. Bankhead
1964-1966, H. Lester Peterson
1962-1964, William C. West
-1962, Gerald Smith
New York LDS Statistics (2015)
Church Membership: 81,128
Missions: 4
Temples: 2
Congregations: 150
Family History Centers: 53
Helpful Articles about New York
*Are you interested in becoming a lawyer in New York? Learn about the New York bar exam
Rochester Missionary Survey
Here are survey responses from New York Rochester RMs, to give you a snapshot into what it's like to live in the mission.
When did you serve?
March 2001-April 2003 (Nolan)
2000-2001 (Crystal)
2000-2001 (Larcher)
1999-2000 (Shaun-ta')
1984-1986 (Lineta)
1990-1991 (Harrison)
What areas did you serve in?
Niagara Falls, Batavia, Rochester, Irondequoit, Buffalo, Gowanda (Gowanda was my favorite). (Nolan)
East Rochester, Buffalo, Warsaw, Shortsville. (Crystal)
Fayette, Botavia, Irondequoi, Palmyra. (Larcher)
Penfield, Farmington, Macedon, Angola, Newark. (Shaun-ta')
Norwich. (Harrison)
What were some favorite foods?
Chill N' Grill Wegman's Subs The Anchor Bar Suicide Wings Nick Tahoe's Garbage Plate Grandma Gussy's sweet potato pie The one time Elder Higgenson and I mixed a turkey pot pie with cream of chicken soup. (Nolan)
Italian subs and chill n grill ice cream in Palmyra and NY style pizza and garlic knots in Wyoming, NY near the college campus. (Crystal)
Nima's Chicken Parmesan Sub, Nima's Calzone's, The Wedge – at Eden Seafood and Pizzeria – holy yum! Pizza of course and Frozen Custard! (Shaun-ta')

Some Italian food. (Lineta)
What was a funny experience?
While serving in Gowanda, we tracted into a guy who had a camel farm… really strange. In Niagara Falls, I saw a cop car crash into a telephone pole. We would randomly find tanks parked on people's property. A guy in Rochester sold me clothes out of his car…I'm pretty sure he didn't pay for them. We found cooking magazines under Webby Miller's bed. Anyone who knows Webby would get why that is funny. (Nolan)
Mission President and wife accompanied us on a teaching appointment to see a Pastor and his wife. While us sisters were talking with the wife, next thing we know President was on the floor doing push ups in their living room. After that, he outlined the rest of his health habits ("100 push ups around breakfast , lunch, dinner, and before bed, run 5 miles a day and take a good multi vitamin!"). The next morning the Pastor had squeezed himself into some workout sweats from his fitter days and went for a run. His first stop was to return to some items we forgot at their home. To say President made an impact is an understatement. (Crystal)
Woke up one morning with a new companion fresh from the MTC finding the ceiling of our small apartment on the bathroom bowl. I being the first to discover the mess went back to sleep without saying anything. She had to see it for herself. (Lineta)
What was a crazy/dangerous experience?
Every day in Rochester and Buffalo. (Nolan)
We were walking down a street of shops in Buffalo hoping to find a restroom. We went into one that looked like a music store. We didn't see anything on the main floor but saw an open door that went downstairs. We walked down and found a bunch of surly guys sitting around a table in an empty room. We quickly turned around and walked up and out. It was not a shop, rather a front for some other "goods" they were selling. (Crystal)
Riding bikes on the busy highway. (Larcher)
Car went off a slippery road due to very heavy snow storm. (Lineta)
What was a spiritual experience?
Every day in Rochester and Buffalo. Kidding aside. While in Buffalo, my companion and I set a goal to teach 50 discussions for the week. We planned out a three mile loop and walked it over and over stopping everyone we saw. We taught 50 discussions exactly. On another occasion, an investigator's daughter had scarlet fever. The investigator did not have the money to take her to the hospital. Randomly, we decided to drop by her house and check on her. She said she had been praying for us. She told us her daughter had a fever of 104 degrees and she asked us to give her a blessing, which we did. The next day we stopped by her home to check on the daughter. The fever and rashes broke that night and the daughter was sent to school. (Nolan)
I was frustrated with my companion (surprise) and in a moment for frustration over her way of doing things, I felt the words, "her best is not your best". It softened me immediately, quit making comparisons and I had a greater appreciation for her strengths. She and I still keep in touch 15 years later! (Crystal)
I was blessed to serve a lot of my mission at the church historical sites. I was also there to see the groundbreaking, building, and dedication of the Palmyra Temple. I was blessed to serve during the temple open house greeting guests as they left the temple and answering questions. I remember asking a gentleman if he had any questions as he was leaving. He said, "yes, sister I have lots and lots of questions, but you can't answer any of them." I was anxious to answer them of course and so I asked him to allow me the chance. His response was, "You see my mother and sister joined the church many years ago and for a long time my only question was why they would do that. Tonight after visiting the temple my only question really is why I didn't. So I have lots of questions, but I know the only one who can truly answer them is God." In that moment I felt the Spirit so strong and knew that man would be baptized because of the power of the temple and the spirit he felt as he visited the House of the Lord. (Shaun-ta')

Being led to a home of a single mother with three children after a long day of rejection in freezing weather. They were taught and were baptized. (Lineta)
What are some interesting facts about the Rochester Mission?
You have the privilege of telling people you served near The Sacred Grove, Hill Cumorah and Witmer Farm. Our mission is the only mission that every single missionary talks about every time they teach about the Prophet Joseph Smith. (Nolan)
The restoration of the Church of Jesus Christ of Latter-day Saints took place here. So kind of important to the Church as a whole. (Crystal)

It's The Cradle of the Restoration. (Lineta)
What's the weather like?
The summers are hot and humid. The winters are bitter cold. I don't recall a single week that went by that we did not experience some kind of precipitation. Bring a thick jacket. They will tell you to bring a trench coat, DON'T! Bring a heavy jacket.  (Nolan)
Muggy in the summer. Wet cold in the winter. (Crystal)
I served near Buffalo during the winter. It was very cold and had lots of snow! Hot and humid in the summer with plenty of rain. Spring and fall are fabulous! (Shaun-ta')

It gets very cold in the winter time, sometimes below zero. It gets humid in the summer time. (Lineta)

Humid. (Harrison)
Any things you really like about the area/people?
Not going to lie, it's New York. The people are great, but the church struggles there. Our mission was about half the size of the state and only had three stakes. The people grow on you. You will come to love them. When you leave home, you will think the people back home are strange. True story, I went home to California. When I returned home, a member hired me to do manual labor. One day, I was filling a wheel barrel with sand and I saw a guy walking towards me. I could tell he was looking at me and I could see out of the corner of my eye that he was smiling at me. As he got closer, I could still feel him looking at me. Finally, I looked up and said, "WHAT?" With a big smile on his face, he said, "GOOD MORNING." All of a sudden, I realized that I had become the people of Western New York. Trust me, it'll happen to you. Let it. 🙂 (Nolan)
Their willingness to completely change their lives. (Crystal)
I loved all the wonderful, kind, and generous people I met on my mission. (Shaun-ta')
It's a beautiful place with loving people. (Lineta)
Any packing/clothing advice?
Bring a heavy jacket and gloves. When you get to the mission, go buy a good pair of boots for the winter. It snows a lot. For the summers, have a couple pairs of short sleeve white shirts. Good shoes are a must. You will be on the doors a lot. I wore a backpack my whole mission. Trust me, it's the way to go. (Nolan)
Thin layers and cheerful colors (sisters. And ties for elders). (Crystal)
Long johns. (Larcher)
Warm winter coat, rain coat or jacket and good shoes! (Shaun-ta')

Bring warm clothes and winter boots. (Lineta)
What blessings did you receive from serving a mission?
I feel like I have a very high knowledge of the scriptures. Some people talk about the south as the Bible Belt. The northeast is no exception. You will learn the scriptures because the people you meet will be well versed in the Bible and will challenge what you teach them. (Nolan)
Increased memory! Greater compassion. Developed habit of repenting daily. (Crystal)
There's not enough space. (Larcher)
The blessings are innumerable. First I gained a firm and unshakable testimony of the Gospel and the Savior Jesus Christ. I also came to know and love the prophet Joseph Smith and his family much more than I could have ever done in any other place. I gained a strong testimony of the Restoration. My family was strengthened and blessed at home. My father and mother became very active in the church and returned to the temple after being away for a long time. My marriage is strong and I have wonderful children who I am striving to raise in righteousness. They already have stronger testimonies of the gospel than I had when I went into the mission field. (Shaun-ta')
Testimony grown, knowledge of the truth increased, wonderful family of my own. Joy of serving the Lord. (Lineta)
What are some skills you gained?
Communication skills. You are talking to people all day. I learned how to study and memorize. This served me well in my undergrad and post-grad programs. You learn how to be self-sufficient, humble, forgiving, accepting, giving and selfless. You also learn the value of hard work. (Nolan)
Note taking. Know scriptures and doctrine well enough to explain simply to a child. (Crystal)
How to deal with lazy people. (Larcher)
I learned to talk with people and in front of people. I also learned how to teach and learned how to really love teaching! I learned how to seek the Lord's help with hard things and listen for the Spirit to help me with the answers to hard questions. (Shaun-ta')

Teaching and speaking. (Lineta)
What do you wish you knew/did at the beginning of your mission?
My situation was strange. My Dad had cancer when I arrived in the mission. He died a couple months after I left home. When I first arrived in the mission, I wasn't mentally mature to take on the task. This led to fights with my trainer. Go in to the mission with no expectations but go with the mentality that the Lord has called you to go find his children. Work hard. I cannot stress that enough. The missionaries that did not work hard were also the most disobedient and most miserable to be around. If you work hard, I promise you that the experience will be a blast. Obedience comes with hard work. You won't worry about being obedient because you will be to focused on doing the work. Also, hot Mormon girls dig Returm Missionary stories about how hard you worked. Trust me on that one! (or Mormon guys – if you are a sister missionary…) (Nolan)
Wish I were more vulnerable and teachable. (Crystal)
I wish I had been better prepared and that my testimony and gospel knowledge had been stronger. (Shaun-ta')

I wish I read and studied more. (Lineta)
Any advice/testimony for pre-missionaries going to Rochester?
Pray about the truthfulness of the Book of Mormon and the Prophet Joseph Smith before you leave. This is a must. Your testimony will continue to grow while you are a missionary but establishing a firm foundation before you leave will serve you well early on. (Nolan)
In some areas, there are many anti-Mormon groups and Bible bashers. No matter how well you know the scriptures, you're wasting your time if the Spirit isn't present and the Spirit can't be present when there is contention. (Crystal)

Get your priorities in order. Serve God first of all, then the rest follows. You will be amazed. (Lineta)
What was a funny language mistake?
When English speaking. Can't help you there. (Nolan)
I made plenty. (Larcher)
Speaking basic Italiano. (Lineta)