Free resources about the Mozambique Maputo Mission:
---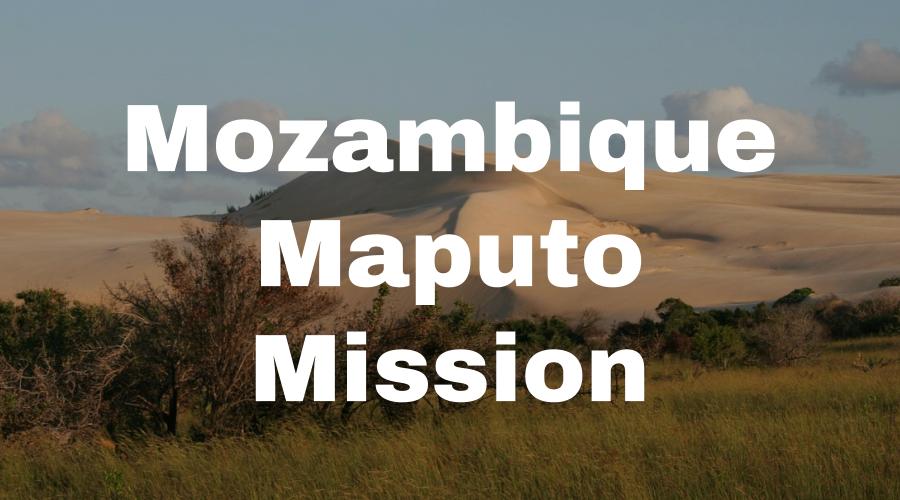 ---
Maputo Mission Address
Here's a recent address for the Mozambique Maputo Mission. We try to keep this information up to date, but it's a good idea to check the address with several sources, including your mission packet or the mission office.
Mozambique Maputo Mission
Caixa Postal 1166
Correio Central
Maputo, Maputo
Mozambique
Phone Number: 258-21-496-881
Mission President: President Joni Koch
Mozambique Maputo Mission Map
Here's a link to the mission map for the Mozambique Maputo Mission (LDS). To access the official, up-to-date LDS.org map for the Maputo Mission:
Log into your LDS account here.
Click here.
Videos with Maputo RMs
Here are in-depth YouTube video interviews with returned missionaries from the Mozambique Maputo Mission.  We interview hundreds of returned missionaries each year, so check back regularly to see new RM interviews.

Videos about Mozambique
Here are LDS-friendly educational videos about Mozambique. We scoured YouTube to find the best quality videos about Mozambique, that are free from inappropriate music, immodesty and profanity.
Maputo Missionary Blogs
Here's a list of LDS missionary blogs for the Maputo Mission. This list includes the missionary's name, URL and when their blog was updated.
*Send your missionary a gift (mission-specific shirts, ties, Christmas stockings/ornaments, pillowcases, etc.)
Maputo Mission Groups
Here are Mozambique Maputo Mission Groups- for LDS missionary moms, returned missionaries, mission presidents and other alumni of the Maputo Mission.
Maputo Mission T-Shirts
Here are T-shirts for the Mozambique Maputo Mission!
Shirt designs include Mozambique Maputo Mission logo/emblem shirts and Called to Serve shirts. The shirts make great gifts for pre-missionaries, returned missionaries and missionaries currently serving. LDS Mission shirts come in all sizes: Small, Medium, Large, Extra Large, up to 4XL.  The mission designs are printed on white shirts and are shipped to you.
*Simply click on a shirt design to view the details and submit an order. The designs on mission t-shirts may also be printed on other LDS mission gifts, including: Maputo missionary aprons, Christmas stockings, ties, pillow cases, teddy bears and Christmas ornaments.
*Click here to browse Maputo Mission gifts
---
---
Maputo Mission Presidents
Here's a list of current and past Mission Presidents of the Mozambique Maputo Mission.
2015-2018, Joni Koch
2012-2015, Paulo V. Kretly
2009-2012, Loren Spendlove
2006-2009, Blair J. Packard
2004-2006, Lynn Pyper Wallace
Mozambique LDS Statistics (2015)
Church Membership: 7,943
Missions: 1
Temples: 0
Congregations: 26
Family History Centers: 2
Helpful Articles about Mozambique
Maputo Missionary Survey
Here are survey responses from Mozambique Maputo RMs, to give you a snapshot into what it's like to live in the mission.
*Click here to take a survey to help pre-missionaries going to your mission.
When did you serve?
2015-2017 (Diego)
2014-2016 (Max)
2013-2015 (Austin)
2013-2015 (Tucker)
2010-2012 (Josh)
2010-2012 (Andre)
2008-2010 (Brae)
What areas did you serve in?
Ezulwini (Swaziland), Maputo and Beira (Mozambique). (Diego)
Beira and Maputo. (Max)
Maputo, Manga, Matola, Swaziland. (Austin)
Beira and Maputo. (Tucker)
Beira, Manga, Dondo, Maputo, Magoanine. (Josh)
Dondo, Matola, Manga, Nampula, Maputo. (Andre)
Magonine, down town Maputo, Matomeio, Beira. I may have badly misspelled the areas. (Brae)
What were some favorite foods?
Rice and Matapa (basically this delicious dish that they make using coconut and peanuts to go with anything), Chamussas and Bagia (just doughy, deep fried dishes they sell everywhere on the side of the streets). (Diego)
Matapa, couve, and beans. (Max)
We didn't eat with people often due to sanitation and the fact that the people had barely enough to support their children, yet would give us everything they had. But the few times I ate traditional food, I really liked their rice and beans. (Austin)
Feijoada, chamusa, fried chicken. (Tucker)
Xima, Matapa, the chicken they make is amazing, piripiri. (Josh)
Chins com matape. Peixe seco. (Be careful. Cuidado pá) Kasava Coração de boi. Líchia. (Andre)
Feijoada. (Brae)
What was a funny experience?
Waiting for an investigator right outside by his front door and calling him, only to put our phone down and hear him making up his excuses not to meet with us. (Diego)
There are tons of unavoidable interactions with drunk people on weekends that can turn out to be pretty funny. (Max)
I fell in a water runoff ditch on the side of the road and a year later found that my back was growing a fungus from that water. (Austin)
We always saw drunk people and they loved speaking English when they got super drunk. One time I challenged them to a foot race. If I won they came to church, if they won I had to buy them a beer. I won, but they never showed up on Sunday… (Josh)
Mozambicans believe that Chameleons are extremely dangerous. They say that a Chameleon can even kill a Black Momma in a fight. We would collect Chameleons in our home. We had three at one time. This was in Dondo. We would hold the Chameleons on long sticks and have them eat flies off of our ceiling and walls. One day some members came over to speak with us and saw the Chameleons and started to sprint down the street. It was hilarious! He said, "Elders!!!! Don't you know?!? These can kill you!!!" (Andre)
Teaching English and how to pronounce the letter 'r' in English words. Like my first name Brae. But they would always say Bwae. (Brae)
What was a crazy experience?
This might not be the craziest, but I remember one time when we were on our way back on a Chapa (Mozambican transportation), and this random bunch of ladies behind us all start yelling and arguing about what tribe was the best in Mozambique. Turns out that they started a fist fight right there and it was way bad! The driver basically turned around halfway through the mess and dropped us off at the police station. Thankfully, we got off like five minutes away from our house. (Diego)
Abscesses. Take care of yourself, keep clean, and do anything you can to avoid getting abscesses. (Max)
We got robbed one evening. Not unusual, but this time they came through the roof of our kitchen. (Austin)
I had my tonsils removed while there. Our apartment burned down two weeks before I went home. (Josh)
In Nampula, we lived a few houses away from the head of Renamo (political party). There was lots of tension in 2012 with Frelimo and Renamo. They have their own military. We started to see more and more soldiers from Renamo crowd the street corners. One morning I woke up to Elder Cyrier screaming, "a war is starting!!!". We heard tons of gunshots. For about almost an hour we heard random shots down the street. It was literally down the street from our home. We stayed home that day. (Andre)
After coming back from Caia on a truck. The truck broke down many times in the night in the middle of the jungle. The driver had two people in the back holding up flash lights acting as his high beams. It was a 3 hour ride that took 9 hours. (Brae)
What was a spiritual experience?
Baptizing families. (Austin)
The people there are so humble and kind. Overall, I learned to be kind to all and grateful for whatever it is you have and all we have is from God. (Josh)
Some are often so precious that they are not ones you share to more than a few in your life time. Write down your experiences. You will forget names and experiences. It's worth the effort. Remember to take pictures of everyone and everything. It's good to keep a printed picture of the person in between the pages of the journals. It helps you remember those tender moments. (Andre)
After giving a blessing to a branch missionary that was sick and couldn't come out. They next day he came up to my companion and I and we asked how he was as a general day to day question. Forgetting about the blessing. He said he was good. And he explained that it was the blessing that made him better. It was a big spiritual up lift. But I was sad I didn't recognize it myself at first but happy I was able to recognize it after. (Brae)
What are some interesting facts about the Maputo Mission?
1. Almost every woman there wear something they call Capulana (Capulana is just this piece of fabric they usually wrap around their waist) 2. In some parts, depending on the customs there, they will stick thieves in tires and burn them to death. 3. You can't just walk past someone without greeting them. (Diego)
It was the subject of Elder Anderson's 2012 general conference talk entitled, "It's a Miracle." The church is growing very rapidly. In 2015 there were 0 stakes but there are now already 3. (Max)
It's one of the fastest growing missions in Africa and has one of the highest retention rates. In the 3 years my Mission President was there, his missionaries (I was there for his last two years) baptized more than 400 families. (Austin)
They speak many languages and will love you if you try to learn them. They are happy people, they will give you the little they have, the sun rises at 3am, goes down at 4pm. You will walk a lot, it gets very hot (110 degrees), some people have never seen a white person. (Josh)
It was amazing. It was invigorating. It was inspiring. Elder Scott came to our mission and it was absolutely incredible hearing and translating his words to the Portuguese-speaking Elders. Angola was part of our mission and it broke off about 6 months into my mission in 2011. Dondo only had about 3-5 members when I first got there. With about 15 people coming to church. By the time I left we had about 115 people coming to church service. (Andre)
People eat sand. (Brae)
What was the weather like?
HOT! (Diego)
Summers are very hot and humid with intense thunderstorms. Winter weather is typically 60 to 75 degrees. (Max)
Hot and humid, 24/7/365. (Austin)
The weather is very hot and wet. (Tucker)
Hot, humid majority of year. Gets down to 70's in winter. It rained probably 10 times in two years, but when it rains, it floods! (Josh)
It rained A LOT during rainy season. It was really hot and humid. We all got used to it after a while. (Andre)
Humid. Hot. Loved it. (Brae)
Any things you really like about the area/people?
I love their sense of humor, because they're literally always joking around with you and all that. Of course, poverty helps making people even more humble, and I guess they're pretty humble for the most part. (Diego)
People are very accepting and willing to hear out the missionaries. They also have a very simple sense of humor. (Max)
They are incredibly humble people. (Austin)
Mozambique in general is very polite. It is pretty much part of the culture to be a good host. (Tucker)
I love the culture! The people are the nicest people on earth. (Josh)
Everyone is so humble and kind. They always had a smile on their face. (Andre)
Everything. I loved to serve. Dig the covas. I loved the experience of going somewhere that was so loving. (Brae)
Any packing/clothing advice?
Short sleeves only. Bring a sweater for the occasional chilly day and a good rain jacket for the wet season. Also, invest in a good pair if shoes because the missionaries there do a ton of walking. (Max)
Short sleeves, leave the sweaters at home, bring some boots, but pack it all in one suitcase because you'll only be able to fly with one bag when you get transferred. (Austin)
If you wear shoes larger than about a size 10 in the US, then take enough shoes with you. They don't very often have people with that big of feet. Also since it rains a lot, boots would be advised. (Tucker)
Pack thin white shirts and thin pants and socks. American deodorant because they don't have it. (Josh)
Don't bother to bring hygiene things. Sure, deodorant from the US might be a good one to consider, but leave everything behind in the MTC. Short sleeve shirts. Get good shoes. I went through six pairs of bad shoes until I picked up some Ecco's from another Elder. Bring one of those micro whatever whatever towels. They are nice and small to pack around. (Andre)
Nothing different than normal. (Brae)
What blessings did you receive from serving a mission?
I got more knowledge of the Gospel, which enables me to discern what is really worth doing and whatnot. I'm the happiest guys on earth too!! (Diego)
I learned that happiness and satisfaction don't come from anything that is provided by the world. It comes from developing a personal relationship with Christ. (Max)
A lot. (Austin)
I had many trials while on my mission that helped me become who I am today. I love the people I met. (Josh)
I received the blessing of learning to serve. I was blessed by having my mother finally find a perfect husband for her that she was able to be sealed to. I was able to get in contact with a beautiful girl and now we are sealed. The blessings are immense. It's hard to even count them. (Andre)
Gaining a stronger and stronger testimony. Learning how to study properly. (Brae)
What are some skills you gained?
I guess I just developed more of a bold leader attitude, the courage to make corrections even though there will be those who will hate me for doing God's will. (Diego)
Organizational skills, hard work for sure. I learned how not to complain. (Max)
A new language, communication in general, responsibility. (Austin)
Cooking, cleaning, being happy with trials, waking up early. (Josh)
How to cultivate rice. Learned how to fix many washers, toilets, showers. I learned how to cook with what I had. (Andre)
Cooking is probably the number one. Cleaning. Good social skills. Loving to serve. (Brae)
What do you wish you knew/did at the beginning of your mission?
I wish I'd known time would fly way too fast!! (Diego)
Worked harder to understand how investigators may perceive our message. Patience. (Max)
I wish I studied harder. Take advantage of your time. (Austin)
Know the basics of the gospel. These people need the mist simplistic form of the gospel. (Josh)
Everything I knew at the end. I would have served with more enthusiasm. I would have served more selflessly. I would have dumped my girlfriend long before. (Andre)
How to teach the lessons. (Brae)
Any advice/testimony for pre-missionaries going to Mozambique?
My best advice would be: LISTEN to your Mission President. He IS an inspired, although not perfect man!! You'll be so much better off if you do this. (Diego)
Have fun. Don't be a drag. Study hard, learn the language, work hard and have fun. (Austin)
Jump into their culture. They will respect and love you for it. (Josh)
Serve, serve and love. Every day is important. Don't take yourself too seriously. Be sincere and kind to EVERYONE. (Andre)
Don't be a stick in the mud. Have fun and love the people. You only might be there for two years. The promised land is Mozambique and the language of angels is Portuguese. (Brae)
What was a funny language mistake?
Most common is missionaries saying poop instead of coconut. (Max)
Um excrement and coconut are the same, just pronounced a little differently. (Austin)
Long story short we had an investigator using the bathroom as we walked up. We saw her daughter there and asked where her mom was and she said "she is going to the bathroom". To my trainer it sounded like she said "she is carrying", so to be the good missionary he said "ok, we are going to help!" We have since learned the difference between the two words. (Tucker)
'Coconut' and 'poo' are very similar words. My companion often told people he liked to eat poo, haha. (Josh)
It's too inappropriate. Haha You will mess up, but don't worry. (Andre)
Someone asked what food I liked to eat. I said I love cocO but meant to say cOco. The big O is the emphasis. So I wanted to say I loved to eat coconut but said I loved to eat feces. (Brae)