Free resources about the Montana Billings Mission:
---
---
Montana Billings Mission Address
Here's a recent address for the Billings Mission. We try to keep this information up to date, but it's a good idea to check the address with several sources, including your mission packet or the mission office.
Montana Billings Mission
1848 Rimrock Rd
Billings, Montana 59102
Phone Number: 1-406-245-6146
Mission President: President Gordon L. Wadsworth
Montana Billings Mission Map
Here's a link to the mission map for the Montana Billings Mission (LDS). To access the official LDS.org map for the Billings Mission:
Log into your LDS account here.
Click here.
Videos with Montana Billings RMs
Here are in-depth YouTube video interviews with returned missionaries from the Montana Billings Mission.  We interview hundreds of returned missionaries each year, so check back regularly to see new RM interviews.

Videos about Montana
Here are LDS-friendly educational videos about Montana. We scoured YouTube to find the best quality videos about Montana, that are free from inappropriate music, immodesty and profanity.
Montana Billings Missionary Blogs
Here's a list of LDS missionary blogs for the Montana Billings Mission. This list includes the missionary's name, URL and when their blog was updated.
*Send your missionary a gift (mission-specific shirts, ties, Christmas stockings/ornaments, pillowcases, etc.)
Montana Billings Mission Groups
Here are Montana Billings Mission Groups- for LDS missionary moms, returned missionaries, mission presidents and other alumni of the Billings Mission.
Montana Billings Mission T-Shirts
Here are T-shirts for the Montana Billings Mission!
Shirt designs include Montana Billings Mission logo/emblem shirts and Called to Serve shirts. The shirts make great gifts for pre-missionaries, returned missionaries and missionaries currently serving. LDS Mission shirts come in all sizes: Small, Medium, Large, Extra Large, up to 4XL.  The mission designs are printed on white shirts and are shipped to you.
*Simply click on a shirt design to view the details and submit an order. The designs on mission t-shirts may also be printed on other LDS mission gifts, including: Billings missionary aprons, Christmas stockings, ties, pillow cases, teddy bears and Christmas ornaments.
*Click here to browse Billings Mission gifts
---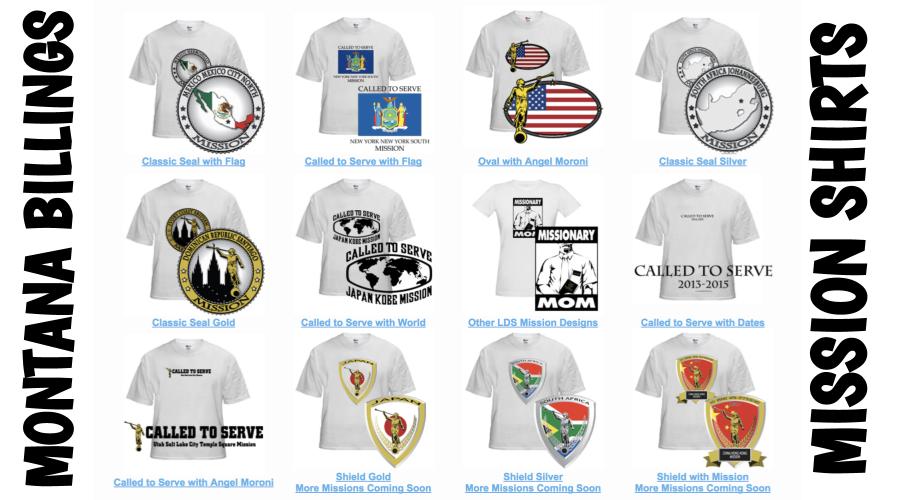 ---
Montana Billings Mission Presidents
Here's a list of current and past Mission Presidents of the Billings Mission.
2015-2018, Gordon L. Wadsworth
2012-2015, Kris J. Mecham
2009-2012, Larry Higbee Gardner
2006-2009, Craig George Fisher
2003-2006, Glenn Rex Frazier
2000-2003, Boyd Park Hoglund
1997-2000, H. Kay Chandler
1994-1997, David. C. Harvey
1991-1994, John Condie Jr.
1988-1991, John F. Grove Jr.
1985-1988, John J. Kunzler Jr.
1982-1985, Jesse Lynn Mellor
1979-1982, Joseph Merlyn Milne
1976-1979, Val Henry Carter
1973-1976, George T. Frost
1970-1973, L. Harold Wright
1967-1970, Joseph J. Jenkins
1964-1967, Wallace Elroi Broberg
1961-1964, Grant Woolley
1957-1961, Casper W. Merrill
1957-1957, President Hendricks
1950-1955, Sylvester Broadbent
Montana LDS Statistics (2015)
Church Membership: 48,968
Missions: 1
Temples: 1
Congregations: 123
Family History Centers: 48
Helpful Articles about Montana
Montana Billings Missionary Survey
Here are survey responses from Montana Billings RMs, to give you a snapshot into what it's like to live in the mission.
*Click here to take a survey to help pre-missionaries going to your mission.
When did you serve?
2013-2015 (Jonathan)
2014-2015 (Ana)
2013-2015 (Annick)
2010-2012 (Tyler)
2009-2011 (Jordon)
2010-2011 (Emmilie)
2006-2008 (John)
2015 (Jeannene)
1996-1998 (Jeffrey)
1993-1995 (Donald)
2004-2005 (Natalie)
1980-1982 (Peter)
2013-2014 (McKenna)
1985-1987 (Thom)
1984-1986 (Wendall)
What areas did you serve in?
Cowley, Hamilton, Bigfork, Shelby/Chester, Fairfield/Conrad/Sun River Valley. (Jonathan)
Ronan MT, Billings MT, Riverton WY, Powell WY, Lovell WY. (Annick)
Bozeman, Townsend, Miles City, Clinton, Kalispell, Butte, Glendive. (Tyler)
Billings- Shiloh Ward, Eureka Branch, Great Falls 3rd, 7th, and Fort Benton Branch, Billings Rimrock and West Park wards, Missoula 3rd and University wards. (Jordon)
Billings, Kalispell, and Red Lodge. (Emmilie)
Served in Montana Billings, Massachusetts Boston and Brazil. (Jeffrey)
Lander, Riverton, Bozeman, Missoula. (St. Ignatius, Superior, Polson), Casper, Billings. (Thom)
What were some favorite foods?
Pasta, meat/potatoes, stew. (Jonathan)
I loved the soups everyone would make in the winter. (Annick)
Elk steaks. (Tyler)
Steak and Potatoes- I had a ton of it, and never got sick of it! Huckleberry shakes, pies, desserts, etc. (Jordon)
Elk We had lasagna every night for a week. Maybe not a favorite, but sure memorable. (Emmilie)
Indian bread, buffalo, and for the most part, anything that was fed to us. (John)
Shepherds pie, huckleberry cobbler, chicken and dumplings (Jeannene)
Wild game in Montana. (Jeffrey)
Elk, moose, big horn sheep. (Donald)
Elk steaks. (Natalie)
Taco's, Sloppy Joe's, (Peter)
The wonderful members that fed me were enthused to cook up their hunted wild game for dinner as well as share their fresh foods from their gardens (in the less-densely populated areas). Those garden meals with homemade bread were my favorite! Other than those FEW people who prepare for you their one-of-a-kind recipes–you know, those ones that you will never be able to forget because of their unusual ingredients–the meals are traditional American. (McKenna)
Elk, venison, horseradish, stew and rhubarb pie. (Wendall)
What was a funny experience?
My companion and I were riding bikes, he was leading, and a dog came out of a yard pretty angrily. The dog flew by me so he could chomp on my companion's shoe in a suicide leap. My companion kicked him off, and as the dog started charging again, we pedaled as fast as we could and got away. (Jonathan)
Knocking on doors, the people. (Ana)
We were teaching this lady named Brenda. While teaching her the sun came through the window and shined on me and she stopped and called me Sister Angel and after that she would only call me Sister Angel. (Annick)
Mission-wise, going to church the Sunday after conference, and having two people ask to get baptized and they did get baptized. Also, baptizing someone in the Powder River. Service-wise, vaccinating cattle. (Tyler)
One time my companion and I were running late to an appointment, so we decided to cut across a field instead of walking around on the road. It was probably 7pm. We jumped over a fence and started walking across the field. It was quiet, dark and snowy outside. After a couple minutes of walking, we heard a bunch of footsteps- animal footsteps. It was a full moon so we could see a little bit. We looked up and saw a herd of bulls running towards us. I don't think there was a time in my life I have run faster than that. We ran across the huge field and jumped over the fence just in time. When we got to the house, we told the people about our experience and they were shocked that the owner didn't come out with his shotgun and shoot us. Gotta love Montana! (Jordon)
I had to fish out dozens of bugs from the baptismal font 40 minutes before the baptism started! I also fell into a trash can face first, face planted on a street corner in the snow, and got hugged by a drunk man while tracting. 🙂 (Jeannene)
Hanging up on President Monson twice. (Jeffrey)
Conspiring with a branch member who was a state trooper to pull over the rest of the zone on the way to Christmas Conference in Basin Wyoming. (Donald)
Going tracking and having an intoxicated man try to convince us we needed to give him a hug. He even tried to say that Jesus loves everyone and that's why we should give him a hug. Needless to say we walked carefully away. (Natalie)
Parking on a street in Kali spell during heavy snow, the street was plowed in the night and next morning the car was completely covered in snow, after 2 hours digging it out we discovered a traffic ticket on the windshield. (Peter)
Actually, something that surprised me is that there are quite a few interesting people in the more remote regions of Montana. For instance, we needed to make contact with a certain man who lived completely off the grid, somewhere up a mountain, and who didn't even live in a house or trailer. The members who took us up there drove us in their special vehicle that could handle the terrain. I was surprised to find several people who own peacock farms in different remote areas, actually. Every time we went tracting in remote areas, we always end up finding some very unique people. I loved finding and serving those folks! (McKenna)
Learning to drive in the snow in Lander, Wyoming. (Wendall)
What was a crazy experience?
The first snowfall of the year was light, but we didn't know our tires were really bare, so as I turned the pickup, I pressed the gas to go forward from a standstill and just started sliding sideways to the edge of the road. Thankfully, there weren't any cars right there to hit us. (Jonathan)
When people slammed the door in our face. (Ana)
We were in kind of a sketchy area and we were knocking on the last few doors before heading home and we knocked on one and it was like darkness surrounded us! So we left. It was freaky. (Annick)
None really. (Tyler)
I once consumed a 13″ beer brat with chili, cheese, relish, etc. as well as a canoli in under 9 minutes. I did this to get my picture on the wall at a restaurant in Great Falls. That was dangerous to my health. (Jordon)
Getting locked outside of the stake center during a tornado. (Emmilie)
Get surrounded with my companion by a tribal gang. We also ran into a homicide suspect. (John)
We had someone who was following us for a few days. We had to change our routes and use our bikes instead of the car because of how he was tracking us. That was scary. (Jeannene)
Catching missionaries smoking pot and having one of them pull a knife on us. (Jeffrey)
Teaching a woman and her mentally unstable son got home and he freaked out on us. (Natalie)
Attacked by a dog in St Ignatius while tracking, the yard fence was so high we couldn't climb it and my companion was bitten. The dog left me alone. (Peter)
NOTE: IF DRIVING UP AN ICY ROAD, DO NOT PARK THE CAR! In my first area, I was responsible for the driving. One day, my companion and I were trying to find someone out in the wooded hills of Western Montana, and I decided to park the car midway up a hill in order to look at a map. You can imagine how exciting it was when we found that our car would not drive up the hill, but only slide down…backwards. My faithfully obedient companion backed me all the way down that slippery slope–I believe blessings for that wonderfully diligent Sister! ANOTHER NOTE: when serving in Montana, make sure that if you are serving in the countryside that you always pack along a sleeping back or similarly warm blanket, especially in the winter. You never know when if there will be car trouble. (McKenna)
Being threatened with a shotgun if we knocked again. (Thom)
While in Anaconda, we went to cut Christmas trees for older members with Gino Patti. The snow was past our knees, and I stumbled into a hole in the snow. No big deal, except it was steaming, because a huge bull moose had just left his bed to go browse. Brother Patti had seen the bull get up. I just missed running into him by a few seconds. I did get to see the moose a few minutes later. Huge!!! (Wendall)
What was a spiritual experience?
Baptisms are the best. (Jonathan)
Zone Conferences. Seeing investigators get baptized and less active members come to church. (Ana)
Every single time someone accepted the Gospel. (Annick)
Being able to testify to an investigator who turned out to be an anti-Mormon person. I was able to testify and it stopped him in his tracks and we left him. (Tyler)
One of the most memorable baptisms I was a part of was for a guy named Jacob. He was in his early twenties (maybe late teens?) and was a football player at Rocky College in Billings, Montana. There was another guy named Jake who was a less-active guy in the student ward we covered. We were able to help reactivate Jake and we found out he was on the football team, too. After Jake's reactivation process, he introduced Jacob to the church. We taught Jacob for a few months and he was eventually baptized by his friend and teammate, Jacob. It was incredible. I was able to sit in on Jake's patriarchal blessing at one point. This was a very spiritual experience. Jake shortly thereafter put in his own mission papers and ended up serving a mission- he was the first person in his family to serve a mission. (Jordon)
Finding people on the street who were prepared for baptism. Street contacting and tracting. https://hipsterrm.wordpress.com/2013/04/08/bravery-and-a-blue-coat/ (Emmilie)
Testifying to a group of 30 the truthfulness of the Gospel and of the Book of Mormon. (John)
Well I got sick and got sent home because I had mono for 4 months. The love I felt from my Savior and the hands on learning I received about the atonement just made my testimony skyrocket. Best thing that could have ever happened to me. (Jeannene)
Teaching a Brazilian lady in Montana in her native language. (Jeffrey)
3 hour discussions with the Blalock family, re-activating him and teaching her. Watching him get ordained to priest so he could baptize his wife. (Donald)
All of the baptisms I was able to be apart of. Teaching someone to pray for the first time. (Natalie)
Really there were dozens and dozens, stopping a student on the u of m campus and him in tears with the spirit. (Peter)
One day, during companionship study, I explained to my companion that I had a goal of being spiritually guided to find a scripture of the day every day for at least that week. She thought that was a good idea, and so a few days later she found a scripture for that day. Later that day, in the evening, we set out to find a referral from church headquarters we had been holding onto for a while. We found the address and knocked on the door. A woman answered the door and asked us who we were, we explained, and we asked for a particular person with a certain unusual name that was on the referral. The woman was surprised, as that was her 7-9 year old daughter. We then asked if we could share a quick scripture with her, because our job is to love and serve other as the Savior would. She accepted. My companion quickly pulled out her scripture from the Book of Mormon she felt was important that day. As she read it, the woman began to tear up "How did you know?" she wondered aloud. She said it was a bad time to talk that day, but asked us to come back soon. We worked hard to see them again, and when we did get to see them, it turns out that there was more to the story. The woman and her husband believe in and trust Jesus Christ, but as they have been raising their family, they had come to feel that they needed something more for their family: they needed a church, but they didn't know which one. The woman and her husband had chosen a day that they would fast and pray for God to guide and direct them to what church they should attend. It was on that particular day that they had been praying and fasting that we knocked on their door, asking for their daughter with the unusual name. The daughters name means "Jesus" in another language. And so we had knocked on their door, asking the family if "Jesus" was in that home. The Lord truly blessed us that day for my companions spirit-led study that day. As a missionary, your faith in the Lord and His wisdom and timing grows tremendously, and the belief you once held of coincidence diminishes. (McKenna)
While teaching Kelly Bersch in Great Falls, and he wanted to offer the closing prayer after a discussion. It was the first time he prayed vocally with his wife Debbie and their daughters. The Spirit was so strong it was tangible. He had been taught the gospel many times before, but he knew at that moment that he wanted to be baptized. Not a dry eye in the room! (Wendall)
What are some interesting facts about the Billings Mission?
Cold, lots of travel, beautiful. (Jonathan)
We had one of the highest baptism percentage missions. We cover Montana and Wyoming. (Annick)
There are more animals than people. (Tyler)
There are more cows than there are people in MT. Montana is home to seven different Indian Reservations. (Jordon)
We served in 3 different states: Montana, Wyoming, and a singles' ward in North Dakota. There are lots of outdoor activities. (John)
It is an EXACTLY OBEDIENT mission, and as such, had a very high success rate. The leaders love you like crazy and the members are willing to move heaven and earth to help you succeed. If you feel homesick in this mission, you're not immersed enough. No reason to feel homesick, you'll always be home in the MBM mission. (Jeannene)
Service was key to all the success we had in each place. (Jeffrey)
I covered some areas bigger than some friends entire mission area. (Donald)
To be serving in an area and the next set of missionaries are 120 mIles away. (Natalie)
5 times the size of my own country (England). Mountains in the West but flat badlands in the East. (Peter)
Area-wise, the mission is one of the largest missions in the U.S. It also has tremendous diversity in land formation. Western Montana is mountains and forests, with the valleys full of rivers and agricultural production. Yet, the rolling plains are also picturesque, with sagebrush or wheat fields. The people are also diverse in their heritages and religious beliefs. There are multiple reservations that belong to Native American tribes. There are Quakers, Mennonites, Hutterites, Amish, German Baptist Brethren, etc, as well as the more typical religions and creeds you would find in the typical U.S. city. In Western Montana, it seems that there are more people who have moved there from out of state. So, you get a lot more people from states like Colorado and California in the larger cities of Western Montana. As far as interesting facts pertaining to the mission itself, the Montana Billings Mission was a pilot mission for Facebook proselyting, and as far as I know, still utilizes it. It was also a pilot mission for the missionary-iPad program, and I know for a fact that the mission is still highly involved with iPads. Another interesting fact, FACT: It is the best mission in the world, hahaha! (McKenna)
Served in 6 areas, with 12 companions. Anaconda was my last area and was there for 6 months with the same companion. Was a District Leader and trainer 4 months out, and for the duration of my mission. Caught my largest freshwater fish to date in Poplar, MT. A 29″ 9 1/2 pound Walleye. During a shortage of new missionaries, an Returned Missionary in Great Falls was called to serve with my companion and I. That was a neat experience. (Wendall)
What was the weather like?
Cold and snowy in the winter, up to the hundreds in summer. (Jonathan)
Amazing. (Ana)
Cold, hot, windy- a lot like Utah. (Annick)
During the summer it's normal, during the winter it's just a little colder than Utah's average winter. -30 degrees did happen a couple of times on my mission. (Tyler)
A common saying was, "If you don't like the weather in Montana, just wait 10 minutes." The weather was always changing. Hot, cold, snowy, rainy, windy, etc. The temperature varied. The hottest I was in was just over 100, and the coldest was -27 (in Eureka, MT). (Jordon)
Hot in the summer and freezing in the winter. Sisters, wear sweats under your skirts! (Emmilie)
Hot summers and cold winters. Bring appropriate clothing. (John)
Cold. Haha. Even in September it was cold. Bring LAYERS not just thick warm things. (Jeannene)
Windy, hot and cold. (Jeffrey)
Hot during the summer, and it could get bitter cold during the winter. (Donald)
All over the place. (Natalie)
Proper 4 seasons. (Peter)
During the summer the temperatures can get into the 90 degree F range, and during the winter it can get to around -20. Some areas tend to be windier, such as the central areas. Still, I enjoyed all the seasons, as they all have their own unique loveliness. It brought peace to my soul and made me feel close to my Heavenly Father to take in the scenery as we travelled and observe the seasons change. There are some areas where it rains every three or so days, and other areas where it is very much like a desert and you're lucky to have rain once every two weeks. (McKenna)
White and absolutely freezing in winter. Went through 2 of them. My favorite season was fall and seeing the colors change. It was also beautiful in the spring when everything greened up. Summers were relatively mild while I was there. (Wendall)
Any things you really like about the area/people?
Everything. (Jonathan)
I love it. (Ana)
For the most part they were super genuine people. (Annick)
They're a down to earth and humble people. (Tyler)
I refer to Montana as the best kept secret in terms of it's beauty. Glacier National Park is a hidden gem. The people in Montana are some of the most friendly people I have ever come in contact with. (Jordon)
Very down to earth, very real, and very humble. (Emmilie)
Gorgeous. Gorgeous gorgeous. The mission mountains, the Indian reservations, the culture, the big sky. Montana truly is God's country. (Jeannene)
Loved them all. (Jeffrey)
The people were for the most part very warm and welcoming. (Donald)
A lot of humble but very hard working people. Lots of service opportunities. (Natalie)
There is something I wish I could get across to people about the Native Americans. And it is this: culturally they tend to be people who are already spiritual. They believe in a higher power, they look to God (or their Great Sprit, or Father Spirit), they look for messages from Him, and they expect Him to intervene in their lives. I love this about them. It makes it easier for us to invite them to act on the doctrines we teach. They tend to be willing to listen to people who teach of Jesus Christ and are sincerely there to love and serve them. I felt that they were more willing to listen to us than many other groups that I worked with. Their hearts were not as hardened, it seemed. They didn't feel as threatened by us as other groups seemed to feel. Montanans from the country seemed to PRIDE themselves on their hardiness and independence. When I was getting to know families, it was fun to ask them to show you their "trophies," meaning stuffed prizes from hunts, or for them to show you their livestock, or their fields, or the log house they built themselves, or the makeshift wood stove they pieced together, or the landscaping job they did themselves, or the weaving and beading on their powwow costume they made themselves, etcetera. (McKenna)
Fantastic people. I never ate so much in my life. Still haven't. Very warm and friendly people was my experience. Really enjoyed all the areas I served in. Even during winter. For my tastes, Lander, Wyoming and the mountains of Anaconda, Montana were my favorite. But I really found beauty in all of my areas. (Wendall)
Any packing/clothing advice?
Bring lots of warm clothes. Like, lots. (Jonathan)
Layers, layers, layers. Bring hand warmers, hats, gloves, REALLY GOOD boots. (Annick)
Go for durability. (Tyler)
Bring good boots for walking around in during the winter and a good jacket. (Jordon)
Layers. And good boots for winter. https://hipsterrm.wordpress.com/2013/01/19/to-bring-or-not-to-bring/ (Emmilie)
Long John underwear for the winters and short sleeve white shirts for the summer. Bring hiking boots as well. (John)
Literally do not overpack. You don't need all that nonsense. You'll wind up sending it home anyways. Oh! And don't bring ANYTHING that has logos or pictures as your preparation day attire. You're a representative of the Savior, not Mickey Mouse. You can sacrifice for 18-24 months. (It's legit a mission rule. Deal.) (Jeannene)
If you leave the country to a poor area, when you come home, leave your clothing for the members there and bring home fun stuff that reminds you of the people served. (Jeffrey)
I wasted money on thermal garments….I wore them once. Take care of what is on your feet. (Donald)
For the winter, learn to layer your clothing, because there will be days that you are in and out of people's homes and others where you are outside a lot. And find good comfortable snow boots. (Natalie)
YES! Sisters…and Elders: Get runners leggings! Thick ones! You will wear these nearly EVERY SINGLE DAY from about November 1st until about March 20th. Check sportsman's stores like Cabella's, Outdoor World, Sierra Trading Post, and the like for winter clothing layers. When I say "layers," I'm referring to runner's leggings, winter socks that will fit into snowboots, runner's vests, sweater vests, thick cardigans, long underwear, etc. When it comes to snowboots, make sure that they are about as tall as mid-shin, and quite water-resistant, if not waterproof. Booties, dear Sisters, may be cute and oh-so fashionable, but let me tell you, nothing makes the work feel more like drudgery than to have any part of you soaked through to the skin because either your clothing didn't fit properly or was not waterproof enough. You WILL be walking through snowdrifts that go to AT LEAST mid-shin, guaranteed. I personally found scarves to be fantastic for fall, winter, and spring times. Something I did was right before summer I would pack away my thicker winter clothes into my suitcase. I knew that I would not be tempted to wear them, and so I just kept things more organized that way, and vice-versa. It was pretty effective at helping me to realistically see what I really had (or didn't have) to wear. If you are in a situation where you need some new clothes, I recommend checking thrift stores there are many reasons for this. That is actually something my mission changed in me. Before my mission I was pretty insistent upon dressing up in "brand" clothing. First reason: I like to know that I look nice (it's a girl thing). But I was surprised at what I was able to find at thrift stores. Second, they were available for a very good (missionary) price. Honestly I outgrew almost all of my skirts, and so I donated them to the thrift stores, and it seems that there have been many people in the same situation as me, because they had given their lovely (and durable) clothes to the stores. And third, people who shop at thrift stores tend to be people who are in more humble circumstances and that means that they will be more likely be looking for the hand of Providence in their lives. It really reminds me of the New Testament, and where the Savior chose to spend His time. Granted, He spent His time with EVERYONE, but certain groups of people tended to be more receptive than others, and those were the ones that for whatever reason were looking for hope. Just pay attention to the people that are around you and try to align yourself with the Holy Ghost, and you will know what words the Lord wants you to say, and to whom. If you feel a deep, abounding, hallowing (NON-ROMANTIC!) love and compassion for the person, then you are on the right track–follow it. Do your best to be obedient and then trust the gift you have been given. (McKenna)
Good gloves for the winter. Durable comfortable shoes. My large and medium suitcases and a sturdy day pack served me well. (Wendall)
What blessings did you receive from serving a mission?
Too many to count. (Jonathan)
A lot I don't know how to explain. (Ana)
Too many to count. (Annick)
So many. Safety and quick recovery during a surgery. Having my testimony solid and unfading. (Tyler)
I can't even begin to count all the blessings I received as a missionary. I do know that I would not be the person I am today had I not served a mission. My family was blessed at home with health. I gained a greater love for my Savior and His Atonement. I came to know the Prophet Joseph Smith like my brother. I learned to recognize the Spirit. (Jordon)
Too many to list. But a confidence in myself, a resolute testimony and the ability to talk about and teach the Gospel. (Emmilie)
I was blessed with a stronger love of all people, an appreciation for true culture, and a soaring testimony of the priesthood and the Atonement. (Jeannene)
I learned how the Church worked. (Donald)
Watching a family member go from less active to being temple ready by the time I got home. (Natalie)
Blessings I have received from serving a mission have been numerous. As I have returned to my university studies, there have been numerous times when I know that I have been blessed in my schoolwork and aided. I learned how to plan and set goals! Talking about our missions really was the igniting point of my relationship with the man who is now my fiancée. And we have exceptionally open communication and know how to give and take because of all the practice we had in learning how to be good companions. I am a more confident, happier, and optimistic person. I can stand in front of a large group of people and feel comfortable talking about ANY subject. My circle of people I love grew by like…a thousand people, at least. Coming to better know the character and personality of my Savior, through listening to the Holy Ghost alone really made it all worth it. What makes it even better is that I had the opportunity to serve others in the name of Jesus Christ and teach them His doctrine that will ultimately lead them to salvation! And though it didn't seem like it at the time, I grew socially, mentally–every way, really. The mission really brings about a personal application of the scripture, "And Jesus increased in wisdom and stature, and in favor with God and man," (Luke 2:52). My life in countless ways has been ENRICHED because I chose to serve a mission. And when I turned to the Lord in my hard times, those hard times that would otherwise have defeated me instead brought me closer to Him. My mission impacts my life for the better EVERY DAY. (McKenna)
It truly strengthened my testimony of the restored gospel of Jesus Christ, the prophet Joseph Smith and the Book of Mormon. It has provided a sure foundation that has supported everything I do in my life. Apart from marrying my wife and having our children, my mission has been the most important and significant thing I have ever done. (Wendall)
What are some skills you gained?
Talking to people, being social, communication, diplomacy. (Jonathan)
How to be better a Latter-day Saint. (Ana)
Study, teaching, talking skills. (Annick)
Focus and determination during hard times. (Tyler)
Public speaking, teaching, becoming more personable and a better driver (weird, I know). (Jordon)
Leadership. Interpersonal. Public speaking. Teaching. (Emmilie)
How to CALL and not just text people! How to share the gospel in non-preachy ways 🙂 I also learned the importance of cutting and stacking firewood, how to love the elderly people, and what it truly means to be the Savior's hands. (Jeannene)
It sharpened my ability to talk to people. (Donald)
Talking to people. (Natalie)
I am now completely unafraid to talk with people and understand their religious views and also share mine. I can plan and set goals! I learned how to use time more effectively. I understand better how to listen AND communicate. I know better how to act in faith, because on a mission you are asked to accomplish seemingly impossible tasks every single day; you learn to say, "well, I don't know how I'm going to get to point x, but I know that we are somehow going to do it!" I learned many more ways to discern the Spirit. I learned how to plan lessons, actually I learned how to teach, period. You never know exactly what you will learn on your mission. I even learned how to sing hymns while playing piano, which is something I was never able to do until I became a missionary. (McKenna)
The ability to talk more openly to people. (Thom)
Public speaking. Teaching and learning. Prayer. Studying. Listening. How to serve. Sacrifice and putting others before myself. How to compromise and be flexible when needed. Patience. Charity. Tolerance. Kindness. Empathy. And so much more! (Wendall)
What do you wish you knew/did at the beginning of your mission?
I wish I knew how to teach. (Jonathan)
I don't know, people tell you things, but it's so different when you actually get there. (Annick)
Bring winter boots. (Tyler)
I wish I would have known how short two years really is. There is always room for improvement in terms of scriptural knowledge; I wish I would have studied Preach My Gospel and the scriptures more. (Jordon)
https://hipsterrm.wordpress.com/2013/02/03/22-things-i-wish-i-would-have-known-before-my-mission/ (Emmilie)
It doesn't matter how long you serve; if you truly serve as you are commanded in D&C section 4, time is nothing. Love God, leave the drama behind, and focus solely on being a TRULY consecrated missionary. (Jeannene)
Have fun. Enjoy the gospel. (Jeffrey)
Being with a companion 24/7 is very hard, even when you like them and can get a long. (Natalie)
I wish that I would have studied Preach My Gospel (PMG) before my mission and gone out on splits with the missionaries. I wish I would have gone to local district and zone meetings. In my case I didn't know about these things except for PMG; now YOU know, so you should probably do it! It will spare you a lot of growing pains which are better initiated at home. Also, read through the Missionary (White) Handbook at least once because some of the rules in there may surprise you. Most missionaries I asked this question said they wished that they had known PMG and the scriptures (especially the Book of Mormon) better. I wish that I would have got into the habit of waking up at 6:30 and exercising each morning. Also, bring a goodbye book that the people you know can write in when you leave in an area. I never did that, and I now regret it. The church will provide you with a book when you are a missionary called Adjusting to Missionary Life; take it seriously. That book is a fantastic resource, and I used it THROUGHOUT my mission, and even after returning home. (McKenna)
Knew the scriptures more. (Thom)
To have read the Book of Mormon at least one time, cover to cover. I read and studied from it, but wish I had read it completely. So I did it 3 times, front to back while on my mission. (Wendall)
Any advice/testimony for pre-missionaries going to Montana?
Get ready for road trips and don't aspire to leadership- if it happens, it happens. (Jonathan)
Trust the Lord. (Annick)
Doing worry about what you don't know. Use your personality and your testimony no matter how little it is. (Tyler)
While on your mission, BE YOURSELF. Don't be fake. Don't try to be someone you are not. (Jordon)
Don't let negative body image distract you from the spirit. Really. https://hipsterrm.wordpress.com/2013/09/04/confessions-of-the-anti-covergirl/ Don't be anything other than yourself. (Emmilie)
My friends, you are going to love it. You don't need advice because no one can teach you how to serve God the way you have been called to. Truly trust Him, drop your burdens and just focus on His work. This is the greatest time of your life. Focus. (Jeannene)
Make sure you are going for you. (Donald)
Study the scriptures, not just the Book of Mormon. It will help you be able to relate to those you come in contact with. (Natalie)
Joseph Smith was and still is a prophet. The priesthood and associated ordinances pertinent to salvation have been restored. Know that the Prophet IS a prophet; "the church is true", and you are the lucky one that gets to share that message. The Holy Ghost is real, and you will have days that you will be amazed at what He has helped you to do. The things you will teach as a missionary are true. I have to say, my testimony of the doctrines grew in big ways, and in ways that even surprised me. The Atonement is REAL. Jesus Christ lives and hears and answers your sincere pleas. He is SO patient, and SO kind, and loving. On my mission, as I strove to work with Him and do things His way, it was astonishing to me how much He loves His children, and the natural man in me is not capable of loving and understanding others like He does. But take comfort in this: I also testify that whom the Lord calls, He qualifies. Give Him your your heart, time, faith, and patience–your unconditional ALL–and He will give you His grace and make the impossible become possible, including the making IMPERFECT YOU able to do His work though His help. You are where you are for a reason, always. There is a reason you have been called to this mission. There is a divine purpose and reason why you serve as a Junior Companion, as a Senior Companion, train, or don't train, have the companions you have, etc. As you turn to Him and ask Him to teach you, He will teach and refine within you those things you need to learn. Don't worry about trying to "achieve" being a Senior Companion, Zone Leader, because the Lord does not look upon these positions the same way as man does (Isaiah 55:8-9). Your job REALLY is to humble yourself, or allow yourself to BE HUMBLED daily and be the Lord's hands, mouth, feet…angel. So learn your place, and get to work. (McKenna)
Actively participate in seminary, learn to identify the Spirit, listen, be humble. (Thom)
Develop your own testimony of at least something. The Book of Mormon, Joseph Smith, the Bible, the plan of salvation or Jesus Christ. Have a real desire in your heart to serve others and you will be a great missionary! (Wendall)
What was a funny language mistake?
Law of Chastity role plays for 9 year olds. The struggle is real. (Jonathan)
An Elder from Brazil always said funny things. (Annick)
Didn't happen:) (Jeannene)
My mission is an English-speaking mission in the United States. In June of 2014, a wonderful Seventy whose native country is Brazil and tongue is Portuguese came to visit our mission. In preparation for his visit and our mission-wide training, the Mission President's wife had us, in the three weeks prior to his arrival, memorize the song "Called to Serve" in Portuguese as a surprise treat for our guest and his wife. We did our best to sing with the tongues of angels. After we had finished, the seventy stood up to the pulpit and thanked us for our performance. He then paused and giggled that he had had no idea what language we were singing until the middle of the second verse, hahaha! And so, you missionaries that go foreign-speaking: I commend you. You achieve in one day what apparently we couldn't do in three weeks, hahaha! (McKenna)