Free resources about the Mongolia Ulaanbaatar Mission:
---
---
Ulaanbaatar Mission Address
Here's a recent address for the Ulaanbaatar Mission. We try to keep this information up to date, but it's a good idea to check the address with several sources, including your mission packet or the mission office.
Mongolia Ulaabaatar Mission
5th Fl, LDS Church Bldg, Tokyo Street 6
Bayanzurkh District, 1st Khoroo
Ulaanbaatar
13381
Mongolia
Phone Number: 976-11-463-015
Mission President: President Jeffrey C. Harper
Mongolia Ulaanbaatar Mission Map
Here's a link to the mission map for the Mongolia Ulaanbaatar Mission (LDS). To access the official, up-to-date LDS.org map for the mission:
Log into your LDS account here.
Click here.
Videos with Mongolia RMs
Here are in-depth YouTube video interviews with returned missionaries from the Ulaanbaatar Mission.  We interview hundreds of returned missionaries each year, so check back regularly to see new RM interviews.
Videos about Mongolia
Here are LDS-friendly educational videos about Mongolia. We scoured YouTube to find the best quality videos about Mongolia, that are free from inappropriate music, immodesty and profanity.
Ulaanbaatar Missionary Blogs
Here's a list of LDS missionary blogs for the Ulaanbaatar Mission. This list includes the missionary's name, URL and when their blog was updated.
*Send your missionary a gift (mission-specific shirts, ties, Christmas stockings/ornaments, pillowcases, etc.)
Ulaanbaatar Mission Groups
Here are Mongolia Ulaanbaatar Mission Groups- for LDS missionary moms, returned missionaries, mission presidents and other alumni of the Ulaanbaatar Mission.
Ulaanbaatar Mission T-Shirts
Here are T-shirts for the Mongolia Ulaanbaatar Mission!
Shirt designs include Mongolia Ulaanbaatar Mission logo/emblem shirts and Called to Serve shirts. The shirts make great gifts for pre-missionaries, returned missionaries and missionaries currently serving. LDS Mission shirts come in all sizes: Small, Medium, Large, Extra Large, up to 4XL.  The mission designs are printed on white shirts and are shipped to you.
*Simply click on a shirt design to view the details and submit an order. The designs on mission t-shirts may also be printed on other LDS mission gifts, including: Mongolia Ulaanbaatar missionary aprons, Christmas stockings, ties, pillow cases, teddy bears and Christmas ornaments.
*Click here to browse Ulaanbaatar Mission gifts
---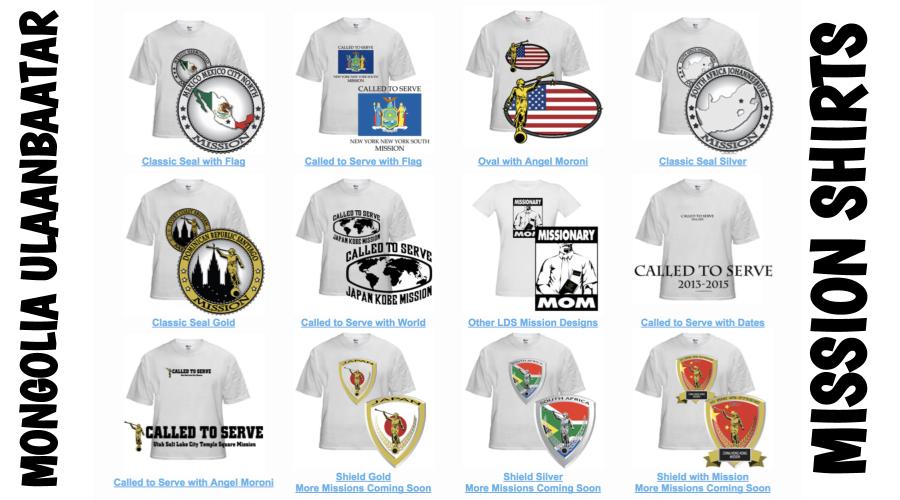 ---
Ulaanbaatar Mission Presidents
Here's a list of current and past Mission Presidents of the Ulaanbaatar Mission.
2016-2019, Jeffrey C. Harper
2013-2016, Joseph P. Benson
2010-2013, Jay D. Clark
2010-2010, Mecham
2010-unknown, Jay D. Clark
2005-2007, Wallace Bryner
2004-2005, Steven James Sorensen
2002-2004, Gary R. Gibbons
1999-2002, Glen Harian Clark
1996-1999, Gary E. Cox
1995-1996, Richard E. Cook
Mongolia LDS Statistics (2015)
Church Membership: 11,028
Missions: 1
Temples: 0
Congregations: 23
Family History Centers: 4
Helpful Articles about Mongolia
Ulaanbaatar Missionary Survey
Here are survey responses from Mongolia Ulaanbaatar RMs, to give you a snapshot into what it's like to live in the mission.
When did you serve?
2008-2010 (Bradley)
June 2007 – July 2009 (Stephen)
What were some favorite Mongolian foods?
Super Kontiks- Ukrainian Cookies, Khuushuur- Fried meat pies (Bradley)
Huushur, tsuvian, Super Kontik bars (yummy Ukrainian circles of chocolate deliciousness), choco pies, buuz and lots of meat. Your whole mission is like living on an Atkins diet for two years. (Stephen)
What was a funny experience?
Took a taxi ride. The driver (a Mongolian) starts speaking English to us in a perfect Mexican accent "Sooo whair are jew gies frum?" We are Americans. Where did you learn English?" he responds " I yous tu du constructchon een washeengton Deee Ceee. Now I has a fairm. I fairm piiiiiigs". (Bradley)
My companion and I had taught zero lessons during the whole day because everyone wasn't home and then our last appointment, Ganbaatar, we went to his ger at 8 p.m. The clouds covered any light from the moon or stars that night. We knocked and no reply. We knocked again (on the gate) and no reply. This seemed suspicious. So I turn my flashlight on and lo and behold, the ger was not there! It had been taken apart and was lying all over the property! Oh boy! I just said "Aaaand…there's no ger". This investigator literally left town a day after we had met him. (Stephen)
What was a crazy experience?
Being detained and threatened by police and having a local missionary lock he and myself in a room and try to beat me up mafia style. (Bradley)
Anything having to deal with drunk men. I've had rocks thrown at me, been spit at, cursed out, chased, roughed up, and fought with- all of this involving alcohol. (Stephen)
What was a spiritual experience?
On some interesting thoughts of the day- we taught Ocherbat the first lesson as a review today. This is what I wrote in my planner: "Ocherbat always flips through the scriptures and turns to the scriptures to find the answers to our questions, even though she is illiterate and can't read very well. WE should always look in the scriptures, like Ocherbat, for answers we don't have, in our studies and in our lives. What a great example Ocherbat is to me. She constantly searches the scriptures, as should I." Oherbat is great, she reminds me of Grandma (although she's only 3 years older than Mom and Dad). She seems to forget things all the time, but instead of being embarrassed, she just smiles and asks for help. (Stephen)
What are some cool facts about the Mongolia Ulaanbaatar Mission?
1 in 10 members from the country serving a mission at any one time. Coldest capital city in the world – at the time highest percentage of sister missionaries outside of Salt Lake. (Bradley)
I believe you still can't knock on doors when out and about. You have to be invited. Also, you also can't bring up the church unless asked. (Stephen)
What was the weather like in Mongolia?
Averaged -40 Celsius. (Bradley)
I like to say Hell isn't fire and brimstone, but a winter night in Mongolia as the Siberian winds blow down on you. Expect cold weather. Cover your ears, face, hands, etc. Summer is pleasant, but can get hot as well while you are in the city. You hike up lots of hills in certain parts of this mission (UB suburbs). (Stephen)
Any things you really like about Mongolia/Mongolians?
Endless blue skies and amazingly humble, friendly people. People who are family-focused, generous and truly receptive to the Spirit. (Bradley)
There are good people here! You will meet some of the most humble people here, that will open up their homes to you- a total and complete stranger- to feed you and keep you warm from the elements. You will also meet people who are proud of their heritage and history. They are all grateful for Chiingis Khaan. (Stephen)
Any packing/clothing advice?
Cold weather stuff (cheaper and better stuff in the country). Outside of the capital city American import goods were tough to find, but half of the mission areas were in the city. (Bradley)
Bring a really nice, high quality scarf. (Stephen)
What blessings did you receive from serving a mission?
Countless, biggest of all it strengthened and refined my testimony. (Bradley)
What skills did you gain as a missionary?
I learned how to cook for myself. I learned how to approach total strangers on the street and start up a conversation with them. (Stephen)
Is there anything you wish you knew/did at the beginning of your mission?
Mongolian. (Bradley)
I wish I spoke Mongolian more often and asked for help from better Mongolian speakers.
What's a principle particularly helpful to missionaries?
Christlike attributes, effective planning. (Bradley)
Any advice/testimony for pre-missionaries going to Mongolia?
Prepare to be humbled. (Bradley)
Be humble, because you will get a huge helping of humble pie when you get there. It will be the most foreign experience of your life. From the food, to the language and culture, expect to be shocked at times. (Stephen)
What was a funny language mistake?
The difference between "sexual" and "preparation" are off by a few letters…I tried and failed to asks a sister missionary if she was excited for Preparation day…(Bradley)
One time, I invited a contact to church on a Saturday over the phone. It was hard to hear him on the other line, but I remember hearing him say two, and I said, "Yes, there are two of us. Two of us will be there"! Well on Sunday, my district leader comes to me while I was in ward council, and he says, uh "Elder Tanner, did you order a bus"? I said "No…." and he said, well there's a guy in the church parking lot with two buses that says some foreigner yesterday called him and ordered two buses, and he had the phone number who called him". It was MY phone number! My District Leader was kind enough to talk to the driver and say we didn't need two buses and that it was a translation mistake. I tell you this story because this happened when I was a trainer! I was almost halfway through my mission and still messing up on some language. It will take time, but you will get it. (Stephen)