Free resources about the Missouri Independence Mission:
*Other Mission Pages: Missouri St. Louis Mission.
*Learn about what life is like in Missouri.
---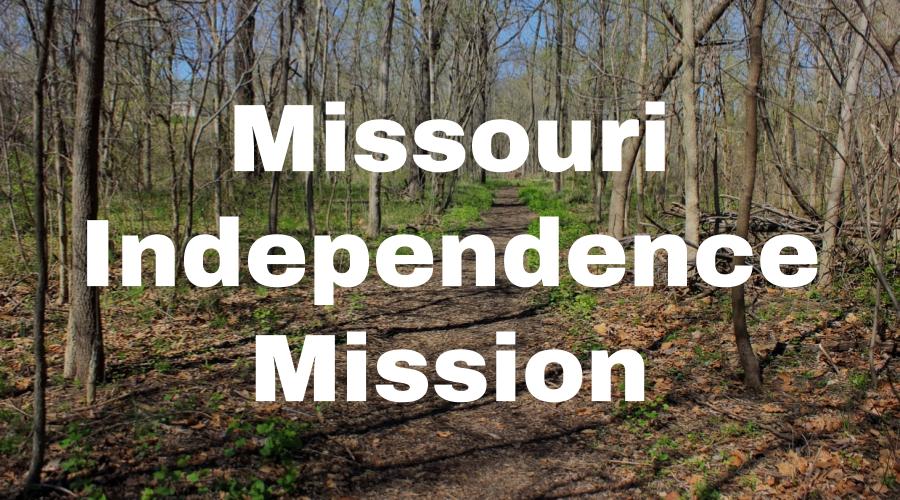 ---
Independence Mission Address
Here's a recent address for the Missouri Independence Mission. We try to keep this information up to date, but it's a good idea to check the address with several sources, including your mission packet or the mission office.
Missouri Independence Mission
517 W. Walnut St.
Independence, MO 64050-3632
Phone Number: 1-816-252-6050
Mission President: President Adams J. Love
Missouri Independence Mission Map
Here's a link to the mission map for the Independence Mission (LDS). To access the official LDS.org map for the Independence Mission:
Log into your LDS account here.
Click here.
Videos with Independence RMs
Here are in-depth YouTube video interviews with returned missionaries from the Independence Mission.  We interview hundreds of returned missionaries each year, so check back regularly to see new RM interviews.

LDS-Friendly Videos about Missouri
Here are LDS-friendly educational videos about Missouri. We scoured YouTube to find the best quality videos about Missouri, that are free from inappropriate music, immodesty and profanity.
Independence Missionary Blogs
Here's a list of LDS missionary blogs for the Independence Mission. This list includes the missionary's name, URL and when their blog was updated.
*Send your missionary a gift (mission-specific shirts, ties, Christmas stockings/ornaments, pillowcases, etc.)
Independence Mission Groups
Here are Independence Mission Groups- for LDS missionary moms, returned missionaries, mission presidents and other alumni of the Independence Mission.
Independence Mission T-Shirts
Here are T-shirts for the Missouri Independence Mission!
Shirt designs include Independence Mission logo/emblem shirts and Called to Serve shirts. The shirts make great gifts for pre-missionaries, returned missionaries and missionaries currently serving. LDS Mission shirts come in all sizes: Small, Medium, Large, Extra Large, up to 4XL.  The mission designs are printed on white shirts and are shipped to you.
*Simply click on a shirt design to view the details and submit an order. The designs on mission t-shirts may also be printed on other LDS mission gifts, including: Independence missionary aprons, Christmas stockings, ties, pillow cases, teddy bears and Christmas ornaments.
*Click here to browse Independence Mission gifts
---
---
Independence Mission Presidents
Here's a list of current and past Mission Presidents of the Independence Mission.
2017-2020, Adams J. Love
2014-2017, Randy J. Vest
2011-2014, Donald J. Keyes
2005-2008, James L. Hacking
2003-2005, Jesse R. Jensen
2000-2003, Jeffrey N. Clayton
1997-2000, Dan Rogers
1994-1997, Ben Rawlings
1991-1994, Thomas Murray
1988-1991, Michael Holmes
1985-1988, Lloyd Cope
1982-1985, Richard Barker
1979-1982, Lawrence R. Flake
1976-1979, Ted Johnson
1973-1976, Graham W. Doxy
1970-1973, Stuart McMaster
1967-1970, Bryan F. West
1964-1967, James B. Keysor
1963-1964, Wayne C. Player
1961-1963, G. Carlos Smith
1958-1961, Samuel Carpenter
1954-1958, Alvin R. Dyer
1950-1954, John Orville Ellsworth
1946-1950, Francis W. Brown
1943-1946, Thomas C. Romney
1939-1943, John F. Bowman
1934-1939, Elias S. Woodruff
1906-1934, Samuel O. Bennion
1904-1906, James G. Duffin
Missouri LDS Statistics (2015)
Church Membership: 69,451
Missions: 2
Temples: 2
Congregations: 152
Family History Centers: 46
Helpful Articles about Missouri
Independence Missionary Survey
Here are survey responses from Missouri Independence RMs, to give you a snapshot into what it's like to live in the mission.
When did you serve?
2007-2008 (Kate)
1990-1992 (Brian)
1990-1991 (Maria)

1988-1990 (Julie)

August 2011- January 2013 (Caitlin)
2010-2012 (Ben)
June 2011-June 2013 (Daniel)
January 2014-August 2015 (Emily)
May 2013-May 2015 (Harley)
2003-2004 (Velda)
1989-1991 (Duane)
1977-1979 (Richard)
1977-1979 (Tony)
What areas did you serve in?
Kansas City, Topeka, Independence, Liberty, MO. (Kate)
Omaha NE, Lincoln NE, Overland Park KS, Wichita KS, Derby KS, Pratt KS, Hastings NE, Grans Island NE and North Platte NE. (Brian)
Independence, Kansas City, Missouri, Derby, KS, Kearney, Nebraska, McCook, Nebraska, and Leavenworth, KS. (Maria)
Kansas City, Kansas. (Velda)
Moberly, MO…Olathe, KS…Lincoln, NB…Omaha, NB…McCook, NB, Lyons, KS…Wichita, KS…Hutchison, KS…Dana, NB. (Tony)
What were some favorite foods?
Pongi popo, Dominican rice and beans. (Kate)
Fried chicken, mashed potatoes and corn. Lasagna (first time I had it was on my mission), Egg Drop Soup (first time I went to a Chinese restaurant). (Brian)
Samoan. (Maria)

Hot dogs, steak and BBQ. 

(Julie)
Latino – Dominican, Mexican, etc. Yum! (Caitlin)
Healthy stuff was always refreshing. (Ben)
Pork tenderloin, pirate burgers in Gallatin and, of course, Oklahoma Joe's BBQ in KCK. (Daniel)
Kansas City Joe's barbecue! Barbecue is a big thing there, the members know what is the best in the area. (Emily)
Polynesian food and BBQ! Gotta have Mama Garden in Independence. (Harley)
As senior sisters, we mostly cooked ourselves, but we had some very good cultural foods when we were invited to members. We like the sweet potato pie in Kansas city. (Velda)
Favorite – Arthur Bryants BBQ. Worst – chitlins – can't even stand the smell of them! (Duane)
Lime jello with cottage cheese and spinach in it. (Richard)
Anything but ham. (Tony)
What was a funny experience?
My trainee burst into tears one day because she was about to pass a goal that would allow her to drive and she was afraid of driving. (Kate)
When one family member picked out an unmentionable out of the trash and decided to ask his mother to blow it up. That was so funny! But the parents were extremely embarrassed. (Maria)

Meeting the prophet Elijah. She was an RLDS member. She was a very strange lady who invited us to her home to talk- I must admit we decided not to visit her

. (Julie)
Pulling each other around in a handcart found in a church building. (Ben)
Well, one morning, in the fresh snow, my companion and I got into a small snowball fight and he hit me right in the shirt pocket and got my planner wet. I was a little miffed. Later, before going into a less-active member's house for a lesson, we got into another little snowball fight and I got him back. After the lesson, my companion dashes out the door to get some snow. I dash out too and crouch down to get a snowball when I feel my pants split in the back. I pause, then after figuring out what happened, I tell my companion that we need to go home and change. It was 100%, simultaneous seam failure from the belt to the crotch. He still tells the story to this day. (Daniel)
Coming down a dirt road in the country and having two brothers fight because the other won't hold the hose for him to shower. (Harley)
My companion and I were walking down a main street in Independence, I think it was Noland Road, and had passed by a car dealership that had closed for the evening. There were a bunch (maybe 10-12) of teenagers maybe 15-20 yrs old verbally harassing us as we passed them. Besides some glances in their direction, we basically ignored them the best we could. Five minutes later, an inactive Polynesian brother stopped and offered us a ride. Somehow, we got on a subject that lead us to mentioning the kids that had just been yelling at us. He immediately slammed on his brakes and simultaneously turned towards me and pretty much yelled, "Where?!!!" Because of obvious outcome reasons, we didn't want to tell him and it took us a few minutes to convince him we were just fine and that we shouldn't go back there. We may have even lied (yes, sometimes for very good reasons, Elders will do that) that we had an urgent appointment that we needed to get to, so please could we just go. He finally relented and the young foul mouthed teens were spared the beating of their lives. (Duane)
Being instructed by the Mission President's wife on how to cook Hedge Apples. They are poisonous and I didn't know that. (Tony)
What was a crazy/dangerous experience?
Cornered by a few African refugees. (Kate)
When my companion and I were approaching a very dark building and she kept telling me she didn't feel right. As we approached the apt. she yelled at me to not knock on the door. That's when I knew something was wrong. (Maria)

We had a baptism at 11pm because it was the only time we could do it. Then we all went out with the ward to eat to celebrate his baptism. The amazing thing was this guys had no legs. They had to have two people in the font with him and two Elders leaning over to baptize him as he kept bobbing up. Quite a day to say the least. 

(Julie)
Almost got caught in the middle of a gang fight while trying to visit one of our investigators. (Caitlin)
Getting yelled at by Apostolic Pentecostals. (Ben)
I fought a goat once. It was a very mean nanny goat. (Daniel)
I only met a few Bible bashers, luckily. The trick is to kill them with kindness. (Emily)
Gang members in Kansas City, prospect area. You can guess what happened. And dogs in the rural areas, trailer parks. (Harley)
We worked in the ghetto area in Kansas City, Kansas and took referrals, Bibles and Books of Mormon. Once we had a policeman follow us to find out what we were doIng in that area. He told us that we should never be there after 5 pm at night, and it was dangerous anytime. We were very careful and we felt that our leaders felt that senior sisters were safer there than young sisters and elders! (Velda)
Down in the Kansas City projects, some gang bangers drove by flashing their signs at us. About 50 yards after they passed us, one of them jumped out with a gun and started firing it off, presumably just in the air. We ducked behind the closest car. He ended up running inside one of the apartments and then ran out holding a bag, got back in the car and then they sped off. Nothing we wrote home about, well at least not any time soon. lol (Duane)
Collided with a car that pulled out in front of me, hit car's wheel and summersaulted over hood of car. No damage or injury. (Richard)
Getting the mission car stuck on a pile of dirt. (Tony)
What was a spiritual experience?
Understanding people when they spoke Spanish and having the words to respond. (Kate)
During my first stint as a Sr. Companion we were teaching a guy (well we never got a chance to teach a discussion, but we responded to a barrage of questions) in his kitchen. He started asking question after question and I was able to direct his attention to answers in the scriptures, mostly the New Testament, not being a particularly skilled scriptorian or even one with a good memory, this was all a tender mercy, or spiritual gift we received. This is certainly nothing I could have done without divine intervention. I had done the homework though, I had read the scriptures which made it possible for the influence of the Holy Ghost to bring it back to my memory. "…He shall teach you all things and bring all things to your remembrance, whatsoever I have said unto you" John 14:26 (Brian)
At the top of my head right now is gaining a deep and sincere testimony of the Prophet Joseph Smith. (Maria)

When we taught the Bishop's father who had attended church for a while and was not a member. No one asked if he would like to take the discussions. It was Thanksgiving day and I asked him if we could teach him. I thought the bishop was going die when I said it. His dad said "yes please". He was blind so we had to get him some tapes so he could listen. The best bit of the story is I was there when he asked his son to baptize him. I was told in the MTC that I would find one family and one person who only I could touch and I believe that Grandpa Loinngian was that person

. (Julie)
The entire mission. (Ben)
We were working with an investigator who chewed tobacco…a common habit in rural Missouri. He wanted to stop but did not think he could. We gave him a blessing that he will have the strength and ability to quit. The next day, we visited again and he said that the thought of chew made him sick to his stomach now. It was wonderful to hear. (Daniel)
My most spiritual experiences were all about meeting the person at the exact time they needed us, and seeing how God put us in their path. (Emily)
A lady who had cancer was healed. (Harley)
Was working the distribution of "Roots" packets. The person getting the packet asked me how we expect to help gather Israel — felt inspired to say something like "we do that by gathering genealogical information." (Richard)
Teaching the Hayes family in Hutchinson, Kansas. A particular evening when the Spirit taught us all. (Tony)
What are some interesting facts about the Independence Mission?
It is the best mission. Probably more dedicated temple sites in that mission than anywhere else except Utah. (Kate)
It was one of the largest missions in the US at the time I was there. We had many historical church sites: Winter Quarters NE, Far West MO, Adam-Ondi-Ahman, Independence MO, Liberty Jail MO, Haun's Mill. When visiting Liberty Jail on a Monday while it was closed. The Visitors Center director allowed us to go into the jail replica and kneel on the stones where Joseph and others were imprisoned for many months through a brutally cold winter. It is a hallowed place, through the suffering of good men and because of the revelations Joseph received there. (Brian)

We have such amazing church history places to visit right their in the Independence area. Since I served our mission has split twice. It is the only mission to be called the New Jerusalem mission. We have two visitors centers in the mission.

 (Julie)
It is literally ZION! The New Jerusalem. There is something special about serving in Church History. (Caitlin)
We had many Reorganized Latter-day Saint sects in our mission, who also believe in The Book of Mormon. (Ben)
It is the Alpha and Omega mission. It is where Christ will return. (Daniel)
This mission is rich with church history. I never saw all the sites, but I know there are many. (Emily)
Only mission with 2 visitor centers, multiple entries about Independence in the Doctrine and Covenants.. Adam Ondi Ahman… Headquarters for the Church Of Christ/Reorganized Latter-day Saints. (Harley)
A lot of church history took place in Kansas City, both in Kansas and Missouri. We were in Kansas all our mission, but took our investigators on a tour to Independence to the Visitor's Center and to other places of Church HISTORY. I had an uncle who bought and lived in General Donavan's home in Kansas City, Kansas. We saw the home and have some relatives who still live in this area. My great nephew was made the President of the St. Louis Temple while I was there. We were able to take some of our people to that temple as well as the Nauvoo Temple to receive their temple blessings! (Velda)
Some great Latter-day Saint church history sites there. (Duane)
Contains "Adam-Ondi-Ahman", or at least it was close enough for Pres. Johnson to take us out there for a visit. (Richard)
A lot of church history sites in the boundaries: Jackson County, Liberty Jail, Far West, Adam-on-di-Oman, Winter Quarters…and others. (Tony)
What was the weather like?
Extremes of all seasons. Extremely beautiful and then extremely hot/cold. (Kate)
Cold in the winter and muggy in the summer. Awesome rainstorms and a few tornado warnings. (Brian)
Like New England. Wait 5 minutes and it will change. (Maria)

It was very hot and sticky in the summer. The humidity was awful- you would get out the shower and you would be very sweaty. The winters are cold, but it's a dry cold. We did have rain. In the winter we would have ice storms. The snow would last for about four months.

(Julie)
Humid during the summer. COLD during the winter. Fall colors are BEAUTIFUL. Spring was an adventure. (Caitlin)
Humid, hot summers and piercing cold winters. Tornad0 storms in the spring. (Ben)
Hot and sticky in the summer, cold as cold can get in the winter. (Daniel)
The weather gets extreme in all seasons. Below freezing days in the winter, and 100 degree days with 100% humidity in the summer. The spring is unpredictable, but the fall is absolutely gorgeous. (Emily)
HOT AND HUMID OR FROZEN. (Harley)
In Kansas, we had great, hard rain that would make us hydroplane! We also had ice storms that made our car ice up like a big ice cube! We also had a flowering tree that froze, lost its blossoms, then bloomed again. We took pictures to prove it!! (Velda)
Hot and humid. But I guess you kind of get used to it after awhile. (Duane)
Beautiful and dreary depending on when. (Richard)
Hot and muggy in the summer…very cold and snow in the winter. (Tony)
Any things you really like about the area/people?
So much variety in the people and places I served. (Kate)
I loved the people. I loved how green everything was. The members worked hard to keep us busy and to take good care of us. I loved working with those members who felt the importance and the spirit of the work. People drove us hundreds of miles to attend Zone Conferences and other meetings. I miss the people the most. (Brian)

This area is wonderful! Everyone is so friendly. The members are so caring and would invite us over to eat all the time. I am still in contact with so many people from my mission after all this time. We always had someone who would come teaching with us. The members would give us names of friends and neighbors and then invite them and us to their homes so we could meet them. Wherever I went people were happy to talk to me- might have been because I was from England and was the first English missionary who had served there, if ever, at least for a long time.

(Julie)
They are all different and unique. They are nice people with a desire to do good. (Caitlin)
They were very quirky and fun to teach and get to know. (Ben)
They are seriously the salt of the earth! Most everyone I met was welcoming and respectful while still sticking to their beliefs. Not the best combination for missionary work, but it worked. (Daniel)
The people are so great. It is a predominantly Christian area and most people are so kind and polite. Also, a lot of people have dogs. (Emily)
If you have the mouth, people will talk to you. Be bold but get to know them first. I love the poly families. (Harley)
Wherever you go, you find all kinds of people. We found that as we looked for the good, we found it. We learned what it was like to be in the world but not of the world. We saw what a difference the gospel makes in the lives of all people. It surely made me appreciate my home life and my forebears and what they went through for the gospel. We found that not all people are willing to make the sacrifice to make their lives better! (Velda)
It was the best mission ever with the greatest members and investigators/converts ever! (Duane)
Mostly nice, down-to-earth people. (Richard)
It's the heart of America. It's Bible Belt country as well. Most of the rural areas there are very simple but genuine people. The city folks aren't too bad either. (Tony)
Any packing advice?
Pack light, have extra space in your bag. (Kate)
On a cold day in Nebraska with the wind blowing, I hope you brought some thermals, especially if you do not have a car. (Brian)
Pack light and live out of your suit case. You never know when you will be transferred. (Maria)

Light colors for summer and warm clothes for the winter. Boots to keep your feet warm.

(Julie)
Layer. You will get sick of your clothes. REALLY QUICKLY. Change it up but make it look nice. You are representing the Savior. (Caitlin)
Bring a heavy parka for the winter, lots of scarfs and warm sweaters to layer. (Ben)
Get some good shoes. They can make your life miserable or wonderful. Also, you want warm clothing for the winter and some boots for the snow. (Daniel)
Dress in layers! I saw 70 degree days in January, and cold rainy days in June. You never know what Missouri/Kansas weather will do. Keeping a small umbrella in my bag was useful. Do not forget bug spray. (Emily)
Don't take mesh. (Harley)
Light raincoat. (Velda)
Prepare for hot summers and cold winters. (Duane)
Need layers of synthetics for winter time. Need huge mittens for bike riding in winter. (Richard)
Any missionary should travel light. Due to the humidity…breathable clothing is best. (Tony)
What blessings did you receive from serving a mission?
So many. It was an amazing experience that brought me closer to God and His children and taught me a lot about who I am. (Kate)
That was a pivotal time for me. I grew up mostly less active, we floated in and out of the church. I did not know what it all was, but I knew it was true. My mission set the tone for the rest of my life, I have been active since then. I have seen friends and family fall away from the church, but my activity in it has strengthened the testimony that I began to build on my mission. We are far from a perfect people, sometimes we are easily offended. However the Gospel is true, even when the people struggle to be so. (Brian)
My mother joined The Church about a month after I returned from my mission. (Maria)

I was able to teach many people and see lots of people enter into the waters of baptism. We had great apartments to live in. We made wonderful friends for life. I am still in contact with all the companions I served with. We got to visit all the church history places. I also had the chance to serve as a Asian missionary working and baptizing special people. I was then able to serve as a visitors center missionary serving and giving tours in Liberty Jail, which was such a special blessing for me.

(Julie)
Met my husband. Greater understanding of the Gospel. Stronger faith and trust in my Heavenly Father. God will ALWAYS take care of His missionaries, we just need to do what He asks. (Caitlin)
A testimony, and a grand adventure to reference for my entire life. (Ben)
I have a stronger testimony of Jesus Christ and the scriptures. I have a stronger testimony of the prophet Joseph Smith and know that he was a prophet of God. (Daniel)
The people I met are the biggest blessings I received. I learned something from everyone I spoke with. (Emily)
Too many to count. I'm patient, I know how to study now. No problem talking to other people. (Harley)
My families were especially blessed while I was on my missions. I wrote weekly and shared my journal with them, and I hope that it has helped all my g-children as they served. Many grandsons and granddaughter have served since that time! At the present time, I have 5 serving , with 1 more going in December and 1 waiting for her call. One more will be going after school is out next year and my first great grandchild will be going after school is out– starting the next generation. Yes, I have been greatly blessed!! (Velda)
Opportunity to encourage people to follow the light of Christ. (Richard)
I found myself and The Lord. It was the foundation of my life. (Tony)
What are some skills you gained?
Ability to talk to anyone. Read a map. Pray about everything. Proper etiquette. How to serve. What to do in a tornado. (Kate)
Talking with other people. Being on time, following up on commitments. (Brian)
How to get along with your companions. (Maria)

Living with a companion 24 hours/day certainly helps prepare you for so much in your life: working for a living, learning team work, trusting someone with all your secrets and your life at times. It prepares you for marriage and how to live with your husband (for example, learning to listen, communicate with each other, trust and rely on).

(Julie)
Public Speaking. Relying on the Spirit. (Caitlin)
Confidence in myself. (Ben)
I was able to develop people skills on my mission as well. It has made an impact in the relationship with my wife and I do not think that we would have the marriage we do if I had not served a mission. (Daniel)
Managing my time was one skill I gained from my mission, another was how to maintain a conversation with just about anybody. And patience, lots of patience. (Emily)
Greatest door knocks ever invented. I know how to cut hair, I know how to sew anything now…anything. (Harley)
I learned to speak to and listen to people. I learned how important it is to bear testimony often. I learned to love my companions and that the takes care of us when we do as he says. (Velda)
More on how to get along with people. (Richard)
Study habits. Living on your own skills. I now know I can get along with just about anyone. (Tony)
Is there anything you wish you knew/did at the beginning of your mission?
Wish I had packed less and had more confidence in myself. My trainee made fun of my accent every time I spoke Spanish and to this day, I still opt for English to avoid people commenting on the accent. (Kate)
I wish that I had understood the gospel more clearly. I wish that I knew how much I would depend on this experience for the rest of my life and had done a better job of recording the experiences that really mattered. I wish that I had understood the Atonement. (Brian)

I would have told my trainer to have a better companionship inventory and companionship study.

(Julie)
Nothing. I went into my mission having no expectations. I just had the desire to serve the Lord. As Elder Wirthlin said, "Come what may, and love it." That's exactly what I did. Every single part of my mission came, and I loved all of it. It was incredibly difficult at times, but that is where I learned to rely on the Lord the most. (Caitlin)
Give it 110% ALL THE TIME. (Ben)
Preach. My. Gospel. Know it! Study every page of it before you go on your mission. It is key to your work and success. (Daniel)
I wish I could go back and tell myself that no matter how hard things got, everything would, in fact, be alright. I had a lot of fears. (Emily)
I wish I knew Preach My Gospel. I wish I knew that there were disobedient missionaries, I wish I knew my scripture mysteries. (Harley)
I wish I knew the scriptures better and would remember better! It's getting worse as I grow older. (Velda)
That the mission regulations are part of the law that we live in order to obtain the needed blessings to to that kind of work. Pres. Johnson explained this to us and I was very grateful / wish I got that before going out. (Richard)
I wish I had the discussions ("rainbow") and had opportunity to learn them or become very familiar with them before I went. (Tony)
Any advice/testimony for pre-missionaries going to Independence?
Give it all to God and He will guide you through. Obedience brings the blessings of Heaven. Hardest and best thing to ever happen to me. (Kate)
It will truly be the best opportunity of your life. Go in with sweet boldness, look up, look into the eyes of those you meet, and testify boldly who you are and whom you represent. You will never have this experience again. Stay as long as the will let you and work hard. Remember also to have fun and enjoy the experience. People will dismiss your message, turn you away and sometimes say hurtful things. In the end, what you will bring home is the kindness you have been shown, the love you have for those you teach, even those who do not accept your message or you challenge to action. Love God and you will bring home many good memories and feelings because you will love his children as well. (Brian)
Those that are lifers in the church, attend seminary. Being a convert of two years before I left on my mission, comprehending gospel principles was difficult. Remembering scriptures was a struggle and where they were at. (Maria)

This is easy. This mission is the best! I always knew Joseph Smith was a prophet, but to walk where he has walked strengthened my testimony. And you must go and visit Adam-ondi-Ahman- the spirit there is amazing! 

(Julie)
Just love the work. Love the people. Love the area. Work hard, because hard work pays off (it might not be immediate, but the Lord always blesses us with the things HE knows we need). (Caitlin)
Try to catch the fire before you make it in the mission field! (Ben)
Love the people. If you love them, they will open up. (Daniel)
Treat the people like people, not as objects to be indoctrinated. Be their friends and be genuine, and they are so much more likely to listen and open up to you. God knows His kids. (Emily)
Respect the mission. It's not just Missouri. It is the ground where Christ will personally and privately visit before his public appearance. (Harley)
Learn to listen to the Spirit! That is the best companion you will ever have, and it can be your constant companion if you ask in faith and do as HE directs!! (Velda)
Temperance, perseverance, get selves out of the apartment ! Things will happen if out among the people. (Richard)
Be as ready as you think you can be. This will be a bit different for everyone…but it's key to your willingness to be the best missionary you can be. (Tony)
What was a funny language mistake you or another missionary made?
I was in the US speaking English. However I had taken Spanish in High School and knew a little. No funny stories but even that little bit (3 years) of Spanish helped me to set appointments that we could later go to with a translator. My Spanish was poor, but I loved to use it when an opportunity came up. Once my companion and I taught a Deaf man, our ASL was very very limited, so the ASL Sister Missionaries took over when arrangements could be made. (Brian)
We were tracting along a country road making up funny door approaches in between houses. My companion accidentally started using one at the door. We both broke out in laughter…consequently the door was slammed in our faces. (Tony)