Free resources about the Mississippi Jackson Mission:
---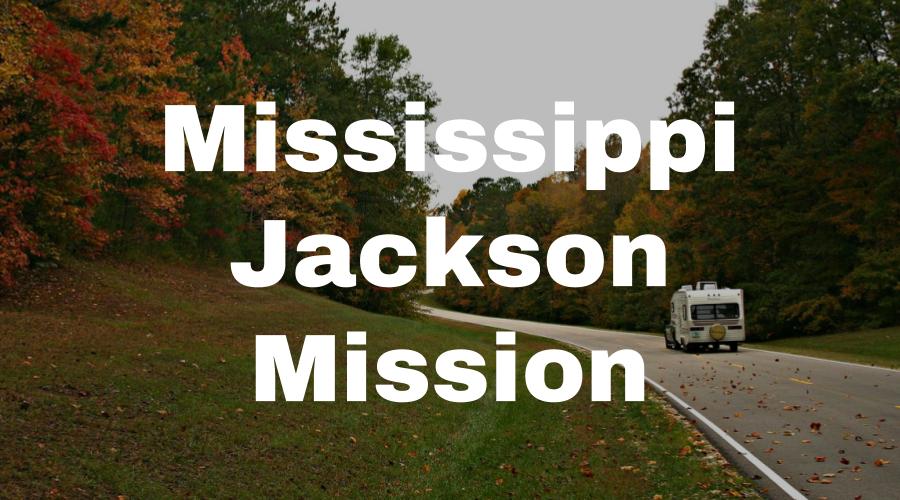 ---
Mississippi Jackson Mission Address
Here's a recent address for the Mississippi Jackson Mission. We try to keep this information up to date, but it's a good idea to check the address with several sources, including your mission packet or the mission office.
Mississippi Jackson Mission
175 Burnham Rd.
Brandon, MS 39042
Phone Number: 1-601-932-4850
Mission President: President Bruce L. Olson
Mississippi Jackson Mission Map
Here's a link to the mission map for the Mississippi Jackson Mission (LDS). To access the official LDS.org map for the Jackson Mission:
Log into your LDS account here.
Click here.
Videos with Mississippi RMs
Here are in-depth YouTube video interviews with returned missionaries from the Jackson Mission.  We interview hundreds of returned missionaries each year, so check back regularly to see new RM interviews.
Videos about Mississippi
Here are LDS-friendly educational videos about Mississippi. We scoured YouTube to find the best quality videos about Mississippi, that are free from inappropriate music, immodesty and profanity.
Mississippi Jackson Missionary Blogs
Here's a list of LDS missionary blogs for the Jackson Mission. This list includes the missionary's name, URL and when their blog was updated.
*Send your missionary a gift (mission-specific shirts, ties, Christmas stockings/ornaments, pillowcases, etc.)
Mississippi Jackson Mission Groups
Here are Mississippi Jackson Mission Groups- for LDS missionary moms, returned missionaries, mission presidents and other alumni of the Jackson Mission.
Mississippi Jackson Mission Facebook Group (757 members)
Jackson Mission Moms & Mississippi Moms Group (297 members)
Jackson Mission (Westovers, '94-'97) Group (114 members)
Mississippi Jackson Mission T-Shirts
Here are T-shirts for the Mississippi Jackson Mission!
Shirt designs include Mississippi Jackson Mission logo/emblem shirts and Called to Serve shirts. The shirts make great gifts for pre-missionaries, returned missionaries and missionaries currently serving. LDS Mission shirts come in all sizes: Small, Medium, Large, Extra Large, up to 4XL.  The mission designs are printed on white shirts and are shipped to you.
*Simply click on a shirt design to view the details and submit an order. The designs on mission t-shirts may also be printed on other LDS mission gifts, including: Jackson missionary aprons, Christmas stockings, ties, pillow cases, teddy bears and Christmas ornaments.
*Click here to browse Jackson Mission gifts
---
---
Jackson Mission Presidents
Here's a list of current and past Mission Presidents of the Jackson Mission.
2015-2018, Bruce L. Olson
2012-2015, Mark J. McDonough
2009-2012, Tom R. Tucker
2006-2009, Parker J. Fuhriman
2003-2006, Dale R. Blake
2000-2003, James E. Sheffield
1997-2000, H. Earl Thomas
1994-1997, Ernest W. Westover
1991-1994, Robert L. Anderson
1988-1991, Boyd C. Bulloch
1985-1988, Jerry Callister
1982-1985, Lowell M. Snow
1979-1982, Frank Hirschi
Mississippi LDS Statistics (2015)
Church Membership: 21,630
Missions: 1
Temples: 0
Congregations: 44
Family History Centers: 16
Helpful Articles about Mississippi
Mississippi Jackson Missionary Survey
Here are survey responses from Mississippi Jackson RMs, to give you a snapshot into what it's like to live in the mission.
When did you serve?
2014-2016 (Emily)
September 2013 – February 2015 (Sarah)
2014 May (Vulori)
2006-2008 (Josh)
2006-2008 (Darren)
2000-2002 (Joshua)
1998-2000 (Matt)
1982-1984 (Mark)
1997-1998 (Jared)
2013-2014 (Kassidy)
2008-2010 (Robyn)
1991-1992 (Christine)
1995-1997 (Andrea)
2000-2002 (Kent)
1993-1994 (Nicole)
2000-2002 (Jeremy)
1998-2000 (Brian)
What areas did you serve in?
Flowood, MS; Clinton, MS; Slidell, LA; Shreveport, LA. (Emily)
Jackson MS. (multiple times), Atlanta, TX. Lucedale, MS. Slidell, LA. Biloxi, MS. Shreveport, LA. (Josh)
Bay St. Louis, Pascagoula, Jackson, Pearl. (Nicole)
Vicksburg MS, D'Iberville MS, West Monroe LA, Ruston LA, Gulfport MS. (Jeremy)
Collin, Shreveport, Bastrop, Pearl, Monroe. (Brian)
What were some favorite foods?
Roast beef po-boys, Gumbo, boiled shrimp, red beans and rice. (Emily)
Gumbo, crawfish, red beans and rice, pizza, a Chinese place in Purvis, MS (so good). (Sarah)
Mostly southern soup and cheese cake. Banana pudding and beef (Vulori)
Red Beans and Rice, Corn Bread, Fried Catfish. (Josh)
Gumbo / Red beans and rice (Darren)
Everything, I like all types of food and have always been adventurous in trying new things. I especially liked the fried fish, crawfish boils, and Cajun food. I still make a lot of the recipes I learned on my mission and even added quit a few more. I also gained an appreciation for parts of the animal that most people in the US don't eat. (Joshua)
BBQ (Matt)
Boudin, crawfish, catfish, Jambalaya. Pretty much anything Cajun. (Mark)
Catfish & hushpuppies, Red beans & rice, Chitlins Crayfish a tou from Jambalaya, Gumbo (Jared)
Jambalaya, Gumbo, Fried Catfish, Shrimp Etoufee, Crawfish, Biscuits and Gravy. (Kassidy)
Crawfish etouffe, Biscuits and gravy, Pulled pork, Brisket. (Robyn)
Gumbo, red beans and rice, tacos, spicy crawfish. (Christine)
Anything cooked at a members house. It seemed like the members rolled out the red carpet for us. (Andrea)
Shrimp Po-boys. (Kent)
Fried green tomatoes, shrimp, po-boys. (Nicole)
Cajun cooking. Fried chicken like you've never had before. (Jeremy)
Everything! (Brian)
What was a funny experience?
We showed a picture of the Salt Lake Temple to a man we met on the street and he said "that's like a family box of chicken right there!" (Emily)
Kids on the street. We were walking to our car to head in for the night and some kids stopped us to talk to us and get pictures of Jesus. As we were leaving one of the boys said "Have a good night! Drive safe! Don't forget to pray!"  (Sarah)
When me and my companion were chased by a dog even though we couldn't see the dog but we heard it barking. (Vulori)
A man riding his horse down the streets of Jackson at night with no shirt on. (Josh)
Beat my companion to the best seat on the couch at a lesson, only to realize when we went to kneel down for prayer, that one of their kids used the couch as a bed and had wet the bed/couch, and it had soaked through all of my clothes and up my back. I had to sit sideways with the seat laid down while my companion laughed all the way home about me getting the good seat. (Darren)
It was winter and around zero degrees or a bit below that. We had a gap in our schedule so planned to tract a certain neighborhood. We came up to this one house and could feel the heat coming off of it, so warm the ice melted around the house and out into the yard. A guy answered the door and said he'd love to hear what we have to say. When we walked in my companion and I passed out from the difference in temperature. The guy must have dragged us into his living room and put us on his couch, where we woke up. We woke up a couple hours later to him saying he had to leave and something about people always passing out when they come over. It had to be over 80 degrees in his house, his furnace looked hot enough to forge in. We never did catch up with him again. I learned a valuable lesson about self-built homes and insulation that day. (Joshua)
Getting our car stuck in knee deep mud during a tropical storm. (Mark)
Little black kids in the hood would touch the hair on my head saying it was soft and one kid wondering if the hair on my arms was grass. We had fun with those cute little kids. (Jared)
I was proposed to by a drunk man. (Kassidy)
Understanding people that have a thick accent or missing teeth. (Robyn)
I lost the keys to our second story apartment so I had to climb a ladder in my dress and crawl through the back window. Once in we remembered the door needed a key to unlock from both sides. So we unlocked the front window and had to climb through with our bikes. We did this for a week until a member found the keys in her car. They had slipped out of my pocket on the way to an early zone conference and slid into a compartment in her door. (Andrea)
Crashing bikes. (Kent)
I remember when the members were having a craw fish boil, and seeing them suck there brains,( as they called it) was so funny but also so disgusting!! (Nicole)
The stake patriarch entered us into a 5 k race in town and bought bright orange hunting vests, and put "Latter day Saint" on the vests. He had us run in those and I thought they were so funny, I still have it in fact. (Jeremy)
Getting chase by a pack of HUGE Dogs. My companion freaked out and took off. I stopped my bike, looked at the dogs and yelled sit down. All 5 dogs sat right down. (Brian)
What was a crazy/dangerous experience?
We had an investigator who was a compulsive liar claimed to be a serial killer and describe in exquisite detail how he strangled 7 women and beat the 8th to death with a baseball bat. (We're pretty sure he was lying but still!) (Emily)
My companion and I were driving to a farther out part of our area and a car in the other lane (2 lane street) was trying to pass another car and almost drove into us head on, but I calmly just pulled over and around him, and then kept going. The Spirit kept us calm. We couldn't believe what happened after. (Sarah)
When we went and visited our investigator and he was so drunk and acting so weird. (Vulori)
We went to a rough area at night and some young men who didn't like our look confronted us. They got right up in our faces to intimidate us. The leader took my magnetic nametag off my jacket and read it out loud. When he read "Jesus Christ" he stopped, apologized, searched on the ground for the back that had fallen. And they offered to help us look for who we were looking for. (Josh)
Getting hit by a car that blew a stop sign while riding my bike. Also at my first baptism interview at an apartment complex, guns started firing like crazy, the zone leader simply stood up locked the deadbolt and sat back down without saying a word. (Darren)
My companion and I decided to ride an hour out and tract a small community. We got about five doors-in when we both felt prompted to turn around where we saw a heavily armed mob had formed down a perpendicular street. We were chased about a mile. I remember being shot at and thinking how swiftly we were riding into a head wind. Neither of us were hurt and we enjoyed one of those nervous laughs and a prayer of gratitude when we finally decided to stop. (Joshua)
Got a shotgun pulled on me while knocking doors. (Matt)
Getting a double barrel shotgun placed against my forehead. (Mark)
Riding a bike through the hood in Monroe when it was getting dark with people yelling at us wondering what a white boy was doing. (Jared)
My companion was attacked by a pit bull. (Kassidy)
Men soliciting you to be their baby momma. (Robyn)
We were teaching 14 people (parents, children and family) downstairs about the first vision of Joseph Smith, there was a sweet spirit and the children were quiet, and suddenly there was a stranger upstairs, and all the adults took their arms and ran after him. He ran away, and everybody was safe, but it took a moment to gain again the same spirit, and we continued the discussion. (Christine)
We were out knocking doors and a lady frantically opened her door and said, "Why are you outside? Don't you know a tornado is coming?" So we started back to our car and the rain hit us like a sheet and the tornado alarms went off. We then started to run the three blocks back to our car. We made it back to our car but the ditch it was parked by was filling up with water quickly. I have never seen so much rain come so quickly. We made it home safely but soaked. The city was completely flooded. The streets were not visible. But the next day everything had drained and it was back to work. (Andrea)
Talking to a guy on a street corner and he obviously didn't want us there…we kept asking his spiritual questions. He finally pulled out a huge stack of money out of his pocket, peeled off a 20 and gave it to us and told us to get out of his area. He was shot on that corner the next week. (Jeremy)
Heading home and going super man off my bike from hitting a hole 4 ft deep. Took 14 stitches to my lip. And brought me closer to my missionary companion. (Brian)
What was a spiritual experience?
An investigator was struggling to understand the importance of The Book of Mormon and we decided to read with her. As we read, the Spirit hit all of us like a brick wall. We testified of God's love for her and the lesson ended with all of us in tears. (Emily)
I was teaching a recent convert about the Sacrament to help prepare him for the opportunity to bless the sacrament for the first time the next week. The spirit was strong and he told us he couldn't do it because "it'd be like I'm tearing His actual flesh." Never before had I seen the symbolism so literally in my mind. It was amazing. (And he did a great job blessing the sacrament the next week, so reverently). (Sarah)
Inviting one of our investigator to baptism after being taught by so many missionaries and taking lessons for more than 6 months. This time he said yes and wanted to be baptized. (Vulori)
Whenever you share the first vision with someone who has an open heart, there is no comparison. (Josh)
While out delivering Christmas boxes with the ward mission leader, we were having a hard time finding a particular family we had found earlier that week we knew could use a box. After making a couple loops in an unfamiliar area and while it was dark, a man started waving us down. We stopped and before we could say anything he asked if we were the people he was waiting for. A little confused we asked who it was he was waiting for? He said he didn't know, and that something had told him to go outside and wait for someone. We delivered the box and a lesson to a very needy family. (Darren)
I think everything on my mission turned into a spiritual experience. It was a series of one difficult happening to the next, and it required almost constant prayers to get guidance, support, and comfort to deal with things that I had little to no experience with. Eventually it became a habit to turn to the Lord, even when I knew what to do, just for confirmation and added insight. The spiritual experiences started the moment I knew the Lord commanded me to go on a mission. At first it was just spiritual, but when it became physical I knew I signed up for something important. As a kid I had a genetic disorder called Osgood-Slaughter Disease, which caused me to get all my vertical growing in one summer (at the age of ten I suddenly found myself to be 6'3″). While my bones grew rapidly my ligaments and tendons didn't and I had micro-fractures that didn't heal until I was almost in High School. My knees and ankles always hurt just a little. I was also a wayward child and through one of my misadventures took shrapnel in one of my knees and the opposite ankle, which caused a limp and more pain. I was still a very active and a fit guy, and it was a part of my life and I didn't think much of it. When I was set apart as a missionary I felt my body healing, things mending and stretching. It was a sensation I'll never forget. When I stood after that setting apart my body functioned properly and pain free. It was something that other blessings hadn't accomplished, but the Lord saw fit to heal me in totality. (Joshua)
Seeing people change their lives and living the gospel. Baptisms are great and I will always cherish them, but I always think about the ones that believed but didn't join. (Matt)
Teaching and bearing testimony of the first vision. It never got old. (Mark)
My first area we got in a car wreck and went through a lot of trials but after we got back to work the afternoon we met a girl from Vietnam who was very receptive and was baptized two weeks later. Seeing success after some trials. (Jared)
There were many times when the situation, person, and timing was too good that you knew it was a miracle from God. (Kassidy)
Helping and hearing someone pray their first time. (Robyn)
Finding a lady who had a near death experience, who was ready and waiting for the gospel, seeing her being baptized and be a faithful member, she was calling us her angels… (Christine)
We taught a man who had tons of questions. As we tried to answer them he would keep asking more. After being interrupted time after time we said, let's write down your questions and meet back together. He asked so many we didn't have a chance to look up all the answers before we went back. One of the last questions he asked was, "Can you tell me of someone who saw Christ after his resurrection who didn't know Him while He lived on earth?" Our first visit was a whirlwind so we didn't know what to expect. We went into his home and there were two bibles on his table for him and his wife. He was calm and the Spirit was there. We prayed and after he said, "Sisters I want to show you what the Lord showed me. Open to Acts chapter 9." He then told us about his experience reading about Paul. The difference between our first and second visit was amazing. I was so glad we didn't answer all his questions the first visit because he was able to receive his own answers from God. He continued to study and ask questions. He was later baptized with his wife and then his sister-in-law and her children were baptized. That experience changed how I answered investigators questions. Them being able to receive revelation for themselves is ideal. I would try and answer what I could but would leave some scriptures for them to read so they could feel the spirit alone. (Andrea)
Giving a blessing to a sister missionary and envisioning her deceased Father in the circle to assist. Awesome experience. (Kent)
Was blessed to teach a member referral and the whole family was baptized. (Nicole)
Riding our bikes on the hottest of days, some lady drove by us a few times, finally asked us to pull over. She told us she had checked out the Book of Mormon from the library, read it and took Moroni's promise and prayed about it. received an answer that it was true, and didn't know what to do now!!! (Jeremy)
Being taught the true meaning of patience. (Brian)
What are some interesting facts about the Jackson Mission?
You WILL use the word "y'all". It's not a question of "if" but "when". The coastal area of our mission was hit very hard by Hurricane Katrina and the locals have many stories about that time. My favorite is when people tell about the two first responders for relief efforts: the Mormons and the Latter-day Saints! (Emily)
MJM can stand for "Members Joining Missionaries". In every stake, or branch (even wards often) there is a large portion that is all related, and figuring out their family tree is both fun, and very challenging. (Sarah)
It is very large and spread out, there are a lot of different types of areas and cultures. (Josh)
It had the most cars out of any English speaking mission (you'll still spend most of your time on foot/bike). It covers four states (MS, AR, LA, and TX). People are very self-sufficient and you'll run into many people who only work a part-time job for part of the year doing something simple like fixing lawn movers. The rest of the time they'll be hunting and tending their gardens. Due to the last point you'll teach discussions while people work (e.g. sowing fields, shucking corn and other veggies, butchering dinner, etc), so be prepared to jump in and help or you'll never find a time to teach them. The missionary exercise program started in the MJM. People know their Bibles and are typically more religious than many other parts of the US. There's a lot of missionary history in the MJM, from J. Golden Kimball in Mississippi and his starting rumors (Mormons have horns, etc) to save missionaries, to apostles being called in to dust their feet on whole cities, and everything in between. (Joshua)
Tracted for about 50 hours a week. Went through many pairs of shoes, many bike tires and went from 200 lbs to 165 lbs. (Mark)
Very respected by all as ministers in the poorer areas. Members sacrifice all to help the missionaries. The best thing was that it was an obedient mission- that brought many blessings and opened many doors. Lots of baptists! But many would offer a drink even when not interested. (Jared)
It's super hard but you learn to love the trial. (Kassidy)
So many trees! More African American people than most areas. (Robyn)
I'm from France, it was great to serve with American companions, but also with a companion from Germany, a companion from Uganda (Africa), and another companion who was Navajo ! (Christine)
Janice Kapp Perry wrote the mission theme song. It has the highest illiteracy, poverty, and obesity rates in the nation. I think it covers the most space of any US mission. I'm not sure if the boundaries have changed. It also happens to be the best mission in the world. (Andrea)
Just learning all the southern talk was so fun! (Nicole)
Some good old fashion ways of doing things, sometimes are the best way of doing things. There is a lot of history in the south and a lot changing attitudes. (Jeremy)
They love the Gospel of Christ. You just have to dig to find those who are ready. (Brian)
What was the weather like?
HUMID. VERY VERY HUMID. RIDICULOUSLY hot in the summer and usually mild in the winter. But when it gets cold it gets COLD (the humidity makes the cold just go straight through to your bones!) (Emily)
Very cold in the winter. It chills you to the bone when the wind blows, and you sweat like crazy, in the hot summer. (Sarah)
The weather was great and it was always surprising (Vulori)
It depends on where you go, but no matter what, it will be hot, and it will be humid. (Josh)
Hot and humid, then lots of rain, and again back to hot and humid. (Darren)
100% humidity, so lots of rain. Be prepared to sweat year-round. The winter is full of ice and ice storms. Tornado season is a real thing. In my first area a surprise tornado formed, touched down, and whizzed across the highway in front of our car. (Joshua)
Hot and humid. (Matt)
Hot and humid. Lots of heavy rain. (Mark)
Hot and humid in summer and winter was pretty mild. Spring and fall are gorgeous! (Jared)
So. Humid. But in the winter it was freezing. (Kassidy)
Super humid. (Robyn)
Hot and humid in summer! Sweet in winter, calm except when there is tornados. (Christine)
Hot and humid. November is the nicest month. (Andrea)
Hot, humid, and hot and humid. (Kent)
So hot and humid in the summer!! Loved the tropical storms and tornado warnings which I wasn't used too. And the south does get cold too in the winter, bone chilling!! (Nicole)
Very humid, the heat is a sticky miserable hot that you have to get used to cause you can't get away from it. and the humidity makes the cold something that layers and layers of clothes seem to barely help. And Rain! oh you have never seen a rain storm until you have been in a southern rain storm! (Jeremy)
Hot and muggy. (Brian)
Any things you really like about the area/people?
Southern hospitality is real! People are generally kind and helpful, often offering water or bathroom breaks to you when tracking. Everyone as a whole loves the Savior and He is infused into so much of the culture. (Emily)
The people are so nice! The wards and branch I served in took me in like family! The accent is great! The food is SO good! And pretty much everyone loves Christ! Most people will talk to you about Jesus, and read scriptures with you. (Sarah)
The things like about the place is that it really remind me a lot of where I came from and the people were so kind and hospitality was the best. (Vulori)
Very humble. And if you give them respect first, they will respect you and you will find out what "Southern hospitality" means. (Josh)
Plain and simple the people. (Darren)
Had a great way to enjoy the little things in life. (Matt)
Cajuns would either love you or kill you. Luckily the 1st was most common. (Mark)
Very humble and hospitable! High belief in God. (Jared)
The people are incredible. Southern hospitality is a real thing. (Kassidy)
I LOVE the people- their humor, culture, hospitality, etc. (Robyn)
People believe in god, in miracles, etc… and they open their door, they are very friendly and love talking about the gospel. (Christine)
Watching how the members served was so inspiring! I had never seen Saints serve so selflessly before. They all have many callings but they do them with joy. I still think about their examples. (Andrea)
Genuinely good people. (Kent)
They were so friendly and the southern hospitality is real!! (Nicole)
People were nice and loving, even if they didn't care about what you had to say, for the most part they were very nice to us. The people are very easy to love and stick with your heart for the rest of you life. (Jeremy)
The hearts of those who I was around truly showed how we should be. (Brian)
Any packing/clothing advice?
Bring a good variety of clothing. You'll never know when you need to dress warm or cool. Mesh garments will be your best friend in the summer (even if you don't like them, trust me). Bring some sort of insect repellent with lots of deet. Odorless garlic supplements or b vitamins are also good with preventing bites. Bring a small fan you can carry with you tracting. You'll be glad for the cool air. (Emily)
Layers! In the winter you want lots of layers! In the summer, lighter clothes that will dry fast. (Sarah)
It's better to have all season clothes. (Vulori)
Whatever you pack will get ruined, so don't get emotionally attached to it. (Josh)
Lots of slacks, and one thing I never had and always needed was a good dress/trench coat. (Darren)
Don't take cotton clothing! They'll just soak up the humidity and sweat. Get synthetic garments (cotton/poly blends are better than cotton, but they will stay wet for a quit a while). You'll want dress clothes that aren't delicate and will de-wrinkle in the drier – you'll still be ironing if you don't immediately hang up and fold your clothes, and sometimes no matter what. I had some cotton/poly dress shirts and stopped wearing them for the polyester that dried off faster and didn't tear as easily. A small sewing kit and a few lessons on clothing repair. Also study up on stain removal (baking soda and vinegar worked well for me). Don't cheap-out on your shoes, because it's so humid and rains frequently the glues that hold the shoes together will come undone sooner than expected. Look for shoes that have the soles stitched on. If the shoes breath well you'll frequently have wet feet and if they don't breathe at all you'll have to worry about athletes foot and other fungi. which brings me to my next point. Plan to change your socks (synthetic or wool) a couple of times a day or you'll have all sorts of problems. You'll also stay warmer in the winter and more comfortable in the summer. I have all sorts of horror stories of missionaries not taking care of the fungus and then not being able to walk because they have athlete's foot from their toes to their navel. Bring rain gear that's easy to get off. I recommend not only a rain coat, but also water-proof pants for when you're riding your bike. The water-proof pants are also helpful for when you step on a fire ant nest after a rain storm – it'll save you from a lot of painful bites. I eventually scotch guarded all my white shirts and just wore my rain pants, because rain is frequent and carrying a lot of extra stuff isn't always an option. Work gloves! I built a house, a couple barns, and multiple sheds. I did a lot of gardening too. That old saying about people not caring about how much you know, until they know how much you care is true. The church is small, but vibrant, so you'll be finding a lot of your own contacts and fellowshipping them into the rest of the ward and branches you serve in, in addition to training members how to be missionaries (99% of the members are converts). Be prepared to serve on the spot (sometimes it's singing and other times digging a hole). You'll want some kind of work shirt for service projects and cleaning your car, if you get assigned one. Many Elders kept an old long sleeve dress shirt that they scotch guarded in their cars that they wore over their nicer shirts. Some preferred to wear t-shirts but they get soaked through pretty quickly. I mostly served in rural areas, which is most of the mission. I don't know what the current mission policy is, but look for some kind of hydration system, even if it's just a water bottle. Heat sickness is an issue down there, so get educated about it. Most people will offer you a drink at each house because the locals know how serious it is, but it's likely if you're on a bike out in the country that you'll find yourself an hour or two without people offering you fluids. Also get in the habit of carrying some kind of healthy snack, like granola, apples, or trail bars (if you decide to take a protein bar double up on water). (Joshua)
Short sleeve shirts. (Mark)
Wrinkle free short sleeve shirts and sturdy proselyting shoes. Bring a pair of basketball shoes to play with members on p-day. (Jared)
Loose clothing for summer. Airy skirts. Layers for winter. (Kassidy)
Girls- tops that won't show sweat easily. Bring bug spray and a good umbrella. (Robyn)
Clothes that cover well your body, because of the mosquitoes! and good closed shoes because we have to walk in grass where there are flies… (Christine)
Someone told me to only bring what you can run in. I can run in almost anything. In the south women dress more feminine. Don't come looking like you are ready to serve in the peace core. My mission president said he never wanted to see the sisters wearing logging boots i.e. Doc Martens. (Andrea)
Don't be a pack rat. Send stuff home if you don't need it. (Kent)
Bring clothes for cold weather. (Nicole)
Light weight, breathable garments, not polyester. Cotton is awesome. Bring enough shirts to go a whole week. Good light weight raincoat. (Jeremy)
Pack for the weather you will be in. (Brian)
What blessings did you receive from serving a mission?
More than I can begin to count! I have such a strong testimony and I am so much closer to my Father in Heaven and my Savior. I've made so many lifelong friends, some of which I had the privilege of teaching to baptism. (Emily)
I gained a better understanding of Christ's Grace- what it is and how to access it. I met my soon-to-be husband (we were only friends while we served). I made life-time friends, and my family grew tremendously! (Sarah)
I receive a lot of blessing, the most thing is that I can do all things through Christ who strengthen me. (Vulori)
Interesting fact is that I get to know most of the people and mission life really helped me a lot by making me overcome anxiety. (Vulori)
Everything I have, both spiritual and temporal. (Josh)
Met and befriended the best people. (Darren)
There's so many blessings I gained from my mission that I could write a book about it, but to put it simply I came to know the Lord more than I ever knew possible. A love of work. A love for people. I learned to listen and follow the Spirit. A love for prayer. I think every aspect of who I was changed after serving a mission. I was a different person by the end of my mission in the best possible way. I was so different that people that I knew well didn't recognize me or my mannerisms. My desires and goals became much more big-picture, and I had a strong motivation to accomplish them and to always be moving forward. (Joshua)
A testimony. (Mark)
Turned a shy kid into one who can talk and prepared me for a lifetime of service to my savior. Able to teach and bless my family. Not a day goes by I don't think of a time spent on my mission. (Jared)
I gained an eternal perspective. I learned humility. I was truly converted to the gospel and came closer to Christ. (Kassidy)
Incredible friends in members and companions, understanding of gospel principles, seeing Gods love for others, testimony, and recognizing the Spirit better. (Robyn)
It was the best time of my life ! To see miracles in my life and in people's life! (Christine)
I learned that most days are hard work and uneventful. But those days lead to priceless moments. Those moments make all the other hard days worth it! This principle has helped me with parenting and really is an aspect of faith. (Andrea)
Educational opportunities, sealed in the temple. (Kent)
The wonderful people I got to meet, and being able to wear our mission tag every day being a disciple of Jesus Christ. (Nicole)
Extreme testimony. Opportunities to participate in blessing. and chance to see people change their lives. (Jeremy)
Growing closer to Christ. And helping me prepare to serve now. (Brian)
What are some skills you gained?
Teaching, people/communication skills, confidence and ease talking to others, knowledge of gospel truths, skills to live on my own (cooking, cleaning, laundry, budgeting, etc), desire to serve, etc. (Emily)
Endurance, confidence, charity (or unconditional love for the people) and diligence. (Sarah)
Skills is that I'm able to talk in front of people and have confidence to share the gospel to people. (Vulori)
Social and management skills. Also having to learn to deal with the most difficult people and situations. (Darren)
It would be hard to say everything I learned so here's a short list: organization, planning, self-starting, goal setting, self-evaluation, clear communication, ability to work with and succeed with contrary people, listening and following the Spirit, public speaking, and reading comprehension drastically improved. (Joshua)
Ability to talk to people, I was shy before I left. (Mark)
People skills and understanding how to communicate with others. Study and learning of gospel was deepened and just getting up a half hour earlier than expected really helped me deepen my knowledge of the gospel so I could share it with others. (Jared)
Communication skills. (Kassidy)
Conversational skills, listening, living with others, obedience, memorizing, scheduling. (Robyn)
I really learned to love the people over there, I learned more how to teach, I receive guidance from the Lord. (Christine)
I learned to teach with the Bible without bashing. I learned to articulate my testimony. I learned there are good people everywhere. I learned to ride a bike in a dress, and love it! I gained a new depth and understanding of the gospel. (Andrea)
Empathizing with others, listening to understand rather than to respond, building a relationship of trust with complete strangers, personalizing a message. (Kent)
Listening to the Spirit and to follow what you're meant to do what the Savior wants you to do. (Nicole)
Cooking, self sustenance. (Jeremy)
How to truly study the scriptures. (Brian)
What do you wish you knew/did at the beginning of your mission?
I wish I'd known that sometimes things just happen. Sometimes work goes slow, sometimes it goes fast, and I wish I'd trusted in God's timing rather than blaming myself for a lack of baptisms at the beginning. The baptisms may come and they may not, but don't get discouraged if you're doing your best and it isn't happening. It just isn't time! (Emily)
I wish I studied by topic more. At first I just wanted to read the scriptures through, but studying by topic as I did at the end of my mission helped me learn and connect things a lot easier. (Sarah)
I wish I could have known the Book of Mormon better and spiritually prepared well. (Vulori)
Never waste a single second, work work work work work. (Darren)
Wish I knew more about the gospel. (Mark)
Glad I memorized the scriptures that were sent before I came. Wish I would have taught more and spoke to more people before I left. (Jared)
I wish I wasn't so prideful and careless. (Kassidy)
Better journaling. It's kind of hard to know what things you'll want to remember at the end of your mission so document different things- experiences on the street, in lessons, in mission meetings, things about your apartments and companions, etc. (Robyn)
At the beginning of my mission, I was finding the people were a bit strange! At the end, I so loved them I didn't want to leave them… (Christine)
I was so anxious about being a good missionary. I guess I wish I was a little more relaxed. This is probably good advice for sisters and terrible advice for elders! (Andrea)
Working harder. (Kent)
Study like your life depends on it, because it does. Don't focus on cramming doctrine down their throats. Focus on how to serve them, love them and the doctrine will flow naturally from you because you have studied. (Jeremy)
How hard it would truly be to separate myself from the world. (Brian)
Any advice/testimony for pre-missionaries going to Mississippi?
Just what I said before. Don't get discouraged. Have faith. Trust the Lord. I love Him and I love missionary work. My mission was the greatest experience of my life so far and I know it can be yours too as long as you work hard, listen to the Spirit, and be patient with yourself, others and the work. (Emily)
Study the Bible. I knew a bit about the New Testament, but hardly a thing about the Old Testament and the people there know their Bible. I wish I knew it better to help draw in some more familiar scriptures while teaching, but never ever to bash. (Sarah)
Following the path that Jesus Christ walked is very hard.There will be all different kind of storms, ups and down with people around you. Always remember to lean on the iron rod and you will find your way and be where the Lord wants you to be. Forget yourself and do the work because going on a mission is not about you, it's all about Heavenly Father and His Son Jesus Christ. Because of Them I know and I promise and testify that we can face tomorrow. Always have Christlike attributes in you and God will help you accomplish the things that He wants you to accomplish in your mission and life. (Vulori)
Love the people your called to serve, and truly serve them, then love love love love and love everyone. (Darren)
Read the Book of Mormon. I became active in church when I was almost 19 when I had my own personal Saul/Paul experience. I carried the Book of Mormon around like a shield until the Bishop and Stake President cleared me to go. I read the Book in a sort of mystical approach (allowing it to open and whatever was on the page was what the Lord wanted me to read). I read the Book of Mormon for the first time, start to finish, in the MTC. It would have been much more helpful to have read and studied it extensively before I even got there. Search, ponder, and pray for your own testimony starting now. Get in the habit of praying always, morning and night, before meals (even in the parking lot at fast food restaurants), before you leave, when studying secular or spiritual things, when you lose something, when you're successful, or when you fail. Talk to the Lord, be grateful, ask for advice, or clearer memory or more focused thoughts, and ask for understanding and faith and testimony building experiences. It will help you during your mission if you know how to talk to him and how to listen and have experience doing it. The people of the south love the Bible and many have much of it memorized, so read it and get familiar with it, the people in it, and the messages it teaches. It'll help you liken the Book of Mormon to them. Memorize the Articles of Faith and the Ten Commandments. I can't tell you how many times we were asked to come preach at another church where they asked to start with the Commandments and then move into something about Christ. Those two together are a builtin sermon. It'll also give you another opportunity to ponder and pray over the Gospel. Memorize your favorite scriptures. They become a part of you and your testimony. Learn the Hymns and Children's Songbook. I sang to myself when I was homesick, nervous, or scared and it helped me feel the spirit. The people in the South love to sing Gospel/Christian and love different version of songs about the Savior, it'll open doors. (Joshua)
If things aren't going good and you aren't happy you need to work harder, pray harder, or study more. Those three things are the key to a successful mission. (Mark)
Best advice I got was from my dad. Stay close to the lord, be obedient, and write in my journal. I would add to keep track of pictures and names of people you meet. It' all about the people and loving them. (Jared)
Be yourself. Be your best self. (Kassidy)
Don't be scared! I'm the shyest, quietest person and my mission was absolutely amazing. Focus on the good, as with anything in life. You will be amazed as you feel God's love for the wonderful people here. And enjoy that culture of the south! You'll be a set apart servant and will receive great aid because of it. Best of luck! (Robyn)
Pray to really love the people you will serve and teach. (Christine)
Missionary work creates ripples. There are blessings decades after serving that are unexpected. There is more to the work than meets the eye. Mission calls are not random, they are inspired. The impact of serving a mission really can't be measured because it affects generations, both of investigators and missionaries. (Andrea)
Love the people, stay obedient, be fearless, tract with a purpose, love your companion regardless. (Kent)
Read scriptures, know the Book of Mormon and the Bible. Some people will test you on what you know but also listen to the Spirit and he will help you know what to say. (Nicole)
You will live in the New Testament, so study it closely! Understand the key principles that make our church unique. (Jeremy)
Be 100% ALL IN. You are on the Lord's errand and not a vacation. (Brian)
What was a funny language mistake?
Saying "yes ma'am" to a man..(or vice versa). (Sarah)
trying to speak southern language to people and always end up badly like y'all. (Vulori)
No language mistakes, but every time I rode my bike, kids would always yell to me and my companion to walk our bikes. For the longest time I thought what problem do these kids have with us riding our bikes, just to find out later that walking your bike is slang for pop a wheelie. (Darren)
The MJM has a LOT of dialects and people speak much more slowly. The first guy I met didn't move his jaw and his lips hardly moved when he spoke. He was a kind-hearted backwater cajun guy. He made us a great dinner and he was my trainers favorite guy in the area, and one of the few members of the Church. I couldn't understand anything he said for the first few weeks. Towards the end of my mission a lady from Salt Lake was so excited to call in a referral that she somehow got the missionaries direct line, which happened to be ours. She left a voicemail with details, but neither of us could understand her, because we'd developed such a strong southern drawl, and she spoke so quickly (made worse by her excitement). We listened to that voicemail a dozen times trying to figure it out. Eventually we called our mission office and asked if they had a referral for us, they didn't. We both hoped she called it in through the proper channels, because we didn't get anymore referrals. Another funny moment(s) is when southerners speak Spanish. They do it with a southern drawl and it becomes a language unto itself. I taught a guy Named Jose from Mexico and none of the locals could communicate with him because they were speaking the southern drawl Spanish. So he'd switch to Spanglish in hopes that they'd understand him and they couldn't tell he was speaking something different. He got to be known as quiet Joe. (Joshua)
Trying to understand the Cajun language. Many mistakes trying to say the words. (Mark)
There's just funny sayings I would have to get clarified. Examples: hot mess=hilarious person, Jesus fish fry=when Christ fed with 2 loaves and 5 fish, Like a gator with lock jaw=useless, Mash the button=push the button, and so on. (Robyn)
Just understanding all the southern talk– fixin ( going to) Dawg–(dog). (Nicole)