Free resources about the Mexico Queretaro Mission:
Aquí están algunos recursos gratuitos sobre la Misión México Querétaro:
*Other Mission Pages: Mexico LDS Missions.
---
---
Mexico Queretaro Mission Address
Here's a recent address for the Mexico Queretaro Mission. We try to keep this information up to date, but it's a good idea to check the address with several sources, including your mission packet or the mission office.
Mexico Queretaro Mission
Avenida Pie de la Cuestra No. 102
Esqu. Boulevard Desarrollo San Pueblo
Colonia Colinas de San Pablo
C.P. 76125 Queretaro, Queretaro
MEXICO
Phone Number: 52-442-220-6953
Mission President: President Steven M. Williamson
Mexico Queretaro Mission Map
Here's a link to the mission map for the Mexico Queretaro Mission (LDS). To access the official, up-to-date LDS.org map for the Queretaro Mission:
Log into your LDS account here.
Click here.
Videos with Mexico Queretaro RMs
Here are in-depth YouTube video interviews with returned missionaries from the Mexico Queretaro Mission.  We interview hundreds of returned missionaries each year, so check back regularly to see new RM interviews.
LDS-Friendly Videos about Mexico
Here are LDS-friendly educational videos about Mexico. We scoured YouTube to find the best quality videos about Mexico, that are free from inappropriate music, immodesty and profanity.
Mexico Queretaro Missionary Blogs
Here's a list of LDS missionary blogs for the Queretaro Mission. This list includes the missionary's name, URL and when their blog was updated.
*Send your missionary a gift (mission-specific shirts, ties, Christmas stockings/ornaments, pillowcases, etc.)
Mexico Queretaro Mission Groups
Here are Mexico Queretaro Mission Groups- for LDS missionary moms, returned missionaries, mission presidents and other alumni of the Queretaro Mission.
Mision Mexico Queretaro – Mexico Leon Group (239 members)
Mexico Queretaro Mission Facebook Group (41 members)
Mexico Queretaro Mission T-Shirts
Here are T-shirts for the Mexico Queretaro Mission!
Shirt designs include Mexico Queretaro Mission logo/emblem shirts and Called to Serve shirts. The shirts make great gifts for pre-missionaries, returned missionaries and missionaries currently serving. LDS Mission shirts come in all sizes: Small, Medium, Large, Extra Large, up to 4XL.  The mission designs are printed on white shirts and are shipped to you.
*Simply click on a shirt design to view the details and submit an order. The designs on mission t-shirts may also be printed on other LDS mission gifts, including: Mexico Queretaro missionary aprons, Christmas stockings, ties, pillow cases, teddy bears and Christmas ornaments.
*Click here to browse Queretaro Mission gifts
---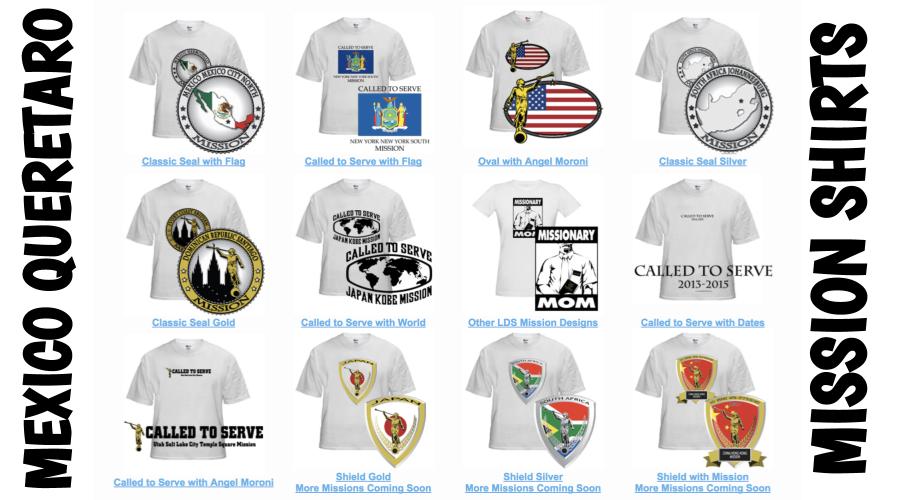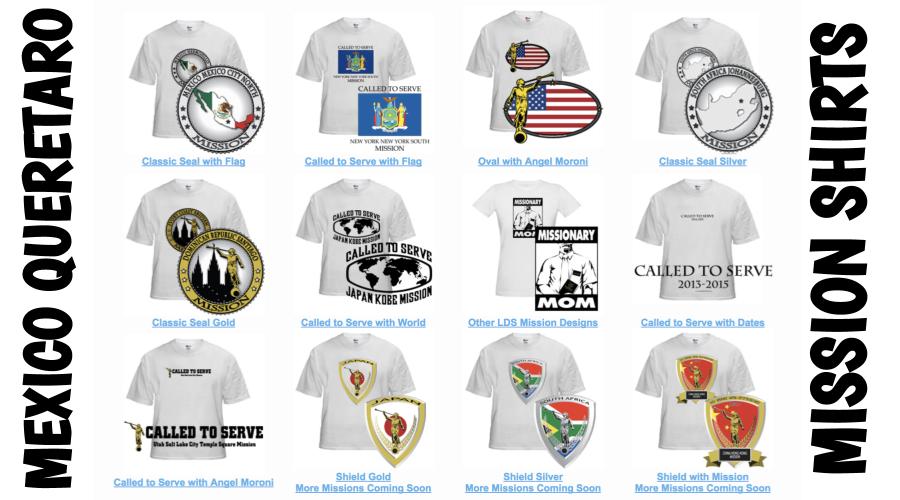 ---
Mexico Queretaro Mission Presidents
Here's a list of current and past Mission Presidents of the Queretaro LDS Mission.
2016-2019, Steven M. Williamson
2013-2016, Javier L. Mejorada
Mexico LDS Statistics (2015)
Church Membership: 1,368,475
Missions: 34
Temples: 12
Congregations: 1,998
Family History Centers: 268
Helpful Articles about Mexico
Mexico Queretaro Missionary Survey
Here are survey responses from Mexico Queretaro RMs, to give you a snapshot into what it's like to live in the mission.
When did you serve?
2013-2015 (Greg)
2012-2014 (Chance)
1990-1992 (Shane)
1989-1991 (Carlos)
1989-1990 (Delbert)
What areas did you serve in?
Irapuato, Leon, Queretaro. (Chance)
San Juan del Rio, Querétaro, Celaya, La Piedad, Irapuato, Leon, Lagos de Moreno, San Luis Potosi. (Carlos)
Salamanca, Querétaro, Leon, Celaya, San Fransisco del Rincon. (Delbert)
What were some favorite foods?
Tacos, tortas, pazole, quesdillas, carnitas. (Greg)
Tacos, Enchiladas, Tortas, Posole, Mole. (Chance)
Pozole, mole, y huevos con chorizo. (Shane)
Rice and beans and bananas, Fresh corn tortillas, Pan dulce(lots!), various types Horchata. The mangoes! (Delbert)
What was a funny experience?
Being knee-deep in the rain, and watching the whole city flood. And still being able to give a smile to those around you, even in a horrible day of weather. (Greg)
An investigator tattooed an elders last name on her leg. (Chance)
Being a new missionary to Mexico and new to Spanish, I was trying to explain that I was embarrassed about a situation. Unfortunately, the word for embarrassed is NOT embarazada. That means pregnant. It became a running joke with the family for the next 3 to 4 months. 🙂 (Shane)
A mission buddy putting mayo in his hair for lice or something and putting a plastic bag over it.! I have a pic even! Haha. (Delbert)
What was a crazy/dangerous experience?
Falling asleep on a bus, and being taken to another city without knowing it. We got off on the next stop, without realizing that we were way far away. After finding out where we were…We were in the most dangerous part of the mission. But luckily we found people that knew the missionaries and helped us get a ride back to our area. (Greg)
I was robbed three times and beat up once. (Chance)
We were riding our bikes down a narrow cobbled street. The cars and buses were nearly scraping our handlebars as they drove past us. We had to remain on the street because the sidewalk was about 6 inches higher than the street and very close to the buildings as well. There was another bicycle in front of us, we didn't know the person. A bus passed us and began to slow down. As it slowed, a man stepped off facing us and the bicycle in front of us. The bike's front wheel went right between his legs as he stepped with one leg on the bus and the other on the sidewalk. It threw him to the side near the building. We jumped off to help and he ended up being okay. (Shane)
Running into a car on my bike in Salamanca and a drunk guy helping me get up!:-) (Delbert)
What was a spiritual experience?
Being on the other side of the city, my companion and I were prompted to go all the way to the other side (an hour away walking) to go see a woman and her family who still weren't sure that they were going to get baptized. We went and found her crying. She then began to tell us that she received an answer from her Heavenly Father that she and her family should get baptized. So her and her whole family- husband and kids- were baptized the next week. (Greg)
Seeing people change their lives for the better was enough for me. (Chance)
I interviewed a man who was to be baptized that afternoon. He asked me to be the one to baptize him. He had feet that were very swollen and it looked like his guarachis (sandals) were cutting into his skin. A couple of days later I saw him at church. He came up to us and showed us that his feet had been healed in the waters of baptism. (Shane)
Too many to count. (Delbert)
What are some interesting facts about the Queretaro Mission?
It is the richest part of Mexico. It is a very modern place, but also has many sites and places from the period of time when the Spaniards came. It is beautiful, rains a lot and has many, many lovely people. (Greg)
It is one of the largest in Mexico and probably the least known. (Chance)
It was almost en the geometric center of Mexico, therefore; it touched no ocean. It is a complete desert with cactus and nopales and then deep jungle in other parts. There are very fun and diverse climates. home to the Guanajuato mummies. (Shane)
It was quite inexpensive at the time – a blessing for our family. (Delbert)
What was the weather like?
It is rainy in the Spring, Winter and Fall, and very warm in the Summer. (Greg)
Hot hot hot in the summer and a little cold in winter. (Chance)
There was everything from desert to jungle. It is rarely below 40 degrees F. (Shane)
Similar to eastern WA state in Columbia Basin, but more lightning!! Very cool! (Delbert)
Any things you really like about the area/people?
They love Heavenly Father, and Christ, even if they do not agree with us about religion. They are willing to listen and want to know. The members love to share the Gospel and are always willing to accompany you to a lesson. (Greg)
Dedication to God and Family. (Chance)
It was a very community feeling and family was so important. There is always a reason to celebrate something. (Shane)
Generally kind and welcoming— most times. (Delbert)
Any packing/clothing advice?
Pack a coat, but not one that's too big. Bring an umbrella, and pack very lightly. The clothes there are way cheaper than here. Buy a very good pair of shoes, you will walk a lot. And you will want space in your bag, because the people will give you gifts and you will be blessed with lots of stuff. (Greg)
Good shoes and comfortable pants to walk in. Don't be too fancy (skinny pants). (Chance)
Rain gear for the rainy season. No heavy coat, just a thicker sweater. There will be lots of walking; take good shoes. (at least 20 some years ago it was that way :)). (Shane)
Have two pair of very solid, durable walking shoes. (Delbert)
What blessings did you receive from serving a mission?
A stronger relationship with my Father in Heaven. An understanding and love for the Gospel. I was able to learn how to understand and follow the Spirit, and was prepared for school afterwards (learned how to study). And I was blessed to know many wonderful people- both missionaries and non-missionaries. (Greg)
A spiritual foundation for the rest of my life. Foundations just means I have more to build. (Chance)
I speak another language that I use almost every day of my life as a teacher in a Hispanic community. I understand relationships, especially marriage, better. I am more able to fulfill callings in my ward. (Shane)
Many and varied. (Delbert)
What are some skills you gained?
Learned Spanish, confidence, studying skills and leadership skills. (Greg)
Spanish Ability to speak in public. (Chance)
Spanish, organization, and time management. (Shane)
People skills- many and varied. (Delbert)
What do you wish you knew/did at the beginning of your mission?
To know that even when it's hard, it will get better- just keep on working hard. And even though it's hard sometimes, be obedient, and learn the why to your obedience. Don't just do it to do it. (Greg)
The lessons in preach my gospel. (Chance)
How to work hard ALWAYS! (Shane)
Not all missionaries are at same level or out for the right reasons. (Delbert)
Any advice/testimony for pre-missionaries going to Queretaro?
Each time you get to study, it's such a blessing- use it to the best of your ability. Always talk to everyone. Be yourself. If you joke, joke around. If you laugh, laugh a lot. The people will listen to you, if you are your self. Never be afraid of failing, because you will, but you will learn and get better little by little. Build your testimony day by day, so you have a spiritual experience every day. (Greg)
Just do what you were called to do. Don't try to inflate the gospel with your own ideas and words. Stick to the simple and pure doctrines with sincere testimony. (Chance)
Make sure you have a testimony. (Shane)
See above. DO NOT be one of those missionaries out for the wrong reasons. If you don't have a current hard work ethic, then get it ASAP or you will be a detriment to the work and your companion and be the source of stress and grief. Just being real. (Delbert)
What was a funny language mistake?
I called a man fat in Spanish without knowing it, and I also messed up on the First Vision… but it's okay- they both got baptized! Don't be afraid, talk and talk and talk as much as possible, even if you sound bad. If you don't, you won't learn! (Greg)