Free resources about the Mexico Puebla South Mission:
Aquí están algunos recursos gratuitos sobre la Misión México Puebla Sur:
*Other Mission Pages: Mexico LDS Missions.
---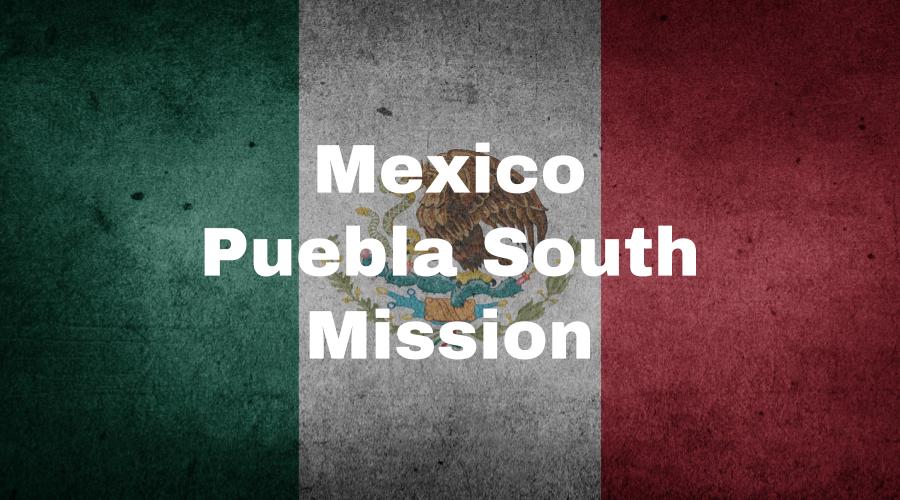 ---
Puebla South Mission Address
Here's a recent address for the Puebla South Mission. We try to keep this information up to date, but it's a good idea to check the address with several sources, including your mission packet or the mission office.
Mexico Puebla Mission Sur
31 Poniente 109 Int.201
Colonia Chula Vista
Puebla, Puebla Mexico
72420
Phone Number: 52-222-243-0047
Mission President: President John M. Stellmon
Mexico Puebla South Mission Map
Here's a link to the mission map for the Puebla South Mission (LDS). To access the official, up-to-date LDS.org map for the mission:
Log into your LDS account here.
Click here.
Videos with Puebla South RMs
Here are in-depth YouTube video interviews with returned missionaries from the Puebla South Mission.  We interview hundreds of returned missionaries each year, so check back regularly to see new RM interviews. Coming soon..
LDS-Friendly Videos about Mexico
Here are LDS-friendly educational videos about Mexico. We scoured YouTube to find the best quality videos about Mexico, that are free from inappropriate music, immodesty and profanity.
Puebla South Missionary Blogs
Here's a list of LDS missionary blogs for the Puebla South Mission. This list includes the missionary's name, URL and when their blog was updated.
*Send your missionary a gift (mission-specific shirts, ties, Christmas stockings/ornaments, pillowcases, etc.)
Puebla South Mission Groups
Here are Mexico Puebla South Mission Groups- for LDS missionary moms, returned missionaries, mission presidents and other alumni of the mission.
Servi Una Mision en Puebla Sur Group (155 members)
Puebla South LDS Mission Parent Group (24 members)
Puebla South Mission T-Shirts
Here are T-shirts for the Mexico Puebla South Mission!
Shirt designs include Mexico Puebla South Mission logo/emblem shirts and Called to Serve shirts. The shirts make great gifts for pre-missionaries, returned missionaries and missionaries currently serving. LDS Mission shirts come in all sizes: Small, Medium, Large, Extra Large, up to 4XL.  The mission designs are printed on white shirts and are shipped to you.
*Simply click on a shirt design to view the details and submit an order. The designs on mission t-shirts may also be printed on other LDS mission gifts, including: Mexico Puebla South missionary aprons, Christmas stockings, ties, pillow cases, teddy bears and Christmas ornaments.
*Click here to browse Puebla South Mission gifts
---
---
Puebla South Mission Presidents
Here's a list of current and past Mission Presidents of the Mexico Puebla South LDS Mission.
2017-2020, Jonathan Alcalá Ibañez
2014-2017, John M. Stellmon
2011-2014, Robert C. Reeves
Mexico LDS Statistics (2015)
Church Membership: 1,368,475
Missions: 34
Temples: 12
Congregations: 1,998
Family History Centers: 268
Helpful Articles about Mexico
Puebla South Missionary Survey
Here are survey responses from Puebla South RMs, to give you a snapshot into what it's like to live in the mission.
*Click here to take a survey to help pre-missionaries going to your mission.
When did you serve?
2014-2016 (Joshua)
2013-2015 (Hannahlora)
What areas did you serve in?
Puebla, Acatlan de Osorio, Izucar de Matamoros, Huejotzingo, Cholula, Tehuacan. (Joshua)
Santa Isabel Cholula, Chilac Tehuacan, Metepec Atlixco and Nealtican. (Hannahlora)
What were some favorite foods?
Tacos al Pastor, memelas with coca bien fria. (Joshua)
Definitely the tacos, aaaall types: arabes, de pastor, carnitas todo. I really enjoyed the quesadillas with tinga that they would sell on the sides of the streets. At first I didn't like mole poblano but it grew on me and I ended up loving it at the end of mission. (Hannahlora)
What was a funny experience?
My trainer and eye were carrying grocery bags on the bus to get back to our area on our P day and as we were getting off the bus, I heard my companion slide down the stairs and the food went all over the street. I had to hold in my laughter but within a few minutes she was laughing too because we were so embarrassed, lol. (Hannahlora)
What was a crazy experience?
Popo (the volcano) erupted and ash fell for about a day covering everything, it was so thick that it looked like it was snow! (Joshua)
DOGS. DOGS ARE EVERYWHERE. There were many times we almost got bitten and we had to start carrying around sling shots to not hit them but scare them away. Definitely prepare for tons of scary stray dogs that want to hurt you… (Hannahlora)
What was a spiritual experience?
I could go on forever with experiences that I had while in Puebla. There is a special spirit, and the people of Puebla are special people. I loved seeing the changes that people made in their lives. (Joshua)
Everyday, just walking down the street I just felt the Spirit SO strong and I felt so blessed to serve the humble people of Puebla. So many good people! I loved it all! (Hannahlora)
What are some interesting facts about the Puebla South Mission?
It has the second largest peak in Mexico. El Popocatepetl, it is awe inspiring! (Joshua)
Um, it was HUGE at the time I was there. I was the first American sister in many of my areas so it was a big adjustment for people there seeing a white American girl walking around in a skirt. (Hannahlora)
What was the weather like?
Really hot in some areas, and cold at night. I would say it's like California. Very mild climate but still gets cold at night so wear a light jacket. (Hannahlora)
Any things you really like about the area/people?
Everything! Poblanos are the nicest and most humble people that you could ever meet. (Joshua)
Everyone is so happy with the little that they have an they are all so generous with their homes and food even when they didn't have very much. (Hannahlora)
Any packing/clothing advice?
Definitely wear a versatile coat that is warm, light, and is water resistant. It rains a lot there! (Hannahlora)
What blessings did you receive from serving a mission?
Oh SOOOO MANY. I have a different perspective on LIFE. I don't care too much about material things anymore having seen people have so little and that in turn makes me richer by making my wants few. I am so thankful for the things that humble and kind people taught me in Puebla. (Hannahlora)
What are some skills you gained?
I am currently learning my third language (german) and because I learned Spanish already, this helps immensely when learning more languages. I am also a lot more kind and need less. I know that happiness comes from within and not with material things. (Hannahlora)
What do you wish you knew/did at the beginning of your mission?
You don't need perfect Spanish to help others feel the spirit. We are called to teach the plan of salvation, you don't need Spanish to do that. (Joshua)
Be happy every day of your mission. period. Be grateful and thankful for your time to just worry about other souls. It goes by fast so take advantage of EVERY opportunity to serve, to love, to be like Christ, to better your Spanish, to be the best you can every day. Don't take it too seriously that you forget to love. (Hannahlora)
Any advice/testimony for pre-missionaries going to Puebla South?
Just LOVE LOVE LOVE. Everyone you meet, give them your best. Companions, investigators, members, other missionaries. Be the type of missionary that people remember for good. (Hannahlora)
What was a funny language mistake?
When reading scriptures outloud in church instead of pronouncing "war" I would say the word for "white girl". (Joshua)
I always got the for pain and the male anatomy mixed up… it was super embarrassing! Don't do it lol. (Hannahlora)