Here are free resources about the Mexico Monterrey Mission:
Aquí están algunos recursos gratuitos sobre la Misión México Monterrey:
*Other Mission Pages: Mexico LDS Missions.
---
---
Mexico Monterrey Mission Address
Here's a recent address for the Mexico Monterrey Mission. We try to keep this information up to date, but it's a good idea to check the mission address with several sources, including your mission packet or the mission office.
This mission does not currently exist.
Phone Number: N/A
Mission President: N/A
Mexico Monterrey Mission Map
Here's a link to the mission map for the Mexico Monterrey Mission (LDS). To access the official, up-to-date LDS.org map for the Monterrey Mission
*Mission does not currently exist. (Browse LDS.org mission maps)
Videos with Mexico Monterrey RMs
Here are in-depth YouTube video interviews with returned missionaries from the Mexico Monterrey Mission.  We interview hundreds of returned missionaries each year, so check back regularly to see new RM interviews. Coming soon..
LDS-Friendly Videos about Mexico
Here are LDS-friendly educational videos about Mexico. We scoured YouTube to find the best quality videos about Mexico, that are free from inappropriate music, immodesty and profanity.
Mexico Monterrey Missionary Blogs
Here's a list of LDS missionary blogs for the Mexico Monterrey Mission. This blog list includes the missionary's name, URL and when their mission blog was updated.
*Send your missionary a gift (mission-specific shirts, ties, Christmas stockings/ornaments, pillowcases, etc.)
Mexico Monterrey Mission Groups
Here are Monterrey Mission Groups- for LDS missionary moms, returned missionaries, mission presidents and other alumni of the mission.
Misión México Monterrey 1974-1992 Group (322 members)
Mexico Monterrey Mission T-Shirts
Here are T-shirts for the Mexico Monterrey Mission!
Shirt designs include Mexico Monterrey Mission logo/emblem shirts and Called to Serve shirts. The shirts make great gifts for pre-missionaries, returned missionaries and missionaries currently serving. LDS Mission shirts come in all sizes: Small, Medium, Large, Extra Large, up to 4XL.  The mission designs are printed on white shirts and are shipped to you.
*Simply click on a shirt design to view the details and submit an order. The designs on mission t-shirts may also be printed on other LDS mission gifts, including: Monterrey missionary aprons, Christmas stockings, ties, pillow cases, teddy bears and Christmas ornaments.
*Click here to browse Monterrey Mission gifts
---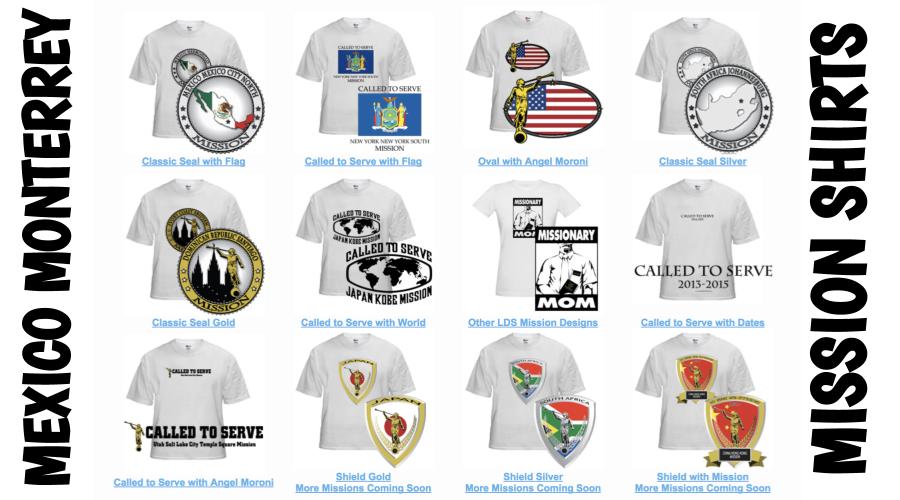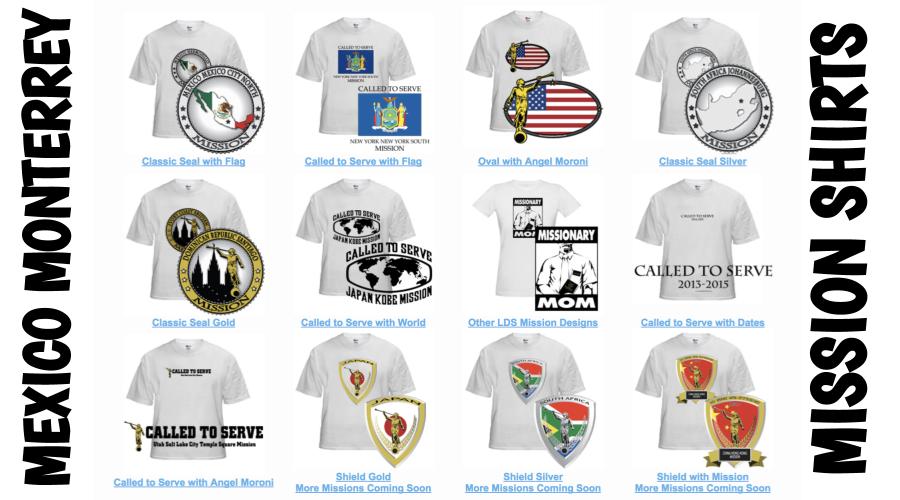 ---
Mexico Monterrey Mission Presidents
Here's a list of current and past Mission Presidents of the Mexico Monterrey LDS Mission.
1992-1995, Carlos Alvarez
1974, Mexico North Mission renamed Mexico Monterrey Mission.
Mexico LDS Statistics (2016)
Church Membership: 1,394,708
Missions: 34
Temples: 13
Congregations: 2,015
Family History Centers: 274
Helpful Articles about Mexico
Mexico Monterrey Missionary Survey
Here are survey responses from Mexico Monterrey RMs, to give you a snapshot into what it's like to live in the mission.
*Click here to take a survey to help pre-missionaries going to your mission.
When did you serve?
1986-1988 (Jose)
1976-1978 (David)
1975-1977 (Phil)
1977-1979 (Jose)
What areas did you serve in?
SALTILLO, ARTEAGA, VALLE HERMOSO, MONCLOVA, PIEDRAS NEGRAS, MIGUEL ALEMAN TAMPS, ZARAGOZA-MORELOS-NAVA COAH. GUADALUPE , ANAHUAC N.L. (Jose)
Monterrey, Saltillo, Piedras Negras, Moncolva. (David)
Libertad, El Centro, Santa Catarina, La Fama, Matamoros, Reynosa (Phil)
Lnares, Nuevo Leon, Cd Guadalupe, Unidad Modelo, Hidalgo, Musquiz, Cerralvo. (Jose)
What were some favorite foods?
CARNE ASADA PIZZA (JOSEPHINOS) POLLO LOCO. (Jose)
Cabrito, tostadas, tacos al pastor, carnitas, soda de Sangria, Gansitos, mole (David)
Cabrito, tamales de puerco, atole con canela, tacos de lengua, frijoles a la charra, camarones, tortillas de masa, paletas de fruta, Mazapan, chiles rellenos, cangrejo a la parilla, mole poblano, chili piquin. Everything EXCEPT menudo and cessos. (Phil)
Street tacos, paletas, lluevos con choirzo. (Jose)
What was a funny experience?
LOS LUNES EN LAS PIZZAS, LAS RETAS DE BASKETBOL. (Jose)
Local members created a traditional American Thanksgiving dinner for the Elders, which those of us from the USA really appreciated, as Thanksgiving is not celebrated in Mexico. The problem is that we all ate so much that we were nearly sick and couldn't move!! So how did they end our Thanksgiving celebration? Why, with Fireworks – a nice Mexican twist to an American holiday! (David)
I was on a split with my first Zone Leader, Elder Smith, when we saw a boy walking down the street ringing a bell. Elder Smith told me to run away because there were lepers coming down the street. I totally believed him! (Phil)
What was a crazy experience?
CRUZAR LAS CALLES (MADERO) SIN VOLTEAR A VER SI VENIA CARRO, SOLO CRUZABAMOS A LA MISMA VELOCIDAD QUE LLEVABAMOS, NO NOS DETENIAMOS. (Jose)
Members in Saltillo (part of Monterrey mission at the time) wanted us to take a train ride an hour out of the city to visit and teach their non-member parents in a small pueblo, which had no electricity or running water. One train went out each morning, and returned each afternoon. We got on the train, went out and made the visit, but after the lesson, the mother in the family was gored in the calf by a "chiva" (small, horned goat) and was bleeding profusely. We quickly asked if we could administer to her, and then managed to flag down and get a freight train to stop (the passenger train was still 4 hours out), and we rode with her and her husband into Saltillo to get her to the hospital. We were very nervous for her well being, but calm because of the blessing. The interesting part was that we had to ride in one of the two train "engines" to get there since this was just a freight train! (David)
Running over a transito's foot. I still didn't get a ticket, nor did I pay a mordida. I talked my way out of it, much to the dismay of my Mexican companion. (Phil)
What was a spiritual experience?
UNA NOCHE QUE REGRESABAMOS DE SALTILLO Y VIAJAMOS EN BICICLETAS EN LA NEBLINA NO SE VEIA NADA, UN MIEDO NOS EMBARGO EN ESOS MOMENTOS, NO SE VEIA NADA MAS QUE LA LLANTA DELANTERA, LOS TRAILERS PASABAN CERCA NOS DIRIGIAMOS A ARTEAGA, NOS DETUVIMOS A ORAR Y PEDIR AYUDA AL SEÑOR, NUESTRO CAMINO FUE ILUMINADO LITERALMENTE, PUDIMOS LLEGAR CON UNA PAZ EN NUESTROS CORAZONES Y SANOS Y SALVOS A CENAR Y DOMIR MUY TRANQUILAMENTE, NUESTRA VIDA FUE PRESERVADA Y EL CAMINO FUE ALUMBRADO Y SIN TEMOR ALGUNO. (Jose)
We were asked by a stake president in Monterrey to open the small village of Cerralvo for missionary work, which the mission president approved. As Zone leader, we took two missionaries out there to work, along with the AP's and stake president, and several youth in the stake. We arrived in the village, and found a beautiful lake surrounded by magnificent trees on the edge of town, and there the AP's proceeded to dedicate this town for missionary work. It was a beautiful prayer. This tiny town is historic as the place the very first Mexican Pesos were minted. It was very picturesque. As we prayerfully went into the town, we all began tracting (including pairs of youth), and we soon encountered a widow and her two daughters and son, who invited us in. It turned out that she had a small house to rent to the elders, and also her deceased husband had been a prominent mayor of Cerralvo. So in that one day, a town was dedicated to the work, the missionaries had a place to stay and eat, and this first family became the first converts to the Church in Cerralvo. She also provided the first meeting house for the branch that was established, and before her husband had died, he had built a small waist-deep pool that was almost the same size and shape as outdoor baptismal fonts that were common in Monterrey stake centers at the time, where the first baptisms were performed. It was a humbling reminder that we were about the Lord's work, and he amply provided for every need as his servants first entered the village that day! (David)
Participating in a regional conference with President Spencer W. Kimball. (Phil)
What are some interesting facts about the Mexico Monterrey Mission?
FUE UNA EXPERIENCIA EMOCIONAL Y FISICA DE LO MAS ESPECIAL, EL MEJOR CONVERSO QUE TUVE FUI YO. EL TESTIMONIO, EL ESPIRITU, Y LAS EXPERIENCIAS ENRIQUECEDORAS DE LA MISION, SON UNICAS. (Jose)
Monterrey is a large city, a disputed fact whether it or Guadalajara is the 2nd largest city in Mexico. It is very "western" and industrialized, with surrounded by beautiful mountains (Cerro de la Silla – Saddle Mountain; and Chipinque). Some of the top 10 wealthiest people in the world live in Monterrey (used to be 2, I've heard 3 recently). It had a temple dedicated there in 2003. In the late 1970's, under the direction of Elder J. Thomas Fyans of the 70, a missionary program was instituted that was called La Nueva Vision (The New Vision), targeted at proving that the Mexican people were "white and already to be harvested" as Saints in the Church. For almost 3 years, Monterrey and Hermosillo were the top baptizing missions in the Church, with Monterrey baptizing the most complete/completed families. Most people were taught a single, combined discussion, and immediately challenged to be baptized. Many in fact accepted and were baptized the same day they were first taught. In June of 1977, with only 56 missionaries in the mission due to visa problems, the mission baptized 1114 members in one month! This proved to the local saints that they needed to ramp up their ward/branch mission programs to assimilate almost 3 wards entering the church per month (in just that mission). The numbers fell after that, to allow the units to catch up. Interestingly, the retention rate was about the same as before when teaching required 2-3 months of preparation for baptism! I was humbled to leave the Monterrey mission with 300 names in my journal that I had (with my companions) baptized. (David)
Very diverse terrain and climates. Very modern city, surrounded by small, colonial towns. (Phil)
What was the weather like?
EN ALGUNOS LUGARES EXTREMOSOS, PERO LA DISFRUTE TODA AL MAXIMO, CALOR INFERNAL EN MONCLOVA, FRIO DE LOCOS EN PIEDRAS NEGRAS, TODOS LOS CLIMAS EN UN DIA EN MONTERREY, MI PRIMER AREA SALTILLO UN REGALO, CLIMA SUPER AGRADABLE. (Jose)
Weather in Monterrey is very hot in the summer and cold (but no snow) in the winter. Back then, it was short sleeve white shirts from March through October, then suites in November-February. Expect some rain in the winter, and a few summer storms. Fairly humid in the summer, but not as bad as the border towns in the mission (at the time) like Piedras Negras, on the Texas border. (David)
Hot in the summer, cold in the winter, and just right in between. (Phil)
Hot in the summer, COLD in the winter. (Jose)
Any things you really like about the area/people?
SALTILLO GENTE MUY AMABLE, SENSIBLE Y SERVICIALES. MONTERREY GENTE ABIERTA CUANDO TOMA CONFIANZA. PIEDRAS NEGRAS BUENISIMA ONDA TODOS. MONCLOVA Y CASTAÑOS GENTE SERVICIAL Y AMENA. VALLE HERMOSO TAMAULIPAS, SUPER ESPECIAL LA GENTE Y LOS MIEMBROS, LOS LLEVO EN MI CORAZON. GUADALUPE N.L. ESPECIAL EN TODO SUPER COLABORADORES EN TODO. (Jose)
What a loving, open people the Mexicans are. Mi casa es su casa. Always positive and ready to help. Very generous with their time and (often meager) means. You greet each other with a hug (abrasso) and leave with an abrasso. More limited for missionaries with the opposite sex of course, but even as companions we'd "abrasso" as we stood from morning and evening prayers. The culture is very colorful and relaxed. There is a word "animado" which doesn't have a perfect English translation, which approximates to a combination of enthusiasm and excitement, which always made the work a pleasure. Even someone who wasn't going to ultimately accept our message was enthused about us being there and teaching them, and very gracious. It was very contagious, and easy to stay engaged even during rejection! (David)
Loved the food. Loved the culture, the music, the climate, the challenges, the deep love I felt from those whom I served under, with, and for. Loved the twilight bus rides home, with Mariachi bands playing in the street. Loved learning to enjoy fresh avocados, shoe shines in the plaza, gritos, canciones de trio, and even the muddy rural streets. Loved the Cerro de la Silla, Huasteca Canyon, La Cola de Caballo falls, and Grutas de Garcia. Loved la Charreada, and fresh blood oranges from Montemorelos. Loved being called El Gigante, and lucha libre. (Phil)
Any packing/clothing advice?
SI ES A MONTERREY NO MUCHO FRIO, SALTILLO FRIO CON GANAS. (Jose)
Choose cotton undergarments, warm in the cold, and helps when it is hot and humid (avoid synthetics). Roads and sidewalks are bumpy and broken, so solid, durable footwear. Food is great there, but ketchup is very different so you may bring some with you from home! (David)
You can purchase everything you might need down there, so pack light. Buy sturdy luggage. (Phil)
What blessings did you receive from serving a mission?
SI ES A MONTERREY NO MUCHO FRIO, SALTILLO FRIO CON GANAS. (Jose)
I learned to love people, and talk to them. Complete strangers. After experiencing Mexico, I truly feel charity for everyone around me. I grew up kind of shy and geeky; the mission helped me move outside myself. Mostly, my gospel foundation was solidified. I went into the mission right out of high school, and came out with a dedication to the Gospel that I believe will never waiver (and I'm almost 60 now). The leadership I learned there have enabled me to serve the Lord in numerous callings I've held since then, and the Lord has blessed me for my service a *thousand* times over with help in my career, my marriage and my children. (David)
Greater love for my Savior Jesus Christ. The joy that comes from losing one's self in the service of others. A deep love and appreciation for the culture and heritage of Mexico. Learning how to lead and serve. Humility. (Phil)
What are some skills you gained?
MUCHAS TECNICAS QUE UTILIZO EN LAS VENTAS, EL PODER RELACIONARME CON LAS PERSONAS. (Jose)
I've used the language since, from helping Cuban refugees to working with migrants in Oregon through the local food bank, to working with employees I now have in Argentina and Guadalajara. Leadership skills learned there have been incredible. With visa problems, I became a district leader after only 5 months, a zone leader a month later. That has helped me not only in church callings, but in my work and also as husband and father. (David)
Personal confidence. Organizational skills. Public speaking. Loving others more than myself. Persuasion. Working as a team. Getting along with many diverse people. (Phil)
Hablar ezpanol. (Jose)
What do you wish you knew/did at the beginning of your mission?
PREOCUPARME POR APRENDERME LAS CHARLAS PREOCUPARME POR APRENDER MAS DE MIS COMPAÑEROS. (Jose)
Back then, there was less emphasis on spiritual preparation. I wish I had read the complete Book of Mormon (I hadn't), not just once, but several times. I also wish I had been prepared for companions who might be less than dedicated. Some of my early senior companions clung on a bit too much to the "world", and I was surprised at that and too easily followed their example at times. One companion even flexed the white missionary rule booklet and said the rules inside were also that flexible. If I had known that, I could have anticipated it and (even as the junior companion) pushed for more diligence, dedication and adherence to the rules. I (mostly) figured it out by the end, but feel that I could have done even more good if I'd been ready for that. (David)
Mexican Spanish. The MTC taught me Castillian Spanish. It took a while to learn all of the wonderful Mexican modismos and slang. I wish I knew better how to serve others. I wish I knew just how precious every moment would be, so that I wouldn't waste a single moment. (Phil)
Any advice/testimony for pre-missionaries going to Monterrey?
SI VIVAN CADA MOMENTO AL MAXIMO BUSQUEN LA COMPAÑIA DEL ESPIRITU SANTO CUMPLAN LAS REGLAS DE LA MISION SON PARA SU PROPIO BENEFICIO. OREN AYUNEN ESTUDIEN LAS ESCRITURAS ENCONTRARAN PERSONAS QUE EN REALIDAD SABEN Y QUIEREN APRENDER. (Jose)
Prepare to love the people, and be loved back. Enjoy the fun culture, and understand that they do things quite differently in Mexico. It's okay – just chill. We used to hold up a hand to our companion to remind us to keep our cool, with each finger of the hand representing one world of the phrase, "you are now in Mexico!" (David)
Do hard things before your mission. Develop a strong testimony of the power of serving others and the joy of working hard. Have a meaningful away-from-home experience before you go on a mission – avoids homesickness. Gain your own testimony. Learn to love others more than yourself. (Phil)
What was a funny language mistake?
ENSEÑARLE A LOS GRINGOS A DECIR , CUANDO TERMINABAN DE COMER, Y SI LE PREGUNTA LA HERMANA, QUIERE MAS ELDER? USTED DEBE DECIR NO HERMANA MAS FRIJOLES. JAJAJAJAJAJA. (Jose)
When an investigator expressed a little fear about praying outloud with us for the first time, a companion used the wrong word in telling him not to be afraid. Instead of "no tenga miedo" ("dont' have fear", literally), he said "no tenga meado", which translates to "don't wet your pants"!! (David)
With about a month in the field under my belt, I was invited to a restaurant that served cabrito. I was very hungry and wanted to order a large portion. I remembered that the suffix -ito meant small, and -on meant large. I ordered "cabrón" and couldn't figure out why everyone was laughing at me. (Phil)