Misión México Ciudad de México Noroeste
Free resources about the Mexico Mexico City Northwest Mission:
Aquí están algunos recursos gratuitos sobre la Misión México Ciudad de México Noroeste:
*Other Mission Pages: Mexico LDS Missions.
---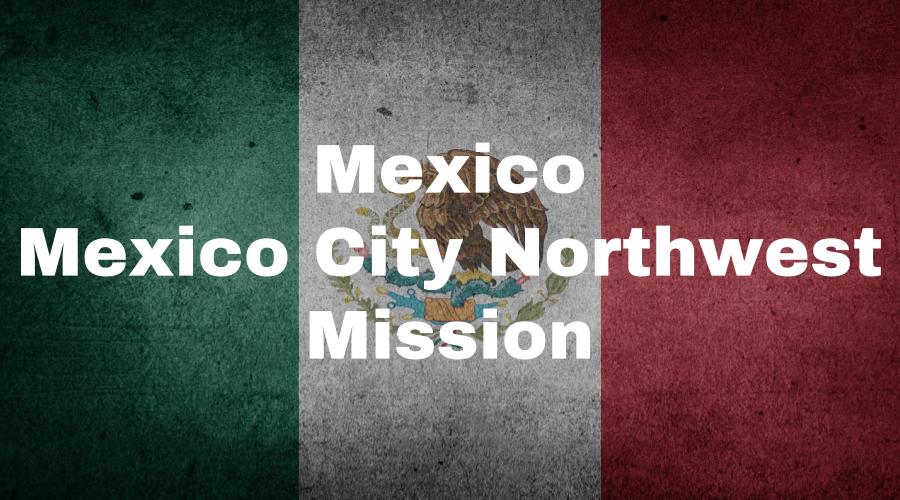 ---
Mexico City Northwest Mission Address
Here's a recent address for the Mexico City Northwest Mission. We try to keep this information up to date, but it's a good idea to check the address with several sources, including your mission packet or the mission office.
Mexico Mexico City Northwest
Victor Rocha Cruz
Apartado Postal 118-184
07051 Gustavo A. Madero, Distrito Federa
Mexico
Phone Number: 52-555-119-5517
Mission President: President Daniel D. De Leon
Mexico City Northwest Mission Map
Here's a link to the mission map for the Mexico City Northwest Mission (LDS). To access the official, up-to-date LDS.org map for the mission:
Log into your LDS account here.
Click here.
Videos with Mexico City Northwest RMs
Here are in-depth YouTube video interviews with returned missionaries from the Mexico City Northwest Mission.  We interview hundreds of returned missionaries each year, so check back regularly to see new RM interviews. Coming soon..
LDS-Friendly Videos about Mexico
Here are LDS-friendly educational videos about Mexico. We scoured YouTube to find the best quality videos about Mexico, that are free from inappropriate music, immodesty and profanity.
Mexico City Northwest Missionary Blogs
Here's a list of LDS missionary blogs for the Mexico City Northwest Mission. This list includes the missionary's name, URL and when their blog was updated.
*Send your missionary a gift (mission-specific shirts, ties, Christmas stockings/ornaments, pillowcases, etc.)
Mexico City Northwest Mission Groups
Here are Mexico City Northwest Mission Groups- for LDS missionary moms, returned missionaries, mission presidents and other alumni of the mission.
Mexico City Northwest Mission 2013-16 Group (121 members)
Mexico City Northwest Mission Parents Group (33 members)
Mexico City Northwest Mission T-Shirts
Here are T-shirts for the Mexico Mexico City Northwest Mission!
Shirt designs include Mexico Mexico City Northwest Mission logo/emblem shirts and Called to Serve shirts. The shirts make great gifts for pre-missionaries, returned missionaries and missionaries currently serving. LDS Mission shirts come in all sizes: Small, Medium, Large, Extra Large, up to 4XL.  The mission designs are printed on white shirts and are shipped to you.
*Simply click on a shirt design to view the details and submit an order. The designs on mission t-shirts may also be printed on other LDS mission gifts, including: Mexico Mexico City Northwest missionary aprons, Christmas stockings, ties, pillow cases, teddy bears and Christmas ornaments.
*Click here to browse Mexico City Northwest Mission gifts
---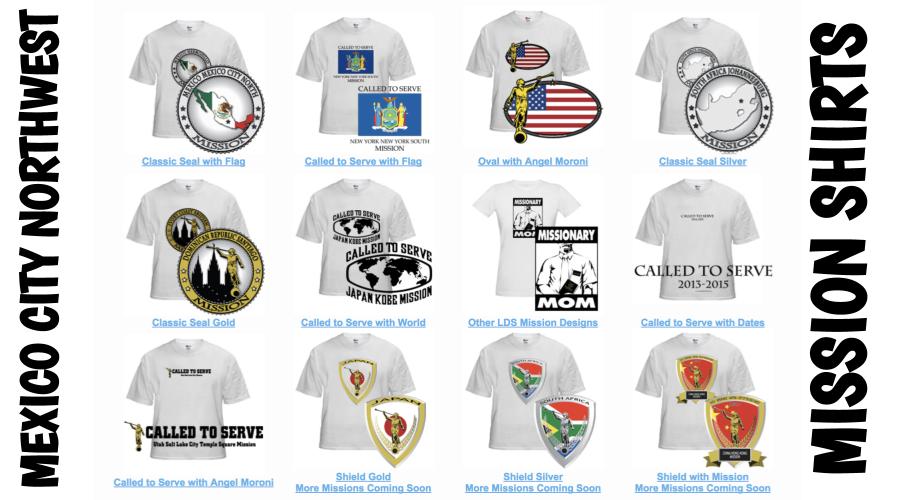 ---
Mexico City Northwest Mission Presidents
Here's a list of current and past Mission Presidents of the Mexico City Northwest LDS Mission.
2016-2019, Daniel D. De Leon
2013-2016, Brad H. Hall
2010-2013, Tom R. Tervort
Mexico LDS Statistics (2015)
Church Membership: 1,368,475
Missions: 34
Temples: 12
Congregations: 1,998
Family History Centers: 268
Helpful Articles about Mexico
Mexico City Northwest Missionary Survey
Here are survey responses from Mexico Mexico City Northwest RMs, to give you a snapshot into what it's like to live in the mission.
*Click here to take a survey to help pre-missionaries going to your mission.
When did you serve?
2013-2015 (Hayden)
2011-2013 (Ryan)
2011-2013 (Dallin)
Two years (John)
What areas did you serve in?
In Mexico City and the Districto Federal. I served in La Joya, Carrera, La Laguna, Tenochtitlán, and Porvenir. (Dallin)
What were some favorite foods?
Alambre, tacos al pastor, chilaquiles. (Hayden)
In the street, Al Pastor tacos, tripa tacos, tortas (hot sub sandwiches), tamales. In people's houses, Chiles en nogada, pozole. (Ryan)
Tacos de Alambre. Tacos al pastor Caldo de Res. (Dallin)
Enchiladas verdes. (John)
What was a funny experience?
When knocking doors, my companion got asked by a woman if she could touch his eyebrows. He had really light golden hair from being in the sun all the time and it just fascinated her. So he asked if he could talk to her about God afterwards. She said yes and then stroked her finger across his eyebrow. Then she ran into her home and didn't open up again. I was dying laughing. (Dallin)
Ir a chapultepec. (John)
What was a crazy experience?
Breathing the air is dangerous I think. The people are nice. There are lots of drunks and drug addicts on the street but they don't do much except talk to you. I have been followed by some people in a car for a while but we didn't get kidnapped so that's good. (Ryan)
Once my companion and I got held at knife point and gun point. Two men robbed us while another robbed an elderly woman a few hundred feet away. After searching us, one asked my companion what was in his bag. He said the Bible, we are missionaries of God. It scared them I guess because they then left and told us to move on without looking back. (Dallin)
Ir a tepito. (John)
What was a spiritual experience?
Being led by the spirit everyday and finding those who were ready to hear the gospel. (Hayden)
There were two parents (Oscar and Marisol) and 3 girls who were 12(abril) 10 (Adriana) and 9 (Aylin) years old. We had taught the 2nd lesson the second time with just the mother and two girls and it didn't go very well. The mother and daughters just stared confused at us. The next time we went by, the daughters were outside and ran away with their friends when they saw us. Their mom took about ten minutes trying to get them inside. She came back in and admitted that the girls didn't want to listen to us because we were boring. Of course, a missionary never wants to hear that so it hit me really hard. The mom went back out and finally got the girls back in. We asked the girls about it and it took some pulling of teeth to get the answer. Abril, the oldest explained that her grandmother had told them that they were born catholic, they would live catholic and they would die catholic. My companion who was a convert from Catholicism started explaining differences between the church While he was doing his part, I had been thinking on how I could help them understand. Some advice came to my mind. "Put your investigators in the story." One of my zone leaders Elder Lamb gave me that advice I wasn't very good at helping the investigators. So, I did what he, and obviously the spirit, had advised me to do. When my companion was done, I asked Abril if she had questions she wanted to know what the answers to. With some convincing and calling her out on small lies, she admitted that she did have questions. I asked her if there was a scripture that could help her get any answer, if she would be interested. She said yes, so I read James 1:5. After some explanation, I started on the first vision story putting them in as if they were in Joseph's smiths shoes with family going to different religions and they wanted to know what the truth was. During the first vision, the Spirit came very strongly. Afterwards I asked the youngest how she felt and she said "normal" and as my heart started falling, we heard a sniff and looked at Abril. She had tears pouring down her face. We explained everything and went into the doctrine. By the time we got to repentance, the father Oscar walked in. He was as tall as me and probably twice the length in shoulders. I was pretty much fearing for our lives since he was very protective of his daughters. He pulled up a chair, sat down next to his wife and stared at us. After explaining what he was feeling (Spirit) we finished everything and they all accepted to be baptized. The Spirit was so strong in that room and truth just rang into our hearts and souls. (Dallin)
Bautizar a un judio. (John)
What are some interesting facts about the Mexico City Northwest Mission?
It is super small, but lots of people to teach. (Hayden)
It has one of the largest populations in one city in the world! It's second to Tokyo. It's a melting pot for people from each state of Mexico. It's incredibly crazy when driving. But you get used to crossing the streets right next to huge vehicles. It's close to the Aztec pyramids and it has some Aztec buildings in the downtown you can see. (Dallin)
What was the weather like?
It is pretty much in the 70s all year round. It does rain a lot July through September. (Hayden)
The weather is short-sleeve weather most of the year. I had 1 long sleeve shirt and I was fine. I wore a light jacket very occasionally. My jacket looked new when I gave it to somebody on the street at the end of my mission. (Ryan)
It was usually pretty warm which was great for me. It rarely went down to 40-50 degrees Fahrenheit. The usual heat was maybe between 70-90 degrees. (Dallin)
Any things you really like about the area/people?
They are so humble and ready to hear the gospel. No matter where you serve, you will fall in love with the people. (Hayden)
I loved the mixed cultures from different states in Mexico. I loved how good their food was! Everything was so fresh and delicious. I love the people. They instantly accept you as one of their own and care for you so much. Their hearts are humongous and they will just adore you if you love them. They made me feel so accepted and wanted and loved. I felt like I was adopted into th soul of Mexico. That I was one of them regardless of the fact I was from the United States. I love how firm so many people are about believing in God and following him. They just want to do what's right. (Dallin)
Any packing/clothing advice?
Bring an umbrella and a light rain jacket. Lots of sunscreen. (Hayden)
Get shirts that you like to wear. Bring mostly short sleeve, maybe one long sleeved for church when you wear your suit. Dress clothes are very cheap in Mexico if you need anything. Pack light. That is the best advice anybody can give you. I brought a think microfiber camping towel and loved it. It is not for everybody though. (Ryan)
Make sure you have a good raincoat! During the rainy season it pours cats and dogs! Usually you can time that it's going to happen after lunch, but you need something to keep the water out. (Dallin)
What blessings did you receive from serving a mission?
My beautiful wife, my good jobs, my awesome GPA. Everything good in my life has had to do with my mission in some way. You learn to appreciate the United States in different ways which was unexpected. (Ryan)
The most important blessing I got was receiving my testimony about the truthfulness of the gospel. I received a family. An entire different culture built on family and religion. I received open arms and love from my brothers, sisters, cousins, moms, fathers, and friends. I was taken care of by them. I received strength to keep going even after the mission knowing that it is all true. I have had doors opened for me in friendships and work opportunities not only because I can speak Spanish, but because I also love it and the culture I learned from. I learned to love new cultures. New ideas. People who were different than me. I continually received knowledge of Heavenly Fathers relationship with me as well as my Savior's. (Dallin)
What are some skills you gained?
Time management, hard work, obedience, discipline. (Ryan)
Speaking Spanish. It's such a celestial language and it gets you places I learned about speaking with people about whatever. Religion to favorite food to politics. I learned how to be open-hearted to those whose situations were different. I learned that just because someone did one or two or even a hundred things wrong, that I had to step back and just accept they were my family and I needed to help them feel loved and important. (Dallin)
What do you wish you knew/did at the beginning of your mission?
To just focus on what you can do. Do not beat yourself up if you do not understand Spanish. (Hayden)
Not everything is going to always be perfect. You will be tested and tried more than you think so don't go into your mission thinking it's going to be easy. Let yourself be new. Let yourself learn. (Dallin)
Any advice/testimony for pre-missionaries going to Mexico City Northwest?
PRACTICE TEACHING!!! Have a testimony of the Book of Mormon. Get ready for spicy food!
Be ready to be obedient. If you cannot take direction and criticism, work on that before you serve. If you are the kind of person that likes to cut corners, (eg. waking up at 6:32 am instead of 6:30 am) then you will not get the most out of your mission. D&C 130:20,21 (Ryan)
You are seriously going to the best mission in the world. You will meet people who are going to blow you away with their testimonies. Make sure you keep yours growing so you can help each other. Give them all the benefit of the doubt they are trying their best and that God loves them. He loves them just as much as he loves you. I learned how to have a better accent by speaking with a pen in my mouth. If you put it sideways like a horses bit and speak Spanish while doing so, it teaches your tongue to speak at the front of your mouth which is where Spanish speaks. (Dallin)
What was a funny language mistake?
Definitely pescado versus pecado. One elder said they could be forgiven from their fish (pescado) instead of sins (pecado) I once thought someone was asking if i liked yellow. She was asking if I wanted hielo (ice). (Dallin)