Misión México Ciudad de México Norte
Free resources about the Mexico Mexico City North Mission:
Aquí están algunos recursos gratuitos sobre la Misión México Ciudad de México Norte:
*Other Mission Pages: Mexico LDS Missions.
---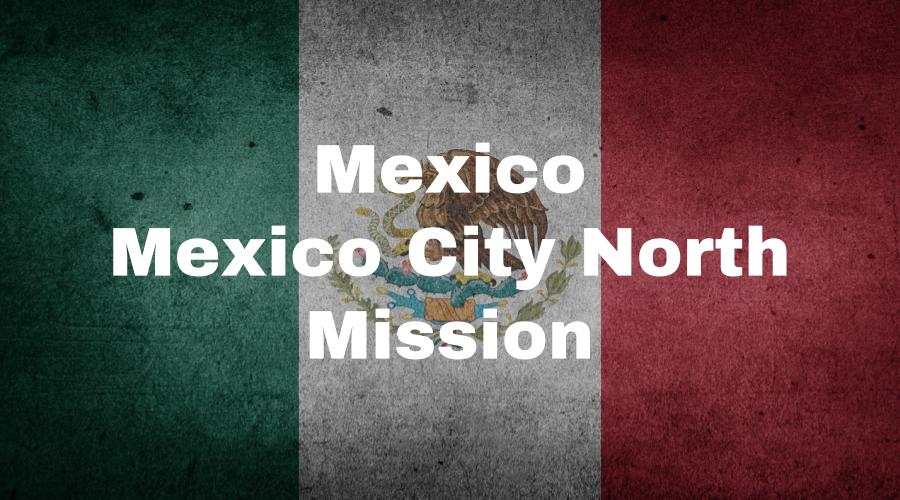 ---
Mexico City North Mission Address
Here's a recent address for the Mexico City North Mission. We try to keep this information up to date, but it's a good idea to check the address with several sources, including your mission packet or the mission office.
Mexico Mexico City North Mission
Calle Miralirio No. 69
Col. Cumbria
54740 Cuautitlan Izcalli, Estado de Mexi
Mexico
Phone Number: 52-55-5881-8376
Mission President: President J. Dana Call
Mexico City North Mission Map
Here's a link to the mission map for the Mexico City North Mission (LDS). To access the official, up-to-date LDS.org map for the mission:
Log into your LDS account here.
Click here.
Videos with Mexico City North RMs
Here are in-depth YouTube video interviews with returned missionaries from the Mexico City North Mission.  We interview hundreds of returned missionaries each year, so check back regularly to see new RM interviews.
LDS-Friendly Videos about Mexico
Here are LDS-friendly educational videos about Mexico. We scoured YouTube to find the best quality videos about Mexico, that are free from inappropriate music, immodesty and profanity.
Mexico City North Missionary Blogs
Here's a list of LDS missionary blogs for the Mexico City North Mission. This list includes the missionary's name, URL and when their blog was updated.
*Send your missionary a gift (mission-specific shirts, ties, Christmas stockings/ornaments, pillowcases, etc.)
Mexico City North Mission Groups
Here are Mexico City North Mission Groups- for LDS missionary moms, returned missionaries, mission presidents and other alumni of the mission.
Mexico City North Mission T-Shirts
Here are T-shirts for the Mexico City North Mission!
Shirt designs include Mexico City North Mission logo/emblem shirts and Called to Serve shirts. The shirts make great gifts for pre-missionaries, returned missionaries and missionaries currently serving. LDS Mission shirts come in all sizes: Small, Medium, Large, Extra Large, up to 4XL.  The mission designs are printed on white shirts and are shipped to you.
*Simply click on a shirt design to view the details and submit an order. The designs on mission t-shirts may also be printed on other LDS mission gifts, including: Mexico City North missionary aprons, Christmas stockings, ties, pillow cases, teddy bears and Christmas ornaments.
*Click here to browse Mexico City North Mission gifts
---
---
Mexico City North Mission Presidents
Here's a list of current and past Mission Presidents of the Mexico City North LDS Mission. 
2014-2017, Todd Titensor
2011-2014, Jon Dana Call
2005-2008, Ricardo Enrique Castillo
2002-2005, Eduardo H. Ferreyro Medina
1999-2002, Arturo Galindo
1996-1999, Donald A. Cazier
1993-1996, Stephen G. Boyden
1990-1993, John B. Robinson III
1987-1990, Servando Rojas
1984-1987, Quiton Harris
1981-1984, Donald Atkinsen
1978-1981, John B. Dickson
Mexico LDS Statistics (2015)
Church Membership: 1,368,475
Missions: 34
Temples: 12
Congregations: 1,998
Family History Centers: 268
Helpful Articles about Mexico
Mexico City North Missionary Survey
Here are survey responses from Mexico City North RMs, to give you a snapshot into what it's like to live in the mission.
When did you serve?
2014-2016 (Andrew)
January 2014-July 2015 (Leksi)
2013-2015 (Jeremy)
2001-2003 (Daniel)
2000-2002 (William)
What areas did you serve in?
Alamedas, xahuento, huehuetoca, xalpa, tepeji, ciudad labor. (Andrew)
1-Teoloyucan 2-Xahuento (tultepec) 3-San Lucas 4-Joyas de cuautitlan 5-Conejos de Atotonilco de tula. (Jeremy)
La Colmena, Cuautitlan de Romero Rubio, San Juan del Rio, Queretaro Indutrial Ward. (William)
What were some favorite foods?
Enchiladas verdes Carne asada Tacos al pastor. (Andrew)
I loved all of it. Mixiote, Mole Verde, Tacos al Pastor, Enchiladas, Tortas de Tomal…All of the food was my favorite, except for the Chicharron. (Chicharron is like this giant slab of pork rind, sometimes with hairs still attached to it. Ew.) (Leksi)
Tacos Dorados, Enchiladas, Carne Asada, Mole de Olla, Napales y chicarron en salsa verde, Tortillas. (Jeremy)
One of the best parts of serving in Mexico City was the amazing food! My favorites included: tacos al pastor, mole, pozole, flautas con crema, churros, and of course lots of homemade guacamole. (Daniel)
Tacos al pastor, Agua de Jamaica, floutas, chiles rellenos, posole, enchiladas, flan, tortas. (William)
What was a funny experience?
I ripped my pants while helping a member family move some furniture. (Andrew)
There were a lot of funny experiences with slips of the tongue, or word/language mix-ups. But one of the funniest experiences I had on my mission was when my companion and I contacted a man in the street who was so excited to meet with us. We went and taught him the Restoration, and he was accepting all of it! When we invited him to be baptized though…he said he was already baptized. We assumed he meant he was baptized as a baby, as are most Mexicans, but as he expounded, he told us that two Mormon Elders had baptized him a couple of years back, but that he doesn't consider himself a member of The Church anymore. WHAT!?!?!? We had asked him lots of questions at the beginning to find out his religious background, and somehow that didn't come up? My companion and I laughed all the way home. (Leksi)
We had three "Guard" dogs named, chookies, rolies, and . Every day when we left our apartment, they were outside waiting for us and would follow us the entire day as we walked around the area working. On many occasions, we would be teaching a lesson and the dogs would sneak into the house of and just sit down during the middle of the lesson. As well,  as one day I was speaking in Sacrament meeting and halfway through my talk the three guardian angel dogs slipped in the side door and started running up to me. haha (Jeremy)
Trying to fill the font for a baptism when the hot water pump broke down. We had to fill it up with buckets of cold water by hand. (Daniel)
Eating fried chapulinas on the bus with my companion. (William)
What was a crazy/dangerous experience?
I was robbed at knife-point. (Andrew)
Once, there was an earthquake (a small one) at night, and that was pretty scary because we lived on the 5th floor of an apartment complex and it was shaking like crazy. Also, there was this one crazy thing that happened, and ended up being a miracle. We were in a 2-story internet cafe on Preparation Day writing to our families, and a boy had climbed up on the roof and was messing around. He accidentally touched one of the telephone wires, and got electrocuted and thrown from the top of the building. But he survived! And we witnessed the whole thing. Crazy. (Leksi)
My companion and I were heading back to an area after Zone conference and were riding on a camion or (bus) and a person jumped on after us and a horrible feeling entered the vehicle and we noticed and felt he was prepared with weapons to assault and rob the bus. We quickly got off and took the next bus that came by. A little while later, we found out that that person did indeed rob the bus. We are ever grateful for the guidance of the Holy Ghost that shouted to us to get off. (Jeremy)
A guy pulled a gun on my companion and I. We ran. (William)
What was a spiritual experience?
My companion and I had 3 appointments set up and we went to every single one at those times and nobody was available. We contacted everyone we saw for those 3 hours and at the very end, right before we were about to leave to colony we felt to contact one lady and her 2 little kids. She accepted the message and was later baptized. I saw how God provided miracles to those who do all of their part. (Andrew)
THERE WERE SO MANY!!!!! One of the most spiritual moments on my mission was when we were teaching a less active sister about family history. Her non-member brother started eavesdropping from the kitchen, and slowly came into the room where we were, to listen. He started to really get into it, and the Spirit was SO STRONG as he told us his favorite memories about his family. He and his sister both started crying and it was amazing how tangible the Spirit felt. I know they felt it too. Family history works miracles in the hearts of men. (Leksi)
One evening, my companion and I were teaching a lesson with a progressing investigator named Lulu, of which lesson she had invited her husband, her brother's family and her sister's family to be there. As we began to teach, the room filled with contention as most people in the room only wanted to argue and prove that the Mormon church was false and that LuLu was getting "sucked into a cult". As the contention became unbearable, we felt to stand and testify. We did. A silence overcame the room as everyone was focused on the two missionaries bearing testimony. The contention immediately left the room and a Spirit that testified of the truth immediately joined the conversation. Each person that was present came to church the following Sunday and agreed to take the missionary discussions. (Jeremy)
Learning the language was a spiritual experience. Early in my mission I really struggled to understand the language and feel confident I could learn to speak Spanish. I prayed for the comfort of the Holy Ghost and found it multiple times. Within a few months, I realized that I had learned enough to Spanish to understand most conversations. (Daniel)
Many many conversion stories. (William)
What are some interesting facts about the Mexico City North Mission?
The mission president really helps us focus on the true mission purpose. There are many archaeological sites. It's high elevation with pretty good weather all year. (Andrew)
It's a small mission, and it contains polar opposites in living conditions. The south end of the mission is the city. Busy, dirty, fast, dangerous… all that fun stuff. And the north end of the mission is like out in the middle of the country- wide open spaces, lots of dusty roads and cactus- very rural and poor. (Leksi)
The Mexico City North Mission is one of the original missions in Mexico and has been divided many times. It is a fairly small mission with 7 stakes in the mission and 10 zones. Tula Hidalgo is located in the mission which is an ancient pyramid site. Very little of the mission is actually in Mexico City with the majority of the mission being located in the state of Mexico and Hidalgo and many of the areas being smaller towns and villages. The missionaries do not drive vehicles and or bicycles. All transportation is done by walking, public transport, or rides from members. (bring good shoes!!) (Jeremy)
What was the weather like?
Spring- good weather with occasional rain. Summer- hot and then rainy at night. Fall- good weather with occasional rain. Winter-cold morning/night and hot afternoons. (Andrew)
It was so weird. Every season in one day. We would wake up and it would be freezing cold. But by the time we left the house at noon, it was blazing hot outside and we'd get sunburned. But then around 4 or 5 in the afternoon, the skies would open up and dump down these frightening lightning storms, with so much rain. The streets would fill up like rivers! Then it would clear up and there would be a beautiful sunset, and then it would get freezing at night. The rainy season was extraordinary. Rain, every single day. And the lightning and thunder every night were simply spectacular… and sometimes terrifying. (Leksi)
About seventies to nineties year round with spontaneous rain storms. The sun is almost always out and is a very dry heat. I could feel my skin "burning" during the day. (Jeremy)
Always warm and rains every now and then. (Daniel)
Tierra de la primavera ererna. Land of eternal spring time. Perfect weather all the time. (William)
Any things you really like about the area/people?
They were very open to hear the message of the gospel. Very nice people that offer all they can to serve. (Andrew)
I loved how welcoming and kind the people were. Even if they didn't want us to talk religion with them, they would give us food and make sure we knew we were always welcome in their home. They are very hospitable. The places were all very unique and beautiful in a very traditional way. The places are defined by the people who live there, and not the other way around… That was something I found very interesting. (Leksi)
I absolutely Love It!! Everything about the Mexico City North Mission is fantastic and truly I fell in love with it. The people are SO friendly and a large majority of the population is Christian which makes it a lot easier to get the message out there in my opinion. At first, I was scared and nervous to go to ONE of the biggest cities in the world. Come to find out almost all my areas were little towns. The people are very humble and friendly. (Jeremy)
I knocked on thousands of doors and never once had a door slammed in my face. People in Mexico are great! (William)
Any packing/clothing advice?
Umbrella. Bring sweats to sleep in during the winter. Bring a light waterproof jacket. (Andrew)
It's better to under-pack when it comes to clothes, because missionaries who serve with and before you always leave stuff behind when they have transfers, or get rid of stuff that they don't want. And it's always stuff that is perfect for the climate, that specific area and such. That was like the best. (Leksi)
Follow the recommendations in your pamphlet. The majority of the time, you will proselyte in slacks, and white shirt. I would suggest good shoes as you will be walking a majority of the time. I would definitely take a sweater or two to wear while proselyting because in the winter time in many areas the mornings can be a bit chilly but not chilly enough for a heavy coat. (Jeremy)
You walk a lot on unpaved roads so bring good tough shoes. (Daniel)
You'll probably lose weight. So plan for that. Good durable shoes. Good socks. Wrinkle free shirts and pants. Buy good quality so they don't fade in the sun. (William)
What blessings did you receive from serving a mission?
A real relationship with the Godhead and a foundation for my future. (Andrew)
Countless ones. I think one of the biggest ones is the change in my relationships, not only with my Heavenly Father and my Savior, but with everyone! I have begun to learn how to see life from a different perspective, and see people more the way God sees them. And that has been such a huge blessing, because it impacts everything I do and I can feel the Lord guiding me in the right direction. Relationships are treasures. (Leksi)
Countless. I had a bad misconception going into the mission as I believed I could "pay" back the Lord for some of the blessings I had received in my life. I never should have thought that. As I learned to serve unselfishly, I was truly blessed more than you can imagine. I returned even greater in debt to the Lord and ever more grateful for everything I have been given and witnessed. The largest blessing is this……I am Happy…because I am Mormon!! 🙂 (Jeremy)
Literally sets the standard for the rest of your life. Speaking two languages helps find work, and let's you continue to bless lives. (William)
What are some skills you gained?
The ability to talk to people. And how to lead. (Andrew)
Ooooh. This is a fantastic question. Some of the "skills" I gained: Exact Obedience, Organization, Time Management, Selflessness, Self-Discipline, Effective Study Habits, Effective Communication, Translation (from English to Spanish, and vice versa), Trusting the Lord, and the list goes on. Mind you these are all things that I am still working on, but the mission taught me the importance of these skills. And it really kick-started me in BEGINNING to develop them. The mission is all about beginnings… (Leksi)
The ability to love, to see someone with spiritual eyes and feel and desire for them their Heavenly Father's love. The skill to work hard and selflessly serve which I know will be a large blessing as later on in life I will do the same with my future family. Foreign language skills, Hablo espanol. The ability to eat hot and spicy food!! How to forget myself and help others. (Jeremy)
Commitment pattern. Spanish language. Compassion. (William)
What do you wish you knew/did at the beginning of your mission?
How the Holy Ghost communicated with me. (Andrew)
There were a lot of things I didn't know. And it was mostly basic stuff. (For example, I didn't know we would eat meals with members, or that we would have transfers, or trainers, or conferences… ) But what I wish I'd known from the get-go is that the Lord will help us learn what we need, WHEN we need it. I think I just wanted to know and understand everything all at once, and be this perfect missionary. I wish I'd better understood that change does take time, and that it really is the LORD'S work, and He will do it the way it must be done. I eventually figured out that I just needed to ask to be taught, and then make sure to BE teachable. And the Lord would bring things to my mind, and enlighten me with exactly what I needed, exactly WHEN I needed it, and not all at once. (Line upon line, precept upon precept…) (Leksi)
You do nothing on your mission, you are simply a instrument in the Lord's hands of which, if ye are humble, will allow the Lord to use you as he needs for his intended purpose. Humility is essential I wish I had recognized that principle and gone into the mission field with a little less pride. Obedience is the first and great commandment. (Jeremy)
Start waking up early, it would have helped to have gone out on visits with missionaries at home. (William)
Any advice/testimony for pre-missionaries going to Mexico City North?
This experience is as good as you make it. Do as God and your leaders tell you and watch how God shapes you into who He wants you to be. (Andrew)
Just remember that you are called of GOD. He knows that you are not perfect, and the sooner you figure that out, the better. He wants you to love your mission. Just know that you cannot serve a mission without the Lord's help. The work will go forth with or without you, but if you are obedient, and you love the Lord… the mission will change you forever in ways that nothing else ever could. Your mission really does not need you as much as you need it. THE GOSPEL IS TRUE. That's it. That's all there is. Ask the Lord if it is true, and He will let you know by the Spirit. Once you have that confirmation, REMEMBER IT forever. Just reminding yourself that will get you through the hardest of times. Do the right things for the right reasons, and always remember that you have something worth fighting for. You have the TRUTH. And the Spirit will guide you as you share that truth with others. DO NOT DO ANYTHING THAT WOULD KEEP THE SPIRIT FROM BEING YOUR CONSTANT COMPANION. (Doctrine and Covenants 42:14) (Leksi)
Know why you are going and be willing to sacrifice and die for that if it is asked of you. Be courageous, Be selfless, WORK HARD, Be humble, Be loving, forgiving and never Disobey. Love the mission and it will love you!! (Jeremy)
Have fun. Be present. Work hard. Love the Lord. (William)
What was a funny language mistake?
Embarrassing- a vergonzoso Pregnant– embarazado It's common to say I'm pregnant instead of I'm embarrassed. (Andrew)
One time, we were eating with a less-active family and the Sister had made fish. It was really good, so I tried to tell her, "Oh Sister! This fish is so delicious!" But there is a one letter difference between the Spanish word for "fish" and the Spanish word for "sin". (Fish: PESCADO—–Sin:PECADO) Yeah, what I actually said was, "Oh Sister! This sin is so delicious!" (Leksi)
I told an investigator that when she was baptized all her old fishes would be washed away and left to die in the water, trying to say that all her sins would be. I walked around for two hours trying to find a colony that we were in because I was pronouncing it wrong. (Jeremy)