Free resources about the Mexico Cancun Mission:
Aquí están algunos recursos gratuitos sobre la Misión México Cancun:
*Other Mission Pages: Mexico LDS Missions.
---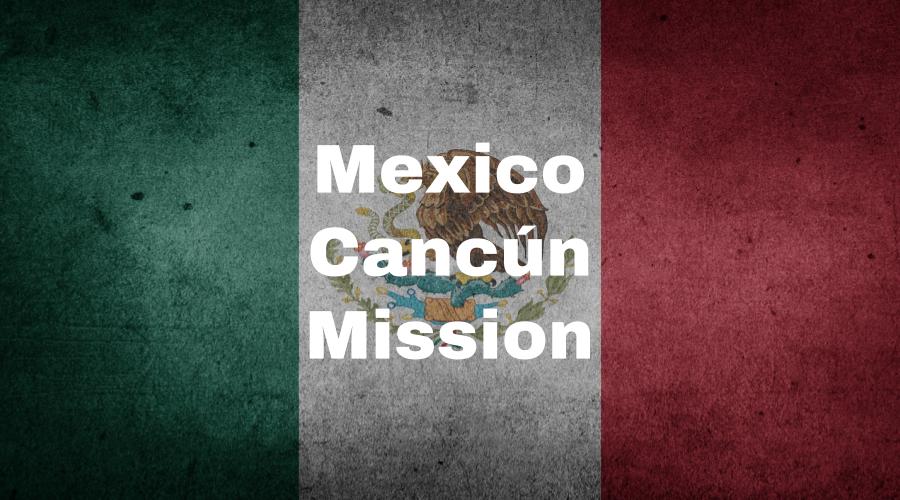 ---
Mexico Cancun Mission Address
Here's a recent address for the Mexico Cancun Mission. We try to keep this information up to date, but it's a good idea to check the address with several sources, including your mission packet or the mission office.
Mexico Cancun Mission
Avenida Chichenitza s/n, Mz9, Lote 1
Colonia Benito Juárez
C.P. 77569 Cancún, Quintana Roo
Mexico
Phone Number: 52-998-206-3415
Mission President: President Miguel A. Reynoso López
Mexico Cancun Mission Map
Here's a link to the mission map for the Mexico Cancun Mission (LDS). To access the official, up-to-date LDS.org map for the Cancun Mission:
Log into your LDS account here.
Click here.
Videos with Mexico Cancun RMs
Here are in-depth YouTube video interviews with returned missionaries from the Mexico Cancun Mission.  We interview hundreds of returned missionaries each year, so check back regularly to see new RM interviews.
LDS-Friendly Videos about Mexico
Here are LDS-friendly educational videos about Mexico. We scoured YouTube to find the best quality videos about Mexico, that are free from inappropriate music, immodesty and profanity.
Mexico Cancun Missionary Blogs
Here's a list of LDS missionary blogs for the Mexico Cancun Mission. This list includes the missionary's name, URL and when their blog was updated.
*Send your missionary a gift (mission-specific shirts, ties, Christmas stockings/ornaments, pillowcases, etc.)
Mexico Cancun Mission Groups
Here are Mexico Cancun Mission Groups- for LDS missionary moms, returned missionaries, mission presidents and other alumni of the Cancun Mission.
Cancun Mission Moms and Friends (LDS) Group (61 members)
Mision Mexico Cancun Facebook Group (41 members)
Mexico Cancun Mission T-Shirts
Here are T-shirts for the Mexico Cancun Mission!
Shirt designs include Mexico Cancun Mission logo/emblem shirts and Called to Serve shirts. The shirts make great gifts for pre-missionaries, returned missionaries and missionaries currently serving. LDS Mission shirts come in all sizes: Small, Medium, Large, Extra Large, up to 4XL.  The mission designs are printed on white shirts and are shipped to you.
*Simply click on a shirt design to view the details and submit an order. The designs on mission t-shirts may also be printed on other LDS mission gifts, including: Mexico Cancun missionary aprons, Christmas stockings, ties, pillow cases, teddy bears and Christmas ornaments.
*Click here to browse Cancun Mission gifts
---
---
Mexico Cancun Mission Presidents
Here's a list of current and past Mission Presidents of the Mexico Cancun LDS Mission.
2016-2019, Miguel A. Reynoso López
2013-2016, Dale B. Kirkham Jr.
Mexico LDS Statistics (2015)
Church Membership: 1,368,475
Missions: 34
Temples: 12
Congregations: 1,998
Family History Centers: 268
Helpful Articles about Mexico
Mexico Cancun Missionary Survey
Here are survey responses from Mexico Cancun RMs, to give you a snapshot into what it's like to live in the mission.
*Click here to take a survey to help pre-missionaries going to your mission.
When did you serve?
2014-2015 (Katie)
2014-2015 (Natalie)
2014-2015 (Whitney)
Which areas did you serve in?
Playa del Carmen (Peten), Chetumal (Centro, Bosque), Uayma, Valladolid. (Natalie)
What were some favorite foods?
Panuchos, milllanesa, frijol con puerco, espagueti verde, etc. (Katie)
Panuchos, chips with black beans and queso fresco. (Natalie)
What was a funny experience?
Well when I started the mission, I didn't know any Spanish so I think all the mix up of words made me and the native speakers all laugh ♡. (Katie)
The homeless dogs in Mexico are disgusting. They look half dead and are mostly diseased and hairless. With that picture in mind, when I first got to Mexico, I was trying to talk to a street contact by myself for one of the first times. The lady looked like she was having a really rough day and she was crying. I approached her with my companion and we began to talk to her when out of nowhere this dog shows up and begins to lick me. Everywhere. On my arms, legs, back… you name it. I was trying so hard to comfort this aldy and the dog would not Give me a break! I finally burst out laughing because I couldn't handle it anymore! (Natalie)
What was a crazy experience?
When I was in my 3rd area, my wallet was robbed. Thankfully, the church reimburses stolen money and stolen items when at all possible. (Katie)
It was outing rain outside and a smoky invited us into their gate. The gates are see through, but there is still a cement covering over top. When we stepped under the covering, and they closed the gate door, we realized e had made a mistake. The father was there completely drunk. He approached me and demanded that I take off my cardigan. He then began to pull it off. I had never before had something like that happen to me and I completely froze. I was scared out of my mind. Thankfully my companion pushed the guy away and broke me out of my shock to pull me out of the gate and start running from the house. (Natalie)
What was a spiritual experience?
I think just working and teaching so many people every day there was a spiritual experience. (Katie)
Hermano Juan. My companion and my time with him was a completely spiritual experience each day. I was training a new sister and was sent to a new area for the last two transfers of my Mission. I had not wanted to go to that area as it was completely opposite from my favorite area that I had been in. Yet we met Hermano Juan there the first day. He had rejected the missionaries for 80 years even though his entire family was LDS and his parents he started the ward in his town. For some reason, we were different. He listened to us and long story short, he was sealed just a year ago to his beautiful wife of fifty years. (Natalie)
What are some interesting facts about the Cancun Mission?
Most natives speak Mayan not Spanish. We can go to the ruins/archaeological sites on our prepareation days. There is no temple in our mission so we are not permitted to go for a year and a half or 2 years. (Katie)
It's a relatively new mission! There are so many people moving in and out of some areas. You get to meet people from all over the world. One of the wards is actually in Mayan and there are partial parts in a translation of the Book of Mormon in Mayan. (Natalie)
What was the weather like?
Heat, heat and more heat with the occasional tropical rain storm that lasted a few hours and then it was hot again and humid! (Katie)
HOT. HUMID. Rain. (Natalie)
Any things you really like about the area/people?
Everything! The people are so loving and friendly and the area I was in was totally safe :). (Katie)
The people are so loving. They will give anything to the missionaries and even those who are not members recognize that you are serving the Lord. Hey are your best friends and never forget you. (Natalie)
Any packing/clothing advice?
Roll your clothes and don't buy too many trinkets and what not because then your bag will be overweight when you travel. Try to just use 1 big suitcase and a carry-on instead of two. Most of the native missionaries only are allowed 1 suitcase so it helps them know in a simple way that we are equal. (Katie)
For sisters—I know crocs are ugly, but there is a style that you can find that look like flats. They are waterproof and clean easily. You can wear hem in the dry weather and the rainy season and they support your feet! Bring a nice quality umbrella and a lite but waterproof rain coat. (Natalie)
What blessings did you receive from serving a mission?
I strengthened my testimony and was able to be converted to the gospel. Also I have seen the blessings in my family, my mom now has a job thay pays well so she can support the family and my less active brother has started to do Family Home Evening with us and go to church once in a while. (Katie)
A greater testimony and understanding of the gospel and the Atonement of Jesus Christ. I also learned that I have weaknesses and need help from the Savior everyday. My sister came back tonur family and her son was baptized. (Natalie)
What are some skills you gained?
People Skills. Patience. Love. Painting. Laying floor. Cementing walk and drive ways. Cooking. (Katie)
Communication, empathy, patience, organization, and planning. (Natalie)
What do you wish you knew/did at the beginning of your mission?
I wish I had studied the lessons more before the mission. I also wish I had opened my mouth to talk with everyone. (Katie)
Don't be stubborn. Your companions and your trainers are not perfect. Look for ways to serve them and understand that you go on a mission to help others repent and change—practice what you preach. (Natalie)
Any advice/testimony for pre-missionaries going to Cancun?
This mission is filled with miracles and if you are willing to be diligent, exactly obedient, and have faith, you will experience miracles both large and small every day of the mission. Honestly, the people are so prepared for this Gospel so don't miss an opportunity to open your mouth and share what you know! (Katie)
Love the people. If the people don't meet your expectations, lower your expectations and increase your love. (Natalie)
What was a funny language mistake?
Estoy embarazado…this means I am pregnant when what I wanted to say was I am embarrassed…Estoy avergonzada. Jabon con huesos which means soap and bones instead of ham and cheese (jamon y queso). Puedo ver la luz en sus osos.. I can see the light in your bears instead of I can see the light in your eyes (luz en sus ojos). Honestly there are a ton more but really the people only care if you love them and they want to help you learn the language ♡. (Katie)
Ahhh… let's just say on my first day I called the Ward Mission Leader's Sister not Lupita, her name, but rather a swear word. I've never seen someone cry and laugh that hard. (Natalie)