Free resources about the Marshall Islands Majuro Mission:
---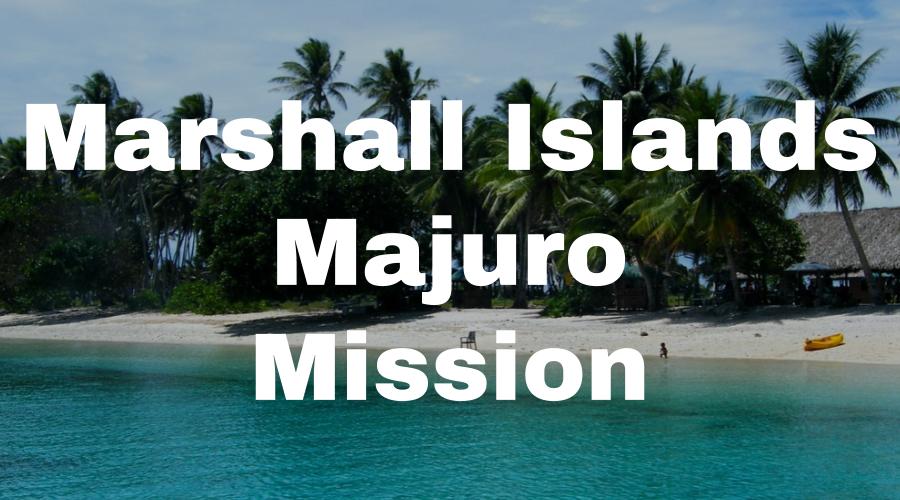 ---
Majuro Mission Address
Here's a recent address for the Marshall Islands Majuro Mission. We try to keep this information up to date, but it's a good idea to check the address with several sources, including your mission packet or the mission office.
Marshall Islands Majuro Mission
P.O. Box 1107
Majuro, MH 96960
Marshall Islands
Phone Number: 692-247-3370
Mission President: President John F. Larkin
Marshall Islands Majuro Mission Map
Here's a link to the mission map for the Marshall Islands Majuro Mission (LDS). To access the official, up-to-date LDS.org map for the Majuro Mission:
Log into your LDS account here.
Click here.
Videos with Marshall Islands RMs
Here are in-depth YouTube video interviews with returned missionaries from the Marshall Islands Majuro Mission.  We interview hundreds of returned missionaries each year, so check back regularly to see new RM interviews.
Videos about Marshall Islands
Here are LDS-friendly educational videos about Marshall Islands. We scoured YouTube to find the best quality videos about Marshall Islands, that are free from inappropriate music, immodesty and profanity.
Majuro Missionary Blogs
Here's a list of LDS missionary blogs for the Marshall Islands Majuro Mission. This list includes the missionary's name, URL and when their blog was updated.
*Send your missionary a gift (mission-specific shirts, ties, Christmas stockings/ornaments, pillowcases, etc.)
Majuro Mission Groups
Here are Marshall Islands Majuro Mission Groups- for LDS missionary moms, returned missionaries, mission presidents and other alumni of the Majuro Mission.
Marshall Islands Majuro/Kiribati LDS Mission Group (110 members)
Marshall Islands / Kiribati Mission 2010-13 Group (31 members)
RM Majuro Mission Facebook Group (17 members)
Majuro Mission T-Shirts
Here are T-shirts for the Marshall Islands Majuro Mission!
Shirt designs include Marshall Islands Majuro Mission logo/emblem shirts and Called to Serve shirts. The shirts make great gifts for pre-missionaries, returned missionaries and missionaries currently serving. LDS Mission shirts come in all sizes: Small, Medium, Large, Extra Large, up to 4XL.  The mission designs are printed on white shirts and are shipped to you.
*Simply click on a shirt design to view the details and submit an order. The designs on mission t-shirts may also be printed on other LDS mission gifts, including: Marshall Islands Majuro missionary aprons, Christmas stockings, ties, pillow cases, teddy bears and Christmas ornaments.
*Click here to browse Majuro Mission gifts
---
---
Majuro Mission Presidents
Here's a list of current and past Mission Presidents of the Marshall Islands Majuro LDS Mission.
2016-2019, John F. Larkin
2013-2016, Thomas L. Weir
2010-2013, Thomas Shaw
2009-2012, Brad Smith
2006-2009, Nelson Lorell Bleak
Marshall Islands and Kiribati LDS Stats (2015)
Church Membership: 6,865 (Marshall Islands), 16,795 (Kiribati)
Missions: 1 (Marshall Islands)
Temples: 0
Congregations: 14 (Marshall Islands), 26 (Kiribati)
Family History Centers: 3 (Marshall Islands), 1 (Kiribati)
Helpful Articles about the Marshall Islands
Majuro Missionary Survey
Here are survey responses from Marshall Islands Majuro RMs, to give you a snapshot into what it's like to live in the mission.
When did you serve?
July 2013-June 2015 (Spencer)
2013-2015 (Dannielle)
2010-2012 (Riley)
2008-2010 (Steven)
2008-2010 (Ryan)
2007-2009 (Peter)
2006-2008 (Robert)
2005-2007 (Melanie)
What areas did you serve in?
Delap, Jenrok, Ebeye and Ajeltake. (Dannielle)
Majuro and Ebeye. (Riley)
Majuro, Jaluit. (Steven)
Uliga, Long Island, Ebeye, Laura, Ailinglaplap. (Ryan)
Uliga and Delap, Majuro, and Ebeye. (Melanie)
What were some favorite foods?
Sushi with coconut milk and curry powder. In general, the main food over there is fish, so we had a lot of great ways to have it cooked. (Spencer)
Fish, rice, chicken. (Dannielle)
Fish, Coconut Rice, Fresh Coconut to Drink. (Riley)
Rice + anything. (Steven)
Pillows, fresh coconuts, pandanas, BBQ chicken in Uliga (Momotaro's), and pumkin/pandanas rolls. (Ryan)
Rice and fried chicken. You really learn to suck the bones dry, haha. Breadfruit roasted over hot embers became one of my favorites (with a bit of oil and salt). (Peter)
Turtle, snapper, bone fish. (Robert)
Fresh cooked tuna, rice with coconut milk, sprouted coconut, breadfruit chips, and Ebeye pancakes. (Melanie)
What was a funny experience?
There was a senior couple eating "Kiribati pasta". He really enjoyed it until somebody told him that they were beach worms. (Spencer)
When our water started going brown and we didn't realize it was because our water tank was completely empty. (Dannielle)
I asked a person if they wanted to drink or get drunk with the missionaries instead of to study with the missionaries. The word for drink/drunk is very similar in spelling and sound to study/investigate. Not a highlight of my mission ;). (Riley)
Had an investigator we went to pick up for church. He had a baptismal date but when we got to his house he came around the corner of the house with a cigarette in his mouth. His eyes became saucers as he turned around and disappeared, only to reappear a few seconds later with a toothbrush in his mouth and a calm, collected demeanor. He was baptized (later). (Ryan)
On an outer island we were walking up to one end of the island to see the people up there. I went to go around a big puddle on a dirt track, but my opposite leg slipped and I went sprawling. There was mud all up my side and all over my arm. I guess you had to be there, but it was hilarious. (Peter)
Falling asleep while reading a Scripture during a lesson. (Robert)
I had to use the bathroom (emergency) and I asked for "the house of dirt" and did the pee dance. The girl took me to a completely dark room and I had to ask her to help me sit down in the right spot. Then she left and came back with some toilet paper. (Melanie)
What was a crazy/dangerous experience?
I drank bad water on an island where the next boat wasn't going to be coming back for two weeks. I lost 50 pounds, could barely eat, had serious stomach pains, had diarrhea four or five times a night, but survived! (Spencer)
When my companion got worms and was in the hospital for a long time and was so sick. (Dannielle)
The back window of our car was shattered and a harmonica, orange and gum were stolen out of our car. Funny thing was, we had money and a voice recorder next to all that stuff. Not the smartest thief I've come across :). (Riley)
The country is super tame. You'd never getter robbed. You'd never get beaten. The only dangerous experiences possible would involve the ocean. (Steven)
Was sleeping on the beach in a hut on an outer island when the earthquake hit Santiago in 2010. We were disconnected and had no idea but there was a tsunami warning for the Marshall Islands. Woke up to see the water had almost come in our hut and the sand road to the airport had been washed out. (Ryan)
Usually when dogs growl at you or come towards you, you can pick up a rock and they'll run straight away (they're used to being hit unfortunately), but once this dog didn't even flinch. I cant even remember how we got away, but we were pretty scared that it just kept coming. (Peter)
Getting lost at sea. (Robert)
I slipped on the coral when running the islands — very painful, scratched up, got coral stuck in the wounds etc. (Melanie)
What was a spiritual experience?
When I was sick with water poisoning, I thought I was going to die. It was at the beginning of my mission, and I was struggling because I couldn't speak the language, was very physically sick, and I'm not proud of it, but I ended up complaining to God. I whined, asking Him why I was going through this. Every day, I told him, I'm promising people blessings, joy, and happiness if they followed the commandments, and I was NOT feeling blessed! I got a blessing from my companion, and in it, he told me that God was grateful for my service. My entire view was changed. Here I am, this puny little 18-year old, and the Almighty Creator of Everything is grateful to ME! Why on Earth would I be complaining?! That changed my mission. I stopped complaining, and starting doing more, because if God was going to be grateful to me, I'd better give him a good reason for it. (Spencer)
When we went to a complete stranger's house while she was sick and cleaned the whole house without her knowing. She was so grateful she started taking the lessons. (Dannielle)
Working with William Kaija and watching him overcome alcohol and smoking and become so strong spiritually. He was our "member present" in lessons before he was even baptized. (Riley)
Participated in the first baptisms on an outer island. Four of us missionaries plus two converts participated in the first sacrament with a number of others watching. The spirit was amazing and maybe a sample of April 6, 1830. We had all come over from another church service that morning and there was a night and day difference in the way everybody felt. (Ryan)
We met a man named Roy about two weeks before I came home. The first lesson we had was amazing. The Spirit was just so strong. After the lesson we asked him how he felt. He looked at us and said 'I know it's all true'. We committed him to baptism and he and his wife and daughter were baptized not long after. I heard later that Roy had passed away, but he was an active member of the church which was great to hear. (Peter)
Witnessing a baptism with a person I baptized a year earlier. (Robert)
My trainer never tracted and my second companion didn't speak the language. But, the tree was so bright and glowing, so we went down the road. I did my best to translate what I wold have said in English — that we were missionaries from our church, my name, my companion's name, that we taught of Christ and how his church was restored. I asked who they were and if we could meet again. The other woman there told me later she had always wanted to stop the missionaries and had prayed that one of us would ask her specifically to study. (Melanie)
What are some interesting facts about the Majuro mission?
We often serve on outer islands, and on many of those, we have very limited communications. We report stats over CB Radio, and sometimes have no internet or phone connection for months at a time. (Spencer)

A lot of people suffer from deformities due to a bomb that was tested back in WWII that has messed up their genetic makeup. (Dannielle)
We lived on atolls, which aren't like normal islands. They are roughly 15 feet above sea level and have the most beautiful sunsets in the world. Yes…I'm biased. (Riley)
Average elevation is seven feet above sea level. The church is still relatively new and it's rare to find members from pre-1995. The culture is still alive and well on the outer islands and Marshallese people used to be among the world's best sailors. There are few places where you can't see or hear the ocean. (Ryan)
My largest area was 11 miles long, we mostly only worked about two miles of it. The smallest was about one mile long, but we were busy all day in every area. I didn't put the width in there because you could see both sides of the atoll wherever you stood because it's so thin. The culture is quite different, there are a lot more little things we have to remember, like not touching people's clothes on the line, or apologizing and bowing as you pass through two people talking (if you can't find another way around). It's so interesting learning about the different cultural nuances. (Peter)
It was founded in 2006. (Robert)
What's the weather like?
HOT. And sometimes rainy. But even when it was rainy, it was hot. (Spencer)
Hot and humid. (Dannielle)
Humid. Every day. It was consistently 80-90 degrees throughout the year. When it rained, it poured. If you want to lose weight, live here for two years :). (Riley)
90 degrees year round. There's a wet season and a dry season. (Steven)
70's to 80's, humid, passing rain showers and usually breezy. (Ryan)
Sunny and hot. (Robert)
Hot, humid, windy with salt and dust heavy in the air, so sweaty. It feels cold during the rainy season (70s). (Melanie)
Any things you really like about the area/people?
They are SO friendly! They will do anything for you! I only had one person ever refuse to talk to me, my entire mission. You can't help but love them, because they love you so much. (Spencer)

Absolutely everything. The good and the bad. (Dannielle)
The people are so down to earth and genuine that you can't not love them. It made serving them that much more enjoyable. (Riley)
Everyone there already believes in Jesus. Everyone there respects non-Chinese foreigners. (Steven)
People are so humble and kind. They treat you like royalty in a lot of places. They love the fact that we want to know about them and their culture. (Ryan)
Everything. (Robert)
So much!!! I've been back a number of times and lived in Marshallese communities in the US. They taught me how to live in a crowded place peacefully, how to take care of your family, and the importance of just being there for someone (without needing to be always actively engaged), how to just be. (Melanie)
Any packing/clothing advice?
Crocs are your best friend. And don't worry about socks. (Spencer)
Pack as though you will get rained on every day. (Dannielle)
No long sleeve shirts. Wear comfortable shoes that you can slip on and off easy. DO NOT wear silk ties. They will bleed and people will laugh at your tie-dye white shirt :). (Riley)
Get shirts and pants that BREATHE. Do your research on the best materials for that, and have your clothes tailored. Standard church pants from the department will be too hot. (Steven)
Croc's (if still approved) are great for tracking instead of enclosed shoes. No warm clothes needed. (Ryan)
Have wheels on your bags. (Robert)
Lightweight cotton tops and skirts. I made several skirts (long skirts with slits up to the knee was important when sitting cross legged on the floor in most homes). Most store bought skirts in the US are too heavy or thick. Comfortable shoes that are easy to take in and off because you take off your shoes when you enter a home. Almost all shoes will be nicer and more professional than sandals worn there. I actually had Clarksville sandals that I wore without socks for the entirety of my missionary work. As a teacher, later, I wore some Nike sandals. Elders–tough luck, you only have one choice of shoes. Buy a local dress to wear at home or on preparation days and some lava lava wraps to wear over shorts on p-day. You'll also want at least one or two long sleeve shirts during the rainy season and of course the flight home (when you'll be freezing).
What blessings did you receive from serving a mission?
SO many. The biggest one is that I learned to have my own relationship with the Lord. You can see why in the box below. (Spencer)
I know what potential I have and how important it is for me to serve others. My hands are the Lord's hands and they can work miracles. (Dannielle)
I was able to learn a language and have charity for a group of people I'd never met or knew in my life. I love the Marshallese people. And living with them for two years was the highlight of my mission. (Riley)
I learned more about life, time-management, serving others, and the gospel than I could have in any other way. The satisfaction is impossible to beat and the blessings following service in every area of life are constantly being poured on. (Ryan)
Increased faith and testimony. (Robert)
I learned who my best self was. (Melanie)
What are some skills you gained?
I learned a lot about myself. When you are stuck out on an outer island, just with you and your companion, you really have to learn to stand on your own two feet. We would often run the church, so you don't have other people to spiritually support you. It's just you, the scriptures, and the Lord. The great part is, he'll never send anybody out there who can't handle it, and He supports you no matter what. So I learned that, and a lot about church organization, since I had to set up the church on an island. (Spencer)
Learning how to crack coconuts, study skills, self discipline, language skills, communication skills. (Dannielle)
I became more confident in my abilities to interact with people. I was able to learn a language that many in the world don't know about. I was able to develop patience and kindness towards others. (Riley)
New language, time management, and learning to see things from a different angle and understand people with a different view. (Ryan)
I can open a coconut with my mouth, machete. (Robert)
I'm making a literary magazine in Marshallese. I want to make a grammar book and monolingual dictionary. I developed my teaching skills and I now work in education. (Melanie)
What do you wish you knew/did at the beginning of your mission?
I wish that I was more patient with my companions. As a new missionary, I thought I knew everything. I don't wish that I had been less obedient, but I wish I had been more understanding of other missionaries. (Spencer)
I wish I knew that some missionaries are disobedient and it would be my duty to fight the constant battle that it was. I feel I was a little unprepared for that and wish I knew, so I was better prepared emotionally and spiritually. (Dannielle)
I wish I didn't complain and fight change. I wish I embraced it. The moment I forgot myself, things worked out. (Riley)
I wish I had read How to Win Friends and Influence People. If I were a mission president, I would make it a mandatory reading for my incoming missionaries. (Steven)
Been more outgoing and organized in my gospel study. (Ryan)
How much you will be blessed for doing the work. (Robert)
Carry hand sanitizer with you to reduce chance of pink eye, and bring sanitary supplies (there are no tampons and the pads are poor quality). (Melanie)
Any advice/testimony for pre-missionaries going to the Marshall Islands?
Learn to pray. Really pray. You should try to have a relationship with the Lord before you go. Also, love the people. Talk as much as you can, and joke! The people love to laugh, and even if you can't really speak, they'll laugh with you and love you for any attempt you make. (Spencer)
It's your mission with the Savior. Each area you get to spend with another special person (your companion), but at the end of the day it's not a journey you and your MTC companion have together or other companions. It's between you and the Savior. (Dannielle)
You are not serving a mission for yourself. You are serving for all of God's children. This isn't your mission, it is His. Once you recognize that and see yourself as a true disciple of Christ, the Spirit will work through you to bring about God's will for each individual you serve. That's the best part of the mission :). (Riley)
95% of the younger women are going to flirt with you. Don't flirt back. Kids are going to think you are super cool, and always be willing to listen to your message. You could honestly baptize the entire country's population of 8-14 year olds without much effort. However, DO NOT BAPTIZE KIDS WITHOUT BAPTIZING AN ADULT MEMBER OF THEIR HOUSEHOLD AS WELL (parent, uncle, grandparent, etc.), or else they will become less active in a matter of months. I don't care how well they grasp the concepts or how spiritual the kid is, don't do it. (Steven)
Study Preach My Gospel and the scriptures. Don't try to learn the language because the mission has two different languages (not sure if they tell you what yours will be but my call said English). You'll learn when you get out. Learn the culture and network with RM's (search on Facebook for groups) to get specific advice. We're happy to give it! (Ryan)
All you need is faith, build your own faith and everything will work out. (Robert)
What was a funny language mistake?
The Kiribati dictionaries are not very good. Just don't trust them. They told one of the Elders from my intake that "bureti" means "awesome". It means ugly. I'm sure you can figure how that went over. 🙂 (Spencer)
Well Kwoj Kwoj means sacrament and kwol kwol means to wash your clothes in a tin with a scrubbing brush. Once I turned to my companion and said 'Don't you think Kwoj Kwoj would really ruin your clothes?' I accidentally said sacrament instead of washing. (Dannielle)
Refer to funny experience section. (Riley)
A companion asked "Sounds good?" with a literal translation. Made no sense in Marshallese. (Ryan)
The word for red and diarrhea are very similar and easy to mix up when playing Uno. (Melanie)